Gingersnap pecans are candied nuts covered with a sweet & crispy coating that is bursting with the flavors of ginger snaps. Cinnamon, cloves, ginger, and a hint of molasses. Perfect for your next holiday party!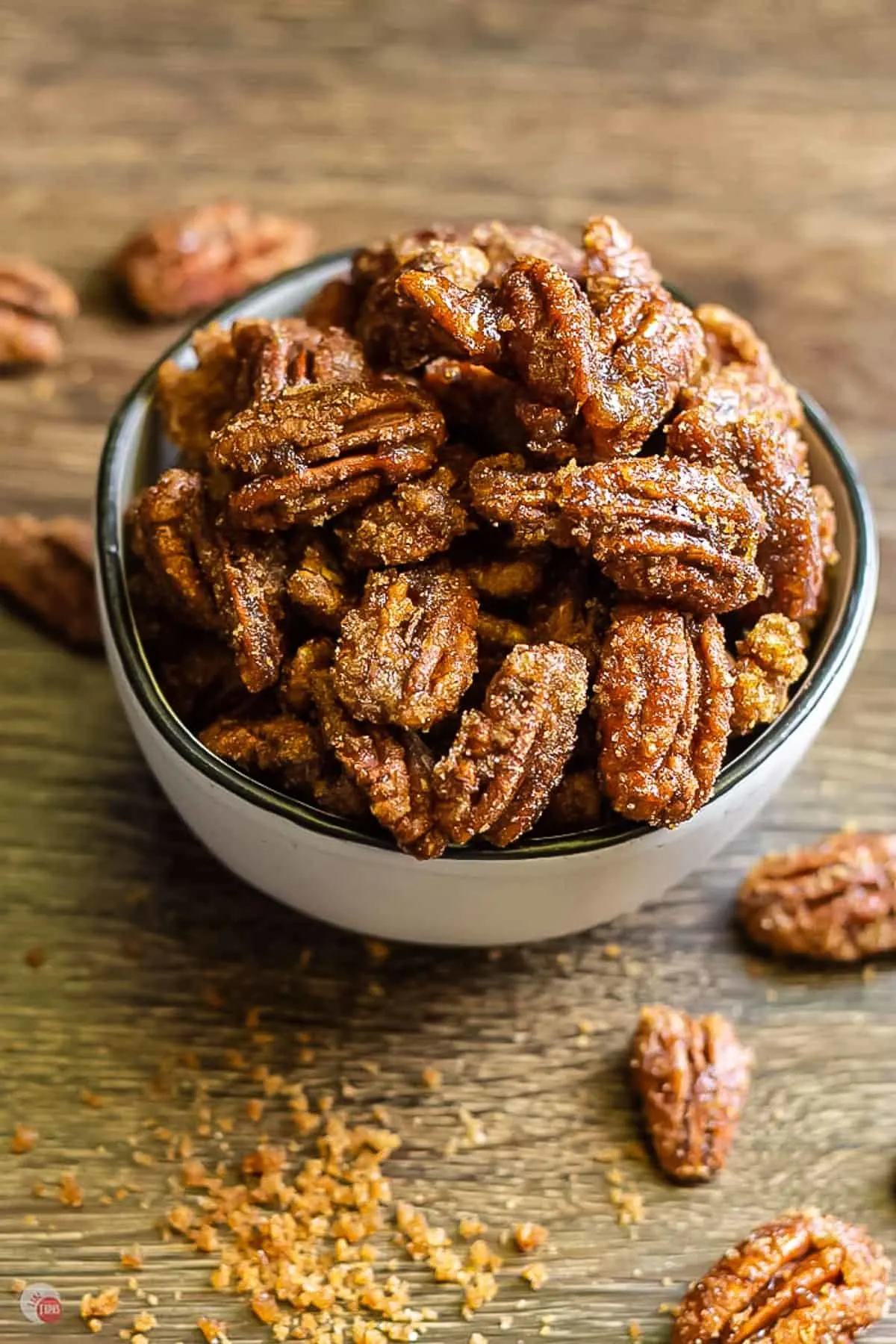 Gingersnap Pecans
The smell of molasses and spices always makes me think of gingerbread and my husband's love of old fashioned ginger snap cookies.
I know most people think of gingerbread as a Christmas treat, but they start putting out Christmas decorations in July, so I can think of gingerbread before Thanksgiving.
What's the difference between gingerbread and ginger snaps? A longer bake time to make them crispy and give them that "snap" when you break one.
Also, the addition of molasses. Brooks is already drooling because he loves molasses!
This candied nut recipe is a great way to usher some gingerbread in the season, but without actually making cookies or houses.
This post may contain affiliate links. As an Amazon Associate, I earn from qualifying purchases. Read my disclosure policy here.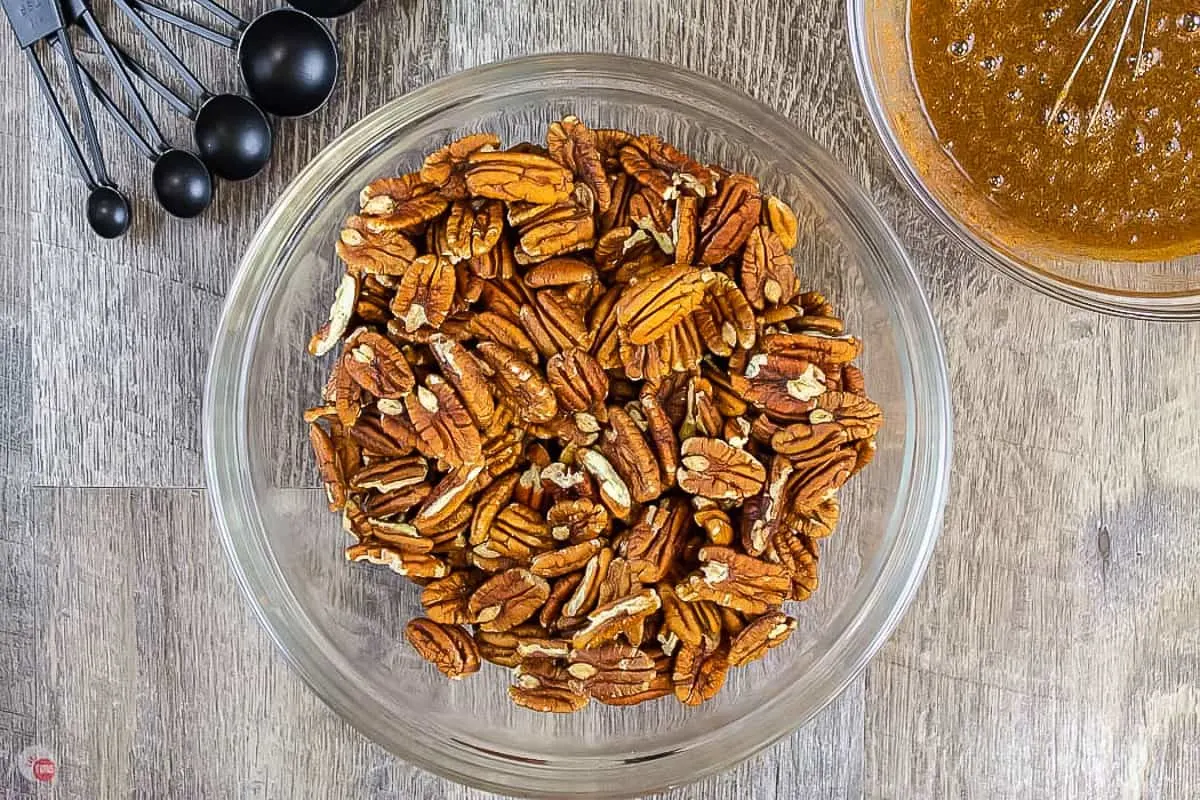 I took all the flavors of gingerbread and added a dash of molasses for color and that signature flavor!
Ingredients Needed
molasses
spices (ginger, cinnamon, cloves, white pepper)
This recipe calls for 2 pounds of pecans. But, how many cups of pecans are in a pound?
Per pound, there are between 3-4 cups of pecan halves or 2 cups chopped nuts per pound. The sizes vary depending on the variety of pecan.
If you are buying prepackaged pecans, be sure to check the weight. Most bags are not 16oz or one pound, but 10 or 12 ounces.
For more insider tips & tricks, and a candid behind the scenes look follow me on social media! Check use out on Pinterest, Facebook, Instagram, & Twitter (yes, people still use Twitter, LOL!)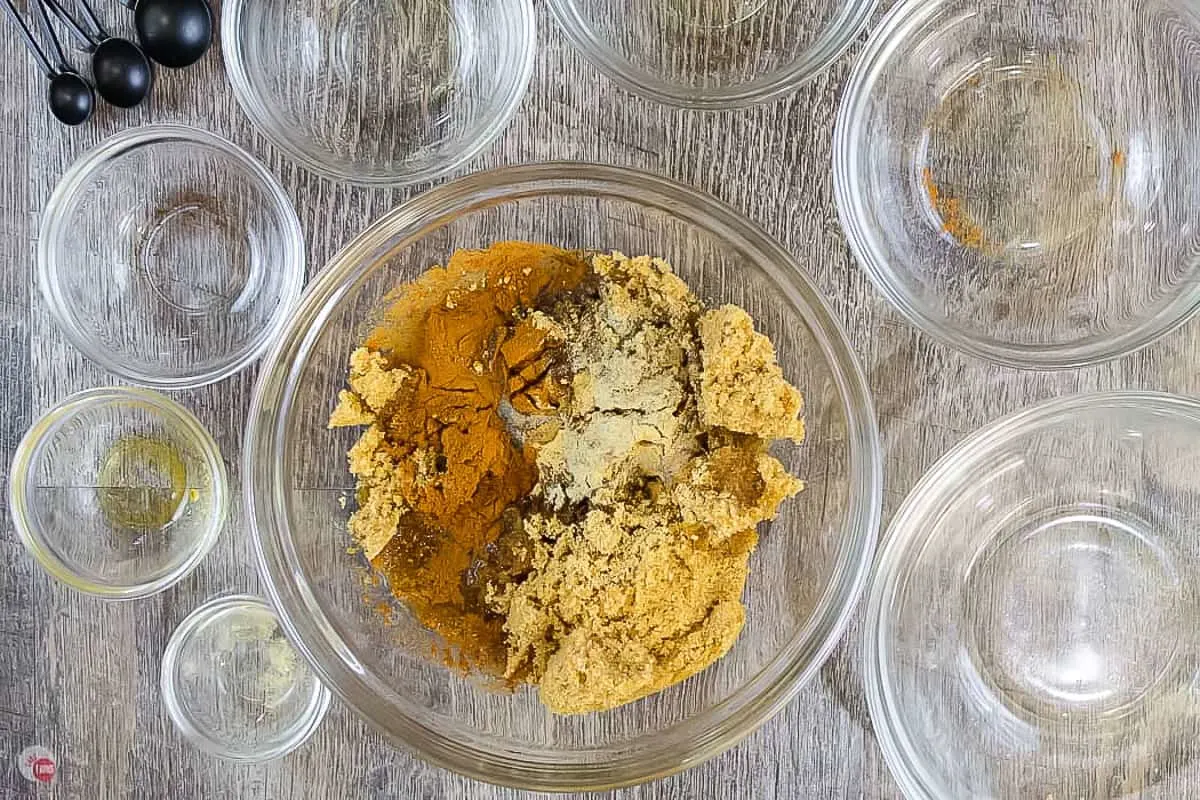 How to Make Gingersnap Pecans
First: Preheat oven to 200F. Mix the spices together in a bowl. Add the molasses and stir to make a runny sugar mixture.
Second: Add the pecans to the sugar cinnamon mixture and stir to coat them. Spread them out into a single layer. Place them in the oven.
Third: Bake the pecans for 1 hour, stirring every 20 minutes. Be sure to spread them back out after each stirring.
Fourth: When they are done baking, remove from the oven and cool completely. Store in an airtight container until ready to enjoy.
What comes out of the oven is gingerbread heaven. Toasted pecans covered in a sweet and crispy coating and bursting with the flavors of gingerbread.
These toasted gingersnap pecans are slightly healthier than the cookies and a total bonus that they are gluten-free!!
For the full recipe and detailed instructions, please refer to the recipe card at the bottom of the post.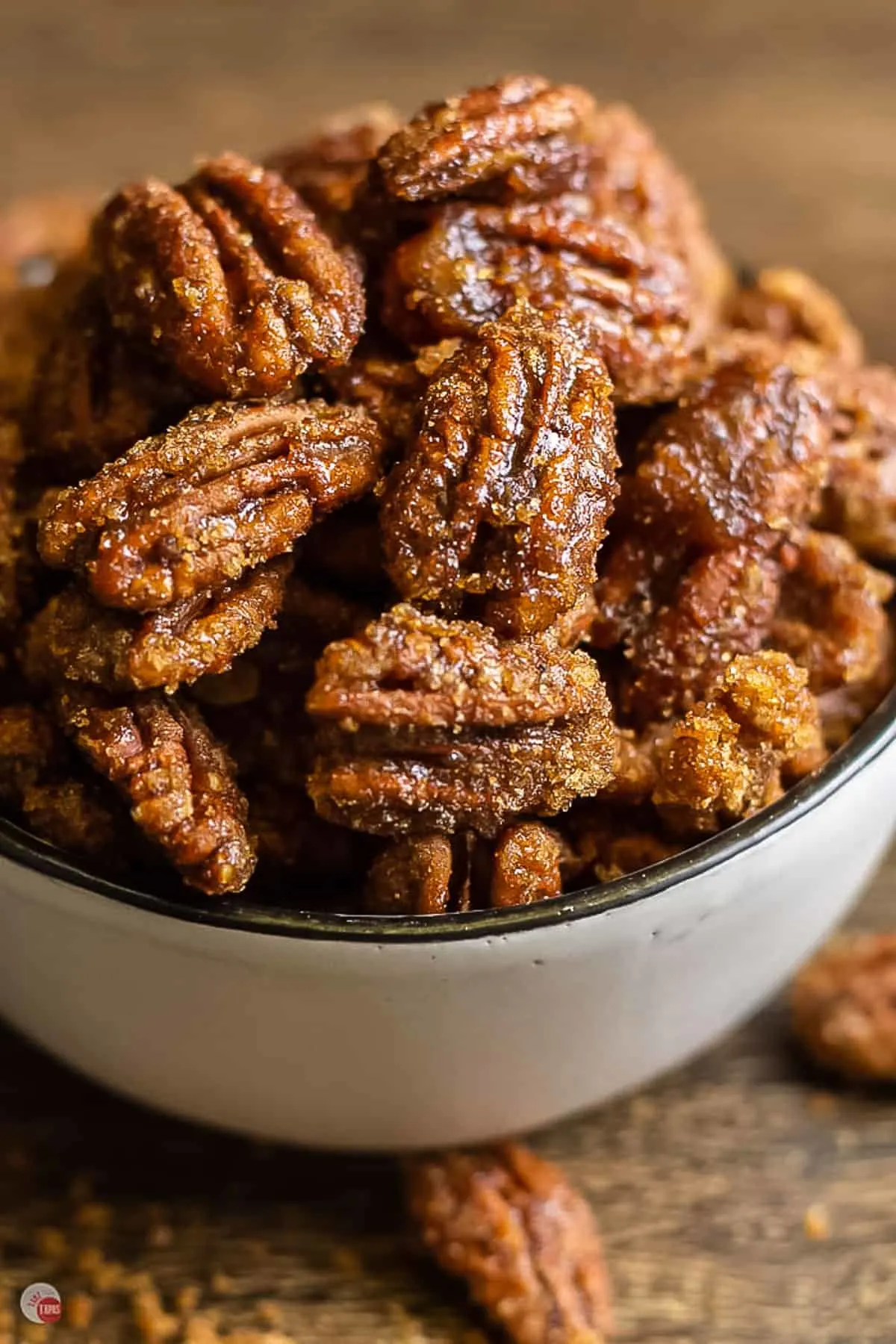 Why are my caramelized pecans soft?
If the candied coating is not crispy, you probably need to extend the baking time.
If the nuts themselves are soft, they are past their prime or should be slightly toasted before beginning the candied process.
How long do they last?
Do they go bad? These ginger and cinnamon pecans will be good for 2-3 weeks at room temperature.
Be sure to store them in an air tight container.
How do you fix sticky candies pecans?
Place nuts on a baking sheet and bake at 325F for 5-15 minutes to dry them out. Take out and cool.
Nuts might be a little sticky right when you take the nuts out of the oven but when they cool they should not be sticky, or as sticky, anymore.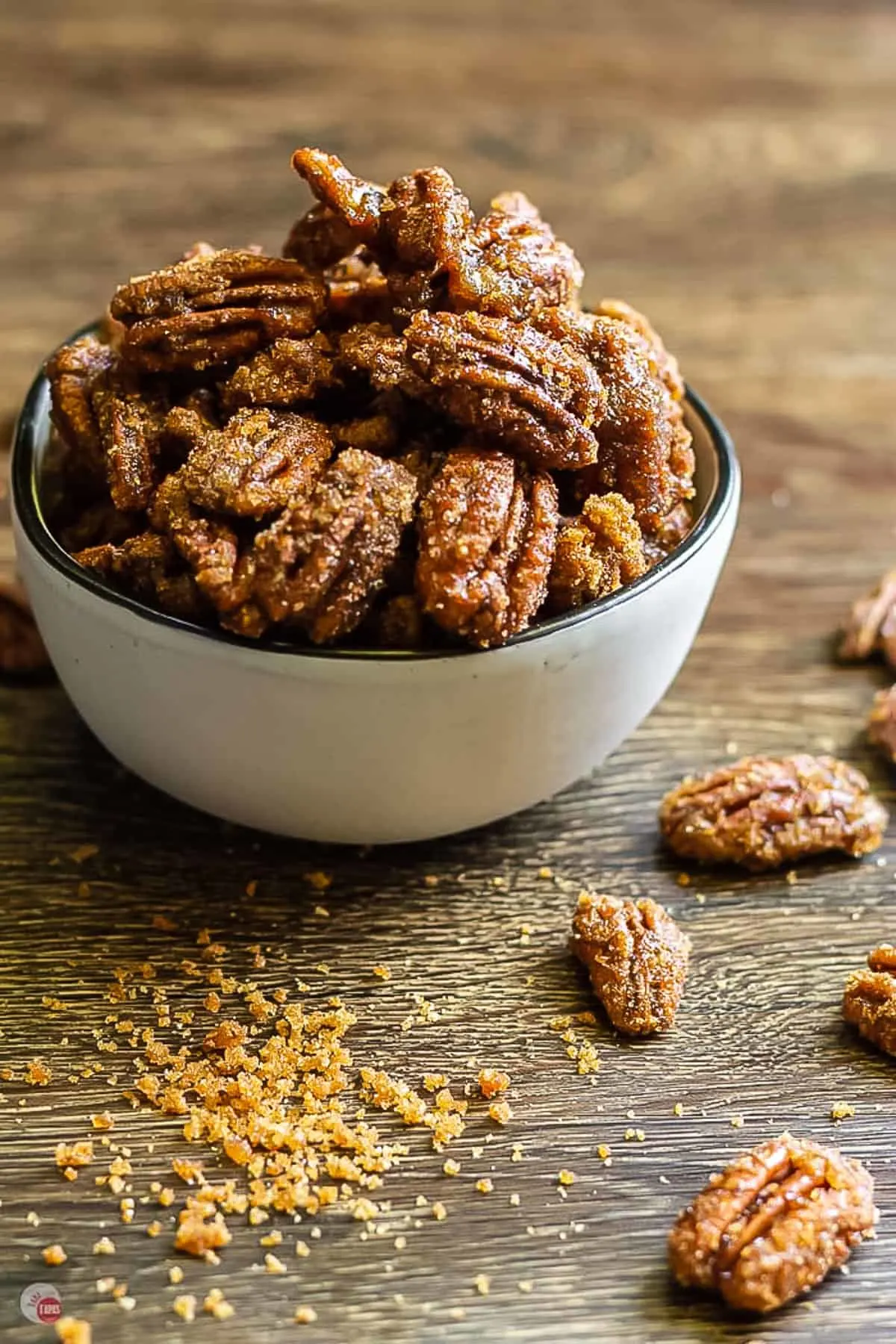 Are glazed and candied pecans the same?
Candied pecans coated with sugar and egg whites giving them a crispy coating.
Glazed pecans coated with butter and corn syrup. This ends with a smooth coating. They differ in flavor and most importantly, texture!
Do these need to be refrigerated?
Nuts in general do not need refrigerated or frozen unless you are looking for long term storage.
These easy candied pecans are great in salads, in trail mix and snack mixes, or sprinkle on soups and roasted veggies. So many ways to enjoy them!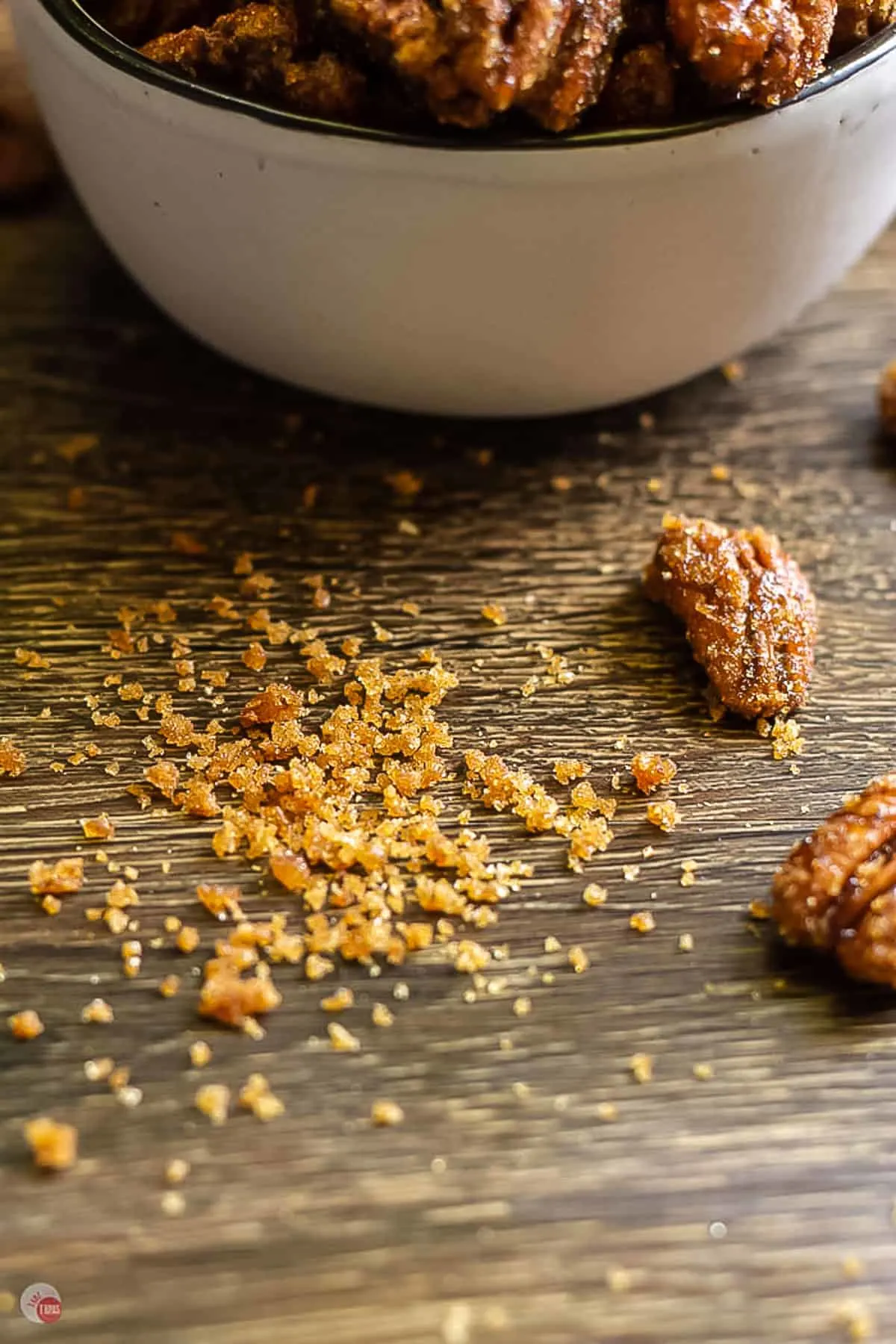 Tapas Tips & Tricks
You can make these Paleo-friendly by substituting coconut or palm sugar for the brown sugar.
When adding your pecans to the baking sheet, I would prepare the pan with a silicone baking mat, coated parchment paper, or non-stick foil. The coating might stick to plain parchment and make a big mess.
If you don't have molasses, you can use maple syrup in a pinch. The flavor might be not as strong, but will still be tasty!
You can substitute granulated sugar for the brown sugar but the flavor will not be as strong.
Don't throw away the crumbs on the baking sheet when you store the nuts. Sprinkle on pumpkin pie, cheesecake, popcorn, ice cream, cakes, and brownies!
Looking for other sweet and spicy nuts to take to a party you've been invited to? Check out all my nut recipes, both sweet and savory, to fit your special occasion!
If you love this recipe as much as I do, please write a five-star review in the comment section below (or on Pinterest with the "tried it" button – you can now add pictures into reviews, too!), and be sure to help me share on facebook!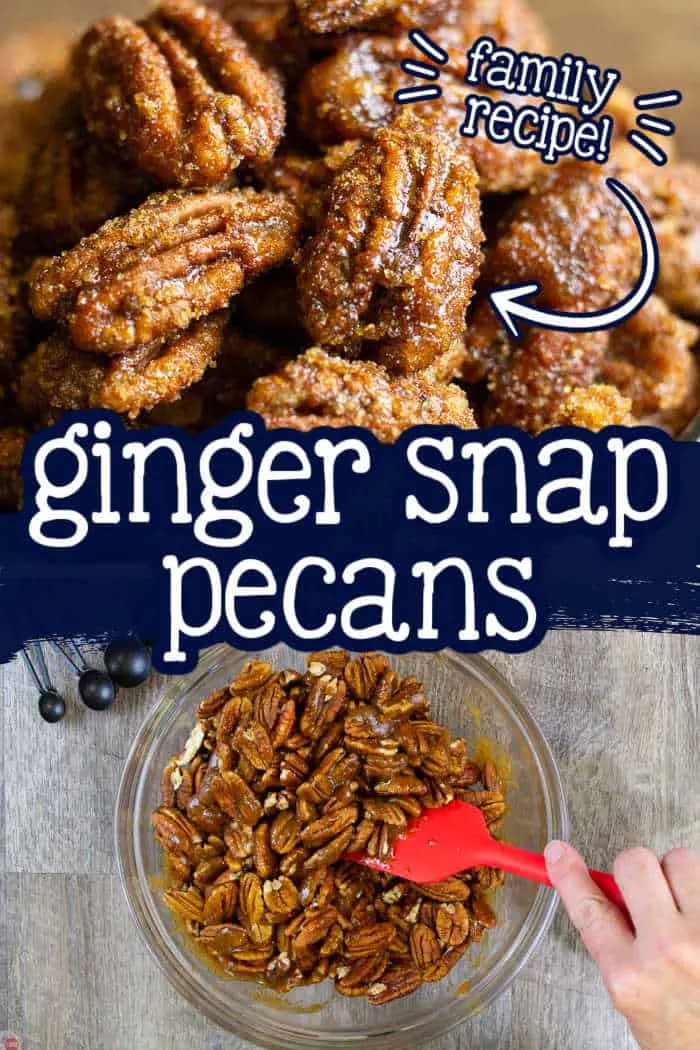 Ginger Snap Pecans make the perfect holiday gift for the gingerbread fan in your life!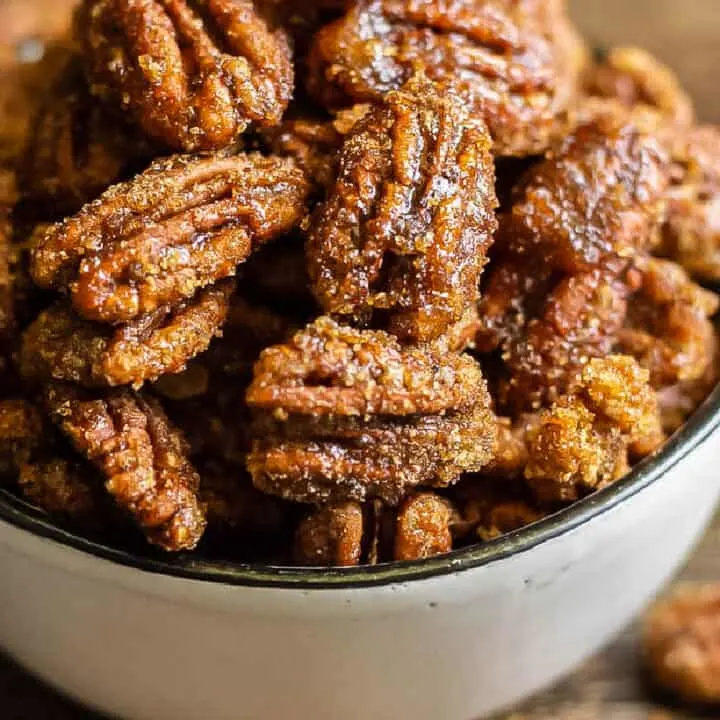 Gingersnap Pecans
Total Time:
1 hour
5 minutes
These toasted pecans are covered with a sweet and crispy coating that is bursting with the flavors of gingerbread. Cinnamon, cloves, ginger, and a hint of molasses! Perfect for your next holiday party!
Ingredients
2 teaspoons molasses
2 cups light brown sugar
2 teaspoons ground ginger
2 teaspoons ground cinnamon
1/2 teaspoon ground cloves
1/4 teaspoon ground white pepper
1/4 cup water
Instructions
Preheat oven to 200F.
Place a silicone baking sheet or a layer of foil on a baking pan. Be sure to spray the foil with non-stick spray. The baking mat needs no prep.
Combine all the ingredients, except the pecans in a mixing bowl.
Stir to make sure all ingredients are fully incorporated.
Toss in your pecans and mix to coat the nuts. This is a messy step!
Place your coated pecans in a single layer on the prepared baking sheet.
Bake in the oven for 1 hour at 200F, stirring every 20 minutes.
Remove from the oven when finished and cool.
Store in an airtight container for up to a week.
Notes
*If you like this recipe, please leave me a comment and rate it with some stars. Thank you!
Recommended Products
Nutrition Information:
Yield:

32
Serving Size:

2 ounces
Amount Per Serving:
Calories:

241
Total Fat:

20g
Saturated Fat:

2g
Trans Fat:

0g
Unsaturated Fat:

18g
Cholesterol:

0mg
Sodium:

4mg
Carbohydrates:

16g
Fiber:

3g
Sugar:

13g
Protein:

3g
This nutrition information was generated via a third party, Nutritionix, and can not be held liable for any discrepancies in the information provided.
More Easy Appetizers
TakeTwoTapas.com. Content and photographs are copyright protected. Sharing of this recipe is both encouraged and appreciated. Copying and/or pasting full recipes to any social media is strictly prohibited.