These slightly savory cornmeal biscotti bites are loaded with pecans dipped in dark chocolate. A few festive sprinkles and they're perfect for the holidays!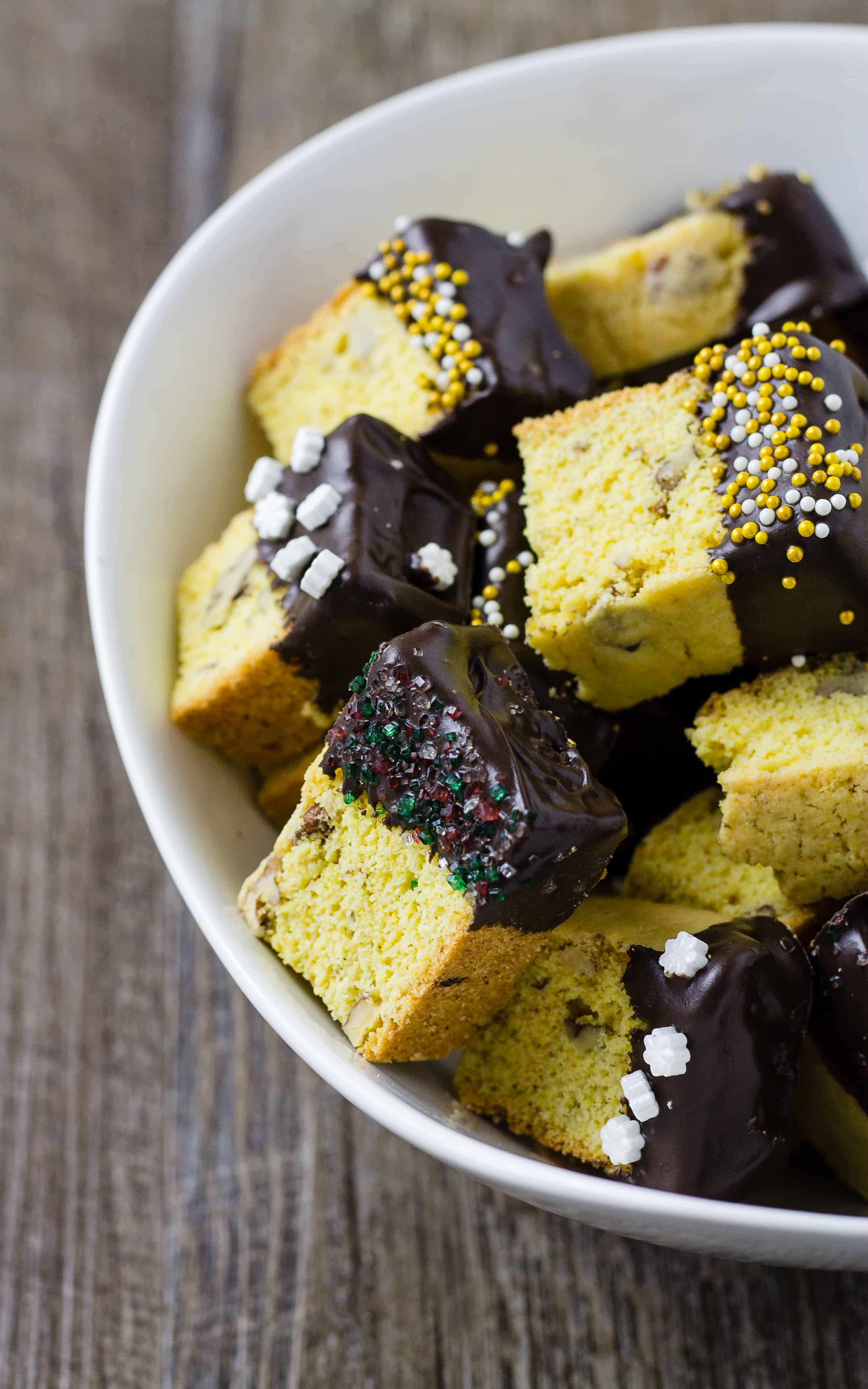 If you'd rather skip my essential cooking tips and tricks and get straight to this delicious recipe – simply scroll to the bottom of the page where you can find the printable recipe card.
What is a Cornmeal Biscotti Bite?
I am so glad that you asked! Before we can talk about cornmeal biscotti bites we have to talk about biscotti a bit. That might be too many "b" words in one sentence but I'm pressing on anyway.
Biscotti is an Italian cookie that is twice baked to make it extra crispy and served with coffee or other drink that is sometimes used to dip the biscotti in. The cookies are baked twice to dry them out and allow them to be stored for long periods of time without spoiling. Perfect for taking on long journeys back then but for me, storing in my purse for a long time and then getting excited to find them a few weeks from now when I am desperate and starving.
The word biscotti comes from an old Latin word, blah, blah, blah, and into modern British English for "biscuit" which is what we (American's) call cookies. Whatever you call them, they are pretty darn tasty.
Typically a sweet cookie made with almonds, I found a biscotti recipe for a slightly more savory version made with pecans instead. I found this recipe while looking for a cookie for the Freaky Friday Virtual Cookie Exchange and instantly fell in love with it.
This post may contain affiliate links. As an Amazon Associate, I earn from qualifying purchases. Read my disclosure policy here.

Just like the other Freaky Friday Events we (a group of bloggers) are assigned a blog through a secret mission envelope, you find a recipe that you like on the blog and make it for your readers. Only this time, it has to be a cookie and there is no "actual" mission envelope just a private email. A few years ago I did an actual cookie swap with other bloggers and made Dark Chocolate Almond Biscotti Bites too! This was the inspiration for making Angela's Cornmeal Biscotti into this Cornmeal Biscotti Bites recipe.
The blog I am lucky enough to choose a cookie recipe from is Lemoine Kitchen, run and written by Angela! Her blog has been making amazing recipes since 2012 which means I have no shortage of cookies to choose from. My "want to make" list is long and includes her Nutella Cookie Cups, Rainbow Shortbread Cookies (because I am addicted to shortbread), and her Brown Butter Churro Rice Krispie Bars.
There is much debate as to whether these can count as cookies, but we are including them under the guise of bars and other treats for the typical cookie exchange. Plus, I just love Rice Krispie Treats and brown butter!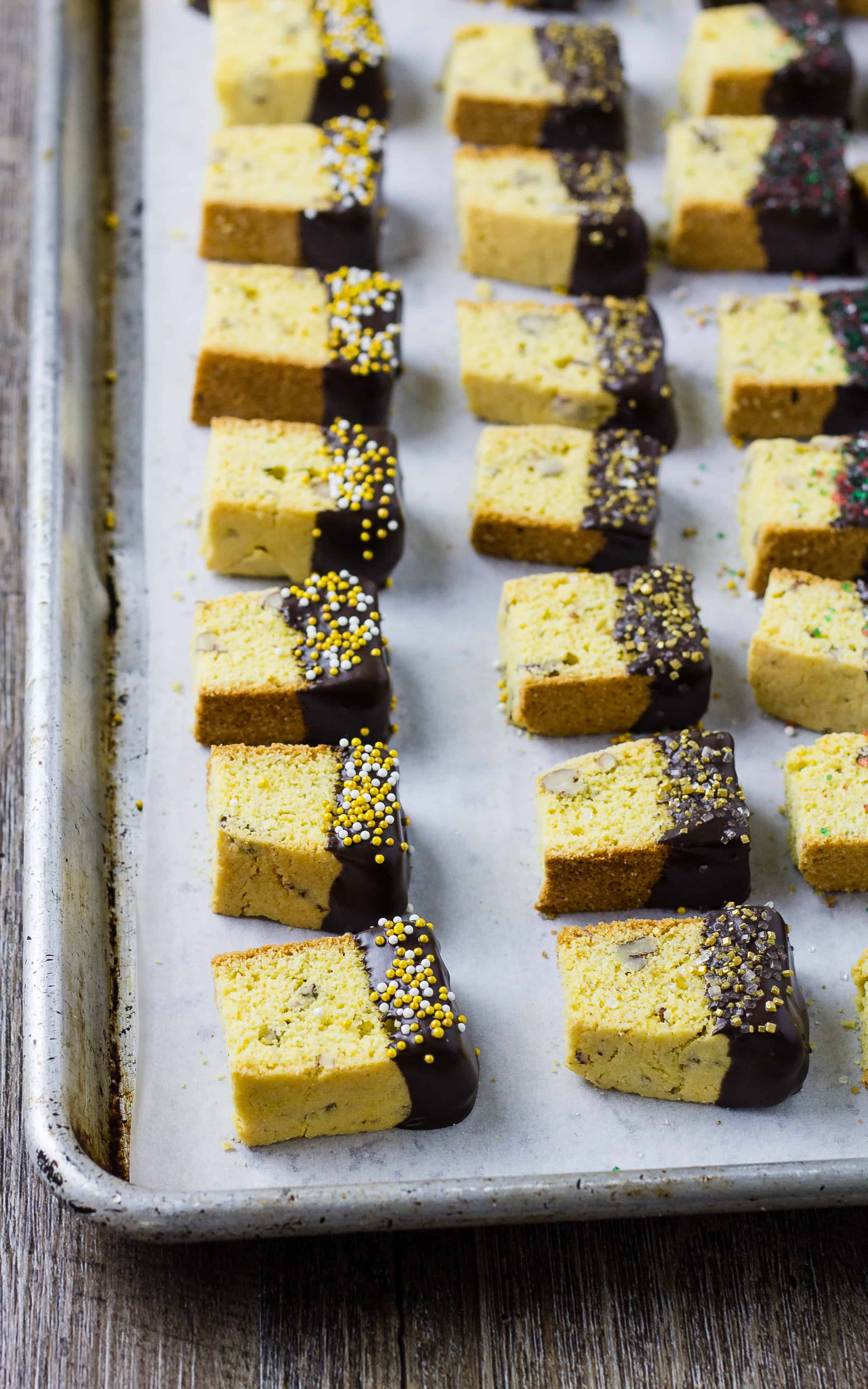 Cornmeal Biscotti Bites are born.
Back to Angela's amazing Cornmeal Biscotti Recipe! I love biscotti as it is but a more savory version certainly catches my eye. Being from the south we are all about our grits, I feel like her recipe is made for me and I must give it a try.
Following her recipe, with a smidge more vanilla and bread flour for more crunch, I take the traditional size you cut biscotti and make them bite-sized. Ok maybe 2 bites, but enough to hold onto while you are dunking it in the chocolate.
Making biscotti takes a little longer than the typical cookie recipe because you have to bake them twice with a cooling period in the middle. It is not long, just enough time to empty and refill the dishwasher, fold a load of laundry, or sit on the couch and catch up on your DVR watching. After the initial baking, you need to cool the biscotti a bit before you cut into or it will tear apart. 20 minutes is enough time.
I actually went to yoga after the first baking and cutting and did the second baking two hours later so don't feel you need to do all of it in one day. Feel free to save the chocolate dipping for another day as well. The holidays can be stressful enough as it is.
For more insider tips & tricks, and a candid behind the scenes look follow me on social media! Check use out on Pinterest, Facebook, Instagram, & Twitter (yes, people still use Twitter, LOL!)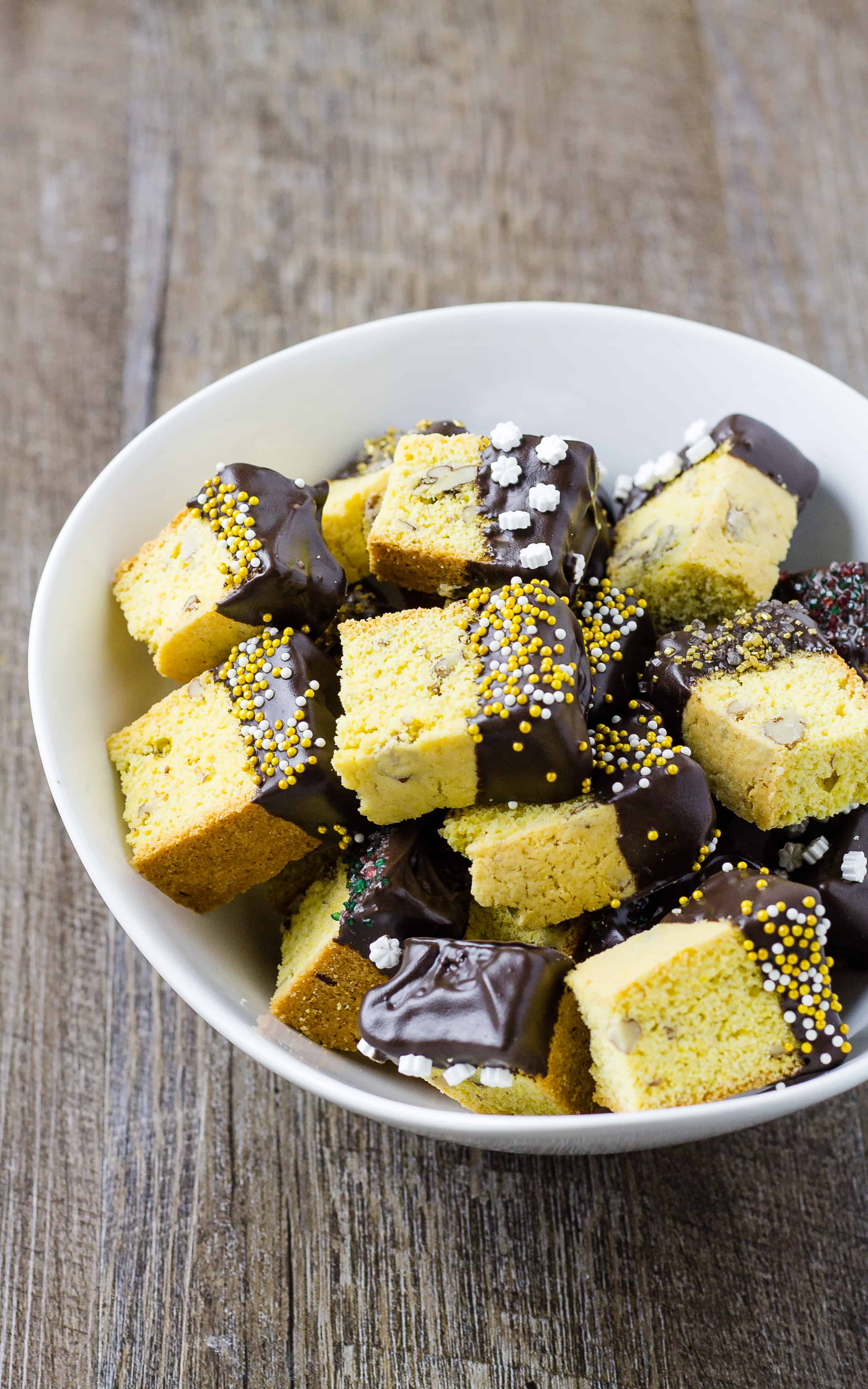 Let me tell you, the cornmeal gives the biscotti a savory note and even more texture if you can believe it. Dipping the Cornmeal Biscotti Bites in dark chocolate adds the perfect amount of sweetness to balance out the cornmeal.
The cornmeal biscotti bites are perfect for breakfast, lunch, dinner, dessert, coffee break, waiting in line, and occasional midnight snack. I decorate mine with holiday sprinkles for festive food gifts for party hostesses and the casual gift exchange at the office. Or my husband's office if you will.
They will be enjoying these tomorrow!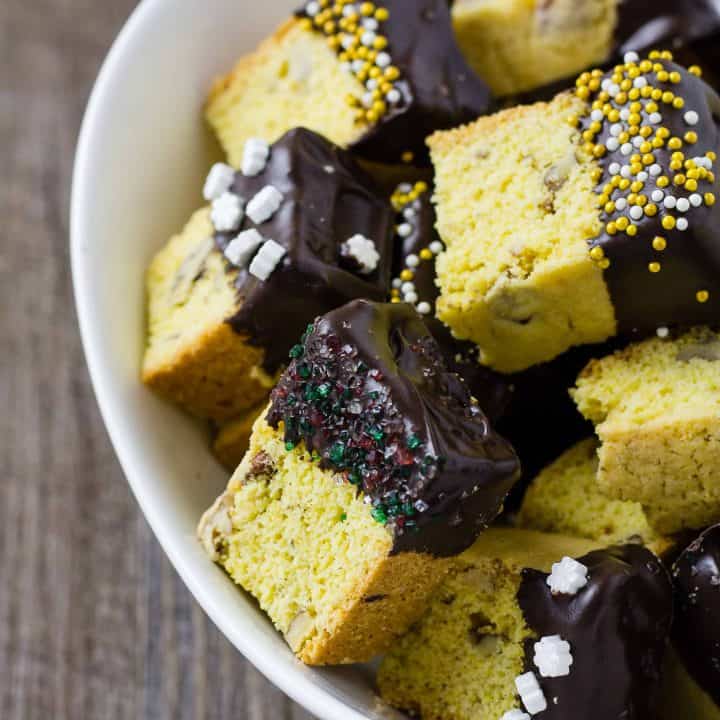 Cornmeal Biscotti
Cook Time:
1 hour
10 minutes
Total Time:
1 hour
25 minutes
These slightly savory cornmeal biscotti bites are loaded with pecans dipped in dark chocolate. A few festive sprinkles and they're perfect for the holidays!
Ingredients
6 tablespoons butter (softened)
1 cup sugar
3 eggs (room temperature)
2 teaspoons vanilla
2 cups bread flour
1 1/2 cups yellow cornmeal (plain)
1/4 teaspoon salt
2 teaspoons baking powder
1 cup pecans (chopped)
Instructions
Preheat oven to 375.
Cream together butter and sugar until fluffy.
Add the eggs, one at a time, mixing completely between each one.
Add the vanilla and salt.
Mix to combine.
In a separate bowl, combine the flour, cornmeal, and baking powder.
Mix to combine.
Fold in the pecans until evenly distributed.
Turn dough out onto a lightly floured surface.
Knead a few times and roll into a ball.
Cut ball in half.
On a parchment-lined baking sheet, add both dough balls.
Pat each log into two squares that are each 1 inch high.
Bake at 375F for 25 minutes.
Remove from the oven and turn the temperature down to 300F.
Let the biscotti cool 20 minutes.
After 20 minutes, cut the logs into 1-inch pieces (roughly 24 from each log) and place back on the cookie sheet cut side up.
Bake at 300F for another 25 minutes.
Remove from the oven when done and let cool completely.
When ready to dip the biscotti bites, melt the chocolate in the microwave or in a slow cooker.
Dip one end of each of the biscotti bites into the chocolate.
Place on a different parchment-lined baking sheet and add sprinkles or other decorations if you are so inclined.
Prepare another baking sheet with parchment paper for when the bites are dipped.
Nutrition Information:
Yield:

24
Serving Size:

1
Amount Per Serving:
Calories:

167
Total Fat:

7g
Saturated Fat:

2g
Trans Fat:

0g
Unsaturated Fat:

4g
Cholesterol:

31mg
Sodium:

97mg
Carbohydrates:

23g
Fiber:

1g
Sugar:

9g
Protein:

3g
This nutrition information was generated via a third party, Nutritionix, and can not be held liable for any discrepancies in the information provided.
Here are the other cookie bakers participating in this year's Freaky Friday Virtual Cookie Exchange:
An Affair from the Heart – Mocha Rum Balls
A Dish of Daily Life – Cherry Pie Cookies
A Kitchen Hoor's Adventures – Black Forest Rum Balls
Bacon Fatte – Mexican Wedding Cookies
The Devilish Dish – Rosé Meringue Cookies
The Foodie Affair – No Bake Cookie ~ Copycat Samoas
Full Belly Sisters – Chocolate Peanut Butter Cookies
Hostess at Heart – Chocolate Caramel Cookie Bars
LeMoine Family Kitchen – Chocolate Chip Cookie Dippers
Life Currents – Oatmeal Sandwich Cookies
Mildly Meandering – Vanilla Bean Pizzelle Cookies
Pic Nic – Lemon and Blueberry Bars
Plattertalk – White Chocolate Peppermint Cookies
Seduction in the Kitchen – Orange Snowball Cookies