Last updated on September 13th, 2019 at 08:04 pm
Juicy and crispy pork carnitas are the perfect meat to put in your tacos. The pork is braised with oranges and limes and when broiled turns crispy on the outside and stays juicy on the inside!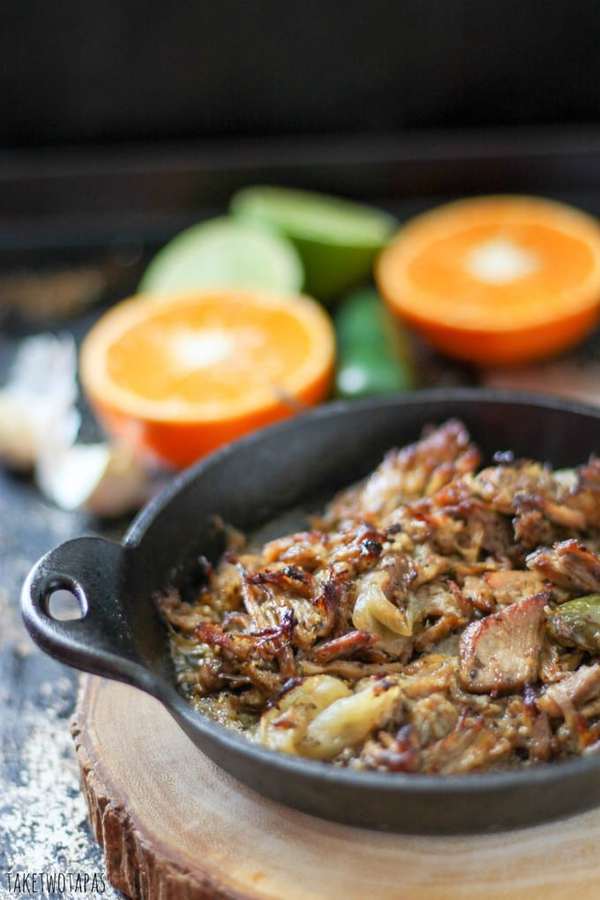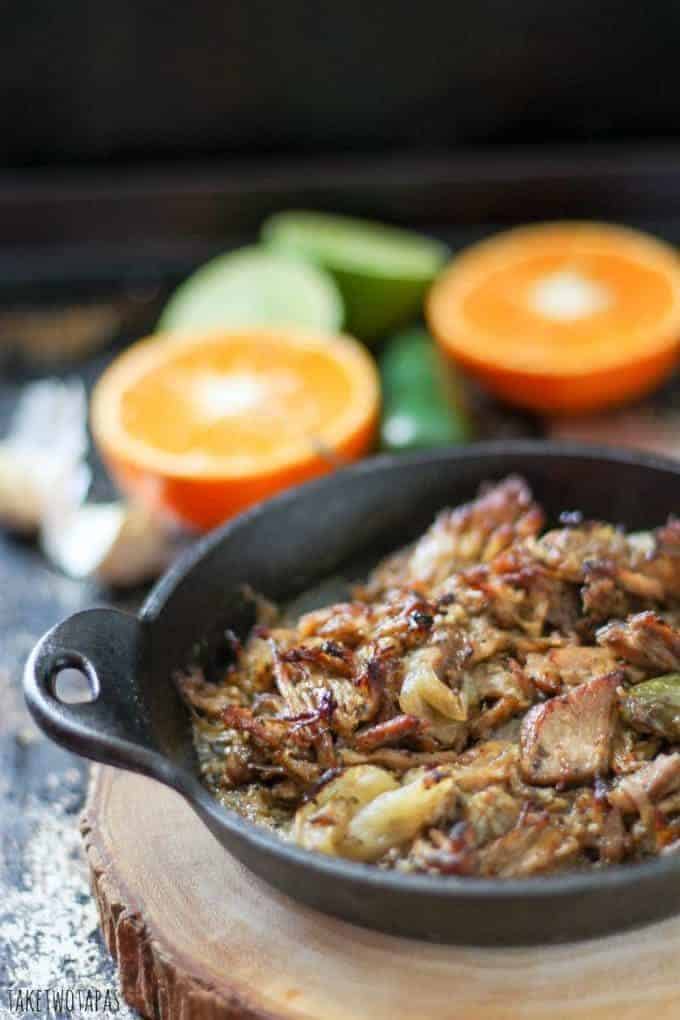 What are Carnitas?
Grab your dutch oven it's time for pork carnitas!
It's no secret that my husband, Brooks, is a better cook than me, especially when he makes these pork carnitas. And he loves to help me as he did with my Summer Corn Salad. Brooks doesn't cook that often, but when he does, WATCH OUT!
He learned how to make fried chicken and biscuits from his Ma-Maw while he was still holding onto her apron strings. He also does all the grilling, which is fine with me, because it is usually too hot or too cold outside when we decide to grill something, and I usually burn whatever it is because I can't find "low" on the grill. Brooks also can taste all my new recipes and tell me what they are missing or what they have too much of. He is my Head Food Editor!
What is the difference between carnitas and al pastor?
Seeing that we are huge taco fans, Brooks took it upon himself to learn to make pork carnitas. If you have never had pork carnitas, or even heard of them before, stop what you are doing and get some pronto. Carnitas are a braised pork dish that is basically the Mexican version of pulled pork. Not to be confused with Barbacoa (which is the beef equivalent) or Al Pastor which can be beef or pork but cooked on a rotisserie usually after soaking in a marinade.
The pork shoulder or pork butt (we use the bone-in one) for the carnitas is braised in fat or lard and then shredded. The pork is seared in fat and then braised with citrus, jalapeños, onions, and lots of spices. Brooks's version has the necessary fat but he adds water for braising instead to keep the calories down.
The first batch he made blew me out of the water and now making carnitas has become a bi-monthly event. After doing all the calculations, I figured that I have consumed about 45 pounds of pork carnitas in the past 4 months. No exaggerating!
This post may contain affiliate links.
I earn a small commission for my endorsement, recommendation, testimonial, and/or link to any products or services from this website.

Your purchase helps support this blog at no additional cost to you and allows me to continue bringing you delicious recipes and funny stories.

For my entire disclosure policy

click here

.
Carnitas Recipe for the Oven
Brooks also has the same problem I have with just throwing ingredients into the pot until the recipe tastes good. That was not going to fly if I was going to share his recipe with you so we wrote it all down last time he made them. That way we also didn't forget anything because now I have a checklist!
Carnitas can be made in the oven or fried in a skillet. Brooks' recipe uses both! We braise the pork in the oven first. Once the pork is tender, we remove the bone, any extra large pieces of fat, the chunks of oranges, and shred the pork. The forking of the pork is my job because I do it better while Brooks reduces the braising liquid on the stove top. Because Brooks uses the water we don't want to dilute the flavor with water so we keep all of the good stuff in it and reduce the volume.
Once the braising liquid is reduced, we pour it over the shredded meat and coat it. The meat is then spread on a baking sheet and broiled till the edges get crispy. If we are not in the mood to do it all at one time because it does take a few hours, I skip the broiling step and store the carnitas in the fridge. When I am ready to eat I just toss some in my cast iron skillet and get them hot and crispy! You can even do the braising in your crockpot or slow cooker and finish them by reducing the liquid on the stovetop and crisping the pork via either the broiler or a skillet.
This pork carnitas recipe will blow your mind and provide you with dinner for an entire week, provided you don't get tired of pork.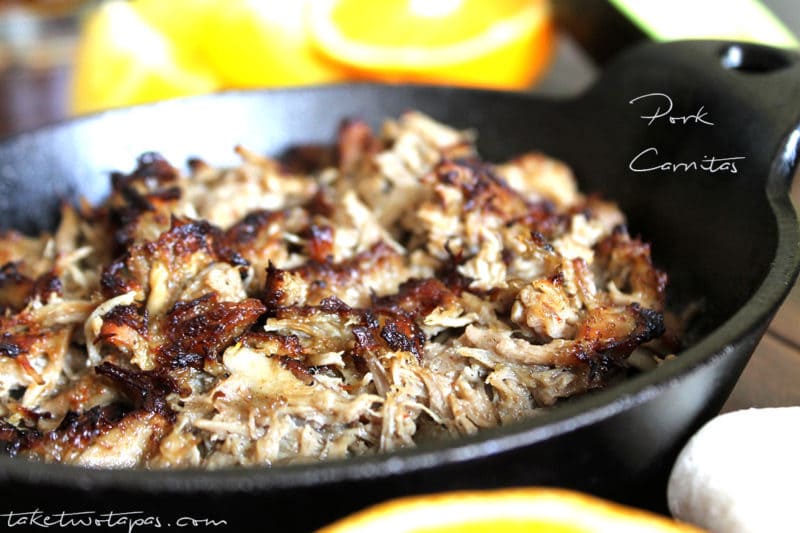 How do you eat Pork Carnitas?
There are so many ways you can eat carnitas!
Burritos
Enchiladas
Quesadillas
Breakfast Hash
Cilantro Rice Bowl
Salad Topping
Sliders
Empanadas or Hand Pies
Nachos
If you are looking for something different, you can add them to a casserole or a soup! Sometimes I just eat a large bowl of them with pickled red cabbage, pickled red onion, fresh jalapeños, and sliced avocado.
I eat them for breakfast with some sautéed spinach, avocado, and an over-easy egg. You can even throw it on some greens for a great salad. There are so many options. The pork carnitas meat is super juicy, tender, and has a great citrus flavor, and I especially like the crispy edges the pork gets from a trip under the broiler!
This recipe takes a few hours but most of the time is the actual cooking time. We usually make this while we are home doing yard work (by we, I mean Brooks), while I am folding laundry, or napping on Sunday afternoon. The pork carnitas freeze beautifully and make a great meal for someone who doesn't feel like cooking!
Those few hours of work means breakfast, lunch, and dinner for me throughout the week. This is also great for a taco party!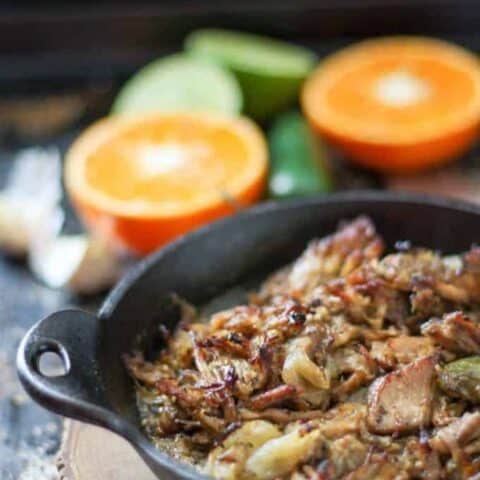 Pork Carnitas
Cook Time:
2 hours
30 minutes
Total Time:
2 hours
40 minutes
Juicy and crispy pork carnitas are the perfect meat to put in your tacos! The pork is braised with oranges and limes and when broiled turns crispy on the outside and stays juicy on the inside! Grab your dutch oven!
Ingredients
7.5-pound pork shoulder (with the bone-you can go up to 9 lbs)
2 cups water
2 oranges (halved)
1 lime (halved)
4 jalapeños (tops removed, peppers sliced in half)
1 tablespoon dried oregano
1 teaspoon chili powder
1 tablespoon cumin
1.5 teaspoons chipotle powder
4 bay leaves
1 tablespoon kosher salt
1 tablespoon black pepper
2 onions (peeled, quartered)
Instructions
Cube up the pork shoulder and place in dutch oven with the bone.
Put on the stove top on high heat.
Add water and all spices.
Add onions, lime, jalapenos, and oranges (squeeze the citrus into the pot and toss in the rinds.)
Bring to a boil and preheat oven to 275.
Cover, place in oven and cook for 2 hours and 15 minutes until meat is nice and tender.
When done braising, remove the pot from the oven.
Remove meat, onions, and jalapenos onto cookie sheet.
Throw away fruit, fat, and bone.
Shred meat.
Reduce the pot juices on the stovetop until reduced by 2/3.
Toss shredded meat, onions, and jalapenos back into the juice.
Place all onto a cookie sheet and put under the broiler on high until crispy!
Serve with your favorite toppings!
Notes
*If you love this recipe, leave me a comment and rate it with some stars. Thank you!
Nutrition Information:
Amount Per Serving:
Calories:

0
Total Fat:

0g
Saturated Fat:

0g
Trans Fat:

0g
Cholesterol:

0mg
Sodium:

0mg
Carbohydrates:

0g
Fiber:

0g
Sugar:

0g
Protein:

0g
This nutrition information was generated via a third party, Nutritionix, and can not be held liable for any discrepancies in the information provided.
If you like reading my posts and seeing my recipes, follow me on your favorite social media channel for behind the scenes photos and much, much more: Pinterest, Facebook, Instagram, and Twitter!
Here are a few pictures of the process!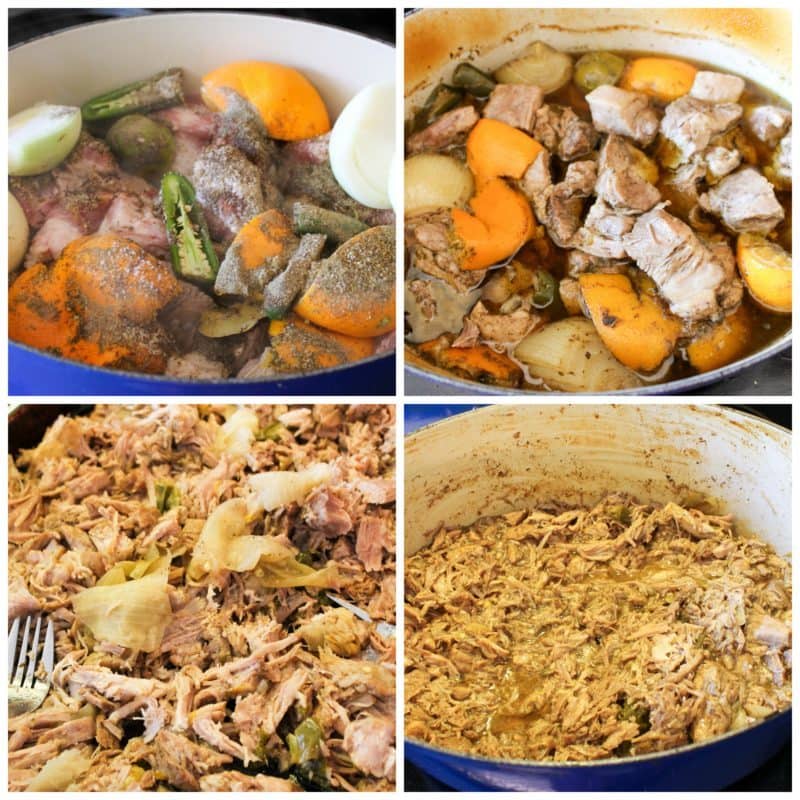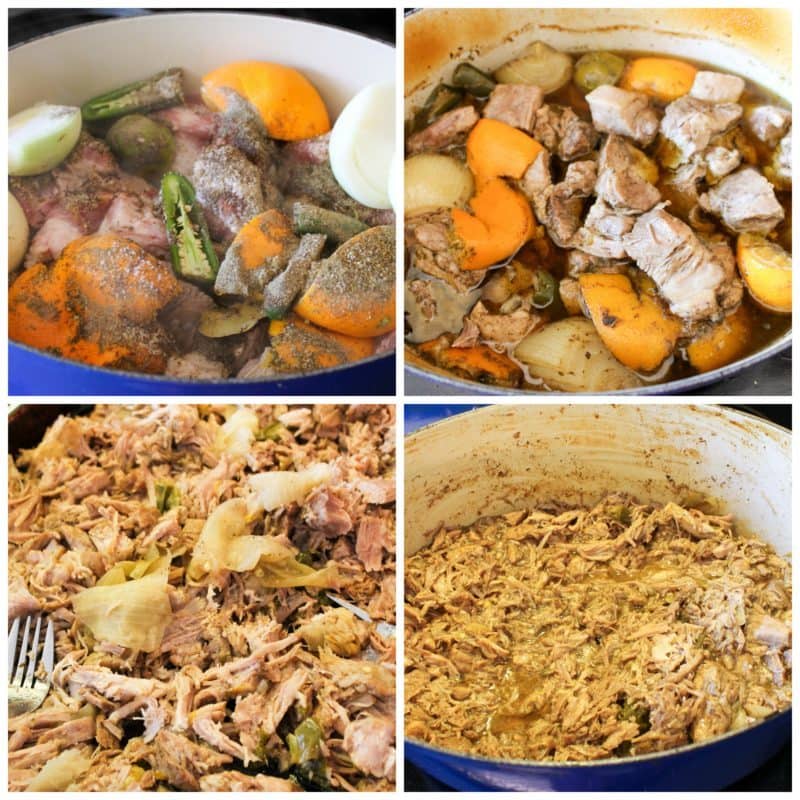 ©TakeTwoTapas.com. Content and photographs are copyright protected. Sharing of this recipe is both encouraged and appreciated. Copying and/or pasting full recipes to any social media is strictly prohibited.
The original inspiration for this recipe came from this great blog I read all the time called Table for Two Blog. Check it out here!