This Louisiana Stranger Cake is an easy, extra moist, and unique bundt cake to take to a new neighbor, church pot-luck, or to freeze for a future party. It comes together with a box of cake mix and a can of frosting!
Serve this with PB Oreo Brownies, Banana Pudding Truffles, and wash it down with a Golden Milk Latte!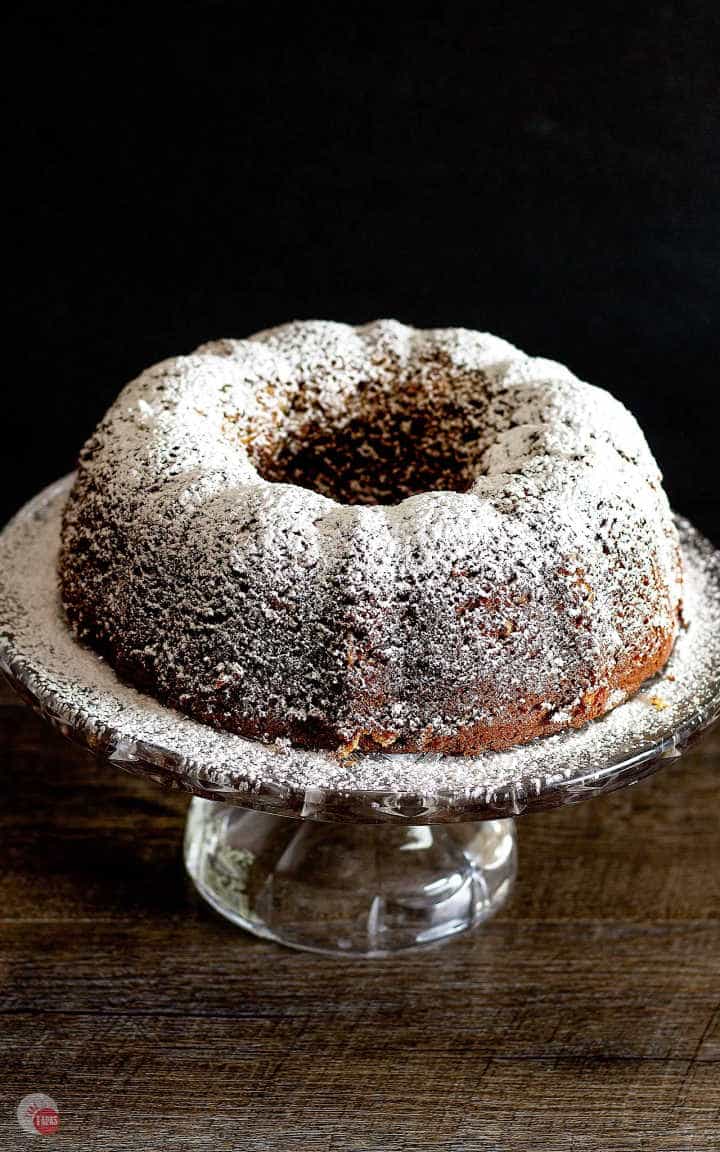 Louisiana Stranger Cake
What is a Stranger Cake? Short answer, is the easiest, moistest, best tasting, bundt cake you have every put in your mouth.
Think caramel, pecans, coconut, butter pecans cake…
Not only that, but it's super easy to make!!! The secret to this bundt cake, is the way you make the cake batter. Intrigued?
If you didn't already know, I am a collector of cooking, and ANYTHING to do with food, magazines. I use the word collector, but really I have a problem that is teetering on the edge of getting me on one of those hoarding shows where they find "collectors" buried under their belongings along with various pets.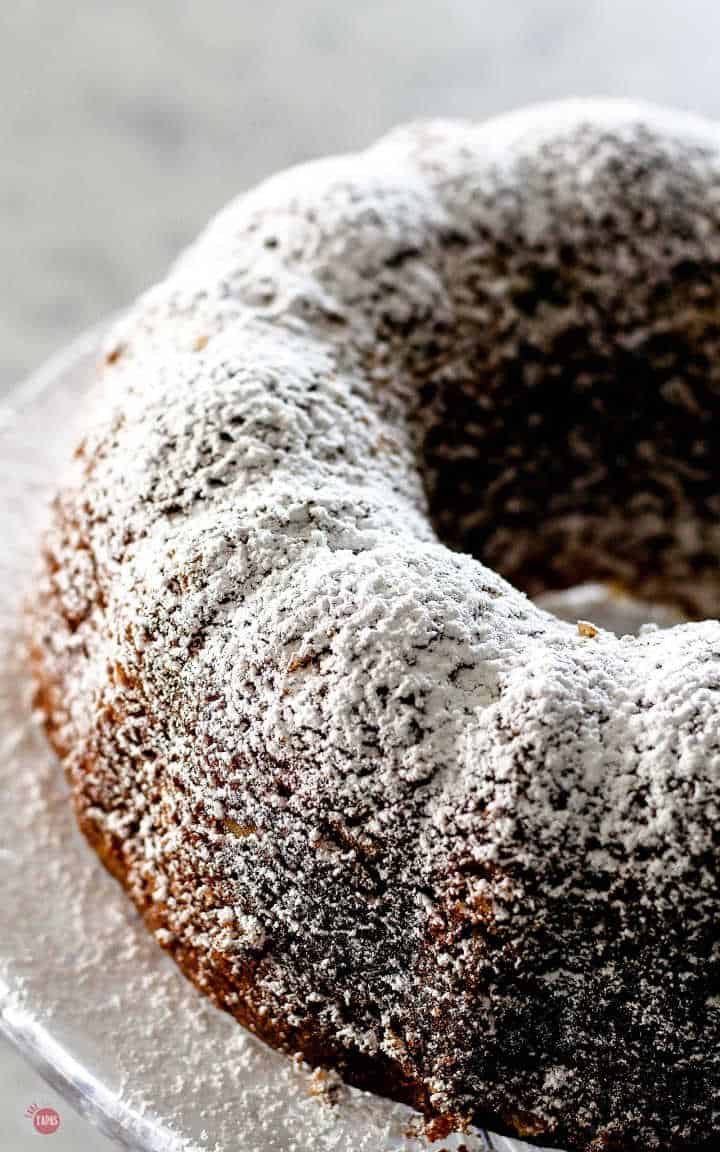 If you'd rather skip my (very helpful, I think) tips and tricks, essential cooking info, and similar recipe ideas – and get straight to this delicious easy bundt cake recipe – simply scroll to the bottom of the page where you can find the printable recipe card.
One of my favorite's is Cook's Illustrated. I don't currently subscribe because I have so many back issues already and running out of bookshelf space.
Like most other food magazines, there is a mail section in the front of Cook's Illustrated where people send in their recipe requests or questions. Some are funny, like "which end of the fork do I use when I eat with it?", and some are actually useful, like "I lost my grandmother's recipe for ____ cake and I can't live without it!"
They actually reunite those grieving people with their recipes and achieve superhero status! In an added bonus, we get recipes for cakes we have never heard of before.
Southern Praline Bundt Cake
One such lucky person was brought back from the abyss of sorrow when they found their lost recipe for Louisiana Stranger Cake and CI kindly reprinted it for them.
I couldn't understand this reader's loss until I read the recipe, made it (I already had the ingredients on hand because I love German chocolate cake) and proceeded to eat half of it.
The Louisiana Stranger Cake, AKA Southern Praline Bundt Cake, is the moistest bundt cake I ever put in my mouth! I made it for a church pot-luck and it quickly became my most requested cake.
I can't take credit for this Louisiana Stranger Cake recipe so I am glad to pass it on so that others can revel in the joy of having this cake in their lives!
Why is it called a Louisiana Stranger Cake?
I really wish I knew where the name comes from because I ALWAYS get asked, and I am sad to say that Cook's Illustrated did not explain the origins of the recipe in the reader's mail question or response.
I can speculate that it might be because:
that it was considered strange to put frosting in the cake batter prior to baking.
that people brought it to strangers that moved into the neighborhood as a welcome gift.
that a gifted culinary stranger lost this recipe in Louisiana and a lucky person picked it up!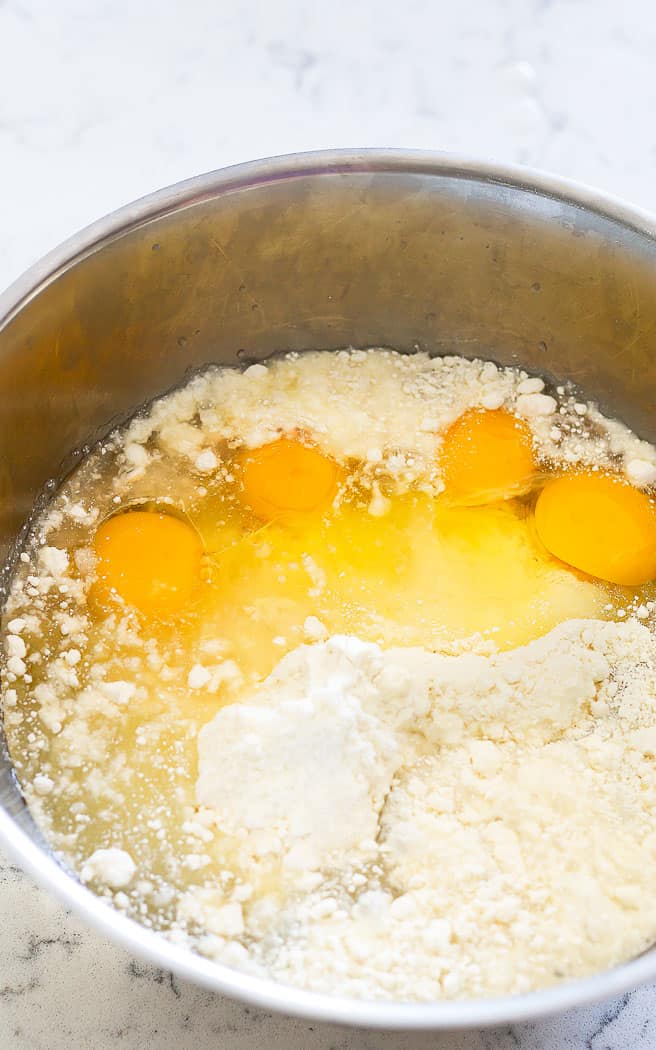 Can I freeze it?
Yes, you can! Up to 3 months and it comes out just as moist as when it was cooked. Just be sure to wrap tightly in plastic wrap!
Can I use a different cake mix?
Yes you can! The original recipe called for a Butter Pecan cake mix but sometimes it is not always available. Feel free to use a plain yellow cake mix, just add a teaspoon of cinnamon to the batter. Chocolate is also a great option!!
Can you make this from scratch?
Yes you can! Here is a recipe for the coconut pecan frosting and a cake batter.
Can you bake it in another pan other than a bundt pan?
Yes you can! I have made it as a sheet cake, a 9-inch layer cake, and mini bundt cakes too! Just like my Dark Chocolate Chai Bites.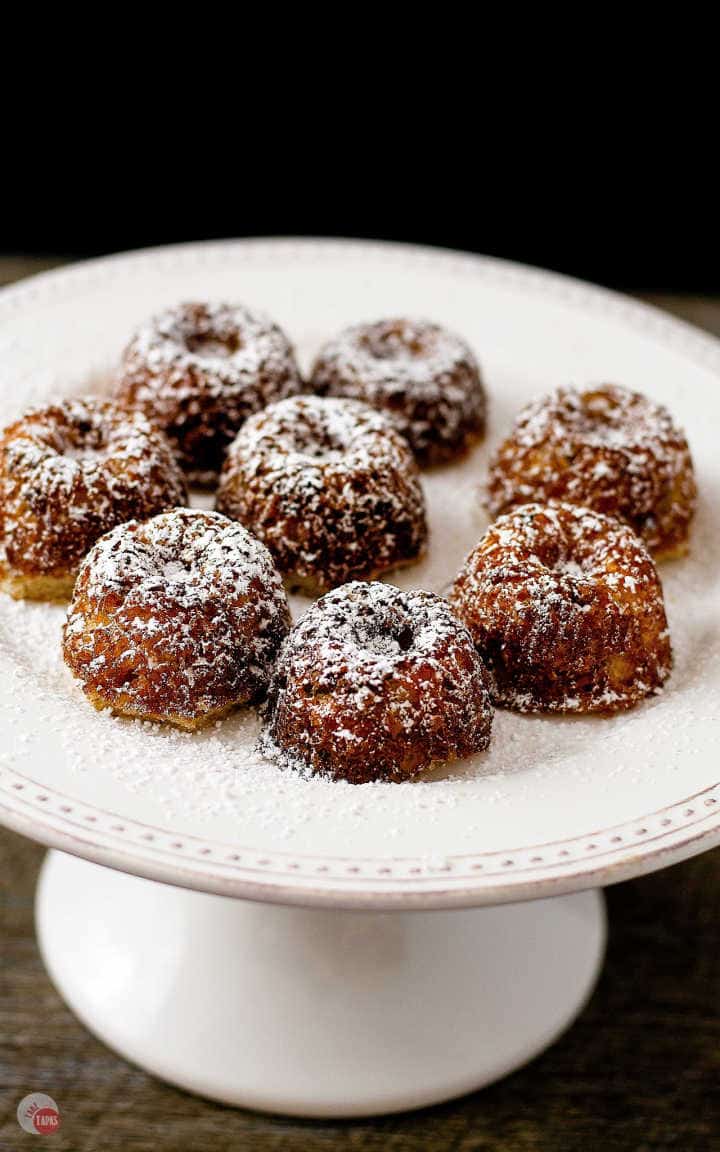 Can any cake be a bundt cake?
Only if it is made in a Bundt pan which is a distinctive ring-shaped pan.
Can I use regular cake mix in a bundt pan?
Yes, the batter for a two-layer, 9-inch cake will fit into a bundt pan that holds 15 cups of batter.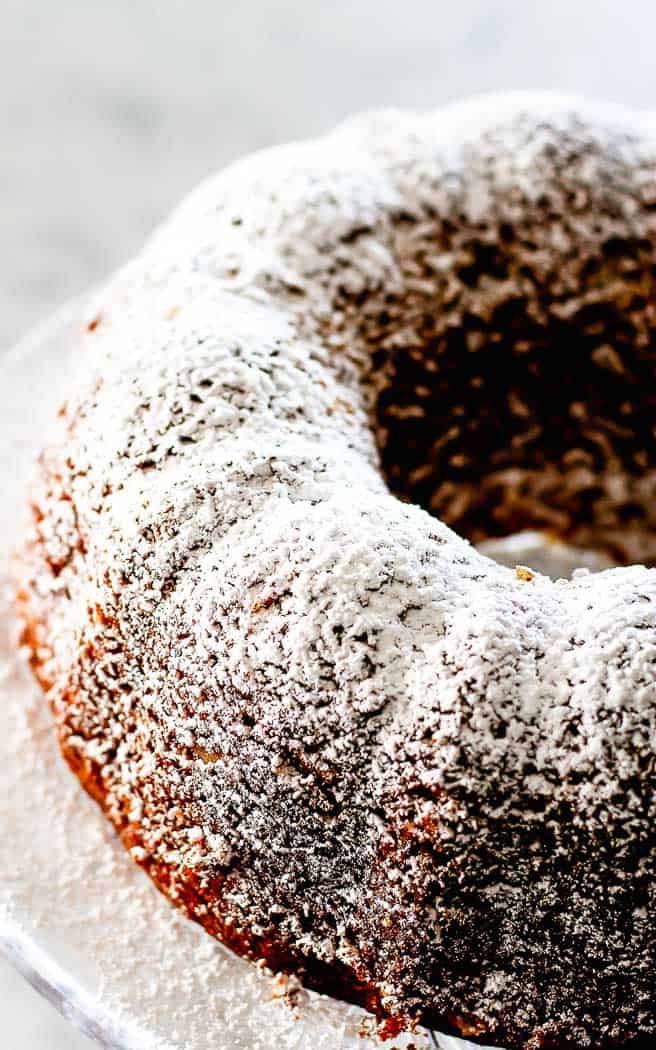 How do you keep a bundt cake from sticking to the pan?
One: Use a good non-stick pan that isn't scratched, old, or peeling. The non-stick coating must be intact.
Two: Grease the pan completely, right before adding the batter so it doesn't slide down the sides and pool at the bottom of the pan, and use liquid oil/shortening.
Three: DO NOT USE BUTTER! And make sure you get it into all the cracks and crevices of your intricately designed bundt pan with a pastry brush if it's a fancy one! Get the center tube too!
Four: Don't use flour as it gets gummy and comes out like glue, instead I use almond flour or granulated sugar. Yes, sugar is sticky but is liquid when warm so the cake will come out when still warm.
How long do you wait to turn it out?
As soon as the cake comes out of the oven, take a spatula or non-sharp knife and loosen the cake from the edges of the pan. Including around the center tube!
Rest the cake a few before flipping it over and trying to remove it from the pan. You can also, leave the bundt pan inverted on a cooling rack for a few more minutes to see if it will drop out on its own.
If the cake still won't come out, give the pan a tiny shake.
Whatever the origin of the name, keep this recipe for the Louisiana Stranger Cake, and the ingredients on hand, for any cake emergency that arises! It could save your life… It's the best bundt cake from a cake mix!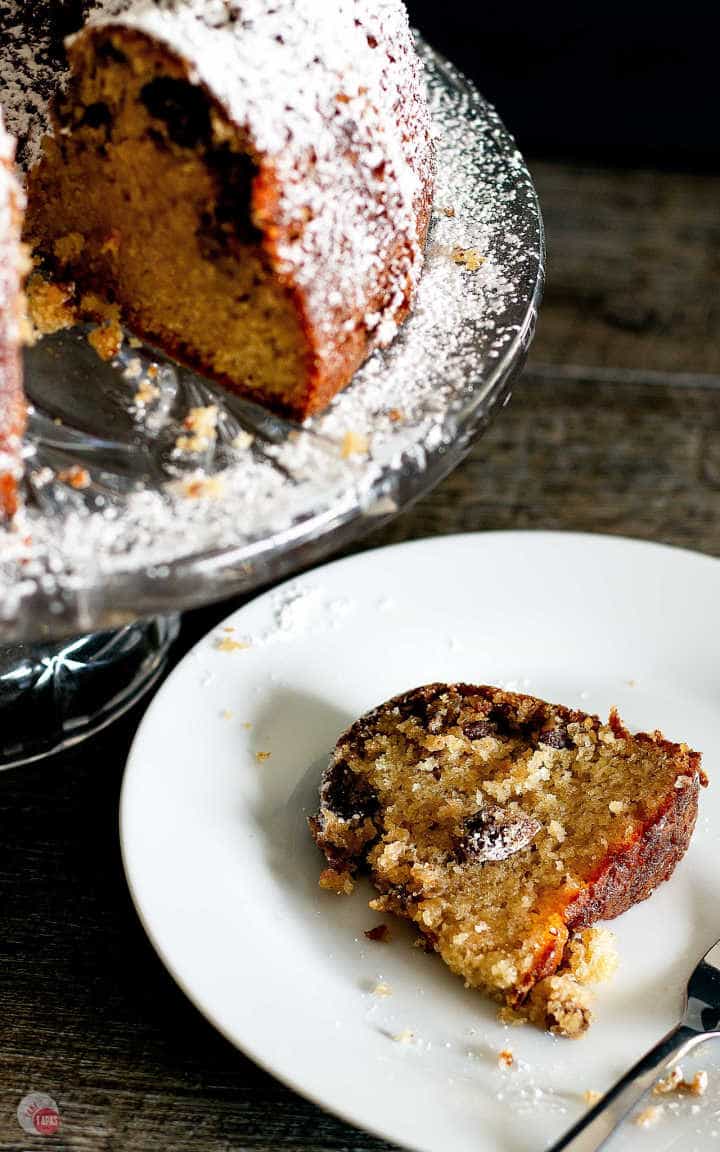 If you like reading my posts and seeing my recipes, connect with me on your favorite social media channel for behind the scenes photos and much, much more:
Sign up to receive a free email in your inbox with each new recipe:
If you love this unique bundt cake recipe as much as I do, please write a five-star review in the comment section below (or on Pinterest with the "tried it" button – you can now add pictures into reviews, too!), and be sure to help me share on facebook!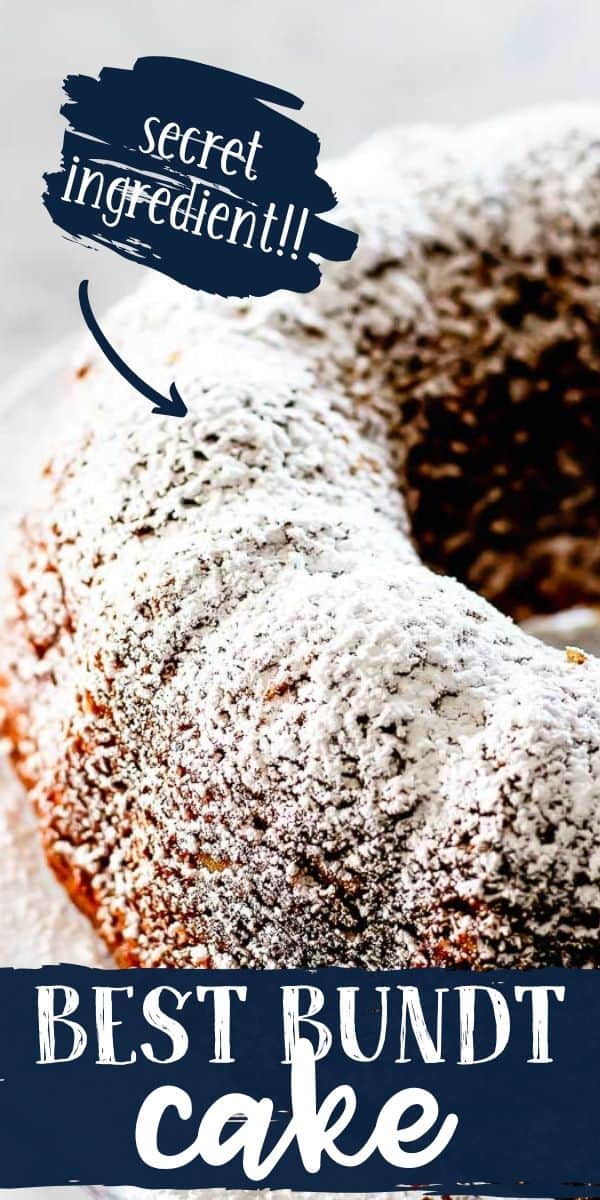 Other sweets to try:
How to make a Louisiana Stranger Cake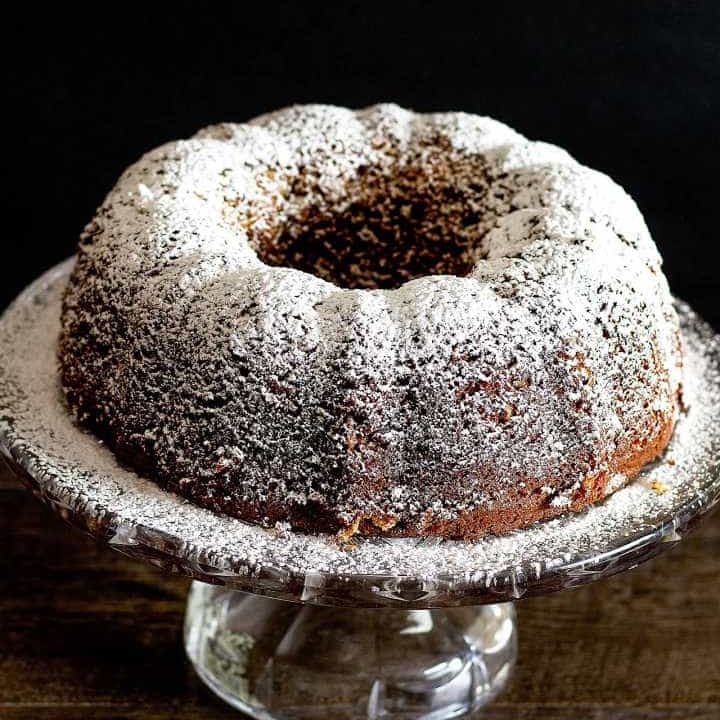 Louisiana Stranger Cake
This moist and delicious Louisiana Stranger cake comes together quickly and freezes beautifully!
Ingredients
1 box butter pecan cake mix
1 can caramel coconut pecan frosting
1 cup water
1/2 cup vegetable oil
4 large eggs
1 cup pecans (toasted and chopped)
Instructions
Mix all the ingredients together. Yes, add the frosting to the cake batter!
Pour into a well-greased bundt pan.
Bake at 350F for 45 minutes (depending on your oven, cook until toothpick comes out clean).
Let cool in cake pan for 5 minutes.
Invert on a cooling rack and leave in pan for 5 minutes.
Remove the cake from the pan.
Cool completely.
Dust with powdered sugar to serve or you can wrap tightly in plastic wrap and freeze until needed.
Notes
*If you like this recipe, leave me a comment and rate it with some stars. Thank you!
Nutrition Information:
Yield:

20
Serving Size:

20
Amount Per Serving:
Calories:

207
Total Fat:

10g
Saturated Fat:

3g
Trans Fat:

0g
Unsaturated Fat:

6g
Cholesterol:

40mg
Sodium:

234mg
Carbohydrates:

28g
Fiber:

1g
Sugar:

17g
Protein:

3g
This nutrition information was generated via a third party, Nutritionix, and can not be held liable for any discrepancies in the information provided.
The original source of this recipe was Cook's Illustrated. Tips on Bundt cakes inspired from here.
@TakeTwoTapas.com. Content and photographs are copyright protected. Sharing of this recipe is both encourages and appreciated. Copying and/or pasting full recipes to any social media is strictly prohibited.