Do you have LEFTOVER mashed potatoes or baking potatoes that you need to use up? These delicious Taco Tater Tots are made with avocado and accompanied by a salsa verde cream sauce for dipping!
EASY TATER TOTS RECIPE
Are you in love with tater tots? Ever since I was a kid, even though my mom made the most amazing Italian dishes, I craved all the carb-heavy foods that screamed comfort like pizza, French fries, and tater tots!
Most of my life I ate tater tots from the bag in the freezer that you dumped onto a baking sheet and popped in the oven for 20 minutes.
Only after my college years did I discover totchos or tater tot nachos that are the ultimate hangover food if you ask me. I love them so much I made my own morning cure which I lovingly call Cuban Totchos.
Crispy tater tots covered in carnitas, melted Swiss cheese, and homemade pickles. WOWZA! I still dream about these potato tots!
If you love tater tots, let me show you how to make them from scratch so you won't have to break into tears when the freezer is empty!
This post may contain affiliate links. As an Amazon Associate, I earn from qualifying purchases. Read my disclosure policy here.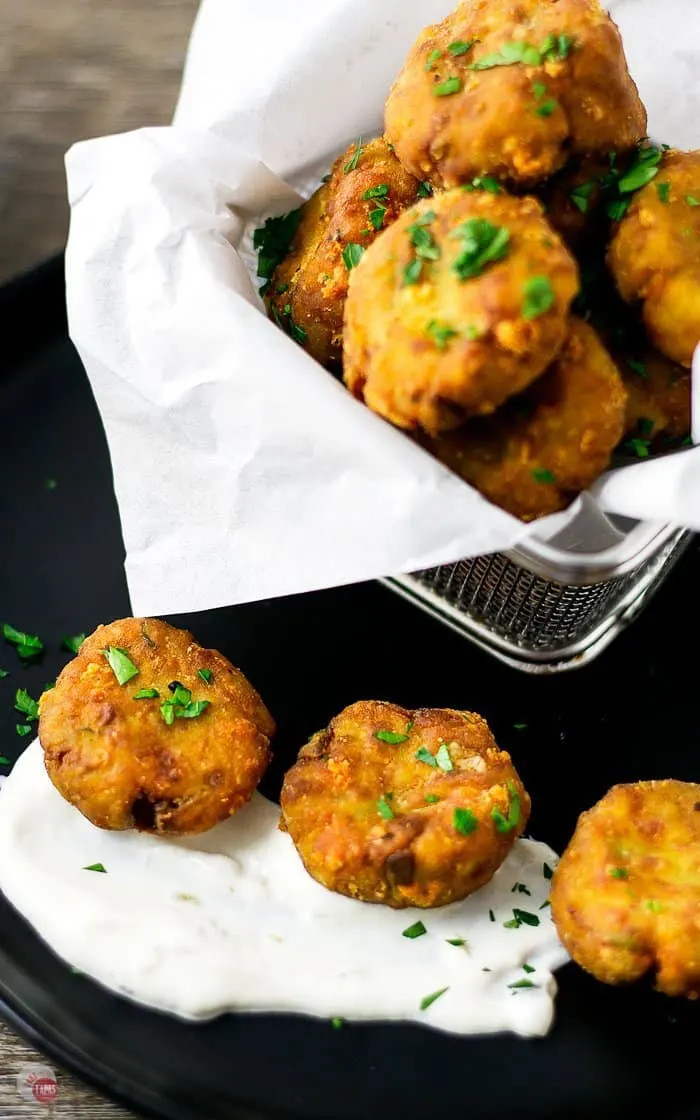 TATER TOTS
When you see a tatertot you immediately think shredded potatoes. Tots are certainly a nugget of textured, shredded potatoes that are compressed into a spherical nugget. Hog Wash!
They can be any version of a potato, not necessarily shredded or grated, that are made into a nugget. Think mashed potatoes.
LEFTOVER MASHED POTATOES RECIPES
Do you have leftover mashed potatoes in your fridge right now? I'll go one step further. Do you have a few baking potatoes in your pantry or hanging out on the kitchen counter with no meal opportunity in sight?
We rarely have leftover mashed potatoes because if there are any leftover after dinner time, they will get eaten some time in the middle of the night.
Plenty of storage containers full of food disappear in the middle of the night and a few days later, empty containers appear in my sink.
HMMMM…
For more insider tips & tricks, and a candid behind the scenes look follow me on social media! Check use out on Pinterest, Facebook, Instagram, & Twitter (yes, people still use Twitter, LOL!)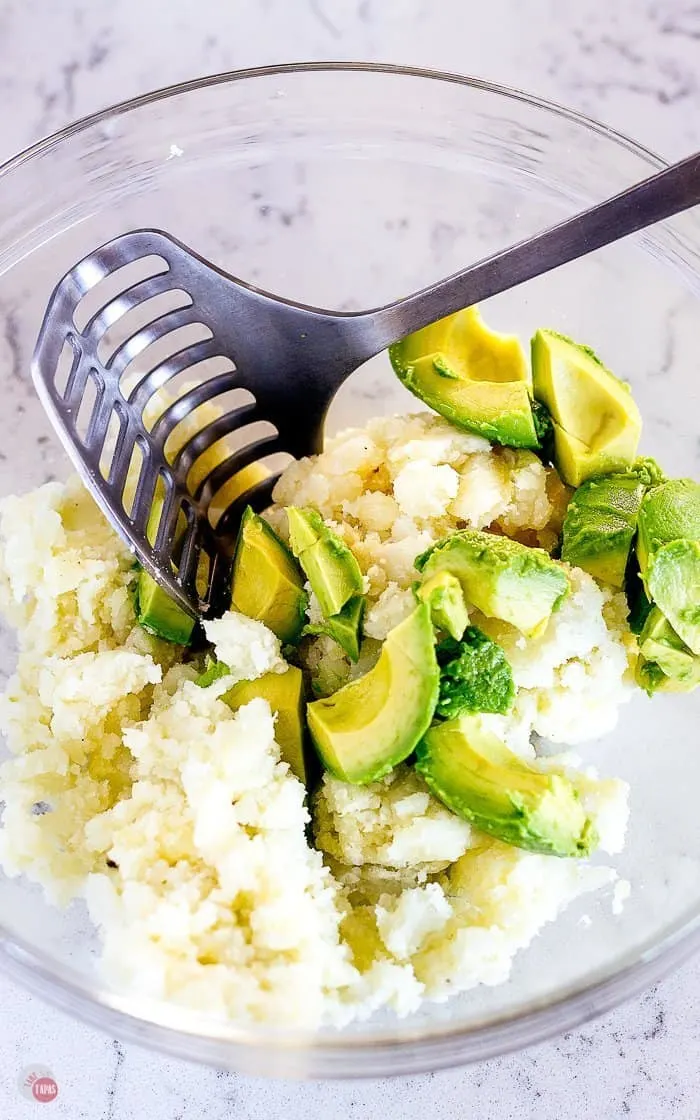 HOW TO MAKE TATER TOTS?
Making tater tots is easy! Forget all the shredding of raw potatoes, draining out the water, etc. That's too much work! Use leftover mashed potatoes, baked potatoes, or even raw baking potatoes. How?
For this recipe I had 6 small potatoes hanging out on my counter with nothing to do. I pricked the skins, popped them in the microwave on the potato setting, and cooked them for two cycles.
Once they were done, I cut them in half and scooped out the cooked potato flesh and put it into a bowl. From there I added an avocado to replace the milk and butter that would normally be in mashed potatoes.
Added in chopped green chilies, some taco seasoning, and an egg for binding it all together.
Once all that is mixed together, scoop them into balls, roll them in some flour to hold them all together, and fry these tots up!
For the full recipe and detailed instructions, please refer to the recipe card at the bottom of the post.
CAN I USED MASHED POTATOES?
Of course you can! You can use them as prepared as a substitute for the 2 cups of baked potato. Feel free to leave out the avocado if you have already prepared mashed potatoes.
WHAT IF I DON'T HAVE MASHED POTATOES OR THE BAKING POTATOES?
My kids love the store-bought prepared mashed potatoes so feel free to use those!
CAN I USE SWEET POTATOES?
Yes you can!
DO I HAVE TO COAT THE TATER TOTS IN FLOUR BEFORE FRYING?
No you don't have to, but it does help give the tater tots a golden brown color but it is not necessary. Leaving the flour off will make these taco tater tots gluten-free!
For more insider tips & tricks, and a candid behind the scenes look follow me on social media! Check use out on Pinterest, Facebook, Instagram, & Twitter (yes, people still use Twitter, LOL!)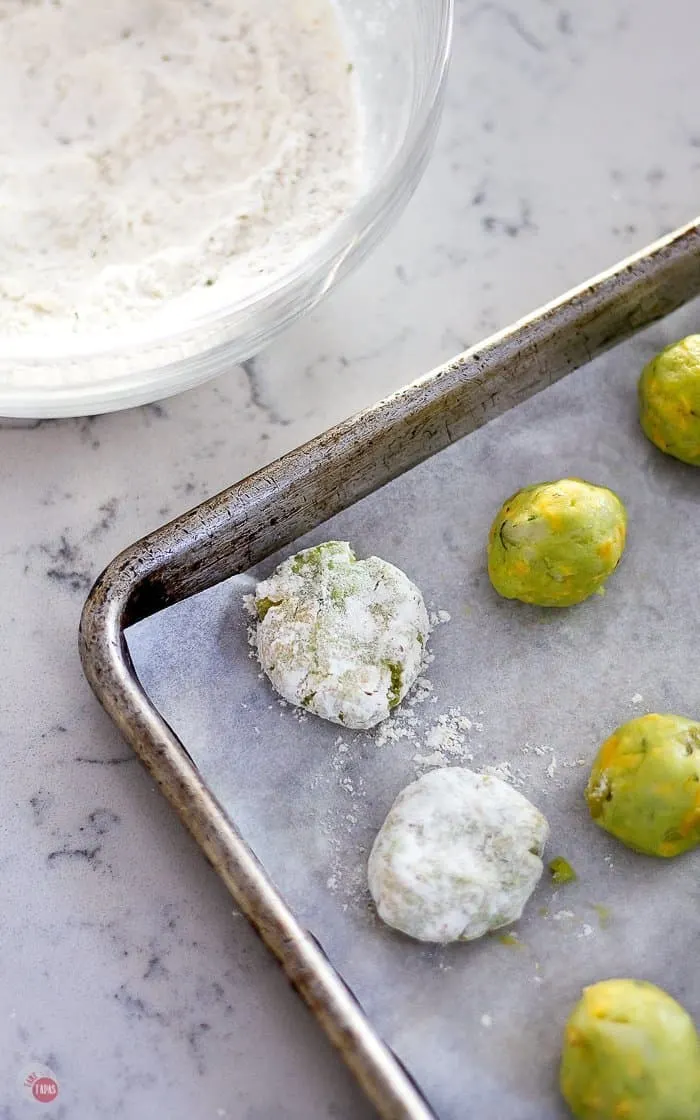 It is time for Freaky Friday!! The quarterly blog hop where we make recipes from other blogger's sites and put our own spin on them.
It's so fun because it is all a secret!! Only you (and the organizer Michaela from An Affair from the Heart) know what site you recreating a recipe from.
It is so fun to find a recipe that you want to make, put your own twist on it, and share it with our readers.
My favorite part is waking up and checking out all the other bloggers and see who made something from Take Two Tapas and what they chose to make. Also, what fun, new spin they put on it too!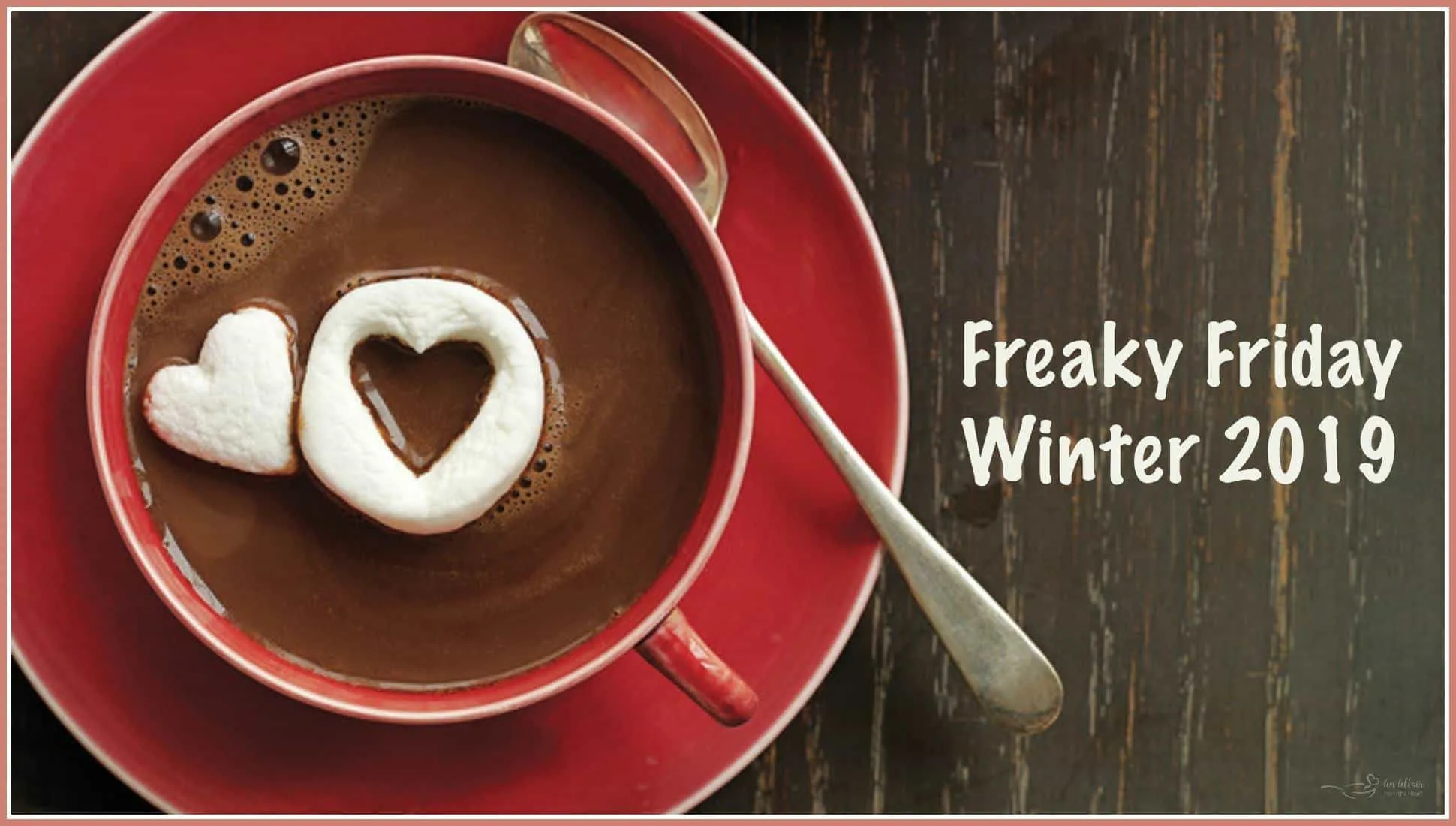 This round I was given Angela who writes at LeMoine Family Kitchen. In the past I have been given her blog and made her Pecan Cornmeal Biscotti cookies.
Talk about fun! Those cookies have such amazing texture but I love that they are a bit on the savory side.
One of the hardest parts of Freaky Friday is deciding which delicious recipe to make! Angela has so many drool-worthy recipes, I had to restrict myself to the appetizers just so I had a glimmer of hope in narrowing down my decision of what to cook.
I was struck by her Grilled Teriyaki Wings, her Pizza Stuffed Breadsticks, and her Meatball Crescent Bites. Just like me she has two boys so you know she is always cooking because boys are always hungry!
I love all her appetizers, because that's just me, but her dinner and dessert recipes are out of this world!
If you love this recipe as much as I do, please write a five-star review in the comment section below (or on Pinterest with the "tried it" button – you can now add pictures into reviews, too!), and be sure to help me share on facebook!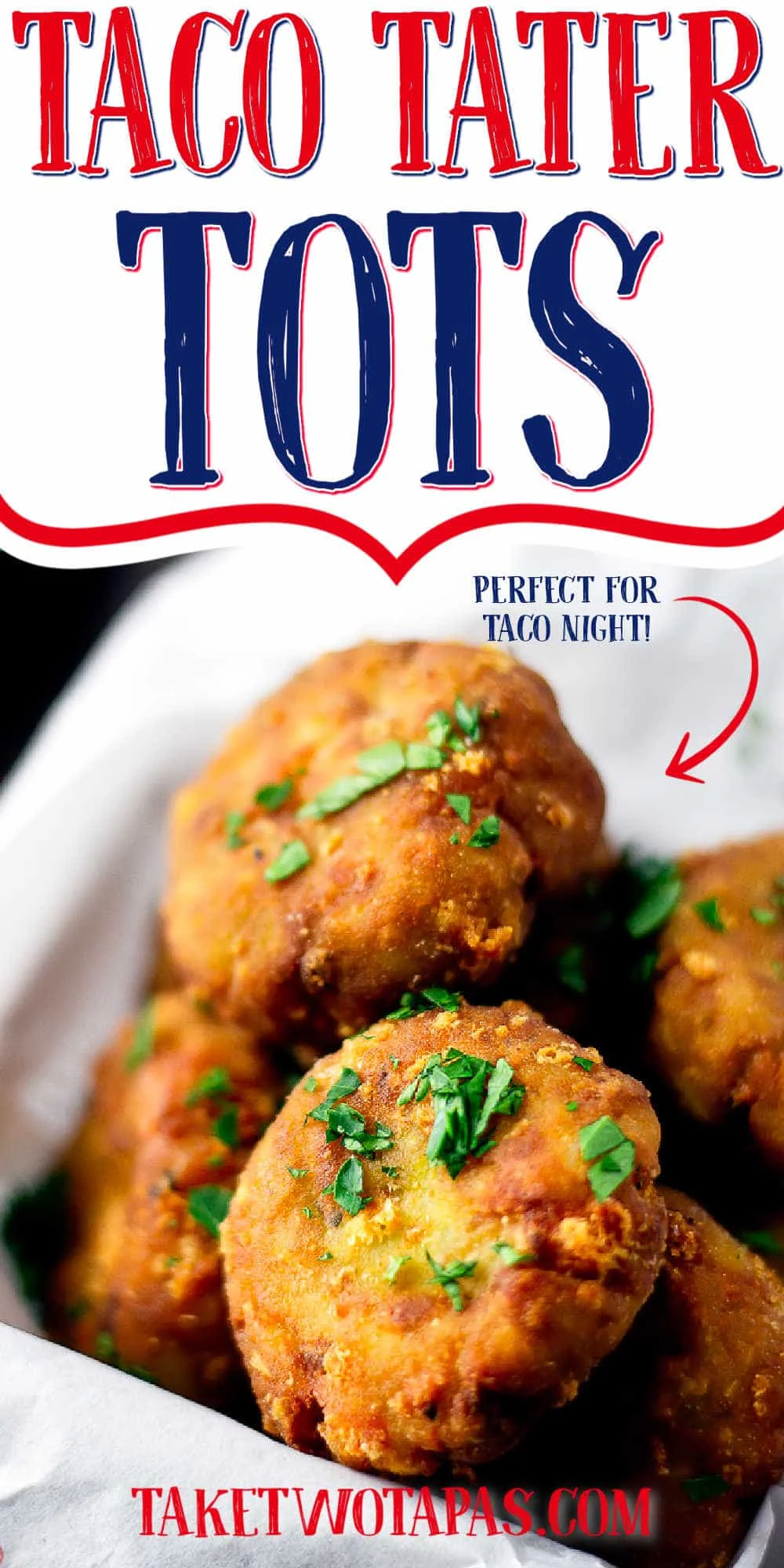 MORE EASY APPETIZERS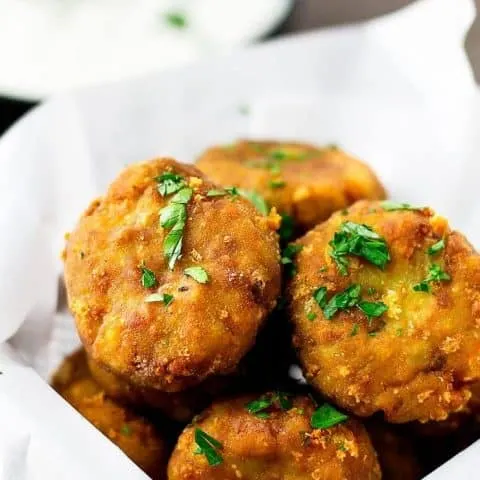 Taco Tater Tots - Easy Southwest Potato Cheesy Tots
Do you have leftover mashed potatoes or baking potatoes that you need to use up? These Taco Tater Tots are served with salsa verde cream sauce for dipping!
Ingredients
2 cups cooked potato
1 medium avocado
1 cup cheddar cheese
2 tablespoons chopped green chilies
1/2 teaspoon parsley
1/2 teaspoon onion powder
1/4 teaspoon cumin
1/2 cup flour (seasoned with salt & pepper)
1 cup vegetable oil for frying
Instructions
Prepare the potato mixture
Take your raw potatoes, prick the skin, and cook in the microwave for two rounds on the potatoes setting.
Cut open the potatoes and scoop out the cooked flesh (roughly 2 cups)
Mix with the avocado, cheese, green chilies, parsley, cumin, onion powder, and egg.
Combine and scoop into 1 inch balls.
Chill for 15 minutes.
Fry the taco tater tots
Heat a few inches of vegetable oil on the stovetop to 375F.
Remove the taco tots from the fridge and roll in seasoned flour.
Press the tots into flat discs.
Fry in batches of 4-5 tots until golden brown (roughly 4 minutes).
Remove to a paper towel-lined plate to drain.
Prepare the dipping sauce.
Combine the sour cream and salsa verde.
Serve in these tiny fryer baskets for fun!
Serve with taco tater tots!
Notes
*If you like this recipe, please leave me a comment and rate it with some stars. Thank you!
Nutrition Information:
Yield:

24
Serving Size:

1
Amount Per Serving:
Calories:

137
Total Fat:

12g
Saturated Fat:

2g
Trans Fat:

0g
Unsaturated Fat:

10g
Cholesterol:

5mg
Sodium:

35mg
Carbohydrates:

6g
Fiber:

1g
Sugar:

0g
Protein:

2g
This nutrition information was generated via a third party, Nutritionix, and can not be held liable for any discrepancies in the information provided.
Check out all the other Freaky Friday Recipes this round too!
TakeTwoTapas.com. Content and photographs are copyright protected. Sharing of this recipe is both encouraged and appreciated. Copying and/or pasting full recipes to any social media is strictly prohibited.