Your favorite Italian Sub Sandwich has been transformed into nachos! Wonton chips hold your favorite toppings like salami, pepperoni, prosciutto, and cheese. A sandwich you can eat like Italian nachos and share with your friends.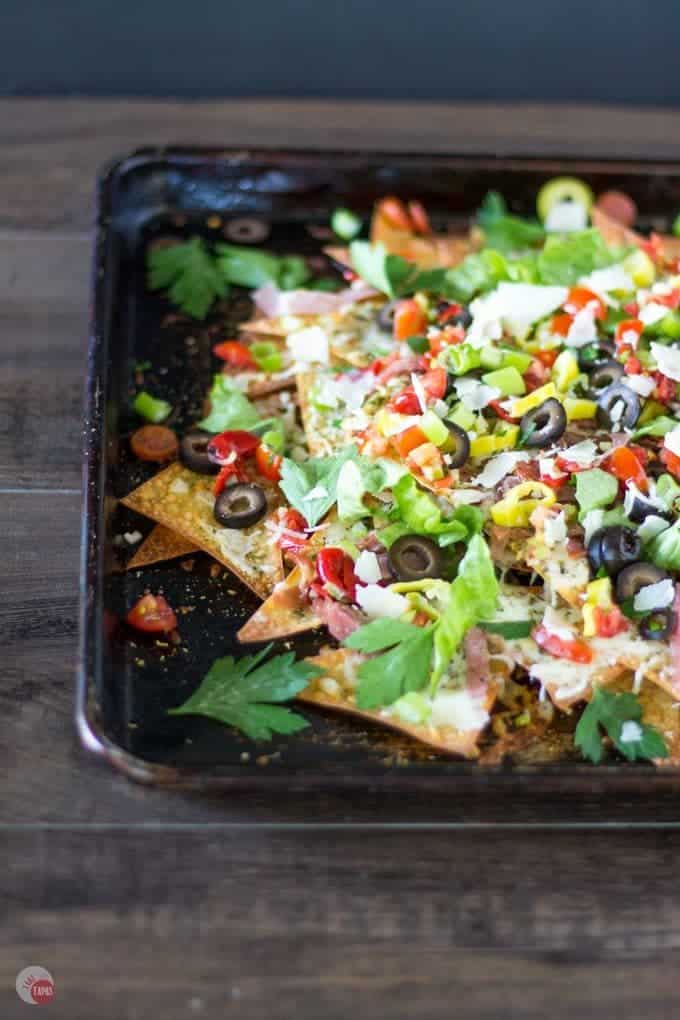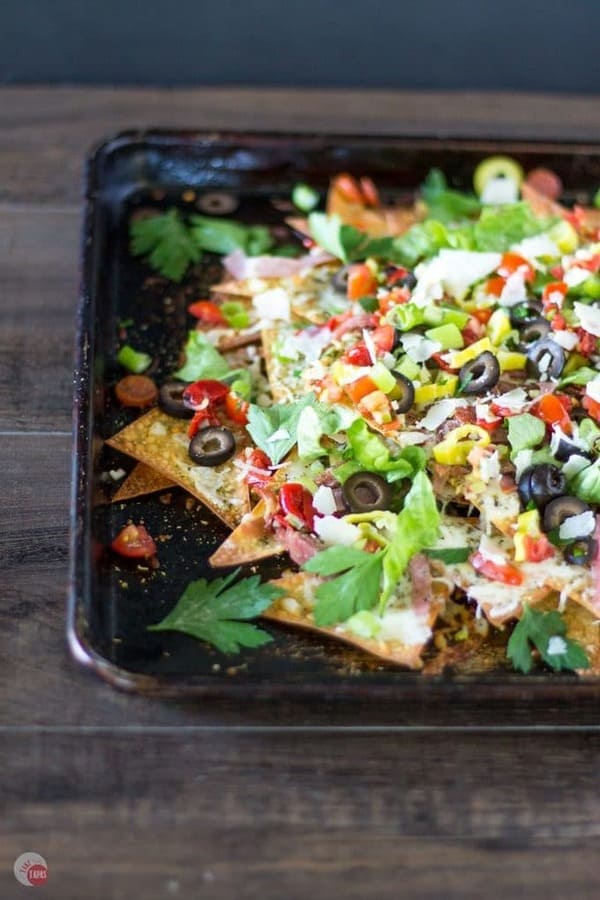 If you'd rather skip my (very helpful, I think) tips and tricks, essential cooking info, and similar recipe ideas – and get straight to this delicious recipe – simply scroll to the bottom of the page where you can find the printable recipe card.
Eating Italian Sub Sandwiches growing up has solidified my love of all things Italian and I love to experiment with the ingredients. Let me show you what I did with them last week!!
If you have been reading for awhile then you saw my nachos series last summer. Inspiration got the best of me and I wanted my favorite sandwiches easier to eat. To share with my friends without having to cut my bread is a plus too.
How does Pepperoni Pizza Nachos with pizza crust chips sound? They were a huge hit! Not as popular as my Gyro Nachos and my super fun Pretzel Dessert Nachos but just as tasty!!
Right before the nachos series, I did some chicken wings too. Be sure to check them out! But enough about that, back to the Italian Nachos.
This post may contain affiliate links. As an Amazon Associate, I earn from qualifying purchases. Read my disclosure policy here.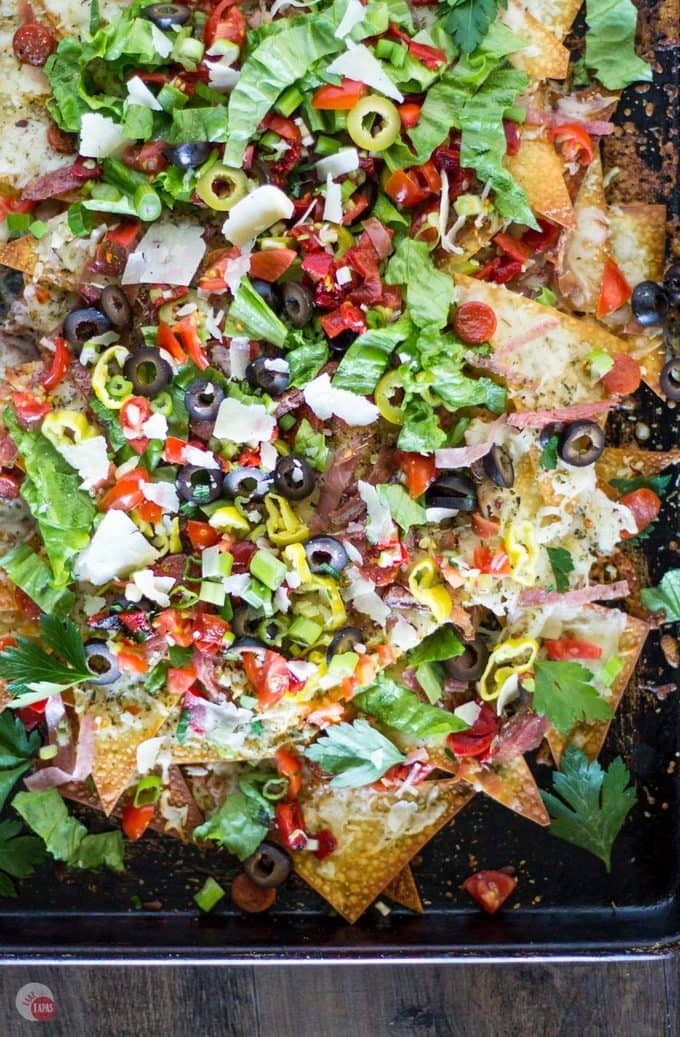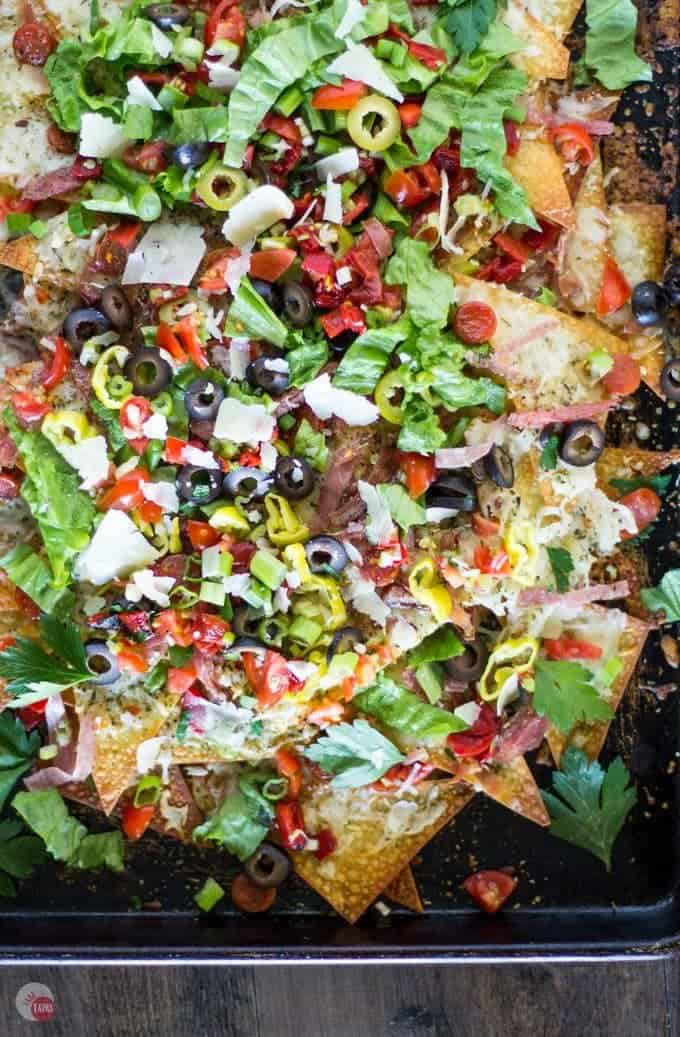 When we had a day off from the restaurant, usually Sunday, we would eat Italian sub sandwiches. The usual crusty sub rolls, layers of salami, pepperoni, and ham. I left the ham off mine since I was not a huge fan, and doubled up on the salami.
Cured meats and I have a special relationship… The sandwich was rounded off with onions, provolone cheese, lettuce, tomato, pepperoncini peppers, and Italian dressing.
The dressing wasn't just put on the toppings as an afterthought. We scooped out part of the bread insides on both halves, poured the dressing into the "tunnels" and then added the other sandwich ingredients. This ensured that the bread got ample coverage and allowed the bread to soak up a little of the tart vinegar flavors which complemented the cured meats so well.
I have eaten this sandwich the same way for over 30 years. My only change is a vegetarian option. I just have the cheese, tomatoes, lettuce, onions, dressing (which I only use oil and vinegar from home now) and the pepperoncini peppers. My friends laugh when I make it and then beg for one too!
For more insider tips & tricks, and a candid behind the scenes look follow me on social media! Check use out on Pinterest, Facebook, Instagram, & Twitter (yes, people still use Twitter, LOL!)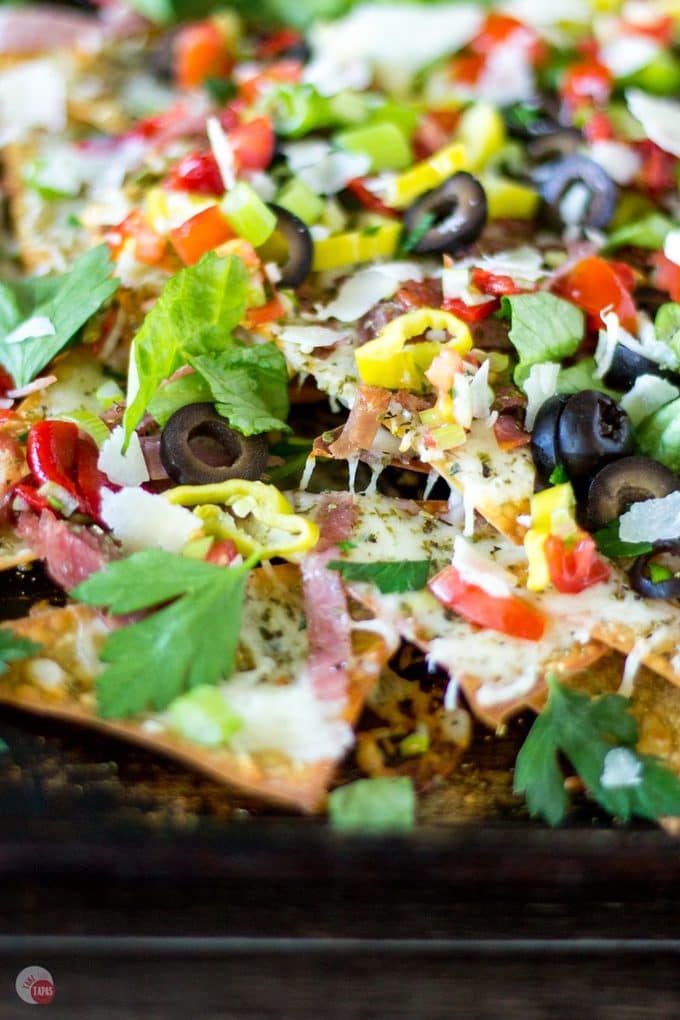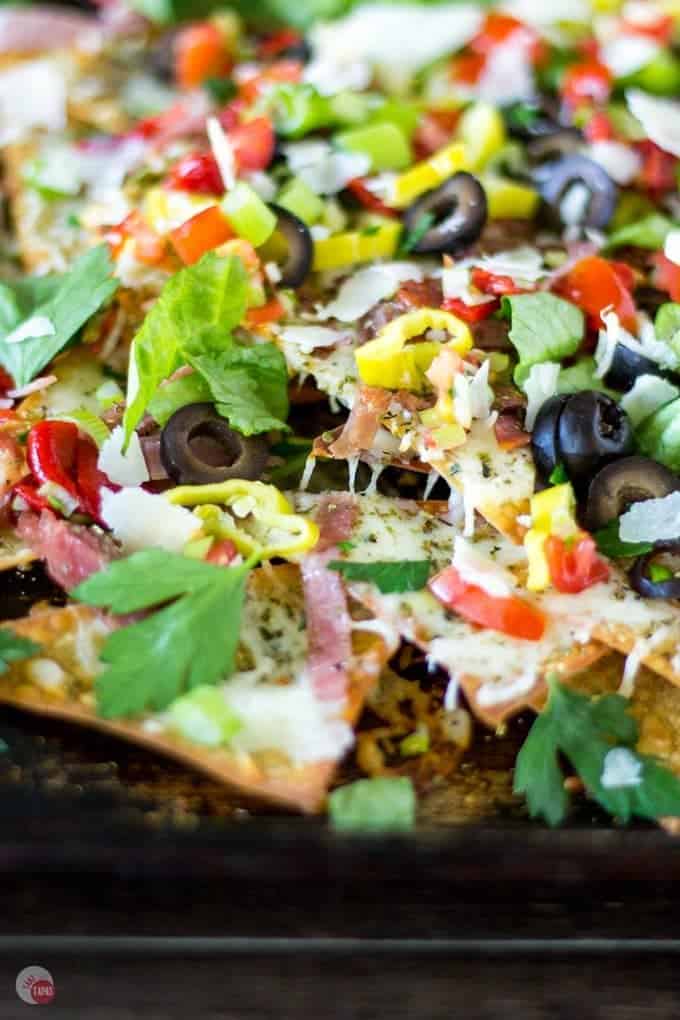 When I decided to change this childhood sandwich favorite into nachos, I opted for all the best parts of the sub. With a few more things added in for fun.
First, for the chips, I went with wonton wrappers. Baked, not fried. This is a one-pan meal so no extra clean up needed here! Once the chips were baked I just piled them up on the same pan I baked them on and made the nachos. I LOVE FEWER DISHES! And it serves as its own serving platter too for an added bonus.
Once the wonton chips were ready, I added a layer of cheese (the Italian blend kind) and some Italian seasoning so it would melt in with the cheese. These are Italian Nachos so a little more Italian flavor the better! After the cheese, I added the meats.
Salami, pepperoni, and prosciutto sliced thin and sprinkled on have a great texture when they are crisped up in the oven and cling nicely to the chips as they are nestled in the melted cheese.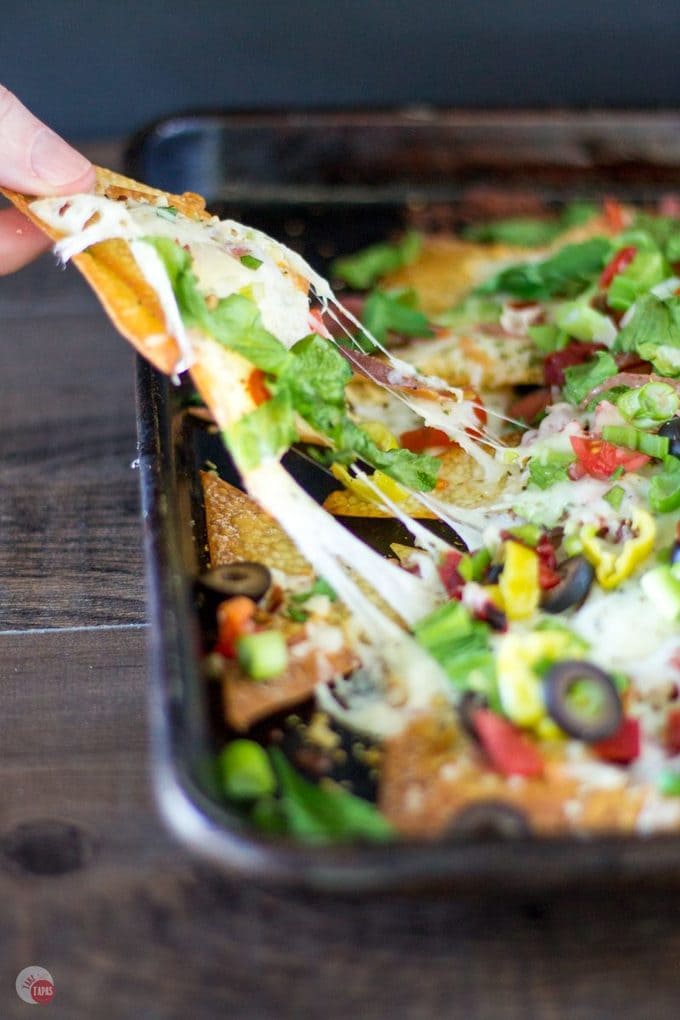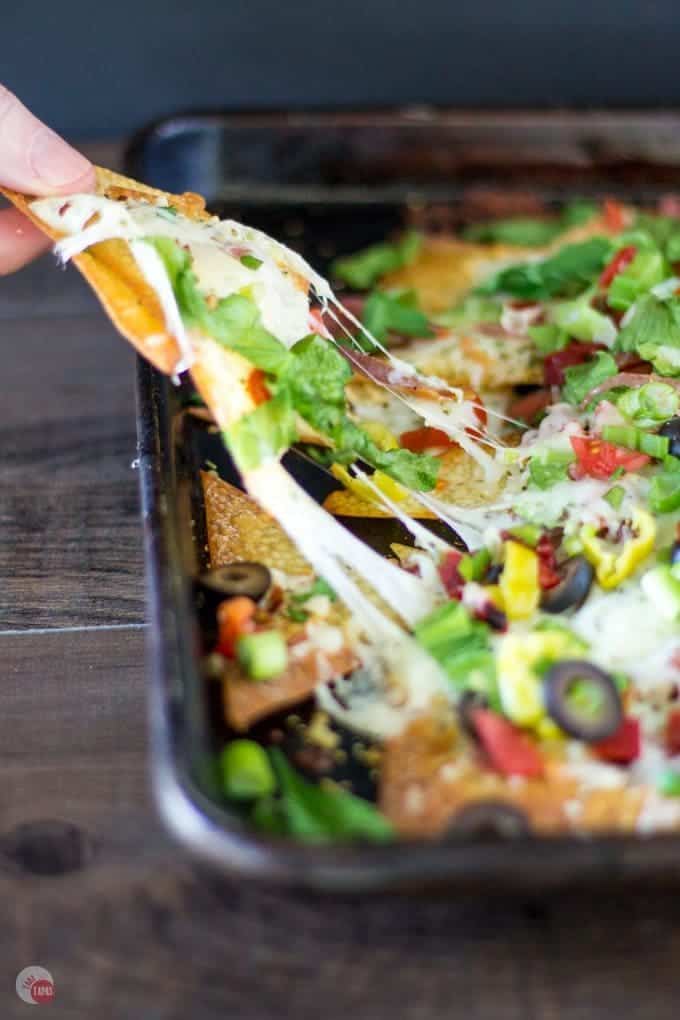 When all the cheese is melted and the meats crispy, remove the pan from the oven and top with all the fresh ingredients. Just like my Italian sandwich, I needed tomatoes, lettuce, onions, cheese, and a few others for fun.
Instead of just tomatoes, I made a quick salsa of chopped cherry tomatoes, roasted red peppers, and garlic. I mixed it together with some red wine vinegar and olive oil to mimic the Italian dressing flavors. This salsa sprinkled on the nachos is the perfect topping!
A sprinkle of this amazing salsa, a few sliced olives, fresh parsley, and shaved parmesan cheese is the way to top off these Italian nachos. All baked and served in one pan is just about the easiest way to make sheet pan nachos.
Best thing is I usually have all of these ingredients in my fridge at one time. If I am missing one of the meats, or I am out of olives because my son ate them all, I can substitute or just leave them off.
You can even leave off the meats if you are craving that vegetarian option like I did with my meatless Italian sandwich. Sometimes you just need some fresh veggies!

These Sheet Pan Italian Nachos are so fun and I am totally in love with all the textures and bright colors! I hope will try them soon! Give me a shout out on social media with the #taketwotapas so I can see how they turned out!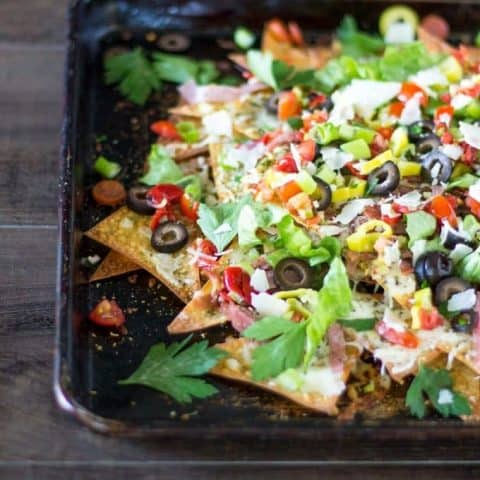 Sheet Pan Italian Nachos For Sharing With Friends
Your favorite Italian Sub Sandwich has been transformed into nachos! Wonton chips hold your favorite toppings like salami, pepperoni, prosciutto, and cheese.
Ingredients
For the nachos
1/2 cup prosciutto (sliced thin)
1/2 cup salami (sliced thin)
1/2 cup mini pepperoni or regular pepperoni (sliced thin)
2 cups Italian blend cheese (shredded)
24 wonton wrappers (cut in half to make triangles.)
Non-stick cooking spray
For the salsa
1/2 cup small tomatoes (diced small)
1/2 cup roasted red peppers ((Piquante Peppers), diced small)
2 cloves garlic (crushed)
3 tablespoons red wine vinegar
3 tablespoons olive oil
For the toppings
2 teaspoons Italian seasoning
1 teaspoon crushed red pepper flakes
1/2 cup olives (sliced)
1/2 cup pepperoncini peppers (sliced thin)
1/4 cup fresh parsley (chopped)
1 cup romaine lettuce (sliced thin)
1/2 cup shaved parmesan cheese
Instructions
Make the wonton chips
Preheat oven to 400F.
Spray the wonton wrappers a few at a time and bake in a single layer until crispy, about 5 minutes, flipping once during cooking.
Remove cooked wrappers and add more to the pan.
Repeat until all the wrappers are cooked.
This will take a few rounds. Use this time to make the salsa and get all the other ingredients together.
Make the salsa
Mix your salsa and set aside.
Once the chips are all baked, sprinkle with cheese, Italian seasoning, red pepper flakes, and meats.
Place back in the oven and melt the cheese and crisp the meats. About 5 minutes.
Once all the cheese is melted, remove the nachos from the oven.
Sprinkle with salsa and all the other toppings.
Serve right away!
Notes
*If you like this recipe, please leave me a comment and rate it with some stars. Thank you!
Nutrition Information:
Yield:

8
Serving Size:

1
Amount Per Serving:
Calories:

418
Total Fat:

28g
Saturated Fat:

11g
Trans Fat:

1g
Unsaturated Fat:

15g
Cholesterol:

72mg
Sodium:

1386mg
Carbohydrates:

20g
Fiber:

2g
Sugar:

2g
Protein:

20g
This nutrition information was generated via a third party, Nutritionix, and can not be held liable for any discrepancies in the information provided.
These nachos are inspired by Guy Fieri's from Food Network.