Grab your grill and some kitchen staples and whip up a great appetizer for your summer get-together! These bacon-wrapped hot dog bites are your new favorite summer snack!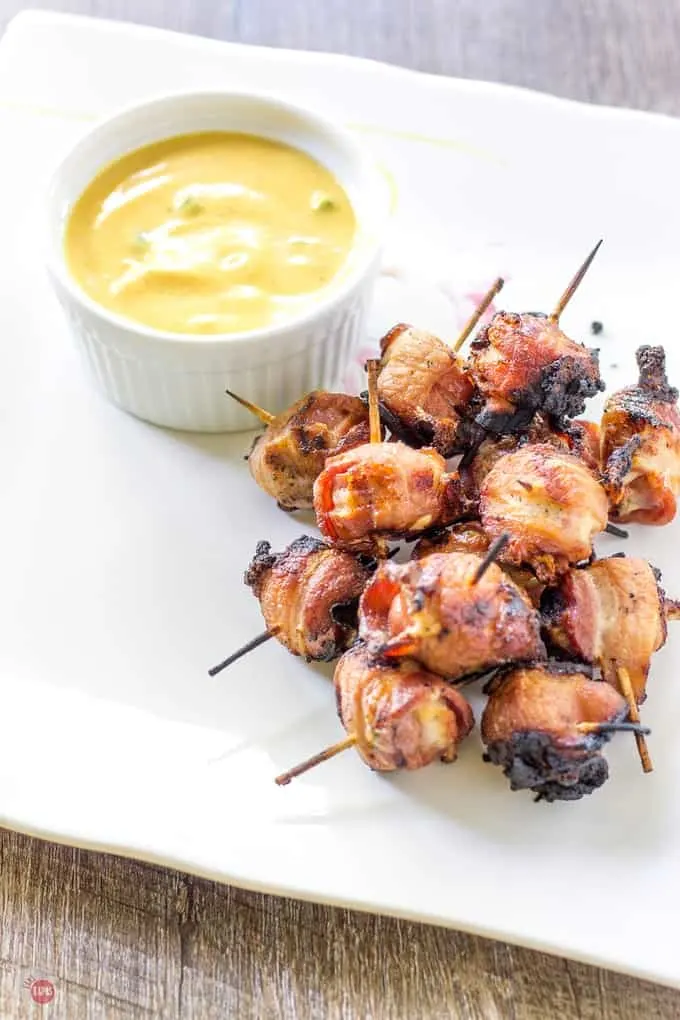 Summer is here and you can't get any more "summer" than hot dogs on the grill. The only thing that can make them better is bacon!! If a whole hot dog seems like too much to handle, how about some bacon-wrapped hot dog bites?
A tasty, one-bite appetizer to keep you from attacking the grill master while they are grilling up the grub!
With the entrance of summer, I have many mixed emotions.
The end of a school year means my kids are growing up at a rapid pace. Not ready for this at all!
Summer days mean time to relax with family and friends. This year we are moving and our summer will be bittersweet.
Longer days offer more time to enjoy the great outdoors and all that nature brings. Hopefully gnat, mosquito, and fly free!
Summer means grilling season has officially begun!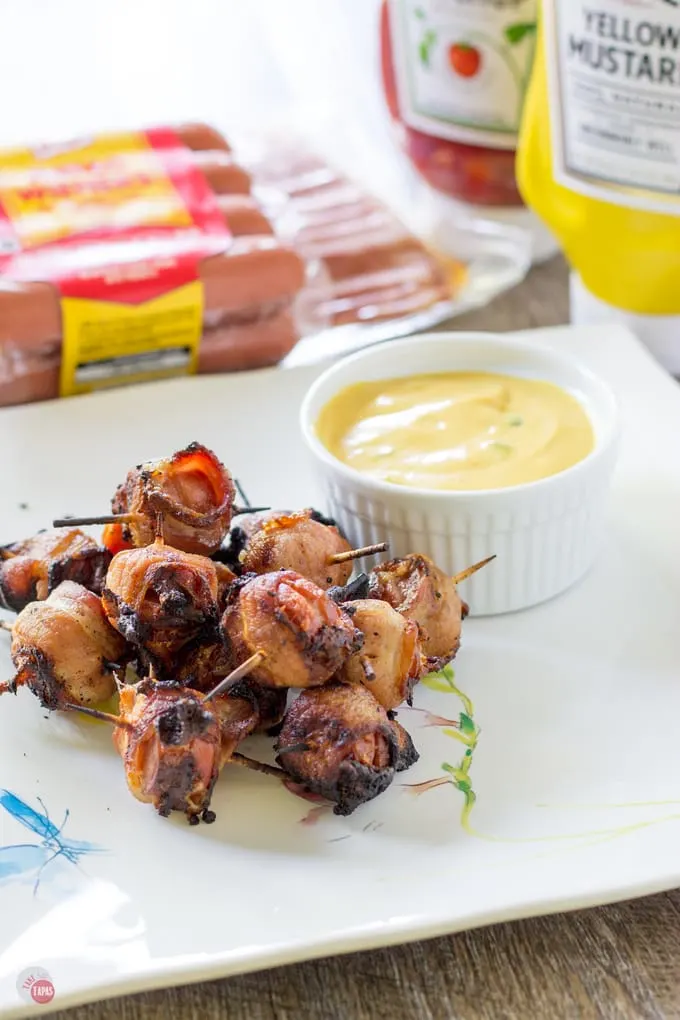 For those lucky enough to have official "seasons" where the weather actually changes know what a joy that is. I have spent the last 11 1/2 years in South Georgia where is always hot and humid and the leaves never change color.
Seasons are measured by the amount of pollen on the cars and the number of pine cones that have fallen from the trees and now litter the yard.
But having warm weather most of the year means we get to grill out more often than most. I love the charred and smoky flavor that grilling brings out and it is an excuse for the hubby to actually do some cooking.
Summer Grilling List of Staples
Summer grilling requires having staples on hand. You don't want to have to run to the store last minute while the coals are heating up, so make a list before you head out!
If I don't have a list, I always forget at least one item. For my lists, I always use the old pen and paper. I can never remember to use the list-maker on my phone and it is just easier for me. Don't laugh but I buy notepads by the case. I have stacks of them because I use them for EVERYTHING!
My list of summer grilling staples includes:
charcoal
lighter fluid
flame starter
grill brush
skewers
heat-proof gloves
water for the grill master to stay hydrated
an appetizer to keep the grill master happy and hungry guests from bothering/standing around the grill
These Bacon Wrapped Hot Dog Bites are the perfect appetizer for your summer grilling get-together. While the chef is slaving over the hot grill getting all the burgers and dogs cooked, your guests can get the party started with this amazing appetizer!
Bacon Wrapped Hot Dog Bites use just 3 ingredients and comes with simple summer sauce to dip them in.
This post may contain affiliate links. As an Amazon Associate, I earn from qualifying purchases. Read my disclosure policy here.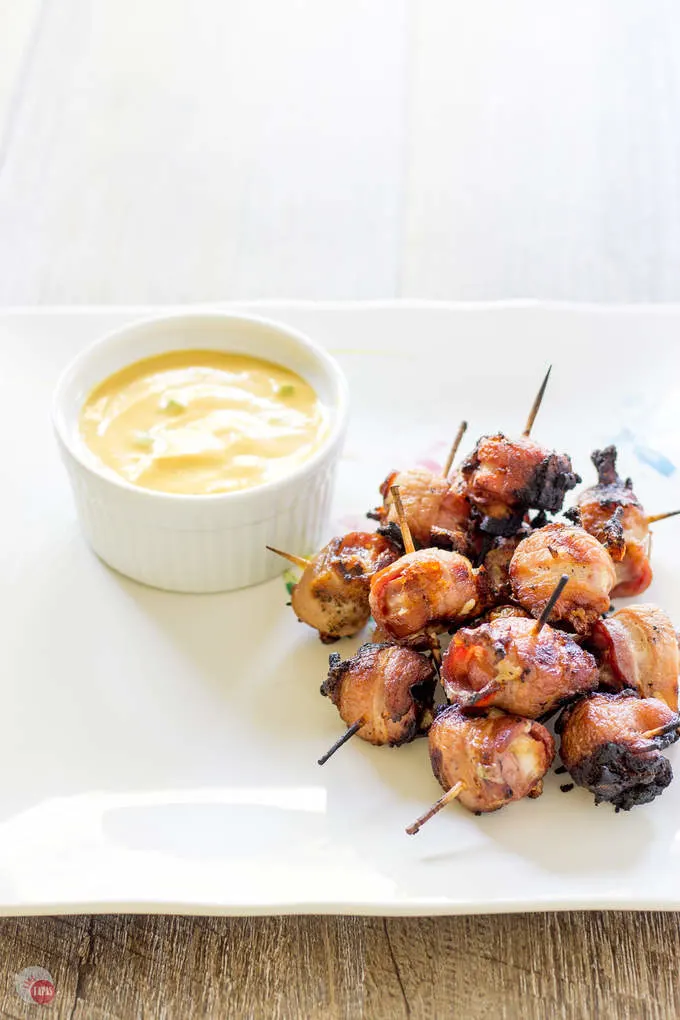 To get your hot dog bites prepped and ready, start by slicing your hot dogs into 12 slices. I trim the ends off and then cut eat dog in half. Then in half again making 4 equal sections. Then slice each section into thirds. That way all the pieces are the same width.
Next, I take my pepper jack cheese slice and cut it into 12 squares. I add two cheese squares to a hot dog slice and then top with another hot dog slice. Like a mini cheese sandwich with hot dog "buns." Each 16-ounce package of hot dogs makes 48 hot dog bites! What a bargain that is. 😲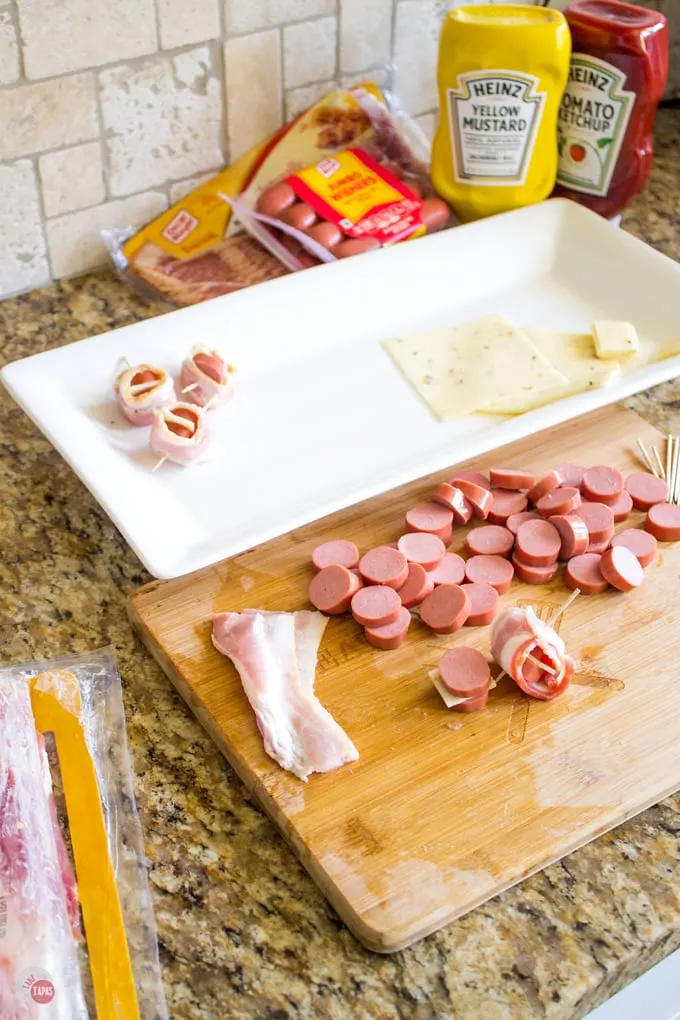 We can't forget about the bacon wrapping part. I like using the regular sliced bacon because it cooks fast. Each slice of bacon will wrap 2 hot dog bites so I use 1 1/2 packages of bacon for this recipe. The other half of the package is getting gobbled up by my kids! Make sure you grab a package of toothpicks for this recipe or you can use the wooden skewers.
I use toothpicks when I make my Greek Chicken Nuggets so they are easy to pick up. To make sure the toothpicks and skewers don't burn too quickly, I soak them in some cold water for 10 minutes before adding the hot dog bites to them. This keeps them cool for a bit while they are cooking.
I like toothpicks because you can grab one at a time and not commit to eating three or four at once. Plus it feeds more people at the party! If you are having these as your main course, then placing three or four on a skewer is a great option like my Mediterranean Chicken Skewers!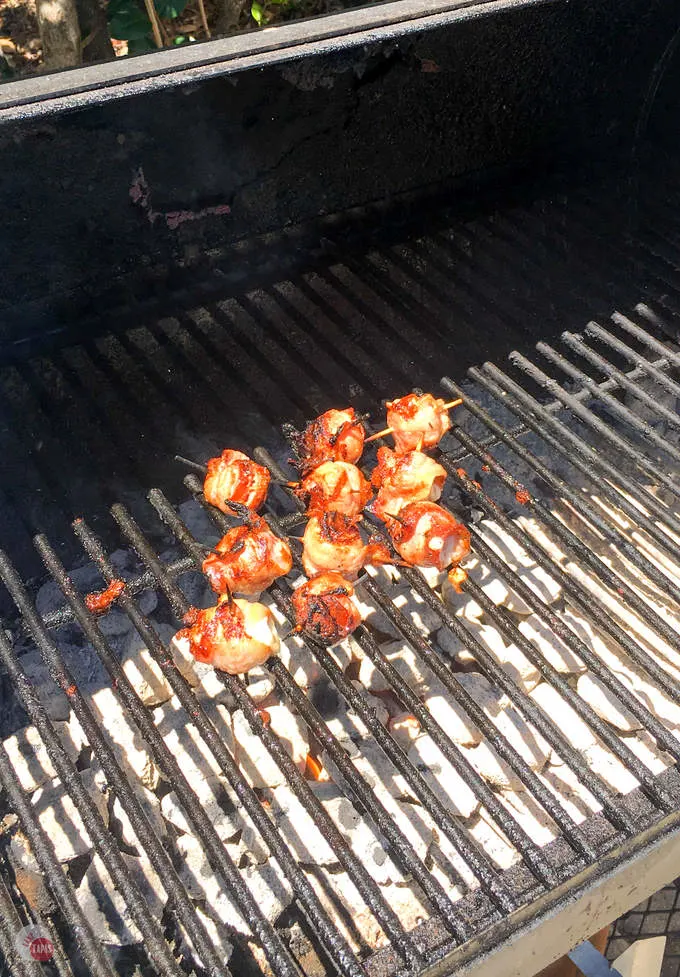 Brooks is usually the grill master but for this one, since it is an appetizer, he let me take the reins. I think he is just being lazy and wanting me to get the coals started.
All in all these hot dog bites take about 10 minutes to cook. The hot dogs are already cooked thoroughly so you are really just getting them hot, melting the spicy cheese, and getting the bacon nice and crisp.
All in all these hot dog bites take about 10 minutes to cook once the coals get ready. The hot dogs are already cooked thoroughly so you are really just getting them hot, melting the spicy cheese, and getting the bacon nice and crisp.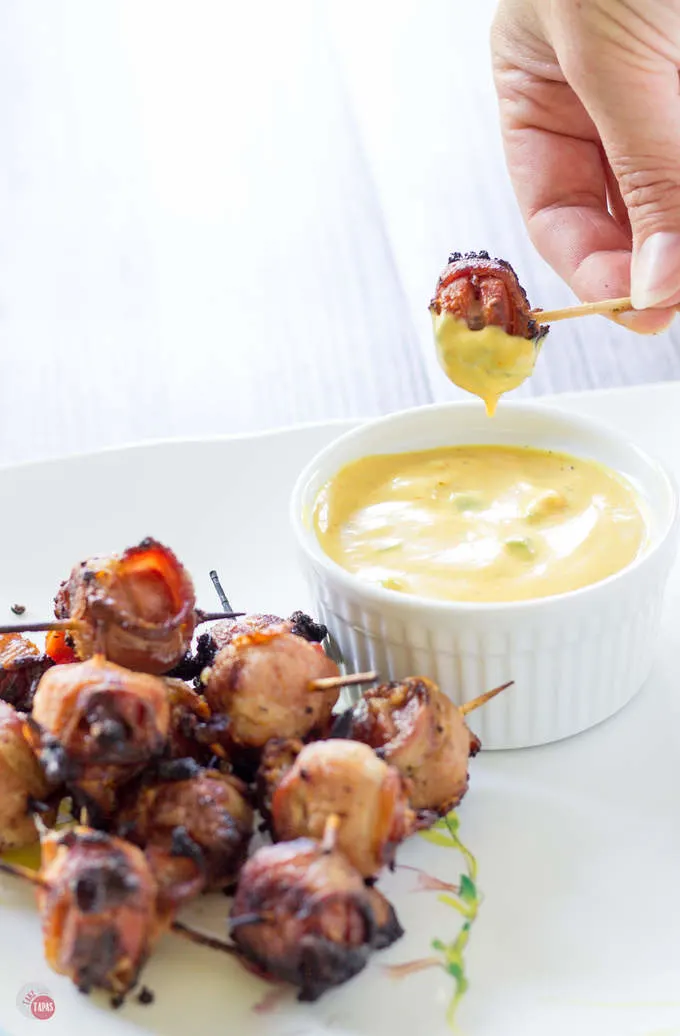 For more insider tips & tricks, and a candid behind the scenes look follow me on social media! Check use out on Pinterest, Facebook, Instagram, & Twitter (yes, people still use Twitter, LOL!)
You can certainly pop these bacon-wrapped hot dog bites in your mouth (removing the toothpick first!) or you can dip them in what I like to call my "Summer Sauce." A friend of my youngest once told me that his "Nana" has a special sauce that she makes for their burgers and hot dogs that is "out of the world." His words exactly!
I asked if he might possibly get me the recipe if it is THAT spectacular. He said sure, it's just ketchup and mustard mixed together. 😜 I almost died laughing.
I am riffing off his Nana's special sauce and making a "Summer Sauce." Same ingredients, ketchup, and mustard, but with the addition of mayo, a diced jalapeno, and some honey.
This "Summer Sauce" is tangy, bright, a little sweet, with a hint of spice. This may just be your new topping for all your hot dogs, hamburgers, corn dogs, and chicken sandwiches. Simple ingredients make the best dishes!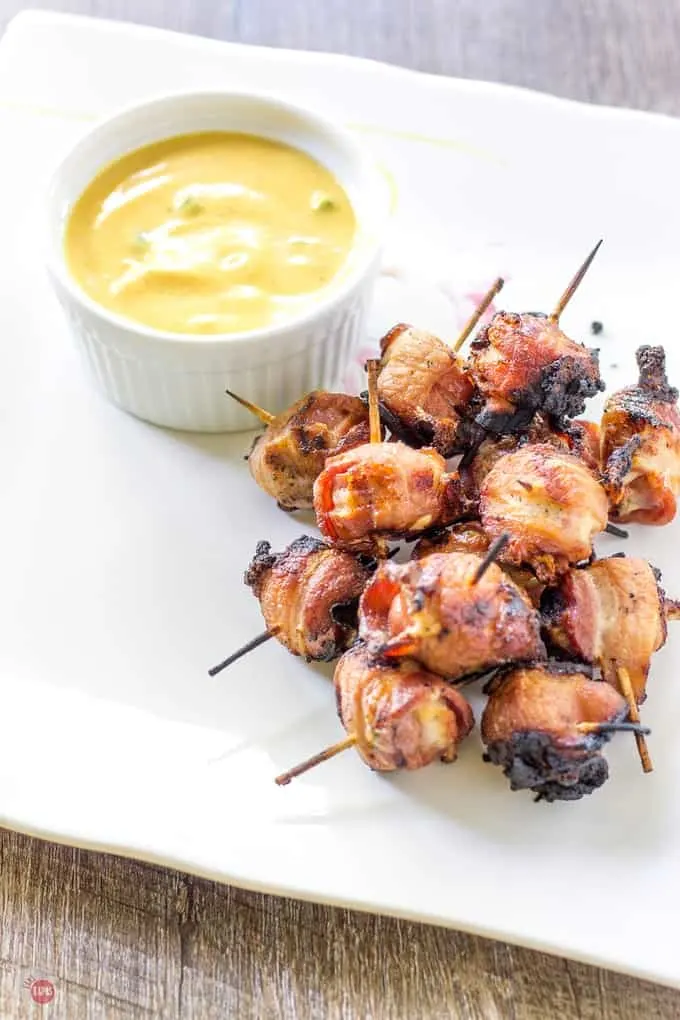 Get off the couch, make your list, and head to the store and grab your ingredients. Plan to make these bacon-wrapped hot dog bites this weekend and Memorial Day weekend too!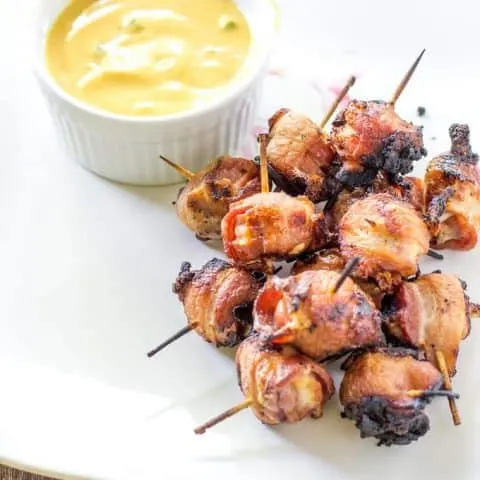 Bacon Wrapped Hot Dog Bites
Keep your summer guests happy with Bacon Wrapped Hot Dog Bites while you continue to grill the main dish! These summer grill bites are sure to please!
Ingredients
16 ounces Hot Dogs (I used the jumbo ones)
32 ounces Bacon (sliced)
8 slices Pepper Jack cheese
1/2 cup Mayo
1/4 cup Yellow Mustard
1/4 cup Ketchup
1 jalapeno (ribbed, seeded, chopped fine)
2 tablespoons honey
salt and pepper (optional)
Instructions
Prepare your bacon-wrapped hot dog bites
Slice your hot dogs into 12 equal slices. Use the tip I use in the blog post.
Slice your cheese into 12 squares.
Place 2 squares of cheese in between 2 hot dog slices.
Wrap with 1/2 a piece of bacon.
Hold the bacon, hot dog slices, and cheese in place with a toothpick or skewer.
Grill the hot dog bites
Grill for 10 minutes, flipping a few times to get all sides crispy.
While the bacon wrapped hot dog bites are grilling, make the summer sauce.
Combine ketchup, mayo, mustard, jalapeno, and honey.
Stir to combine completely.
Store in the fridge to keep cool until ready to serve.
Feel free to add salt and pepper to the summer sauce if preferred.
Remove bacon-wrapped hot dog bites when bacon is crispy.
Serve warm!
Notes
*If you like this recipe, please leave me a comment and rate it with some stars. Thank you!
Nutrition Information:
Yield:

8
Serving Size:

1
Amount Per Serving:
Calories:

940
Total Fat:

75g
Saturated Fat:

27g
Trans Fat:

0g
Unsaturated Fat:

44g
Cholesterol:

176mg
Sodium:

2839mg
Carbohydrates:

11g
Fiber:

0g
Sugar:

7g
Protein:

52g
This nutrition information was generated via a third party, Nutritionix, and can not be held liable for any discrepancies in the information provided.
TakeTwoTapas.com. Content and photographs are copyright protected. Sharing of this recipe is both encouraged and appreciated. Copying and/or pasting full recipes to any social media is strictly prohibited.