All the TASTY FUN of a bread dipping oil but with a different set of spices! My Southwest Dipping Oil is best served with warm tortillas!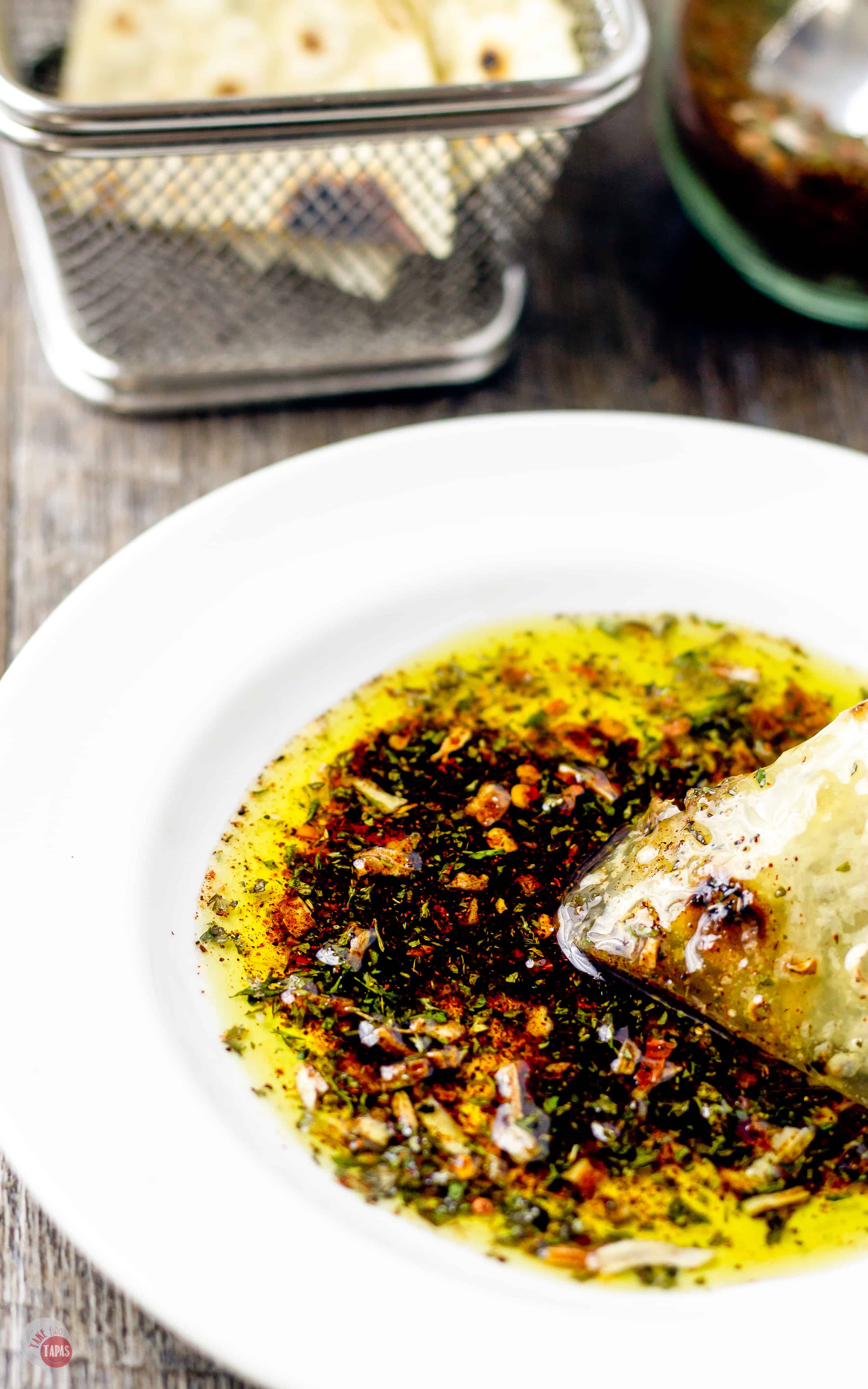 If you'd rather skip my essential cooking tips and tricks and get straight to this delicious recipe – simply scroll to the bottom of the page where you can find the printable recipe card.
DIPPING OILS FOR BREAD
Bread dipped in olive oil is nothing new. Nothing complicated. But boy does it make an impact on your taste buds!
I recently shared a recipe for my Greek Dipping Oil with Pita showing you a unique way to use my Homemade Greek Seasoning.
If you love a plate of warm olive oil with a mixture of fresh herbs and spices simmering in it, just waiting for you to dip a chunk of crusty bread in it, then this recipe is for you!
But I am going to throw a new twist on it, so hang on tight!
This post may contain affiliate links. As an Amazon Associate, I earn from qualifying purchases. Read my disclosure policy here.
HOW DO YOU MAKE A DIPPING OIL FOR BREAD?
Simple! Just pick a high-quality olive oil, add your favorite spices and herbs, and stir to combine! It's just like mixing a salad dressing, or marinade for your chicken, just add the spices and herbs that you like to eat.
SOME POPULAR HERBS FOR OLIVE OIL
Oregano
Basil
Rosemary
Garlic
Red Pepper Flakes
I've shown you that spice mixes that usually reserved for chicken and other meats can also be used, but let's talk about other flavor profiles in general.
For more insider tips & tricks, and a candid behind the scenes look follow me on social media! Check use out on Pinterest, Facebook, Instagram, & Twitter (yes, people still use Twitter, LOL!)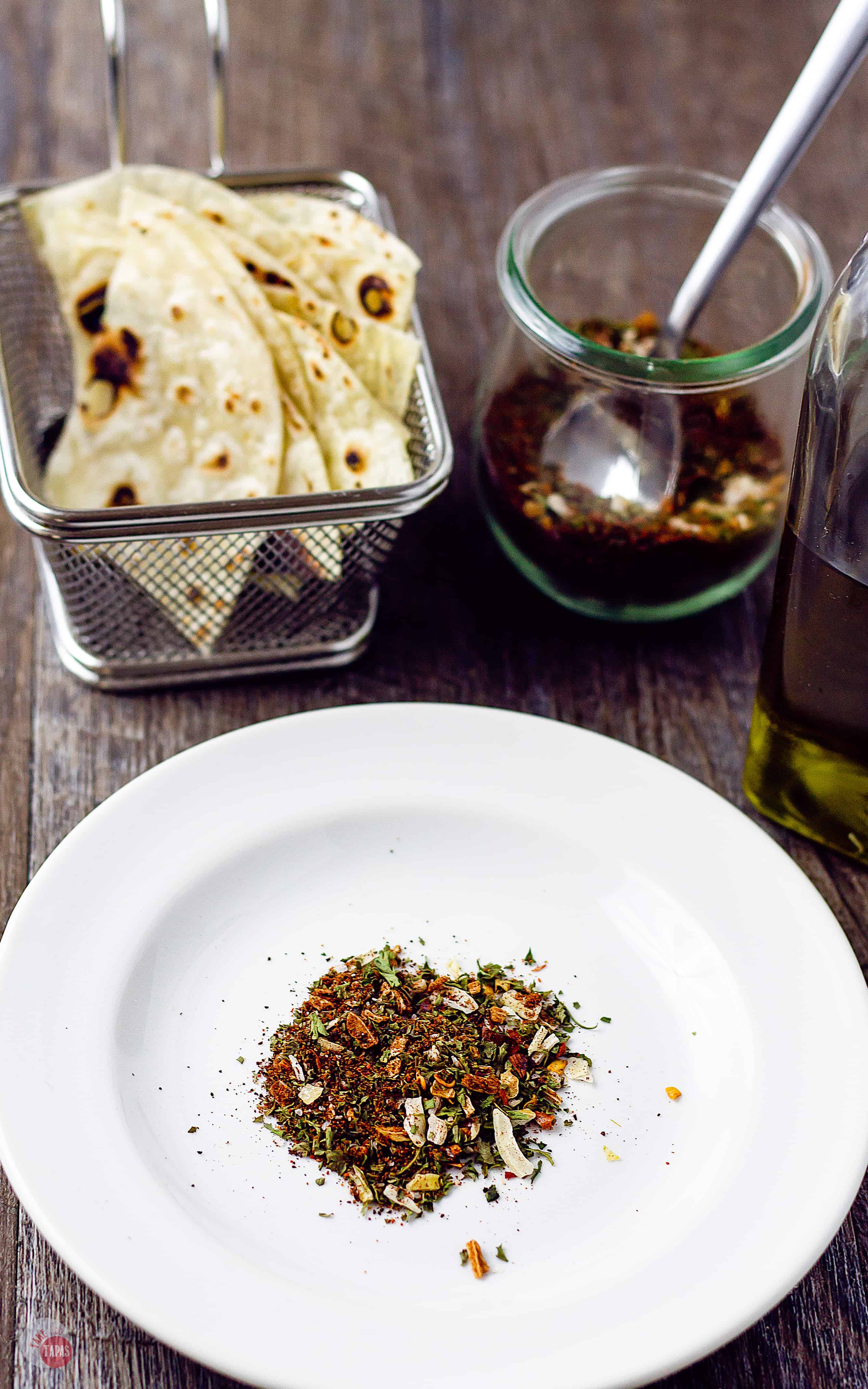 Living in Arizona has brought me a new appreciation for Southwest seasonings like cumin and Mexican oregano. If you haven't tried Mexican oregano, I implore you to give it a try.
Traditional oregano that we use in the states for making spaghetti sauce and on pizzas is from the mint family which gives it the minty undertones.
Mexican oregano is from a different plant family, one that contains lemon verbena, so it has citrus undertones which totally changes the flavor profile!
You can definitely tell in this Southwest Dipping Oil.

SOUTHWEST SPICE BLEND
This seasoning blend is perfect for lots of things. I came up with it to use as a dip mix to put in a sour cream-based chip dip.
minced onion
chili powder
cumin
salt
crushed red pepper
dried cilantro
cayenne pepper
If you are looking to add some smoky flavors to the mix, you can substitute Ancho chili powder, Chipotle powder, or smoked paprika for the chili powder.
Ancho chili powder is made from dried and ground ancho chilies, and chipotle powder is made from chipotle peppers which are really just dried and roasted jalapeños.
Chipotles are usually found in adobo sauce, which is not good for a dry spice mix so look for the powder.
Regardless of which substitution you use, you will get a touch of smokiness and depth added to the Southwest Spice Mix.
For more insider tips & tricks, and a candid behind the scenes look follow me on social media! Check use out on Pinterest, Facebook, Instagram, & Twitter (yes, people still use Twitter, LOL!)
CAN I SUBSTITUTE REGULAR OREGANO FOR MEXICAN OREGANO?
You can but the flavor profile would be completely different. If you don't have Mexican oregano, I would substitute parsley or more cilantro instead.
CAN I SUBSTITUTE THE CHILI POWDER FOR SOMETHING ELSE?
If you are looking for a more smoky flavor profile, try substituting ancho chili powder or chipotle powder for it. Both are excellent options that don't change the overall flavor that much.
WHAT CAN I USE THIS SOUTHWEST DIPPING OIL FOR?
It makes a great marinade for chicken, steaks, and shrimp! Or toss it with some fresh cooked pasta!
You can eat this Southwest Dipping Oil with bread like the other dipping oils, but I like to eat mine with tortillas. Nice and warm corn or flour tortillas will work just nicely!
Our local farmers market carries a great line of tortillas from Mexico called Zanudo's Tortillas. They are a flour tortilla but they are super thin and taste like a corn tortilla.
Because they are super thin, they get super crispy when you make quesadillas. This also means that they are perfect for dipping in this light and flavorful Southwest Dipping Oil.
Grab your favorite tortillas and start dipping!!
If you love this recipe as much as I do, please write a five-star review in the comment section below (or on Pinterest with the "tried it" button – you can now add pictures into reviews, too!), and be sure to help me share on facebook!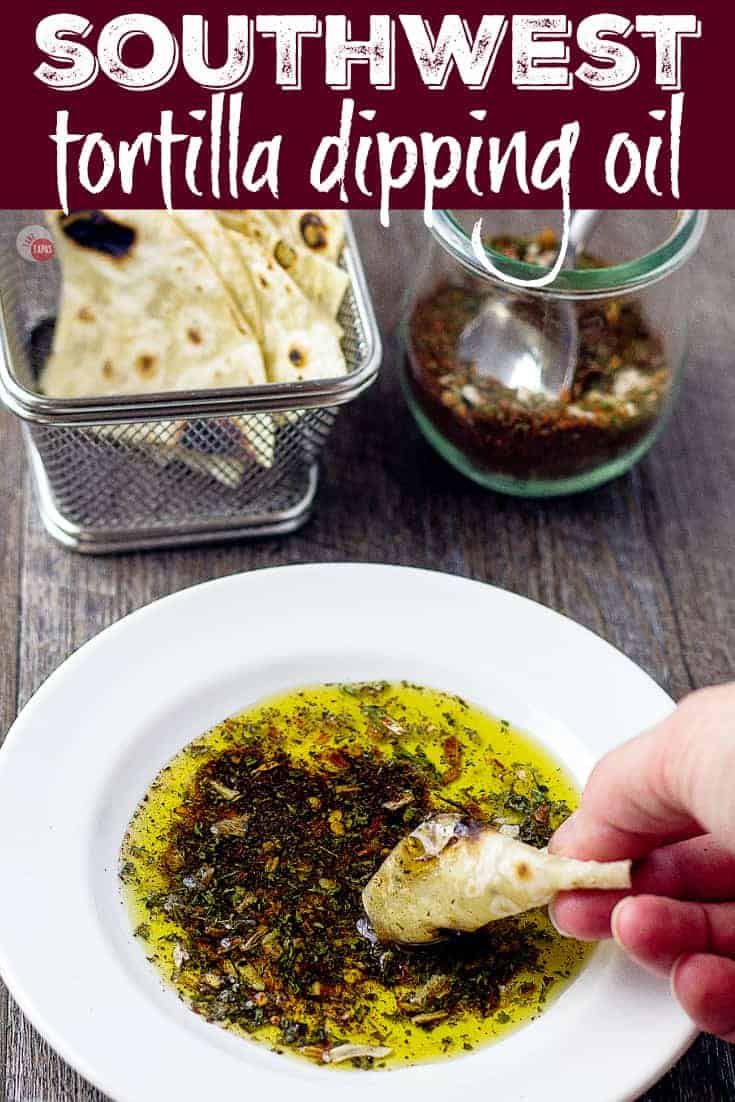 MORE EASY RECIPES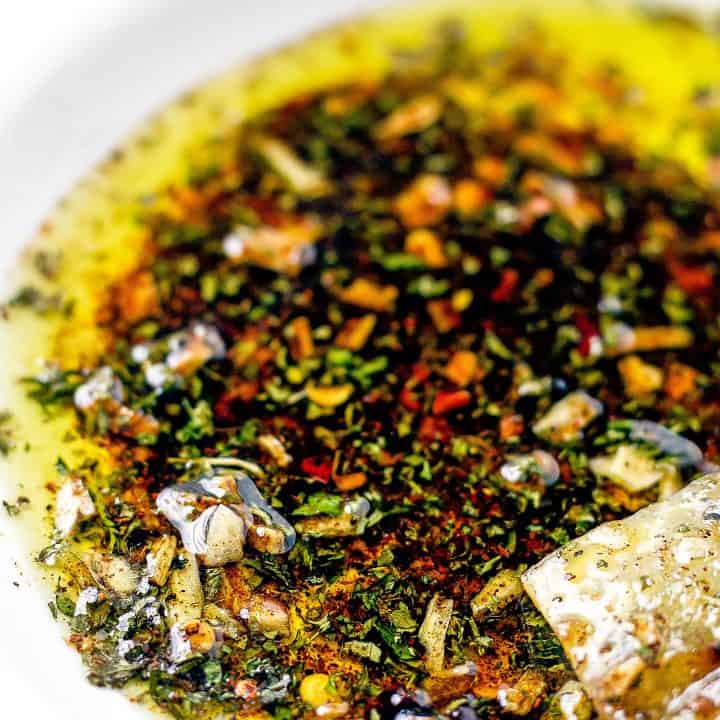 Southwest Dipping Oil - Bread and Tortilla Dipping Oil Appetizer
All the fun of a bread dipping oil but with a different set of spices! My Southwest Dipping Oil is best served with warm tortillas!
Ingredients
Southwest Seasoning Mix
1.5 tsp Mexican oregano (dried parsley can be substituted)
1.5 tsp minced onion
1.5 tsp chili powder
1/2 tsp cumin
1/4 tsp salt
1/4 tsp crushed red pepper
1/2 tsp dried cilantro
1/4 tsp cayenne pepper
Southwest Dipping Oil
1 tablespoon Southwest Seasoning Mix
2 tablespoons olive oil
4 tortillas (warm)
Instructions
Make the Southwest Seasoning Mix
Combine the ingredients and store in an air-tight container until ready to use.
Make the Southwest Dipping Oil
Add the Southwest Seasoning Mix to a plate or shallow bowl.
Pour the olive oil over the top.
Serve with warm tortillas.
Enjoy!
Notes
*If you like this recipe, please leave me a comment and rate it with some stars. Thank you!
Nutrition Information:
Yield:

8
Serving Size:

1
Amount Per Serving:
Calories:

114
Total Fat:

5g
Saturated Fat:

1g
Trans Fat:

0g
Unsaturated Fat:

4g
Cholesterol:

0mg
Sodium:

775mg
Carbohydrates:

14g
Fiber:

1g
Sugar:

0g
Protein:

2g
This nutrition information was generated via a third party, Nutritionix, and can not be held liable for any discrepancies in the information provided.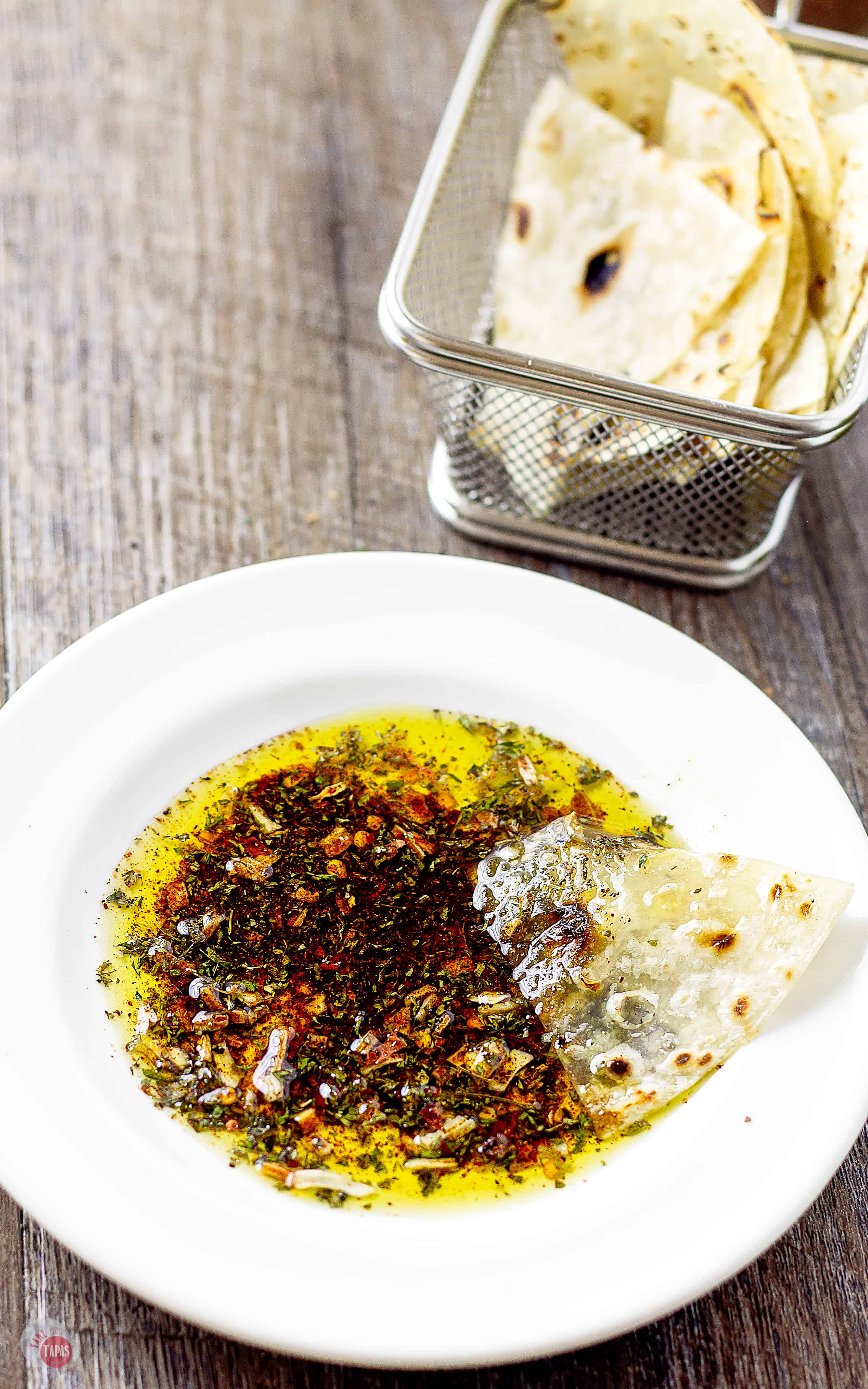 TakeTwoTapas.com. Content and photographs are copyright protected. Sharing of this recipe is both encouraged and appreciated. Copying and/or pasting full recipes to any social media is strictly prohibited.