This easy, no cook, restaurant style salsa is a hit at any party! 5 minutes and lots of crispy tortilla chips are all you need!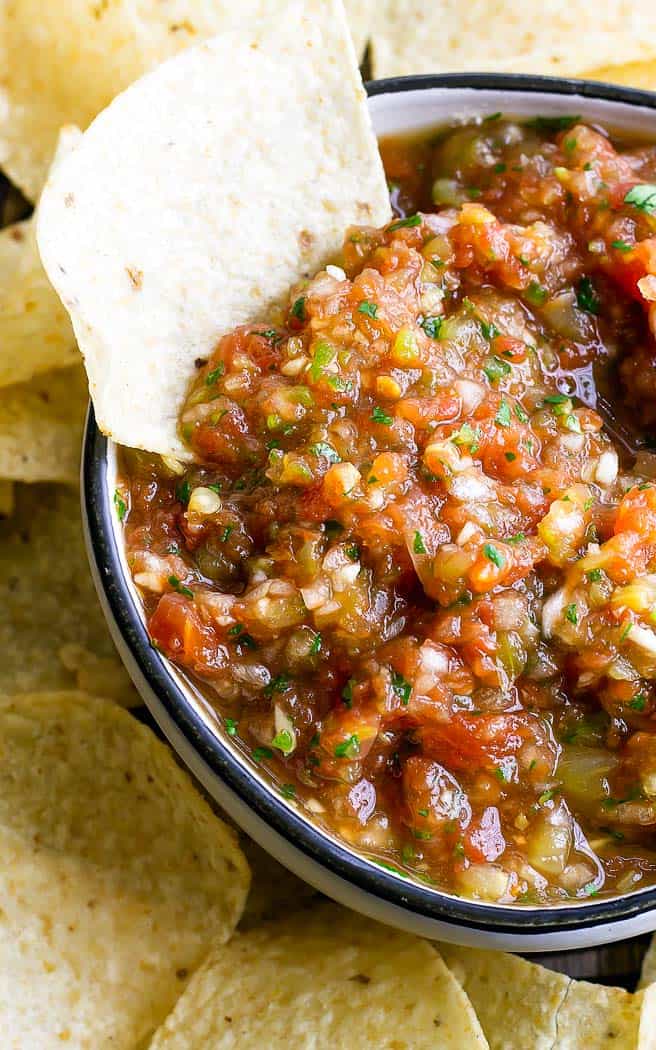 If you'd rather skip my essential cooking tips and tricks and get straight to this delicious recipe – simply scroll to the bottom of the page where you can find the printable recipe card.
HOMEMADE SALSA
Do you love Mexican food as much as I do? Are you excited to see that basket of crispy salty chips and the bowl of salsa set on the table when you go to the local taqueria?
I know I am! But I always fill up on them before my real food arrives. I can make a meal out of chips and salsa, and as much as I eat, I started making it at home to cut down on cost.
You too can make it with just a few ingredients that you probably already have at home. And sometimes kicking back at home and making your own beats going out. Think margaritas in your pajamas!
Making traditional Mexican salsa takes only a few minutes. For the few ingredients it has, there couldn't be more flavor. It is always greater than the sum of its parts.
Tomatoes, onions, chilies, cilantro, lime juice, and a bit of salt. Super easy! If you want to add some more flavor, add a a bit of garlic, vinegar, and cumin.
This post may contain affiliate links. As an Amazon Associate, I earn from qualifying purchases. Read my disclosure policy here.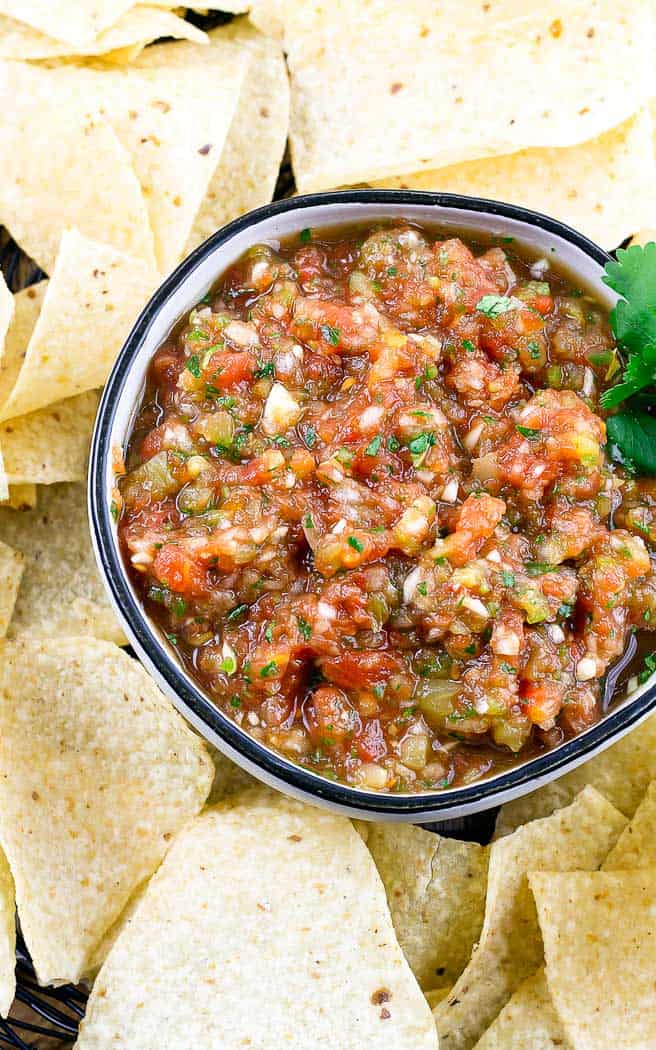 WHAT IS SALSA MADE OF?
The basic building blocks of salsa are tomatoes for flavor, onion for bite, cilantro for spice, jalapeño for heat, and lime juice for the acidity. Garlic is good too, but I don't recommend more than 3 cloves or it can overpower the delicate tomatoes.
INGREDIENTS FOR HOMEMADE SALSA
The ingredients for simple homemade salsa are pretty straightforward. However, there are so lots of choices you can make with each of those ingredients which makes each recipe unique.
tomatoes
onion
cilantro
green chilies
spices
garlic cilantro
vinegar
IS SALSA COOKED OR RAW?
That might seem like a trick question. The answer is typically raw, but it can have cooked elements. This recipe is a good example of this. It uses fresh onion, jalapeno, lime, and cilantro, but cooked tomatoes and green chilies.
You can use fresh tomatoes but they vary so much during the seasons and the different types, it's easier to keep consistent with canned tomatoes.
Green chiles are the other canned ingredient I like to use. They add a hint of sweetness without being too hot, and they are always available in the store.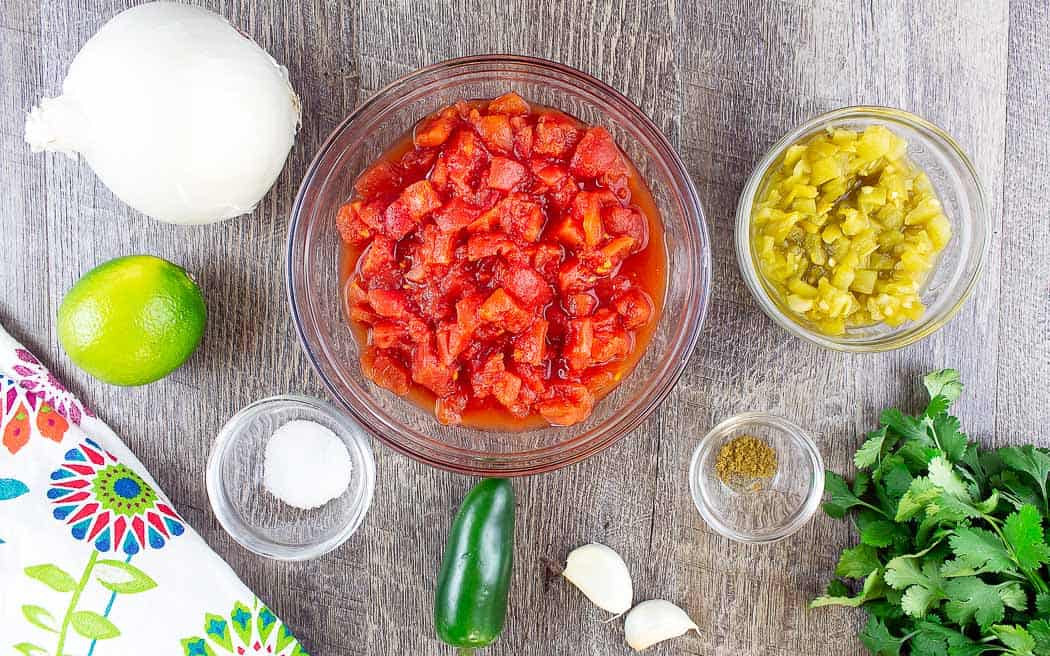 WHAT KIND OF TOMATO IS BEST FOR SALSA?
Tomatoes are the most prominent ingredient so you need to pick good ones. When I make sauce I always choose diced or chopped San Marzano tomatoes as they are stronger in flavor and tend to be less acidic.
Feel free to use any kind of canned tomatoes that you prefer, and even try the fire-roasted ones! Mexican restaurants use those all the time and everyone always want more chips and salsa, right?
WHAT KIND OF ONION IS BEST?
I suggest the white onions. They have a nice bite, bright color, and are not as overpowering as yellow or red. The onion helps bind all the flavors and white onions work great for this purpose.
You can use the red onions too and those are very typical of authentic Mexican style salsas as well. They tend to be a bit more "oniony". So if you love onions then you can certainly try those.
If you like red onion, feel free to use it. I love it in my Pico de Gallo!
For more insider tips & tricks, and a candid behind the scenes look follow me on social media! Check use out on Pinterest, Facebook, Instagram, & Twitter (yes, people still use Twitter, LOL!)
TAKE TWO TAPAS TIPS
Using a food processor is best! You can chop everything by hand, but that can be time consuming. Using a blender to make the salsa will chop the ingredients too small and make it more like a sauce.
Roughly chop the fresh ingredients into smaller pieces and process them first. If you add everything at once, the tomatoes will be liquid before the onion is chopped.
Drain your diced tomatoes. Tomatoes are full of water so you want to drain the diced tomatoes before adding to the food processor or your salsa will be thin and watery.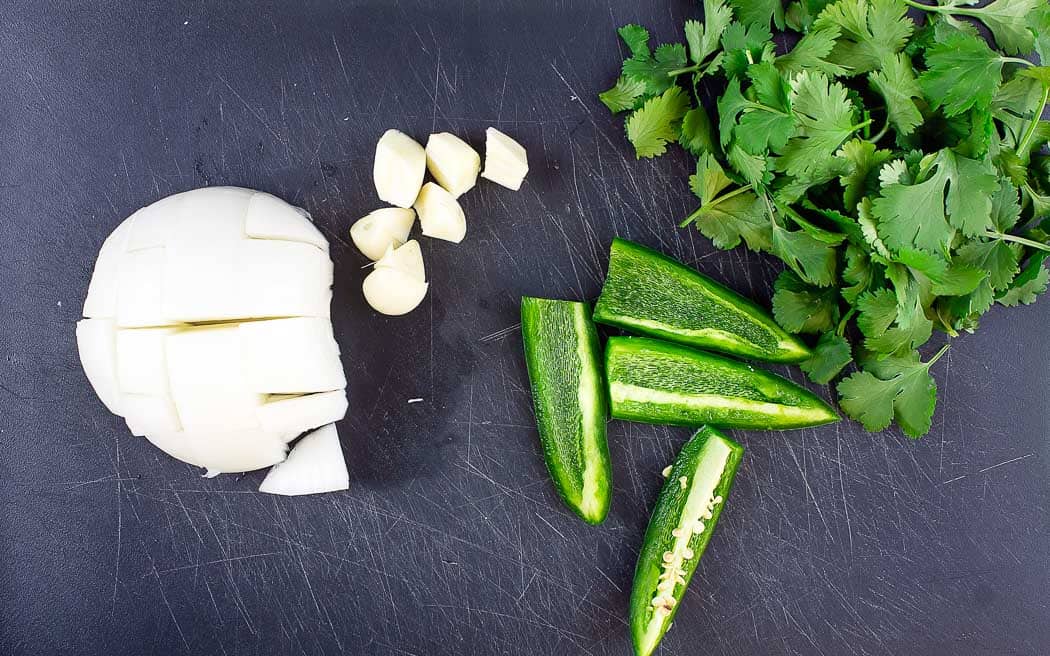 HOW TO MAKE HOMEMADE SALSA
FIRST: Rough chop the onion, garlic, cilantro, and jalapeno. Pulse in the food processor until chopped small.
SECOND: Drain the tomatoes and add to the food processor along with the green chilies. Pulse until it starts to come together.
THIRD: Add the lime juice, salt, cumin, and vinegar. Pulse a few more times and remove to a serving bowl. Enjoy with chips!
For the full recipe and detailed instructions, please refer to the recipe card at the bottom of the post.
WHAT IS CANTINA STYLE?
Cantina style simply refers to that type of salsa they bring to your table with chips in the Mexican restaurant and bar.
It is the same as restaurant or taqueria style and is thinner and the ingredients are chopped in much smaller pieces.
WHAT CAN I ADD TO SALSA TO MAKE IT BETTER?
If your salsa seems a little flat or one note, add a pinch of salt and a tablespoon or two of distilled vinegar. A little extra lime can help too.
Salt and acidity bring out the natural flavors of food and can help! They also help preserve the salsa and make it last longer.
If you need to kick up the heat, feel free to add an extra jalapeño or two!
This is so much better than store bought salsa and is made with minimal ingredients in less than 5 minutes!!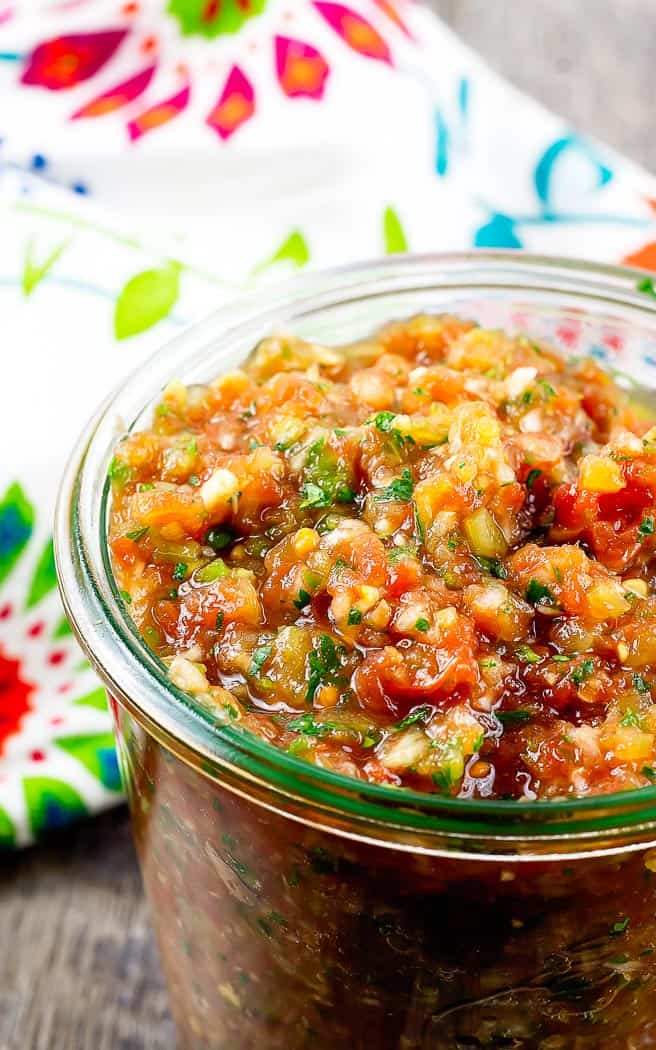 HOW LONG DOES HOMEMADE SALSA LAST?
The great thing about salsa is it acts as its own preservative. The acidic lime and tomato juices prevent bacteria and so does the salt. So it keeps just fine for up to a week in the fridge with no problem.
CAN YOU FREEZE SALSA?
If necessary, you can freeze it as well. Frozen, homemade salsa will keep up to six months. If you are planning on freezing it I wouldn't chop the ingredients as small as they tend to break down a bit when frozen and then thawed.
In case you are wondering, this great recipe is pretty darn healthy too. It is low fat, high in vitamins and minerals, and high fiber. Good thing it tastes great on just about everything!
If you love this recipe as much as I do, please write a five-star review in the comment section below (or on Pinterest with the "tried it" button – you can now add pictures into reviews, too!), and be sure to help me share on facebook!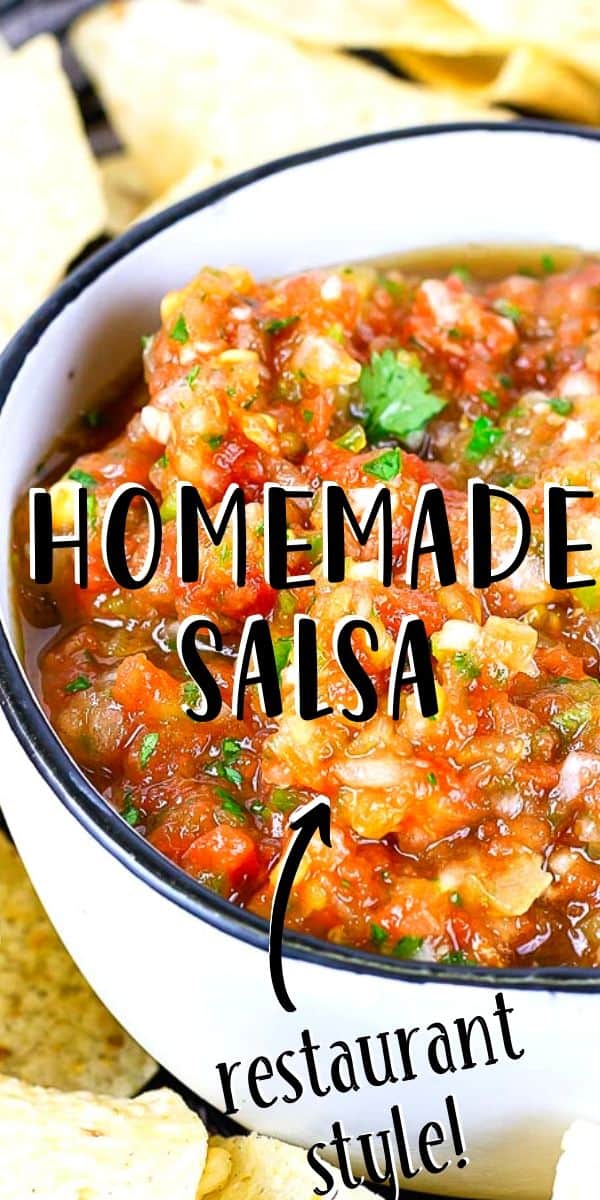 OTHER EASY APPETIZERS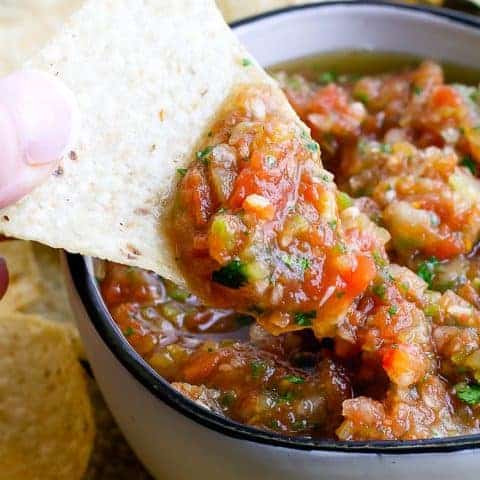 Restaurant Style Salsa
This easy, no cook, restaurant and taqueria style salsa is a hit at any party! 5 minutes and lots of crispy tortilla chips are all you need!
Ingredients
28 oz canned tomatoes San Marzano (juice reserved)
1/2 medium white onion
4 oz green chilies
1 jalapeno (seeded, ribbed)
1/4 tsp cumin (optional)
3 cloves garlic
1/4 cup cilantro
juice 1 lime
1 tablespoon vinegar
salt and pepper to taste
Instructions
Gather your ingredients and get out your food processor.
Rough chop the onion, cilantro, garlic, and jalapeno.
Pulse in the food processor until chopped small.
Drain the tomatoes and add to the food processor.
Add the green chilies.
Pulse until it starts to come together.
Add the lime juice, salt, and cumin if desired.
Pulse one or two more times to combine.
Enjoy with chips!
Notes
*If you like this recipe, please leave me a comment and rate it with 5 stars. Thank you!
Nutrition Information:
Yield:

12
Serving Size:

1
Amount Per Serving:
Calories:

30
Total Fat:

0g
Saturated Fat:

0g
Trans Fat:

0g
Unsaturated Fat:

0g
Cholesterol:

0mg
Sodium:

114mg
Carbohydrates:

7g
Fiber:

2g
Sugar:

5g
Protein:

1g
This nutrition information was generated via a third party, Nutritionix, and can not be held liable for any discrepancies in the information provided.
@TakeTwoTapas.com. Content and photographs are copyright protected. Sharing of this recipe is both encouraged and appreciated. Copying and/or pasting full recipes to any social media is strictly prohibited.