Pickled red onions are a bright condiment that is easy to make and go great with just about anything! Perfect for tacos, burritos, eggs, or a classic steak!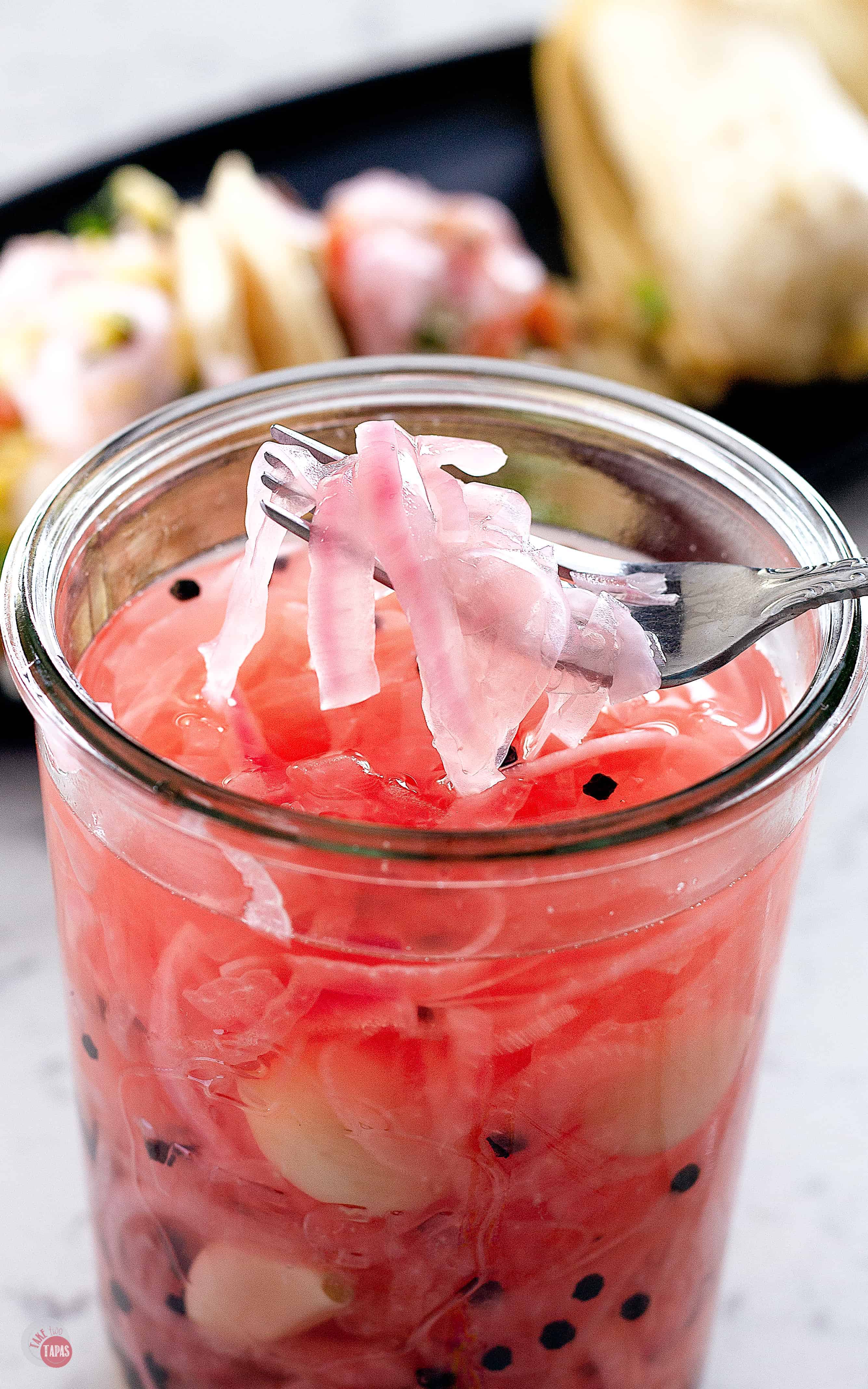 If you'd rather skip my (very helpful, I think) tips and tricks, essential cooking info, and similar recipe ideas – and get straight to this delicious easy Pickled Red Onion recipe – simply scroll to the bottom of the page where you can find the printable recipe card.
Pickled Red Onions
I just want to say what an honor it is to be asked by my friend Jennifer to do a guest blog. I have enjoyed reading her posts that are more than just recipes.
They are a personal little peek into how she enjoys food, family, and friends. Jennifer is always generous with the food she makes for her blog.
Sometimes we get some Lemongrass Chicken or Dark Chocolate Panko Bark so I decided to return the favor with a jar of pickled red onions, the recipe she has asked me to share.
These pickled red onions are super easy to make, only take a few minutes to put together, and are great for so many dishes!
This post may contain affiliate links. As an Amazon Associate, I earn from qualifying purchases. Read my disclosure policy here.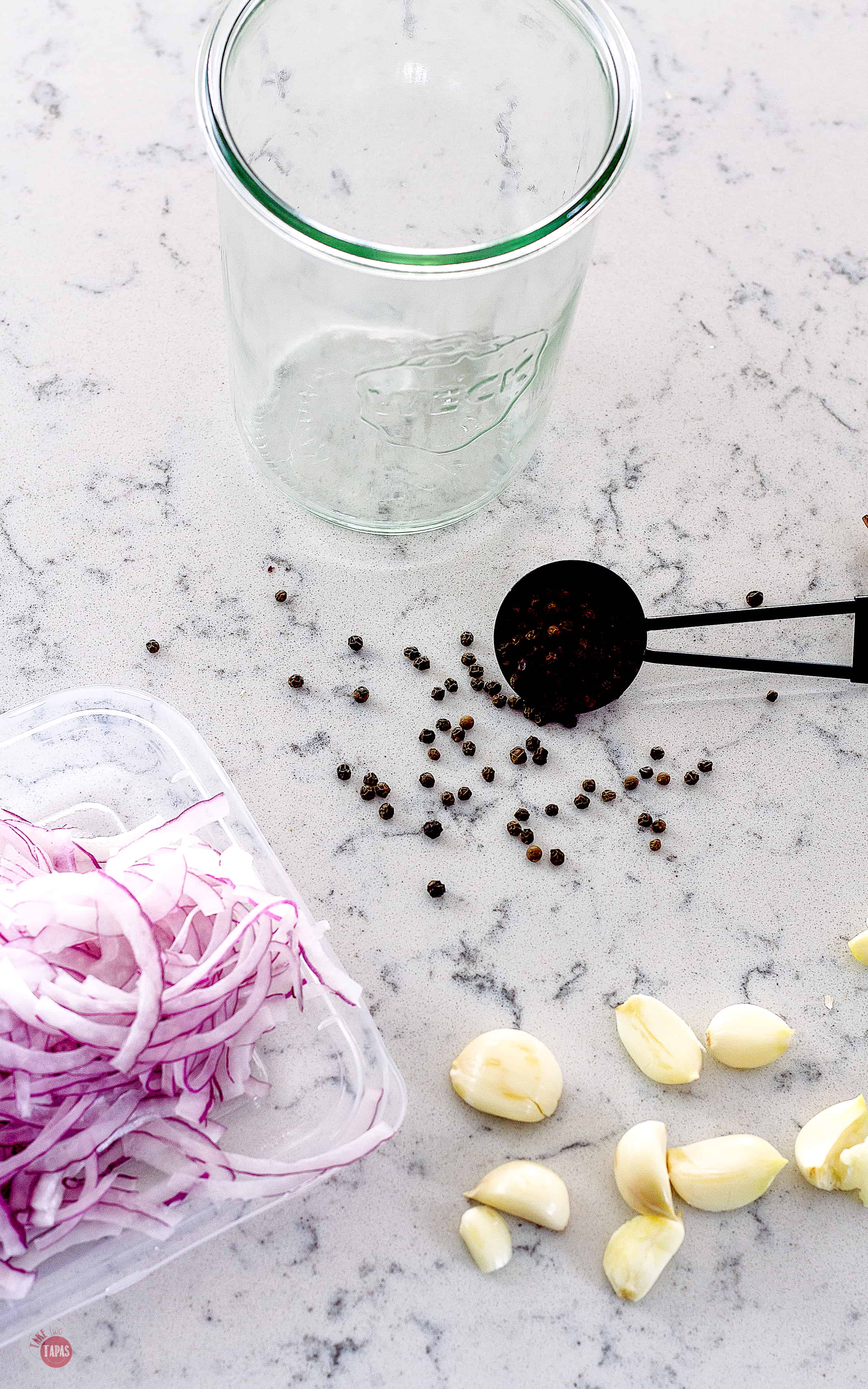 Pickled Red Onions Ingredients
red onions
vinegar
garlic
peppercorns
sugar
salt
Onions – Red onions are the best for this recipe but of course you can use any onion that you like! The key is to slice them very thin. Use a sharp knife or a mandoline slicer for best results.
Vinegar – White distilled vinegar is the best so you have the cleanest flavor. Using something like apple cider vinegar or red wine vinegar will change the flavor profile.
Garlic – Use whole peeled cloves so they don't overpower the onions.
Peppercorns – You can use black or even a mixture of your favorite peppercorns. Again, keep them whole.
For more insider tips & tricks, and a candid behind the scenes look follow me on social media! Check use out on Pinterest, Facebook, Instagram, & Twitter (yes, people still use Twitter, LOL!)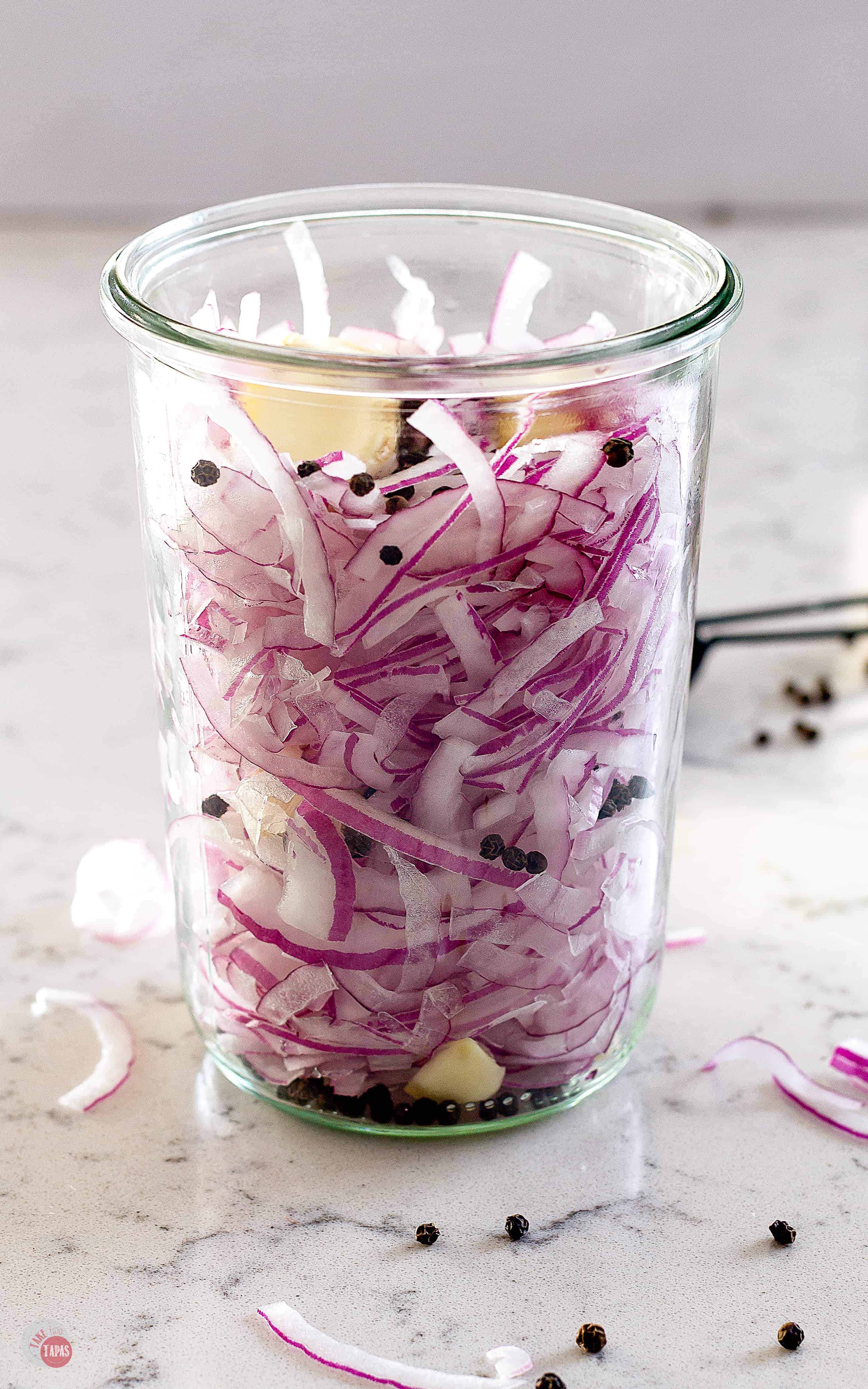 The process of making pickled red onions is super easy. Gather your jar or the vessel that you are going to use to store the red onions in the refrigerator and the rest of the ingredients.
How to Pickle Red Onions
STEP ONE:
STEP TWO:
STEP THREE:
STEP FOUR:
The key to perfect pickled red onions is to slice the red onions thin. Unless you have excellent knife sills, I would suggest a Mandolin slicer or using the slicer blade on your food processor. This also ensures that the onions are all sliced to the same thickness for even pickling.
Layer the sliced red onions in the jar adding the garlic cloves and peppercorns every few layers. In a sauce pan, add your vinegar, salt, and sugar. Bring to a boil and let boil for 1 minute. CAREFULLY pour the hot vinegar solution over the onions and spices to fill the jar.
Let cool, cover, and store in the refrigerator. I would recommend letting the pickled red onions sit for at least 24 hours before eating them to allow the pickling flavors to penetrate the onion layers.
What can you serve these with?
Quesadillas
Hot Dogs
Hamburgers
Grilled Cheese Sandwiches
Salads
Omelets
Potato Salad
Pickled Red Onion Recipe
Ever love a food that didn't love you back? For my husband, that food is the red onion. We love to eat them in salads, with tacos, on sandwiches and hot dogs….the list goes on.
For many years, my husband tolerated the tummy aches that followed until we noticed that a pickled red onion did not produce the same unpleasant effects and still had the crunch, bite and sweetness of the raw ones.
I do a lot of cooking, but pickling has never been my thing. Luckily, I found that pickling red onions couldn't be more simple. For one good sized onion I use a cup of vinegar, 1T salt, 1T sugar, then add some spices for flavor.
Most often I throw in black peppercorns and a peeled clove of garlic. I have added bay leaf, cloves, jalapeños, or dried seeds like dill, caraway, or mustard.
It's a fun way to be creative or personalize a recipe for friends with specific tastes. Try making jars of pickled red onions for gifts and keep a jar in your fridge to use in salads, with tacos, on sandwiches and hot dogs….etc.
The Theis Family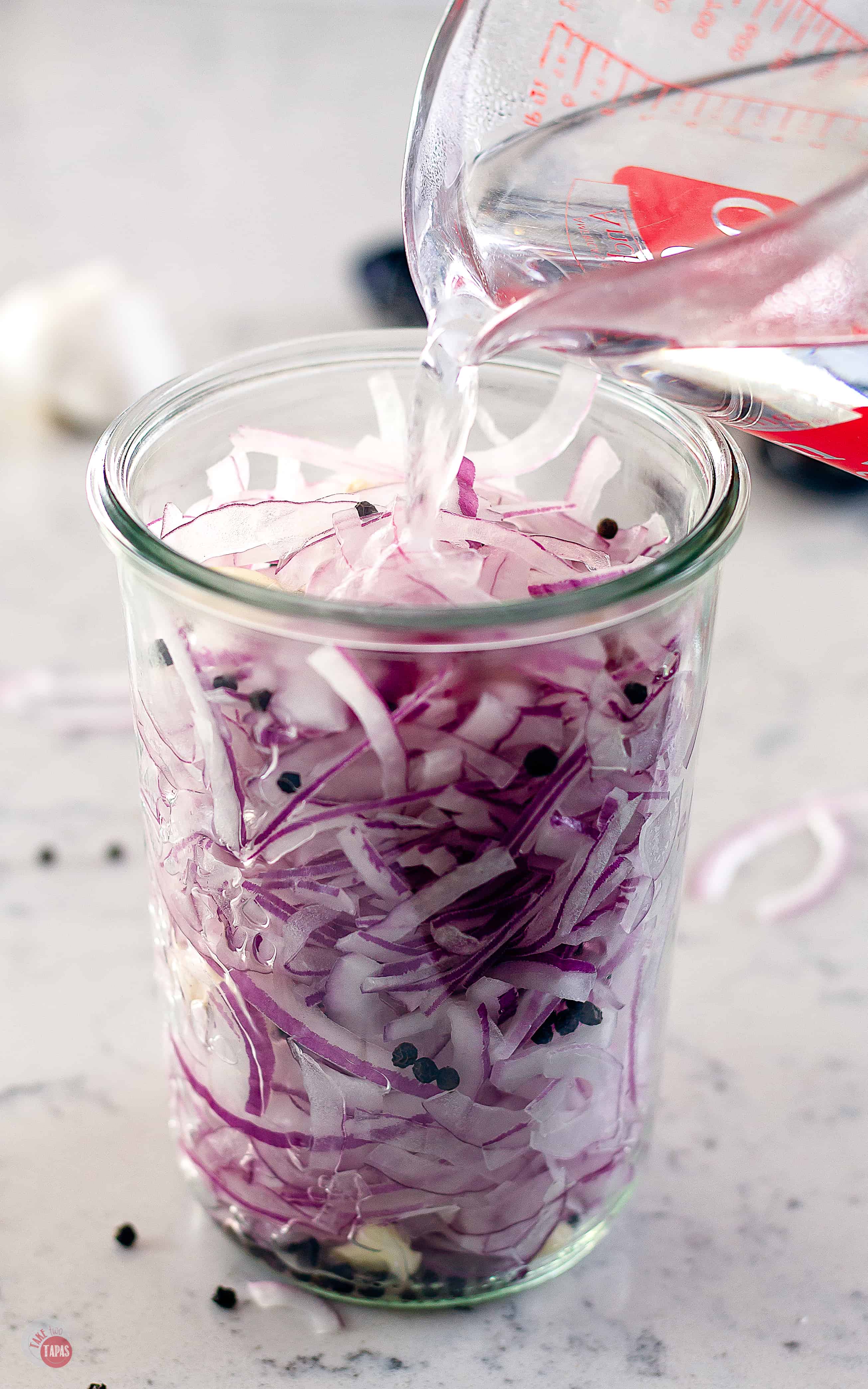 For more insider tips & tricks, and a candid behind the scenes look follow me on social media! Check use out on Pinterest, Facebook, Instagram, & Twitter (yes, people still use Twitter, LOL!)
How long will pickled red onions keep?
I keep mine in the refrigerator for up to 2 weeks. Mine usually don't last this long but this is the longest I have kept them with this technique. If you want to keep them longer I would suggest a traditional canning technique.
Can you pickle onions whole?
You can, depending on the size of the onion. Anything larger than 2 inches might not get the pickling liquid all the way the to center of the onion and it will not be protected against bacteria. Nor will it get all the pickling flavor.
Are pickled red onions Paleo?
If you leave the sugar out of the pickling liquid or use stevia then they are Paleo and Whole30 compliant.
How do I store these pickled onions?
I keep mine in the refrigerator, tightly covered, in a glass jar. I also make sure that I press the onions still in the jar pushed down into the liquid. If there are onions sticking out of the liquid they might dry out.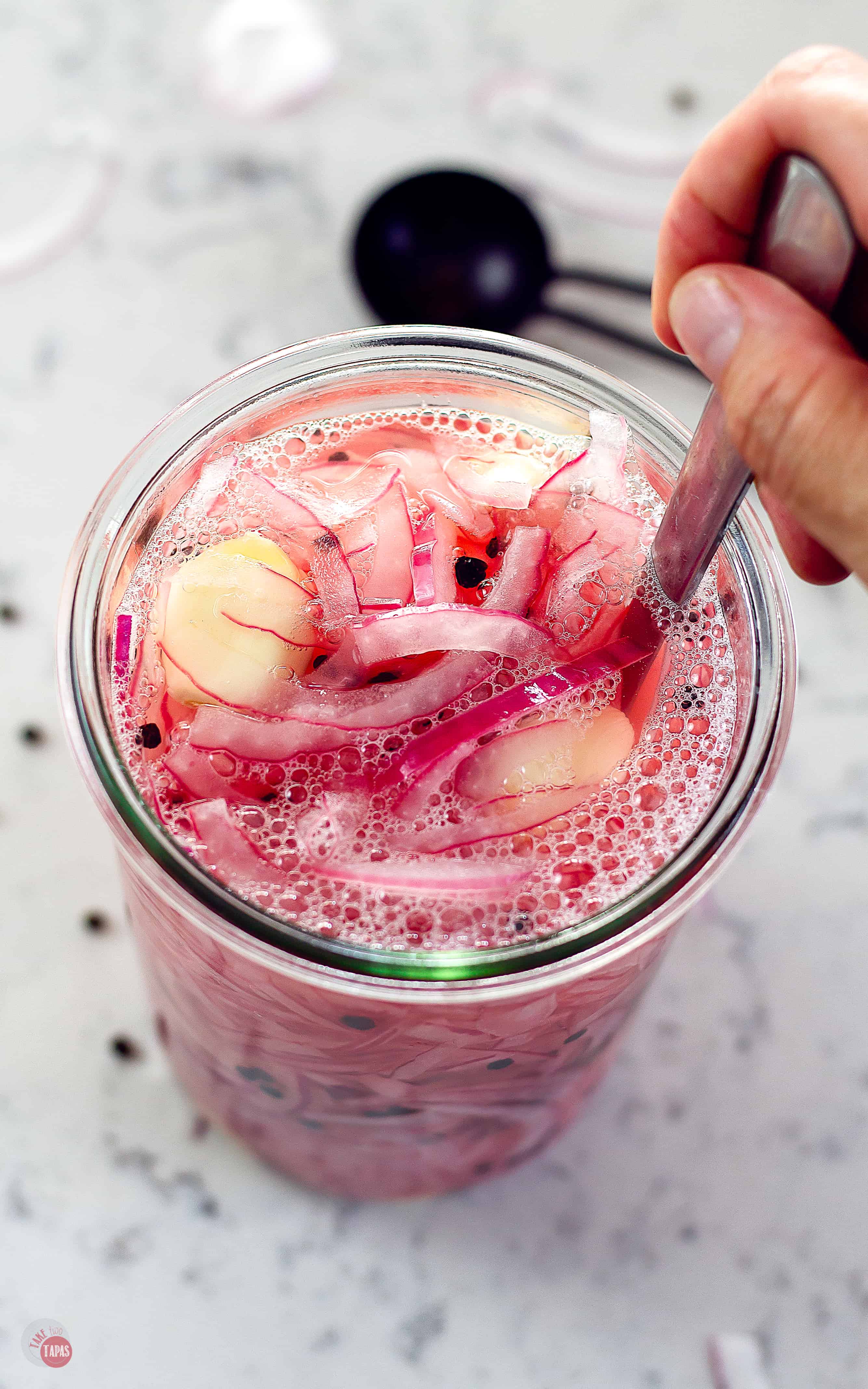 Tools that will help you make these Pickled Red Onions: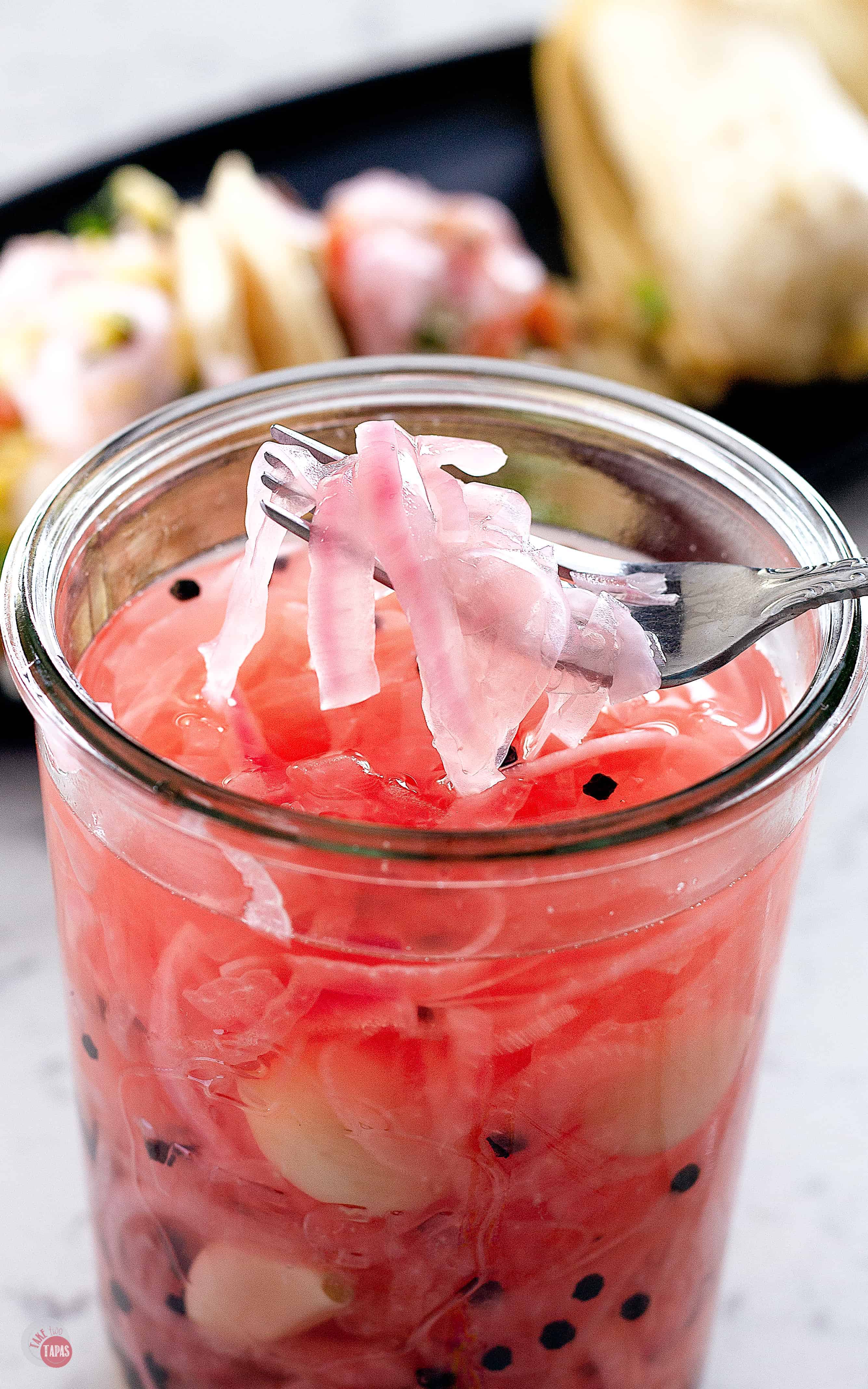 I didn't want a week to go by without a post so I recruited my good friend Chrissy to write one. She is an amazing cook and has a discerning palate.
Chrissy pushes me to be a better cook and expands my horizons on the spice front. She is more adventurous than me when it comes to spices and she also makes great pickled red onions!
I am always so excited to get a jar since I use them on just about everything. Now that I have the recipe I can make them whenever I run out!
If you are looking for a quick and easy gift for a last minute party or friend, these are the thing to make! Thank you SO MUCH, Chrissy, for being my guest blogger!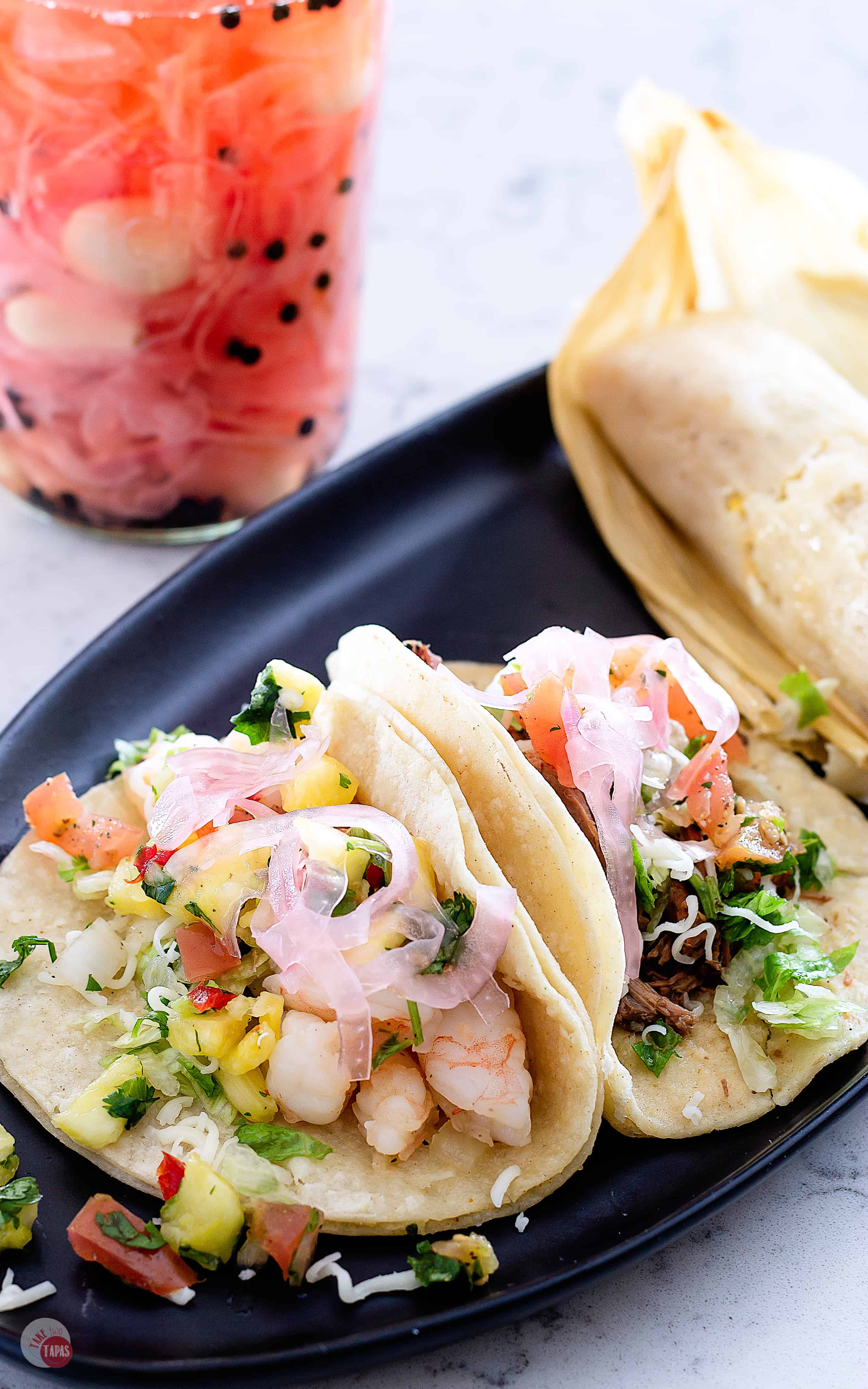 If you love this recipe as much as I do, please write a five-star review in the comment section below (or on Pinterest with the "tried it" button – you can now add pictures into reviews, too!), and be sure to help me share on facebook!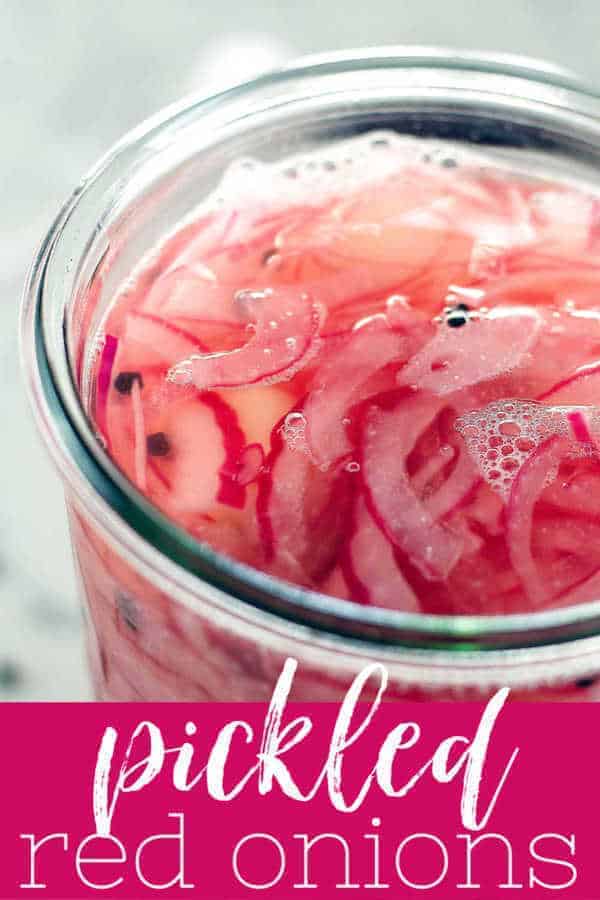 Other great pickled recipes
Easy Pickled Red Onions Recipe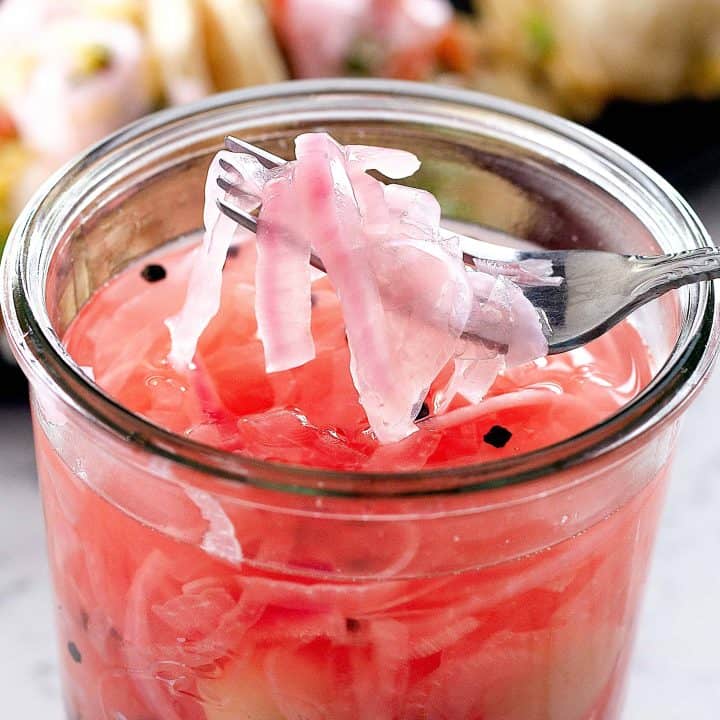 Pickled Red Onions
Additional Time:
10 minutes
Try making jars of pickled red onions for gifts and keep a jar in your fridge to use in salads, with tacos, on sandwiches and hot dogs….etc.
Ingredients
Onions
1 large red onion (sliced thin)
4 cloves of garlic (peeled)
2 teaspoons peppercorns (to taste)
Pickling Liquid
2 cups distilled white vinegar
2 tablespoons sugar
2 tablespoons salt
Instructions
Heat the vinegar just to boiling, or in the microwave for 1 min.
Add salt and sugar, stir to dissolve.
Place red onions and other spices in the jar.
Add hot mixture to the jar, cover and leave to cool to room temperature.
Once cool, cover tightly and refrigerate for up to 2 weeks.
Notes
*If you like this recipe, leave me a comment and rate it with some stars. Thank you!
Nutrition Information:
Yield:

10
Serving Size:

1/10
Amount Per Serving:
Calories:

28
Total Fat:

0g
Saturated Fat:

0g
Trans Fat:

0g
Unsaturated Fat:

0g
Cholesterol:

0mg
Sodium:

1273mg
Carbohydrates:

5g
Fiber:

1g
Sugar:

3g
Protein:

0g
@TakeTwoTapas.com. Content and photographs are copyright protected. Sharing of this recipe is both encouraged and appreciated. Copying and/or pasting full recipes to any social media is strictly prohibited.