Get those crunchy, spicy, and tangy taco pickles made of pickled carrots and jalapeños that you find at your local taqueria right in your home with this quick & easy recipe. Your tacos and your taste buds will thank you for it!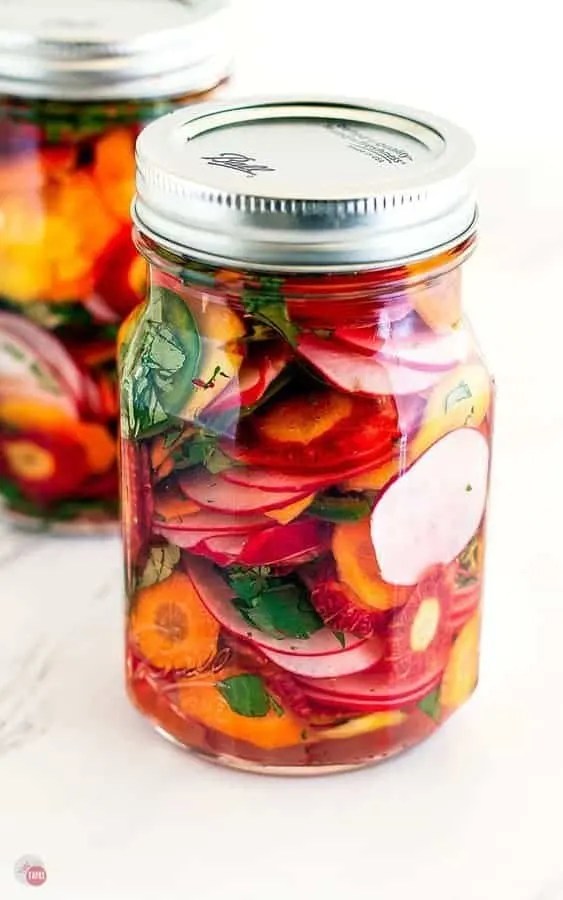 What are Taco Pickles?
When I mention taco pickles, I am talking about pickled vegetables that you see at taquerias or taco shacks. They are usually on the salsa or toppings bar next to the pico de gallo, the chopped red onions with cilantro, and the guacamole.
Some are very picky about how their taco pickles are made and what they include, so the traditional way is carrots, jalapeños, and onions.
Cooked prior to pickling these vegetables also include some spices like garlic, whole coriander seeds, cumin, and Mexican oregano.
I am going to skip all that nonsense and give you a quick and easy recipe to get you the pickled carrots and jalapeños you so desperately want and need for your next Taco Tuesday!
This post may contain affiliate links. As an Amazon Associate, I earn from qualifying purchases. Read my disclosure policy here.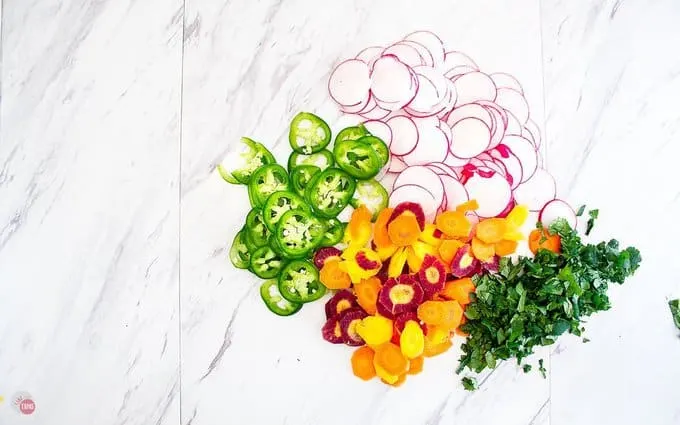 Escabeche Recipe
Traditional Escabeche is actually two recipes depending on how it is talked about. One is a fried meat or fried fish that is marinated in an acidic or vinegary mixture overnight before serving cold.
The second describes a way of pickling vegetables for later use. In this case, carrots and jalapeños. Not to be confused with Escabeche, these taco pickles don't include the spices, onions, and cauliflower that are usually in the recipe.
And they are not cooked prior to the pickling, which not only leaves them crisp tender, but helps them retain color and nutrients!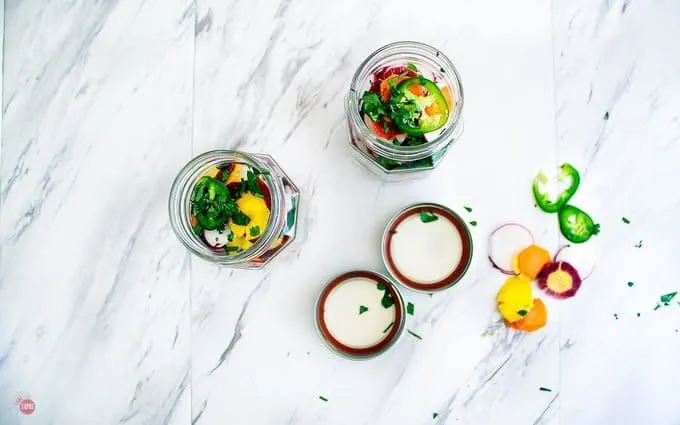 How to make Pickled Mexican Vegetables
Making these pickled jalapeños and carrots is a quick and easy process. Really the prep work of slicing and chopping all the vegetables takes the longest.
Oh, and waiting overnight for the vinegar mixture to really penetrate the veggies.
To make the pickled carrots and other vegetables, start by slicing them as thin as possible. You can use a knife and your excellent slicing/chopping skills or use a slicer like me.
I have a Mandoline slicer that I got for Christmas a few years ago and only use it for making pickles really, but there are some cheaper ones out there.
This slicer is great! Also, my food processor has a slicer tool on it, so check yours as well:)
If you prefer your pickled jalapeños and other veggies thicker or easier to do, feel free to chop them. The thicker they are the longer they take to fully marinate, but do what makes you happy. Some prefer chopped taco toppings and some like slices. You do You!
Once you have all your veggies sliced or chopped, layer them into the jars. I would use sterilized jars if possible, but these are refrigerator pickles in a very acidic mixture so even if they are not sterilized, they will be ok.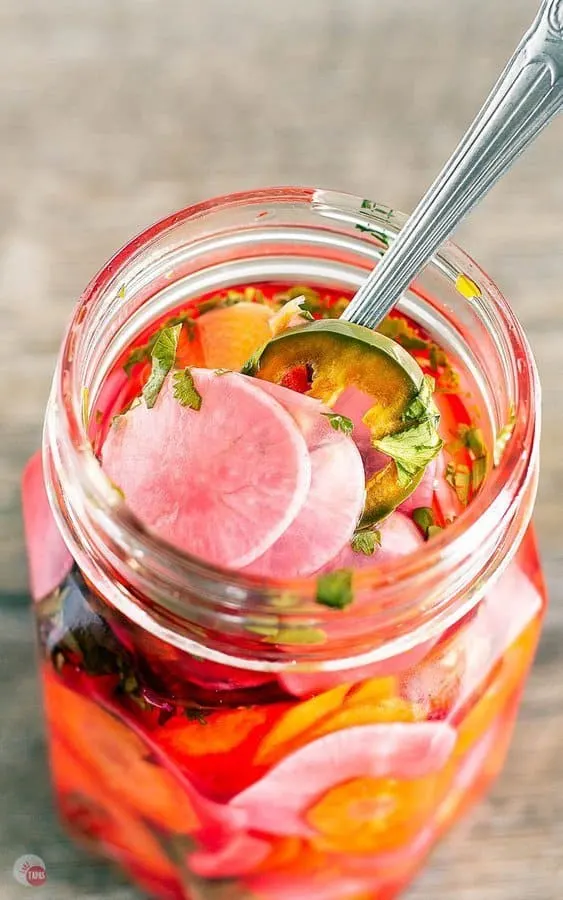 For more insider tips & tricks, and a candid behind the scenes look follow me on social media! Check use out on Pinterest, Facebook, Instagram, & Twitter (yes, people still use Twitter, LOL!)
How to make Pickled Mexican Vegetables
This pickling technique is considered a "quick pickle" and it is certainly that. Once you have your vegetables layered in the jars, assemble the pickling liquid.
A mixture of vinegars is used to round out the flavors, along with some sugar and salt. I leave out the spices because I like to use these for other dishes besides tacos so it makes them more universal.
Bring the liquid to a boil and stir to dissolve the sugar and salt.
Remove from the heat and let the liquid cool a little. Not all the way cold, just so it is easy to handle and won't leave you with third degree burns.
Once it cools a bit, I pour in the tequila. This step will further cool down the liquid. If you don't want to use tequila, feel free to add distilled water or more vinegar.
It would be safer to use vinegar to maintain the acidity in the jar so play around with a mixture of vinegar and water to make up the volume difference.
Once you add the tequila, gently pour the liquid into the jars of layered vegetables. Tap the jars or jiggle a bit to release any air bubbles trapped in the layers and make sure the vegetables are completely covered.
Let cool completely, cover with lids, and store in the fridge for at least 4 hours but overnight is best. Once every day or so I will turn the jars of these Spicy Mexican carrots and jalapeños upside down to make sure that no vegetable slices are sticking out of the liquid and not getting pickled.
For the full recipe and detailed instructions, please refer to the recipe card at the bottom of the post.
If all goes well, your taco pickles will last for a few weeks in the refrigerator in air tight jars. Just give them a turn every so often!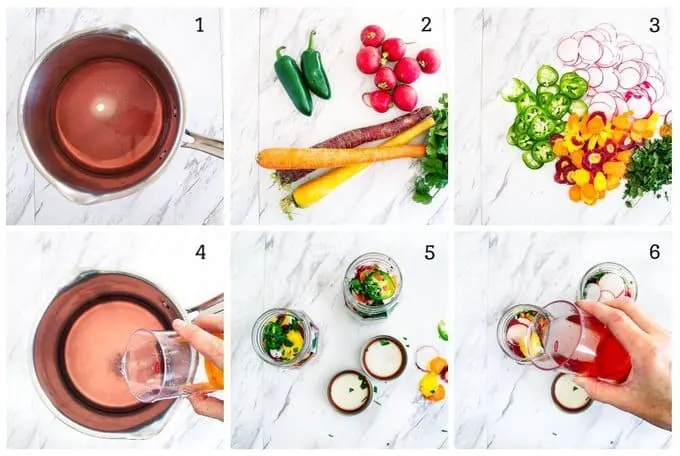 How long do the Taco Pickles last?
If you keep them in the refrigerator, they will last for up to two weeks.
What if you don't want them super spicy?
I would suggest taking the ribs and seeds out of the jalapeño before slicing it, or I would cut down on the amount of jalapeño slices you put in each jar.
Do you have to use radishes?
No you don't. Most other recipes include just carrots, jalapeños, and onions. I left out the onions for the radishes but feel free to use your favorite veggies.
Can I serve this as a side dish?
Traditional escabeche is served as a "salad" on the side or on top of meats, but depending on how you like to eat pickled foods you can absolutely eat this as a side. It will be very tangy and spicy so be careful!
If you love this recipe as much as I do, please write a five-star review in the comment section below (or on Pinterest with the "tried it" button – you can now add pictures into reviews, too!), and be sure to help me share on facebook!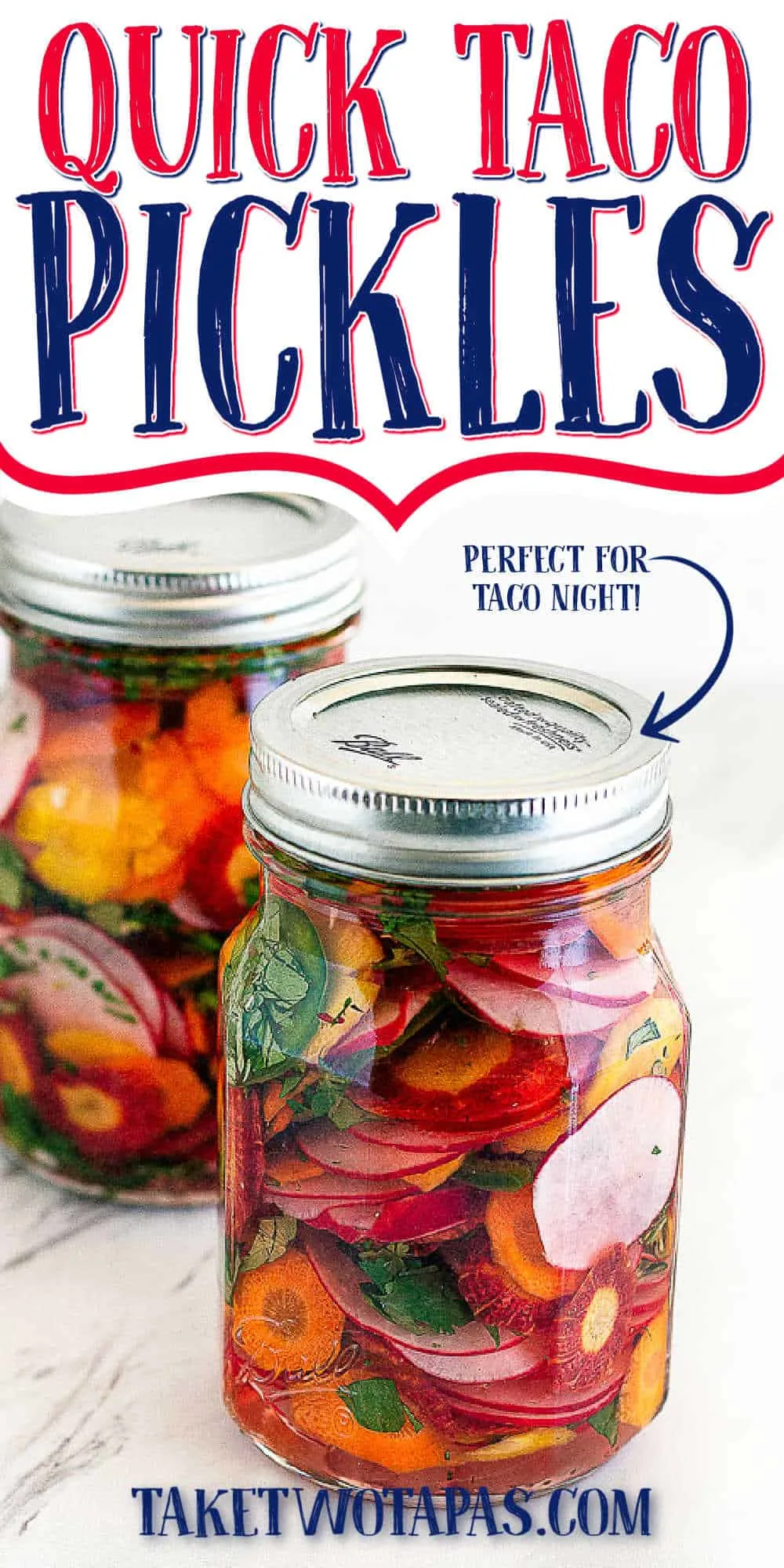 These taco pickles are spicy, tangy, easy to make, and go on so many dishes. Try them on fish, chicken, and pork! Remember that they have straight tequila in them so ENJOY RESPONSIBLY!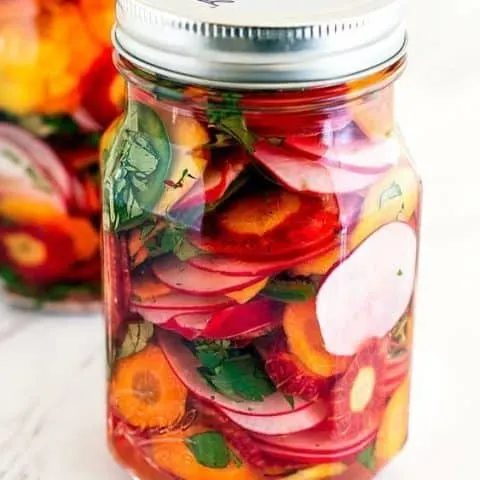 Quick Taco Pickles - Taqueria-Style Pickled Carrots, Radishes & Jalapeños
Get these spicy taco pickles made with pickled carrots, jalapeños, and radishes that you find at your local taqueria, in your home with this easy recipe!
Ingredients
1 bunch of radishes (greens removed)
2 jalapeños
4 large carrots (peeled)
3/4 cup fresh cilantro
1 1/4 cup distilled white vinegar
1/4 cup apple cider vinegar
1/4 cup red wine vinegar
1/2 cup sugar
1 cup tequila
1 teaspoon salt
2 canning jars with lids (32oz each)
Instructions
Prep your vegetables
Slice your carrots, radishes, and jalapeños as thin as you can. I use this slicer.
Chop your cilantro, removing long stem pieces
Layer the sliced carrots, radishes, jalapeños, and cilantro in your jars.
Prepare the pickling liquid
In a saucepan, combine the sugar, salt, and all the vinegars.
Bring to a boil on the stove top.
Remove and let cool 5 mins.
Add the tequila.
Make the Taco Pickles
Slowly pour the warm pickling liquid into the jars covering the carrots, radishes, and jalapeños completely.
Tap the jars on the counter or stir a little with a spoon or long stick to release any bubbles.
If you need more liquid, top with more white vinegar.
Let cool completely.
Add the lids.
Place in the refrigerator overnight or at least 4 hours. The longer they sit the better.
If making these a few days in advance, turn the jars upside down every 24 hours to ensure that all the vegetables are in the pickling liquid.
These taco pickles will last up to 2 weeks in the fridge.
Enjoy!
Notes
*if you like this recipe, please leave me a comment and rate it with some stars. Thank you!
Nutrition Information:
Yield:

8
Serving Size:

1
Amount Per Serving:
Calories:

118
Total Fat:

0g
Saturated Fat:

0g
Trans Fat:

0g
Unsaturated Fat:

0g
Cholesterol:

0mg
Sodium:

281mg
Carbohydrates:

15g
Fiber:

1g
Sugar:

13g
Protein:

0g
This nutrition information was generated via a third party, Nutritionix, and can not be held liable for any discrepancies in the information provided.
More Easy Tapas Recipes
Recipe adapted from here.
TakeTwoTapas.com. Content and photographs are copyright protected. Sharing of this recipe is both encouraged and appreciated. Copying and/or pasting full recipes to any social media is strictly prohibited.