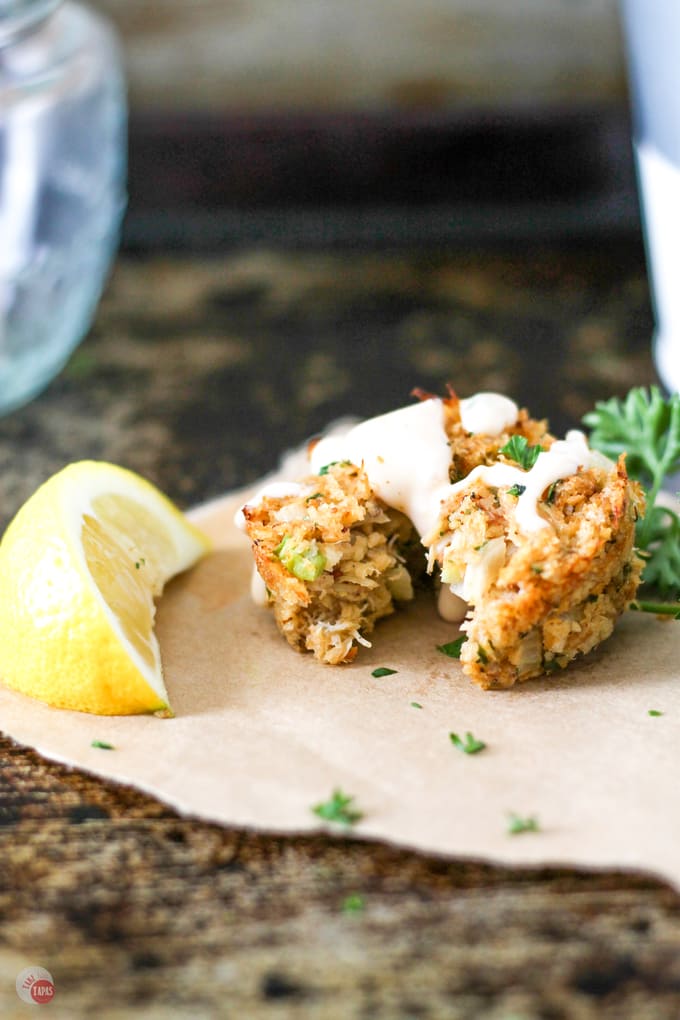 These spicy baked crab cakes are perfect as an appetizer or main course. Serve with my Old Bay Tartar sauce for a cool compliment!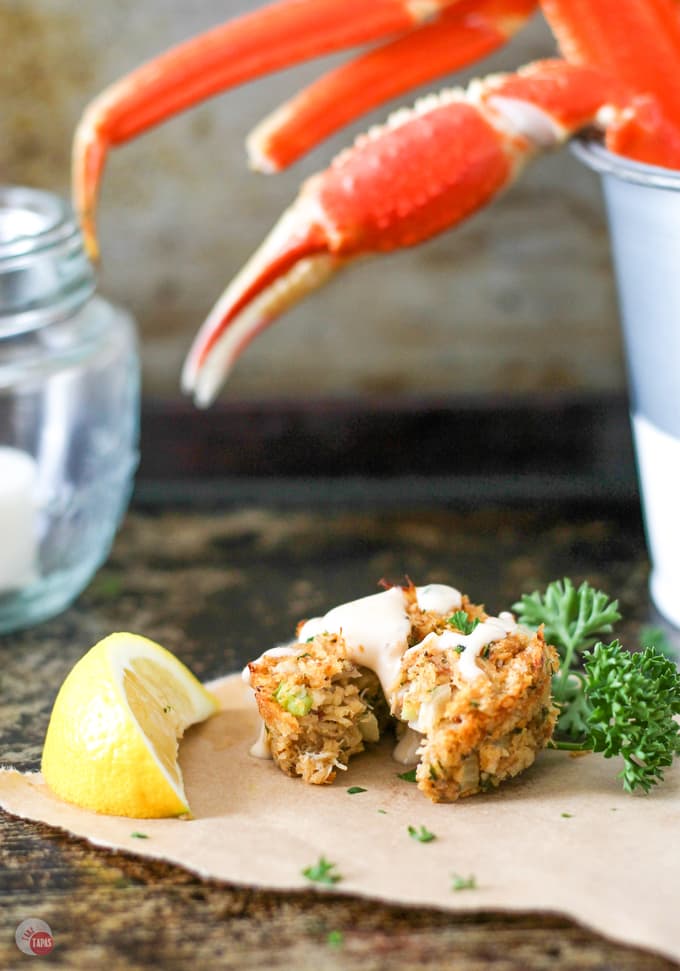 I'm going to tell you a great way to make baked crab cakes in a smaller size. But first a little bit about my childhood.
When I was younger, much younger than I am now, I spent my summers in the Bahamas with my grandparents! Please try and contain your jealousy while I explain.
My grandfather, on my mother's side, was born on the small island of Green Turtle Cay in the Abacos. He was one of 5 children, the only boy, and they lived a pretty primitive life there. No electricity, one room school house, you get the picture. He became a worker on a ship and he traveled to Florida where he met my grandmother. That brings us forward quite a few years…
That brings us forward quite a few years…
He was always a Bahamian citizen but had a green card and he any my Ma worked in Florida until they retired and moved back the island. During my summers he would take a vacation and we would go back to his family home and stay a few weeks at a time.
Doesn't sound glamorous living in the primitive conditions and heating water on the stove for a bath but we had fun. One of my favorite things to do was to fish.
He even had a fishing pole made for me when he found out my mom was pregnant. He painted it pink when he found out his first grandchild was a girl. I caught my first fish on that pole.
I'm not here to talk about fish, even though you can make fish cakes, but to talk about crab cakes. Baked crab cakes to be exact.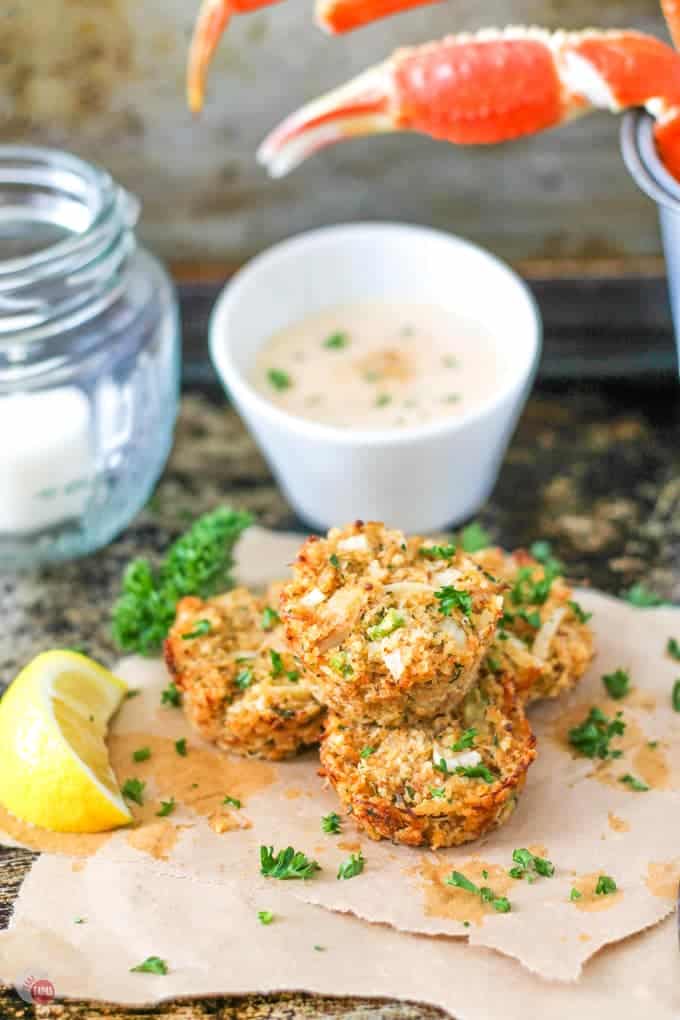 I see crab cakes on quite a few menus but rarely decide to buy them as they rarely use quality or fresh crab even though they say they do. Fresh crab is very tasty but not always accessible in certain areas.
I have no problem using pre-packaged crab meat as long as it is from a credible source and is lump or claw meat.
If you want to steam some crab legs and pick all the meat out, go for it! I don't have time for that. Just make sure you go to your seafood counter and ask!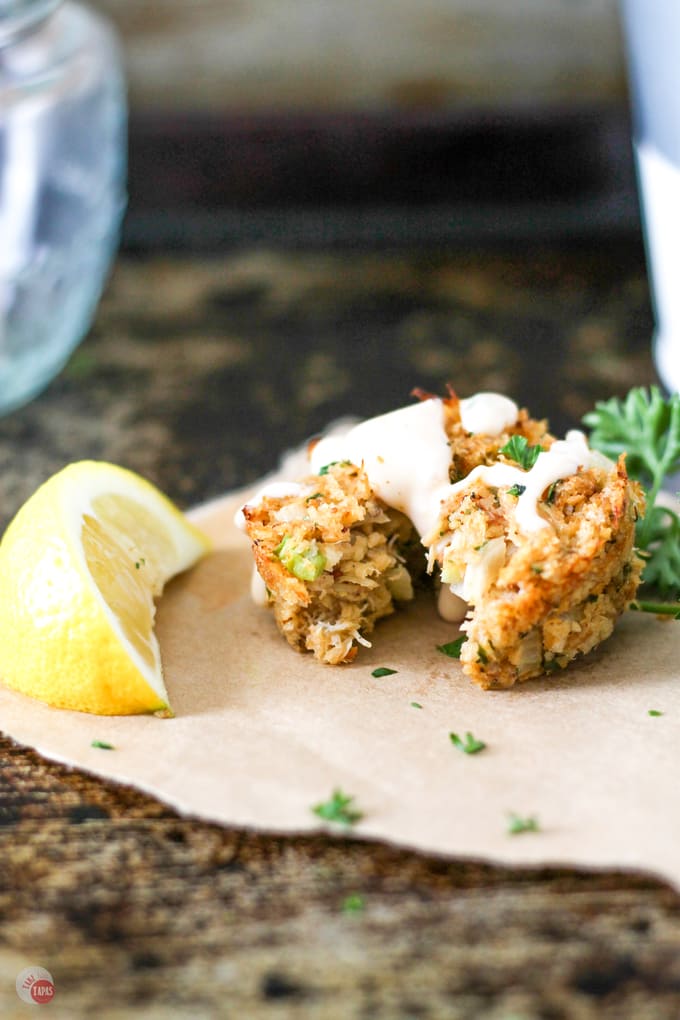 Crab cakes as an appetizer is a great way to start a meal although they tend to be filling. How about some mini-muffin size baked crab cakes? They are the perfect size to pop in your mouth and not spoil the rest of your meal. And crab cakes are less messy than cracking open and picking meat out of the crab legs.
Serve these mini baked crab cakes with the traditional lemon wedge on top of a cracker or you can drizzle them with my Old Bay tartar sauce! Spiced up with pickled jalapeños and briny capers, it is the perfect partner to these baked crab cakes.
These baked crab cakes are perfect with my Crispy celery slaw or my Mediterranean salad stacks for a light and flavorful meal!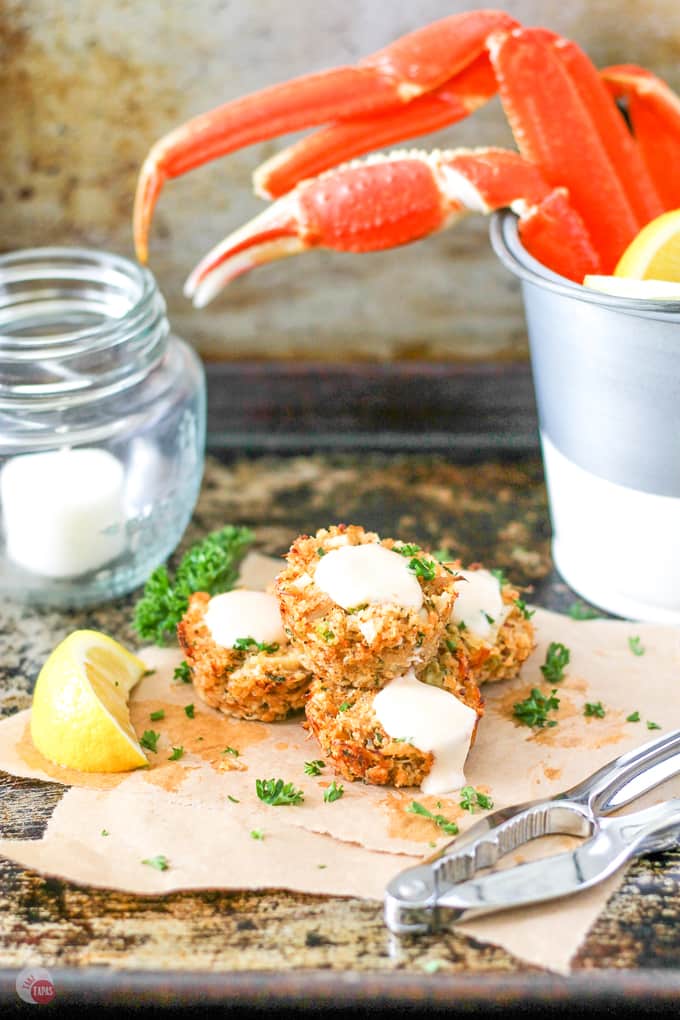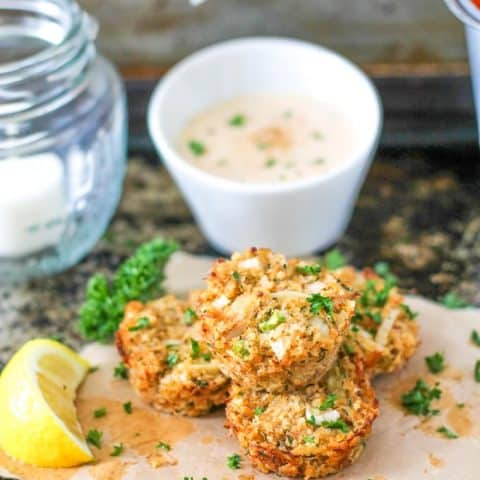 Baked Crab Cakes with Jalapeno Old Bay Tartar Sauce
Crab cakes made with lump crab meat are a great appetizer or main dish for dinner made even easier by baking them in a muffin pan. Serve with a spicy cool Old Bay tartar sauce for a dish to remind you of the ocean!
Ingredients
For the Crab Cakes
8 ounces lump crab meat
1/2 stalk celery (finely diced)
1/2 small onion (finely diced)
1 tablespoon Whole Grain Mustard (I use my own recipe)
2 tablespoons prepared horseradish
1 egg (beaten lightly)
1 tablespoon parsley
1/2 teaspoon paprika
1 1/2 tablespoons Old Bay Seasoning
1/8 teaspoon salt
1/2 teaspoon pepper
3/4 cup breadcrumbs
For the tartar sauce
1/2 cup mayonnaise
1 teaspoon dijon mustard
1 tablespoon horseradish (prepared)
1 tablespoon lemon juice
1 tablespoon pickled jalapeno (chopped fine)
1 tablespoon Old Bay Seasoning
1 tablespoon capers (drained and chopped)
Lemon Wedges
Instructions
Preheat oven to 375F.
Spray your mini muffin pan with non-stick pray.
Mix all of the ingredients for the crab cakes in a bowl being careful not to overwork the mixture. You want the crabmeat in chunks.
Press the mixture into a mini muffin pan. You will fill 20 spaces.
Bake for 15 minutes.
While the crab cakes are baking, make your Old Bay tartar sauce.
Mix all the ingredients for the Old Bay tartar sauce in a small bowl.
Keep chilled until ready to serve.
When the crab cakes are finished baking, remove the muffin pan from the oven.
Let them cool for a minute or so before continuing.
Run a knife around the edges of the crab cakes to loosen them from the muffin pan. Be careful not to cut or break the crab cakes.
Serve on a platter with Old Bay tartar sauce and lemon wedges!
Nutrition Information:
Yield:

20
Serving Size:

1
Amount Per Serving:
Calories:

93
Total Fat:

6g
Saturated Fat:

1g
Trans Fat:

0g
Unsaturated Fat:

5g
Cholesterol:

31mg
Sodium:

472mg
Carbohydrates:

5g
Fiber:

1g
Sugar:

1g
Protein:

4g
This nutrition information was generated via a third party, Nutritionix, and can not be held liable for any discrepancies in the information provided.
This post first appeared on A Dish Of Daily Life