Homemade Potato Skins are one of my favorite appetizer recipes to make for a party. Crispy on the outside and fluffy on the inside, these potato skins are the perfect base for a number of toppings like bacon and cheese!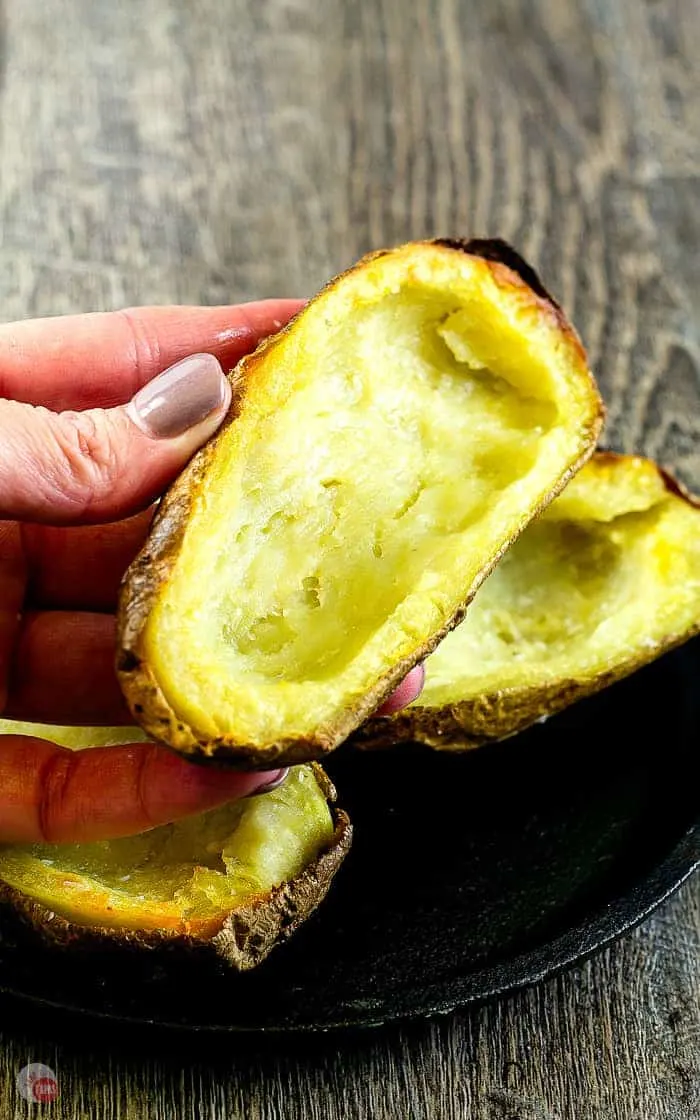 Homemade Potato Skins
Potato skins brought the humble skin of the potato, so often overlooked and discarded, into the appetizer Hall of Fame. Simple ingredients topped with my favorite foods make a great finger food for game day, Super Bowl, or really any occasion!
That is, of course, the place where all the most worthy appetizers get the recognition they deserve. From nachos to bacon wrapped shrimp, potato skins stand out among the best of them.
Only the very best appetizers possess the ability to ruin your appetite for the main course and loaded potato skins, done right, rise to the level of main course worthy.
This post may contain affiliate links. As an Amazon Associate, I earn from qualifying purchases. Read my disclosure policy here.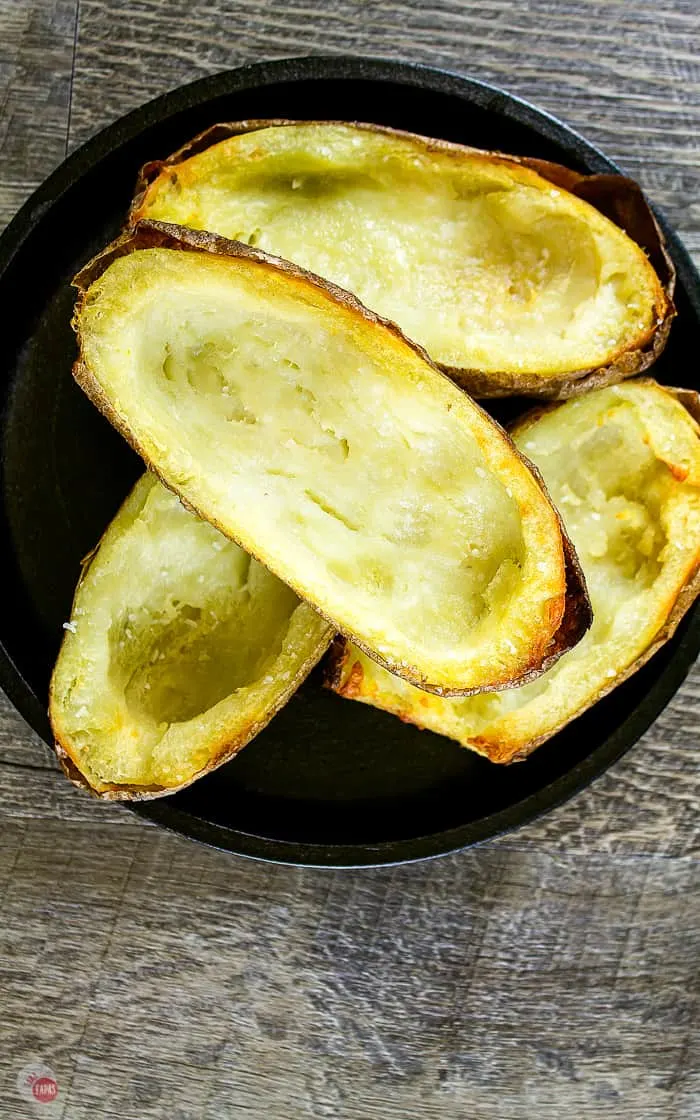 Which potatoes do I use?
You can use just about any potato to make loaded skins. Here are a few options.
Russet Potatoes
Sweet Potatoes
Fingerling Potatoes
Red Skinned Potatoes (small and large)
The best recipe starts with the best and most delicious ingredients. In the case of potato skins, the Russet potato is hands down the best potato to use.
The skin is sturdy, the potato flavor is mild, and they tend to come in the right size for making potato skins. You want something big enough to feel like a hearty appetizer, yet small enough to be eaten in a few bites with the hands.
When choosing Russet potatoes, pick ones that are firm all the way around, don't have any mushy part and have a tan coloring. Avoid ones that are green or have a greenish coloring just below the skin.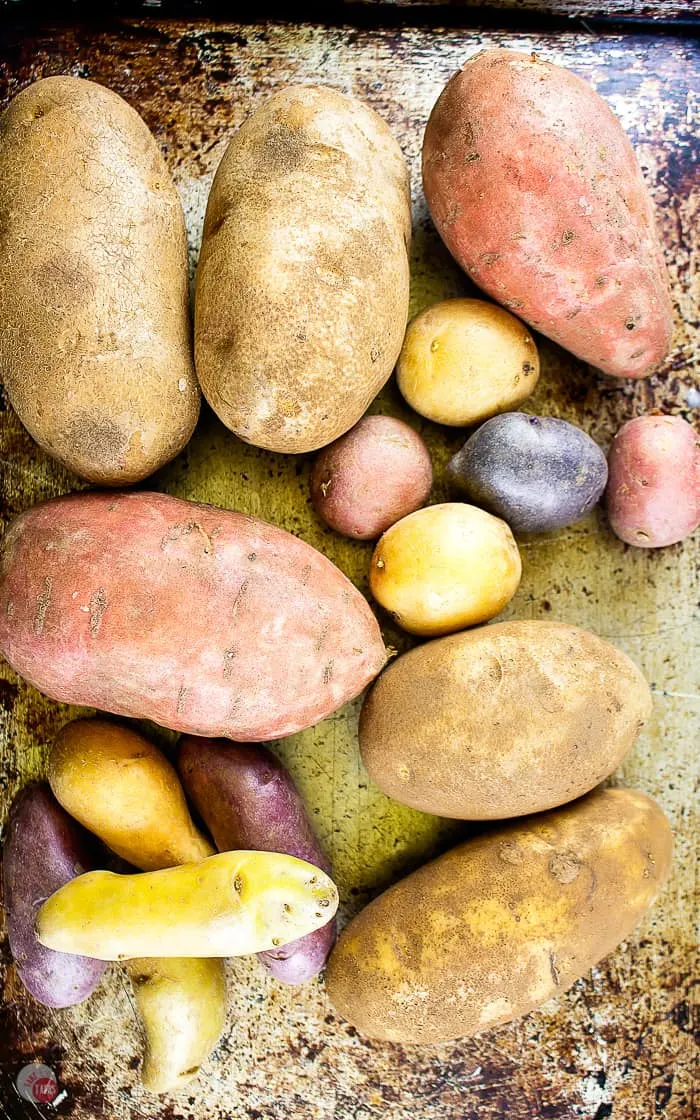 Ways to cook potatoes before scooping
microwave – a round or two on the potato setting works wonders
air fryer – 390F for 30 minutes or until potatoes are soft
oven – 400F for 30 minutes or until potatoes are soft
grill – foil wrap and grill at 375F (indirect heat) until potatoes are soft
Which ever method you use to cook your potato before turning them into amazing crispy potato skins, one thing is certain! Prick lots of holes in the skin before cooking.
This allows steam from the inside of the potato to escape. If you don't have enough holes in the skin while cooking, then the skin will separate from the inside meat of the potato and make them hard to handle.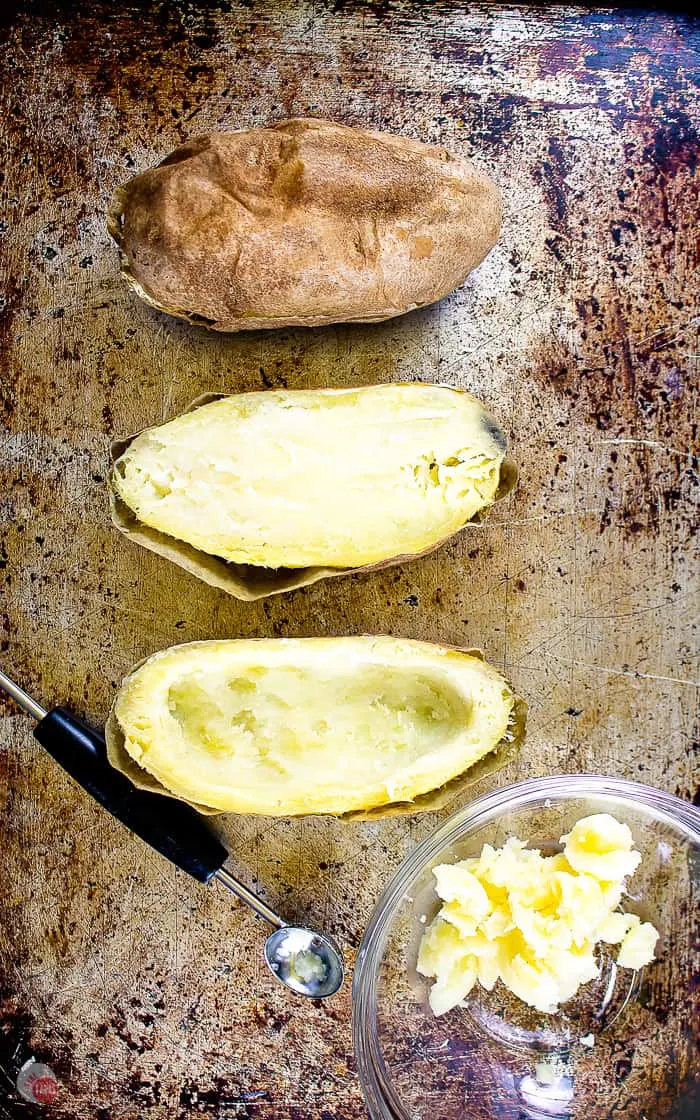 How do you scoop potatoes?
Now that you have potatoes that are cooked on the inside, it's time to scoop out the inner flesh and make our potato boats.
I prefer to use a melon baller or a small ice cream scoop to create the opening in the potato skin. If you don't have either of these, use a spoon it works just as well.
When scooping, be sure to leave 1/4 inch of potato on the skin to hold your toppings. If you accidentally get too much or go all the way to the skin itself, don't panic!
Just pat some back in there and move on. Easy as that. This is not meant to be stressful by any means.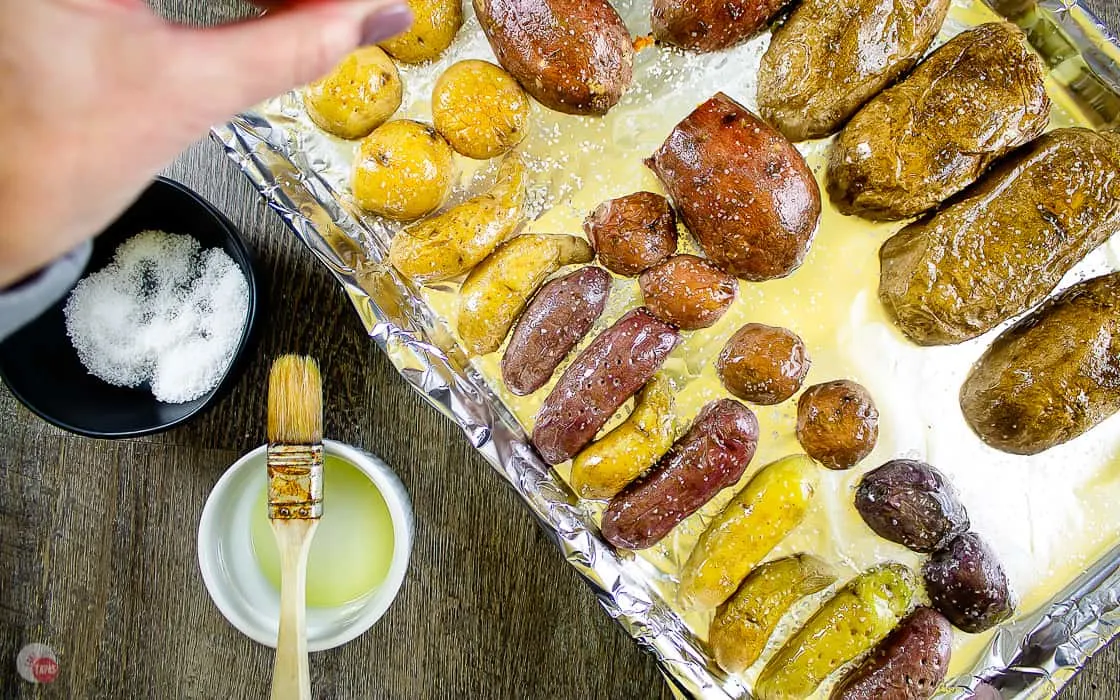 To get them crispy, we are going to bake them for a little bit so let's prep them for the oven.
How to make Baked Potato Skins
First: Preheat oven to 425F. Line a baking sheet with foil. Place the potatoes, skin side up, on the baking sheet.
Second: Brush the potatoes with olive oil (or butter) and sprinkle with salt. Bake for 10-15 minutes or until the skin is crispy and golden brown.
Third: Remove from the oven and flip the potatoes over. Brush the insides with butter or oil and sprinkle with salt. Bake for an additional 5 minutes or until light brown and crisp. Remove from the oven.
Now your potato skins are ready to fill and top. This is where all the creativity comes in!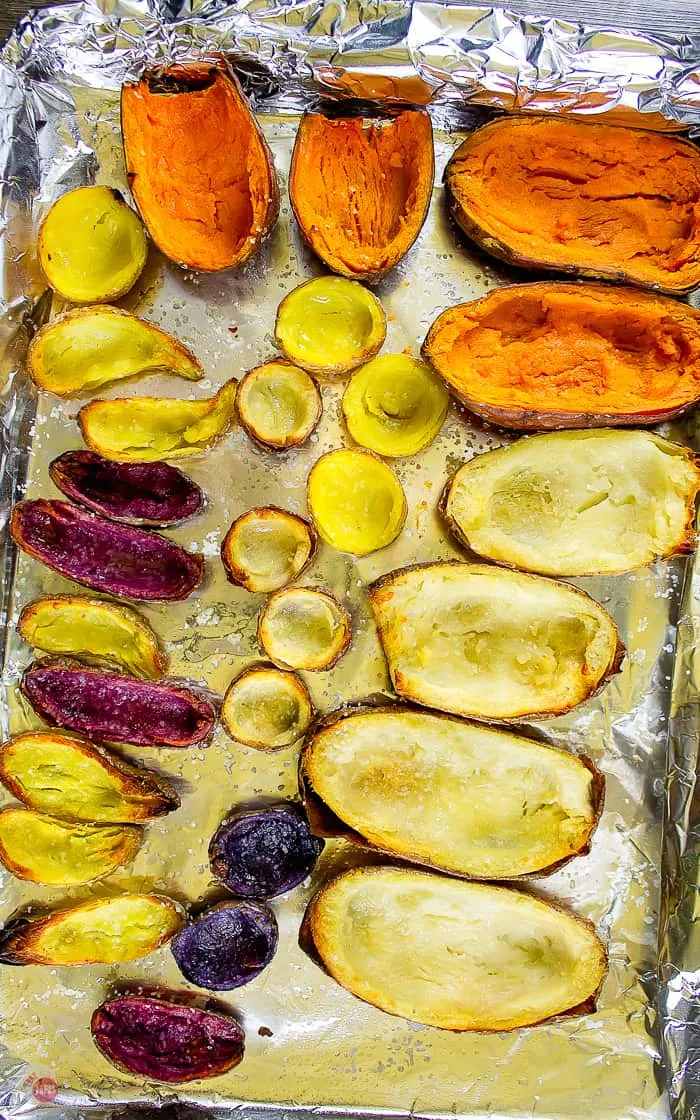 Ways to top Potato Skins
Just because it is a potato skin appetizer, doesn't mean you have to leave your creativity behind!
So, while those bacon, chive, and sour cream loaded potato skins never lose their charms, try going other directions too!
Some options might include:
Philly Cheesesteak, peppers, and cheese
Jalapeño Popper
Taco or Southwest
Buffalo Chicken
What do I do with all that extra potato?
Don't throw away the inside that you just scooped out. You can use that to make mashed potatoes, croquettes, tater tots, or add to soup!
Now that the inside is scooped out we have a nice boat to add our toppings to. All those yummy ones like bacon, sour cream, green onions, jalapenos, and of course cheese.
But before we fill them, we need to prepare them so they are super crispy on the outside and crispy and seasoned on the inside, so they don't get soggy.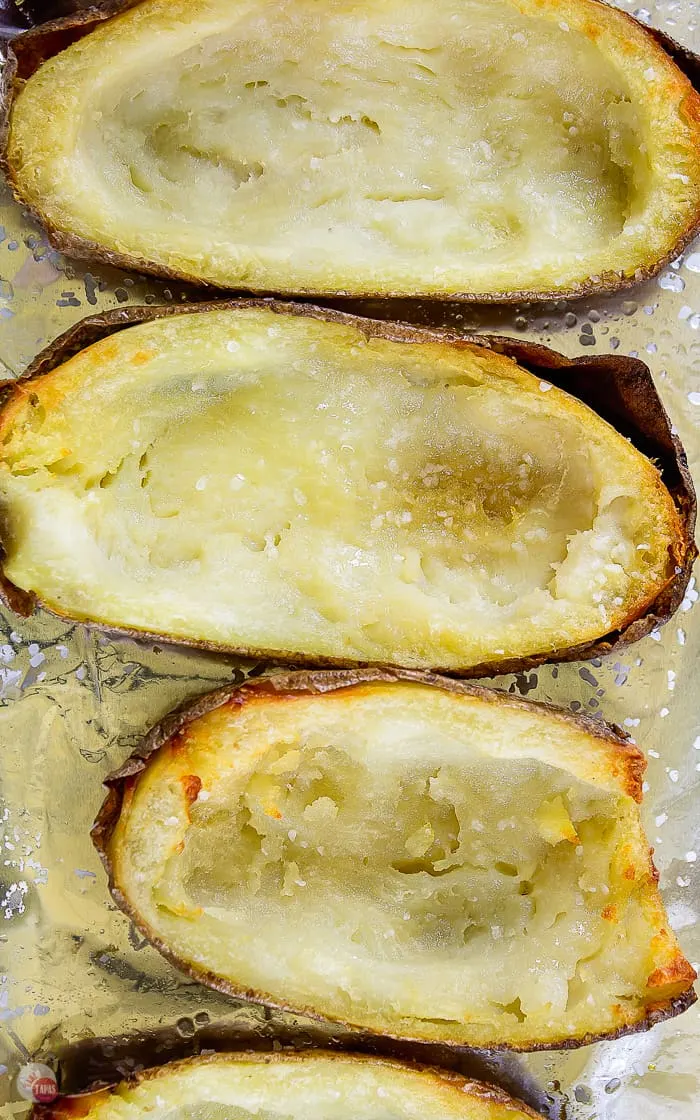 Are Potato Skins good for you?
Most people peel their potatoes before mashing them or even leave the skin and only eat the inside of a baked potato. That's fine as the flesh is low in sodium, cholesterol, and fat. But the skin is where it's at!
Potato skin is where half the total amount of fiber is located, as well as potassium, B vitamins, calcium, and other goodness. Don't be so quick to peel! Just be sure to brush the skins, rinse, and pat dry before starting.
Plus, if you add olive oil and salt while baking, you have the best "potato chip" around if you eat the skin after the inside.
Before we can prepare the skins for filling, we need to cook the potato on the inside so we can scoop out the center, leaving the boat that holds all the cheesy and bacon-y goodies.
Can you eat sweet potato skins?
Yes, you can! Sweet potatoes make delicious potato skins that can be either sweet or savory. If you prefer sweet potato fries, you might want to try sweet potato skins as well.
They also make a great dessert option with marshmallow on top!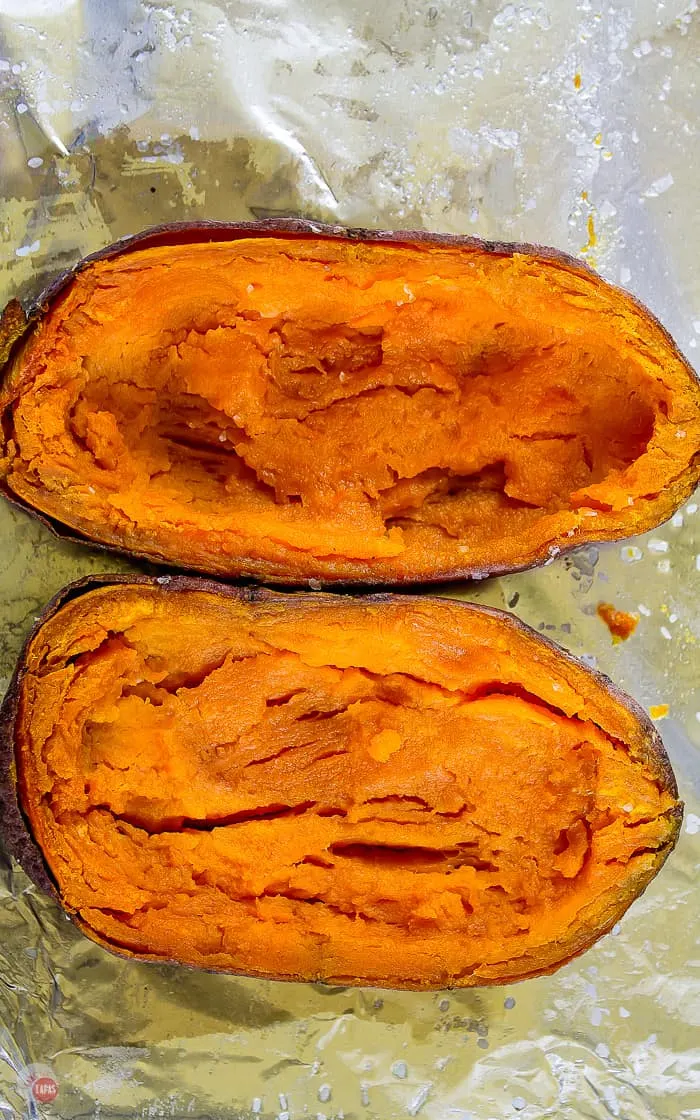 For more insider tips & tricks, and a candid behind the scenes look follow me on social media! Check use out on Pinterest, Facebook, Instagram, & Twitter (yes, people still use Twitter, LOL!)
Can I freeze Homemade Potato Skins?
If you are going to make them in advance and it's longer than a few days, you can pop the potato boats into the freezer. When they're frozen solid, move to a zip top bag and keep frozen for up to one month. Thaw and use like before.
How long do they last in the fridge?
You can make the homemade potato skins ahead of time (stopping before the final heating) and store in the fridge for 3-5 days if tightly covered. You can heat and eat when ready!
Can I reheat them?
Yes, just place the skins on a baking sheets, bake at 350F for about 10 minutes or until heated through.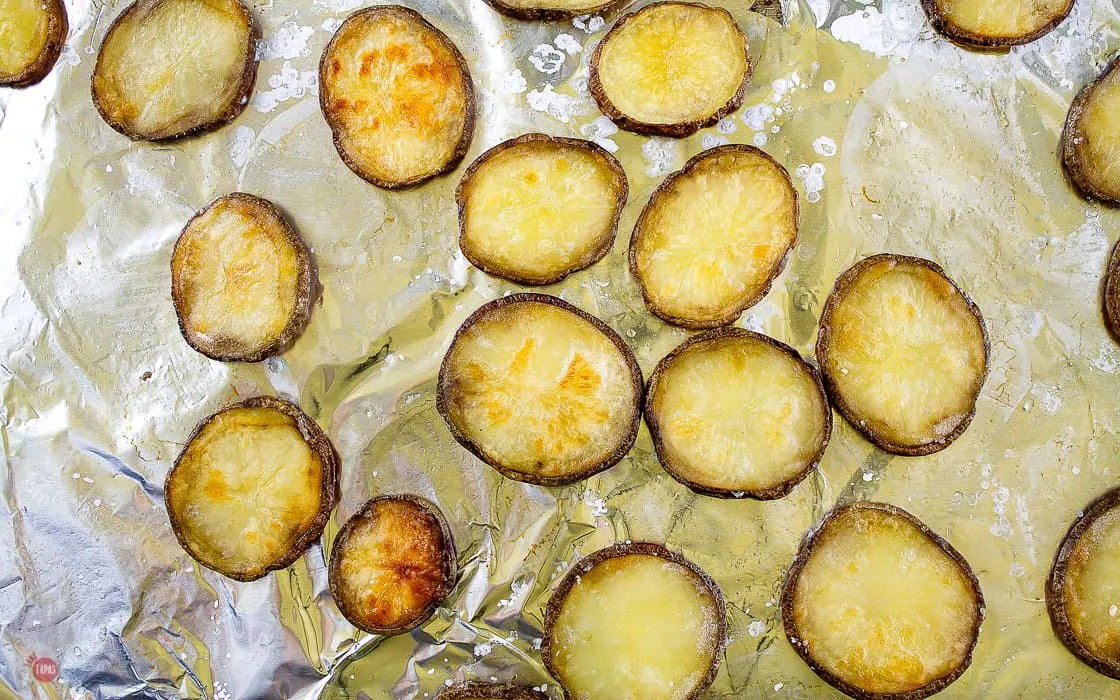 Mini Potato Skin Rounds
If you don't want to go through all the trouble of cooking and scooping, you can go the super easy route and make small potato skin rounds.
Just take your potatoes, uncooked, and slice them thin crosswise. I like mine about 1/8 – 1/4 inch thick. Spread on a lined baking sheet like above and cook until brown and tender.
Top with your favorite toppings and bake a few minutes more to melt all the cheese. Serve and enjoy!
If you love this recipe as much as I do, please write a five-star review in the comment section below (or on Pinterest with the "tried it" button – you can now add pictures into reviews, too!), and be sure to help me share on facebook!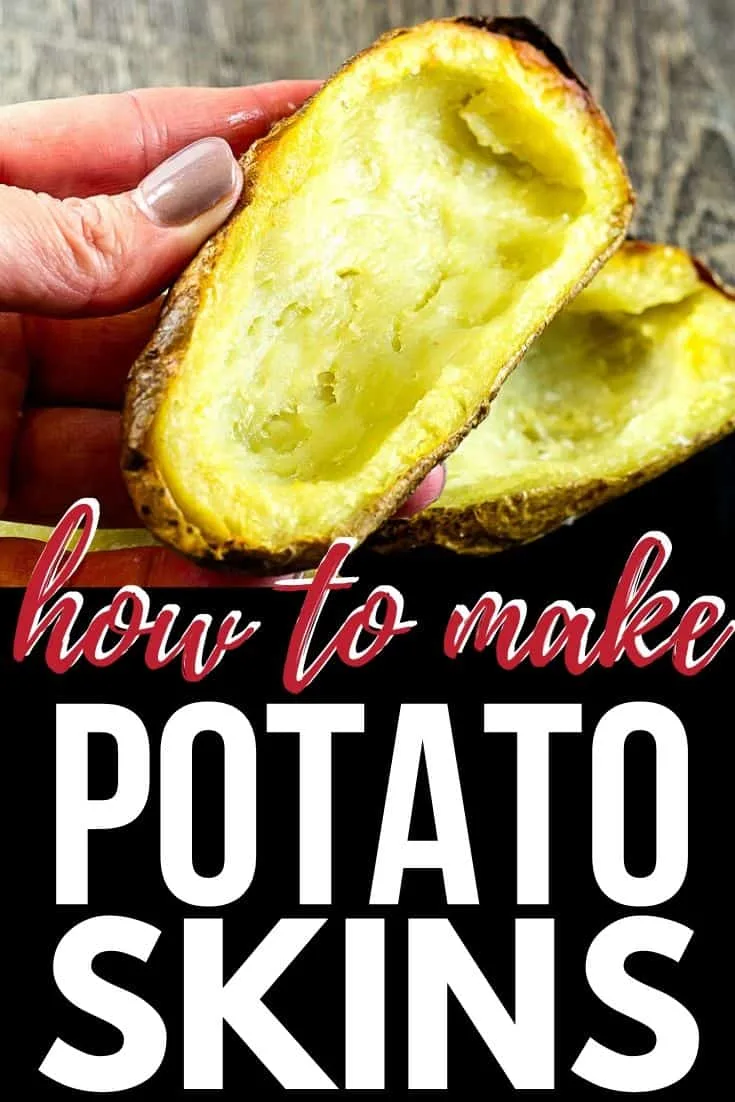 Make your own Easy Potato Skins Recipe and top them with your favorite toppings for the best appetizer around!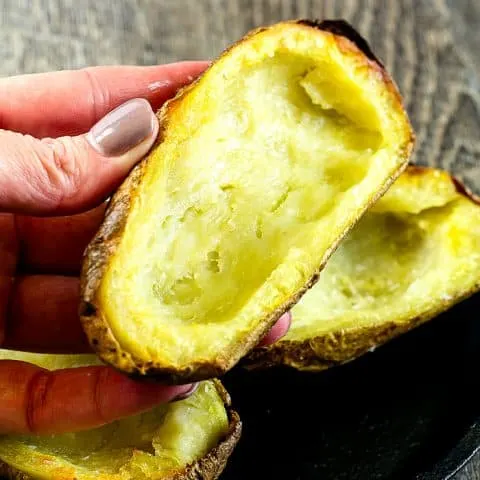 Crispy Potato Skins
Additional Time:
10 minutes
Homemade Potato Skins are one of my favorite appetizers recipes to make for a party. Crispy on the outside and fluffy potato on the inside these potato skins are the perfect base for a number of toppings like bacon and cheese!
Ingredients
3 large russet potatoes
1/4 cup olive oil
2 tablespoons kosher salt
Instructions
Preheat oven to 425°F.
Cut potatoes in half lengthwise.
Using a small spoon, scoop out the flesh leaving a 1/8" to 1/4" layer of potato inside.
Brush both the inside and outside of the potatoes with olive oil or butter and sprinkle with salt.
Place potatoes cut side down in on foil-lined baking sheet.
Bake 15 minutes.
Flip potatoes over and bake an additional 5 minutes or until slightly browned and crisp.
Cool and place in fridge if saving for later.
If preparing now, fill each potato with toppings.
Return to the oven for another 5-7 minutes or until toppings are heated through.
Remove from the oven, top with any additional toppings.
Serve and enjoy!
Notes
Bake time will increase or decrease depending on the size of the potatoes. Large potatoes will take longer to bake and for the skin to get crispy.
When baking the potatoes, use melted bacon fat or bacon drippings, mixed with garlic powder, chili powder, onion powder, salt, and black pepper. Brush on the potato flesh or the outer sides of potatoes for extra flavor.
Bake them on a wire rack so the skins get extra crispy.
Nutrition Information:
Yield:

6
Serving Size:

1 potato skin
Amount Per Serving:
Calories:

225
Total Fat:

9g
Saturated Fat:

1g
Trans Fat:

0g
Unsaturated Fat:

8g
Cholesterol:

0mg
Sodium:

2136mg
Carbohydrates:

32g
Fiber:

3g
Sugar:

2g
Protein:

4g
This nutrition information was generated via a third party, Nutritionix, and can not be held liable for any discrepancies in the information provided.
More Easy Appetizers
TakeTwoTapas.com. Content and photographs are copyright protected. Sharing of this recipe is both encouraged and appreciated. Copying and/or pasting full recipes to any social media is strictly prohibited.