Bright and juicy Lemon Pepper Shrimp are the easiest party appetizer ever. Just a few ingredients and less than 10 minutes, they are perfect for two or for a crowd!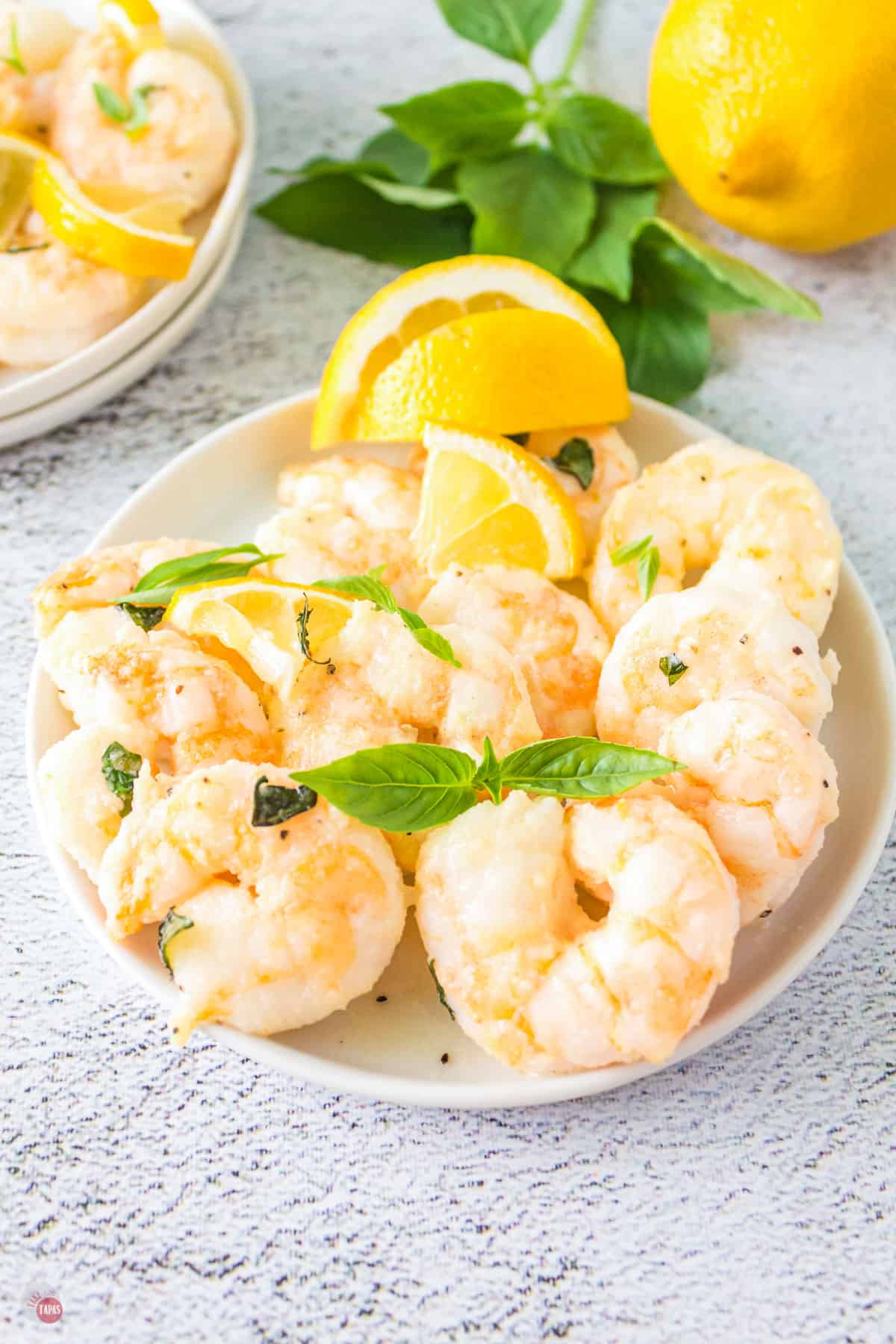 Lemon Pepper Shrimp
Seafood is one of my favorite comfort foods outside pasta and soups. They are light and mild with a briny flavor that reminds me of the beach!
Because shrimp (and most seafood) is delicate in flavor, they don't need a lot of extra seasoning or other ingredients to make them taste amazing.
But you certainly don't want to overdo it and lose the flavor of the shrimp!
That's why these Lemon Pepper Shrimps are so amazing. Bright, lemony, and with the right amount of kick from the pepper, they are down right irresistible.
No need to heat up the grill or a skillet on the stove. These are cooked in the air fryer.
This cuts the cooking time in half and less cleanup leaving more time to enjoy them!
Why this recipe is so good!
takes only 15 minutes
very little prep
uses just 5 ingredients
perfect as an appetizer or tossed with pasta for a full meal!
Serve these as an alternative to popcorn shrimp!
Enjoy them alone, in tacos, on tostadas, sprinkled on a salad, dipped in your favorite sauce, or tossed in pasta!
This post may contain affiliate links. As an Amazon Associate, I earn from qualifying purchases. Read my disclosure policy here.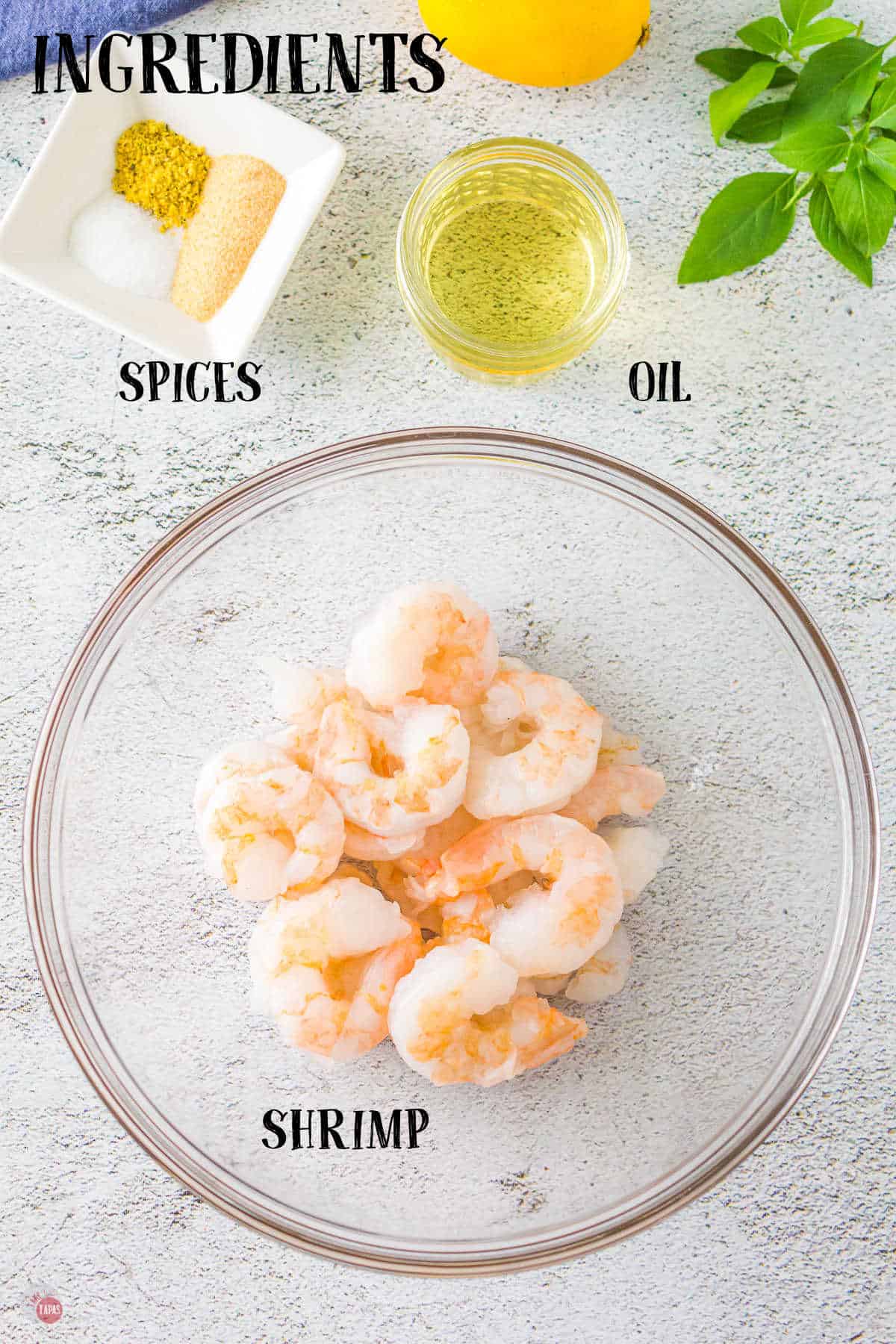 Ingredients Needed
Shrimp – Use peeled and deveined raw shrimp. I used 31-40 size shrimp. Make sure they are thawed.
Seasonings – This recipe uses a combination of salt, lemon pepper, and garlic powder.
Lemon – Use fresh is possible. I use the juice and some fresh lemon slices.
Garnishes – Thai basil is what I used this time but you can also use regular basil, parsley, and even dill.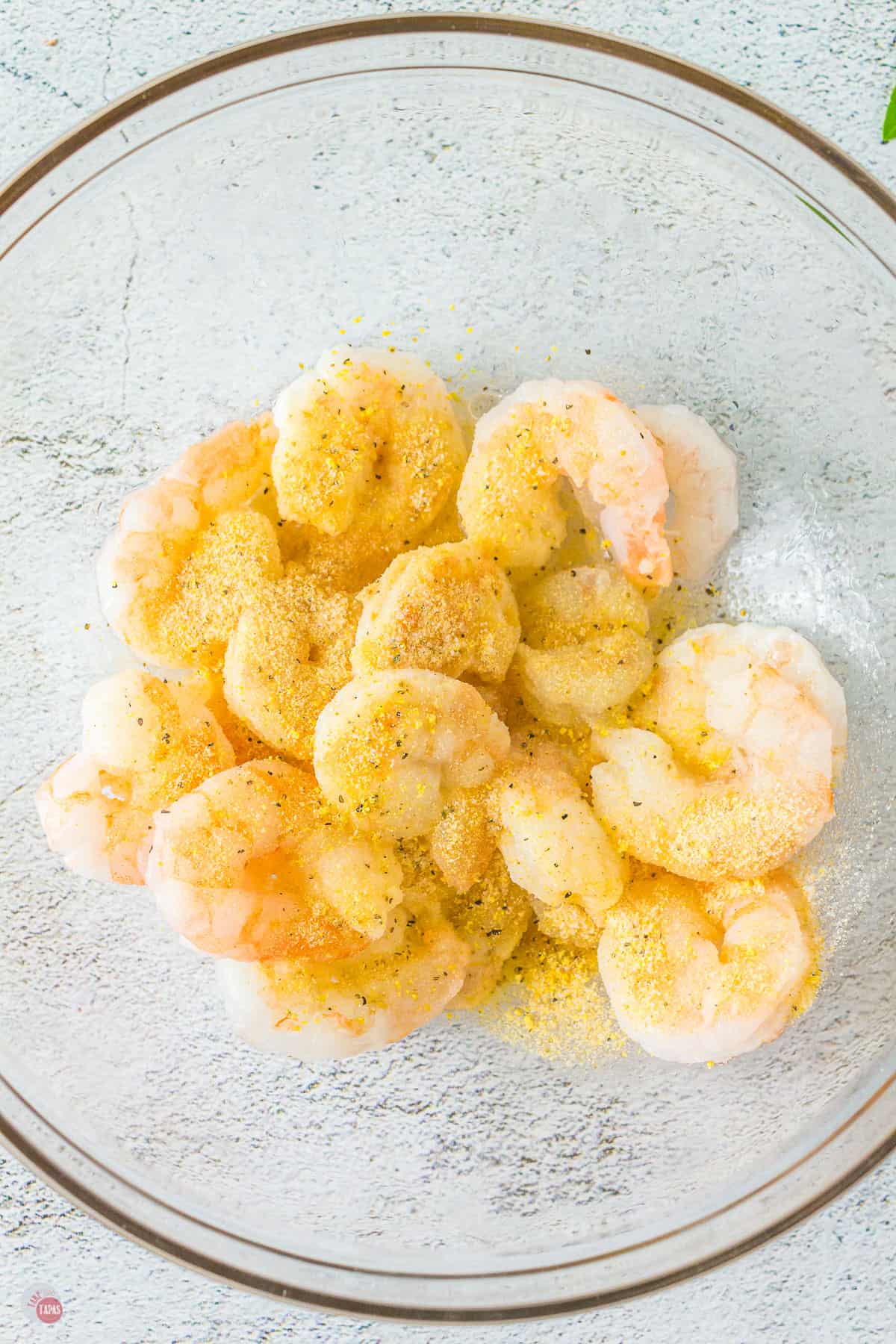 This is hands down one of the easiest shrimp recipes I have ever made!
How to make Lemon Pepper Shrimp in the Air Fryer
FIRST: Preheat the air fryer to 370F. Rinse the thawed shrimp and pat dry. Place in a large mixing bowl.
SECOND: Pour the olive oil and lemon juice over the shrimp and toss to coat.
THIRD: Sprinkle with the seasonings. Toss to coat evenly. Add the shrimp tothe air fryer basket in a single layer.
FOURTH: Top with lemon slices or small lemon wedges and air fry at 370F for 5 minutes. Remove and season with salt and pepper if desired. Garnish with fresh herbs.
For the full recipe and detailed instructions, please refer to the recipe card at the bottom of the post.
For more insider tips & tricks, and a candid behind the scenes look follow me on social media! Check use out on Pinterest, Facebook, Instagram, & Twitter (yes, people still use Twitter, LOL!)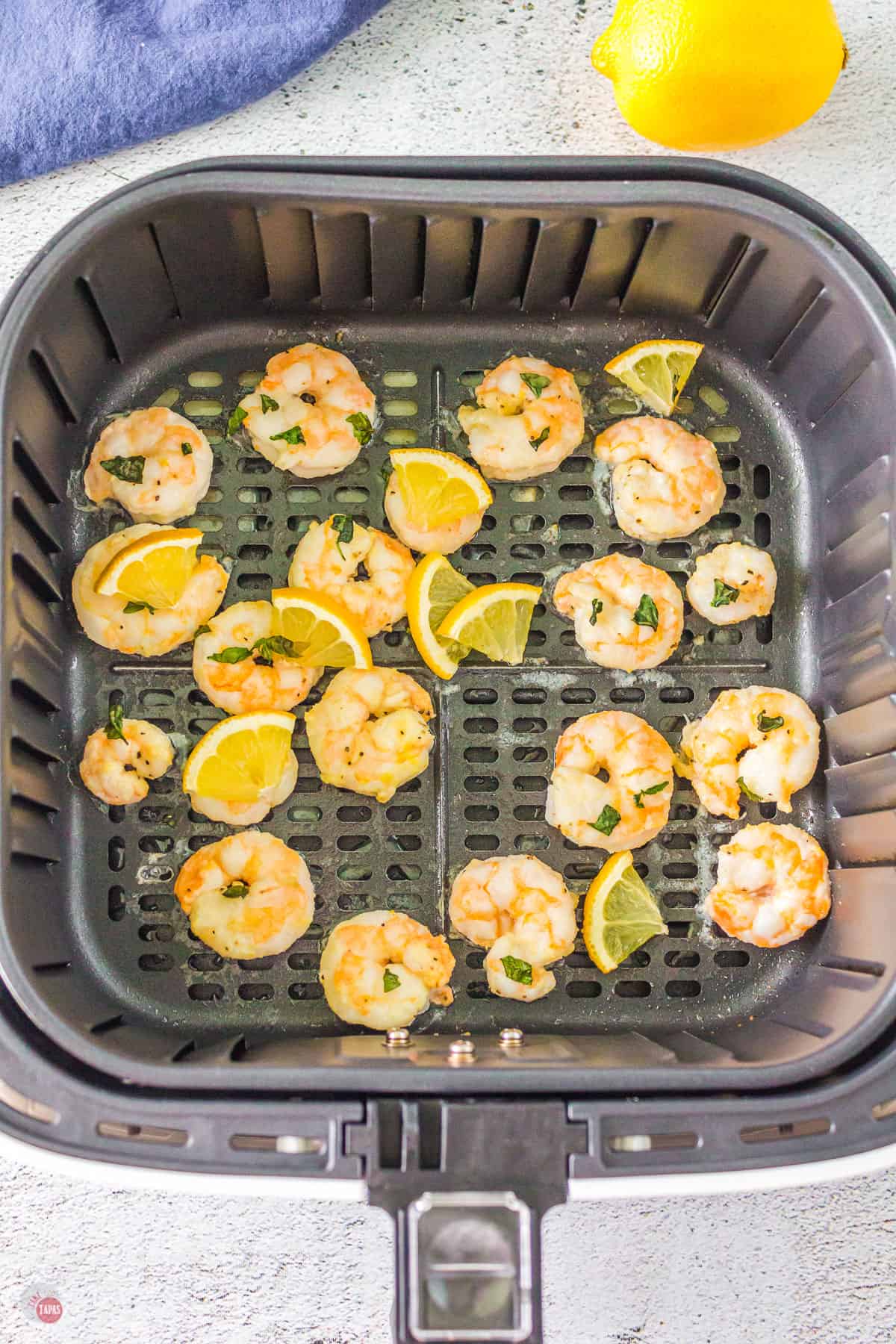 Best type of shrimp to use
Use uncooked (raw) shrimp that have been shelled and deveined. You can leave the tails on if you prefer to eat them as finger food such as shrimp cocktail.
You can also remove the tails. I would do this if tossing in pasta or adding them in tacos or dip.
These lemon pepper shrimp are versatile so prep them according to your end recipe.
Shrimp Sizes
Shrimp is classified by size, i.e. 21/25, 26/30. These numbers mean the number of shrimp in a pound.
The higher the number (51/60) the smaller each individual shrimp is. 51/60 is typically found in a shrimp salad.
51/60 – small
41/50 – medium
36/40 – med large
31/35 – large
26/30 – extra large
21/25 – jumbo
16/20 – extra jumbo
For this recipe, I used are the 31/35 size or 31/40. The typical serving would be 4-6 shrimp per person which is approximately 4 ounces.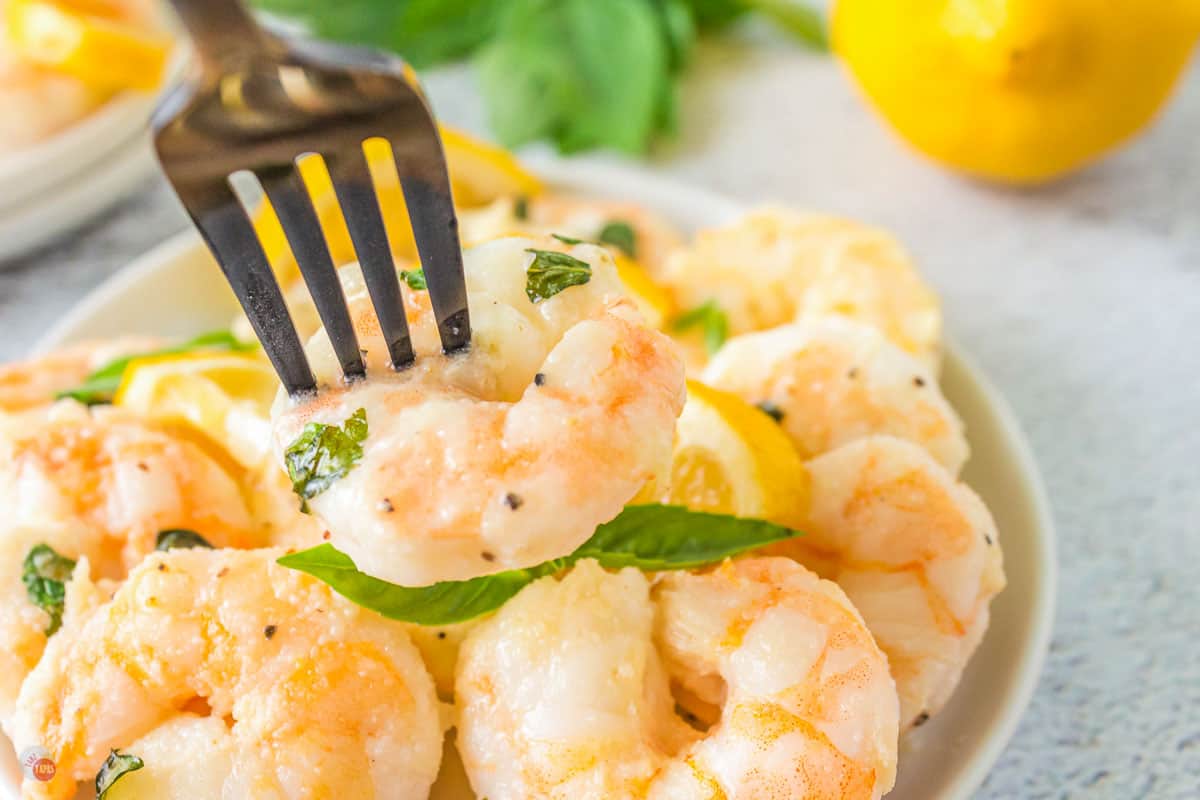 How to peel and clean shrimp
If you are using shrimp that still have the heads on and have not been prepped at all, here is a quick and easy way to peel and clean them.
Hold the tail and twist the head to remove it.
Peel the shell with your fingers starting between the legs.
Remove the tail if desired or leave on.
Carefully cut a slit along the back. (Do on a flat surface)
Remove the dark vein.
Rinse and pat dry.
When using frozen shrimp, make sure they are fully thawed before prepping.
Lemon pepper shrimp is great with fresh or frozen shrimp!
How long does it take to cook shrimp?
Shrimp cook quickly and can become dry and rubbery. For medium sized shrimp, it usually takes 3-5 minutes total depending on the cooking method.
When removed from the cooking source, they will continue to cook for another minute or two, so don't leave them on the heat too long.
You will know they are fully cooked when they are a light pink color, opaque, and curl up slightly.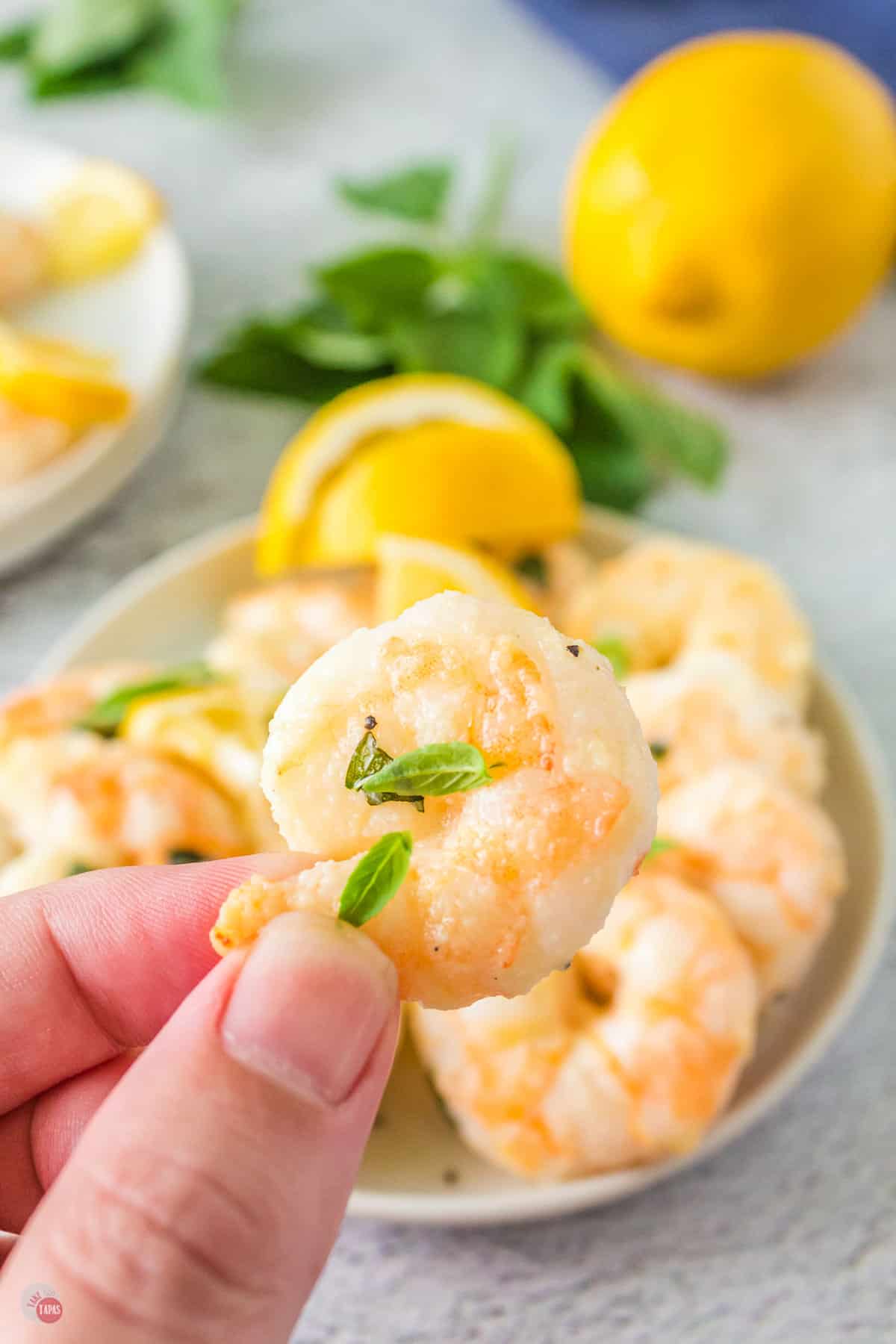 What can I do with frozen cooked shrimp?
To use them, first thaw them under cold water. To avoid overcooking heat them gently and briefly.
You can make a sauce of the seasonings and liquids and then toss the shrimp in. Let sit for 5 minutes to absorb the flavors.
I prefer to use raw seafood in this lemon pepper shrimp recipe. It helps to absorb more of the lemon flavor.
What can you season shrimp with?
Shrimp have a light and mild sweet flavor which lend themselves to a variety of seasonings. I like Cajun, Southwest, and Taco seasonings the best.
Will lemon juice cook shrimp?
If you place raw seafood in an acidic liquid, like lemon or other citrus juice, it will turn opaque giving it the appearance of cooked seafood.
This method is typically used to make ceviche.
While juice "denatures" the proteins in the seafood, it doesn't kill any possible bacteria present.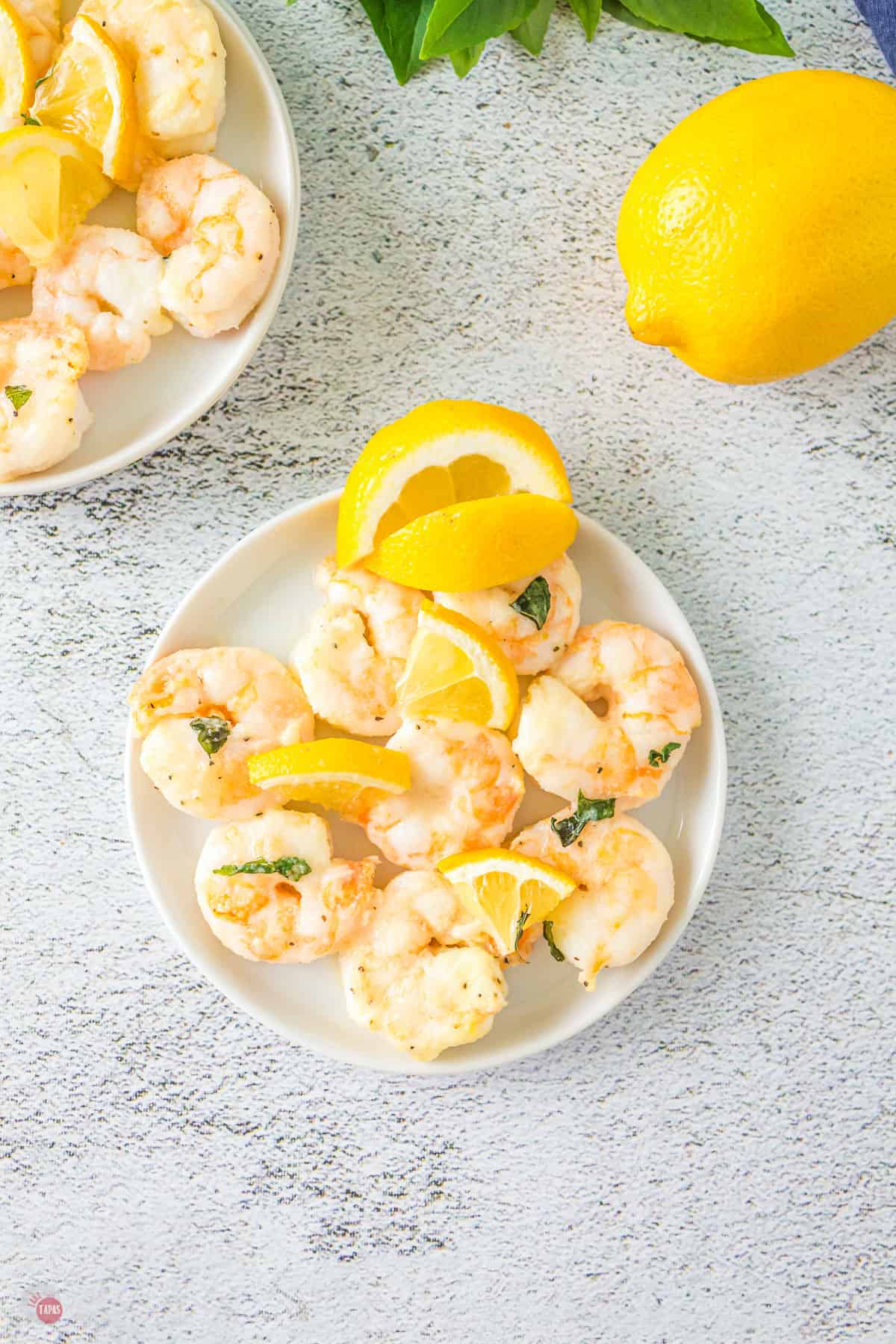 How to store leftovers
Lemon shrimp is best served immediately. If you happen to have leftovers, refrigerate them for 2-3 days in an air tight container. Reheat gently in the microwave or on the stove top.
I do not recommend freezing cooked shrimp.
You can serve the shrimp as an appetizer with a cocktail dipping sauce, over a salad or over pasta for an easy, tasty dinner.
Tapas Tips & Tricks
use fresh or frozen raw shrimp. If frozen, thaw in cold water before using.
leave off the fresh garnishes until after cooking or they will burn in the air fryer.
when placing the shrimp in the air fryer basket, be sure to keep them in a single layer and leave space between them to ensure even cooking.
keep the shrimp tender and juicy by not overcooking them. They should be pink and opaque.
the shrimp will shrink in size when cooking.
If you love this recipe as much as I do, please write a five-star review in the comment section below (or on Pinterest with the "tried it" button – you can now add pictures into reviews, too!), and be sure to help me share on facebook!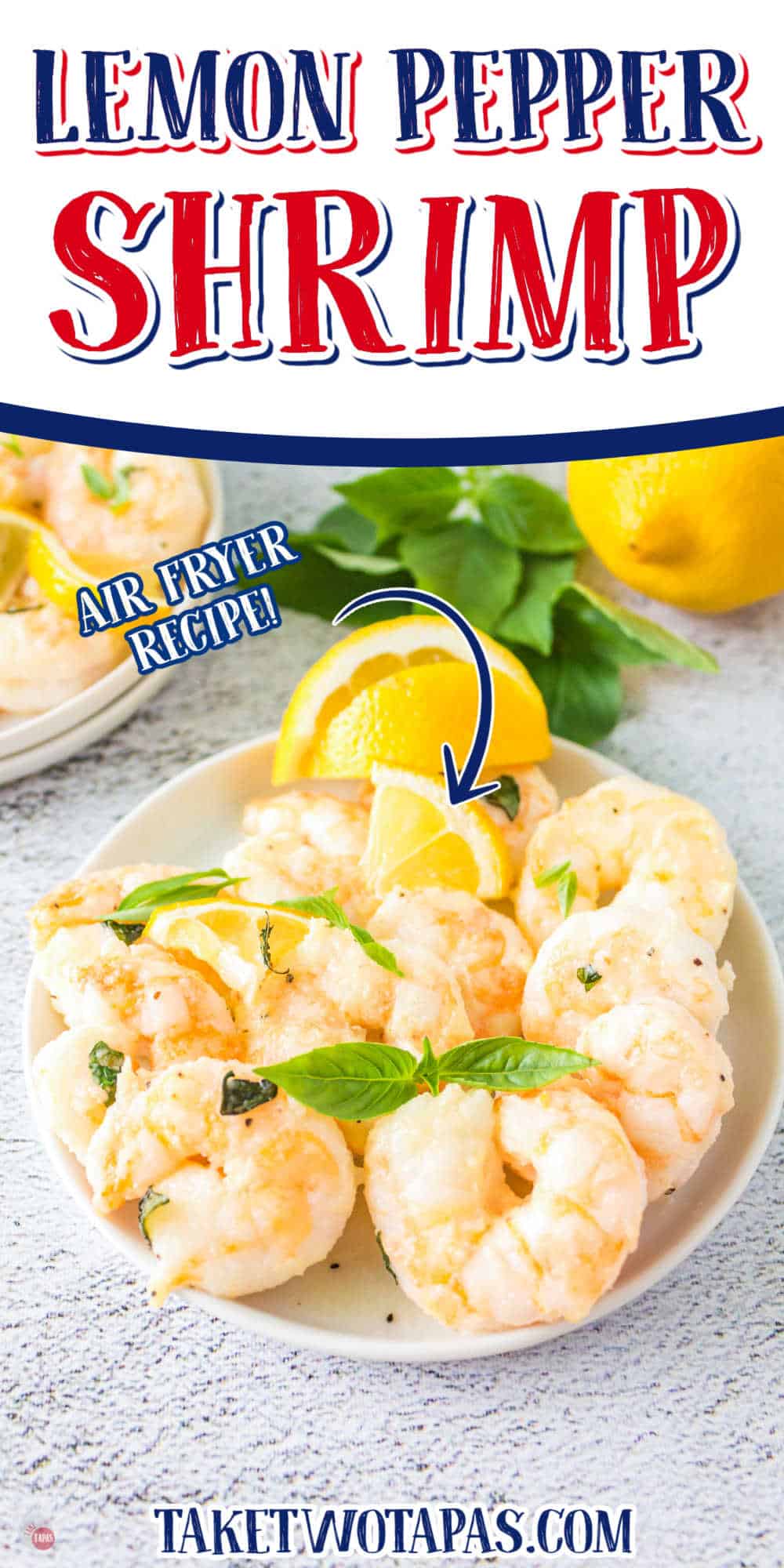 This quick and easy shrimp appetizer recipe is perfect for any occasion. With minimal prep and just a few minutes, these bright and peppery shrimp will be bursting with flavor and ready to enjoy!
More Easy Appetizers
Air Fryer Lemon Pepper Shrimp
Bright and juicy Lemon Pepper Shrimp are the easiest party appetizer ever. Just a few ingredients and less than 10 minutes, they are perfect for two or for a crowd!
Ingredients
12 ounces raw shrimp (31-40 size, peeled, deveined, thawed if previously frozen)
1 tablespoon olive oil
1 teaspoon lemon juice (fresh is best)
½ teaspoon salt
½ teaspoon lemon pepper seasoning
1 teaspoon garlic powder
Lemon slices (optional)
Thai basil (optional)
Instructions
Defrost shrimp in cold water if frozen. Rinse the shrimp and pat dry.
Preheat the air fryer to 370F.
Place shrimp in a large mixing bowl.
Pour olive oil and lemon juice over the shrimp and mix to coat.
Sprinkle salt, lemon pepper and garlic powder over the shrimp. Mix to coat evenly.
Place shrimp into the air fryer basket in a single layer. Do not overcrowd the basket.
Add slices of lemon on top of the shrimp if desired.
Air fry at 370F for 5 minutes. Check for doneness when the 5 minutes are up.
Remove and garnish with more lemon and chopped Thai basil. Serve and enjoy!
Notes
I like to use Thai basil because it has a peppery flavor to it. Feel free to substitute regular basil, parsley, or even fresh dill.
*If you love this recipe as much as I do, please leave me a comment and rate it 5 stars. Thank you!
Nutrition Information:
Yield:

4
Serving Size:

3 ounces
Amount Per Serving:
Calories:

94
Total Fat:

4g
Saturated Fat:

1g
Trans Fat:

0g
Unsaturated Fat:

3g
Cholesterol:

107mg
Sodium:

859mg
Carbohydrates:

2g
Fiber:

0g
Sugar:

0g
Protein:

12g
This nutrition information was generated via a third party. I can not be held liable for any discrepancies in the information provided.
TakeTwoTapas.com. Content and photographs are copyright protected. Sharing of this recipe is both encouraged and appreciated. Copying and/or pasting full recipes to any social media is strictly prohibited.