This ain't your grandma's fruit cocktail dump cake, these fruit cocktail cake balls are moist, studded with fruit and toasted pecans, and mixed with a sweet frost to make cake balls that require no cream cheese!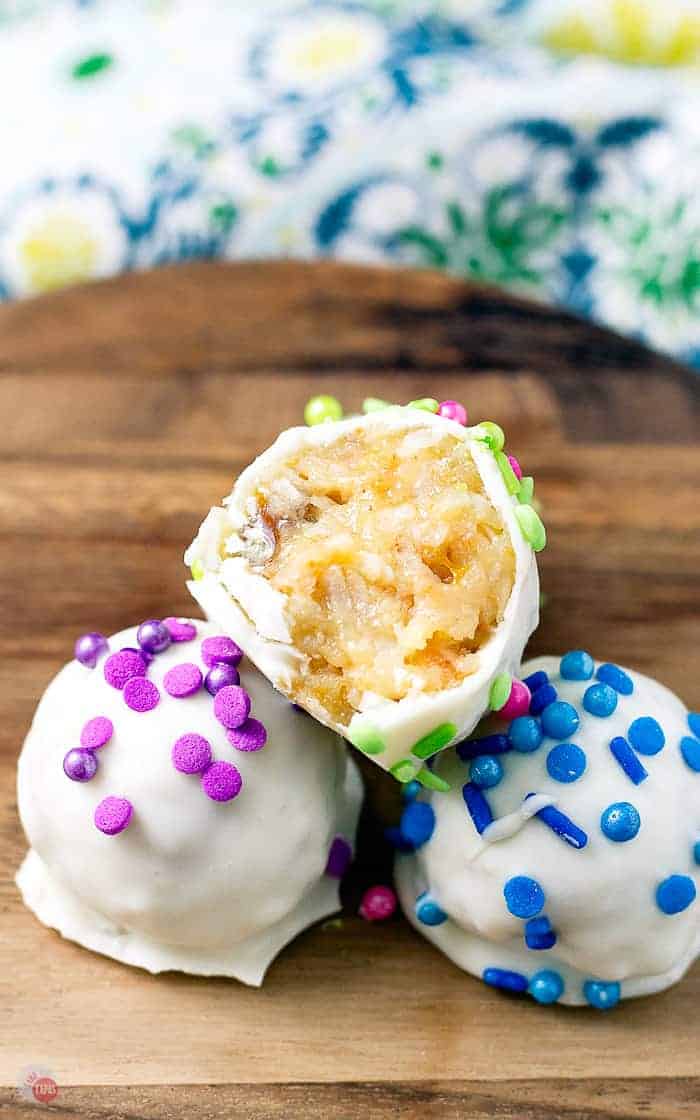 WHAT IS FRUIT COCKTAIL CAKE?
Are you thinking I have this can in my pantry but what can I make with fruit cocktail? Besides just eating it out of the can or donating it at your kid's school canned food drive.
You can make these delicious fruit cocktail cake balls that don't require cream cheese!
Just like some many other grandmothers, mine always had canned peaches, pears, and fruit cocktail in the pantry. So many times she served it as a "salad" or in a fancy glass as dessert, but what else can you make with fruit cocktail?
A cake is an easy dessert to make and I grew up where dessert was served after every dinner. Fruit Cocktail Cake made frequent appearances because it was inexpensive and we always had the ingredients on hand.
This post may contain affiliate links. As an Amazon Associate, I earn from qualifying purchases. Read my disclosure policy here.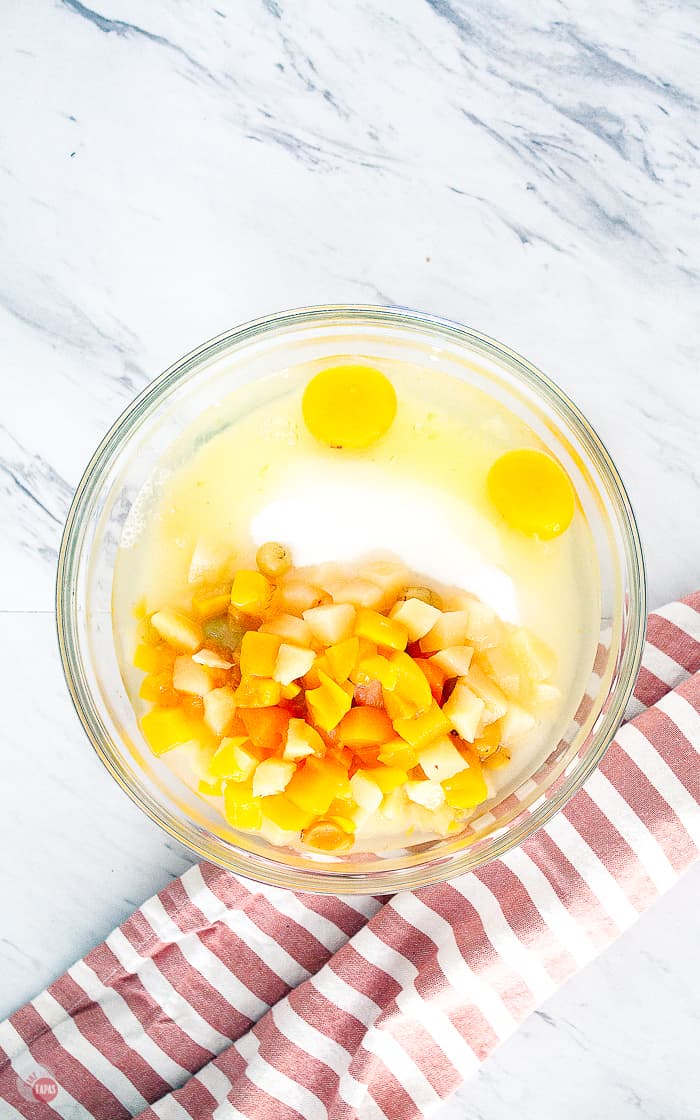 FRUIT COCKTAIL CAKE RECIPE
Just like a dump cake, the fruit cocktail cake batter was simple to put together. Flour, baking powder, sugar, eggs, and fruit cocktail. Combine these and pour into a prepared cake pan.
I like to use parchment paper for mine because it makes removing the cake that much easier.
Bake the cake until done. Because the cake is so moist, I test the cake with a toothpick and as long as there are only a few crumbs stuck to it I count it as done.
If there is runny batter, cook it some more. The fruit cocktail keeps the cake moist, adds texture, and is studded with pretty colors from the fruit bits.
FRUIT COCKTAIL CAKE ICING
The cake part of the fruit cocktail cake is delicious but the star of the show is the icing. Coconut, pecans, sugar, milk, and butter are simmered until the sugar is dissolved and then poured over the warm cake. What's not to like?
There is some debate as to whether the milk is evaporated milk or sweetened condensed milk. Most use the evaporated form but I use the sweetened condensed milk for two reasons.
The sweetened condensed milk is something I have on hand all the time and not evaporated milk.
Using condensed milk allows you to leave out the cream cheese when making the cake balls.
The icing is a great topping for this moist cake but mixed into the cake it is even better. Once the cake and the icing have completely cooled, use your hands or a mixer to crumble and mix it all together.
The mixture hold together nicely and you don't need to add cream cheese!
Roll or scoop into 1 inch balls and freeze for 15 minutes to set. Serve the Fruit Cocktail Cake Balls like this or dip them in white chocolate and decorate with colored sprinkles to match your occasion!
HOW LONG WILL THE FRUIT COCKTAIL BALLS LAST?
Up to 4 days in an airtight container.
DO I NEED TO KEEP THE CAKE BALLS REFRIGERATED?
No you don't but you can. Just remember that when you remove them from the fridge they might get condensation on the outside which could affect your chocolate coating and cause the sprinkle colors to run.
CAN I FREEZE THE CAKE BALLS
Yes you can, for up to 1 month but remember that condensation will form once you thaw them and cause your colors to run so you might want to keep them stored in the fridge until ready to eat.
CAN I USE DARK OR MILK CHOCOLATE TO DIP THE CAKE BALLS IN?
Feel free to use your favorite chocolate. I just used white this time for Spring:)
For more insider tips & tricks, and a candid behind the scenes look follow me on social media! Check use out on Pinterest, Facebook, Instagram, & Twitter (yes, people still use Twitter, LOL!)
Looking for a delicious dip to take to a party you've been invited to? How about a quick appetizer you can make ahead of time for a get-together that you are hosting and are already stressed to the max?
Check out all my cheese ball recipes, both sweet and savory, to fit your special occasion!
If you love this recipe as much as I do, please write a five-star review in the comment section below (or on Pinterest with the "tried it" button – you can now add pictures into reviews, too!), and be sure to help me share on facebook!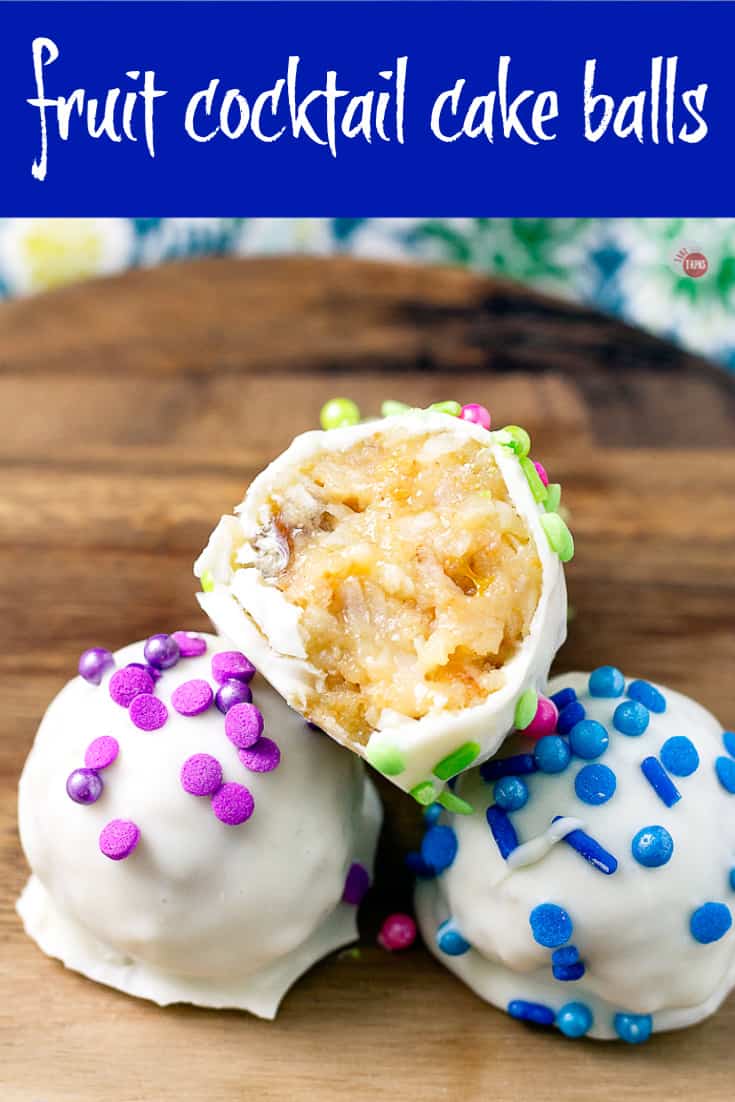 MORE EASY APPETIZERS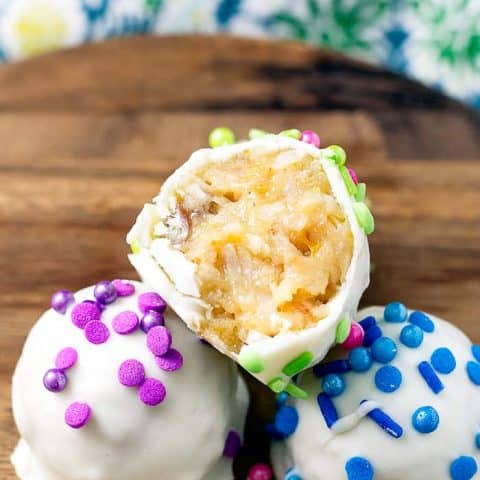 Fruit Cocktail Cake Balls
Total Time:
1 hour
5 minutes
These fruit cocktail cake balls are moist, full of fruit and toasted pecans, and mixed with sweet frosting to make cake balls that require no cream cheese!
Ingredients
Fruit Cocktail Cake
2 cups flour (all-purpose)
2 teaspoons baking powder
1 cup of sugar (granulated)
2 eggs
1 can fruit cocktail (15 oz in heavy syrup)
Cake Frosting
1 can sweetened condensed milk (14 oz)
1 bag sweetened coconut flakes (14 oz)
1 cup sugar (granulated)
1 stick butter
1 cup toasted pecans (chopped)
1 teaspoon vanilla
Instructions
Bake the Fruit Cocktail Cake
Preheat oven to 350F.
Combine the flour, baking powder, sugar, eggs, and fruit cocktail.
Mix and pour into a parchment-lined baking pan.
Bake for 45 minutes or until a tooth pick poked in the middle of the cake comes out clean.
While the cake is baking, prepare the frosting.
Make the Fruit Cocktail Cake Icing
In a medium-sized sauce pan, add the butter, sugar, coconut flakes, toasted pecans, and sweetened condensed milk.
Stir to combine.
Heat over medium heat until warm all the way through then reduce to heat to low or simmer and let simmer until the sugar is dissolved.
Keep warm until the cake is done.
Frost the Fruit Cocktail Cake
When the cake is done baking, remove from the oven and immediately poke holes all over the cake using a wide utensil handle. I use the handle of a wood cooking spoon.
Pour the warm icing over the top of the cake and use a spoon or spatula to spread it evenly.
Let cool completely.
Make the Cake Balls
Once the cake and icing completely cool, remove the cake from the pan and add to a mixing bowl.
Using your hands or a mixer, crumble the cake and icing together to form a "sticky" dough.
Using your hands or a scoop, make 1-inch balls and place on a parchment-lined baking sheet.
Roll in your hands to make them as smooth as possible.
Freeze for 15 minutes to set.
Dip the Cake Balls
While your cake balls are freezing, melt your chocolate.
Remove your cake balls from the freezer, and dip them in the chocolate to coat them.
Add some fun sprinkles if you want while the chocolate is still melted or tacky.
Chill the cake balls in the fridge to set the chocolate if desired.
Store in an airtight container at room temperature or serve immediately.
Enjoy!
Notes
I used a 10x10 cake pan but you can also use a 9x13 pan. Baking times may vary when you change the size of the cake pan.
*If you like this recipe, please leave me a comment and rate it with some stars. Thank you!
Nutrition Information:
Yield:

96
Serving Size:

1
Amount Per Serving:
Calories:

43
Total Fat:

1g
Saturated Fat:

1g
Trans Fat:

0g
Unsaturated Fat:

0g
Cholesterol:

7mg
Sodium:

22mg
Carbohydrates:

7g
Fiber:

0g
Sugar:

5g
Protein:

0g
This nutrition information was generated via a third party, Nutritionix, and can not be held liable for any discrepancies in the information provided.
TakeTwoTapas.com. Content and photographs are copyright protected. Sharing of this recipe is both encouraged and appreciated. Copying and/or pasting full recipes to any social media is strictly prohibited.