Spicy Four Pepper Jelly Sauce is a versatile condiment! You can use it with cream cheese as a dip, a coating for your crispy chicken wings, or smeared on your morning bagel for a hint of spice!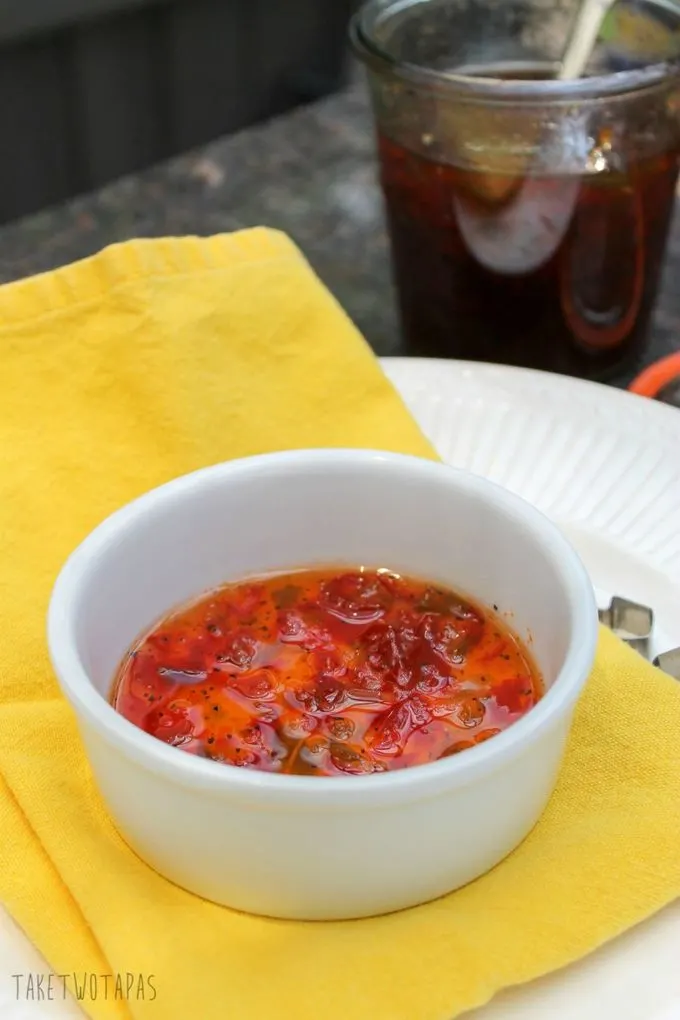 Sweet and Spicy Pepper Jelly
What did the pepper do? They said it couldn't be done but I officially burned something in my crock pot.
I know many of you will say that you have never heard of burning something in a crock pot, as it's very purpose for existing, is that it is DESIGNED to cook for long periods of time and not burn!
Well, it is me, and if something like this is going to happen, it's going to happen to me. It's the Stewart Law. Needless to say, this was supposed to be a crockpot recipe and now it is not.
What was it that I burned? Here it is…
Four pepper jelly!
This post may contain affiliate links. As an Amazon Associate, I earn from qualifying purchases. Read my disclosure policy here.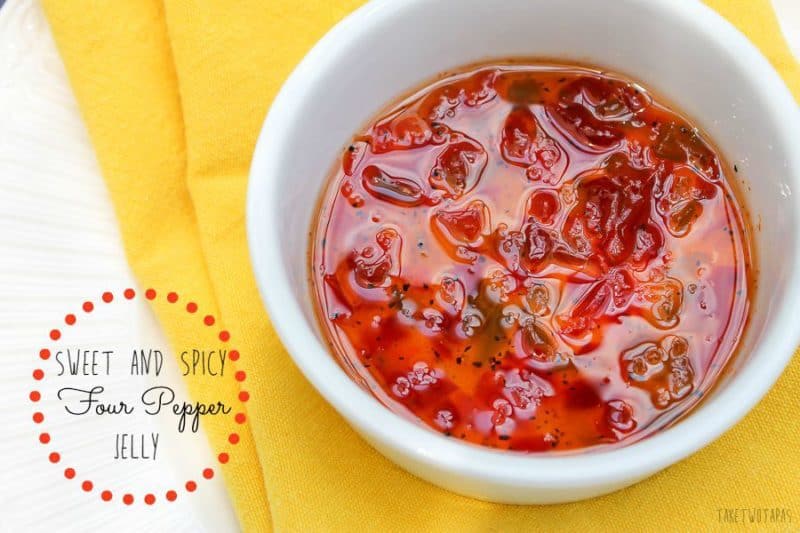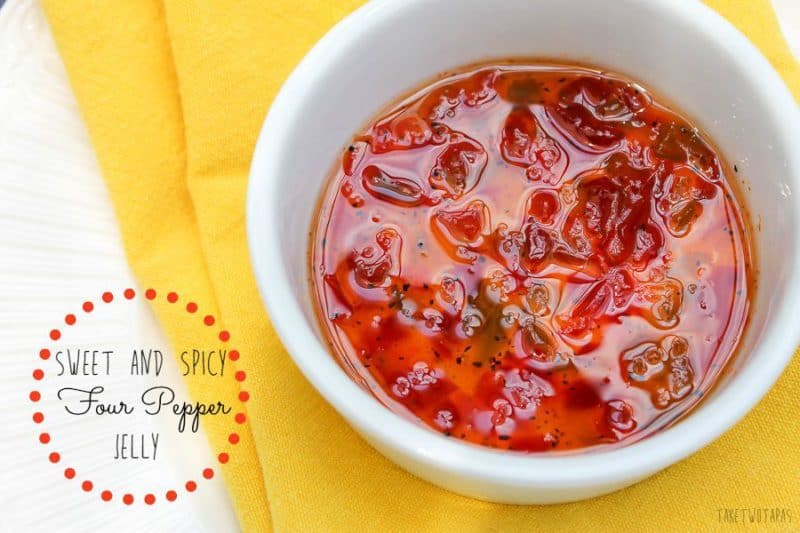 Hot Pepper Jelly
Brooks and I are HUGE Diners, Drive-ins, and Dives fans. I mean AVID watchers of the show.
New episodes, old episodes, half-way over episodes, plan your whole vacation around DDD locations from the App kind of fans. I think we have seen almost all of them.
I even watched the show where they ran lost footage. I'm lame. I can't help it!
I love seeing all these great places where ordinary people make food so tasty that they have a loyal following.
Feeding people something that makes them want to come back and eat your food, 4 or 5 times a week, makes my heart sing! I often find inspiration watching the foods these awesome folks are making that keeps customers coming back time and time again.
One of these episodes showed a chef making a chicken wing recipe that supposedly kept people lined out the door. I watched him make it (of course they don't tell you exact measurements) again and again till I had to try it for myself.
I took notes like I usually do and it drives Brooks crazy, to see if I could make it at home. This is that recipe.
Like I said, it's not EXACTLY how they make, just my interpretation of the notes I took. Turned out pretty good! If I ever get to travel to that restaurant, I will try them and let you know how close I came:)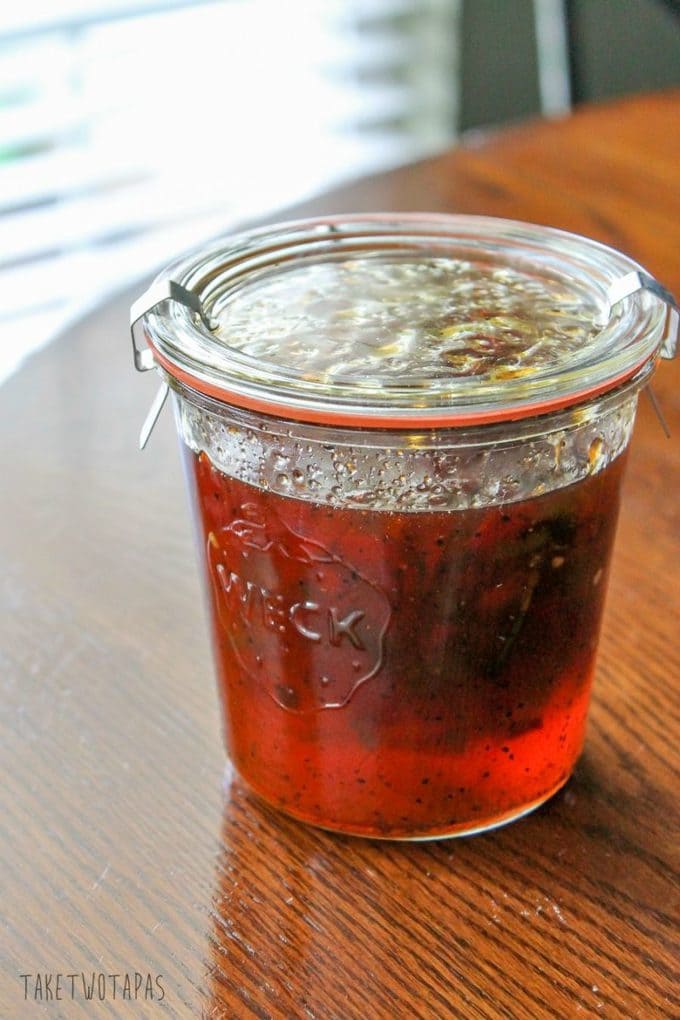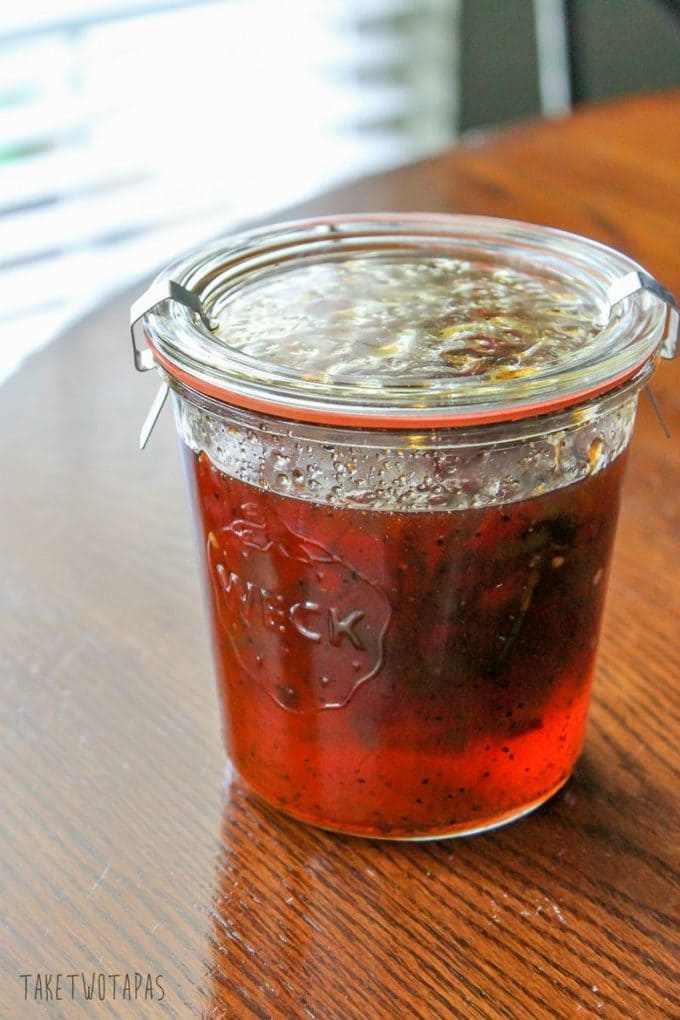 I didn't see where the restaurant is located because we started watching in the middle of the episode and I haven't had the time to go back and research it online. I am just hoping that it will come back on while I'm watching the re-runs.
How to Make Hot Pepper Jelly
The initial cook time for the recipe on the show was 4 hours. I figured I could combine the ingredients, pour them in the crock pot, let them go on high for a few hours, and it would turn out just like on the show.
Well, after 3 hours, I saw no reduction in the volume of the jelly, so I cranked up the crock pot to high and cracked the lid so the steam could escape, fell asleep, and woke to the smell of burning sugar.
Oops! 8 hours on high… too long. Back to the drawing board.
For more insider tips & tricks, and a candid behind the scenes look follow me on social media! Check use out on Pinterest, Facebook, Instagram, & Twitter (yes, people still use Twitter, LOL!)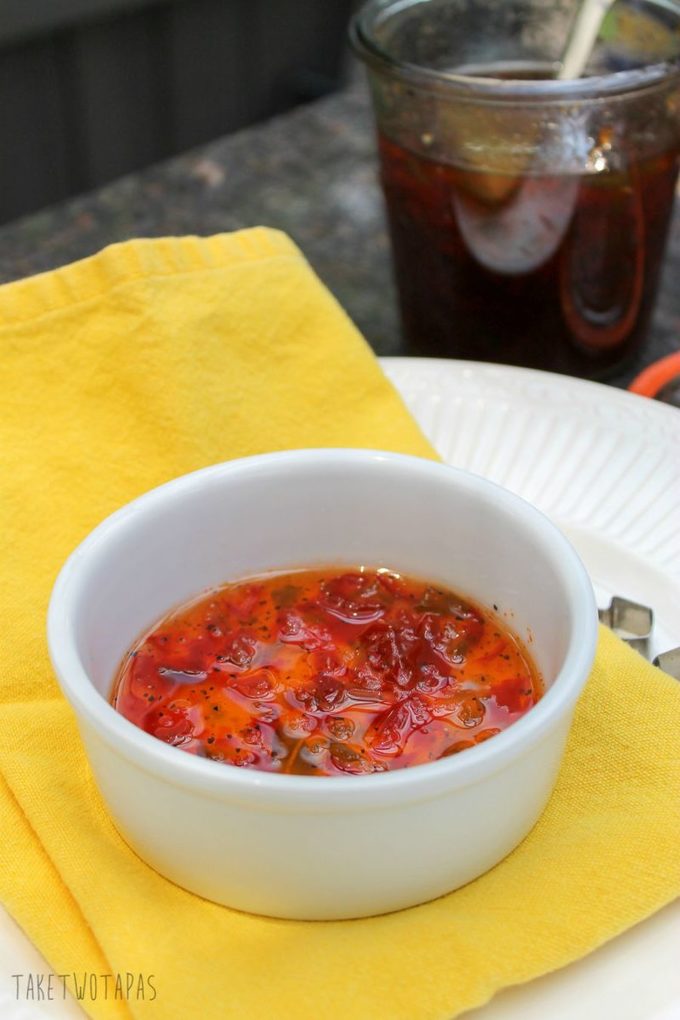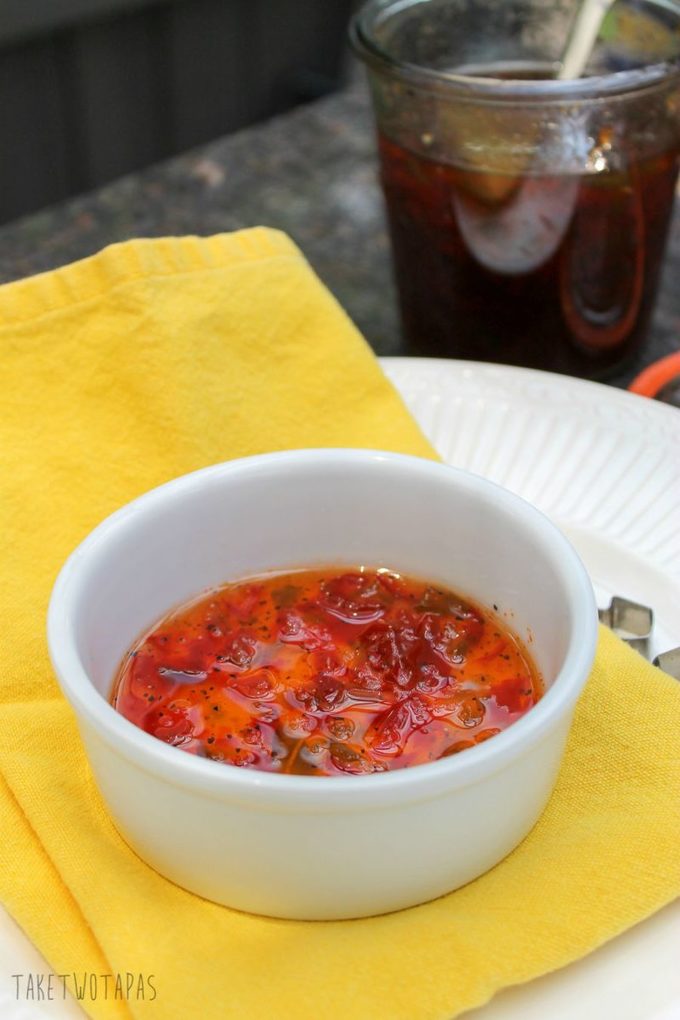 I decided to make it as they did on the show since I had to wait for my crockpot to start talking to me again, and hopefully, it would be quicker and turn out like originally planned. I'm not one for long cook times…
Second time worked like a charm. Taste it for yourself! By the way, I had to ditch the crock pot. It could not be saved. Funeral at 5 pm.
Leave me a comment and let me know what you would use this 4 pepper jelly with! I am already thinking it would be great on my next cheese board!
Easy Party Foods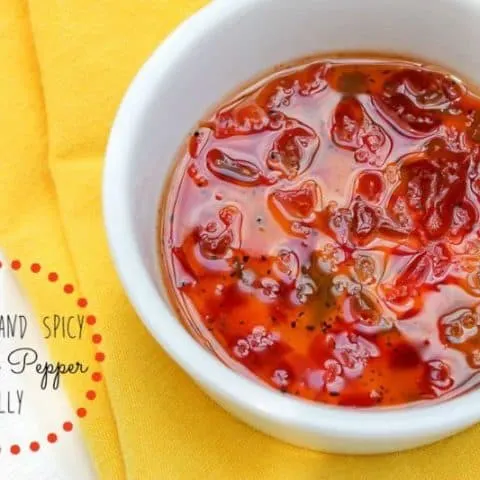 Four Pepper Jelly Sauce
Total Time:
2 hours
5 minutes
This sweet and spicy jelly can be used as a topping for all things sweet and savory!
Ingredients
2 cups white vinegar
2 cups granulated sugar
1 red bell pepper (chopped)
1 green bell pepper (chopped)
2 jalapenos (seeded, ribs removed, chopped)
1 tablespoon Kosher salt
1 teaspoon black pepper (coarse grind)
1/2 teaspoon cayenne pepper (ground)
Instructions
Mix all ingredients in a heavy-bottomed saucepan.
Bring to a boil over medium heat.
Reduce to low and simmer for 2 hours or until reduced by 1/3. I like mine a little on the runny side so I can pour over chicken wings or goat cheese. You can always reduce it even more according to your needs.
Store in an airtight container for up to 2 weeks in the refrigerator
Notes
*If you like this recipe, please leave me a comment and rate it with some stars. Thank you!
Nutrition Information:
Yield:

3
Serving Size:

1
Amount Per Serving:
Calories:

571
Total Fat:

0g
Saturated Fat:

0g
Trans Fat:

0g
Unsaturated Fat:

0g
Cholesterol:

0mg
Sodium:

2121mg
Carbohydrates:

140g
Fiber:

1g
Sugar:

136g
Protein:

1g
This nutrition information was generated via a third party, Nutritionix, and can not be held liable for any discrepancies in the information provided.
TakeTwoTapas.com. Content and photographs are copyright protected. Sharing of this recipe is both encouraged and appreciated. Copying and/or pasting full recipes to any social media is strictly prohibited.