Pimento cheese is a staple in Waycross, Georgia and cheese straws are ever-present at any gathering of note. These pimento cheese straws combine the best of both worlds. Crispy, spicy, flaky, and cheesy is the perfect combination of these addicting bites!

Let's talk about pimento cheese straws for a bit…
This gem was my mother-in-law's idea. Believe me when I say that she has a lot of ideas! Let me set the stage for all the women out there who have never been blessed with a mother in law. At my wedding shower, when most of my friends and family were giving me lingerie and wedding night advice, she had other ideas.
Judy, or Mimi as my kids call her, gives me a cookbook and set of mixing bowls. Like most moms, she probably thought I wasn't going to be able to feed her son. Being that my husband is 6'6" she might have had a more legitimate case to be scared than most. The inscription in the cookbook stated that she put a star next to her favorites. Was that a not so subtle nudge? As I thumbed through it, OVER A YEAR LATER, I made sure that I read the ones that she had picked out so we could talk about them during our next visit.
What is a Cheese Straw?
One recipe that was a "go-to" for her was something called cheese straws. What in the world is a cheese straw? Was she testing me? After I read the recipe I came to the conclusion it was a Waycross, Georgia regional delicacy. A Cheese Straw is small, thin strip of pastry (like a cookie) that is made of cheese and other spices, that are baked and then eaten as a light snack.
Six years later we moved Waycross and I too started to eat these tasty cheese straws amongst other goodies. When called upon to make some of those delectable bites for a party, Judy had a brilliant idea to make them even better. Pimento cheese straws!
This post may contain affiliate links. As an Amazon Associate, I earn from qualifying purchases. Read my disclosure policy here.

If you'd rather skip my (very helpful, I think) tips and tricks, essential cooking info, and similar recipe ideas – and get straight to this delicious recipe – simply scroll to the bottom of the page where you can find the printable recipe card.
Pimento cheese is a staple here in Waycross. Turns out the combination was a hit, so I just couldn't pass up using these as my first blog recipe. There are many recipes for cheese straws but this one we adapted from the cheese straw recipe that is found in the infamous wedding shower gift. I make pimento cheese spread and use it on my Sweet and Spicy Pimento Cheese Bread.
What is in Pimento Cheese Straws?
Pimento Cheese Straws are made with only a few ingredients.
Flour
Cheese
Butter
Pimentos
Spices
For more insider tips & tricks, and a candid behind the scenes look follow me on social media! Check use out on Pinterest, Facebook, Instagram, & Twitter (yes, people still use Twitter, LOL!)
How do you make Pimento Cheese Straws?
Heat the oven to 350 F. Using a stand mixer or food processor, mix butter and cheese together. When butter and cheese are incorporated add in the pimento, juice, and seasonings and mix briefly. Add the flour and mix until a dough-like consistency.
Pull dough out of mixer bowl, place on a lightly floured surface, and form dough into a ball. At this point, you can wrap in plastic and store in the fridge until you are ready to bake. If chilling first, make sure you bring to room temperature before attempting to shape into balls/straws unless you need an upper body workout.
Shape, roll, or cut your straws into the desired shape.
*I like the straw shape over a cookie shape myself. Since my cookie press does not have enough strength, I actually use a child's playdough apparatus (purchased new, sterilized, and used for cheese straws alone) to make mine. This way my kids can join in the fun too!
Once formed, bake the pimento cheese straws on a parchment-lined cookie sheet for 25 minutes or until slightly brown around the edges. Cool on rack and store in airtight container for up to 4 days. You can also freeze for up to 3 months for a soiree at a later date!
other savory crackers to try
These Pimento Cheese Straws will be the new favorite snack at your next event!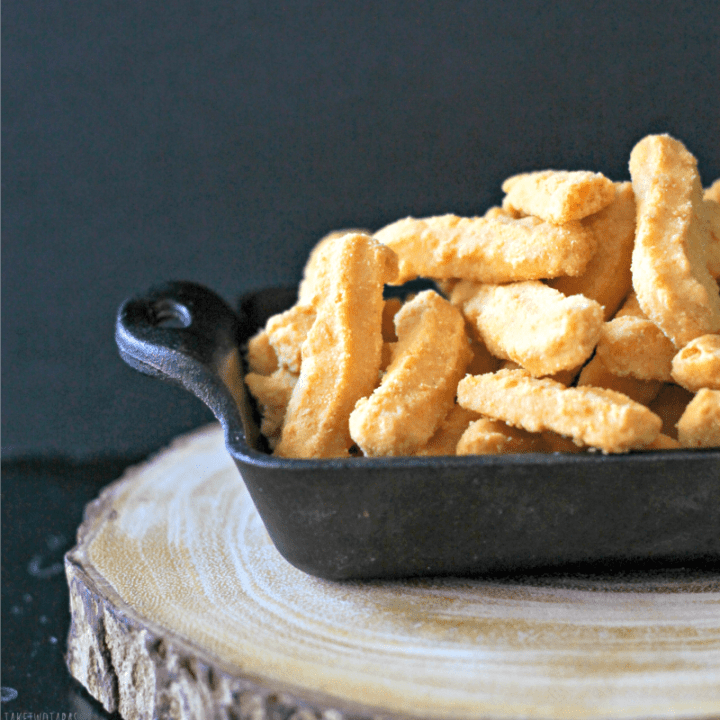 Pimento Cheese Straws
These savory, crispy pimento cheese straws get an update with the flavor of pimento cheese!
Ingredients
4 ounces sharp cheddar cheese (shredded)
4 ounces pepper jack cheese (shredded)
1/2 cup butter (room temperature)
1 tablespoon pimento juice
1 tablespoon pimentos (chopped)
1/2 teaspoon kosher salt
1/4 teaspoon crushed red pepper
1 teaspoon Italian seasoning
1 dash Tabasco
1 1/2 cups pastry flour (AP flour can be substituted)
Flour for dusting
Cookie Press (rolling pin, or other shaping utensils)
Instructions
Preheat oven to 350F.
Using a stand mixer or food processor, mix butter and cheese briefly.
When butter and cheese are combined, add the juice, pimentos, and seasonings.
Mix briefly.
Add the flour and mix until just combined.
Knead dough and form into a ball.
Wrap in plastic wrap and chill in the refrigerator for at least an hour or until baking.
Set the dough out for about 10 minutes before shaping.
Bake for 25 minutes or until the edges are slightly brown.
Cool on a cooling rack before storing in an airtight container.
These freeze well so you can make in advance!
Notes
*If you like this recipe, leave me a comment and rate it with some stars! Thank you!
Nutrition Information:
Yield:

8
Serving Size:

4 ounces
Amount Per Serving:
Calories:

543
Total Fat:

31g
Saturated Fat:

18g
Trans Fat:

1g
Unsaturated Fat:

10g
Cholesterol:

83mg
Sodium:

608mg
Carbohydrates:

51g
Fiber:

2g
Sugar:

12g
Protein:

14g
This nutrition information was generated via a third party, Nutritionix, and can not be held liable for any discrepancies in the information provided.
©TakeTwoTapas.com. Content and photographs are copyright protected. Sharing of this recipe is both encouraged and appreciated. Copying and/or pasting full recipes to any social media is strictly prohibited.
(Recipe adapted from Mrs. L.H. Dunham, Southern Sideboards, Taylor Publishing, 1978.)