Want to end the summer with a fun Spanish Tapas Party but don't know what to serve? Check out this collection of recipes that will get you started!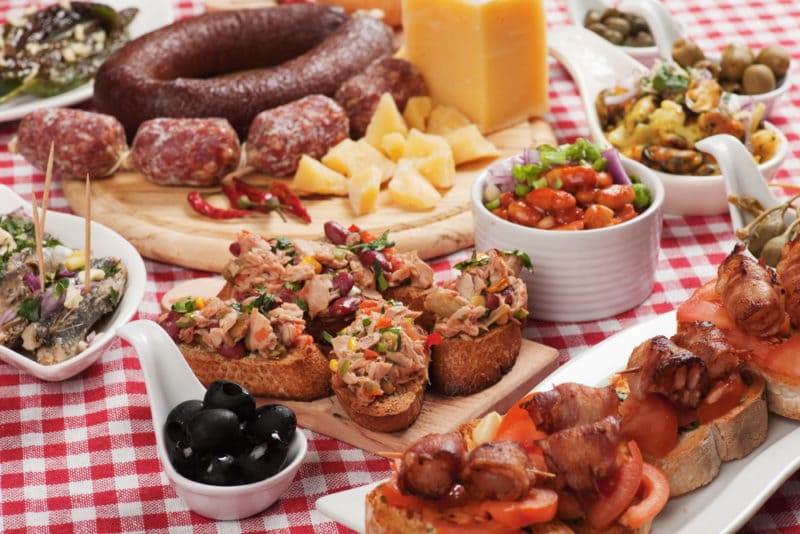 Are you planning to throw a Spanish Tapas party at the end of this summer? You should come up with tasty recipes to appeal your guests.
The good news is that you can rest assured that it will be a thrilling party with tapas. If you are planning your menu, turn to Spain's tapas which are fashionable and served with small plates of foods for your guests to share at the party.
To begin with, you should get the dish on cheap and easy tapas party recipes that are either casual or well assorted. On top of all, the dishes should go down very well with a refreshing glass of sangria.
1. Tortilla Espanola
There is no way you can have tapas without including a traditional potato tortilla. Simply get potatoes, eggs, olive oil and a trusty skillet to serve in the dishes that qualify to be referred as tapas.
2. Apple and Manchego Crostini
Simply look for fresh, crisp apples plus crusty bread as the best recipes to showcase Manchego, the famous Spanish cheese. This is prepared from whole milk of the Manchego sheep commonly found in La Mancha region in Spain.
It is an aged cheese that has an intense taste with a crumbly texture. It is best served along with olives, crusty bread or any delicious fruit.
3. Cured Tuna and Mushroom
One of the Spain's hidden treasures is cured tuna. Commonly known as Mojana, it has been coined as the steak of the sea. They are better served in very thin slices along with wild mushrooms and fresh chives. This forms a unique tasty and flavored dish you can't find anywhere else in this planet.
4. Salt Cod Fritters
Commonly known as Bunuelos de Bacalao, salt cod fritters happen to be one unique Spanish delights. It is prepared by preserving fish in salt packaging. Even though it is salty, the fritter amps up the taste, making it a favorite choice for your guests at the party.
5. Patatas Bravas
This is simply the perfect snack option for a flavored tapas party this summer end. It is prepared from crispy potatoes, garlicky tomatoes, and spicy tomato sauce. Make sure you make the perfect combination of this Spanish potato patatas bravas recipe.
6. Gambas al Ajillo
Gambas al Ajillo simply refers to sweet shrimps that have been bathed in roasted garlic oil. They are delicious and irresistible to every guest. They are best served with good Spanish bread for guests to sop the leftover oils at the bottom of the dish. They are fully loaded with omega 3 fatty acids.
7. Serrano Ham Wrapped Plums
If you can get fresh plums, skip the melon and delight your guests with the amazing tartness of plums. They give an impressive look as they intermingle pleasantly with the salty, smokiness of Serrano ham which is not a very widespread recipe.
8. Marinated Olives
Instead of choosing those with cut corners, give your party guests a unique treat with pre-marinated olives from the grocery store. You can add orange peel or hot red pepper to awe your party attendants.
9. Alcachofas al Ajillo
This is simply the artichoke hearts, which is a traditional tapas dish, prepared using artichokes nixed with delectable garlic sauce. Use every part of garlic in this recipe.
10. Garlic and Parsley Grilled Squid
Grilled squid can be served with garlic, parsley or both. Irrespective of how you serve, every guest will still find the combination irresistible. You can also serve on top of crusty bread coupled with goat cheese and marinated pepper.
11. Mushroom and Ham Croquettes
If your goal is to give your guests a taste of authentic Spanish tapas, serve mushroom with ham croquettes and olive. This is a delicious combination that immediately melts in your mouth. These are served as puffed balls along with some sauce.
12. Spanish Chicken, Chorizo and Olives
This is a substantial tapas recipe that is packed with a few Spanish flavors to enhance the taste. This combination is loved by many and counted as one of the popular healthy recipe ideas. A tender chicken is braised with briny olives alongside spicy chorizo for a dish that is worth preparing again and again.
13. Flank Steak and Goat Cheese on Toast
You should prepare this recipe in plenty, in case your guests make a second turn for more. This is prepared using thinly grilled flank steak along with creamy goat cheese, roasted red pepper and crusty bread. Nevertheless, what make the recipe more delicious is the onion jam and the roasted fig.
14. Mojo Picon pork Skewers
It is hard to imagine that your guests won't like to feel the touch of the food on a stick. This is a simple and tasty Spanish pork dish. It is best served with a glass of red wine.
There are various recipes for planning Spanish flavored tapas party this summer end to appeal to all your guests. The dishes are easy to prepare using Spanish recipes that are readily available in your local food stores. Make the best out of these Spanish tapas recipes to get your party rocking all the way!
TAPAS ESSENTIALS
Kelly Everson is an American author and MA in English literature. She is a health article writer who has written numerous articles/online journals on stretch marks, pregnancy, sleep disorders, female health and joint pain problems. She is also passionate about health, beauty and fitness. She is contributing to Consumer Health Digest from 2011. Examiner from 2013, Epochtimes & Healthline from 2014
TakeTwoTapas.com. Content and photographs are copyright protected. Sharing of this recipe is both encouraged and appreciated. Copying and/or pasting full recipes to any social media is strictly prohibited.