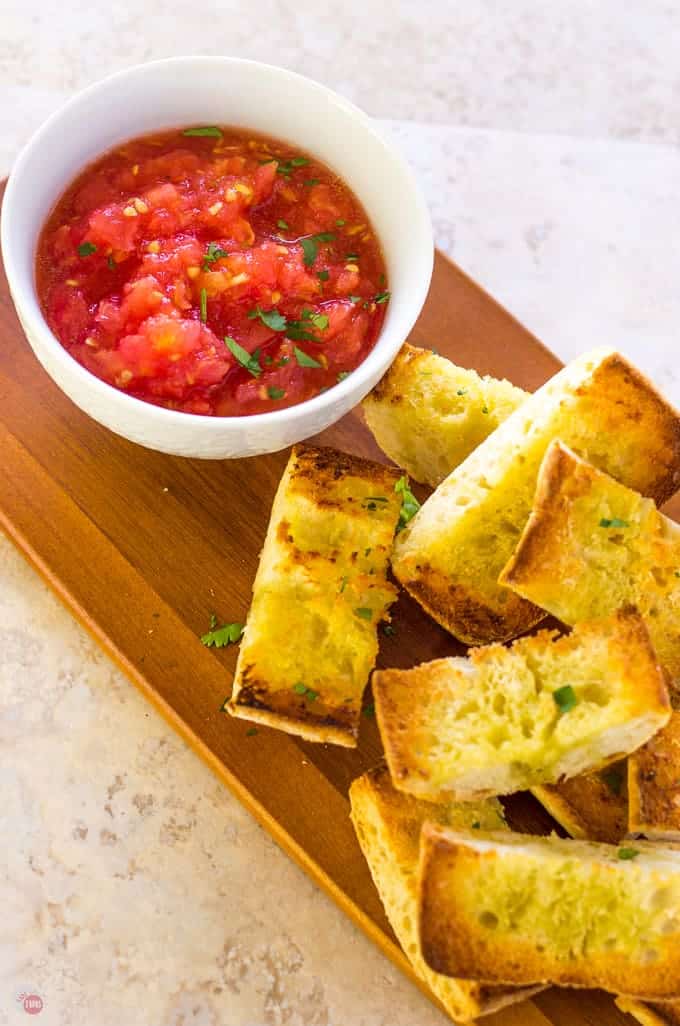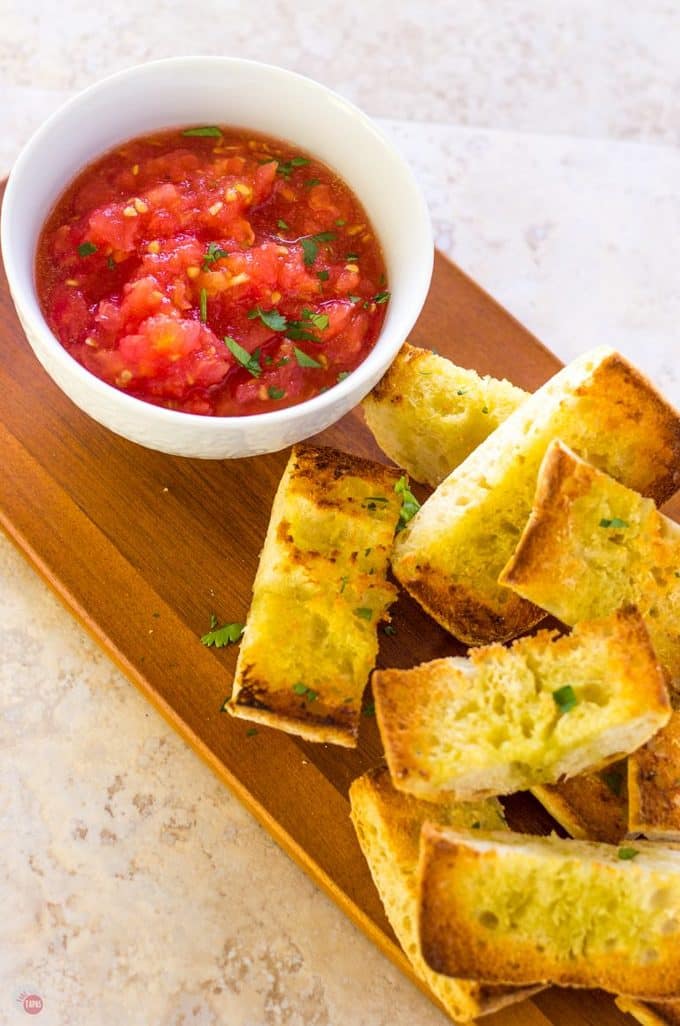 The simplest appetizers are the best! This classic Spanish Tapas Pan Con Tomate is just that. Simple grilled bread rubbed with garlic and topped with a pure tomato pulp.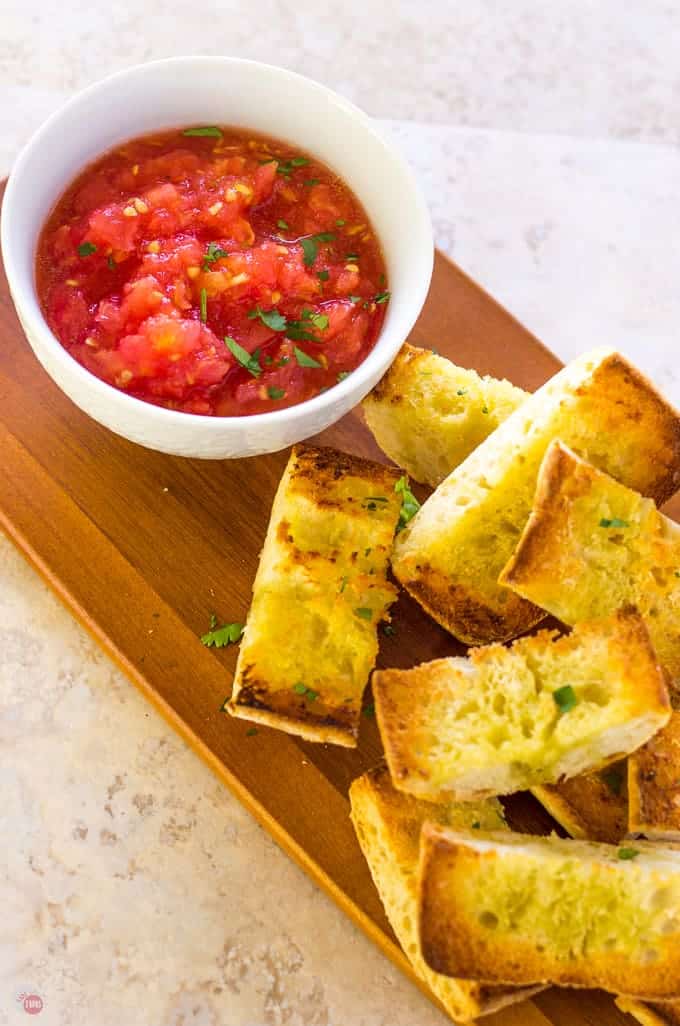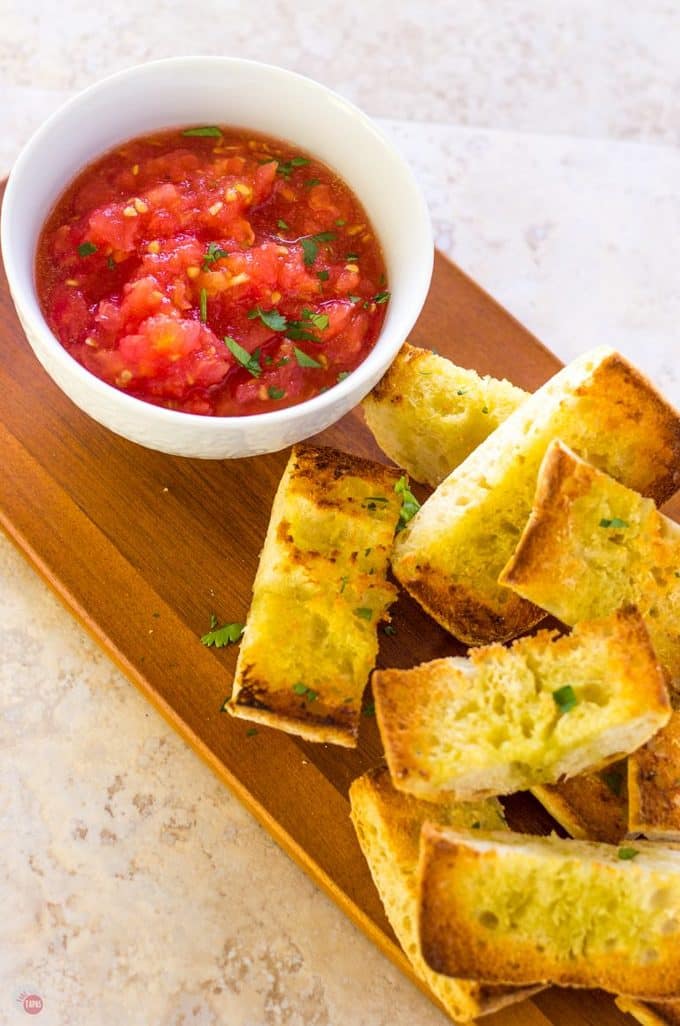 If you'd rather skip my (very helpful, I think) tips and tricks, essential cooking info, and similar recipe ideas – and get straight to this delicious recipe – simply scroll to the bottom of the page where you can find the printable recipe card.
I'm kicking off the Summer Southern Tapas Series with a simple rustic tapas called Pan Con Tomate.
If you have never heard of it, you are not alone. I had this amazing tapas last summer while taking a walking food tour in Palm Beach, Florida and was baffled by the name other than there was a tomato in there somewhere.
Our first stop on the walking tour was a wine and tapas bar called the Blind Monk. Once I had a few bites of their Pan Con Tomate, I was hooked.
We drank mojitos and this amazing tomato dip with grilled bread. Finding out that the tomato dip was just tomato threw me for a loop. How could something so simple taste so good?
Because when you use the best ingredients, they always turn out great. Forget the fancy name, Pan Con Tomate (literally translated as bread with tomato) is just crispy bread with a simple tomato spread.
This post may contain affiliate links. As an Amazon Associate, I earn from qualifying purchases. Read my disclosure policy here.

Here is a picture of the Pan Con Tomate that we enjoyed at The Blind Monk. I use this as a reference to make sure my recipe is just as tasty. This tapas takes just 5 minutes to make and will be the star of your next party. As I walk you through the process, just remember that simple is best and go with what you like.
It is your tapas and you can adjust it any way that you want. As a food blogger, I get comments (my other blogging friends do too) about our recipe names. If a dish is a local, regional, or traditional recipe we get criticized for calling it that name if we make the slightest change in ingredients.
Case in point a friend of mine made Paella and added chorizo. Chorizo is not an "original" ingredient so therefore she shouldn't call it Paella. I say hogwash!
These tapas recipes are my spin on tapas found in Spain. A few of the subsequent ones I am putting a "southern" spin on them and making them more mainstream.
I am not in Spain at the moment, I'm in Arizona, so I am working with what I have, flavors that I like, and food that I want to make. I hope you will like my spin on the dishes and not take it too seriously. Food is supposed to be fun, not rigid.
Ok, soapbox put away. On to the recipe!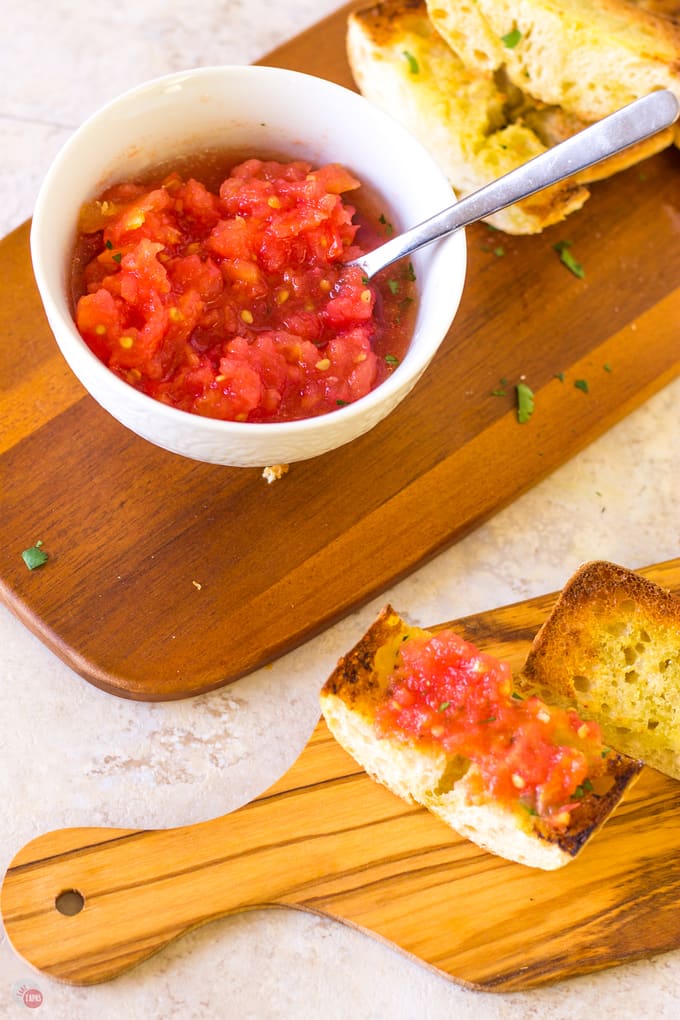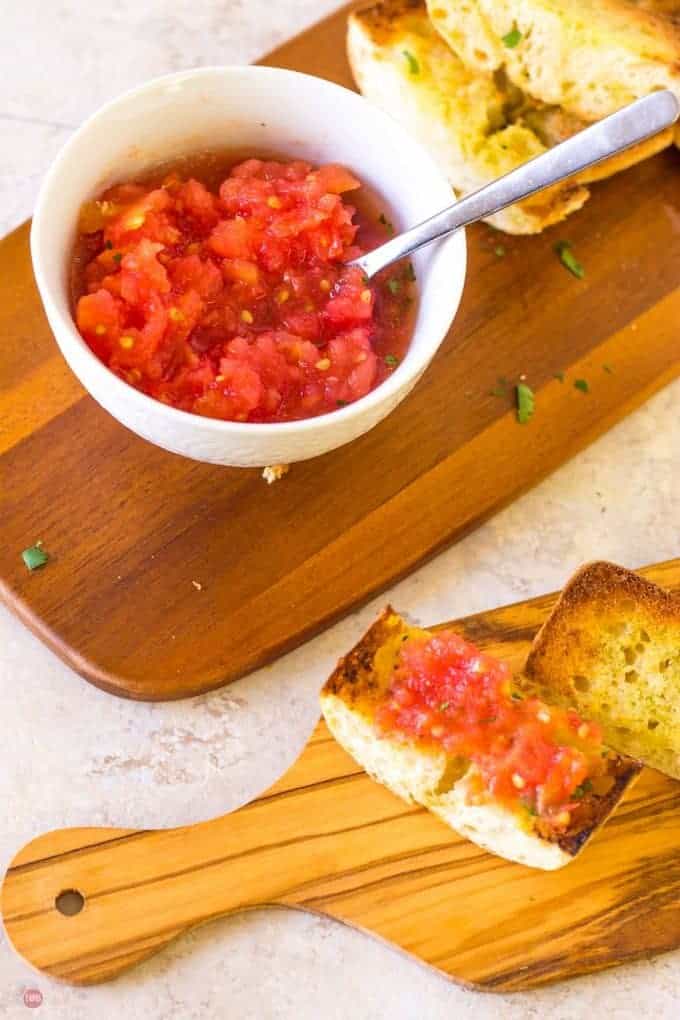 In my younger years, I would eat tomato sandwiches all the time. They are my favorite part of a BLT sandwich too. Running out of bread will not stop me as I can eat a tomato like an apple with just a few sprinkles of salt.
I wanted to try this recipe with green tomatoes for that southern spin but couldn't find any here. The more I thought about it, green tomatoes would have been a little tough and slightly bitter.
Tomatillos would work great but they need to be boiled first. You could have the same effect with a simple salsa verde and a sprinkle of fresh cilantro!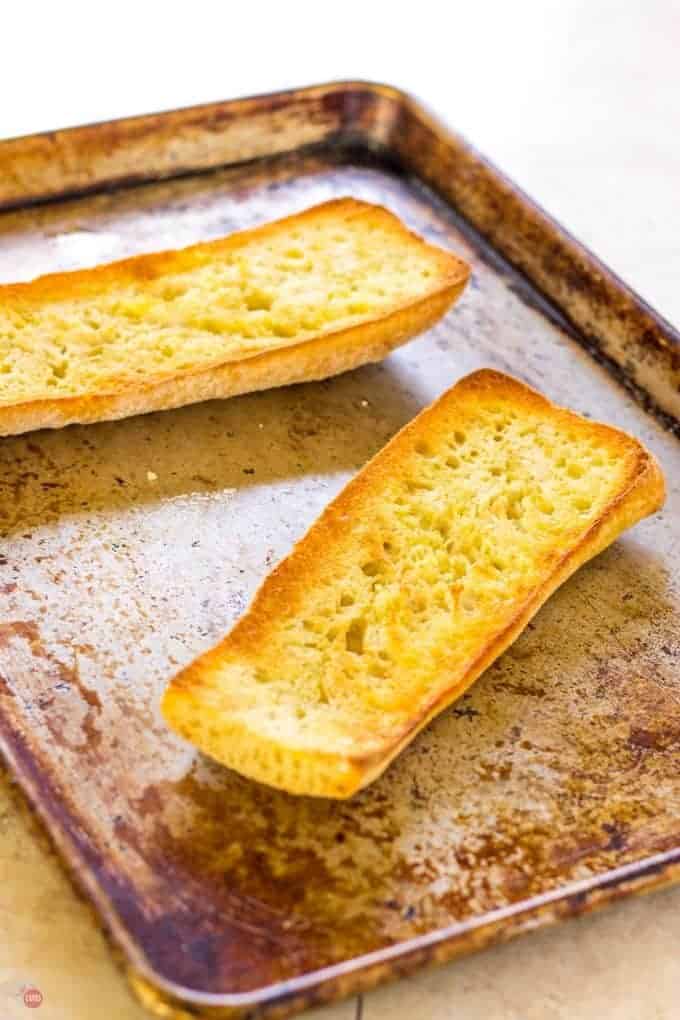 Make your tomato dip before you start the bread. Broiling or grilling if you prefer only takes a few minutes and you want to be ready with your tomato when that crispy bread comes out of the oven.
To make this batch of tomato I ran my tomatoes through a food mill. The quickest way to make it is using a box grater but I no longer have one. As a recovering kitchen gadget hoarder, I have donated/tossed/purged most of my tools especially if they only served one purpose.
In the past, I would use the grater to shred cheese, I now use my food processor to save what skin is left on my knuckles.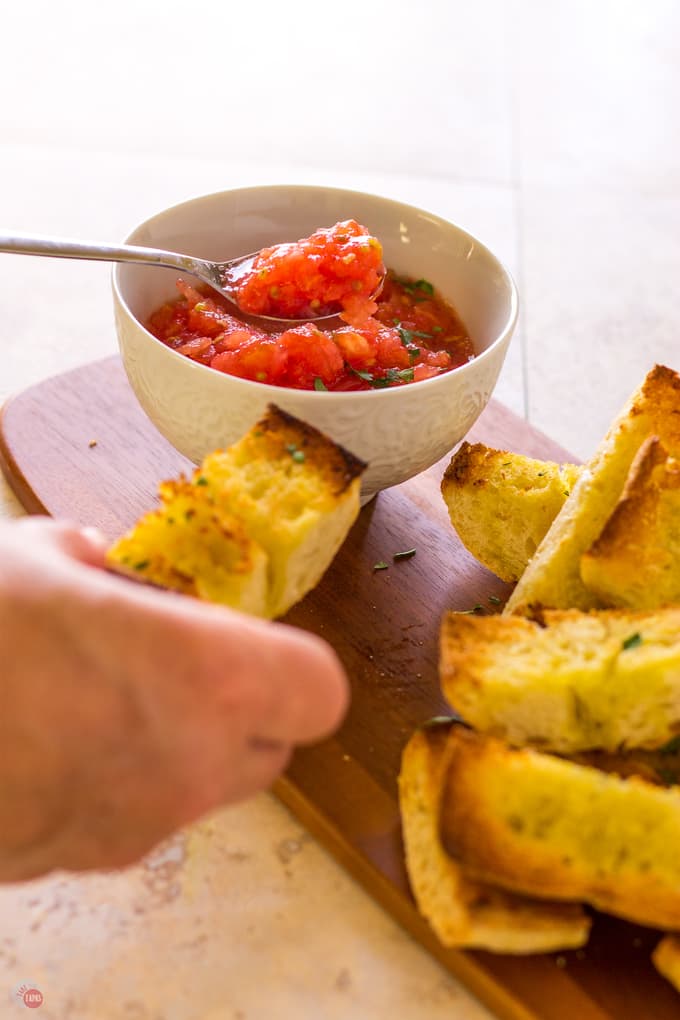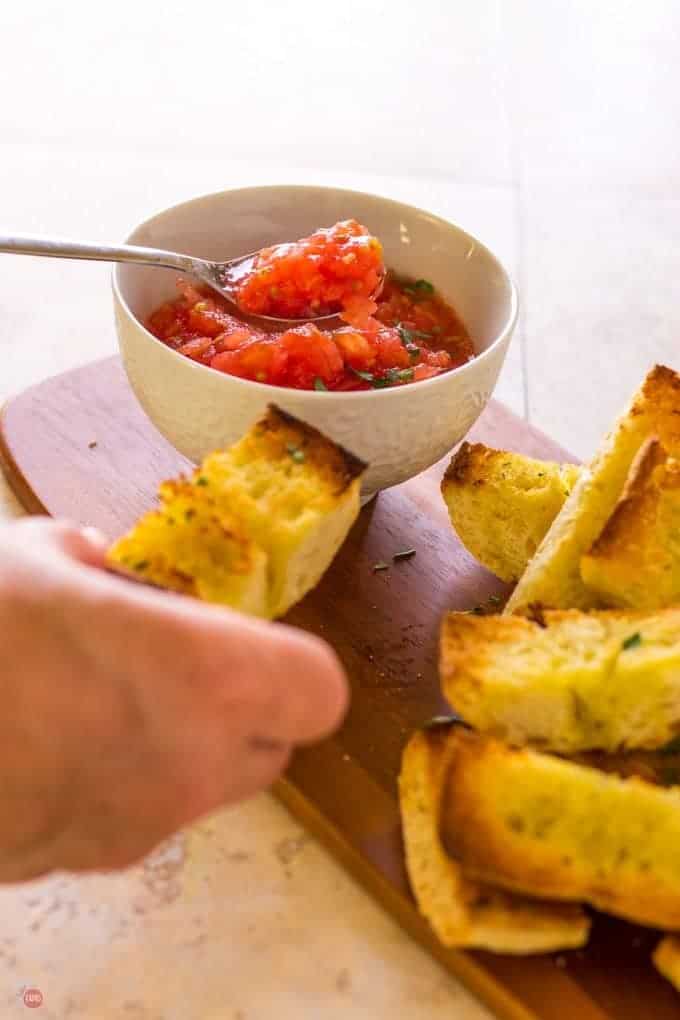 The box grater is nice because you can get a nice size grind of the tomato pulp and you can get all the way to the skin without including it. When I use my food mill, I remove the skins of the tomatoes before I mill it.
The food mill separates the pulp and the juice. After I ground the pulp a few times, I added a bit of the juice back into the mix. Not too much or it will be too soupy and make your bread soggy.
The tomato in the Pan Con Tomate should have the texture of a spread and not so much of a fine salsa so don't worry about the chunks. You want them to contrast the crispy bread. A drizzle of olive oil and some flakes of salt complete the tomate part of the Pan Con Tomate. Tomato, olive oil, and salt. That's it!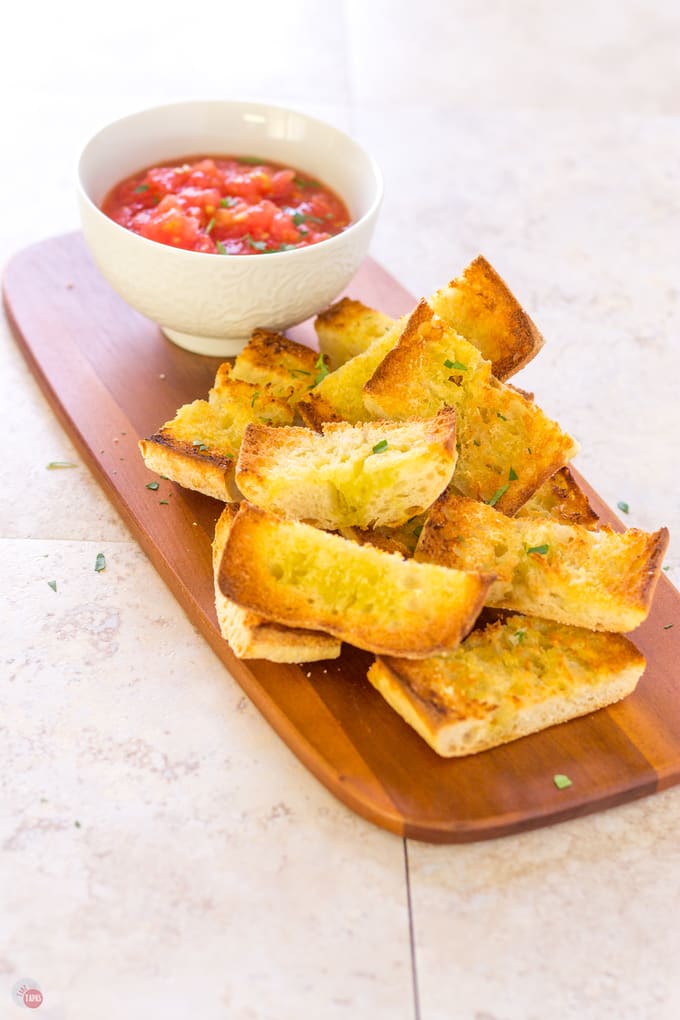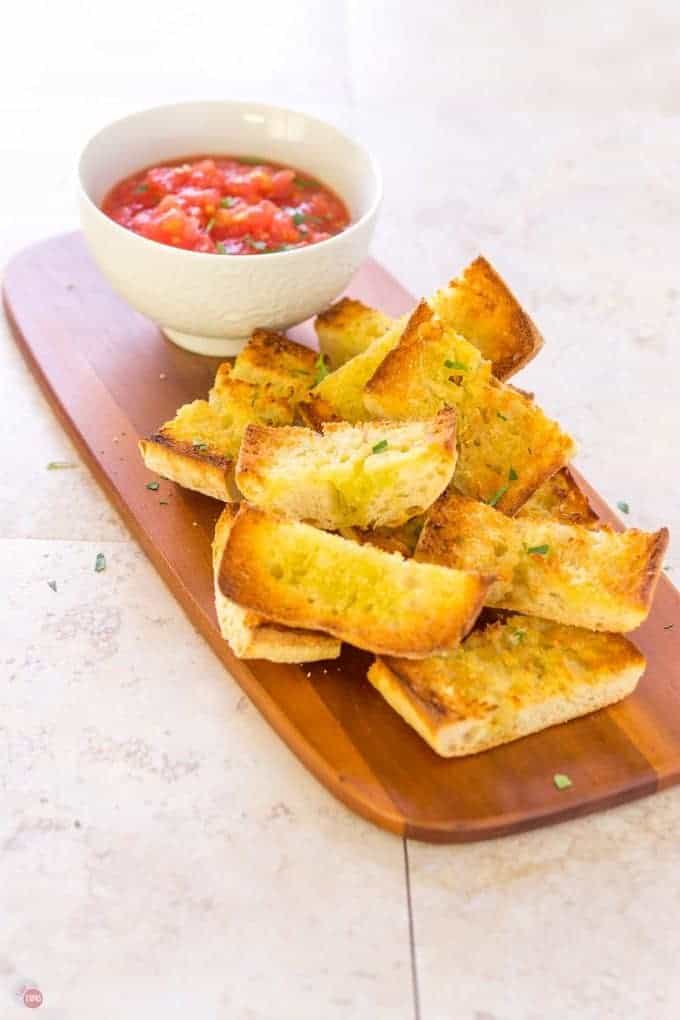 The other part of the Pan Con Tomate is the bread. Feel free to use a French Baguette, Regular Toast, or Ciabatta just so long as you get it nice a crispy. My local store sells narrow and long Ciabatta bread so that is what I use. Slice it lengthwise in half and drizzle with a little olive oil to help with the broiling process.
Preheat your oven to broil or 550F. Place your bread close to the broiling element directly on the oven rack or on a baking sheet. I use a baking sheet as I am prone to burning myself when I try and grab things out of the oven. I have the Clutz gene.
Broil until the bread gets nice and crispy and starts to brown around the edges. As soon as you take the bread out of the oven, rub it with a fresh garlic clove. Rub it all over!!! The crispy nooks and crannies of the broiled bread act like its own box grater of sorts, scraping off small amounts of fresh garlic and letting the juice run into the bread.
The raw garlic adds a bit of spiciness to the bread and tastes great with the fresh tomato. If you are allergic to garlic then just skip this step and proceed to top your bread with the tomato mixture.
Once I rub the bread with the garlic, I slice the bread into sticks or thin pieces and toast the bread again for another minute. This gets the cut sides crispy too which really helps if you are using a thicker bread and you want it crispy all the way around.
Thinner bread won't require this but then again, it's all about your tastes. I like thin and crispy but you might prefer a crispy top and a softer center.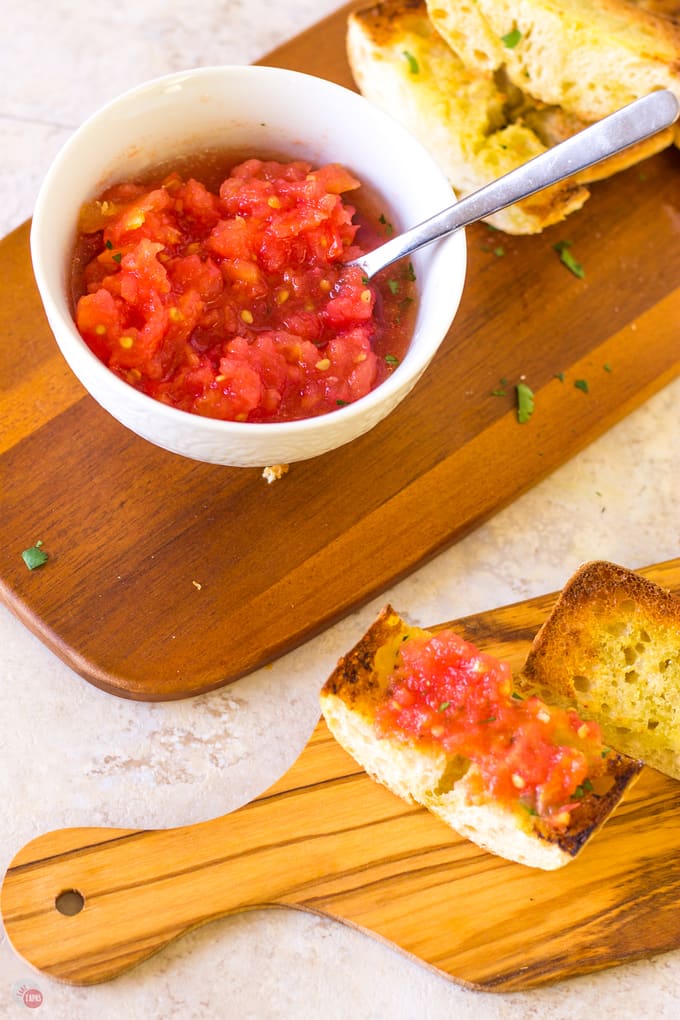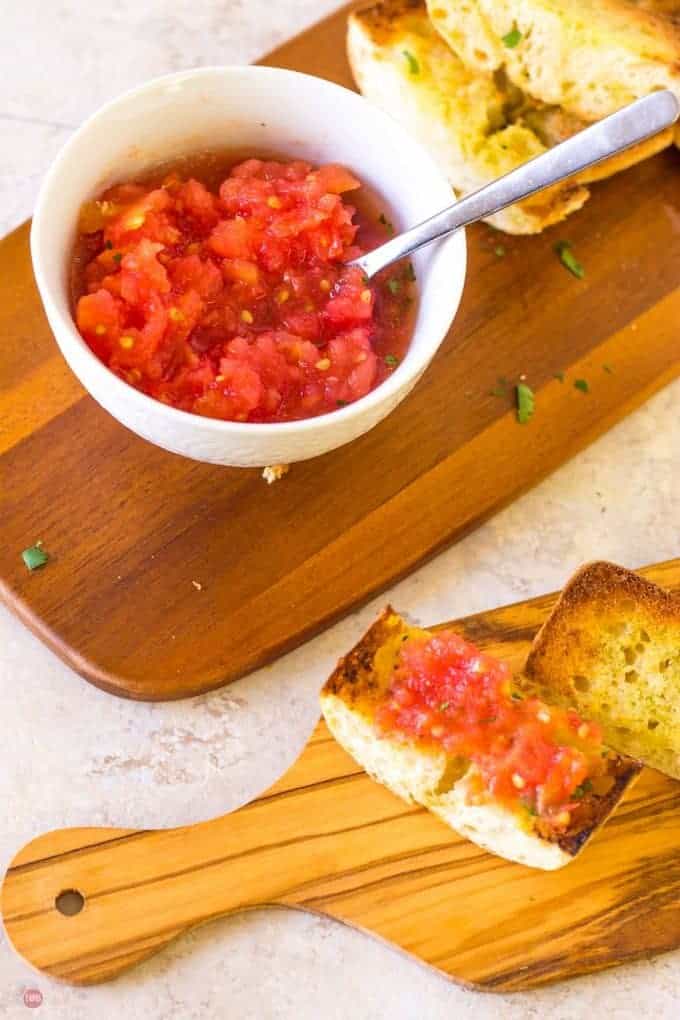 Pile your sliced bread on a tray and add your small bowl of tomato spread. That's it! If you are so inclined, you can sprinkle your bread with salt and some chopped parsley to add a little more to the presentation but it is not necessary.
Some recipes also add a hint of sherry vinegar to the tomato once you grate it, but then again it is all about taste.
5 minutes, crispy garlicky bread, and a simple tomato spread make this Pan Con Tomate a perfect afternoon appetizer, party food, or my lunch after this photo shoot. Enjoy!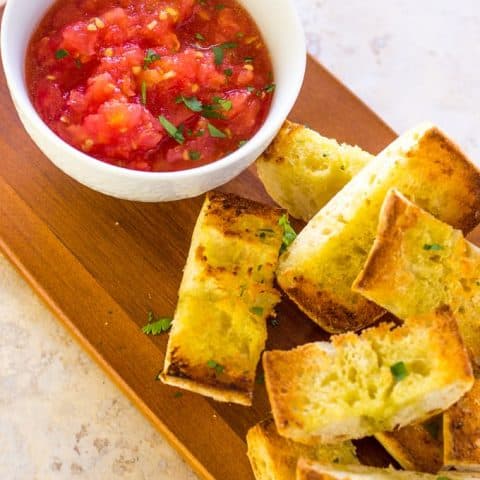 Pan Con Tomate Spanish Bread with Tomato
The simplest appetizers are the best! This classic Spanish Tapas Pan Con Tomate is just that. Simple grilled bread rubbed with garlic and topped with a pure tomato pulp.
Ingredients
1 loaf Ciabatta Bread (sliced lengthwise)
2 large tomatoes (ripe)
2 cloves garlic
2 tablespoons olive oil
Kosher Salt (to season)
Instructions
Prepare the tomato spread
Slice your tomatoes in half.
Rub them cut side down on a box grater over a bowl to collect pulp and juice.
Stop when you get to the skin.
Drizzle a little olive oil in the tomato mix and season with salt to your liking.
Toast the bread
Preheat your oven to Broil (550F).
Slice your bread lengthwise and lay cut-side up on a baking sheet.
Drizzle with olive oil.
Broil bread until the top is crispy and slightly browned (about 5 minutes).
Remove bread from the oven.
Rub the charred sides of the bread with the fresh garlic clove.
Slice the bread into small portions and serve with tomato mixture.
Notes
*If you like this recipe, please leave me a comment and rate it with some stars. Thank you!
Nutrition Information:
Yield:

6
Serving Size:

1
Amount Per Serving:
Calories:

253
Total Fat:

7g
Saturated Fat:

1g
Trans Fat:

0g
Unsaturated Fat:

5g
Cholesterol:

0mg
Sodium:

471mg
Carbohydrates:

40g
Fiber:

3g
Sugar:

6g
Protein:

7g
This nutrition information was generated via a third party, Nutritionix, and can not be held liable for any discrepancies in the information provided.