This homemade Jamaican Jerk Seasoning is easy to make with spices you already have in your pantry and will add extra flavor to any dish you are serving up! It's perfect for your dips too!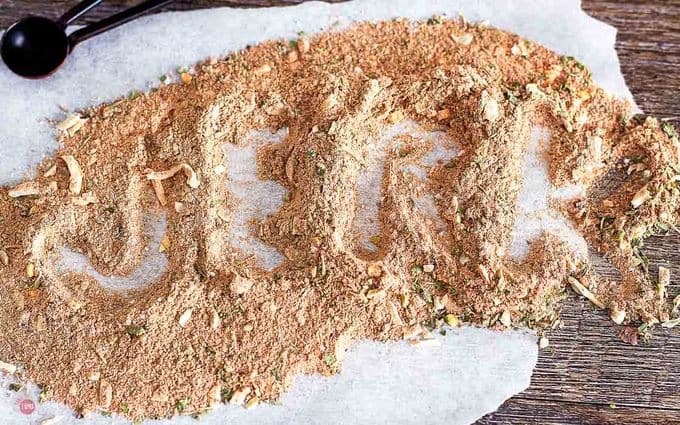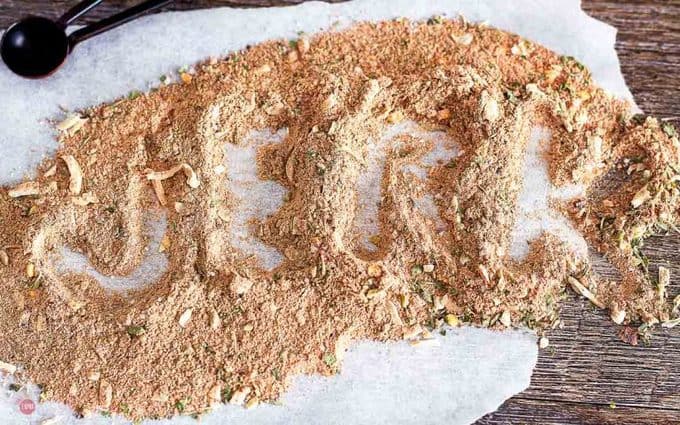 What is Jerk Seasoning?
The first time I ate anything with Jerk seasoning on it, we were on our honeymoon in Jamaica.
We booked one week at a Beaches resort where everything was included.
Good thing, because we love to eat! We ate at every restaurant, every time they were open, tried all the dishes and gained a few "love pounds."
Brooks and I also made sure to try all the included cocktails and after an unfortunate Bloody Mary binge, Brooks had to spend quite a bit of time in the bathroom.
I scaled back on the tomato-based drinks but kept trudging on with the food and once I tasted their Jamaican Jerk Chicken, I was hooked.
What is Caribbean Jerk Seasoning and why is it so freaking delicious?
This post may contain affiliate links. As an Amazon Associate, I earn from qualifying purchases. Read my disclosure policy here.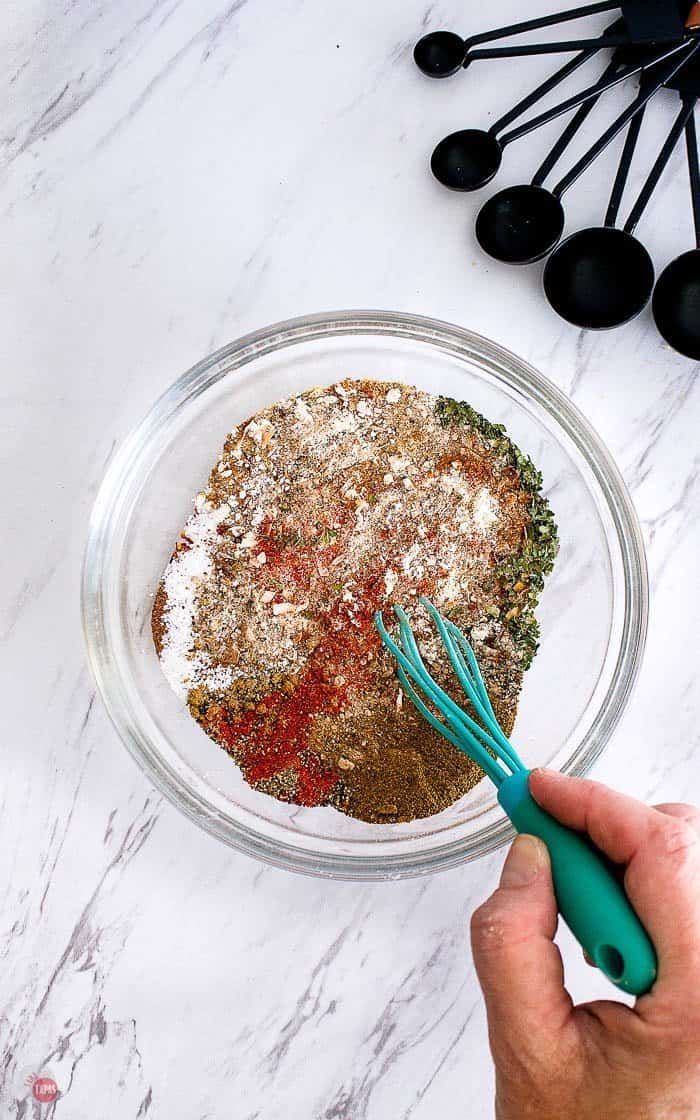 Jerk Seasoning
I had always been scared to try Jamaican Jerk Spice because it contains allspice, cinnamon, and hot Scotch Bonnet peppers which I believed to be hotter than Habanero peppers.
You guys know that I have not been a fan of cinnamon in large quantities, or on anything savory, and allspice has a strong flavor too.
My palate is dull from all the sugar I was eating, and once I had my stint with the paleo diet, I grew to love it. Cilantro still tastes like soap if I eat too much of it at one time, but cinnamon, ginger, and allspice are now friends of mine.
Even thought the Jerk Seasoning contains these few spices that I am not keen on eating, having them in combination with other spices and herbs tempers their individual qualities and enhances the flavors of the other ingredients to make a perfectly balanced spice mix.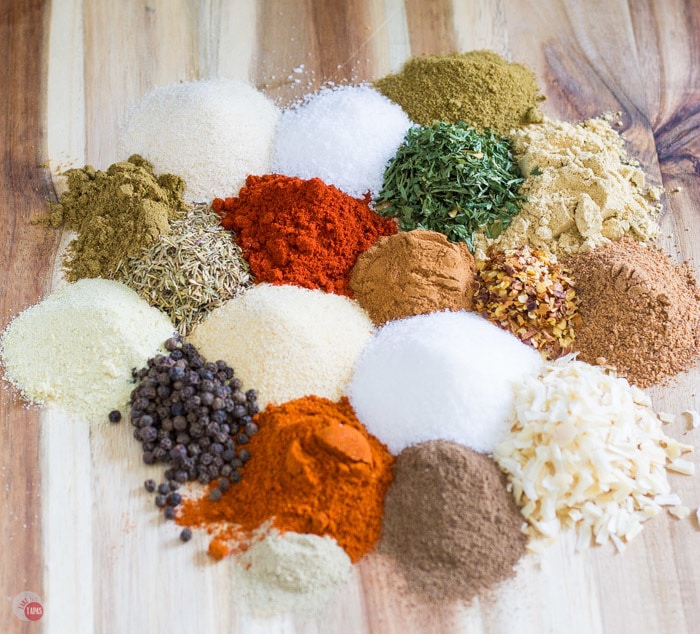 What is Jerk Seasoning made of?
Jerk seasoning is built around two mainstay ingredients found in the area, allspice and Scotch Bonnet peppers.
Both of these are now readily available all over the world but still hold the greatest influence in terms of the authentic Jerk recipes and overall flavor profile.
The Scotch Bonnet pepper is similar in heat to the Habanero but depending on where the peppers are grown, along with climate and other environmental factors, the strength and flavors can vary greatly from pepper to pepper.
So use with care!
The other spices that are typically found in jerk recipes include: cinnamon, nutmeg, ginger, salt, brown sugar, cloves, and thyme. The sweet spices like allspice and thyme mix well with the hot peppers and ginger making this Jamaican Jerk Rub a sweet heat that everyone will love!
Try it on Oyster Crackers for a spicy snack mix everyone will be addicted to!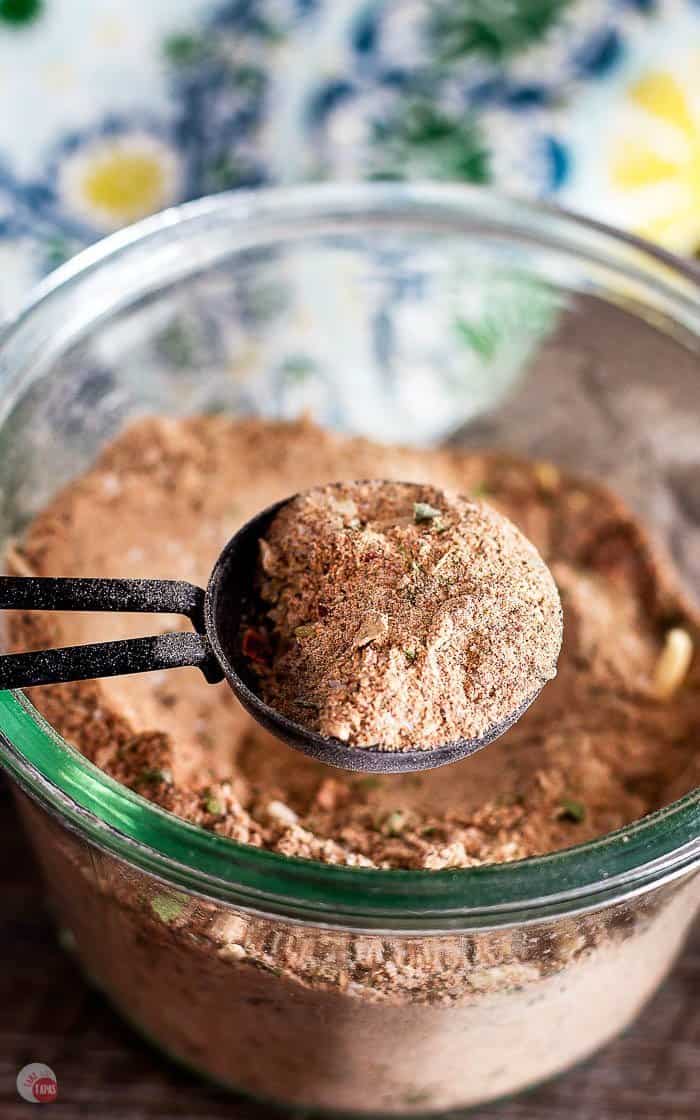 Having seen quite a few Jerk recipes on Pinterest lately, I decided to give it another shot.
My version of Homemade Jerk Seasoning doesn't have as much heat as some of the other ones I have tried so it can be used by more people but feel free to add as much heat as you like.
I substitute dried jalapeño, cayenne, and red pepper flakes to make up for not using Scotch Bonnet Peppers.
If it is too spicy for you, feel free to cut back or eliminate these. I have not been able to find dried Scotch Bonnets, but if you do please let me know!
Jerk recipes can be made "dry" or "wet" depending on how you like them.
The "wet" version is more of a marinade that the meats are soaked in for a few hours and then basted or "sopped" on the meats during the cooking process. The "wet" Jerk marinade can be thin or more of a thicker "paste" that is smeared on the meats prior to cooking.
This is typically how Jerk Chicken is made:)
This "wet" version usually contains garlic, lime juice, scallions, and the fresh Scotch Bonnet peppers but I leave these out for the long term storage factor.
For more insider tips & tricks, and a candid behind the scenes look follow me on social media! Check use out on Pinterest, Facebook, Instagram, & Twitter (yes, people still use Twitter, LOL!)
Can I leave out the spices I don't like?
Feel free to any of the spices that you don't like but you must leave in the allspice to have that authentic Jerk flavor.
How long does it last?
If you store it in a cool dry place it will last a few weeks in an airtight container.
Can I use it to make a marinade?
Sure thing! Mix it with olive oil, lime juice, fresh garlic, and green onions, and pour it over your meat. Let it sit for a few hours or overnight and then cook your meat as planned!
Where do you find dried jalapeno?
I use the ground version of jalapeño but feel free to use the dried jalapeño flakes if you prefer.
Uses for Jerk Seasoning
The dry version that I have made here is very similar to authentic and can be used by sprinkling on the meats and vegetables.
Because it is a spice rub, I just sprinkle in on the food, pretty liberally, and after grilling and smoking the meats or vegetables, the jerk rub forms a crispy "crust" on the outside of them.
Now you can always make a wet marinade out of this recipe by adding the lime juice and other fresh ingredients and then dust the meat with the dry rub right before adding to the heat.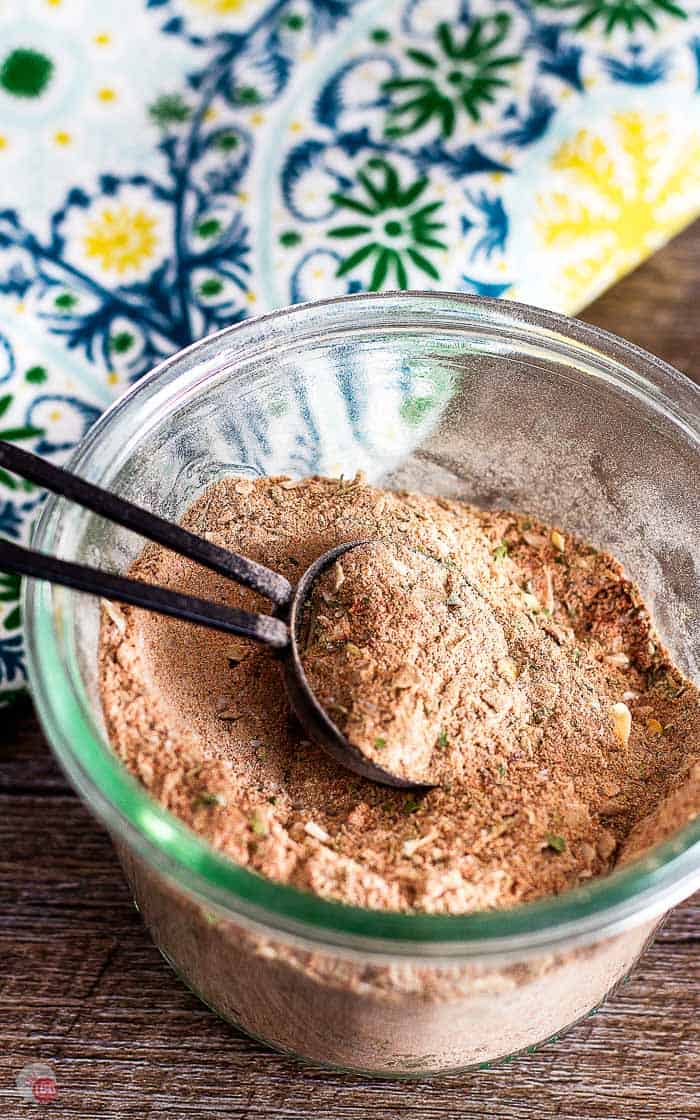 If you love this recipe as much as I do, please write a five-star review in the comment section below (or on Pinterest with the "tried it" button – you can now add pictures into reviews, too!), and be sure to help me share on facebook!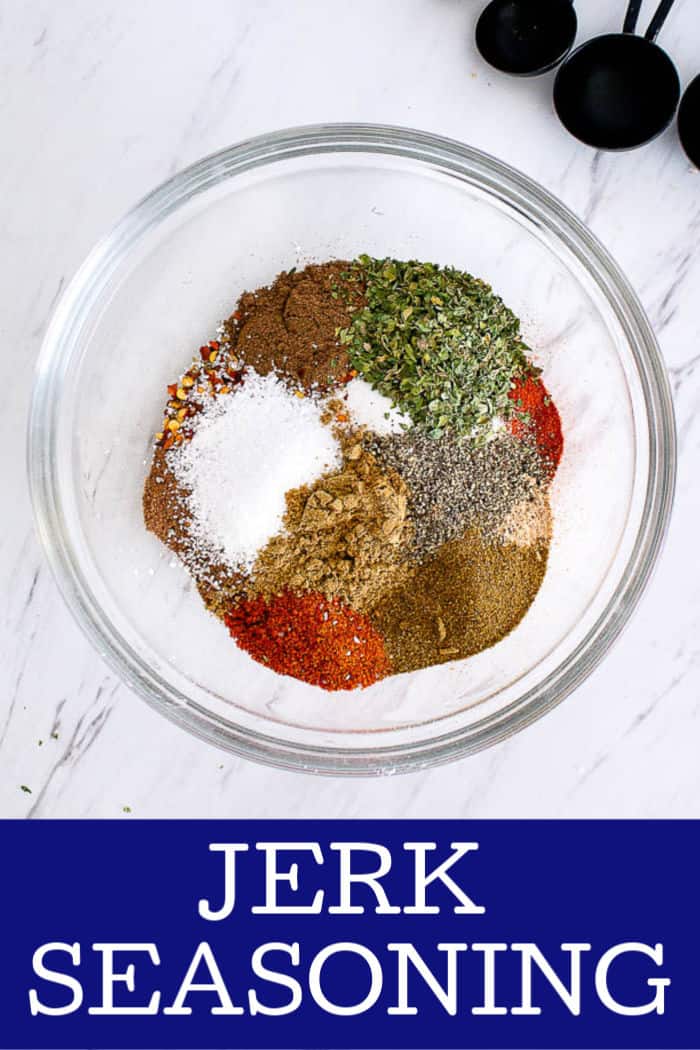 This recipe makes about 1 cup of the Homemade Jerk Seasoning mix, but it will last for a few months in your spice cabinet. Don't worry, you will use it up before then!
More Homemade Spice Mixes
Printable Jerk Seasoning Recipe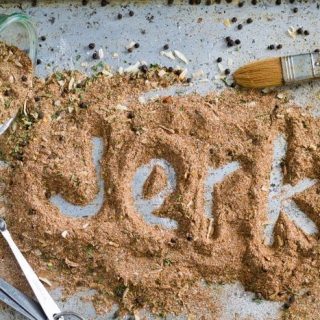 Homemade Jerk Seasoning
Flavored with allspice, cinnamon, and spicy pepper, Jerk Seasoning is perfect for a multitude of dishes. Make your own spicy Jamaican Jerk Seasoning at home and use it to spice up your wings and chicken dishes!
Ingredients
1 tablespoon onion powder
1.5 tablespoons garlic powder
1 tablespoon ground ginger
2 tablespoons onion flakes
1 tablespoon thyme
1/2 teaspoon white pepper
2 teaspoons cinnamon
2 teaspoons allspice
1 tablespoon smoked paprika
2 teaspoons nutmeg
2 tablespoons sugar
2 teaspoons Boullion
2 teaspoons cayenne
1 teaspoon red pepper flakes
2 teaspoons parsley
2 teaspoons black pepper
2 teaspoons salt
1 teaspoon cumin
1 teaspoon dried jalapeno
Instructions
Mix all the ingredients together and store in an air-tight container in a cool, dark, place.
Use as needed.
Notes
*If you like this recipe, please leave me a comment and rate it with some stars. Thank you!
Nutrition Information:
Yield:

16
Serving Size:

1 tablespoon
Amount Per Serving:
Calories:

20
Total Fat:

0g
Saturated Fat:

0g
Trans Fat:

0g
Unsaturated Fat:

0g
Cholesterol:

0mg
Sodium:

326mg
Carbohydrates:

4g
Fiber:

1g
Sugar:

2g
Protein:

1g
This nutrition information was generated via a third party, Nutritionix, and can not be held liable for any discrepancies in the information provided.
TakeTwoTapas.com. Content and photographs are copyright protected. Sharing of this recipe is both encouraged and appreciated. Copying and/or pasting full recipes to any social media is strictly prohibited.