Are you planning on serving tapas or hosting a tapas party? These tapas essentials will make the job easier and create a unique experience.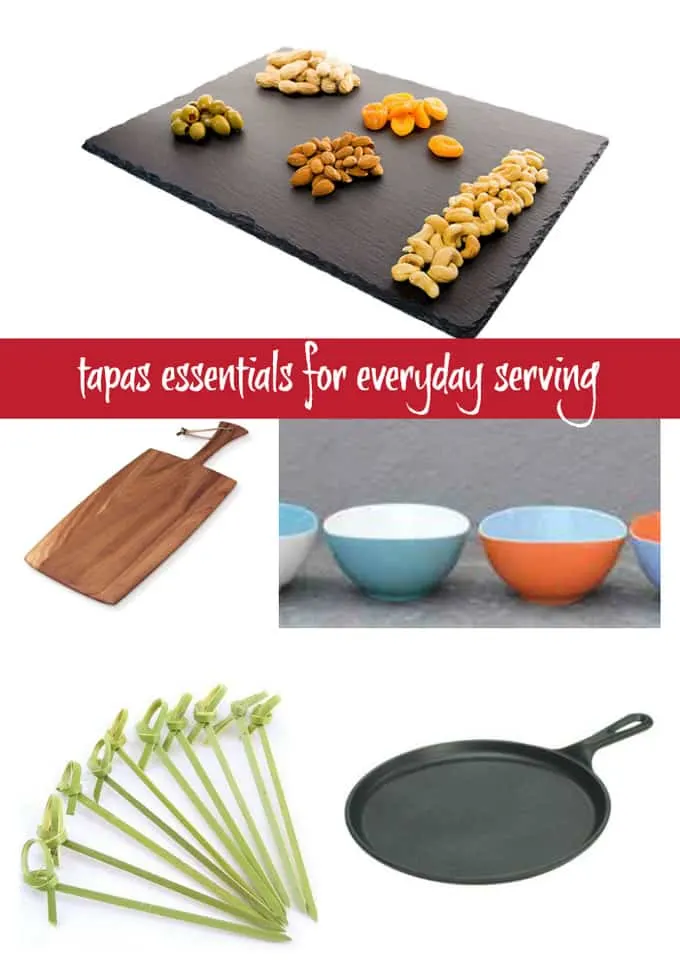 Whether you are hosting a grand dinner party and need some tools for the tapas or a full blown tapas menu for a casual grazing party, these tapas essentials will help you get all the food on the table!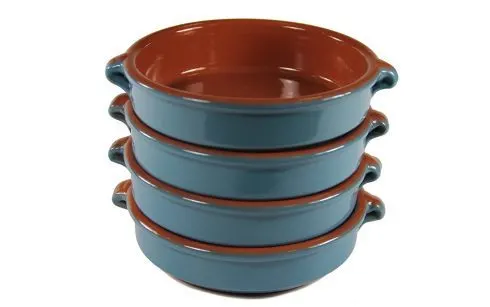 When making my Sweet Potato Patatas Bravas or any other patatas bravas recipe, you need these terra cotta dishes or cazuelas. There are important for holding herbs, garlic, or just sizzling some shrimp.
You season them by soaking them in water and then boiling water in them. After that, you can bake in them! A warm, cheesy dip would look good bubbling away in the terra cotta dish, or even some almonds as a snack.
This post may contain affiliate links. That means if you click on the link or purchase any items through the link I may receive a small commission at no extra cost to you. These small commissions help fund this blog so I can bring you delicious party foods and cocktails! See my full Disclosure Policy here.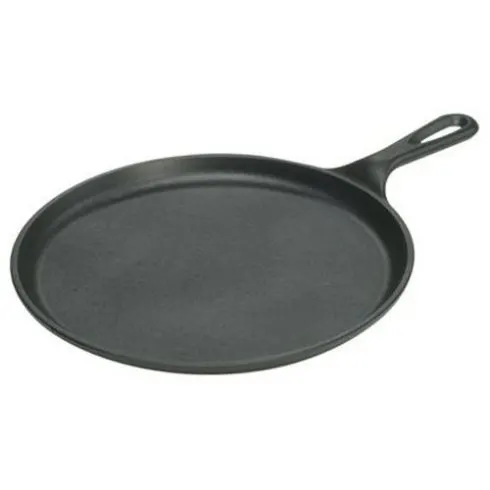 This cast iron skillet is perfect for toasting tortillas, searing meats, or even making cheese crisps. This is just about the only pan I use unless I need one with sides to hold my Pimento Cheese Tortilla Espanola.
Or anything else with liquids. With proper handling, you can keep the non-stick surface slick and perfect for eggs too!

This item goes without saying. I use olive oil, and avocado oil, all the time when cooking and this dispenser keeps it handy. I love that I don't have to stop and unscrew my bottle while I am cooking when I need my olive oil in a hurry.
I usually buy my oils in bulk so this beats having a 2 gallon can of oil on my kitchen counter. This is great to add to the table when you are serving hummus, or need to whip up a quick salad dressing.
Talk about the top of the tapas essentials list!

I love the finger bowls so much! I have a few sets of them ranging from all white, to multicolored. And a few different sizes too.
These bowls are handy when prepping recipes for holding chopped herbs and spices, for adding dips to a cheese board, or for holding some nuts as a snack.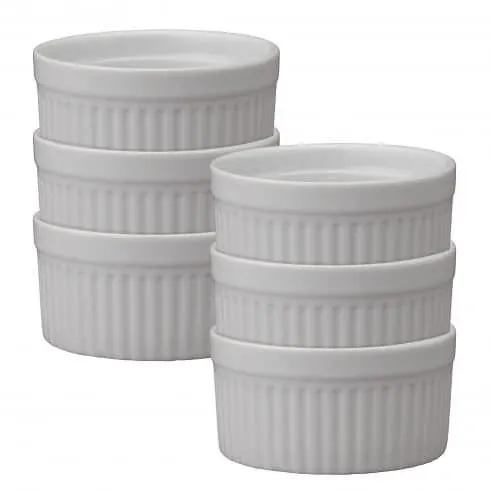 Ramekins can be used for all the same purposes as the finger bowls only the ramekins are made for cooking in too. They make great creme brulee dishes or my savory bread pudding.
My Chocolate Chia Pudding is a great addition to these ramekins!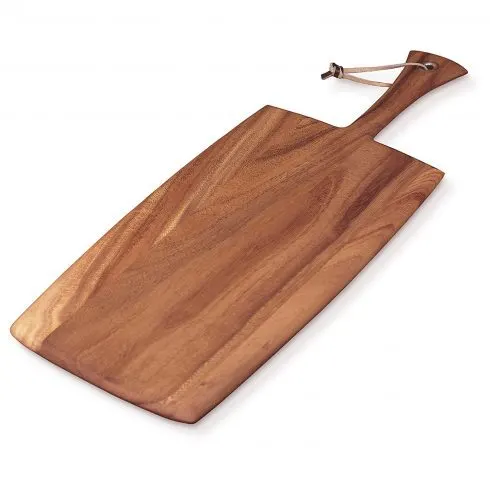 You might have a cheese board that you got as a present. I don' t mean one of those multi-level things with drawers and labels and other such constraints.
I like a flat board, not necessarily an actual cheese board, but maybe something like a cutting board. Matter of fact, I have purchased quite a few cutting boards that I use as cheese boards or meze platters.
Having a plain flat surface means you can design your cheese board to be exactly as you want it. Plus if you need bowls or cavities to add olives and such, just use the ramekins or finger bowls. A wood board is certainly a must have of tapas essentials.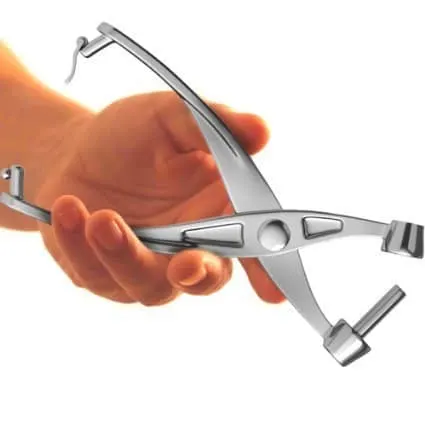 I have spent many an afternoon pitting cherries from the farmers market and olives that I could only find the whole ones. It is essential to have a good one.
I don't buy any of those with rubber handles, fancy logos, or bright colors. Simple metal works for me. I have had the same hand crank can opener and metal vegetable peeler since I got married 18 years ago because these last.
These new-fangled ones tend to break every year forcing you to buy a new one that will do the same thing next year. Get the good one, pit your olives, and spend time eating them not shopping for a new pitter.
I used this for my Marinated Olives and My Cherry Lime Bourbon Smash.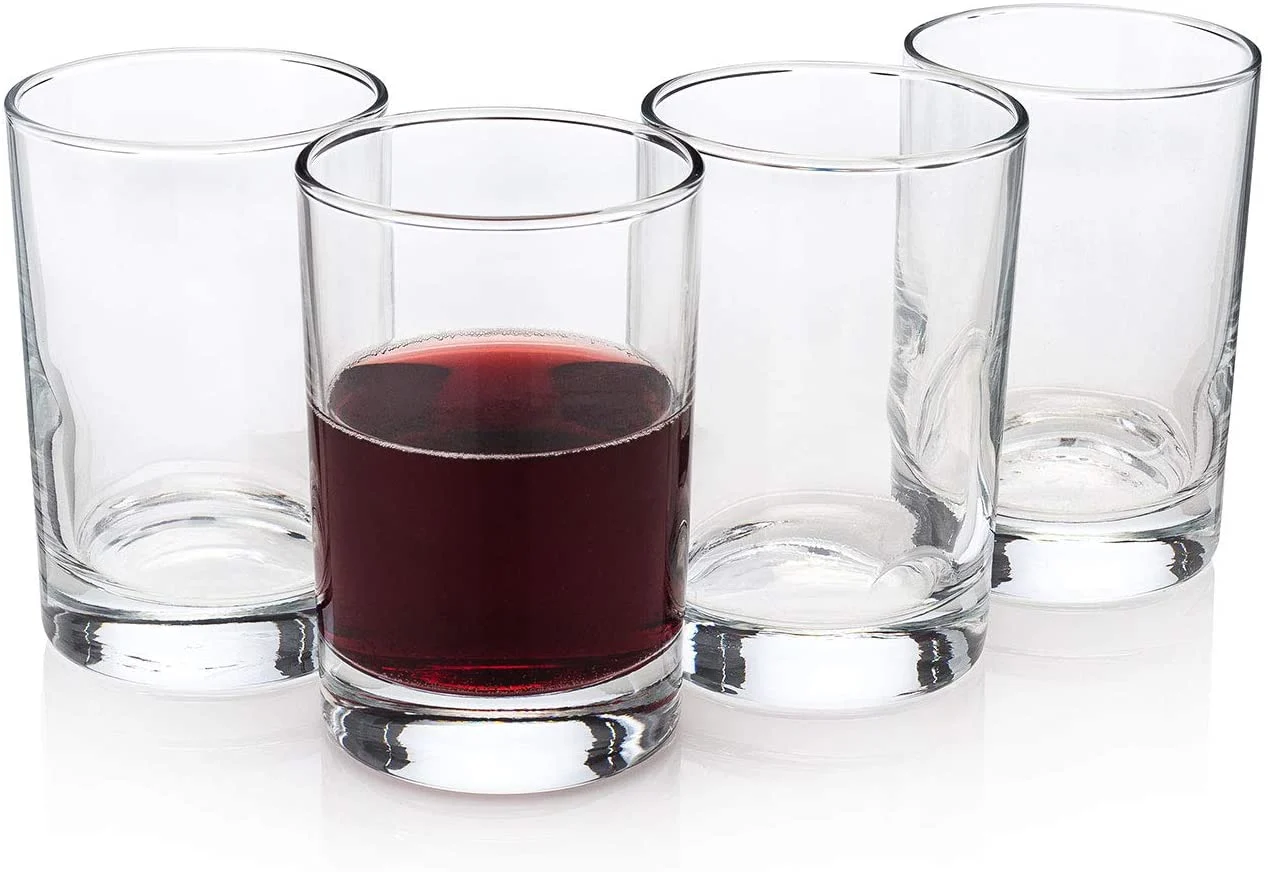 I grew up thinking that wine is served in glasses that had stems and that was it. Not saying that I didn't drink some wine (cheap) out of plastic cups in college because I'm clumsy, but I did so out of necessity.
But once adulting came into play I knew that I had to start using proper wine glasses, but what are proper wine glasses? My motto is anything that gets the wine to the mouth!
But I do love these small tumbler glasses and anything that is a multitasker. Small glasses that are traditional Spanish and Italian wine glasses but that double as water or tea or triple shot glasses.
How about drinking one of my Kalimotxo Cocktails from these?!?! They also make great candle holders when you are decorating for date night!
Small Wine or Drinking Glasses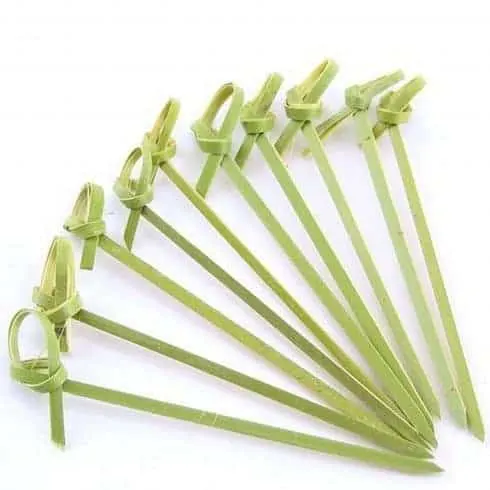 Talk about a multitasker! These bamboo skewers work for cocktails, appetizers, picking your teeth, or cleaning under your fingernails if you are of that kind of upbringing.
Actually, my Pa used his pocket knife at the end of the day!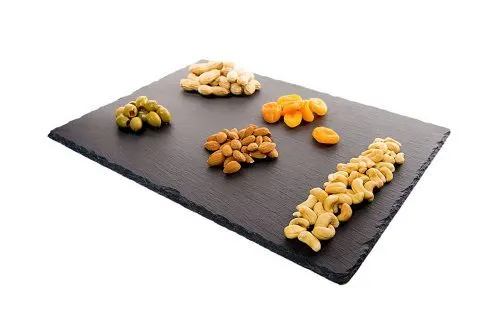 I am so excited about this slate board. Not only is it versatile but you can write on it with chalk and label your snacks and cheeses.
This slate board can be seen in some of my photos as a backdrop, like my margarita shrimp skewers, but it makes a great cheese board for a small group.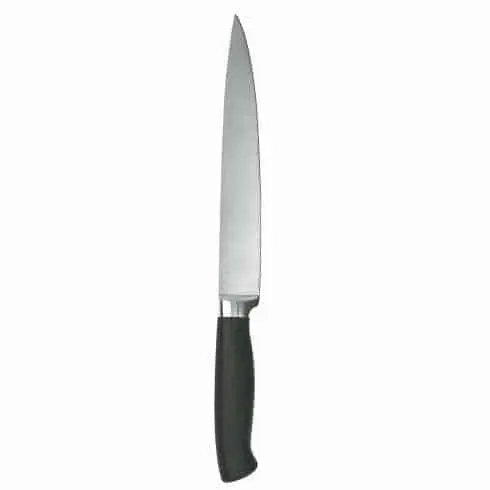 A good knife is always important. You are more likely to get cut or injured with a dull knife than a sharp one!
Sounds weird right, but if your knife is dull it is most likely to slip off the food or you will try harder to cut the item thus risking a harder cut to your appendage!
This slicing knife is perfect for slicing charcuterie meats, cheeses, and just about anything else you need to cut. I would go with a serrated knife for bread though.
Now that you are armed with some Tapas Essentials to help you serve them, check out my Southern Twist on Spanish Tapas Summer Menu!
If you love this recipe as much as I do, please write a five-star review in the comment section below (or on Pinterest with the "tried it" button – you can now add pictures into reviews, too!), and be sure to help me share on facebook!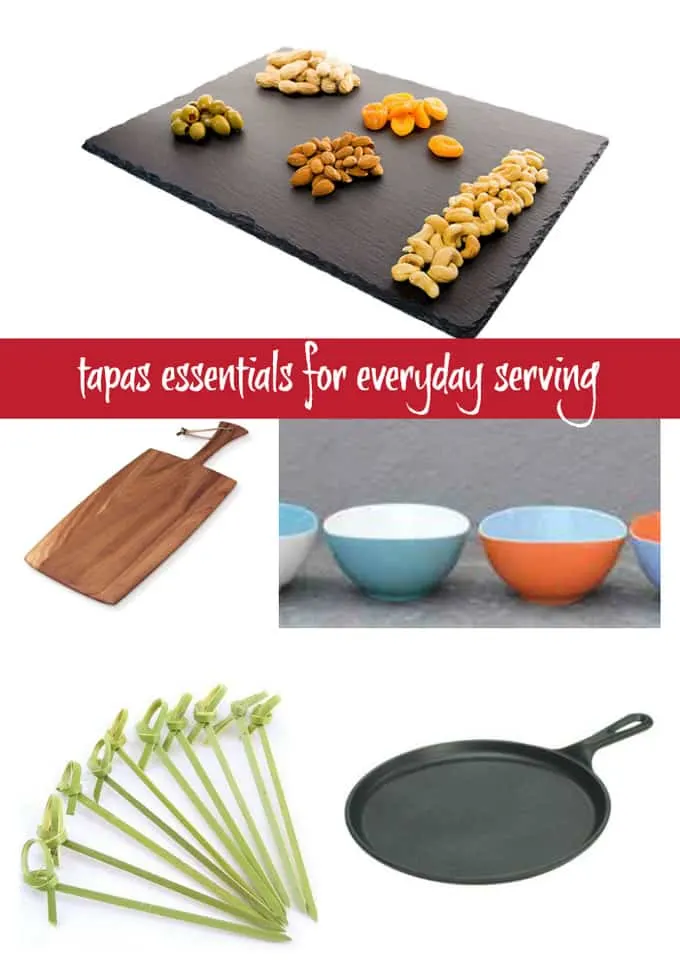 tapas to serve with these essentials
TakeTwoTapas.com. Content and photographs are copyright protected. Sharing of this recipe is both encouraged and appreciated. Copying and/or pasting full recipes to any social media is strictly prohibited.