Make your mornings easier with my Breakfast Casserole Bites. Tasty, filling, and portable to start your crazy day off right!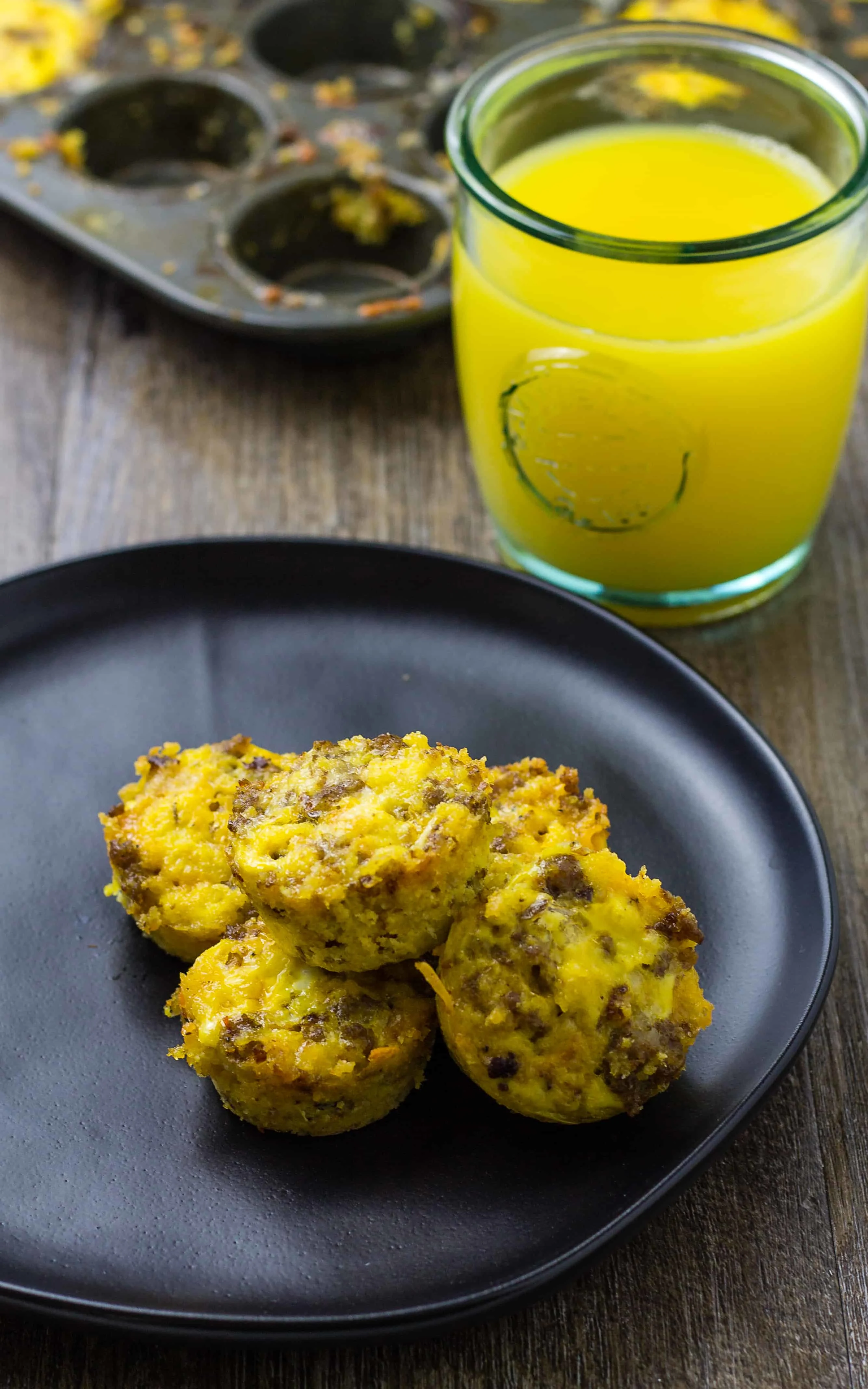 New Year, New Breakfast! At the start of the year, everyone's resolutions are still fresh in their head and most likely people are dieting.
Maybe not dieting but eating healthier.
Our new year started off bumpy and a new diet/lifestyle is on my back burner for now, but I am trying to remember to ACTUALLY eat breakfast instead of starving until lunch time.
My Breakfast Casserole Bites are not exactly Paleo or Whole30 compliant but you can make them so. I, for one, like the traditional was breakfast casserole the way it is made so I figure a smaller portion is better than nothing.
A few of these in the morning along with my tea is a great way to get my day started off right.
This post may contain affiliate links. As an Amazon Associate, I earn from qualifying purchases. Read my disclosure policy here.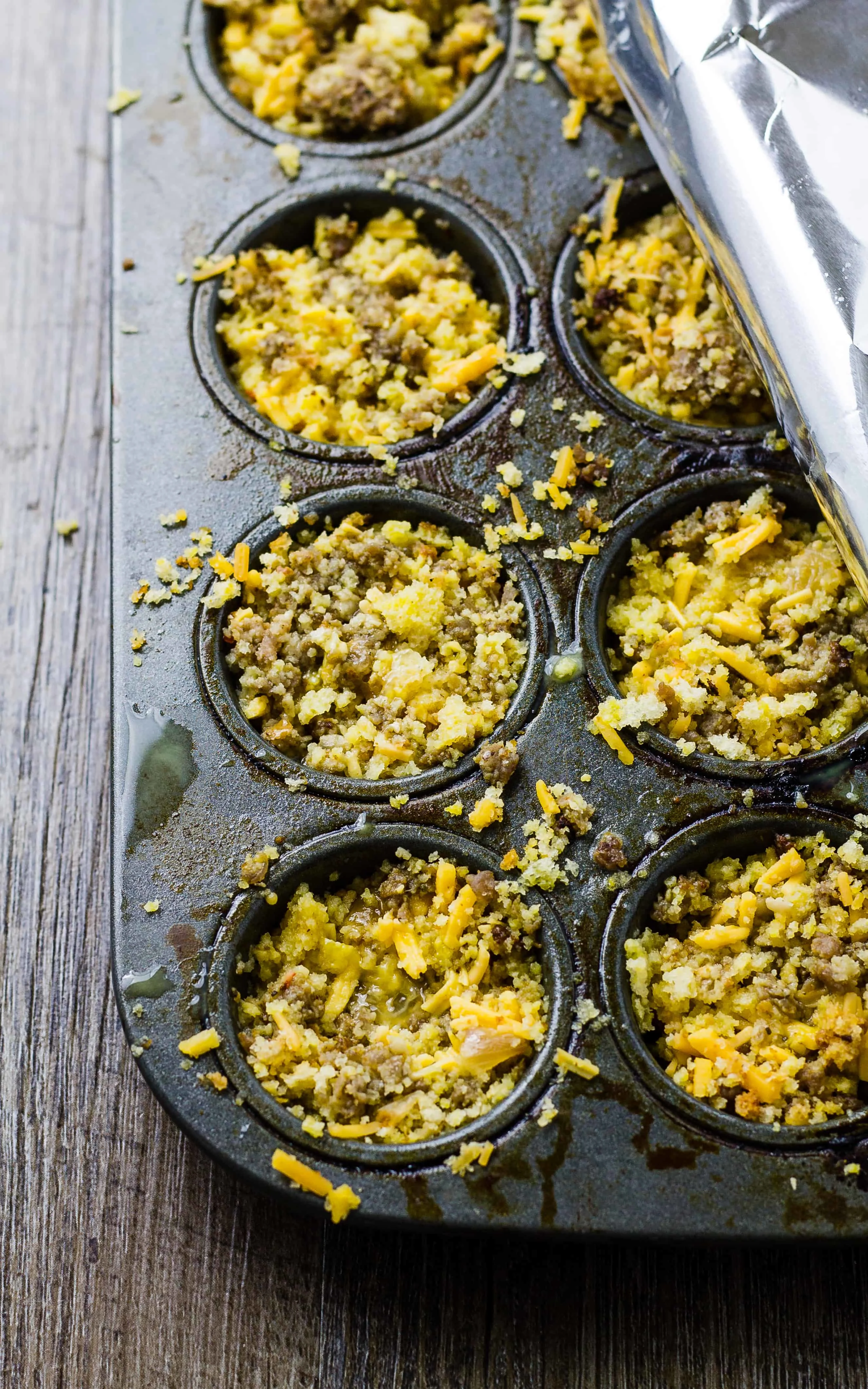 Easy Breakfast Casserole Bites
The way I was taught to make breakfast casserole is to start the night before.
Prepping the night before is the best way to ensure the next day starts off right in all aspects, not just breakfast.
Laying clothes out, getting all items gathered by the door, making a to-do list, and other helpful tips are great things to do the night before so why not prep breakfast while you are at it?
The other great thing about prepping the Breakfast Casserole Bites the night before is that it fives the casserole time to absorb all the flavors and allows the cornbread stuffing to mix with the eggs and cheese.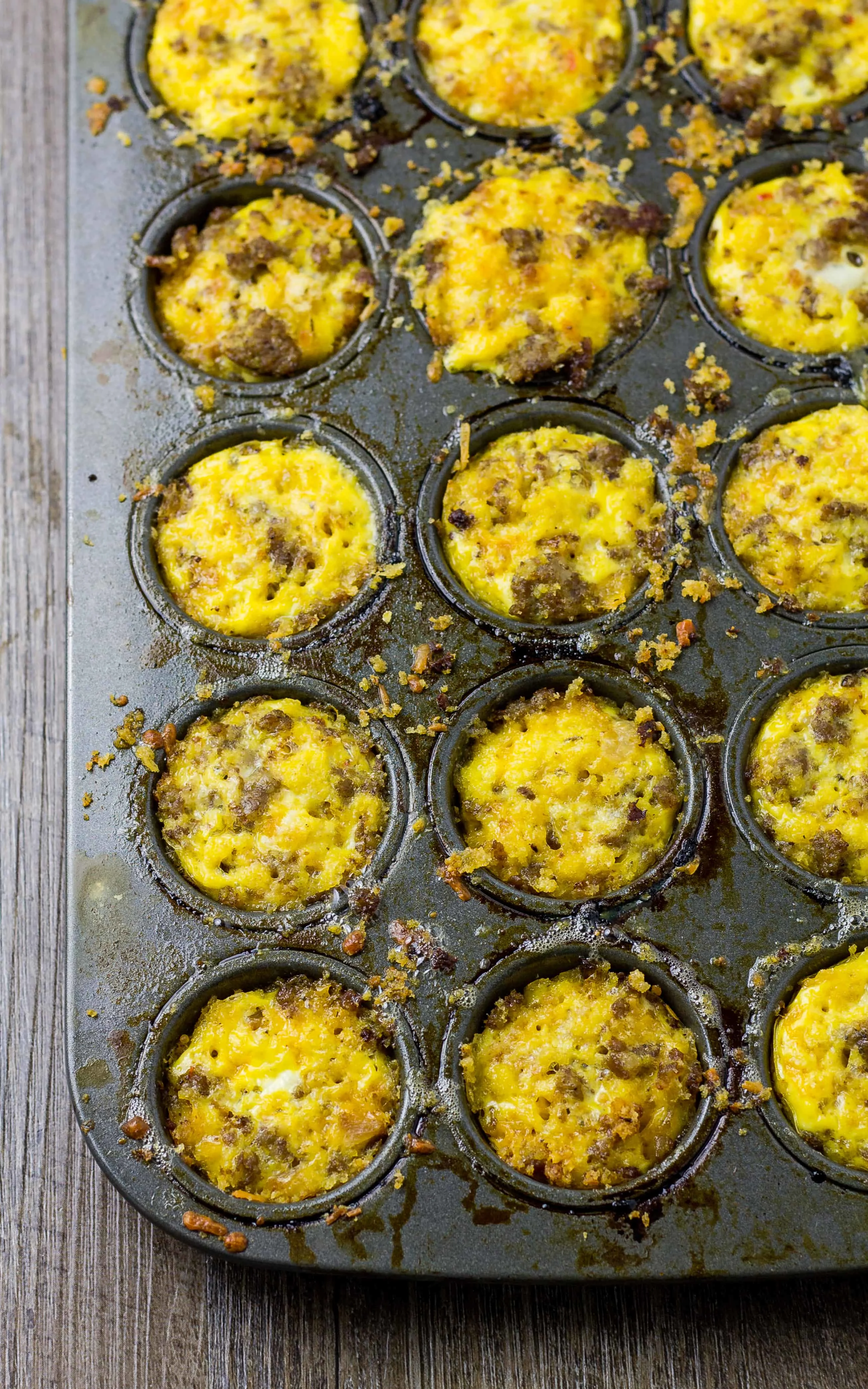 MAKE AHEAD BREAKFAST CASSEROLE BITES
Grab all your ingredients and let's get started. You will also need a mini-muffin pan and some aluminum foil.
Brown your sausage along with the onion until cooked. Drain off any extra oil. Mix the sausage, cornbread mix, onion, and cheese together until combined.
Spray the pans with non-stick spray and portion your muffin mix equally among the 48 wells.
Mix the eggs and milk together, making sure the eggs are broken up and mixed well.
Top each stuffed well with 1.5 tablespoons of the milk and egg mixture. Cover the pans with aluminum foil and place in the refrigerator overnight.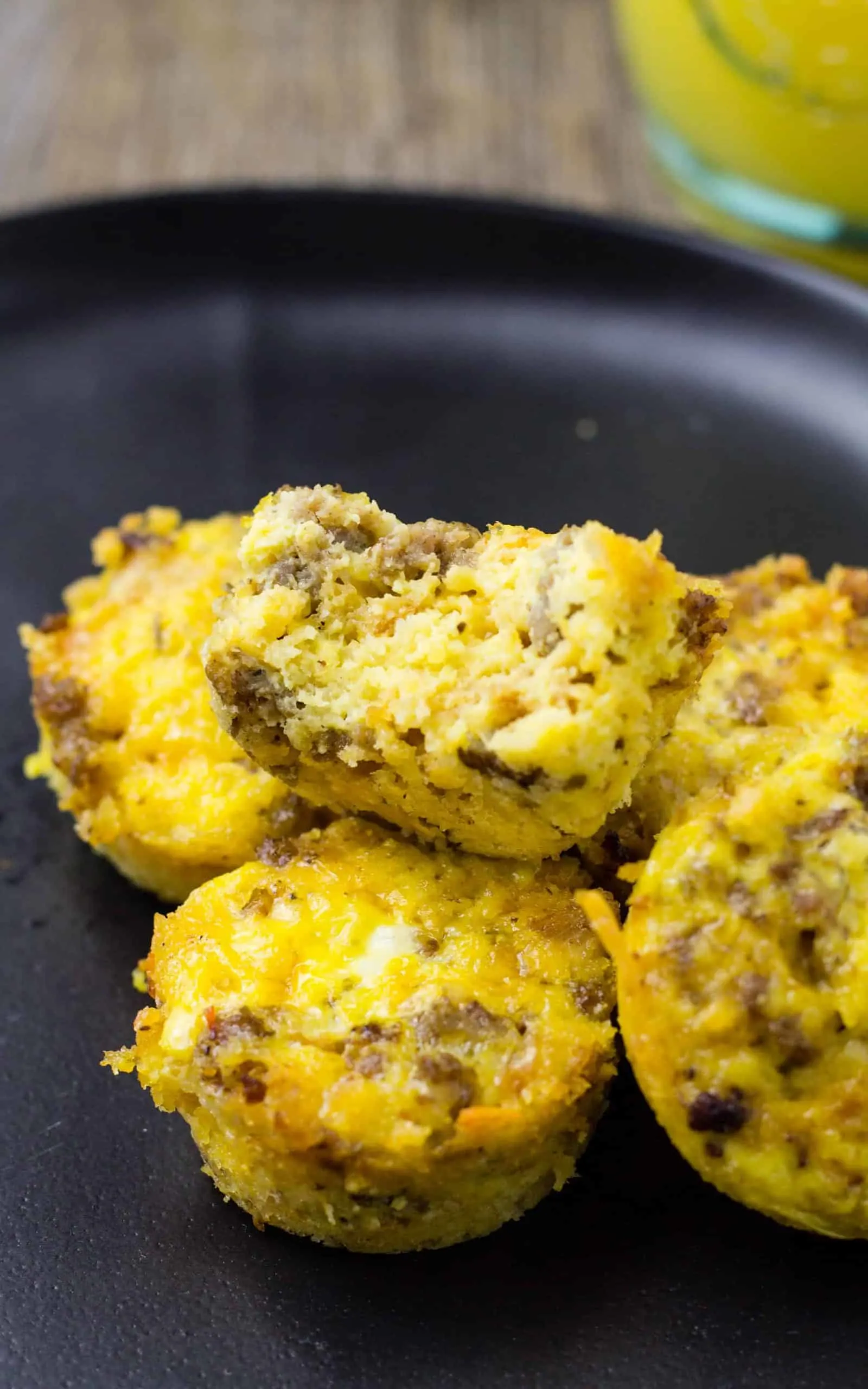 For more insider tips & tricks, and a candid behind the scenes look follow me on social media! Check use out on Pinterest, Facebook, Instagram, & Twitter (yes, people still use Twitter, LOL!)
HOW TO MAKE BREAKFAST CASSEROLE BITES
The next morning, preheat your oven to 350F while you are getting the kids ready or running around getting ready to start the day. Cook the Breakfast Casserole Bites for 10 minutes covered.
After the first 10 minutes, remove the foil and rotate the pans. Bake for another 10 minutes until the eggs are cooked to your liking.
When the bites are finished cooking, remove the pans and let them cook for a minute or two. Pop them out with a knife or spoon and take a few with you on your way out the door.
I find that a disposable cup, some wax paper, or a paper towel makes a great transportation device for the bites. I prefer something I can throw away when I am done to make things easier but if you prefer, a reusable snack bag works well too!
These Breakfast Casserole Bites also remind me of a portable version of this Breakfast Hashbrown Pizza from An Affair from the Heart. I love making breakfast fun as everyone I know hates mornings, much less, mornings where I am hangry.
Try this Pancake Bacon Casserole if you are looking to add more pancakes to your life!
For the full recipe and detailed instructions, please refer to the recipe card at the bottom of the post.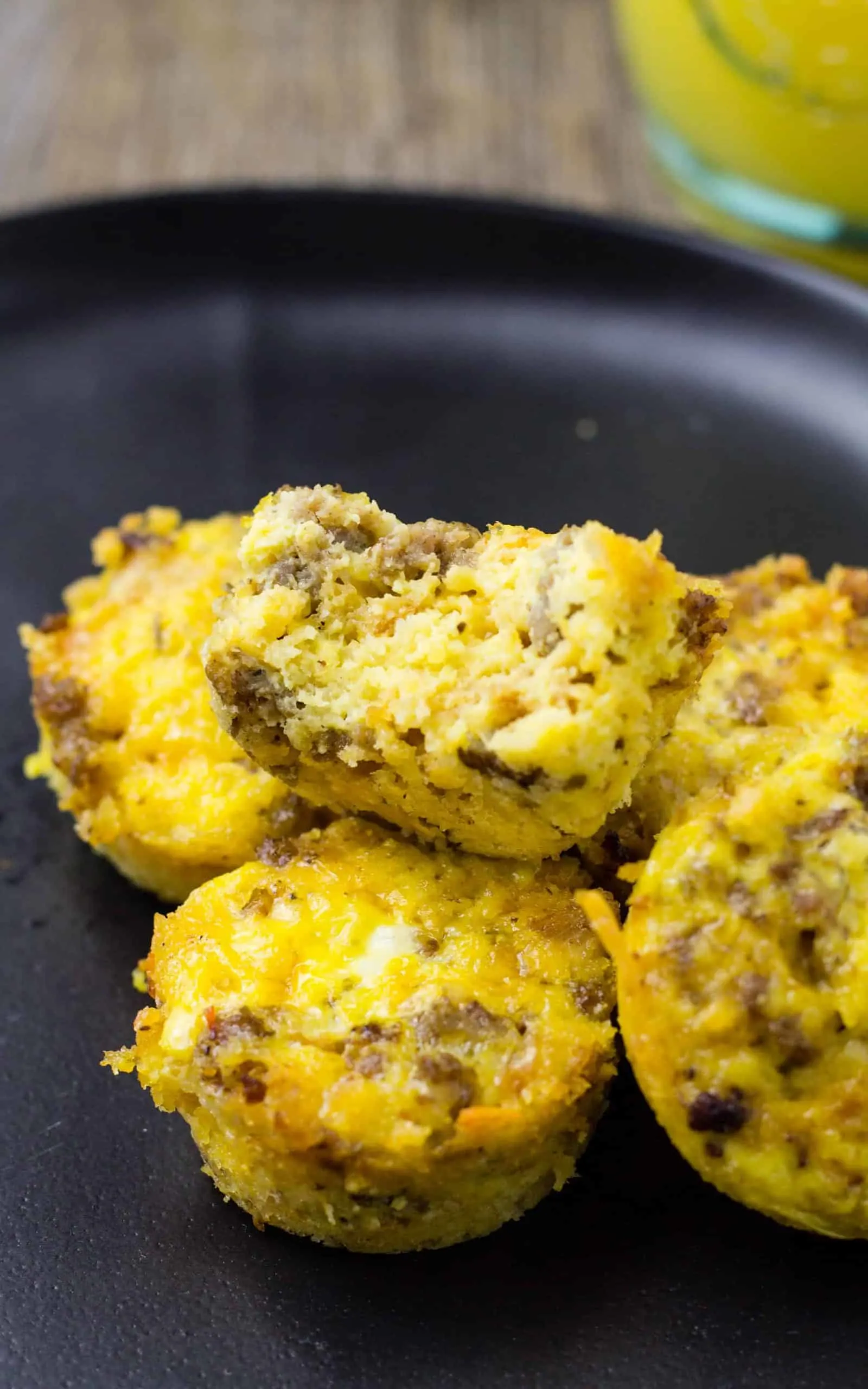 MORE EASY FINGER FOODS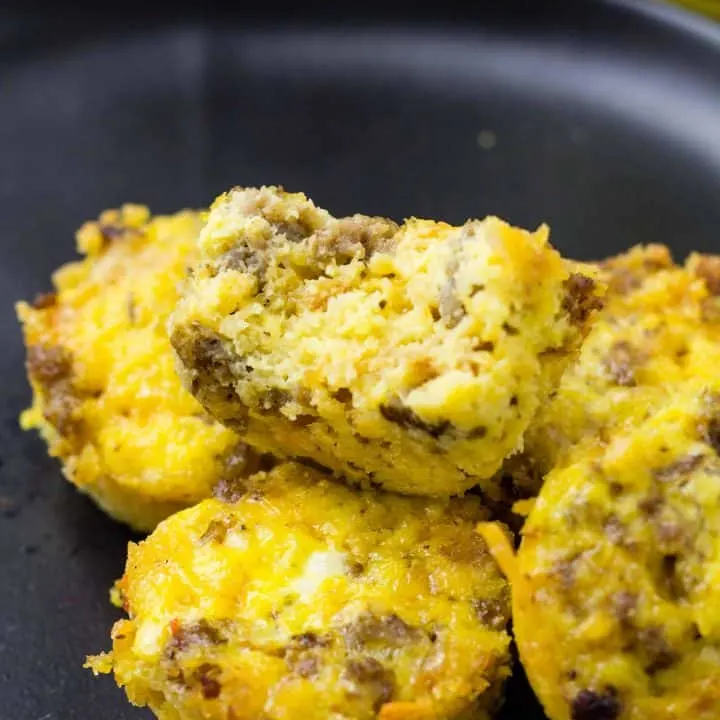 Breakfast Casserole Bites
Make breakfast easier and more portable with my Breakfast Casserole Bites!
Ingredients
1 pound hot pork sausage (browned)
1/2 medium onion (chopped fine)
1 cup cheese (sharp cheddar)
6 eggs
1 cup milk
1 cup cornbread stuffing mix (Pepperidge Farms)
Instructions
Prep the breakfast casserole bites
If you haven't already done so, brown the pork sausage until cooked through.
Prepare the pan and the breakfast casserole bites the night before or at least 4 hours before you are cooking them.
In a bowl combine cooked sausage, onion, stuffing mix, and the cheese.
Mix to combine.
Spray each cavity in a mini muffin pan with non-stick spray.
Add 1-2 tablespoons of the stuffing mix to each cavity.
In another bowl, combine the eggs and milk.
Stir/whisk to combine and break up the eggs.
Add 1.5 tablespoons of the milk and egg mixture to each cavity.
Cover the mini muffin pan with foil and let sit at least 4 hours but preferably overnight.
Bake the Breakfast Casserole Bites
The next morning, preheat oven to 350F.
Remove the pan from the refrigerator while the oven is preheating.
When the oven is ready, bake the breakfast casserole bites for 10 minutes while covered with foil.
After 10 minutes, remove the foil and cook for an additional 10 minutes.
When the breakfast casserole bites are done, remove from the oven and let cool for 1-2 minutes.
Remove from the mini muffin pan by running a knife around the edge of each breakfast casserole bite.
Serve warm!
Notes
*You can cook the breakfast casserole bites and then store in the refrigerator for up to 3 days or freeze for 1 month. Reheat in the microwave 30 seconds at a time.
*If you like this recipe, please leave me a comment and rate it with some stars. Thank you!
Nutrition Information:
Yield:

24
Serving Size:

2 bites
Amount Per Serving:
Calories:

121
Total Fat:

9g
Saturated Fat:

3g
Trans Fat:

0g
Unsaturated Fat:

5g
Cholesterol:

69mg
Sodium:

254mg
Carbohydrates:

3g
Fiber:

0g
Sugar:

1g
Protein:

7g
This nutrition information was generated via a third party. I can not be held liable for any discrepancies in the information provided.
TakeTwoTapas.com. Content and photographs are copyright protected. Sharing of this recipe is both encouraged and appreciated. Copying and/or pasting full recipes to any social media is strictly prohibited.