Crab Rangoon are crispy wonton pouches full of cream cheese and flaky crab meat. Deep fried to a golden brown and served with sweet and sour sauce, they are the perfect appetizer! Skip the Chinese takeout and make them at home.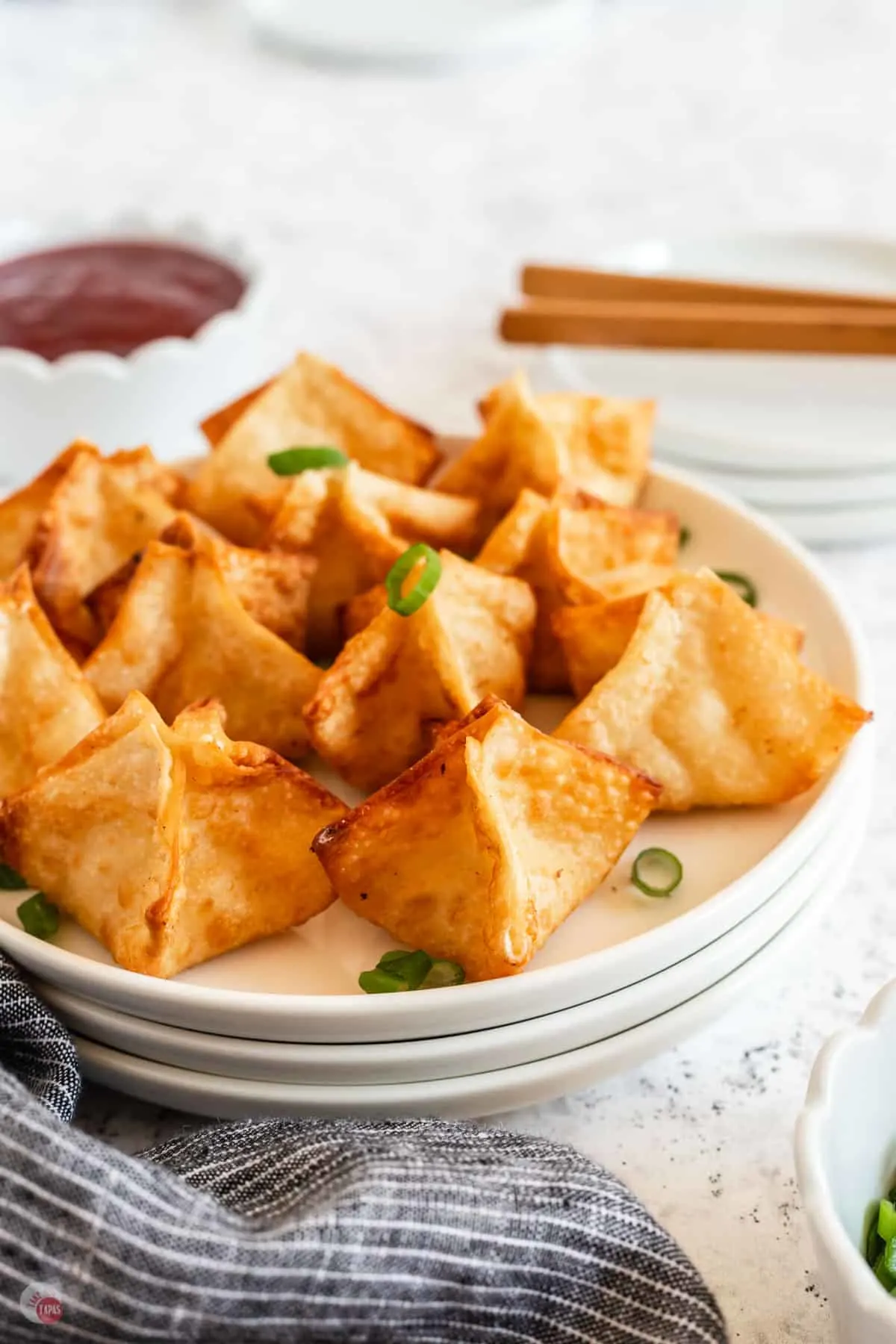 Crab Rangoon
One thing I love about going to a Chinese restaurant is looking at all the items on the menu and picking out a few different dishes to try. I mean, that's the tapas way of eating.
Not only that, but everything has their own special serving dish. Even the condiments, which makes it super fun. I wouldn't want to be the dishwasher there for sure!
A few of my favorites are the pan fried dumplings, the fried won tons, and Crab Rangoon. Something about the creamy middle, bursting with lump crab meat, all sealed in a crispy wrapper, makes my heart sing.
Last time I threw a party, I decided to make a few Asian style appetizers and these Crab Rangoon turned out to be the clear winner. Not a one was left!
You might think they are hard to make, but let me show you how easy they really are. And you can make a large batch, freeze for later, and fry them up when you have a craving.
Which, if you are like me, is all the time. Check out my shrimp rangoon too!
This post may contain affiliate links. As an Amazon Associate, I earn from qualifying purchases. Read my disclosure policy here.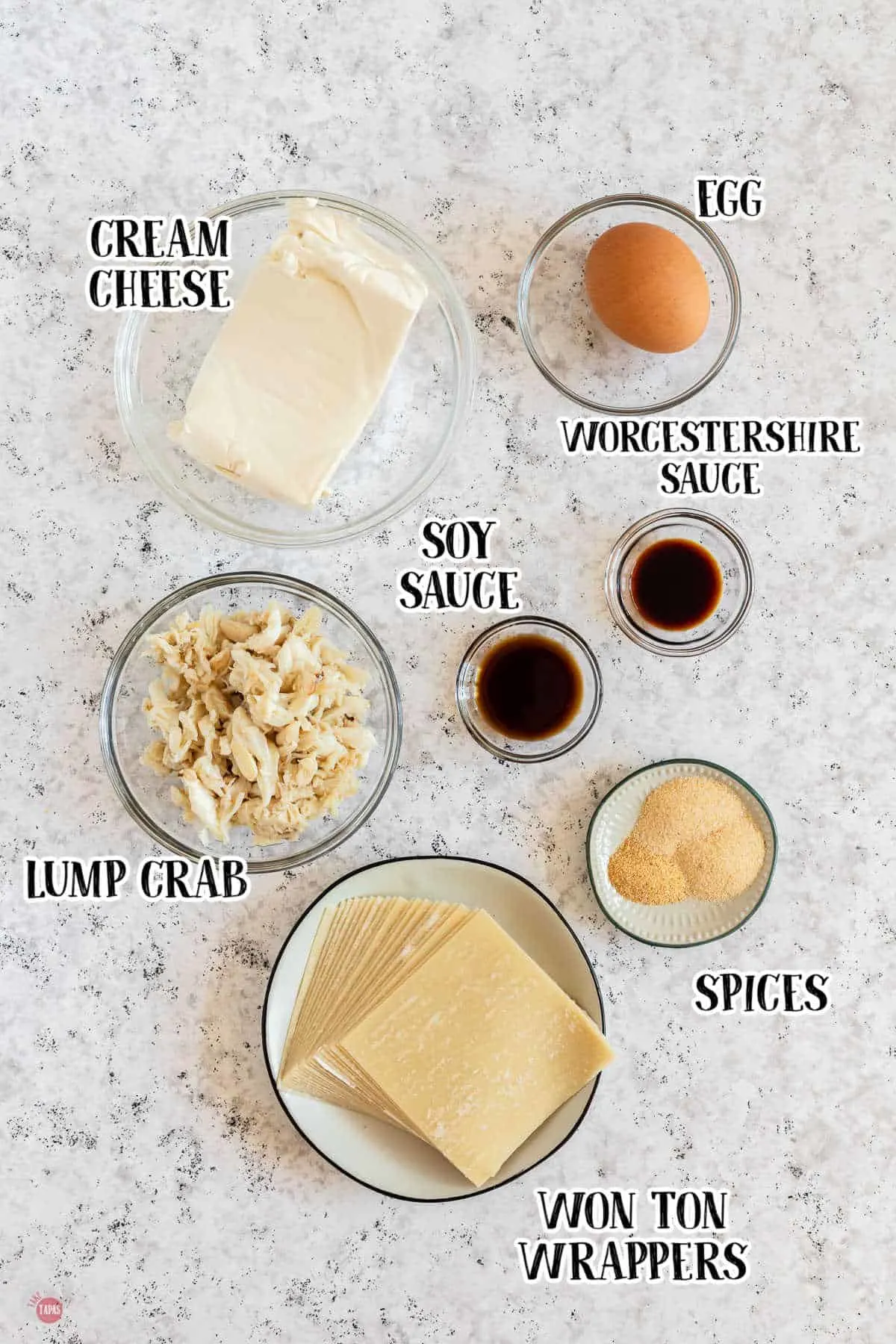 Ingredients Needed
Cream Cheese – This gives you that creamy center and balances the crab. Use full fat, reduced fat, or fat free.
Crab – I like to use lump crab meat as it's the best. You can also use imitation crab meat if you prefer. It tends to be less expensive. Canned crab meat will work in a pinch too.
Soy Sauce – If you have Tamari or Coconut Aminos these will work too. Add some Worcestershires sauce too!
Spices – This recipe keeps it simple with just garlic powder and onion powder.
Won Ton Wrappers – You fine these in the produce section of your market. If you can't find them, feel free to use egg roll wrappers or dumpling wrappers.
Oil – I like to deep fry these in either canola oil or peanut oil. You can also air fry them with just a like coating of cooking spray.
For more insider tips & tricks, and a candid behind the scenes look follow me on social media! Check use out on Pinterest, Facebook, Instagram, & Twitter (yes, people still use Twitter, LOL!)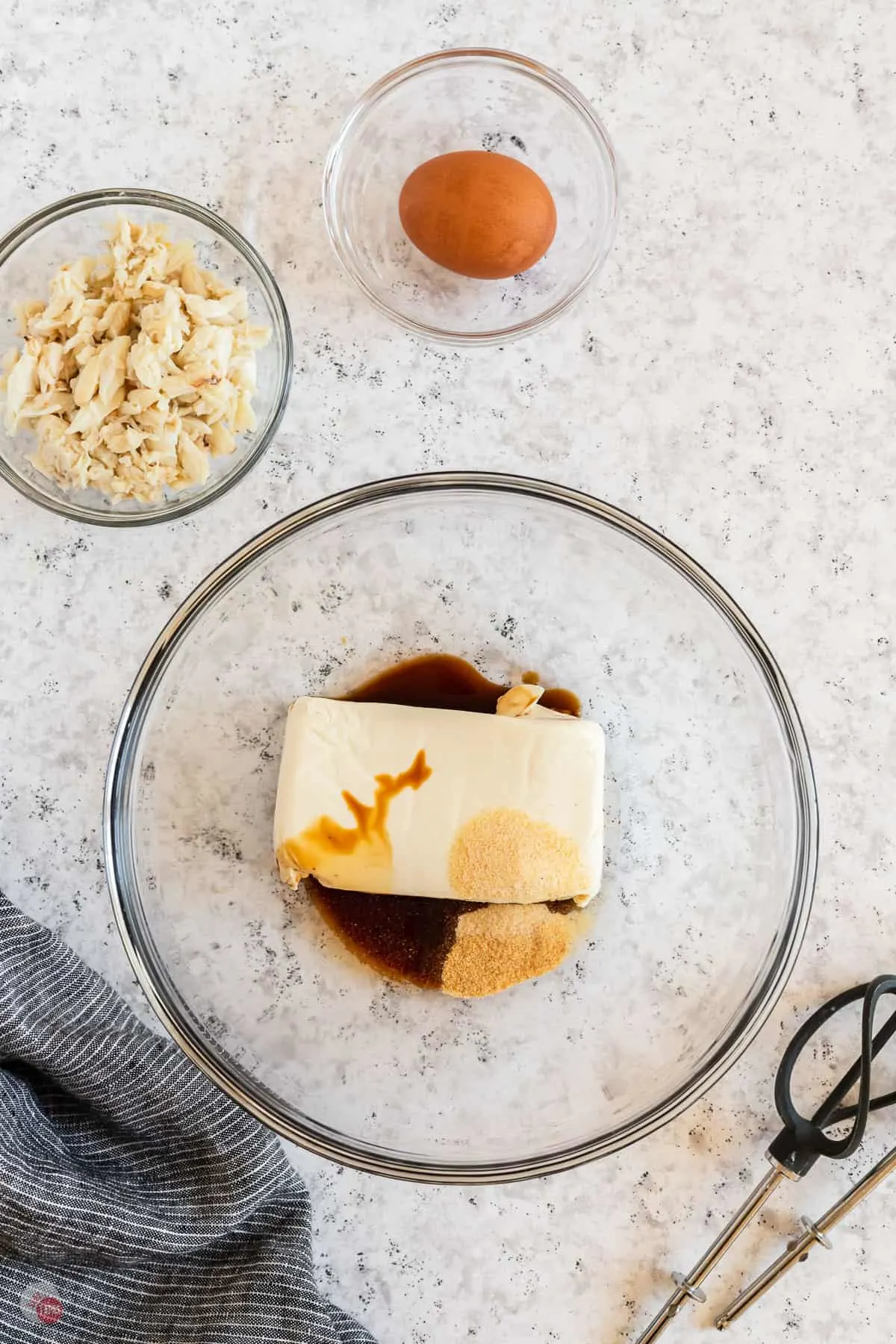 How to make Crab Rangoon at home
First: Make the crab mixture by combining the cream cheese, spices, and sauces.
Second: Gently fold in the crab mixture, being careful not to break up the crab too much.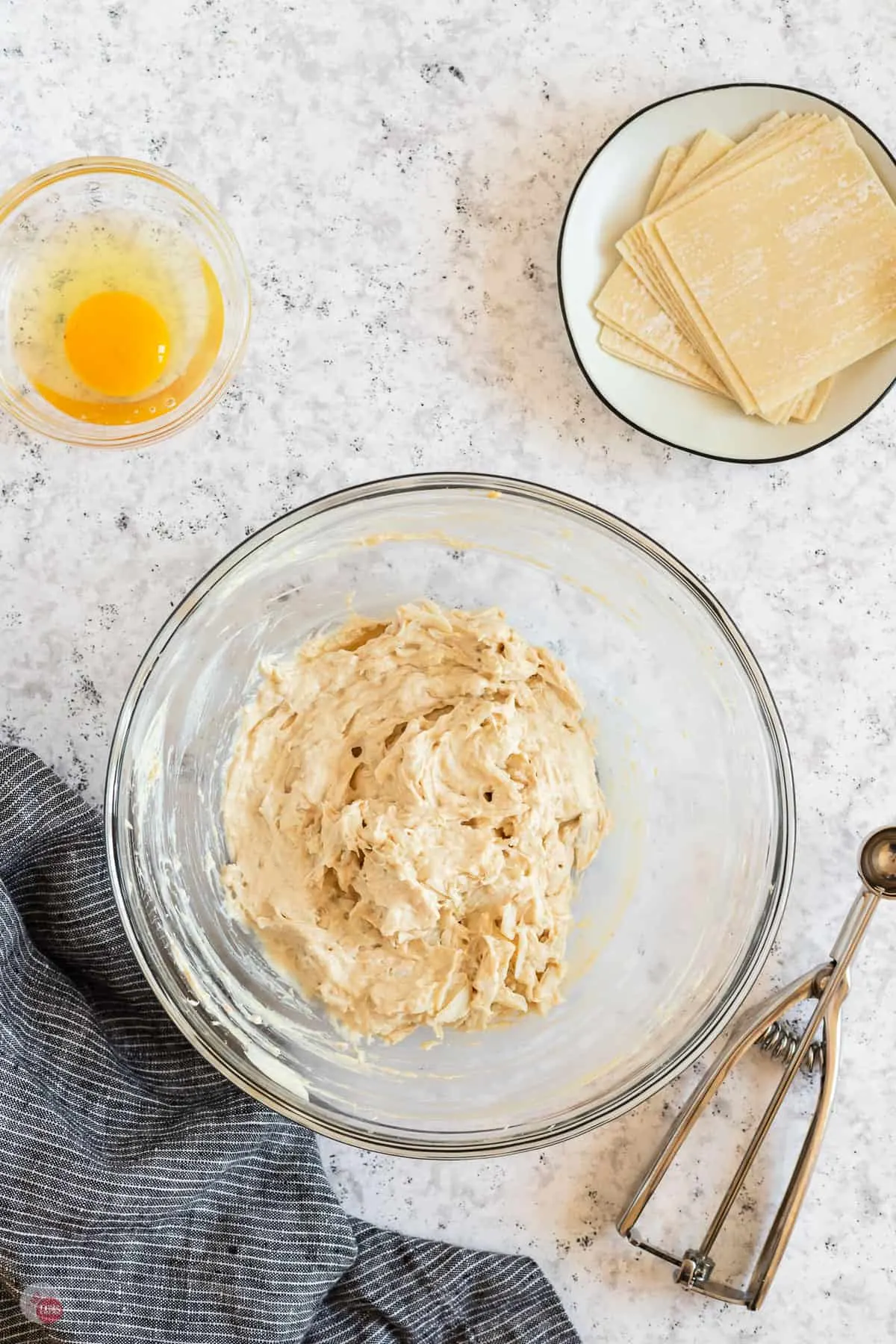 Third: Place 1 teaspoon of the mixture in the middle of each won ton wrapper. Brush the edges with the egg wash and fold the wrapper and seal closed.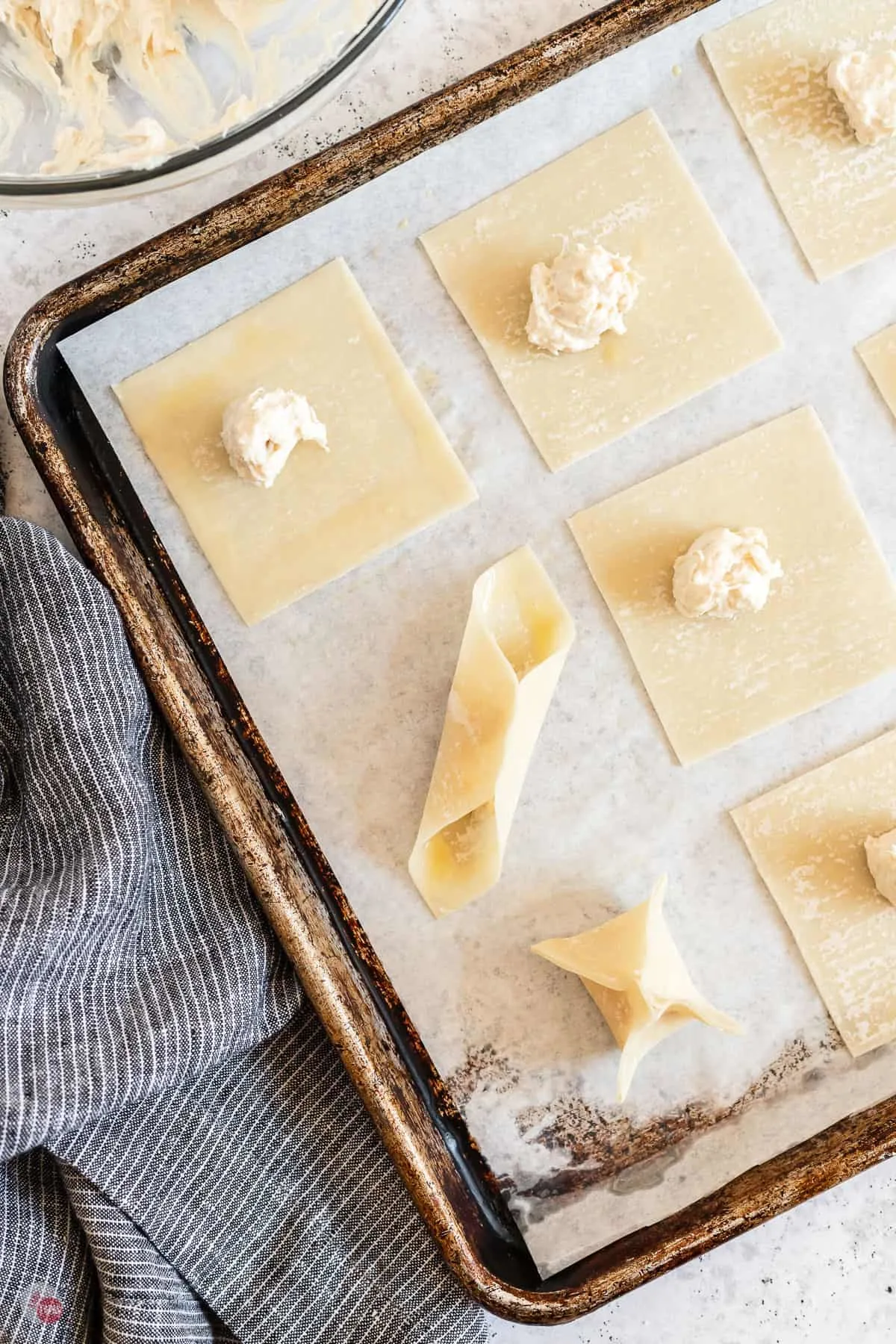 Fourth: Fry in oil at 375F until golden brown. Drain and serve with sliced green onions and your favorite dipping sauce. I love to use Ponzu or Sweet and Sour Sauce.
For the full recipe and detailed instructions, please refer to the recipe card at the bottom of the post.
Can I air fry these?
Yes, you can. Skip the deep fry and the mess and air fry them! I like to space mine out in the air fryer basket, give a quick spritz of cooking spray, and cook at 370F for roughly 10 minutes.
Is crab rangoon real Chinese food?
No they are not. Even though you find them in just about every Chinese restaurant in America, they are adapted from a Burmese recipe.
Thought to be made famous in America from a restaurant in San Francisco in the 1950s.
What is the difference between fried wonton and crab rangoon?
Usually a Chinese or Cantonese dish, wontons are typically filled with meats and boiled in a rich broth.
Rangoons come from South Asian countries and are usually fried and filled with a crab and cream cheese mixture.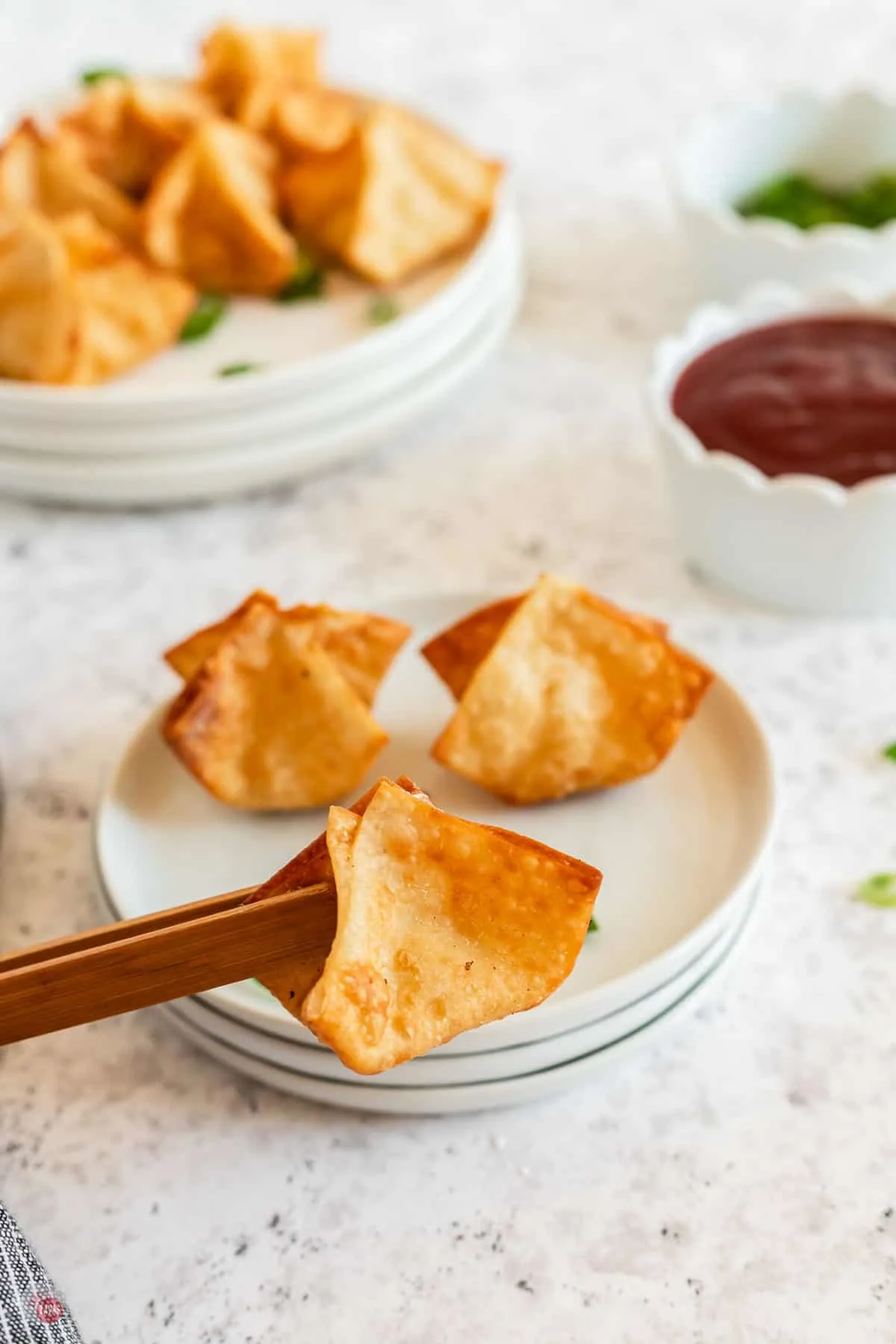 How do I keep them crispy?
Make sure you drain them properly on a wire rack or paper towels. To reheat them or make them crispy again, toss them in the oven or air fryer for a few minutes.
Can I make them ahead of time?
You can prep, cook, and store these at a variety of stages.
Freezing: I recommend freezing after stuffing but before cooking.
Make the mixture and stuff the rangoons. You can flash freeze them on a baking sheet, leaving space between so they don't stick together, and store in a freezer safe bag for up to 3 months.
Remove from the freezer, let sit at room temp for 5 minutes, then proceed to fry, air fry, or bake.
Refrigerating: I recommend cooking before refrigerating for best results.
You can store them in the refrigerator before or after cooking. Just be sure to store them in an air tight container. The wonton wrappers can dry out if not sealed tight.
Once cooked, you can store them in the fridge for up to 3 days and reheat when ready to enjoy.
Reheating: Reheat cooked crab rangoons in the air fryer or oven at 300F until crispy and warmed through. Usually 7-9 minutes.
Tapas Tips & Tricks
Keep the won ton wrappers sealed or covered in a damp towel so they don't dry out while stuffing.
Use an ice cream scoop to stuff with equal amounts of filling.
There are a few different ways to fold them, just be sure to seal them completely.
When folding the crab rangoons, be sure to press out any air in the wonton and seal the edges tight. They can burst when frying if not done.
Heat the oil to 375F to start with. Once you start frying the oil temperature will drop to about 350F. Do not fry below 350F or they will absorb the oil and be greasy.
Only fry 3-4 at a time as not to crowd the pan or lower the oil temp too quickly.
If you love this recipe as much as I do, please write a five-star review in the comment section below (or on Pinterest with the "tried it" button – you can now add pictures into reviews, too!), and be sure to help me share on facebook!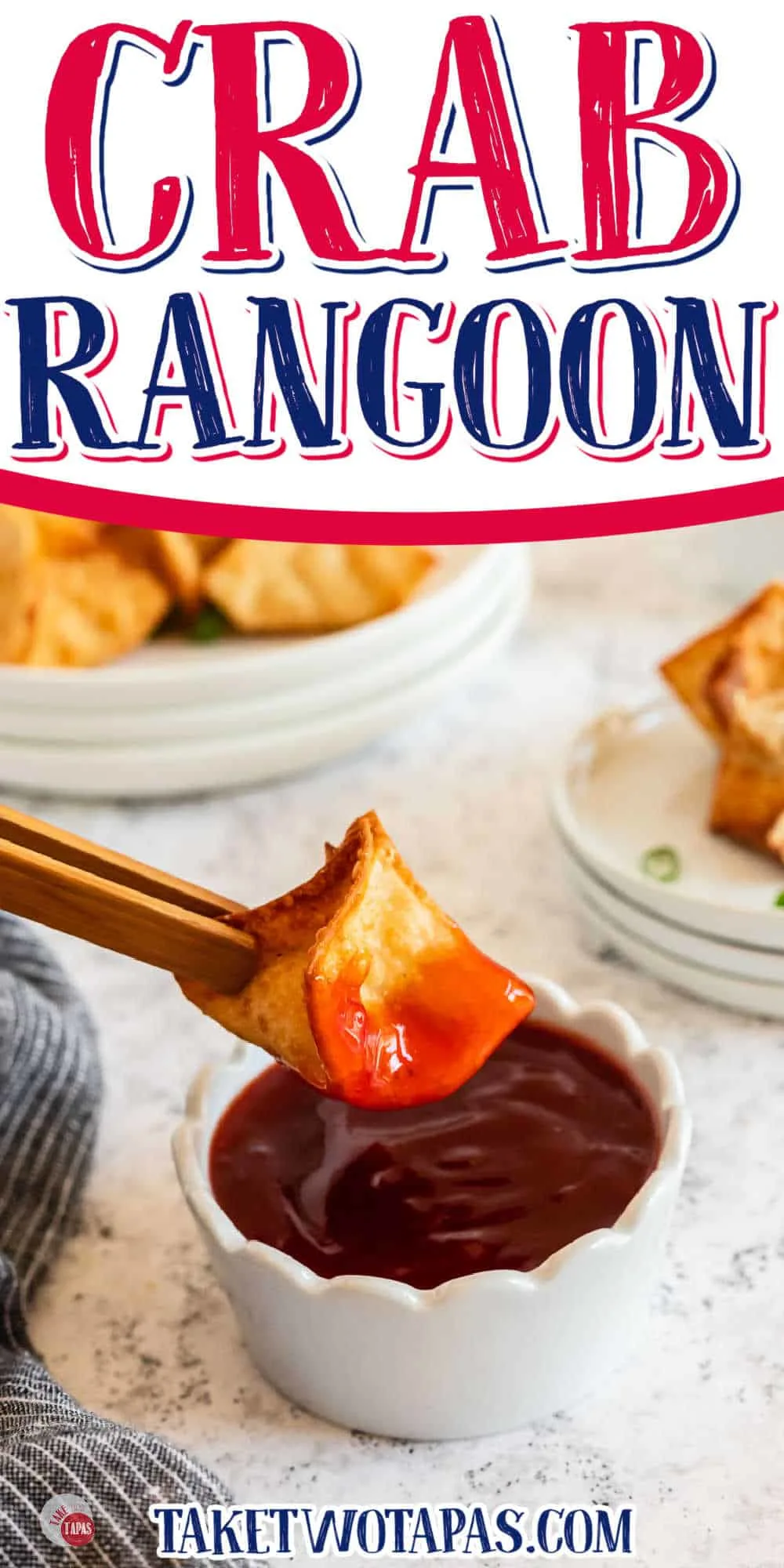 This Crab Rangoon Recipe is super easy to prep ahead and taste better than your favorite restaurant. Keep a batch in your freezer!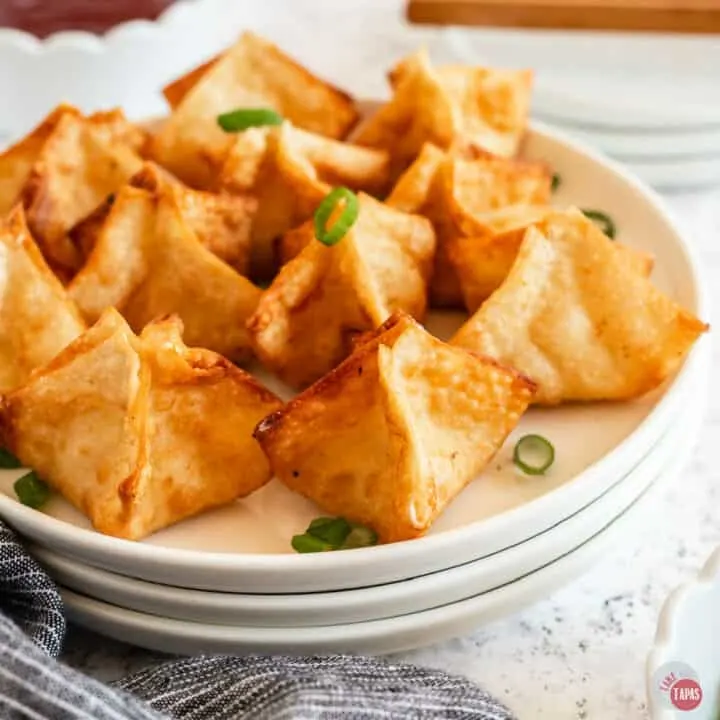 Crab Rangoon
Crab Rangoon are crispy wonton pouches stuffed with cream cheese and flaky crab meat. Deep fried to a golden brown and served with sweet and sour sauce, they are the perfect appetizer! Skip the Chinese takeout and make them at home.
Ingredients
8 ounces cream cheese (softened)
1 teaspoon soy sauce
1 teaspoon Worcestershire sauce
1 teaspoon onion powder
1/2 teaspoon garlic powder
4 ounces lump crab meat
1 large egg
1 package (12 ounces) won ton wrappers
oil for frying
2 green onions (sliced) for garnish
Instructions
Prepare the filling by combining the cream cheese, Worcestershire sauce, garlic powder, onion powder, and soy sauce.
Mix to combine.
Fold in the crab meat gently as not to break it up too much.
Place 1 teaspoon of filling into the center of each won ton wrapper.
Mix the egg with 1 tablespoon of water to make an egg wash.
Brush the edges of the won ton wrappers with the egg.
Fold the won tons by bringing two corners together and pinch.
Bring the other two corners to meet them and pinch to seal.
Continue until all the rangoons are sealed.
Heat vegetable oil (2-3 inches in a pot) to 375F.
Fry 3-4 crab rangoons at a time until golden brown.
Remove from the oil and drain.
Continue until all the rangoons are cooked.
Garnish with sliced green onions and serve with your favorite dipping sauce. I like Ponzu or Sweet and Sour.
Enjoy!
Notes
Recipe adapted from Savory Experiments
*If you love this recipe as much as I do, please leave me a comment and rate it 5 stars. Thank you!
Nutrition Information:
Yield:

18
Serving Size:

3 pieces
Amount Per Serving:
Calories:

61
Total Fat:

5g
Saturated Fat:

3g
Trans Fat:

0g
Unsaturated Fat:

2g
Cholesterol:

29mg
Sodium:

88mg
Carbohydrates:

1g
Fiber:

0g
Sugar:

1g
Protein:

2g
This nutrition information was generated via a third party. I can not be held liable for any discrepancies in the information provided.
Easy Finger Foods
TakeTwoTapas.com. Content and photographs are copyright protected. Sharing of this recipe is both encouraged and appreciated. Copying and/or pasting full recipes to any social media is strictly prohibited.