These Lamb Sliders are just what your get together is looking for. Tender lamb sliders topped with tangy goat cheese and sweet and spicy hot pepper jelly!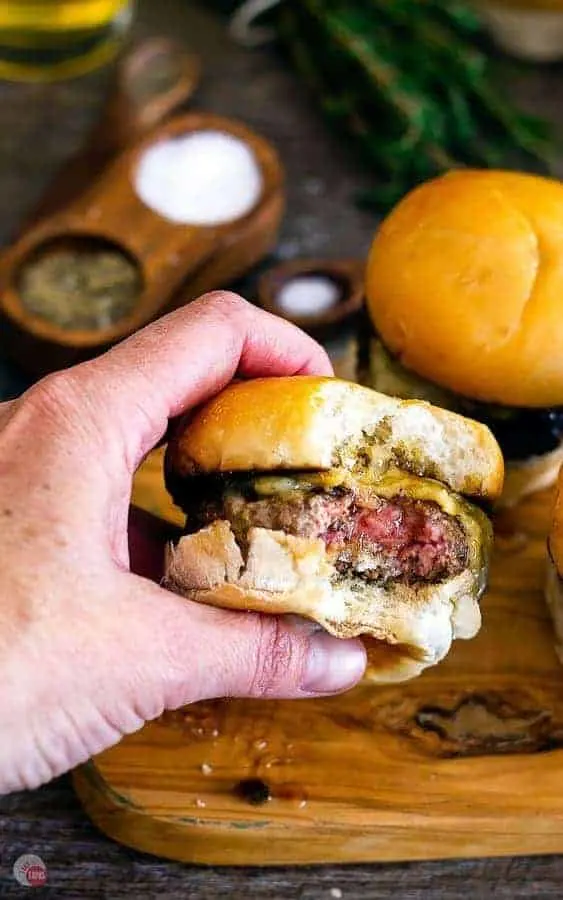 Why Lamb Sliders?
Did you know May is Burger Month? I didn't! To me it has always been the last month of the school year, the time we celebrate moms, and of course MY BIRTHDAY!
But May is so much more than that. It is the start of summer vacations and grilling season. What can be more fun than hanging out with your friends and chowing down on some burgers?
I know, I know!! Chowing down on some sliders, because I'm all about the smaller sizes. But not just any sliders…LAMB SLIDERS!
Now, if you haven't tried lamb in your burgers before, don't fret. These sliders are the perfect size to let you try them out before you buy the whole thing.
A subpar analogy because I wouldn't really buy a WHOLE lamb, just a loin, a few chops, and some ground up for these sliders.
Buckle up for some extremely good lamb sliders that have a little kick to them!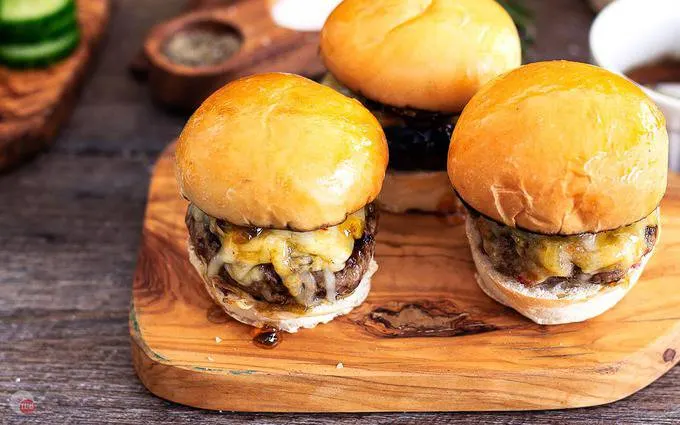 Lamb Burger Recipe
If you are worried that a lamb burger recipe is different than a beef burger, you can stop worrying right this instant. It's the same!!! Just switch out ground beef for ground lamb. It's as easy as that!
You might also be tempted to turn this ground lamb recipe into something with a Greek or Mediterranean spin, but you don't have to. I am adding some "Greek" items to it but the end result isn't really Greek at all.
It's just full on delicious!
If you are thinking that ground lamb might have a "gamey" taste to it, think again. I only experience a slightly "gamier" taste when eating chops or a loin and even then it is not as extreme as you might think.
What are the ingredients for Lamb Sliders?
The ingredients are few in number but big on flavor!
Ground Lamb (of course)
Goat Cheese
Lemon Zest
That's all she wrote, folks! You might think I am weird putting goat cheese IN the burger mixture but I did that for two reasons.
I love the tanginess of goat cheese and it pairs well with the taste of lamb. Maybe that's why you see Greek Lamb Burgers all the time that have goat cheese on them. Don't get me wrong, I will hoover the mess out of a few of those babies in a nanosecond. But that is not the direction I want to go here. I am leaning toward the hotter side of life:)
The goat cheese is added to keep the slider juicy and cream cheese is just too heavy for it.
Don't give me grief about adding my Greek Seasoning to the mixture either. Go ahead and say it. Ground lamb, goat cheese, and Greek seasoning is a Greek lamb burger…. True in some sense but not this one.
I chose the Greek seasoning instead of any of my other spice mixes because the thyme, lemon pepper, and oregano in it really keeps the flavors bright. This is important because I am adding some pretty intense flavors to the lamb sliders later!
This post may contain affiliate links. As an Amazon Associate, I earn from qualifying purchases. Read my disclosure policy here.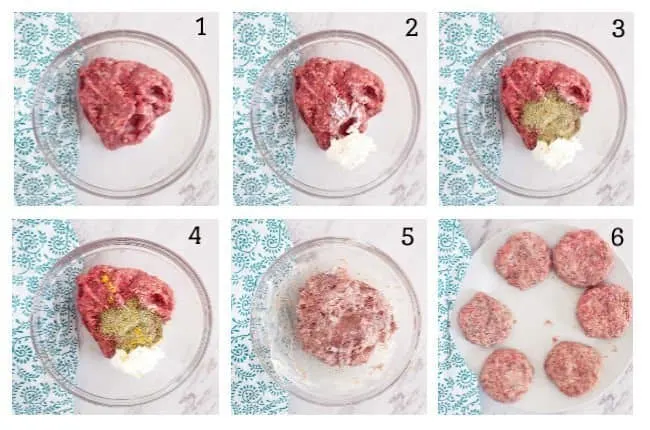 Ground Lamb Burgers vs Sliders
Making sliders is essentially the same as making burgers just smaller. I know that sounded dumb for me to actually have to say that but making something smaller isn't just about size.
Tips for making sliders
First off, mix the slider ingredients together as shown above. Mix with your hands because it's gentler and be sure NOT to over mix. Over mixing, like with baked goods, makes your burgers come out crumbly and dry. You are making them smaller, you certainly don't want to make them tough!
Second, portion the sliders evenly so when you cook them, they all cook for the same length of time. You don't want 3 small hockey pucks and 1 large one that is raw in the middle. I use an ice cream scoop to make sure they are all the same size.
Third, make them flatter and more spread out than you might think. Burgers tend to shrink up when you cook them and if you are starting out with smaller burgers you might end up with meatballs instead of sliders.
Lastly, once you have the ingredients mixed, portioned, and pressed into patties, chill them for about 10 minutes. Chilling them will help keep the inside from cooking too fast while you are getting that great sear on the outside of the slider patty. That's my favorite part!
Thinner might scare you because they can easily over cook, but that is why you only need to cook them for a couple of minutes. A shorter cook time for sure but I also want my lamb slider to cover my slider bun and not be a speck inside of all that bread.
Don't worry about them drying out, the goat cheese is there to help!
FAQ about lamb sliders:
Q: Do I need to mix any other meat in with it?
A: No you don't. Lamb is great all by itself!
Q: What if I don't want to add the goat cheese?
A: That's perfectly fine. Leave it out if you prefer.
Q: Is lamb fatty?
A: Depends on the cut. Most 1 pound packages of ground lamb is about 80-20.
Q: How long is ground lamb good for?
A: 1-2 days in the fridge or up to 3 months in the freezer.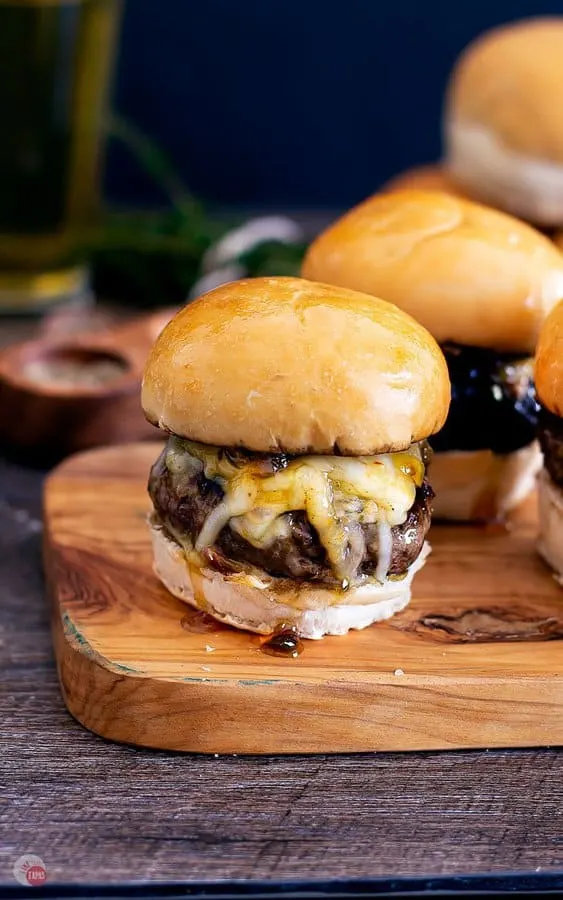 Best way to cook sliders?
If you are grilling that is great for burgers and hot dogs, but sliders are small and tend to slip through the grates on the grill.
I prefer to cook mine in a cast iron skillet on the stove, but you can also do this on the grill too. Oh the joys of using cast iron!!
Just get the pan, grill pan, griddle pan screaming hot, add a little oil to it. I use avocado oil because of the high smoke point but feel free to use canola or vegetable oil too.
Sear your lamb sliders a few at a time. Don't crowd the pan or you will drop the temperature too much and you won't get a good sear. It only takes a minute or two on either side to get a good crust and keep the inside medium to medium rare.
Everyone likes their burger a different temp so be sure to check them often. And touch them with your finger or use a thermometer. DON'T, I repeat, DON'T cut the slider open to see if it's done. All the glorious juice will run out and leave you with a dry patty.
When they are done to your liking, remove to a plate and cover with foil to keep warm. Now comes the fun stuff. I mean the spicy stuff….
For more insider tips & tricks, and a candid behind the scenes look follow me on social media! Check use out on Pinterest, Facebook, Instagram, & Twitter (yes, people still use Twitter, LOL!)
Just before serving, top with some cheese and either stick back on the grill with a minute to melt it, or I like to use my broiler. It concentrates the heat to the top of the slider and doesn't really cook the inside of the patty, thus keeping it juicy!
The cheese I chose for this Screaming Goat lamb slider is a pepper jack cheese. And not just any pepper jack cheese, but Fiery Habanero Jack Cheese from Cabot! If you thought pepper jack was hot, hold on to your pants because this cheese beats out all the others.
A sprinkle of this fiery goodness and melted over that delicious lamb slider still isn't the end of this epicness. Oh no, I keep going. With hot pepper jelly!
Yes, that hot pepper jelly you pour over a block of cream cheese and eat with crackers, or your fingers, or what ever makes you happy. That hot pepper jelly!
Just mix the jelly with a little water to thin it out and then spoon it on top of that melty, hot, spicy cheese. Then top with a bun and you are good to go!
Small, portable, juicy, meaty, cheesy, and spicy. All the qualities I enjoy most in a man. I mean burger! Burger, I mean burger…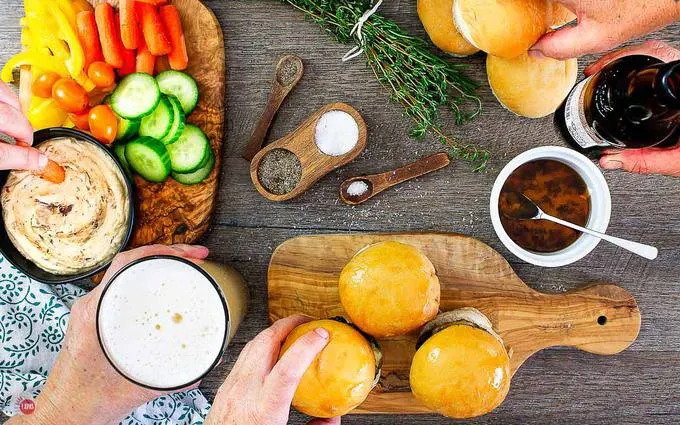 If you love this recipe as much as I do, please write a five-star review in the comment section below (or on Pinterest with the "tried it" button – you can now add pictures into reviews, too!), and be sure to help me share on facebook!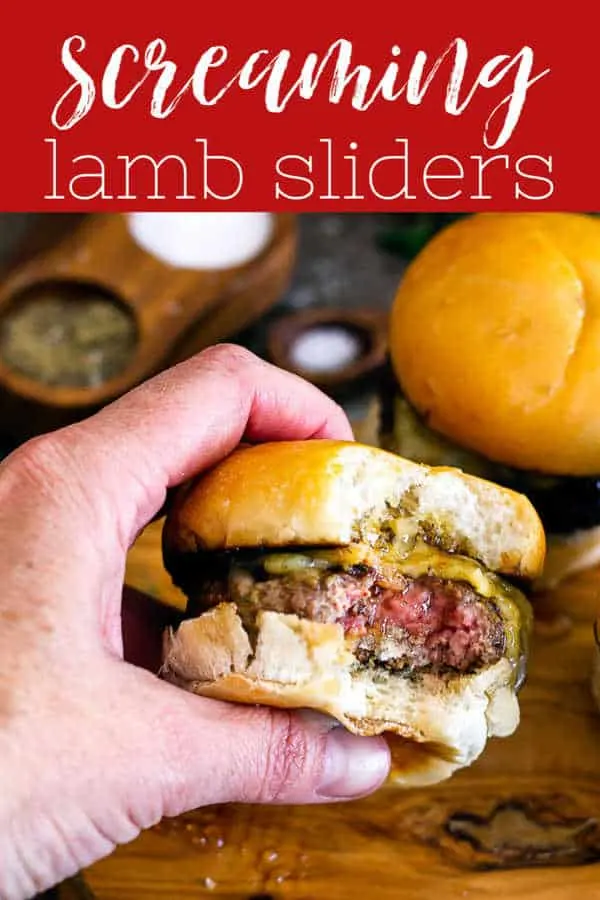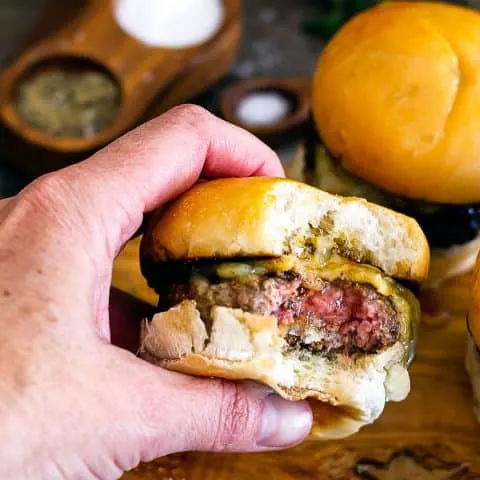 Screaming Goat Lamb Sliders
Additional Time:
10 minutes
Change up your burger routine and try lamb! These lamb sliders are easy to make, stay juicy while cooking, and will spice up your day with hot pepper jelly!
Ingredients
1 pound ground lamb
2 ounces goat cheese
1 teaspoon lemon zest
6 slider buns
1 tablespoon water
Instructions
Make the lamb slider mixture
Combine the ground lamb, goat cheese, Greek seasoning, and lemon zest.
Mix gently to combine.
Portion evenly into 6 patties.
Form into patties slightly bigger than your buns.
Chill in the fridge for 10 minutes.
Mix the hot pepper jelly
Combine the hot pepper jelly and water in a bowl.
Microwave for 15 seconds to heat up.
Stir to combine the jelly and the water.
Set aside until ready to use.
Cook the lamb sliders
Heat your skillet on high and add the oil. Also preheat your broiler if you are going to use it to melt the cheese.
Sear your lamb slider patties a few at a time for 1-2 minutes.
Flip and sear on the other side for another 2 minutes.
When done, remove to a plate and tent with foil while cooking the remaining patties.
Assemble the lamb sliders
Place your sliders on an oven safe plate or baking sheet.
Divide the shredded Fiery Jack cheese and sprinkle on top of the sliders.
Broil for 1-2 minutes or until the cheese is melted.
Remove from the broiler.
Add the sliders to the bottom slider bun.
Drizzle with hot pepper jelly.
Cover with the top slider bun.
ENJOY!
Notes
If you like this recipe, please leave me a comment, rate it with some stars, and share a picture with me on social media with #taketwotapas!
Nutrition Information:
Yield:

6
Serving Size:

1 slider
Amount Per Serving:
Calories:

406
Total Fat:

23g
Saturated Fat:

10g
Trans Fat:

0g
Unsaturated Fat:

11g
Cholesterol:

87mg
Sodium:

1068mg
Carbohydrates:

23g
Fiber:

2g
Sugar:

10g
Protein:

26g
This nutrition information was generated via a third party, Nutritionix, and can not be held liable for any discrepancies in the information provided.
TakeTwoTapas.com. Content and photographs are copyright protected. Sharing of this recipe is both encouraged and appreciated. Copying and/or pasting full recipes to any social media is strictly prohibited.