These 5 tips will help you assemble the perfect sangria for you and your guests! I have also included a new recipe for an easy Apple Sangria that you are going to love!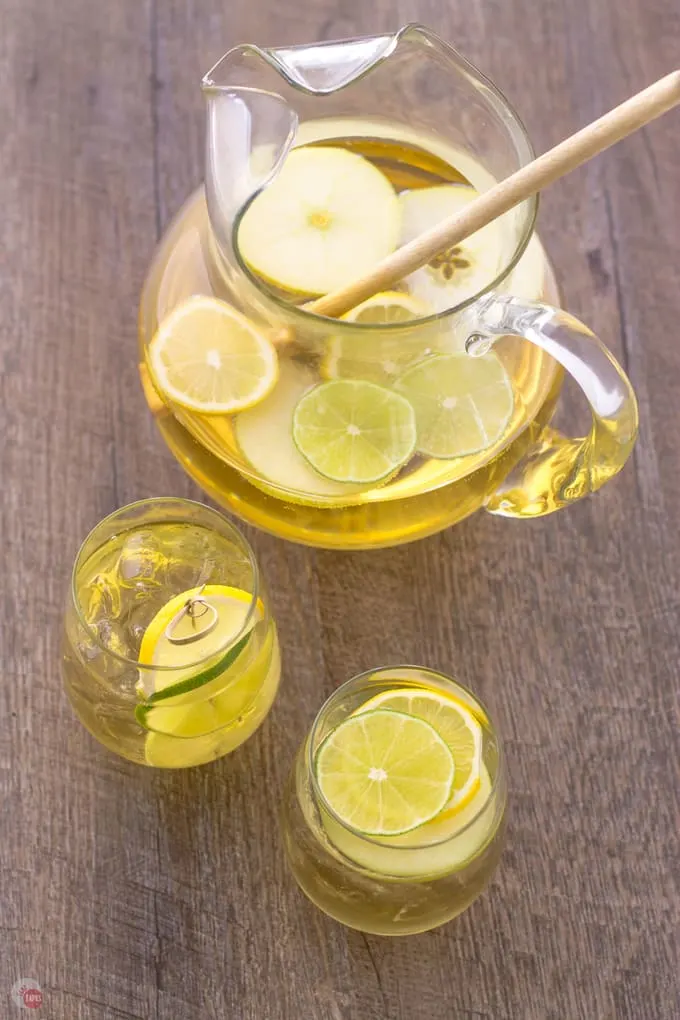 Simple Summer Sangria
Finding a recipe for the perfect sangria is easier than you think. Pinterest is loaded with them, including my own 3 Ingredient Summer Sangria, but making your own recipe is easier and you can tailor it to your specific needs.
You and you alone know what flavors you like, what your guests are fond of drinking, and their fruit and flavor preferences.
When you break it down to its core, sangria is just 3 ingredients. Wine, Brandy, and an additional mixer.
Pretty easy right? I think that is what inspired me to start my 3 Ingredient Cocktail series.
You might be thinking that limiting yourself to 3 ingredients doesn't allow for a lot of variations and combinations but it actually frees to you do so!
You can find the perfect combinations that suit you and because they are not bogged down with superfluous additives, the three ingredients really shine.
This post may contain affiliate links. As an Amazon Associate, I earn from qualifying purchases. Read my disclosure policy here.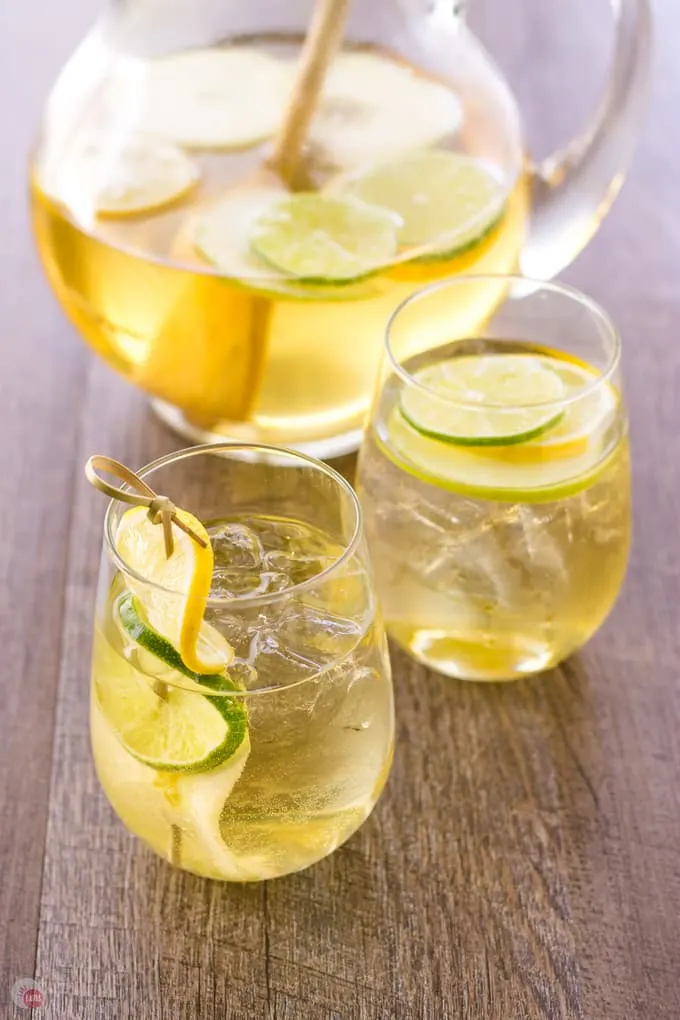 What's the best wine for sangria?
This advice is the same for the wine that you are cooking with. I buy inexpensive wine to cook with but I always buy wine that I like to drink by itself too.
Mostly because I take a nip or two as I am using it in the recipe 😉 When looking for wine, get what you like to drink.
Whites, reds, and sparkling variations all make great sangria bases. Pick something in your price range and budget but don't go stupid cheap when buying the wine as you will get a hangover.
You also don't need a 100$ bottle to make it good.
Buying larger bottles at wholesale clubs are a great option. I have a Kirkland brand (Costco) Pinot Grigio that has crisp apple overtones and makes a light summer drink.
Other grocery store brands I like are Barefoot, Beringer, and Black Box. Estancia is a little pricey for my taste when making sangria but you go with what makes you happy.
For more insider tips & tricks, and a candid behind the scenes look follow me on social media! Check use out on Pinterest, Facebook, Instagram, & Twitter (yes, people still use Twitter, LOL!)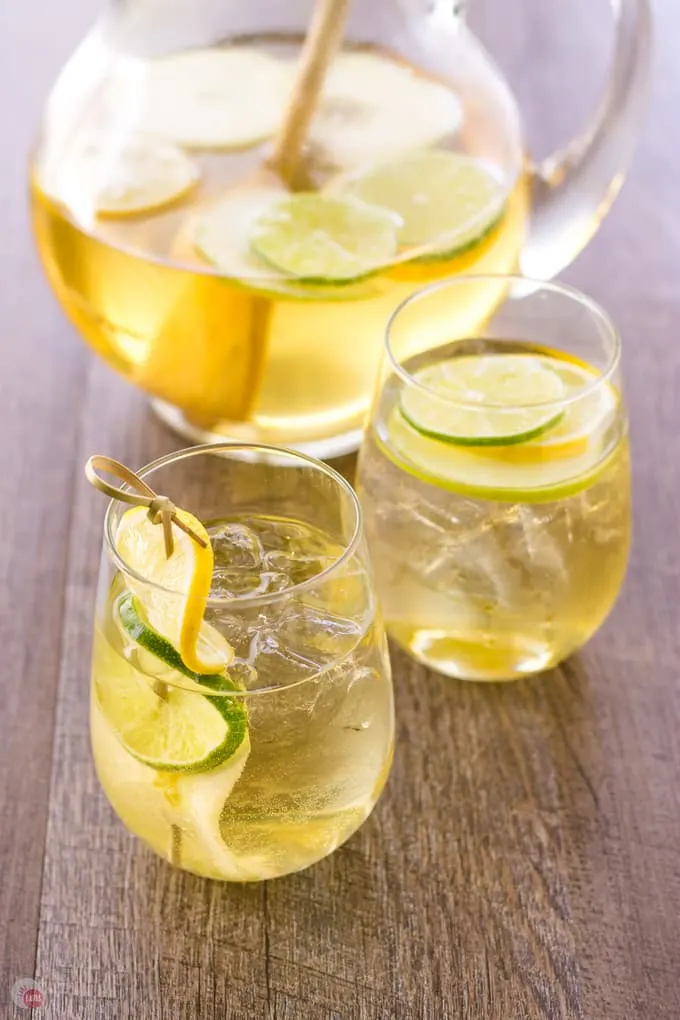 What fruit do you add?
Everyone tastes flavors differently and the ones in the notes sections might not be the most flavor-forward on your tongue but it will give you guidelines and a place to start.
This wine book is a handy tool to have on hand.
I tend to stick to lighter fruit or citrus for summer sangrias and the full-bodied reds with rich fruits for fall and winter sangrias.
But since it is your sangria, if you are feeling a light citrus wine in the middle of December, you should go for it! It might help with all that rich food you are eating during the holidays.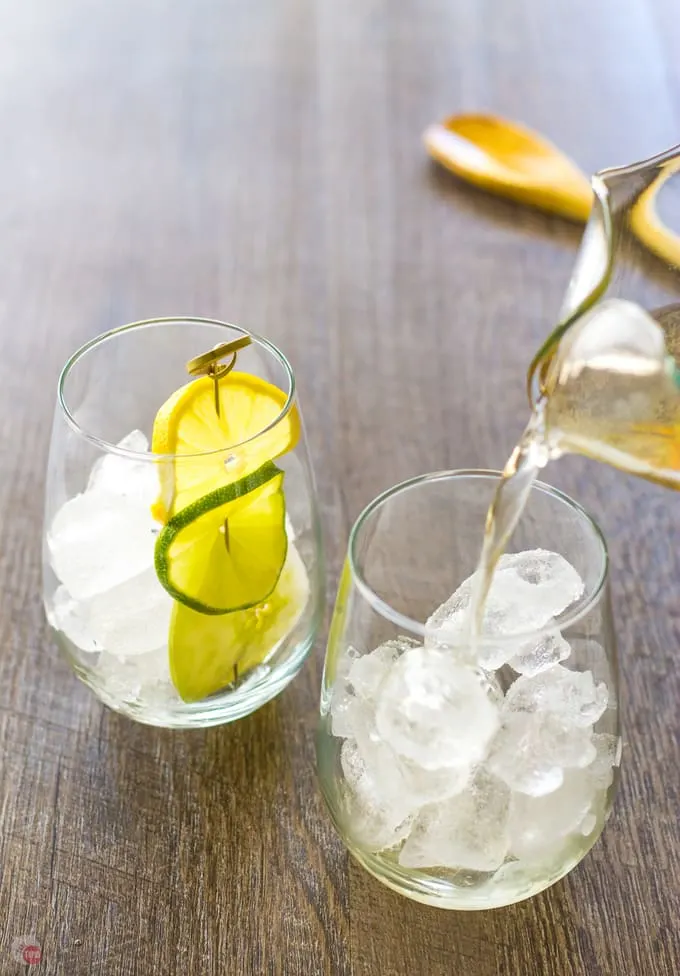 Seasonal Fruit for Sangria
Check out a seasonal fruit chart to see what's in season or you can just head out to your local farmers market and see what's fresh. Don't be afraid to mix two or three fruits to accentuate the flavors.
Pineapple and watermelon a great pair for summer!
Apple is great on its own but if the wine has tropical fruit notes as well you can add pineapple and mango.
If your choice of wine has citrus fruit notes like lemon, you can elevate it with orange and lime.
The red berry fruit notes in wine lend themselves to adding blueberries, blackberries, and even cranberries.
Cherry notes in wine are tasty and adding fresh cherries along with plums make a great combo. Strawberries are great but I personally see them as a summer fruit so I tend to add them to the citrus flavors.
For more insider tips & tricks, and a candid behind the scenes look follow me on social media! Check use out on Pinterest, Facebook, Instagram, & Twitter (yes, people still use Twitter, LOL!)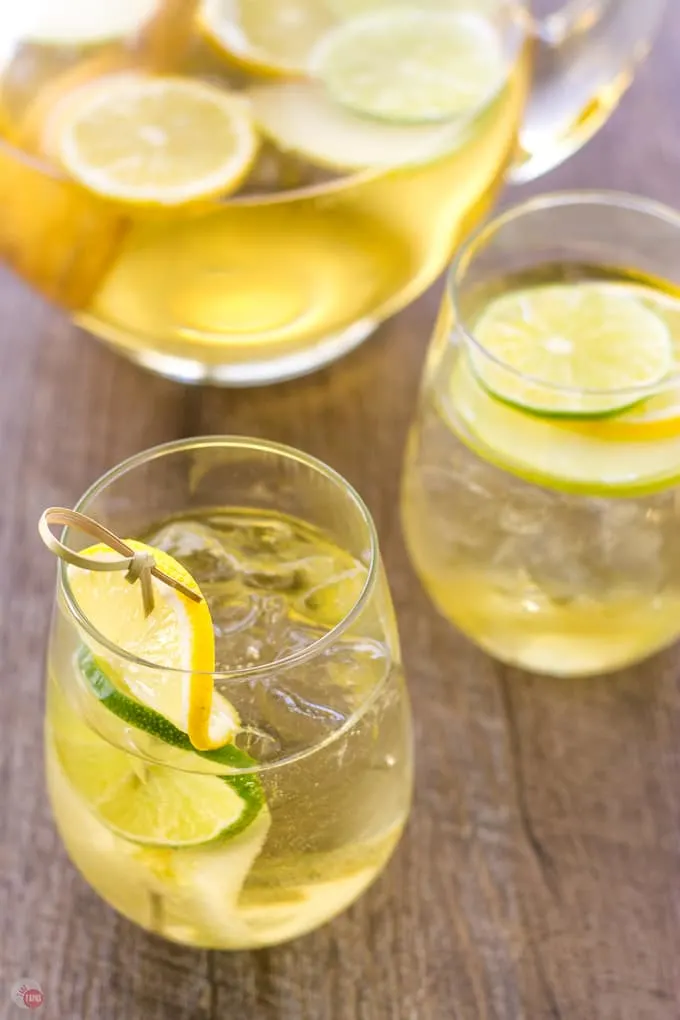 What spirit do you add to the wine?
Sangria calls for wine, brandy (or other spirits like vodka), juice or other mixers, and fresh fruit. Don't be afraid to vary your liquors.
Brandy is all fine and dandy, but if you are feeling a little orangy try some Grand Marnier.
If you have citrus notes you can add a citrus flavored vodka or rum. I personally have never tried tequila in my sangria but I am open to new things.
There are tons of other liquors and mixers out there such as St. Germain Elderflower Liqueur or even Bourbon if you are going a little on the bold side.
Play around with the combinations and see what tickles your taste buds.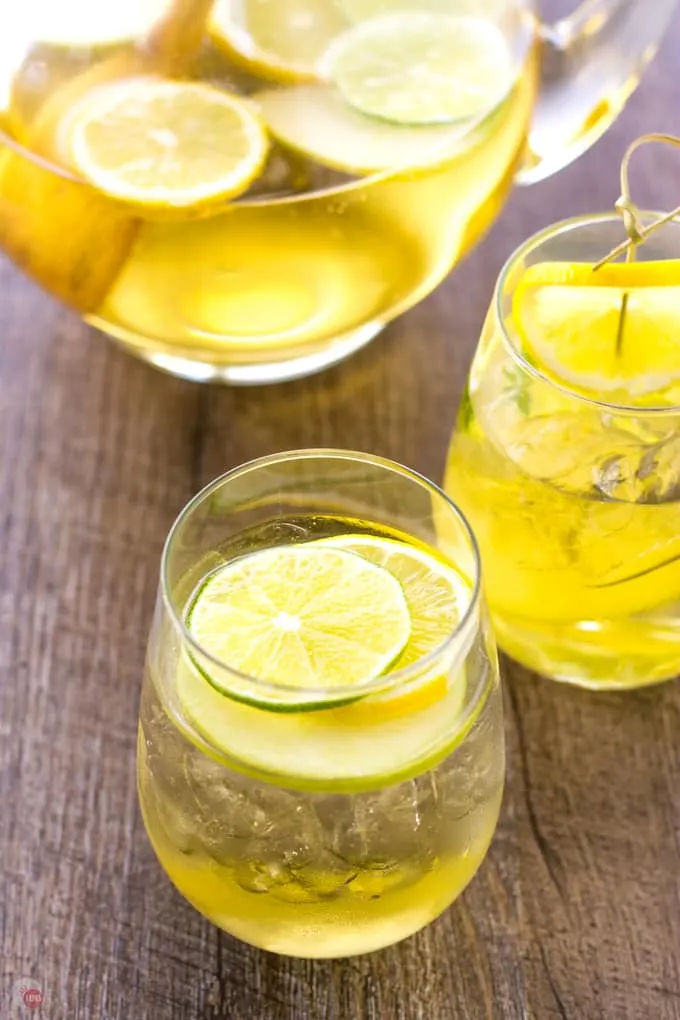 Best Mixer for Sangria
You can stick to the basics in this category. A simple lemon-lime soda or ginger ale can round out all the flavors in your sangria. It can also bring down the alcohol content of your sangria if you are wanting to keep it light.
Fruit juice is a great choice and it can add some sweetness to the mix without having to add straight sugar. Having a little sweetness can balance out the perfect sangria and you can achieve this with juice, ades, and/or fresh fruit.
Tapas Tips & Tricks
Don't underestimate the addition of something bubbly. Sparkling water, soda, champagne, prosecco, or even seltzer can elevate your sangria to the next level.
The bubbles aerate the wine and liqueurs to release more aromas when you sip it. Lemon-lime soda is an all-time stand in like a designated hitter for cocktails.
If you are using a strong wine and bold juices or liquors, stick with a sparkling soda, seltzer, or even sparkling water. They will add a nice balance to the sangria!
Don't Forget the Garnish
Finishing the sangria is a must. Garnishing your perfect sangria with fresh fruit slices is a great way to let people know the flavor profile of the sangria before they drink it.
Fresh herbs like mint and thyme work well for summer sangrias but don't be afraid to use spices like cinnamon and cloves. They are a great option for a winter sangria!
Freeze juice in ice cube trays to use in the sangria. This will keep you sangria from becoming diluted.
If you don't want to use juice you can freeze your fruit and then add it to the sangria. It also makes a great presentation.
Now that you have tips on making your perfect sangria, here is a recipe for one that I am enjoying this summer. A simple Apple Sangria with Lemon-lime soda, an apple/white grape juice mix, and a light Pinot Grigio with apple notes.
The color of the juice gives the sangria a "sunshine" color that is perfect for summertime. The lemon, lime, and apple slices make beautiful garnishes too!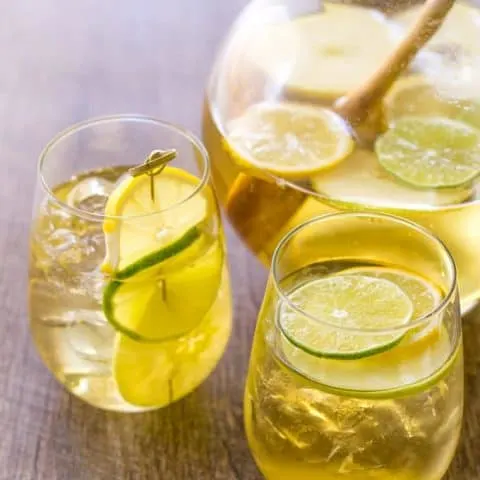 Summer Apple Sangria
These 5 tips will have you preparing the perfect sangria this summer. This light and refreshing apple sangria is perfect for sipping poolside, lunching with friends, or sitting by the fire on a summer night.
Ingredients
750 ml Pinot Grigio (I used Kirkland Brand with green apple notes)
3 cups White Grape and Apple Juice
3 cups Lemon-Lime Soda
1 Granny Smith Apple (sliced)
1 Lemon (sliced thin)
1 Lime (sliced thin)
Instructions
Combine all ingredients in a large pitcher.
Enjoy poolside!
Notes
*If you like this recipe, please leave me a comment and rate it with some stars. Thank you!
Nutrition Information:
Yield:

10
Serving Size:

1
Amount Per Serving:
Calories:

137
Total Fat:

0g
Saturated Fat:

0g
Trans Fat:

0g
Unsaturated Fat:

0g
Cholesterol:

0mg
Sodium:

13mg
Carbohydrates:

23g
Fiber:

1g
Sugar:

19g
Protein:

1g
This nutrition information was generated via a third party, Nutritionix, and can not be held liable for any discrepancies in the information provided.
More Party Drinks
TakeTwoTapas.com. Content and photographs are copyright protected. Sharing of this recipe is both encouraged and appreciated. Copying and/or pasting full recipes to any social media is strictly prohibited.