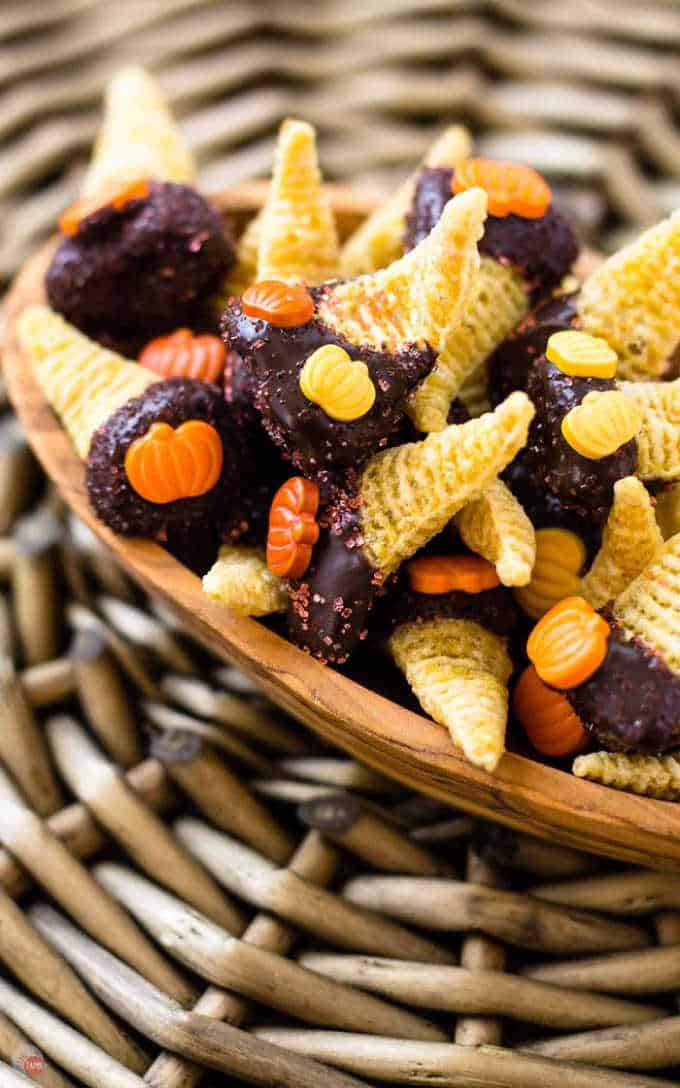 My Dark Chocolate Dulce de Leche Bugles are perfect for your holiday treat list! Caramel, chocolate, and salty bugles are not only a delicious snack but they also look like mini cornucopias which are perfect for your Thanksgiving table.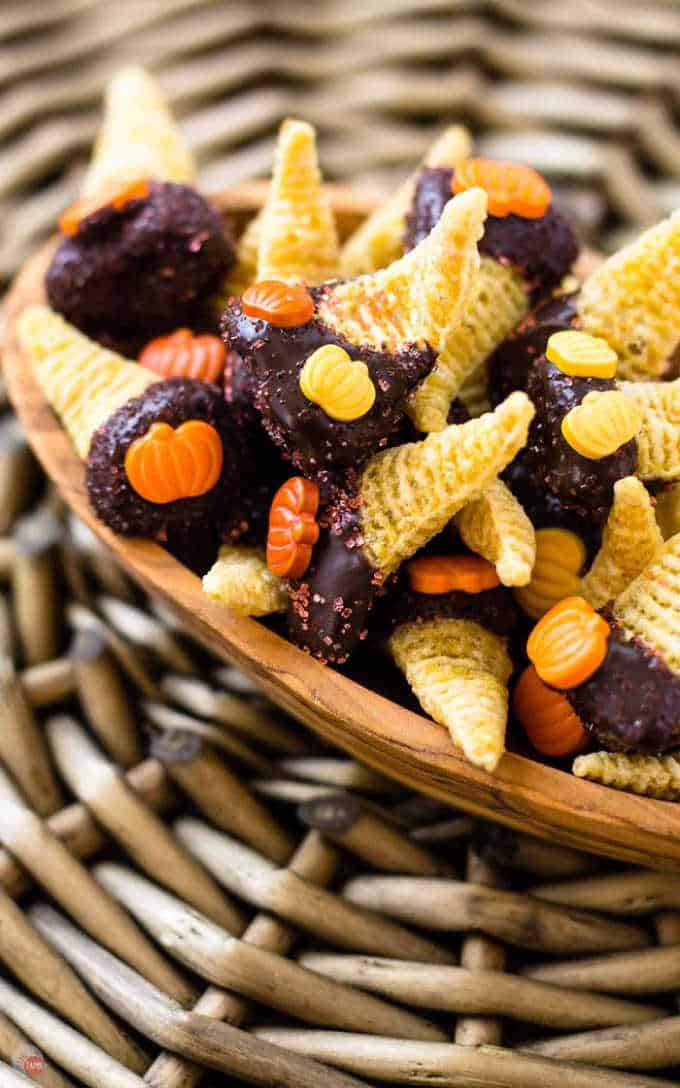 Dulce de Leche Bugles
I haven't stepped foot in a craft store in almost a year. I had to quit cold turkey because I was spending too much time and money in them and I didn't have room to keep storing all the crafty things I was going to get around to doing. Plus, we recently moved and the purge that happened beforehand helped me to realize I had a problem. One that has resurfaced since I walked into the Michaels two weeks ago.
These Dulce de Leche Bugles are my attempt at proving that the craft store visit was for an ACTUAL RECIPE and not one I was dreaming of making in the future.
While in the store I got roped into the planner section. I know, BIG mistake.
I love planners but they have to be able to break down the week into individual days with enough room to actually write appointments down and the days have to be broken down into 30-minute or 1-hour blocks.
If I am to stay on top of my plans and not get distracted when I need to have it all laid out for me. The "scrapbook" type of planners never appealed to me until now. I found one that was on sale (BONUS) and I bought all the cute little stickers that say "appointment" and "workout" on them to make it even more fun.
While I was at the craft store I bought these pretty pumpkin sprinkles which are the whole reason I went in the first place. Oh, and I found these gold leaf tags too.
No reason to have them or anything I am actually going to use them on but way too cute to pass up. That's why you see them under the Dulce de Leche Bugles. Justification of purchase! All bloggers need props:)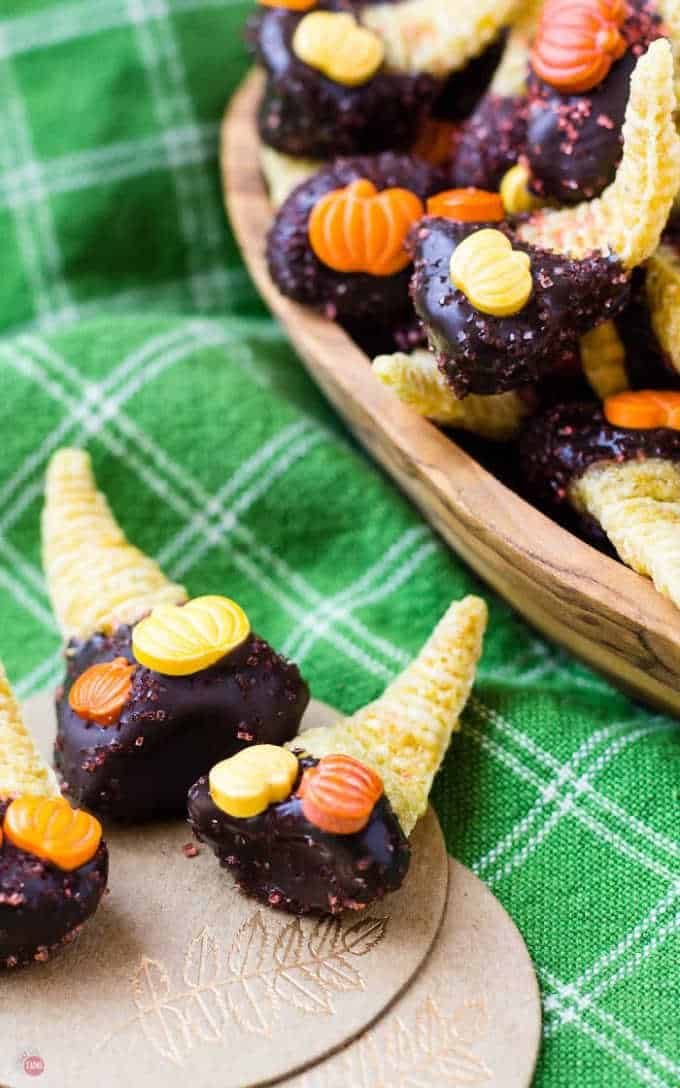 If you'd rather skip my (very helpful, I think) tips and tricks, essential cooking info, and similar recipe ideas – and get straight to this delicious recipe – simply scroll to the bottom of the page where you can find the printable recipe card.
What are Bugles?
Now back to the recipe. Have you ever had Bugles? Bugles are a funky corn chip of sorts that is slightly salty but pretty basic. I hadn't had them in a really long time but when I was younger I used to put them on my fingertips like olives and then eat them.
The opening of the Bugles always begs for me to put something in it that is edible and not just my fingers. I immediately think of caramel when stuffing foods. Most normal humans think of peanut butter but if you read my Bourbon Buckeye Post you will know why peanut butter is low down on my list.
Caramel can be tough to make and work with so I usually grab some Dulce de Leche instead. I love Dulce de Leche so much that I used it in making some truffles last year. My Dulce de Leche Fireball Truffles are a huge hit and perfect for any upcoming holiday parties you might be attending.
This post may contain affiliate links. As an Amazon Associate, I earn from qualifying purchases. Read my disclosure policy here.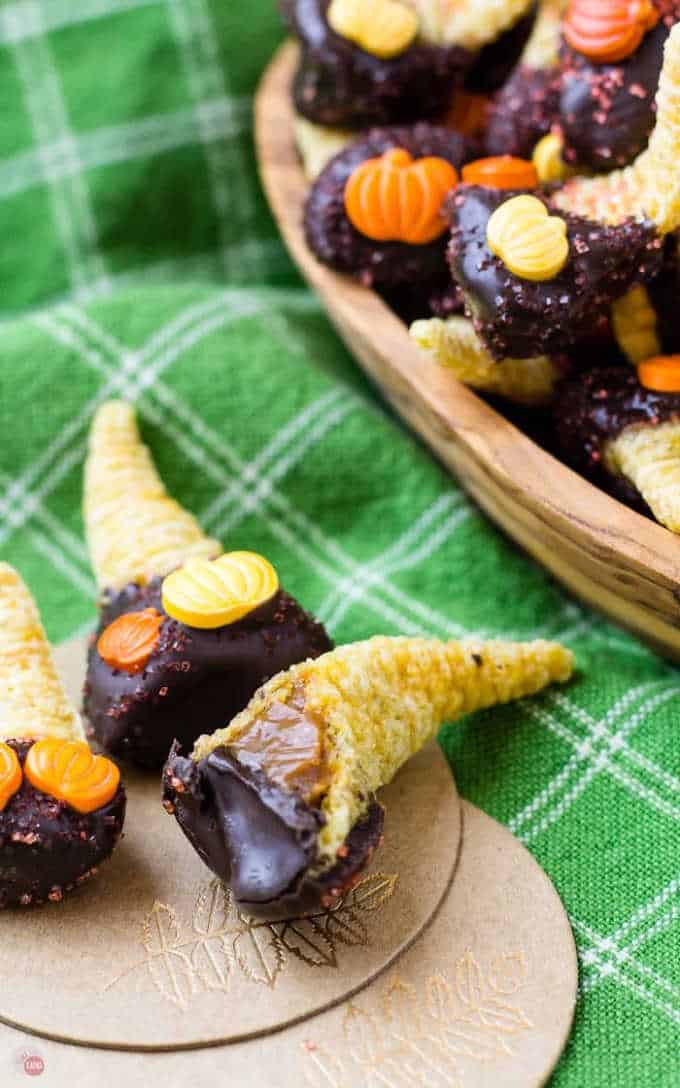 Bugles Flavors
Bugles come in a variety of flavors like caramel, peanut butter, spicy nacho, chili cheese, and original. The caramel bugles are great by themselves, but a stuffed bugle is better than an empty one. Crunchy, corny, salty, sweet, and the perfect size for popping them in your mouth!
Bugles stuffed with peanut butter are often called stuffed horns and happen to be my husband's favorite. I'm more of a salted caramel person, so naturally, I wanted to fill my Bugles with dulce de leche instead.
You can make your own Dulce de Leche by boiling an unopened can of sweetened condensed milk for 4 hours or cooking the unopened can in a crockpot of water overnight. I show you how in my Caramel Shortbread Cookie Sandwiches post. Imagine my delight when I found a can of chocolate condensed milk and made it into chocolate dulce de leche!!!
Of course, you can always buy some already made but I would not use caramel sauce as it is too runny and won't stay in the Bugles until you dip them.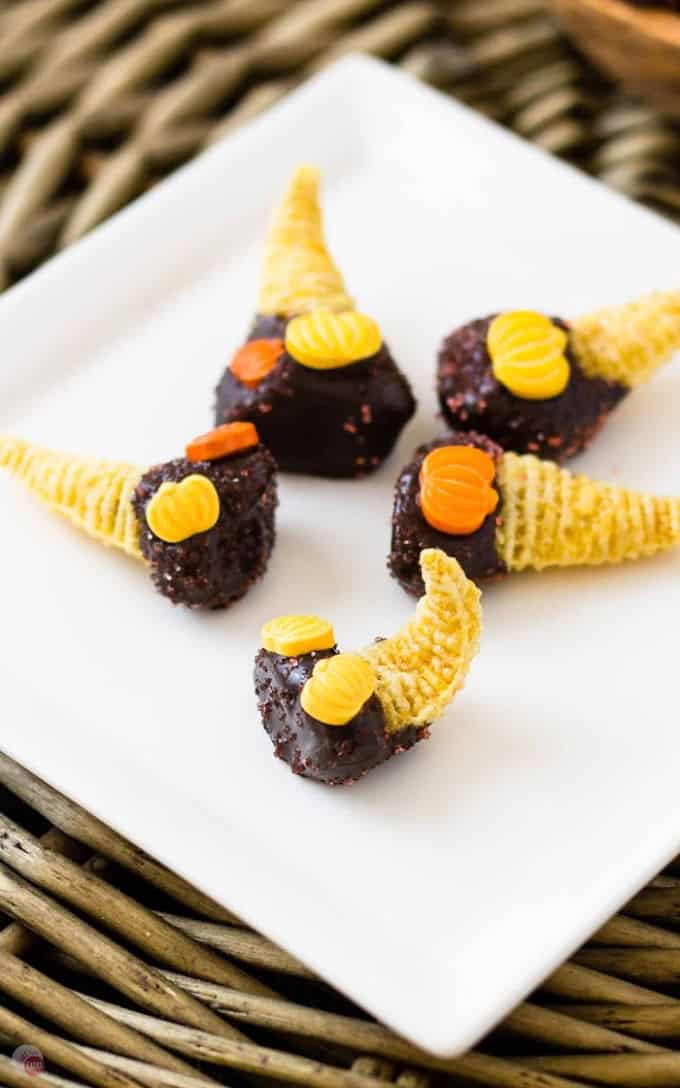 Sign up to early access to recipes, tips & tricks, and behind the scenes info in our newsletter! It's FREE and we promise not to SPAM you. Click here to join us!
FAQs about Dulce de Leche Bugles
Q: What are bugles made from?
A: They are made from cornmeal and not wheat but might still contain some wheat.
Q: Are bugles gluten-free?
A: Wheat is listed as an allergen on the product label so I would say no they are not.
Q: Did you know Bugles were the first cone-shaped snack?
A: I didn't but I do now. And I love to put them on my fingers.
Q: Can I buy the dulce de leche already made?
A: Yes, I love doing this! Also, using the crockpot trick to make your own is great too!
Bugles Recipes
Once you have your Dulce de Leche ready, stuff your Bugles with it. I use a frosting bag without a metal tip but you can also use a plastic zip-top bag or a cone made from parchment paper. Having the Dulce de Leche in a frosting bag allows you to warm it up to make it easier to pipe.
Once you get all the Bugles stuffed just dip the ends in melted chocolate. Dark chocolate is my preferred dipping chocolate because I love the bitterness with the extra sweetness of the Dulce de Leche but feel free to use white or milk chocolate. These are your Dulce de Leche Bugles.
The creamy caramel dulce de leche, paired with crunchy and salty Bugles, and dipped in bittersweet chocolate are totally addicting! These caramel stuffed Bugles are perfect for snacking on alone or added to a Bugles Snack Mix.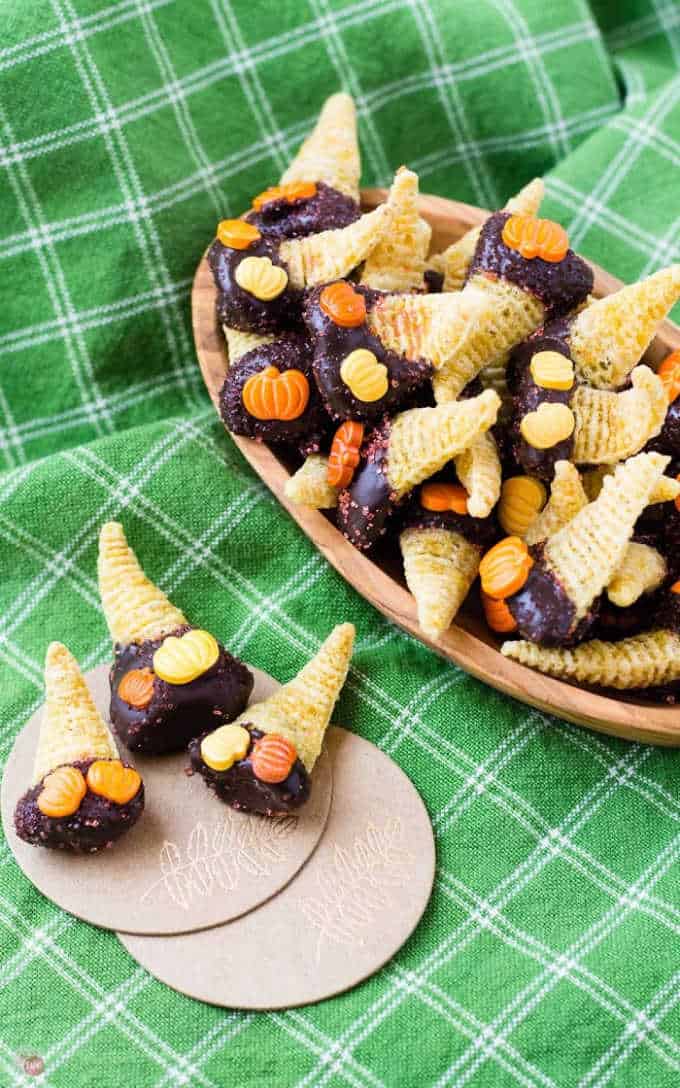 Dip your Dulce de Leche Bugles and set on a baking sheet lined with parchment or a silicone mat. Sprinkle with your decorations while the chocolate is still melty and then let them set up. Or eat a few for "quality control" purposes. Chilling them in the fridge will set the chocolate faster if you are in a time crunch.
What a fun craft/treat to make with the kids! If you are busy cooking the entire Thanksgiving meal, you can keep them busy and out of your hair.
For more insider tips & tricks, and a candid behind the scenes look follow me on social media! Check use out on Pinterest, Facebook, Instagram, & Twitter (yes, people still use Twitter, LOL!)
Other Thanksgiving Snack Mix recipes to try!
If you love this recipe as much as I do, please write a five-star review in the comment section below (or on Pinterest with the "tried it" button – you can now add pictures into reviews, too!), and be sure to help me share on facebook!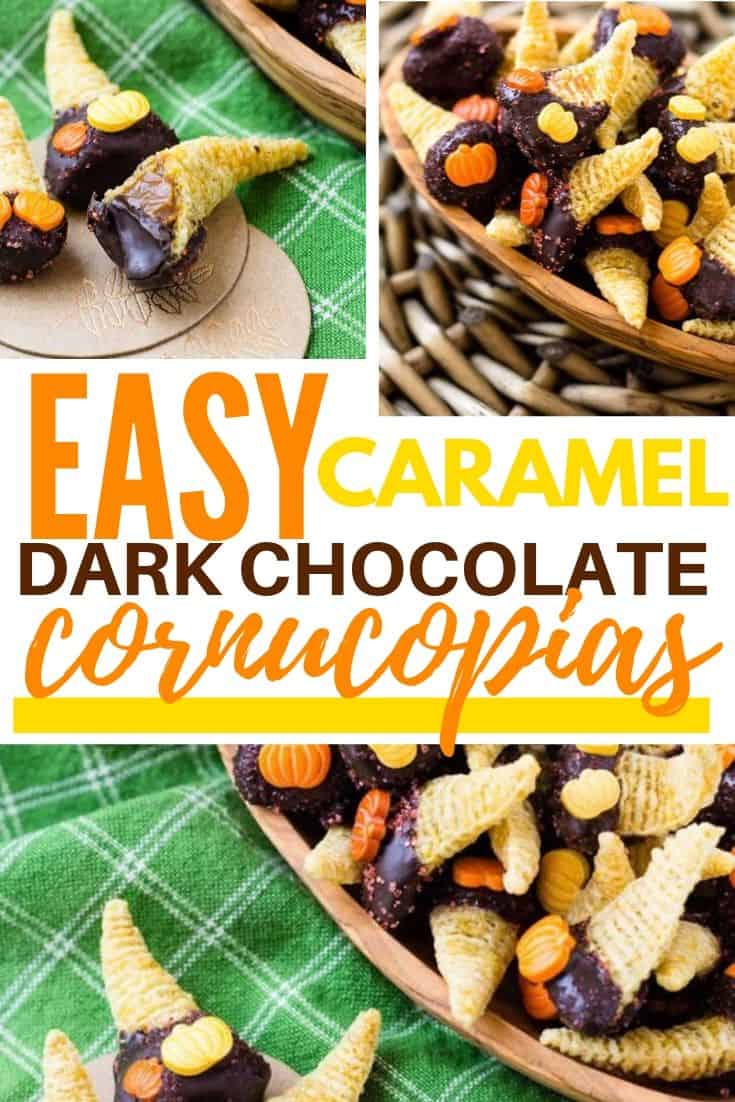 Easy Dulce de Leche Bugles Recipe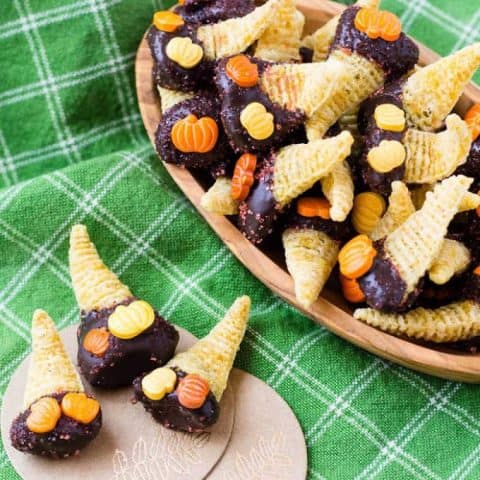 Chocolate Dipped Dulce de Leche Bugles - Mini Cornucopias
My Dark Chocolate Dulce de Leche Bugles are perfect for your holiday treat list! Caramel, chocolate, and salty Bugles look like mini cornucopias!
Instructions
Stuff the Bugles
Prepare a baking sheet with parchment paper or a silicone baking mat.
Lay your Bugles out in a single layer with plenty of space around them.*
Fill the Bugles with the dulce de leche using piping bags, Ziploc bags, or a tiny spoon, and place on the baking sheet.
Dip your stuffed Bugles in chocolate to seal
While you are filling your Bugles, melt your dark chocolate.*
Once your Bugles are stuffed and the chocolate is melted, dip your Bugles into the chocolate to seal in the dulce de leche.
Let cool for a few minutes and then add your sprinkles or pumpkin candies.*
If you want you can put the baking sheet with all the dipped Bugles in the fridge to speed up the setting time.
When all the chocolate is set, store in an airtight bag or container for a few days.*
Notes
*You want the Bugles that are wide open on the end so you can stuff more dulce de leche in them. You might only find about half the Bugles in the bag are open. Save the other ones for eating plain or chop them up into breadcrumbs.
*I placed my dulce de leche in a frosting piping bag, twisted the end up, and then put the bag in a glass of hot water. A crockpot works great for this and keeps it from burning. If you microwave it use half power so you don't burn it.
*I melted my chocolate in a plastic food storage container in a crockpot with a little water set on low.
*The pumpkin sprinkles are fun but feel free to use any fall-related candies or just fall-colored sprinkles.
*After a few days, the dulce de leche tends to make the Bugles a little soggy after a few days so you might want to make them closer to the time you are planning on serving them.
*If you like this recipe, please leave me a comment and rate it with some stars. Thank you!
Nutrition Information:
Yield:

20
Serving Size:

1
Amount Per Serving:
Calories:

58
Total Fat:

3g
Saturated Fat:

2g
Trans Fat:

0g
Unsaturated Fat:

0g
Cholesterol:

0mg
Sodium:

102mg
Carbohydrates:

8g
Fiber:

0g
Sugar:

0g
Protein:

1g
This nutrition information was generated via a third party, Nutritionix, and can not be held liable for any discrepancies in the information provided.
@TakeTwoTapas.com. Content and photographs are copyright protected. Sharing of this recipe is both encouraged and appreciated. Copying and/or pasting full recipes to any social media is strictly prohibited.