Pickled Brussels Sprouts are just what you need to jazz up your relish tray or cheese board! These perfect crisp-tender sprouts will have you coming back for more.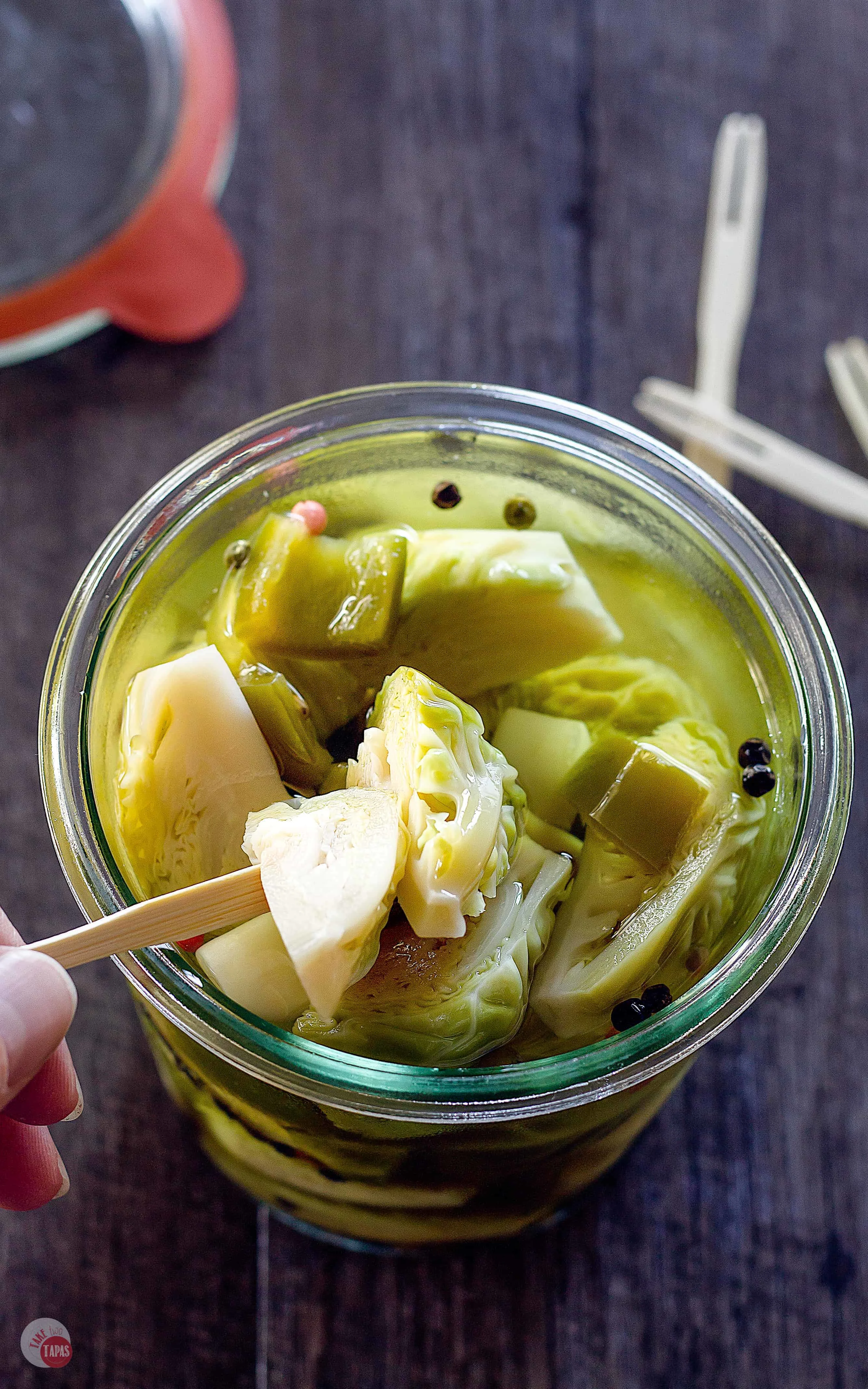 BRUSSELS SPROUTS PICKLES
Let's start with the important stuff first. Are they Brussel Sprouts or Brussels Sprouts?
Because the most popular vegetable at Christmas time is often misspelled, I think it's time we get that part out of the way so we can get to the good stuff. The Pickled Brussels Sprouts.
Brussels Sprouts are named after the capital city of Brussels so for that reason alone, the word Brussels should be capitalized.
Also, Brussels sprouts are spelled E-L, not L-E. Not that common a misspell but it does happen.
Lucky for us it doesn't really matter how you spell them, you can always just call these tasty mini cabbage looking buds "sprouts."
If you have not had Brussels sprouts before because you don't like cabbage or other potent smelling foods, then you are in for a treat. Be prepared to fall in love with Pickled Brussels Sprouts!
This post may contain affiliate links. As an Amazon Associate, I earn from qualifying purchases. Read my disclosure policy here.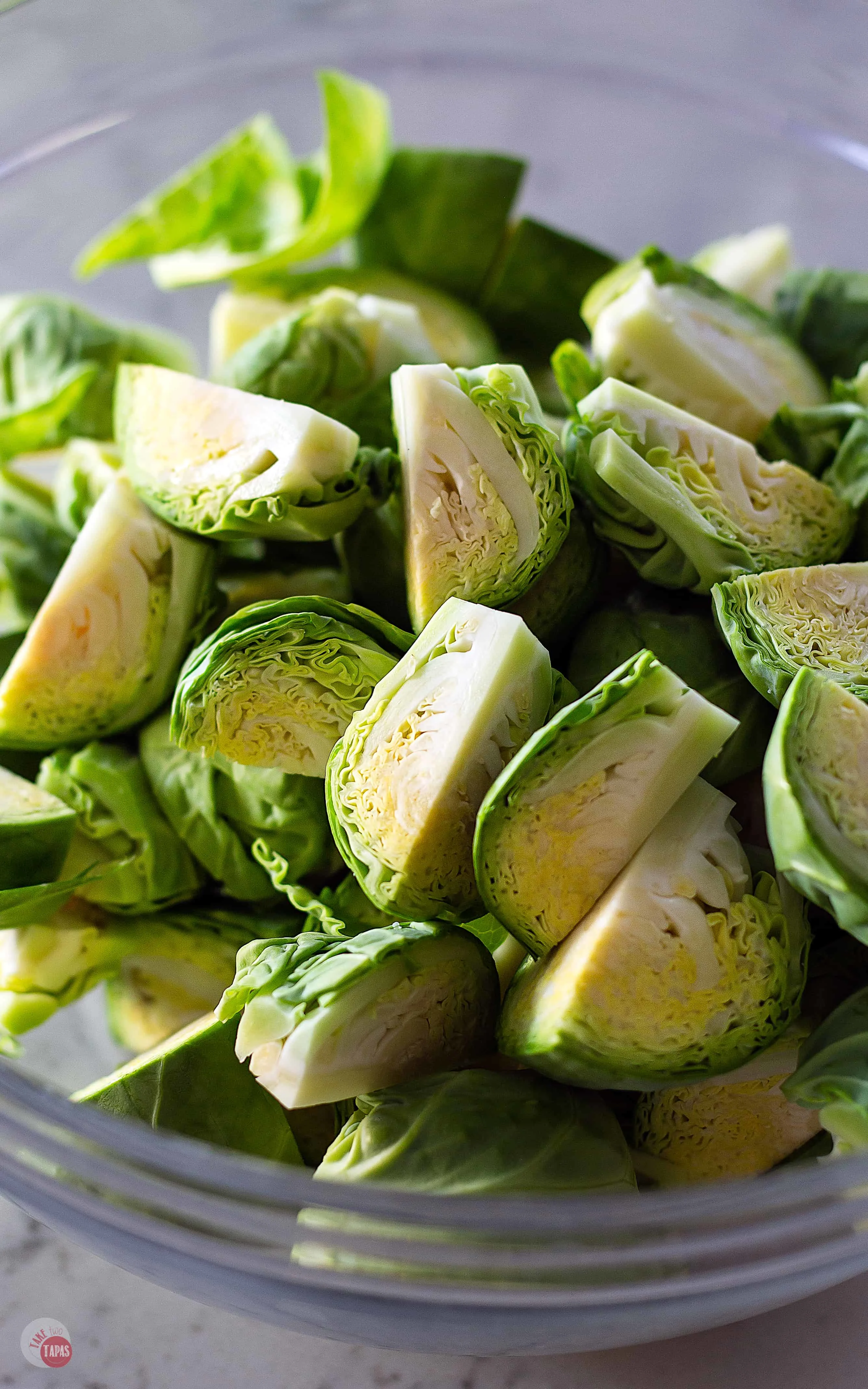 BOILED BRUSSEL SPROUTS
When we talk about ways to prepare vegetables, especially Brussels sprouts, there is no RIGHT way to cook them.
I love my sprouts roasted with olive oil, salt, and a spritz of lemon juice to finish them.
But when I did this for people at the church I was promptly told that the RIGHT way to cook Brussels sprouts was to boil them in water and a few tablespoons of sugar add to it.
Excuse me? Sugar? Nope! Don't think so!!
Roasted, deep fried, grilled, steamed, shaved raw, and sauteed are all excellent ways to cook sprouts. Boiling them isn't wrong per se, I just prefer my food not to be mushy and all the nutrients sucked out and floating in water that I will then dump down the sink.
All this aside, I recently had some Brussels sprouts pickles on a cheese board and instantly bumped pickled to the top of the list of ways to eat sprouts. After you try these tangy and crisp-tender Brussels sprouts, you will too!
For more insider tips & tricks, and a candid behind the scenes look follow me on social media! Check use out on Pinterest, Facebook, Instagram, & Twitter (yes, people still use Twitter, LOL!)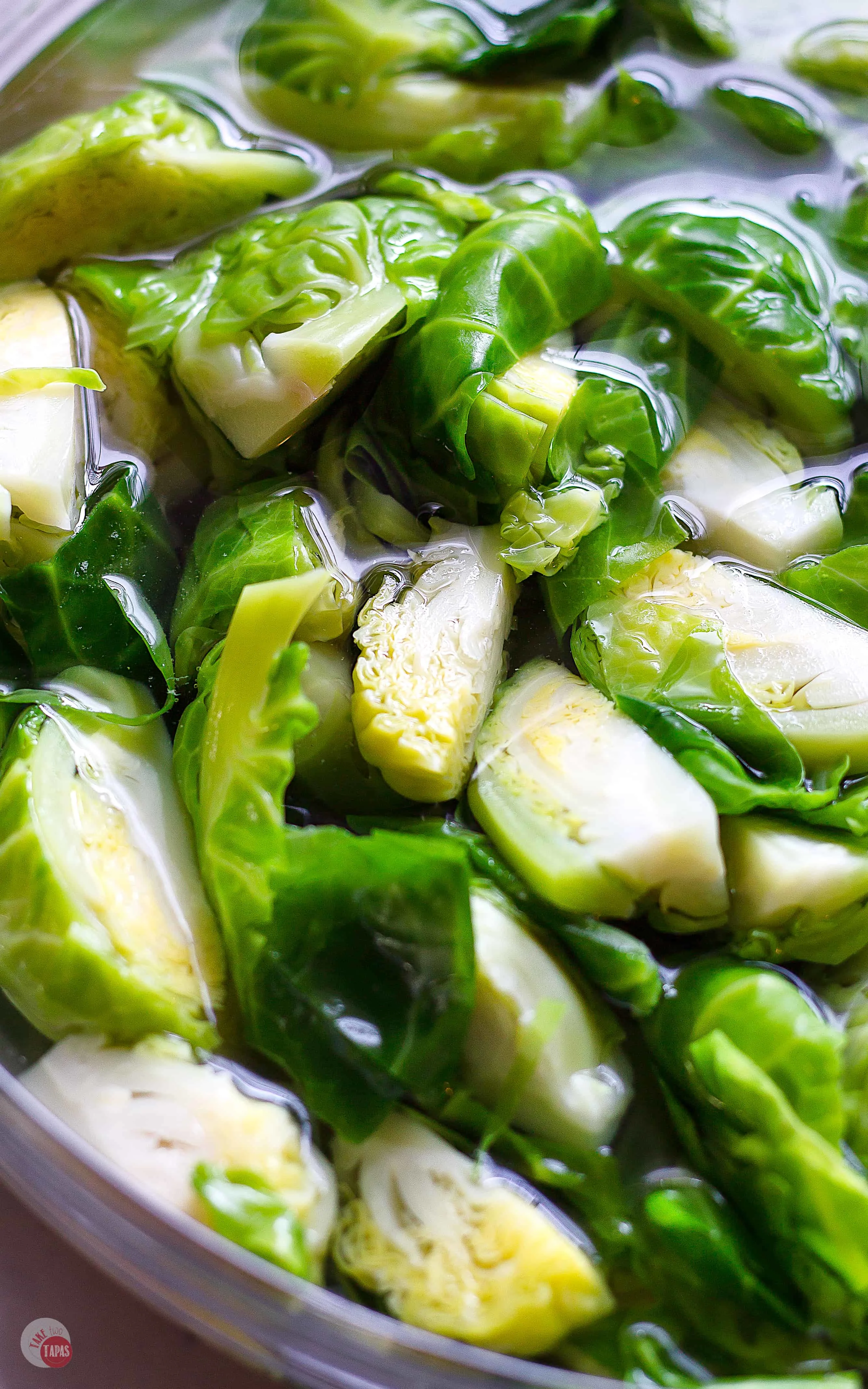 HOW DO YOU TRIM BRUSSELS SPROUTS?
Before we can actually get to the pickling part of the Brussels sprouts pickle recipe, we need to talk about prepping the sprouts.
DO YOU NEED TO WASH BRUSSELS SPROUTS BEFORE COOKING THEM?
I give mine a quick rinse and peel away any yucky looking or damaged leaves on the outside. The inside is packed pretty tight so I rarely see dirt inside them.
DO I NEED TO TRIM THE BRUSSELS SPROUTS AND IF SO, HOW DO I DO THIS?
I trim about a 1/4 inch off the bottom of the core or spot where the sprout was attached to the stalk. If the sprout is large (more than 1/2 inch in diameter) I will cut mine in halves or quarters, depending on the size.
If the sprout is too large, it won't cook evenly and will be too big to eat in one bite.
DO I NEED TO REMOVE THE CORE OF THE SPROUT?
No you shouldn't do this. The core is tender enough to eat and if you remove it, all the leaves will fall apart.
DO I NEED TO STEAM OR BOIL THE SPROUTS BEFORE PICKLING?
Some say no, but I have made this recipe a few times, once without partially cooking them first, and they were very hard to eat.
I found that par-boiling them for 5 minutes got them tender in the inside, allowed them to absorb the pickling liquid better, and helped them retain their bright green color longer.
Now that your Brussels sprouts are ready to get pickled, let's start the process.
The whole point of refrigerator or "quick" pickles is that you don't need all the fancy canning equipment and it doesn't take a lot of time.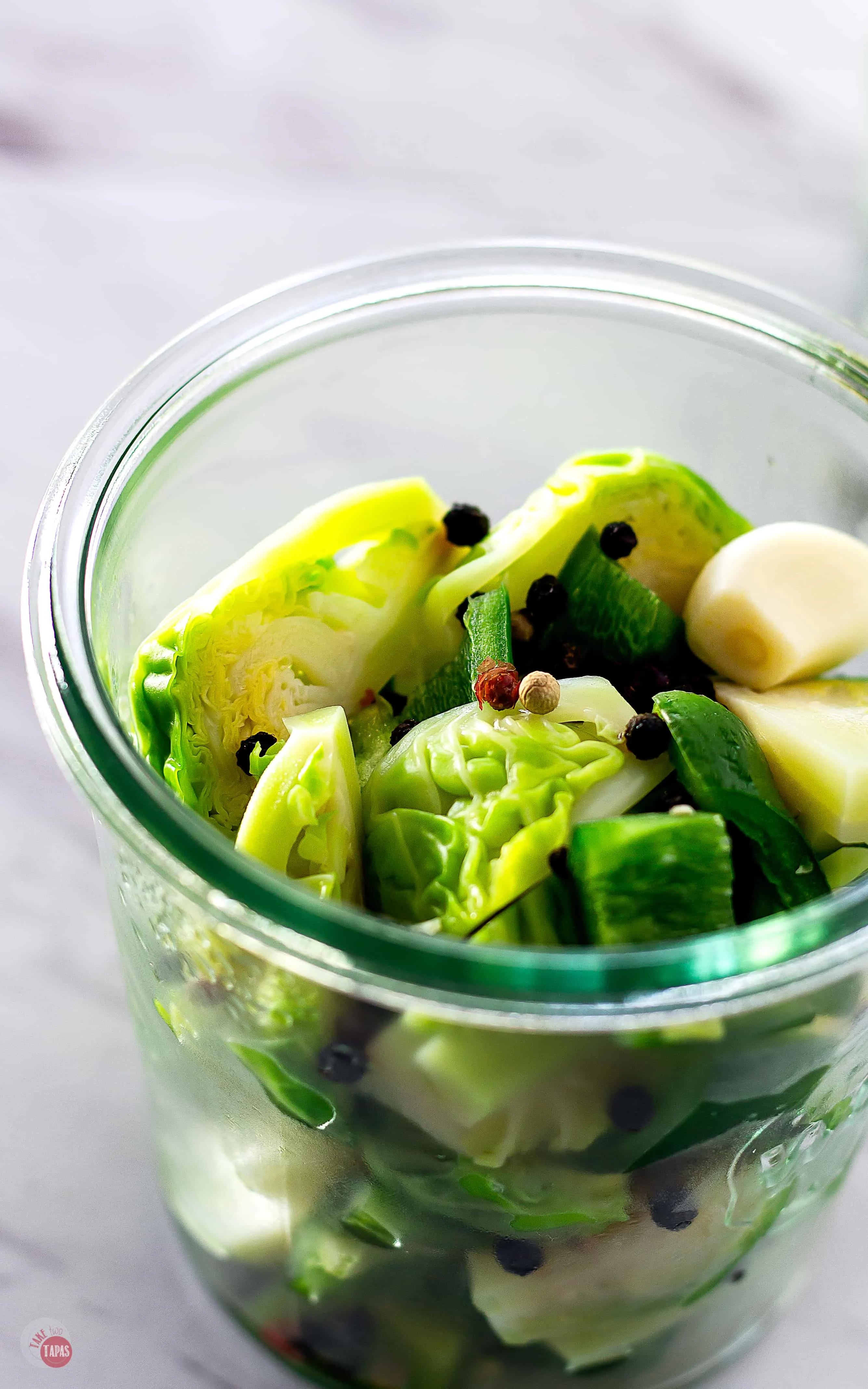 HOW TO MAKE PICKLED BRUSSELS SPROUTS
FIRST: Once you have your sprouts trimmed and quartered, you add them to your glass jar in layers with the spices.
For these pickled Brussels sprouts, I chose whole garlic cloves, whole peppercorns, and some chunks of jalapeño peppers.
SECOND: After your jars are full, bring the liquid components (vinegars, water, salt, and sugar) to a boil. Once the salt and sugar (yes, I said sugar) are dissolved, carefully remove from the heat and slowly pour into the full jars. Leave a 1/4 inch space from the top to allow for expansion.
THIRD: After you fill the jars, I like to take a knife or chopstick and just jostle the sprouts in the jar. This allows any trapped air bubbles (which are the enemy of pickling) to get out of their hiding spots and float to the top.
Allow the jars to cool for a few minutes. Add your sealing ring and lid. Seal and store in the refrigerator for a few hours.
I found the best time to eat the Brussels sprouts pickles was 24-48 hours after they have been marinating in the fridge.
ARE BRUSSELS SPROUTS JUST SMALL CABBAGES?
They are not the same but they are from the same "family" which also includes broccoli, cauliflower, and kale.
HOW DO I MAKE BRUSSELS SPROUTS TASTY?
It's the smell that usually offends people and not the taste, so I like to use spices and liquids that are strong in the aroma. Things like vinegar, lemon juice, and soy sauce are great ways to mask the smell and enhance their natural flavor.
WHAT IS THE BEST WAY TO COOK BRUSSELS SPROUTS?
There is no best way. Just try a variety of ways to cook them and see which one you like best. I prefer roasting in the oven or frying them until the outside leaves are crispy and the inside is tender.
WHAT ARE FROG BALLS?
Frog balls are a colorful way to say pickled Brussels sprouts.
For more insider tips & tricks, and a candid behind the scenes look follow me on social media! Check use out on Pinterest, Facebook, Instagram, & Twitter (yes, people still use Twitter, LOL!)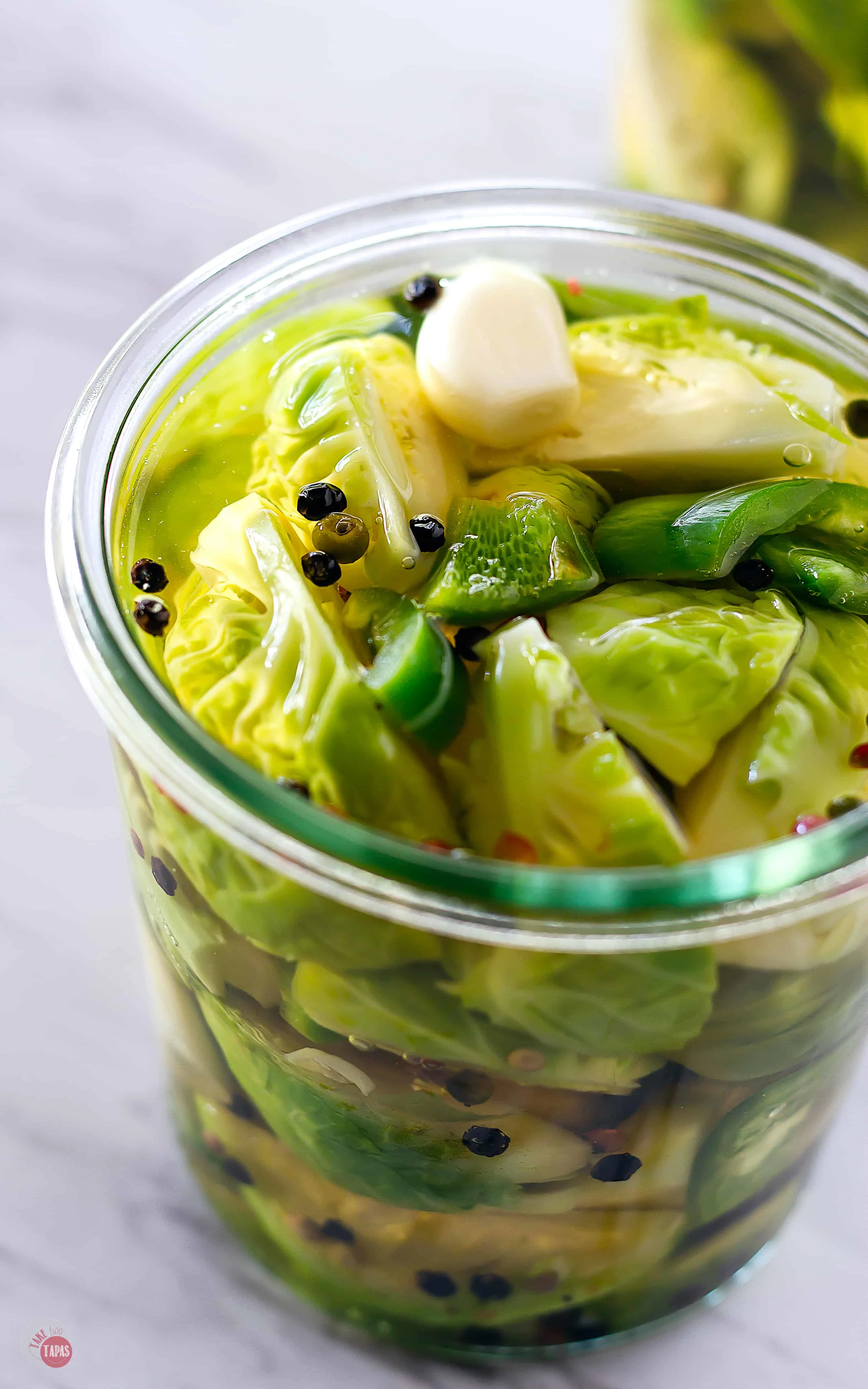 OTHER WAYS TO EAT BRUSSELS SPROUTS
Even after all the ways to cook sprouts, sometimes raw is best. I love to shave or slice very thin the raw sprout and use them in brussels sprouts salads, sprouts slaw, and on top of pizzas.
I recently ate a Brussels sprouts pizza that had a garlic white sauce, bacon, and caramelized onions that was baked and then topped with shaved sprouts that had been tossed in a homemade vinaigrette dressing. The whole pizza was then drizzled with honey.
Oh, it was heaven!
Some other ways to eat these pickled Brussels sprouts, which are great options for an alternative Christmas dinner, are cheese boards, relish trays, antipasto platters, or just straight out of the jar, standing in front of the fridge, at 3 in the morning. Much better than leftover Chinese food.
If you love this recipe as much as I do, please write a five-star review in the comment section below (or on Pinterest with the "tried it" button – you can now add pictures into reviews, too!), and be sure to help me share on facebook!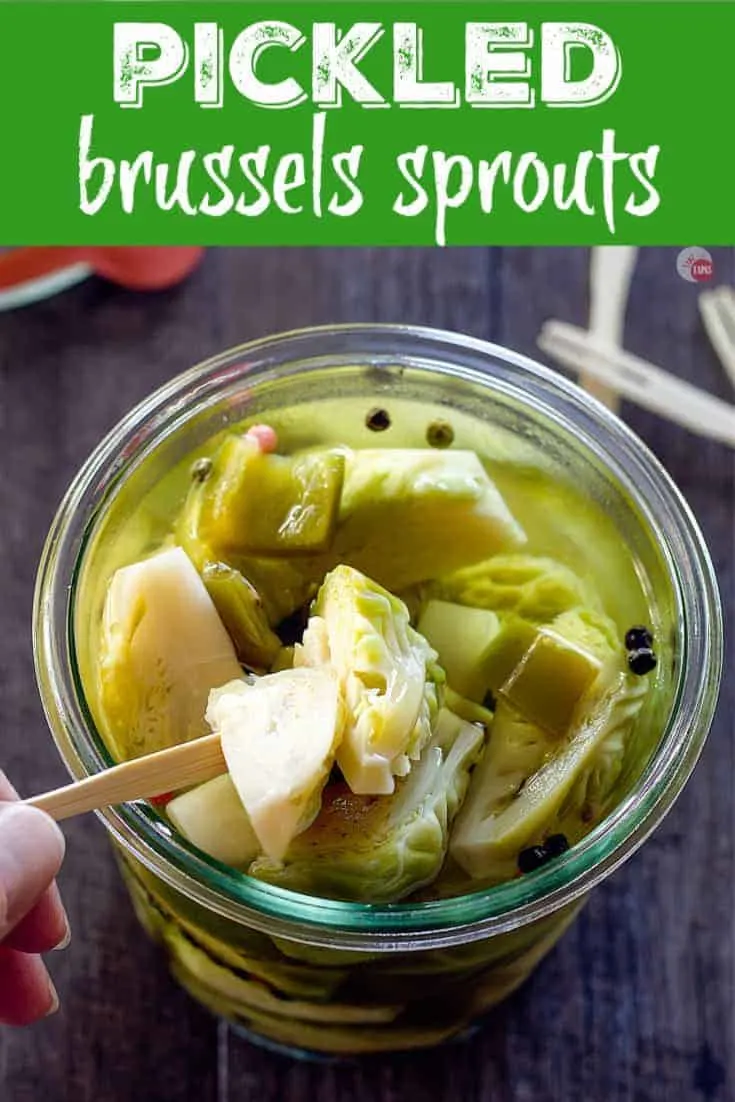 How ever you chose to enjoy these tangy, salty, spicy, crispy, and downright delicious Brussels sprouts pickles, they will change the way you think about sprouts forever!
OTHER EASY FINGER FOODS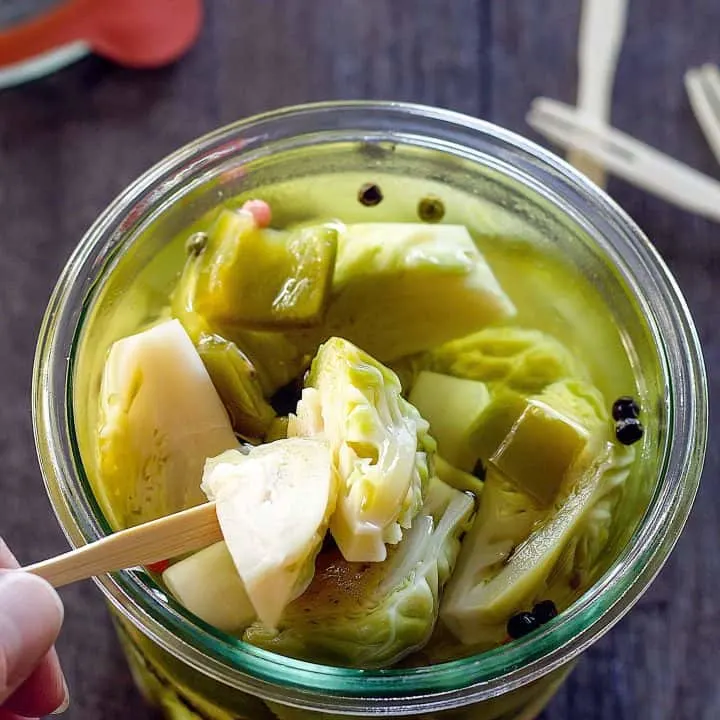 Pickled Brussels Sprouts
If you love Brussels Sprouts, you are going to really love Pickled Brussels Sprouts! Lightly spar boiled and preserved with garlic, jalapeños, and peppercorns, these will add some love to your cheese board for sure!
Ingredients
24 ounces Brussels sprouts (trimmed, halved or quartered)
4 cloves garlic (whole)
2 teaspoons whole peppercorns
2 cups apple cider vinegar
1 cup distilled white vinegar
1 cup water
2 jalapeño peppers (seeds and ribs removed)
2 tablespoons salt
2 tablespoons sugar
Instructions
Prep the Brussels Sprouts
Trim the whole sprouts if not already done.
Slice in half through the end. If they are large you might want to quarter them.
Bring a pot of water to boil.
Salt the water to taste.
Blanch the sprouts for 3 minutes to par-cook them.
Remove the sprouts from the boiling water and submerge in an ice bath to stop the cooking.
Layer the sprouts, garlic cloves, peppercorns, and jalapeño peppers (sliced or chunked) in a glass jar for pickling.
Prepare the pickling liquid
In a medium-large pan add the two kinds of kinds of vinegar, water, sugar, and salt.
Bring to a boil and boil for 5 minutes.
Carefully remove the pan from the heat and pour over the sprouts and spices.
Let cool to room temperature.
Seal the jar and store in the refrigerator for up to two weeks.
Enjoy!
Notes
*If you like this recipe, please leave me a comment and rate it with some stars. Thank you!
Nutrition Information:
Yield:

1
Serving Size:

1
Amount Per Serving:
Calories:

522
Total Fat:

4g
Saturated Fat:

1g
Trans Fat:

0g
Unsaturated Fat:

2g
Cholesterol:

0mg
Sodium:

12874mg
Carbohydrates:

86g
Fiber:

20g
Sugar:

40g
Protein:

19g
This nutrition information was generated via a third party, Nutritionix, and can not be held liable for any discrepancies in the information provided.
TakeTwoTapas.com. Content and photographs are copyright protected. Sharing of this recipe is both encouraged and appreciated. Copying and/or pasting full recipes to any social media is strictly prohibited.