If you love a Cuban Sandwich but have a crowd to feed, check out this make-ahead Cuban Sandwich Pull Apart Bread that is perfect for the grill before game time!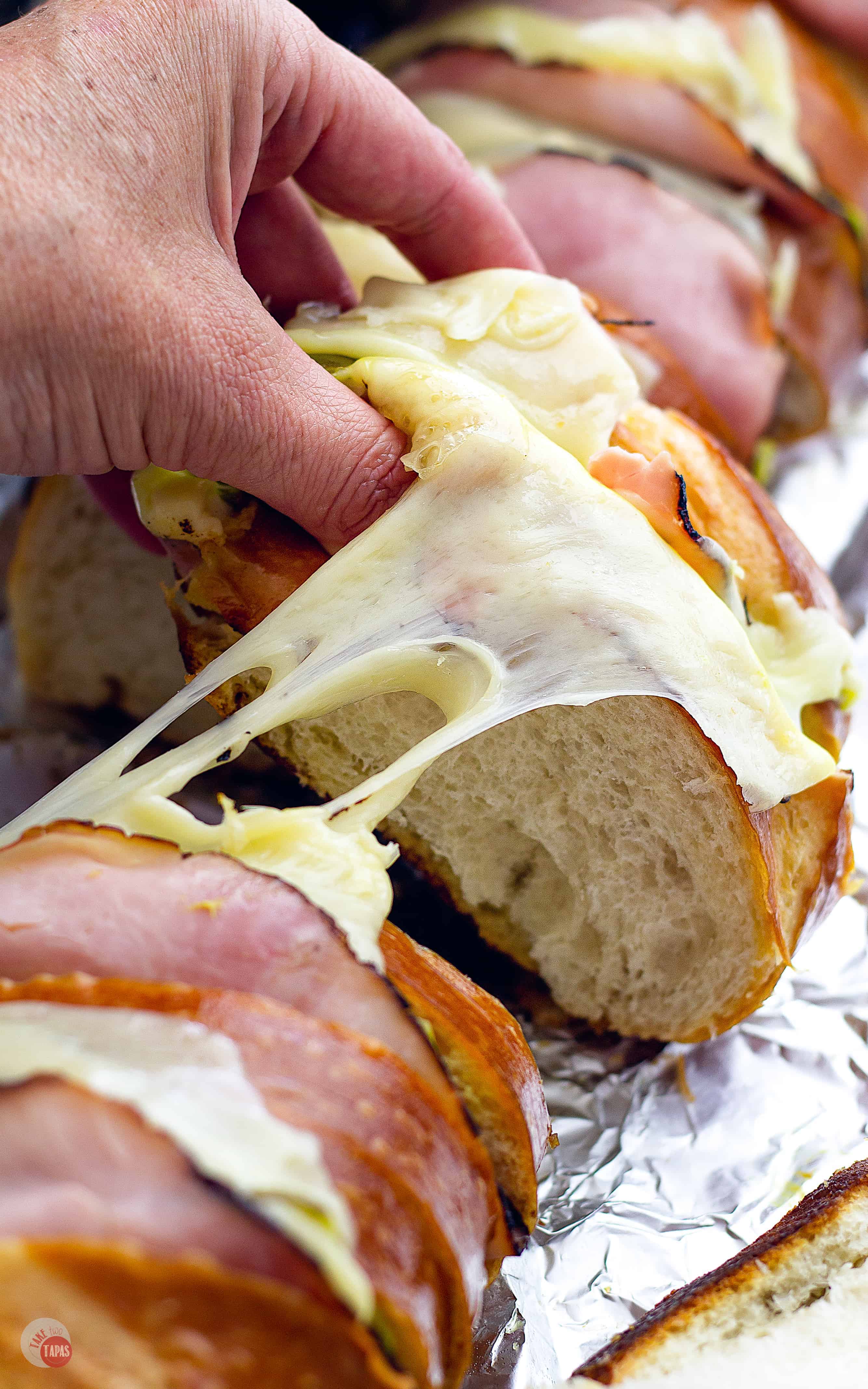 If you'd rather skip my essential cooking tips and tricks and get straight to this delicious recipe – simply scroll to the bottom of the page where you can find the printable recipe card.
During tailgating season, sandwiches are a must! Whether they are sub sandwiches, burgers, or hand pies, everyone loves a great sandwich. When I think of tailgating parties, I picture a group of people in a parking lot, gathered around a grill, all dressed in team colors! So let's talk about sandwiches that we can make on the grill, right along with the burgers and dogs.
The best warm sandwich is a Cuban Sandwich! For it to be a "make-ahead" sandwich, let's make all the Cuban Sandwiches at once in a Cuban Sandwich Loaf!
So I am showing you how to make a multitude of Cuban Sandwiches all at once and it's perfect for the grill.
This post may contain affiliate links. As an Amazon Associate, I earn from qualifying purchases. Read my disclosure policy here.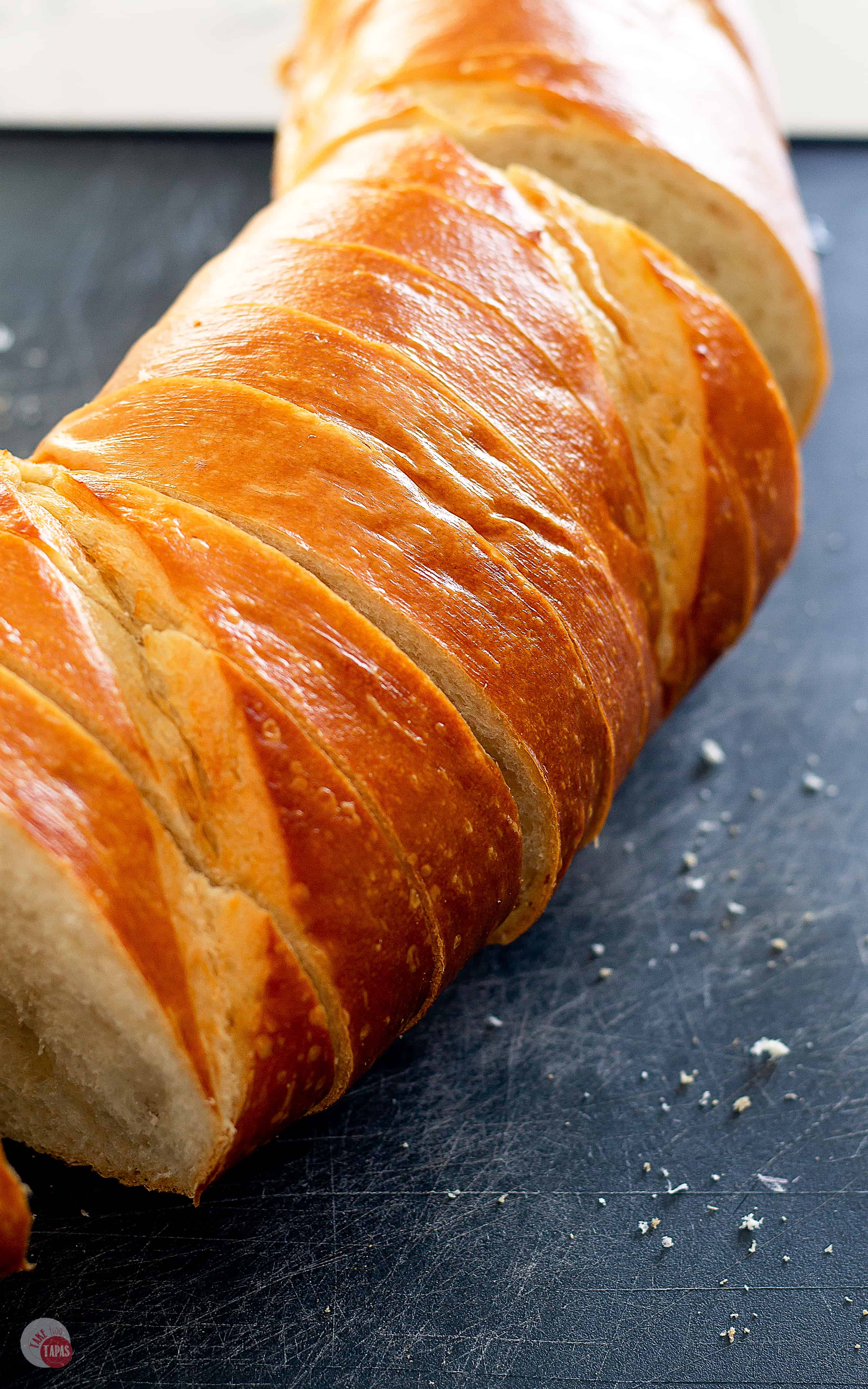 CUBAN SANDWICH LOAF INGREDIENTS
The Cuban Sandwich is kind of the King of Sandwiches in my opinion.
You can't go wrong with mustard, dill pickles, Swiss cheese, and pork!
I mean, these ingredients are all perfect in their own way and when you add them all together, it's absolute heaven!
Cuban bread
yellow mustard
dill pickles
ham
roast pork
Swiss cheese
butter
A Cuban Sandwich is also known for being pressed like a panini to add a little crispiness to the bread and a little richness with the butter!
How can we get these same things while making it ahead of time?
For more insider tips & tricks, and a candid behind the scenes look follow me on social media! Check use out on Pinterest, Facebook, Instagram, & Twitter (yes, people still use Twitter, LOL!)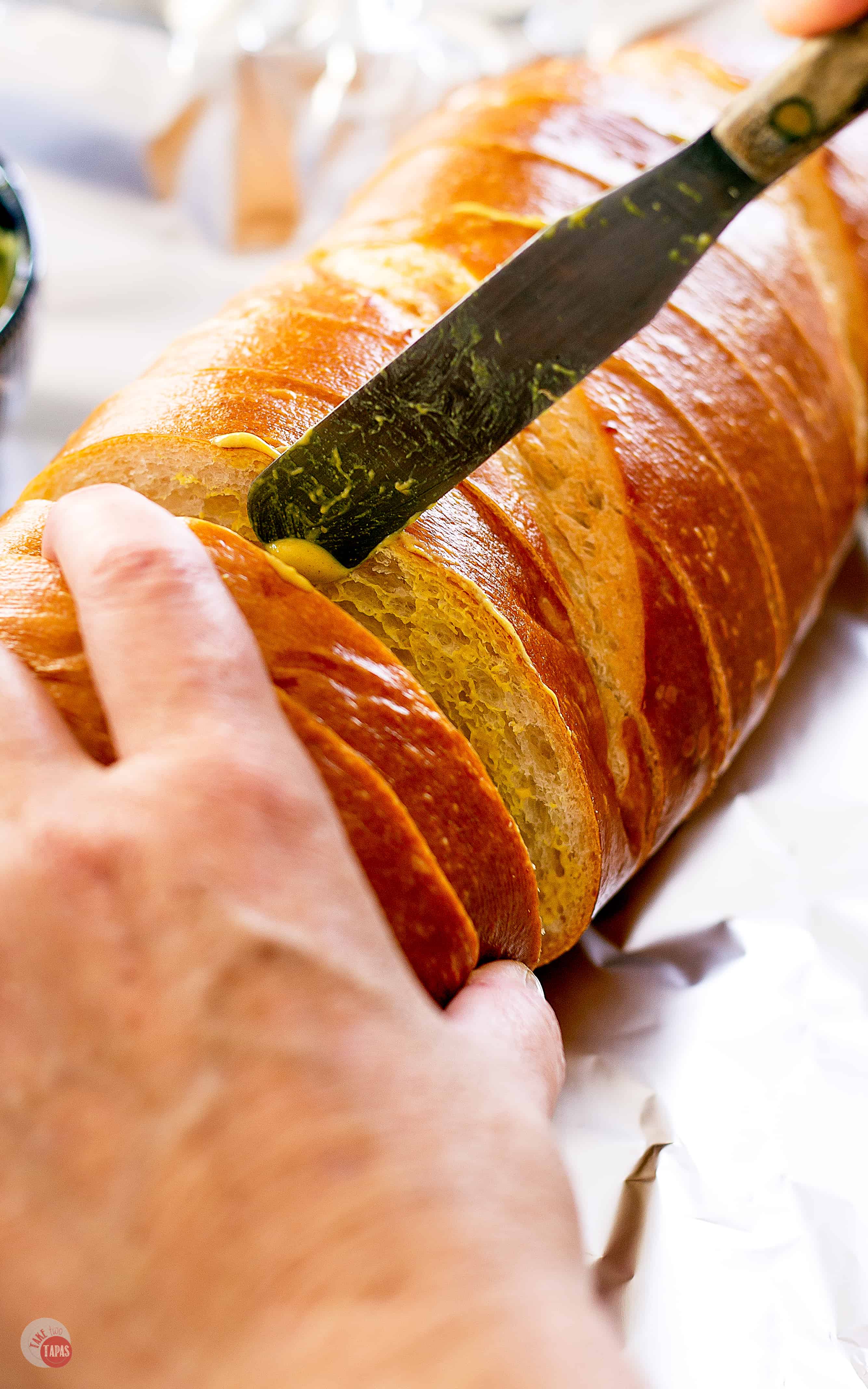 HOW TO MAKE PARTY SANDWICHES FOR A CROWD
When making sandwiches for a party you have to think about a couple of things:
Making the sandwiches ahead of time because you need to make a large quantity.
Need to satisfy multiple dietary preferences.
Need to keep them from becoming soggy while in storage.
When I made my Mini Veggie Sliders I talked about the order of ingredients to minimize soggy bread and the best type of bread for make-ahead sandwiches.
TAPAS TIPS & TRICKS
Don't add any condiments. This is also perfect because everyone I know likes to add their own condiments, in their own amounts, and in their own sequence. Just keep the condiments in separate storage containers and allow everyone to self-serve.
Make different types of subs. If you are using meats, make sandwiches with single meats and a few with multiple different meat combinations. You should do that with the cheeses as well.
Leave off the toppings too. Lettuce, tomatoes, and onions all have moisture in them that will make the bread soggy and we are trying to avoid this. Tomatoes are juicy, lettuce wilts and can get warm, and onions are strong and might stink up the sandwiches.
Wrap the sandwiches tight. Whether you wrap them in a large foil package for the grill or oven, or if you wrap them individually for easier serving, wrapping them keeps them fresh and dry!

HOT SANDWICHES FOR A CROWD
Hot sandwiches for a crowd is easy and you can heat them up in multiple different ways. The oven, grill, smoker, or even a campfire! The Cuban Sandwich Loaf is assembled ahead of time and then cooked at just the right time.
To get it ready, start with a long loaf of bread, I love Cuban bread but you can also use a French bread as well. Make some slices in the bread, an odd number, and be sure to only cut about 3/4 of the way through.
Next, you will apply the mustard to every other slice in the loaf because we are adding our other ingredients in every other slice. So after you cook the sandwich you can pull apart a sandwich with two pieces of bread and the ingredients are portioned appropriately.
No one wants mustard on the outside of their bread and on their fingers.
After you apply the mustard, layer up the ham, cheese, and pickle slice. Tuck it in the slices with the mustard making sure to get it all the way into the bread.
You can stop here and wrap up your Cuban Sandwich Loaf until ready to bake or you can add the melted butter and bake. I prefer this aluminum foil because it is a lot wider than the regular size and can wrap the whole sandwich in one piece!
If you are baking it later or even the next day, keep your butter in a heat-proof container so you can melt it where you are going to be baking your Cuban Sandwich Loaf. Then apply your melted butter over the top of your sandwich, wrap up in foil, and bake it.
Perfect warm sandwiches! Unwrap it and everyone can grab one and then you can just toss the foil when they are all gone.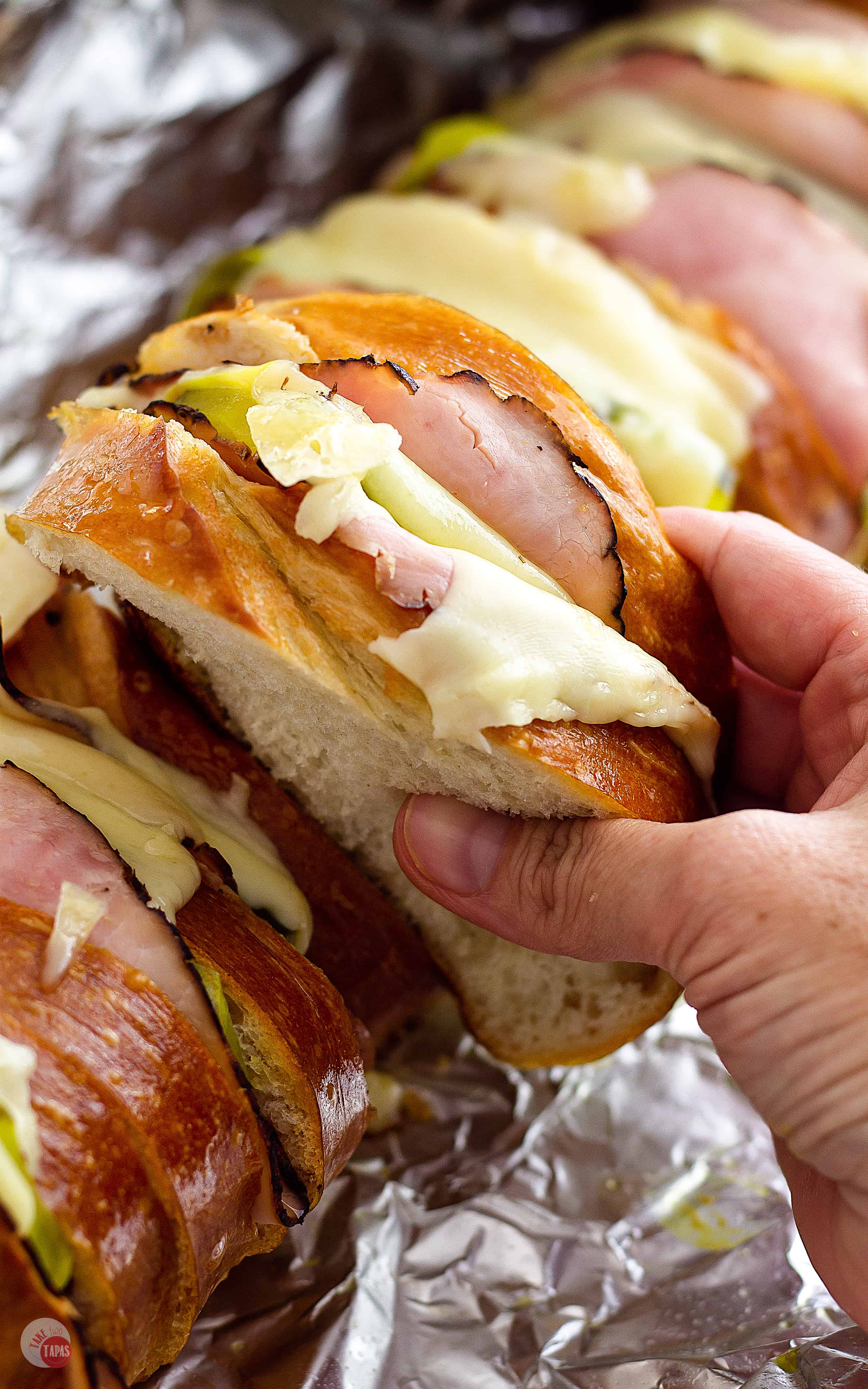 WHAT TYPE OF HAM IS BEST?
I prefer a honey glazed ham but go with whichever ham is your favorite. You can even use pulled pork if you are so inclined!
CAN YOU MAKE THIS ON THE GRILL?
You can bake this on the grill, in the oven, on a smoker, or even over a campfire!
HOW FAR AHEAD CAN I ASSEMBLE THE CUBAN SANDWICH?
You can assemble the Cuban Sandwich Loaf up to 24 hours ahead of time just keep the butter off until just before baking. If you want you can even leave the mustard off or put the mustard between the ham and cheese layers.
WHAT ARE THE BEST PICKLES FOR A CUBAN SANDWICH?
I love dill pickles and the sandwich ovals are the best because one slice covers the width of the sandwich and you only need one slice per sandwich. Just be sure to drain the pickles beforehand. I like to even pat them dry with a paper towel to remove any extra liquid.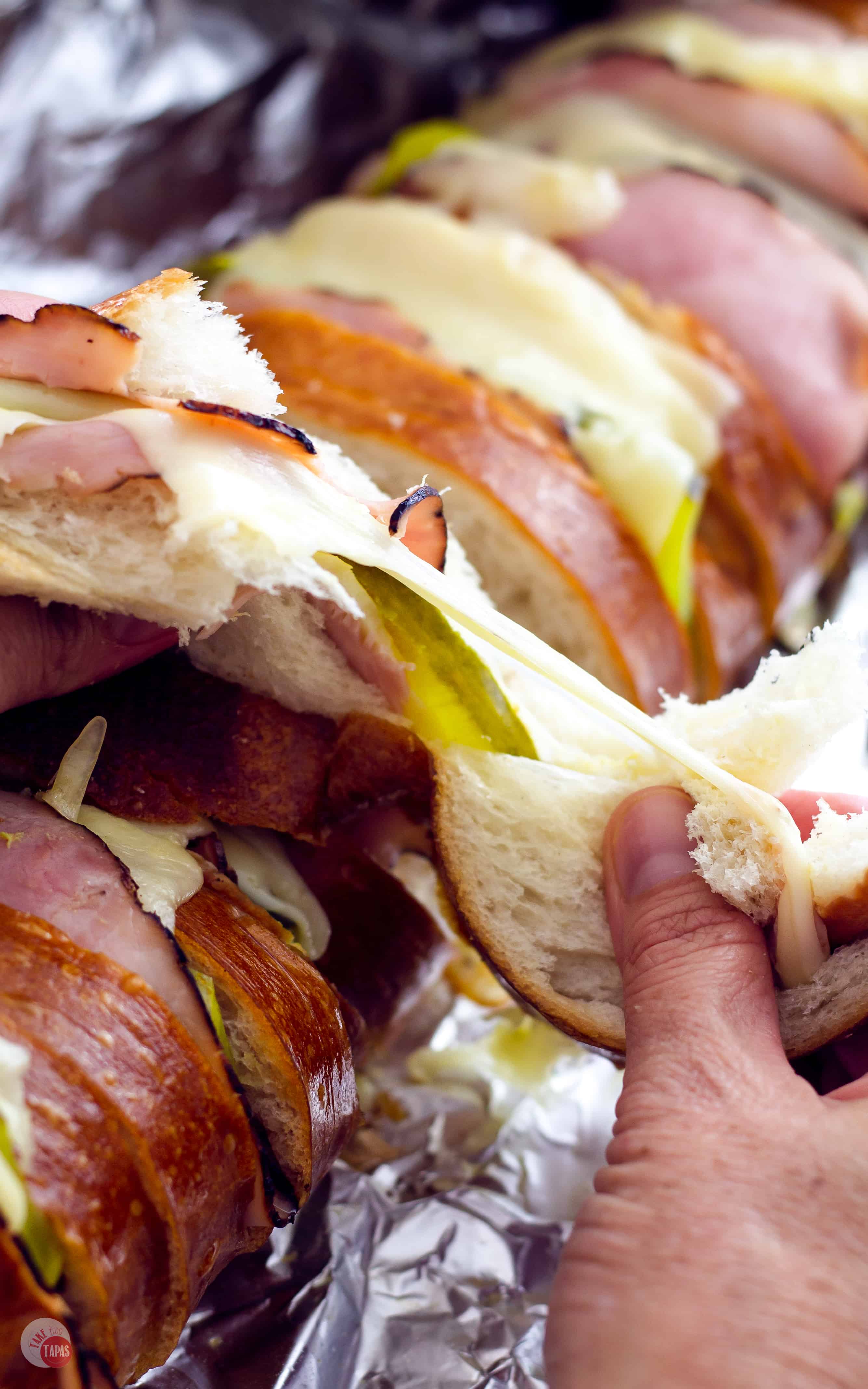 If you love this recipe as much as I do, please write a five-star review in the comment section below (or on Pinterest with the "tried it" button – you can now add pictures into reviews, too!), and be sure to help me share on facebook!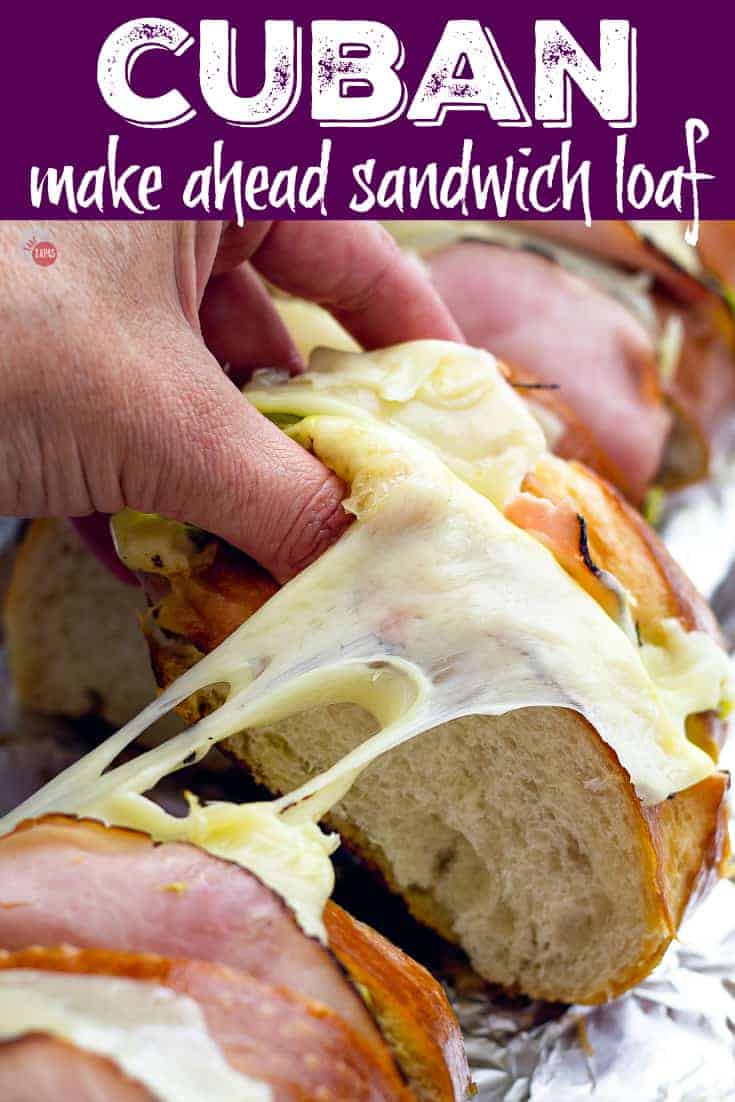 I hope you enjoy this Cuban Sandwich Loaf at your next tailgate, homegate, or any occasion party!
MORE TAILGATING RECIPES
EASY CUBAN SANDWICH LOAF RECIPE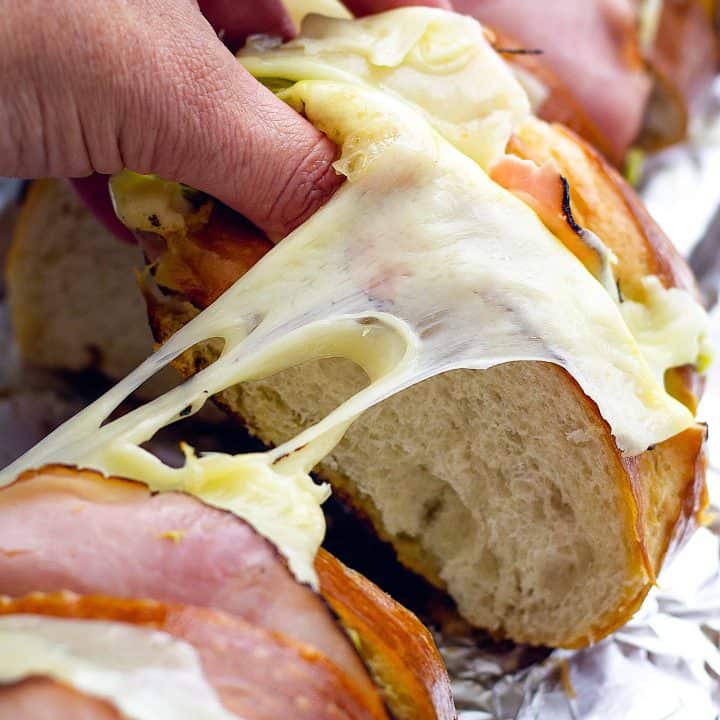 Cuban Sandwich for a Crowd - Large Batch Tailgating Sandwich
If you love a Cuban Sandwich but have a crowd to feed, check out this make-ahead Cuban Sandwich Loaf that is perfect for the grill before game time!
Ingredients
1 loaf French or Cuban Bread
16 Swiss cheese slices
1/2 pound ham (sliced thin)
1/4 cup yellow mustard
1 jar sandwich pickles (ovals)
1/4 cup butter (melted)
Instructions
Prep the Cuban Sandwich Loaf
Prep the bread by slicing 18 slices into the loaf only cutting about 3/4 of the way through. Do not cut all the way through.
Brush mustard in between every other slice.
In each slice of ham, add two slices of Swiss cheese and a pickle.
Tuck the ham, cheese, and pickle in each bread cut where the mustard is brushed.
You should have the Cuban sandwich ingredients in between two slices of bread, so every other bread cut.
Brush the entire loaf Cuban loaf with the melted butter.
Wrap the entire Cuban sandwich loaf in aluminum foil.
Keep cold (in the fridge or a cooler) until ready to cook.
Cook the Cuban Sandwich Loaf
Preheat oven or grill to 350F.
Place the Cuban sandwich loaf on a baking sheet and place in the oven or place the foil-wrapped Cuban loaf directly on the grill.
Cook for 15-20 minutes or until the cheese is melted through.
Remove from the heat.
Unwrap Cuban sandwich loaf.
Cut each sandwich in half and serve.
Enjoy!
Notes
*If you like this recipe, please leave me a comment and rate it with some stars. Thank you!
Nutrition Information:
Yield:

16
Serving Size:

1
Amount Per Serving:
Calories:

164
Total Fat:

12g
Saturated Fat:

7g
Trans Fat:

0g
Unsaturated Fat:

4g
Cholesterol:

44mg
Sodium:

225mg
Carbohydrates:

2g
Fiber:

0g
Sugar:

0g
Protein:

11g
This nutrition information was generated via a third party, Nutritionix, and can not be held liable for any discrepancies in the information provided.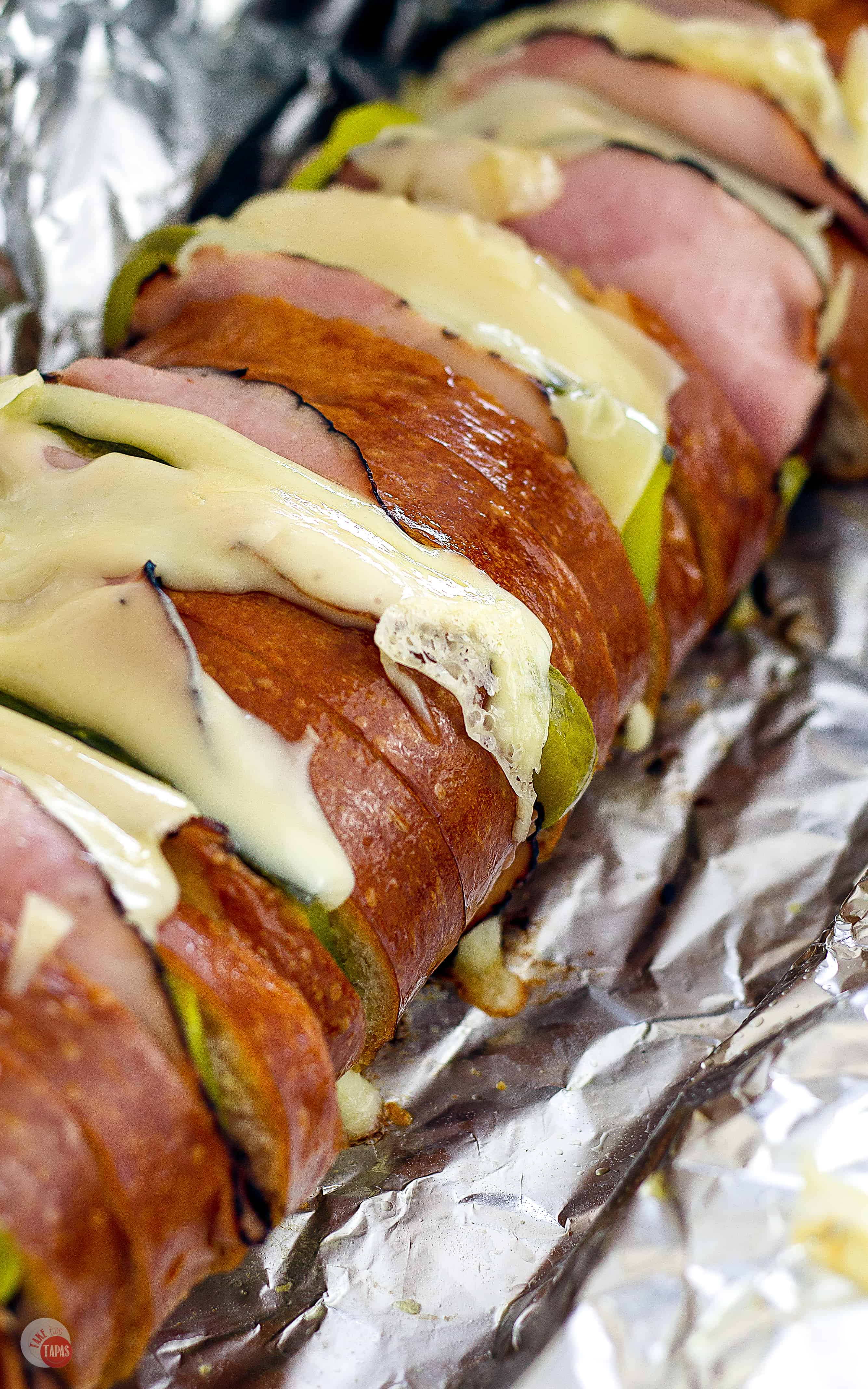 TakeTwoTapas.com. Content and photographs are copyright protected. Sharing of this recipe is both encouraged and appreciated. Copying and/or pasting full recipes to any social media is strictly prohibited.