Walking dessert tacos offer an opportunity to take your snacking on the go. Messiness minimized, a walking dessert taco lets you enjoy your sweet treat while mingling with your friends. Did I mention that eating while walking cancels out any and all of the calories consumed!?!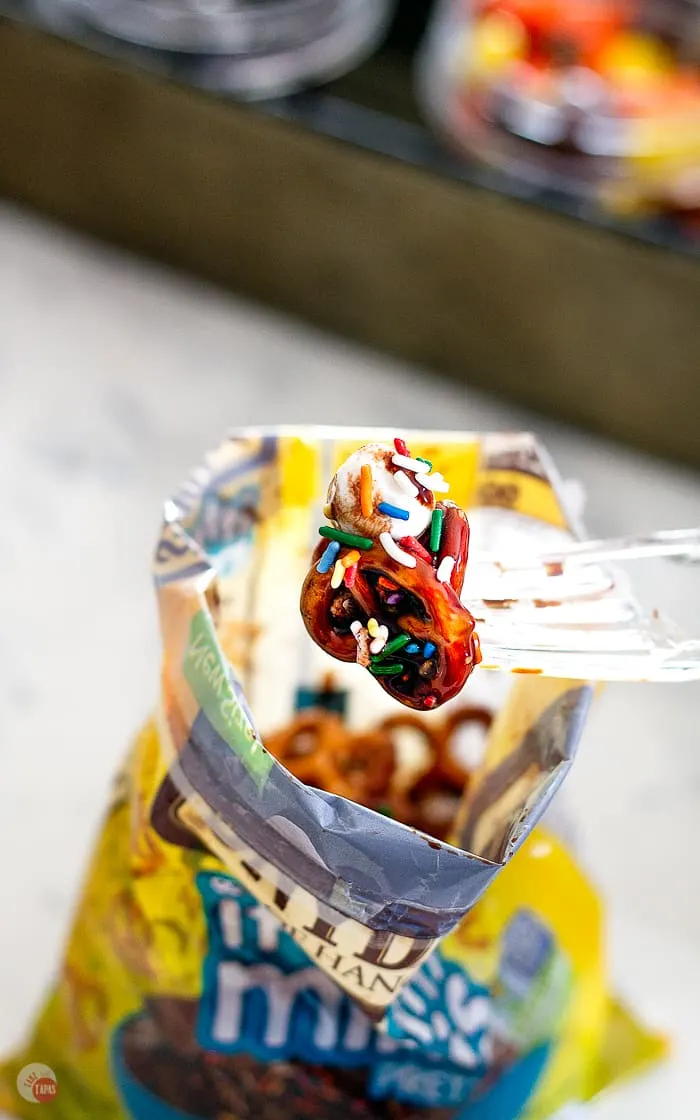 Dessert Tacos
Actually, walking isn't necessary. You are just fine sitting right where you are.
Since walking tacos became a hit at fairs in the Midwest, they have only gained popularity coast to coast. New York might have the models and the fashions. California shines with the stars.
But count on the Midwest to deliver the practical and tasty!
I started with a new twist on the original by making walking gyros but these are a sweet version!
This post may contain affiliate links. As an Amazon Associate, I earn from qualifying purchases. Read my disclosure policy here.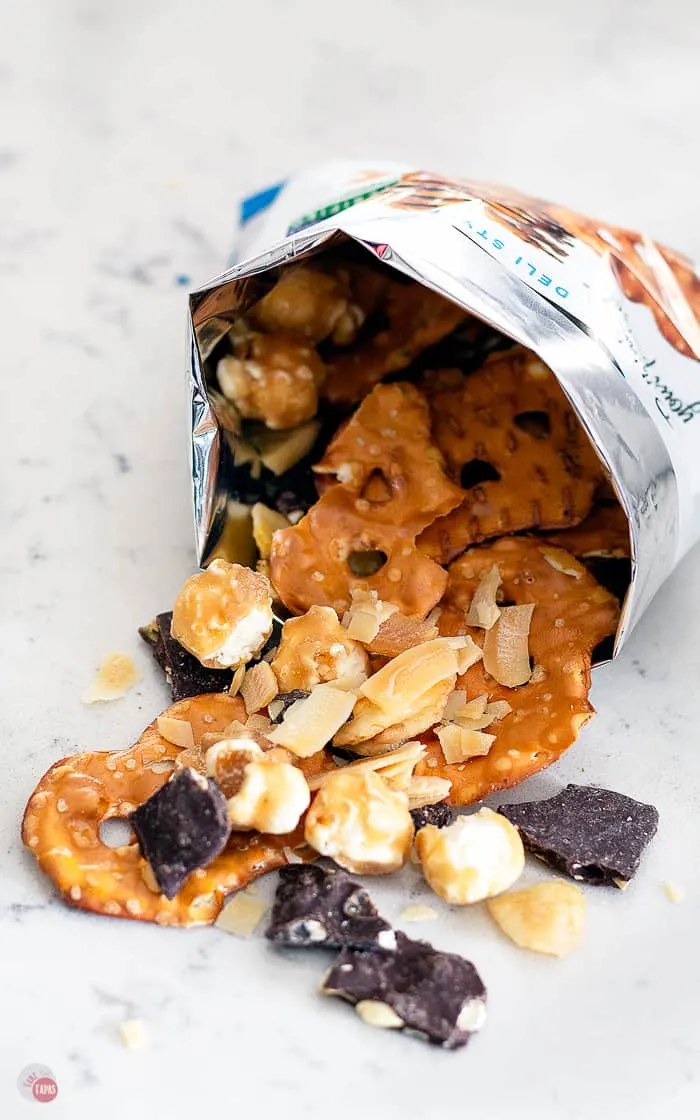 What are walking dessert tacos?
If you are unfamiliar with a walking dessert taco, then a quick explanation is in order. Let's skip why it is called a taco. The more I think about it, the less that makes any sense, so let's start with the word taco.
In essence a taco is a way of taking a few ingredients and stuffing them into an edible container. Kind of like the fastest way to shovel food into your mouth with worrying about eating the packaging in the process.
Ever have one of those days?!?!
But you don't eat the bag a walking taco comes in unless you have a taste for foil packaging. So forget that explanation.
From a marketing perspective it is a stroke of genius! Anyone who sees a sign saying "Walking Tacos Sold Here" feels compelled to check it out.
What happens if you putting jumping beans in a walking taco? Does it become a skipping burrito? Maybe, maybe not. But people will want to find out what is going on regardless.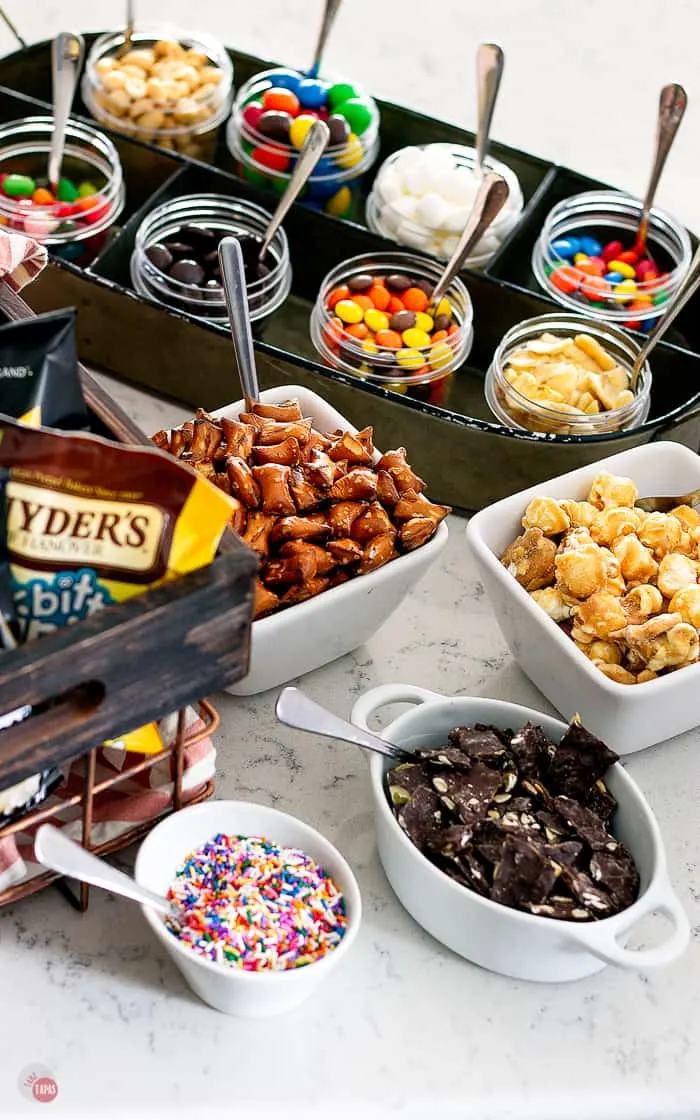 Portable Party Desserts
In any event, a walking taco involves opening a snack sized bag of chips, pretzels, etc. Instead of reacting with "why are there so few chips in here?", you take advantage of the extra space by adding in a bunch of other tasty ingredients.
Then you may feel an urge to get up and walk around with it. Well, don't worry about making a mess. You can eat and keep your hands clean at the same time. Then, go figure, you can even put one foot safely in front of the other.
Keep your head on a swivel though. Walking desserts can be treacherous if you happen to wade out into traffic!
Ingredients Needed for Dessert Taco Bar
The best way to tackle dessert walking tacos is to set up a station. Let folks create their own dream dessert out of a wide range of delicious ingredients.
Chips
Popcorn
Pretzels
Various Toppings
For more insider tips & tricks, and a candid behind the scenes look follow me on social media! Check use out on Pinterest, Facebook, Instagram, & Twitter (yes, people still use Twitter, LOL!)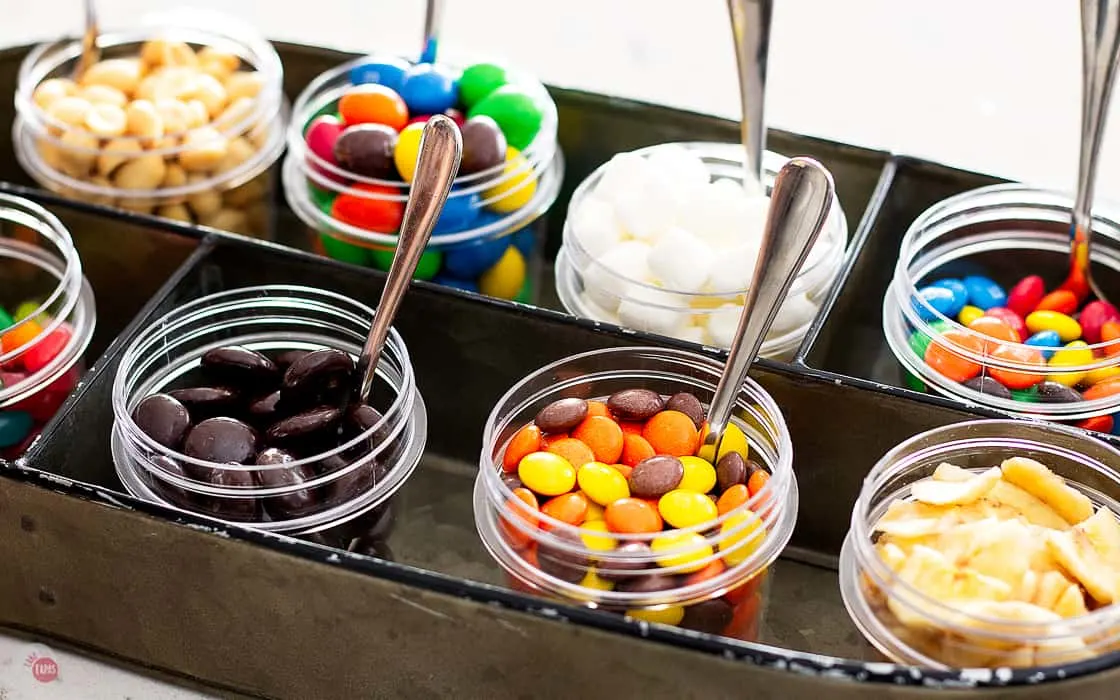 There are a few ways to go for setting up the walking taco dessert bar.
Tapas Tips & Tricks
You can set out individual bowls filled with treats.
You can serve toppings in a cupcake pan.
If you have an Asian market handy, then see if they have bento boxes. Those come in handy because they have various size compartments to place different sized ingredients. They also look much more elegant that cupcake and muffin tins. If you are trying to go all "fancy-like" with the presentation, you can't do without them!
If you are feeling particularly crafty, then take some party cups and glue them and/or tack a row of them onto a 1"x 6" x 2' board. Then fill another set of the same type of cup with your snack ingredients. Put them in your ready-made cup holders. People can easily pick up and pour from the cups. No serving spoons required!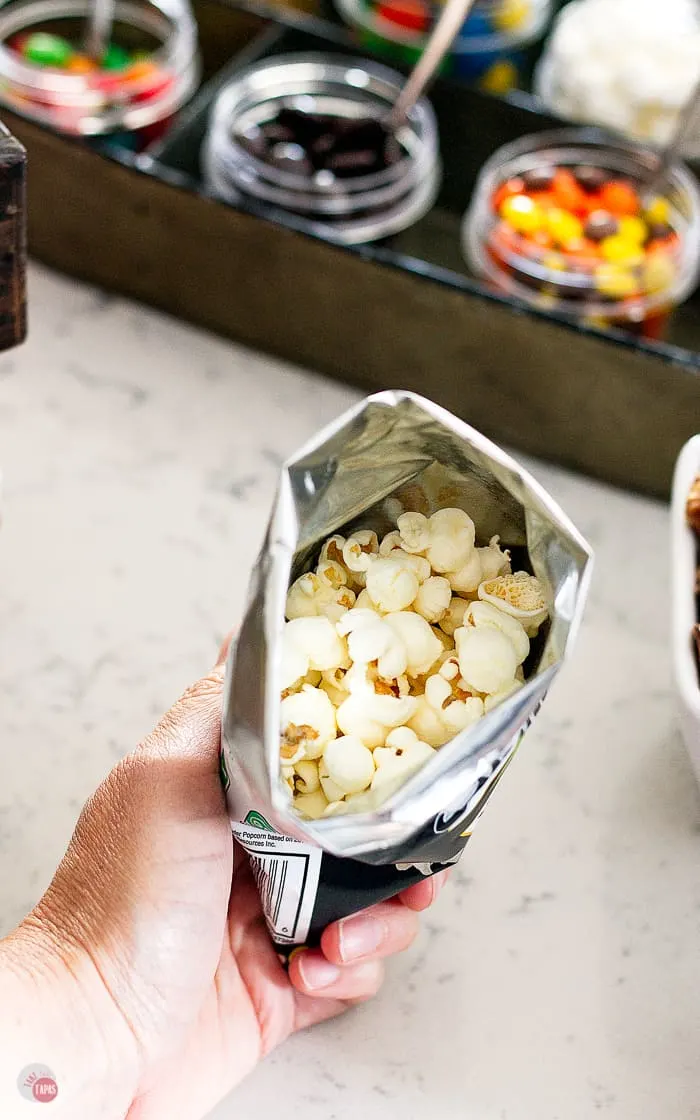 Dessert Taco Toppings
Roasted Peanuts
Chocolate Chips
M&Ms
SnoCaps
Gummy Bears
Jelly Beans
Reese's Pieces
Junior Mints
Poppycock
Banana Chips
PB pretzels
Bark Thins
Marshmallows
Sprinkles
Coconut Chips
Raisins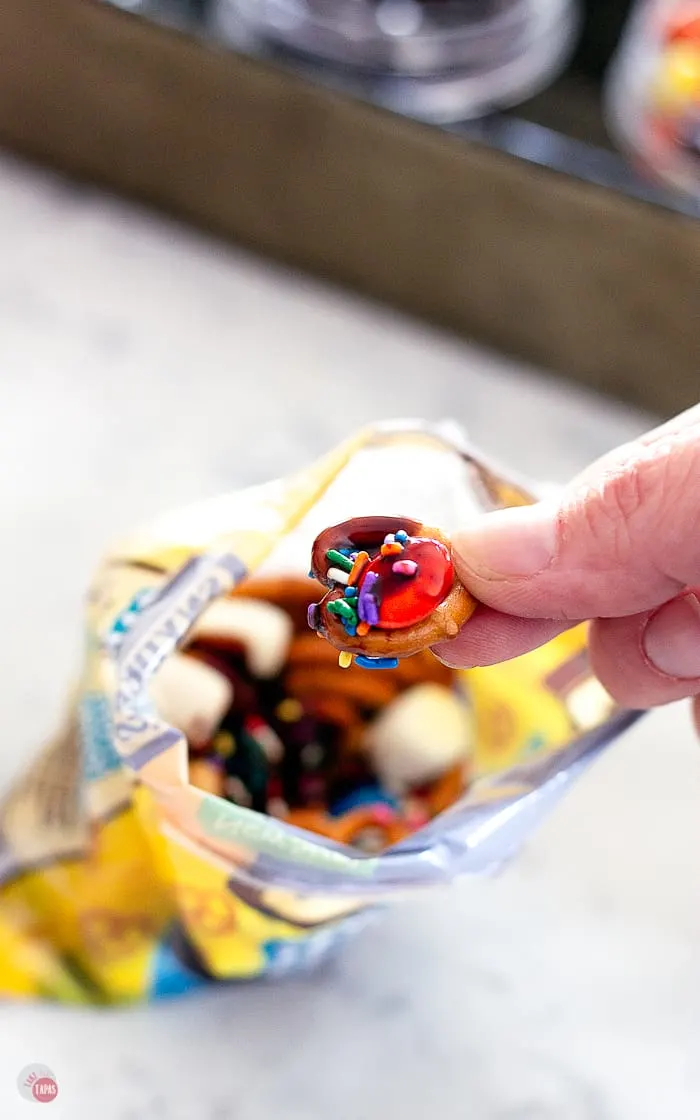 Sauce Ideas
For some, a bit of chocolate or candy will not be sweet enough. You can also provide some easy sweet sauces to drizzle over the walking tacos.
Heat up some blackberry or strawberry jelly, it will melt down to a liquid you can spoon over the bag's contents
Heat up some butter, sugar, and a bit of milk or cream in the microwave to make some quick caramel sauce. Make sure you stir and avoid scalding it by watching closely. It cooks fast!
Drizzle on some sweetened condensed milk or pre-made Dulce de Leche sauce. You usually find that by the sweetened condensed milk on the baking aisle.
You can't go wrong with peanut butter, caramel, or hot fudge sauce that you can easily pick up by the ice cream in your local market.
Once you have everything set up and ready to go, start experimenting with you favorite flavors! My favorite is popcorn with Sno Caps, sprinkles, and a little chocolate sauce.
If you love this recipe as much as I do, please write a five-star review in the comment section below (or on Pinterest with the "tried it" button – you can now add pictures into reviews, too!), and be sure to help me share on facebook!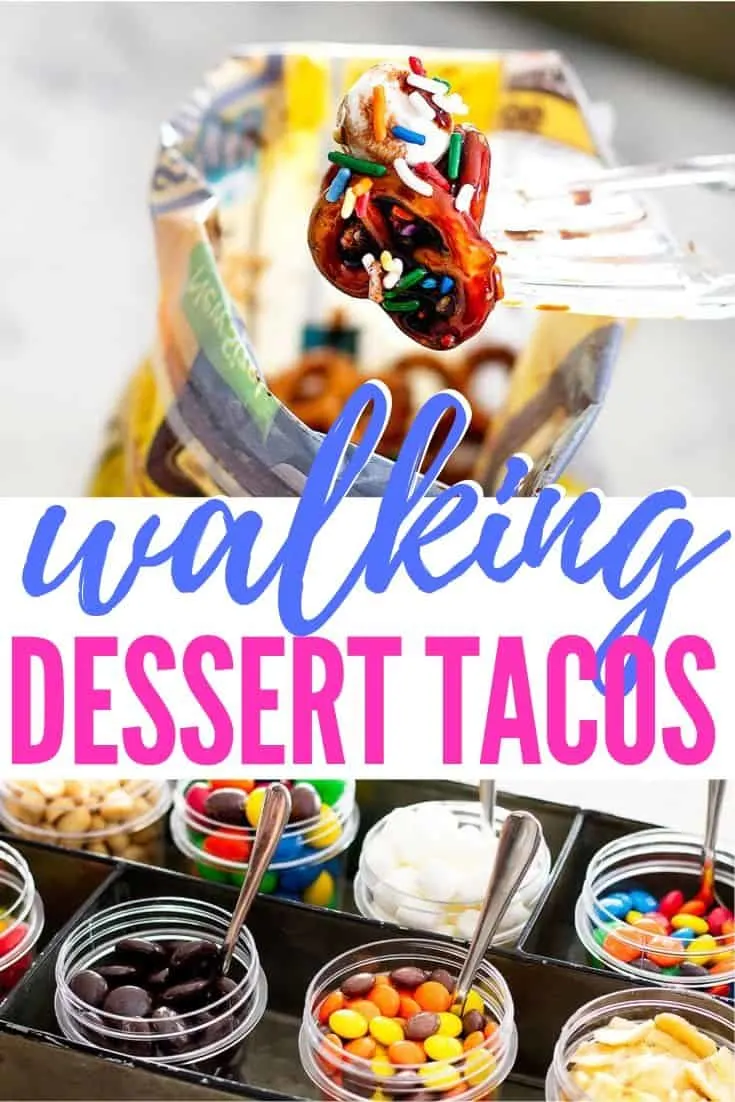 If I am wanting to keep my fingers from getting TOO sticky, I will mix a bag of pretzels, coconut chips, chocolate bark, and some caramel coated popcorn. It's more like a dessert trail mix, but who's keeping score?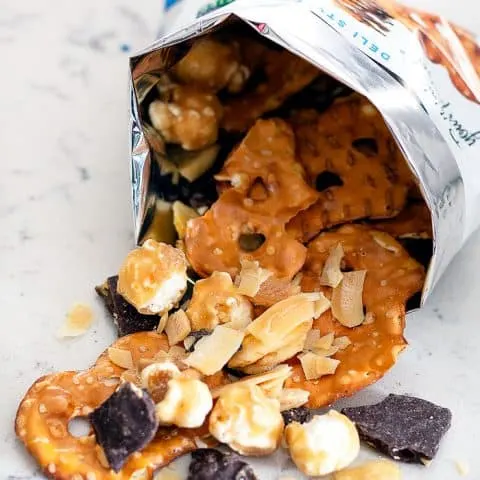 Walking Dessert Tacos
Walking dessert tacos offer an opportunity to take your snacking on the go. Messiness minimized, a walking dessert taco lets you enjoy your sweet treat while mingling with your friends. Did I mention that eating while walking cancels out any and all of the calories consumed!?!
Ingredients
Chips for the Base
Popcorn
Pretzels
Pita Chips
Toppings
Roasted Peanuts
Chocolate Chips
Mini Marshmallows
M&Ms
Reese's Pieces
Junior Mints
Caramel Corn
Banana Chips
Sprinkles
Jelly Beans
Gummy Bears
Raisins
Sno Caps
Chocolate Sauce
Caramel Sauce
Peanut Butter Sauce
Instructions
Set up your walking taco bar
Fill a basket with individual bags of chips, pretzels, or popcorn.
Set up individual cups or bowls of toppings.
To Assemble your Walking Dessert Taco
Open your bag of snack food.
Add in your favorite toppings.
Add a fork or spoon and enjoy your dessert while walking around and visiting with friends and family.
Notes
*If you love this recipe, please leave me a comment and rate it with some stars. Thanks!
Nutrition Information:
Yield:

15
Serving Size:

1
Amount Per Serving:
Calories:

158
Total Fat:

6g
Saturated Fat:

4g
Trans Fat:

0g
Unsaturated Fat:

2g
Cholesterol:

1mg
Sodium:

142mg
Carbohydrates:

25g
Fiber:

2g
Sugar:

16g
Protein:

2g
This nutrition information was generated via a third party, Nutritionix, and can not be held liable for any discrepancies in the information provided.
Easy Snack Ideas
TakeTwoTapas.com. Content and photographs are copyright protected. Sharing of this recipe is both encouraged and appreciated. Copying and/or pasting full recipes to any social media is strictly prohibited.