I might be showing my age, but who here loved watching Bugs Bunny/Looney Tunes as a kid? I was never really a Disney kind of girl, with the exception of Sleeping Beauty, so my PA and I always watched Bugs Bunny when we were together on a Saturday morning.
Michigan J. Frog is my favorite character because he is shy and only sings for a small audience, and the adolescent chicken hawk is a close second because he never gives up. You might be wondering what this has to do with food. I'm getting there!
Please don't rush me, I'm trying to stop watching the DVDs right now and focus my brain but Wile E. Coyote is about to catch the road runner!
They are seriously playing on my TV right this second…
When I think about food I take on a character from Looney Tunes, The Tasmanian Devil. I call my youngest child by this name because he eats like him, talks like him with his mouth full, and runs through the house leaving a trail of destruction in his wake.
When I see food, be it a magazine, TV show, or overhear a conversation, thoughts of ingredients and how to use them differently swirls in my brain like a tornado.
While I was stuffing my face with grapes during my "Hobbit-Style" fourth snack time today, I started thinking about how they would taste roasted and warm. Would they get sweeter? Would they burst and turn to mush? Would I be able to use resulting grapes in sweet AND savory dishes?
All these thoughts ran through my head in a matter of seconds, mostly because there isn't much else in my brain during snack time, and I jumped up and ran to the kitchen. Lo and behold, I had all the ingredients to try this food experiment right now, unless of course, I already scarfed down the last grape during my feeding frenzy. Story of my life…
Luckily I found a few grapes hidden from the kids in the fridge, so I unceremoniously swept everything off the counter and started to pull everything out of my cabinets and fridge, similar to Taz, and got to work. This recipe below is the result of my tornado like performance in my tiny little kitchen…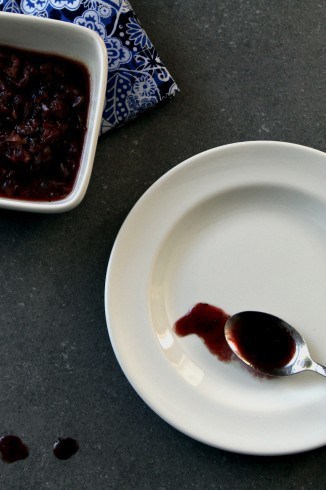 The husband is pretty upset at the mess like normal and when I tried to explain what happened, he couldn't understand me because my mouth was full and I was accidentally spitting grape juice at him!
He just walked away like normal, shaking his head.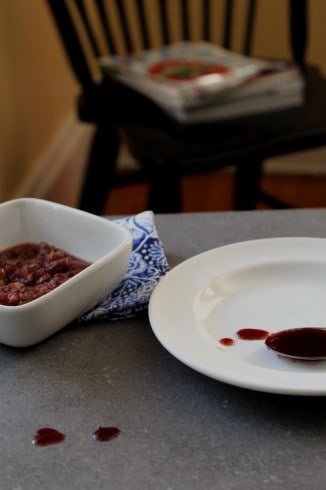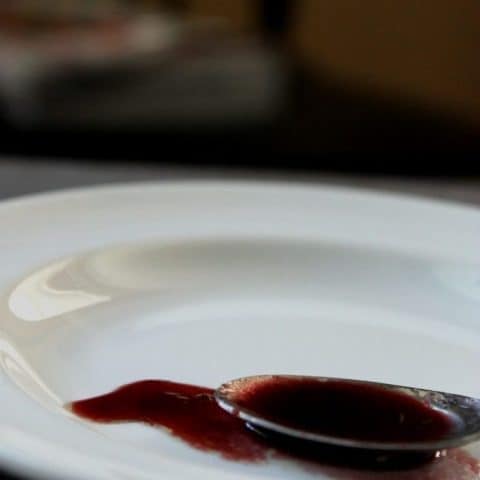 Roasted Red Grape Reduction
This sweet and tart sauce is great on fish, chicken, or my pavlova recipe!
Ingredients
2 cups red or white grapes (, halved)
2 tablespoons Cabernet Sauvignon or any red wine.
1 tablespoon lemon juice
1 tablespoon olive oil
1 teaspoon lemon zest
1 teaspoon kosher salt
1/4 teaspoon fresh thyme
Instructions
Preheat oven to 350F
Mix all ingredients.
Place all ingredients in a cast iron skillet or other oven proof pan.
Roast for 10 minutes or until the grapes are soft and starting to release their juices.
Remove the pan from oven and spoon out grapes leaving the juice behind.
Place pan on stove top and turn the burner on to medium high.
Reduce the juice for about 5 minutes or until it creates as lovely purple syrup.
Cool and store until use.
Notes
*If you like this recipe don't forget to rate it with some stars!
Nutrition Information:
Yield:

6
Serving Size:

1
Amount Per Serving:
Calories:

80
Total Fat:

2g
Saturated Fat:

0g
Trans Fat:

0g
Unsaturated Fat:

2g
Cholesterol:

0mg
Sodium:

355mg
Carbohydrates:

10g
Fiber:

1g
Sugar:

8g
Protein:

0g
This nutrition information was generated via a third party, Nutritionix, and can not be held liable for any discrepancies in the information provided.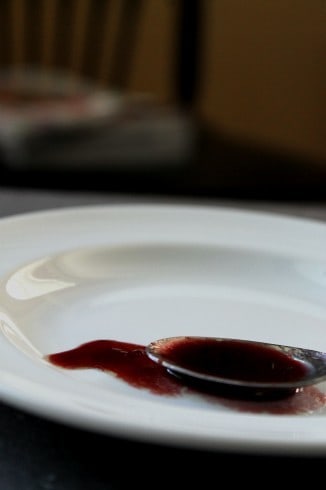 If you like reading my posts and seeing my recipes, follow me on your favorite social media channel for behind the scenes photos and much, much more: Pinterest, Facebook, Instagram, and Twitter!
©TakeTwoTapas.com. Content and photographs are copyright protected. Sharing of this recipe is both encouraged and appreciated. Copying and/or pasting full recipes to any social media is strictly prohibited.