Argentinian Chimichurri Sauce is a traditional Argentinian condiment full of fresh bold flavors. Made with a mix of crisp herbs, garlic, olive oil, and a blend of unique spices. This pesto-like recipe is the perfect compliment to transform any of your weeknight dinner ruts!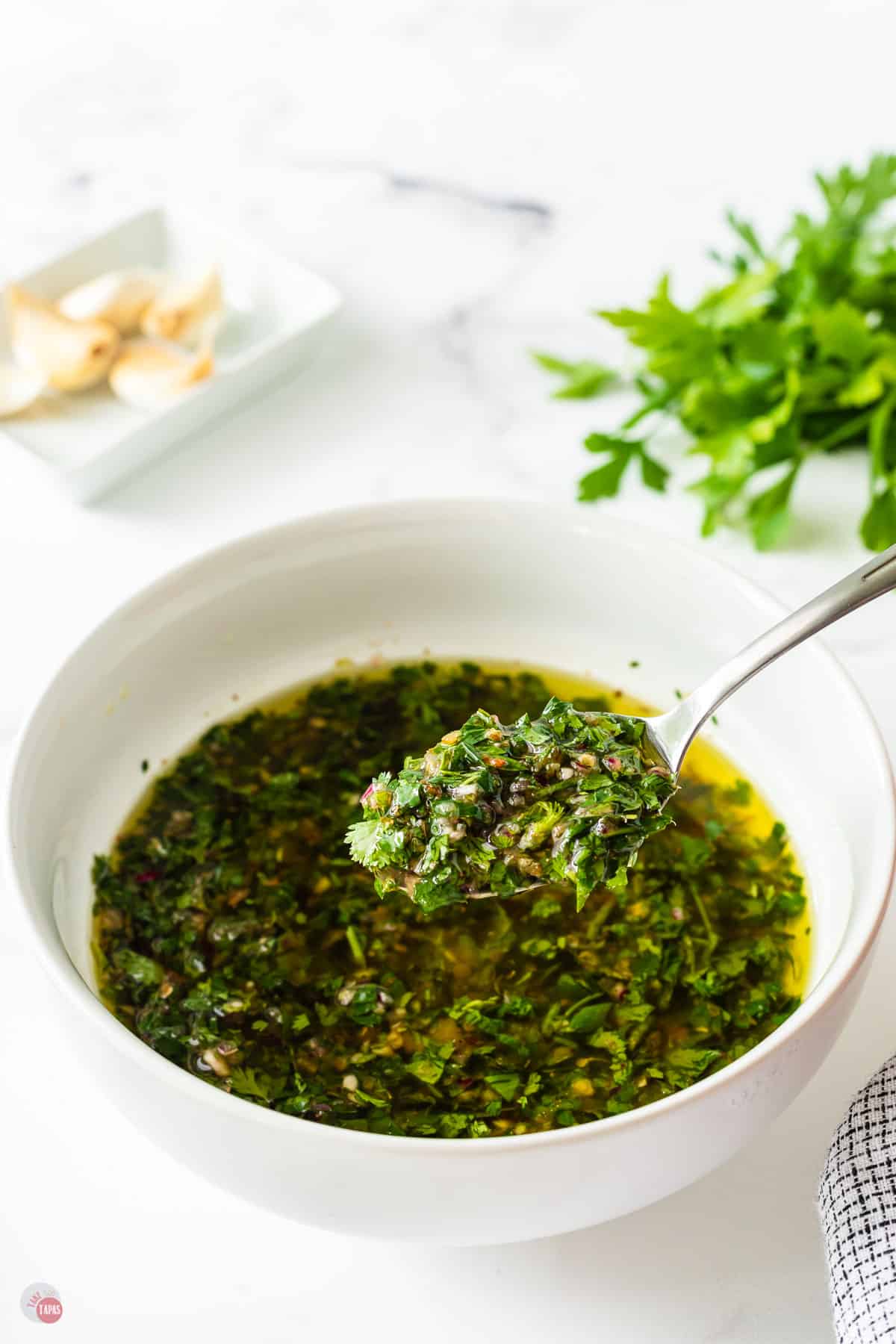 If you'd rather skip my (very helpful, I think) tips and tricks, essential cooking info, and similar recipe ideas – and get straight to this delicious recipe – simply scroll to the bottom of the page where you can find the printable recipe card.
Welcome to #SummerGamesWeek 2021 hosted by Amy from House of Nash Eats! We are celebrating the start of the Tokyo Games with over 50 recipes representing more than 25 countries competing in the upcoming Summer Games! Come join me and my fellow Summer Games Week bloggers as we bring you recipes from appetizers to drinks to entrées and desserts!
WHAT IS CHIMICHURRI?
Chimichurri is an uncooked herb sauce that is used to add flavor to almost anything: steak, chicken, pork, seafood, and vegetables just to name a few. Originating in Argentina and Uruguay, this sauce was originally created to dress up grilled meats.
This herby condiment is made with finely chopped parsley, garlic, olive oil, and vinegar. However; it's not uncommon to add in oregano and cilantro.
Generally, considered a green sauce due to all the green ingredients, there is a red chimichurri. While the base is the same in the red, this variation also includes tomatoes or red peppers.
The sauce can also contain chili peppers, red pepper flakes, or jalapeño for a little heat.
This post may contain affiliate links. As an Amazon Associate, I earn from qualifying purchases. Read my disclosure policy here.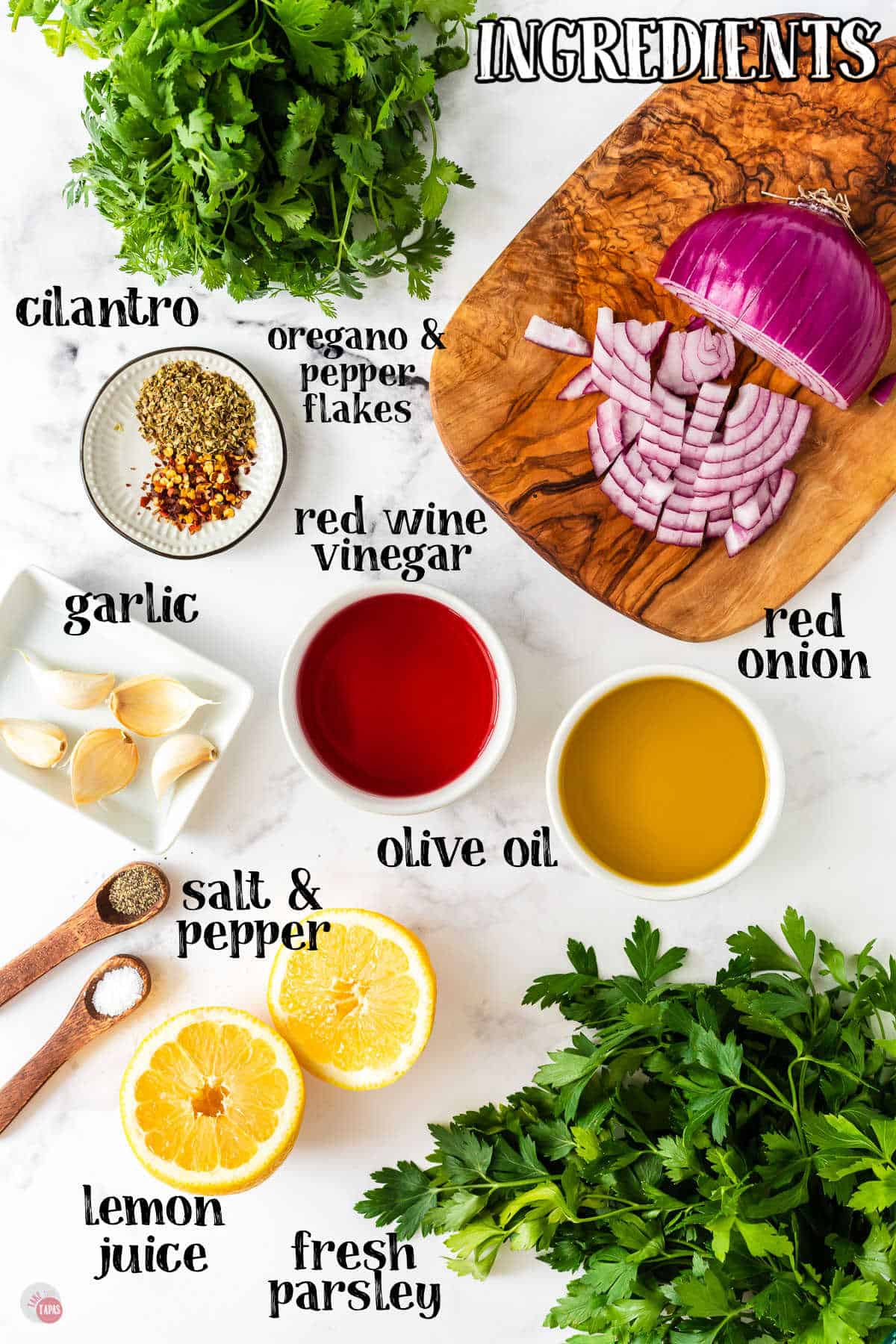 CHIMICHURRI INGREDIENTS
parsley
cilantro
garlic
red onion
red wine vinegar
lemon juice
extra virgin olive oil
oregano
red pepper flakes
kosher salt & black pepper to taste
Fresh Herbs – The authentic version of chimichurri from Argentina doesn't contain cilantro but I like the flavor profile it adds. I like to use the flat leaf variety of fresh parsley but you can use curly if you need to.
Red Wine Vinegar – Be sure you use red wine vinegar. White wine, or balsamic will not work. If you don't have it, use lemon juice.
Extra Virgin Olive Oil – Since this is a fresh condiment, be sure to use the best quality olive oil.
Oregano – Dried is easy but a few recipes also use fresh oregano. If you use fresh, use 1 tablespoon fresh herbs for each teaspoon of dried.
For more insider tips & tricks, and a candid behind the scenes look follow me on social media! Check use out on Pinterest, Facebook, Instagram, & Twitter (yes, people still use Twitter, LOL!)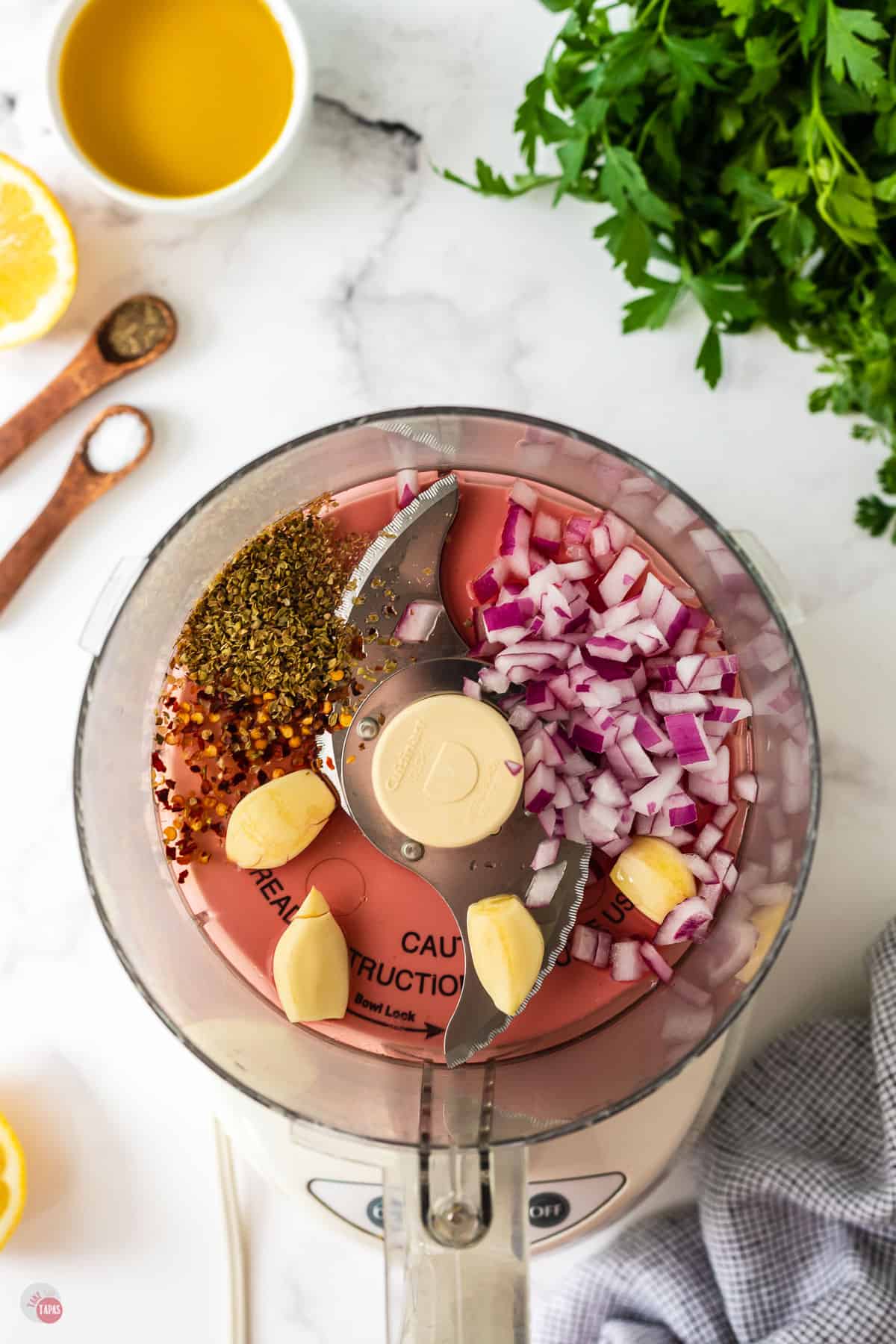 HOW TO MAKE CHIMICHURRI SAUCE
STEP ONE: In a food processor, add the red wine vinegar, garlic, red onion, and spices. Pulse to mince.
STEP TWO: Add the fresh herbs. Pulse to chop. Add the lemon juice and pulse a few more times.
STEP THREE: Remove to a small bowl and hand mix in the olive oil. Season with salt and pepper if desired. Enjoy!
For the full recipe and detailed instructions, please refer to the recipe card at the bottom of the post.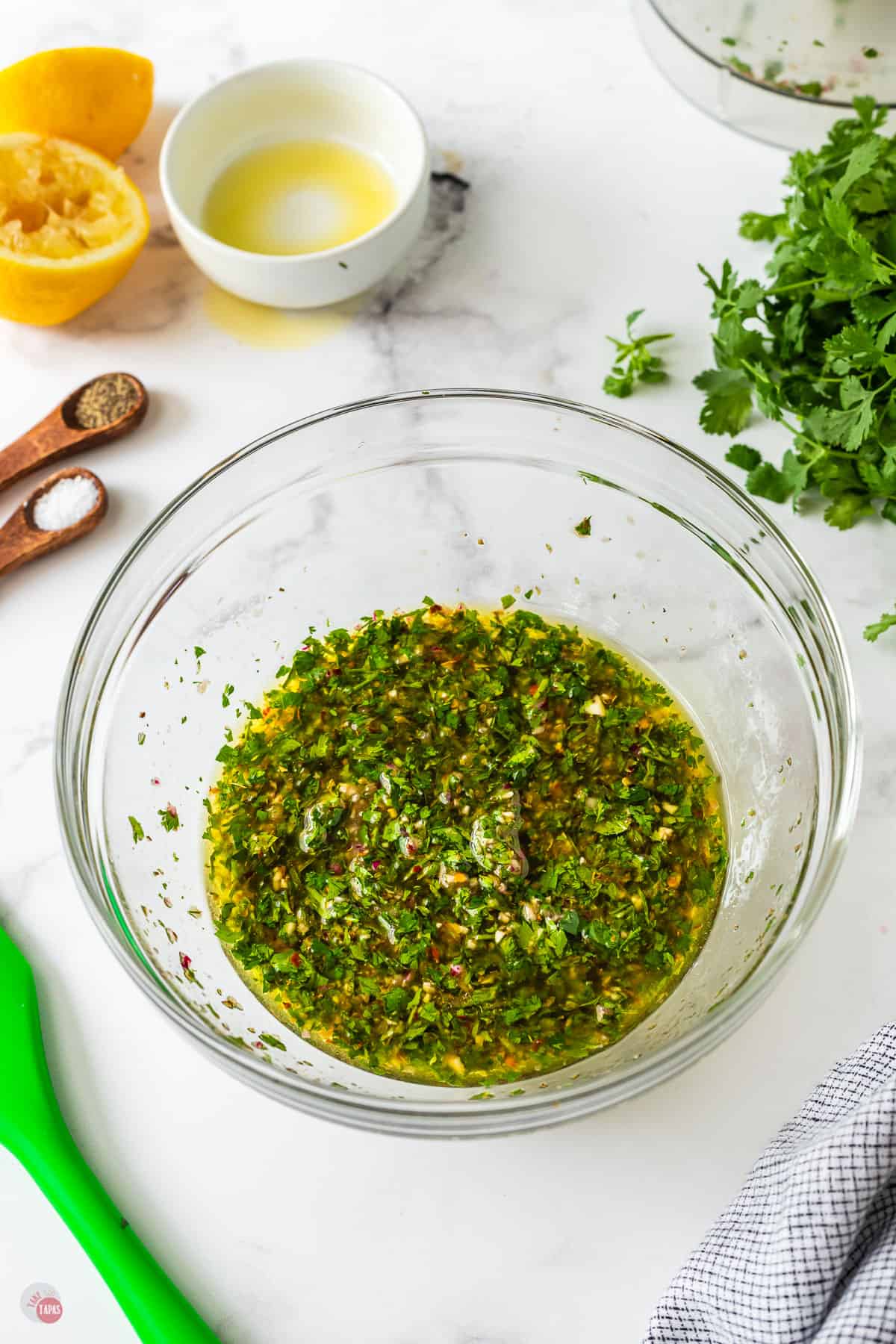 WHAT DOES CHIMICHURRI SAUCE TASTE LIKE?
If there is one word that could describe complex sauce, it would be bright. The cilantro and parsley bring a very earthy, herby flavor, while the red pepper brings that subtle hint of heat.
The garlic is spicy while the vinegar brings the tang. And finally, the EVOO brings the much needed fat to tie the whole package together.
WHAT DOES CHIMICHURRI GO WITH?
Chimichurri is an extremely versatile condiment and goes well with many proteins and vegetables. Below are a few ideas on how to use this flavorful sauce:
Serve over grilled steak, roast beef, roasted chicken, sautéed shrimp, or poached salmon
Mix with your basic white rice to create a delicious rice pilaf
Drizzle over your grilled kebobs or oven roasted vegetables
Use as a bold salad dressing and spoon over your favorite bed of greens
Swirl a few tablespoons into mayo to create a flavorful sandwich spread
Add to softened butter to create a herbaceous compound butter
Use as a marinade for steak, chicken, or seafood
Add a tablespoon or two to Greek yogurt or sour cream to create a delicious dipping sauce
WHAT IS CHIMICHURRI USED FOR?
Chimichurri can literally be used on almost any dish imaginable… it's that versatile!
From grilled meats to roasted vegetables, to marinades, dressings, or dipping sauces, the possibilities are endless when it comes to this sauce!
WHY IS MY CHIMICHURRI BITTER?
There are a few reasons your chimichurri could be bitter:
Extra Virgin Olive Oil: If you over mix your EVOO at a high-speed, the polyphenols break away from the fatty acids which can cause cause a bitter taste.
Bitter Parsley: Parsley is naturally a bitter herb. A darker, more mature parsley, could be more bitter than it's younger counterparts. However; due to the large amount of parsley that is used to make this delicious sauce, it is normal to be slightly bitter in taste.
Garlic or Oregano: Using too much of either can cause your sauce to have a bitter taste. You may want to start out using a little less of both of these ingredients and adjusting as you go to your taste preference.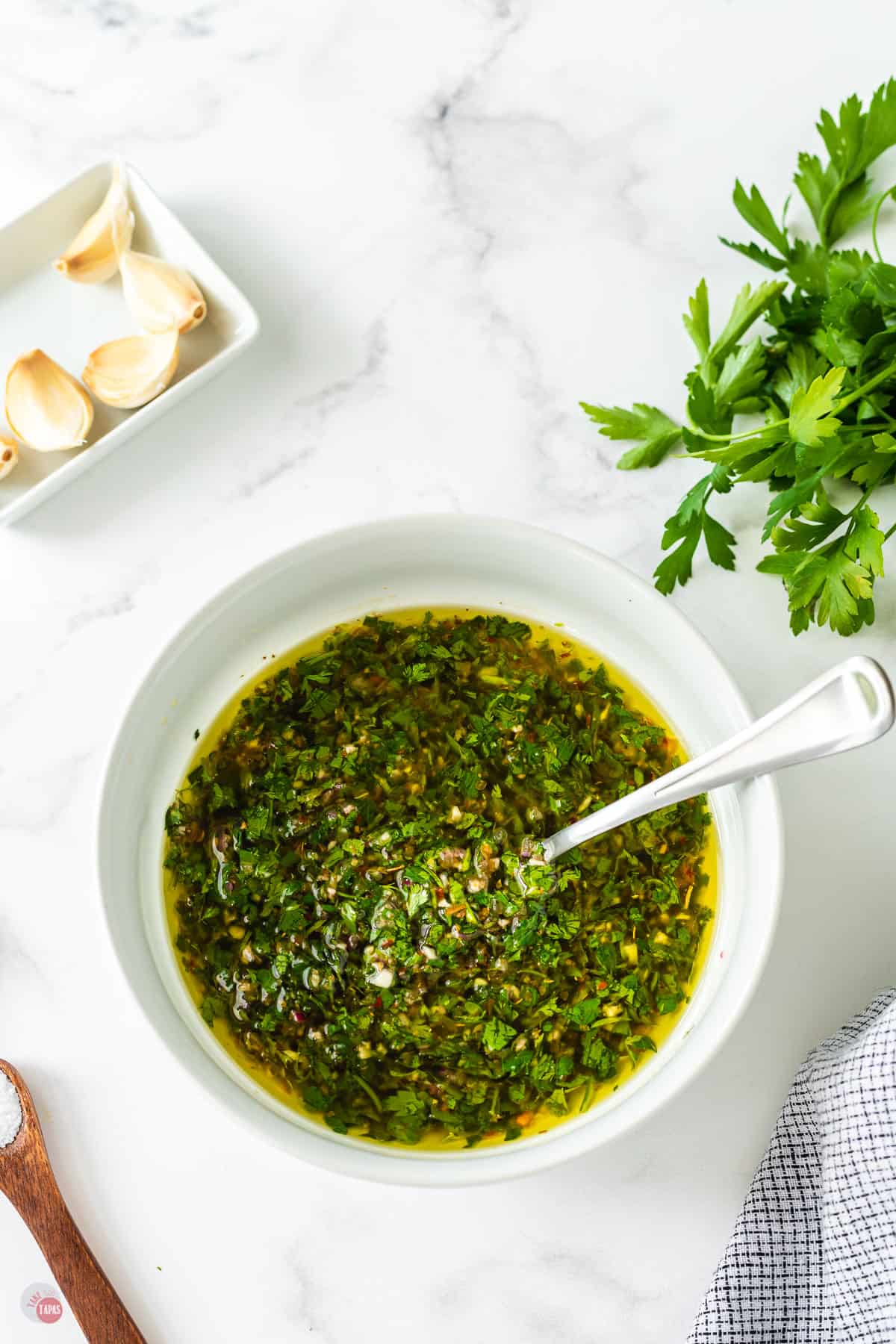 USES FOR CHIMICHURRI:
I love that chimichurri is so versatile. If you need some more inspiration on how to use this herby, spicy, tangy sauce; see below.
Put a thin layer onto a crusty piece of Italian bread or French baguette
Fold into mashed potatoes
Use as a salsa and eat with your favorite tortilla chips
Drizzle over your tacos as a delicious herby topping
Stir into your favorite hummus
Slather on a burger to give a Hispanic twist
Spoon over scrambled eggs
Brush onto corn-on-the-cobb
HOW LONG DOES IT LAST?
Unfortunately, chimichurri doe not last forever. Fresh chimichurri will last in the fridge up to 2 days.
After 2 days in the fridge, the fresh herbs tend to turn dark green and the flavors are loose their vibrancy.
HOW TO STORE IT
Store the sauce in a container, making sure there is a thin layer of oil on the top. Before placing in the fridge, put a small sheet of plastic wrap on the top. Another storage option is placing in an airtight container or a mason jar with a lid.
CAN I FREEZE IT?
Yes, you can! If you decide you'd like to freeze this delicious herby sauce, pour into an ice cube tray and store in the freezer for up to 1 month.
IS THIS AUTHENTIC?
The base of this recipe has all the traditional elements. However; the authentic version of chimichurri from Argentina doesn't contain cilantro but I like the flavor profile it adds.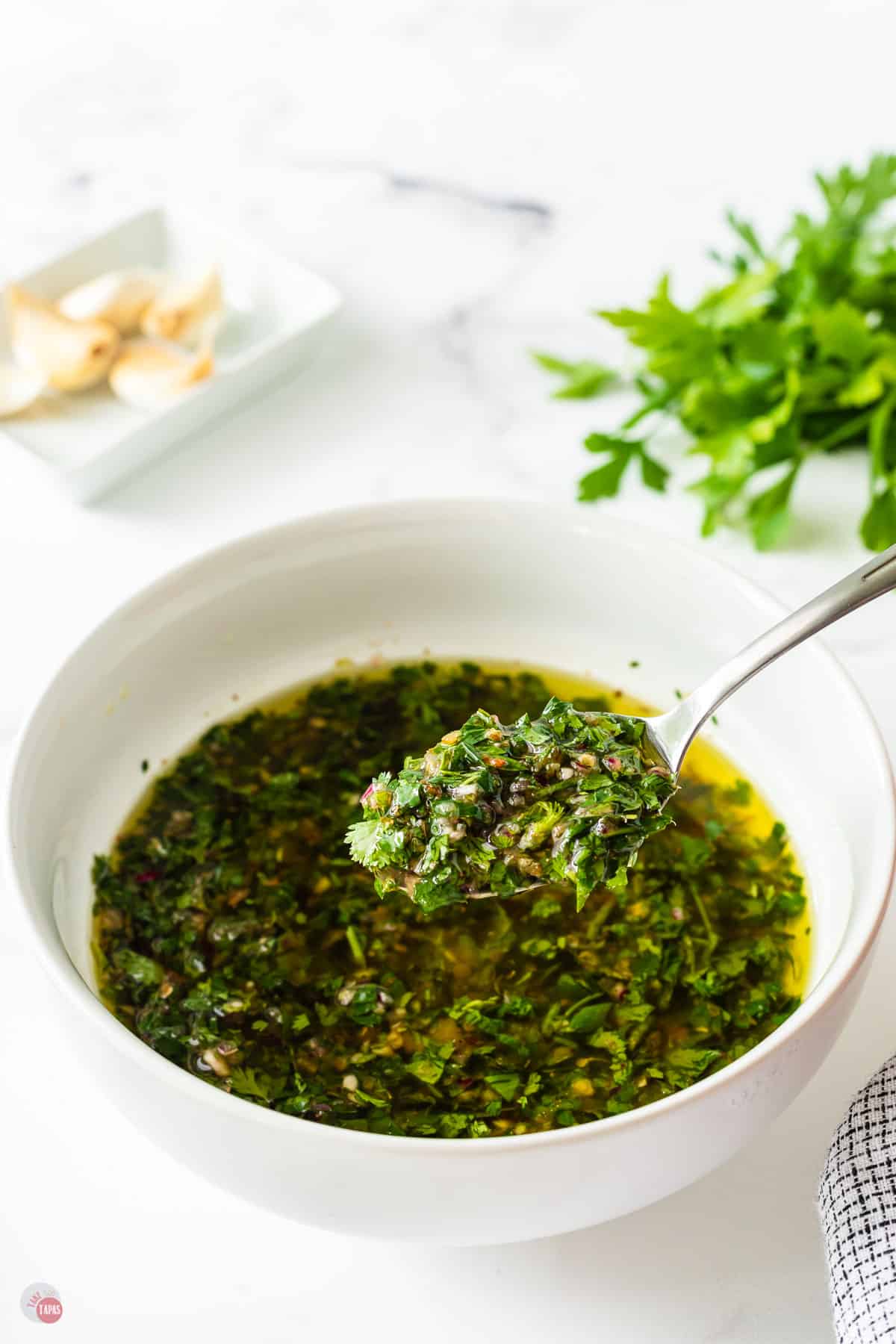 TAPAS TIPS & TRICKS
Red wine vinegar is best. White wine or balsamic vinegar will not work for this recipe. If you don't have red wine vinegar, just make up the volume with lemon juice.
I like to process my garlic and onions first so they get evenly minced. Next add the parsley and cilantro and only pulse to chop. You can skip this step by finely chopping the herbs.
Hand mix in the olive oil. If you add it all to the food processor, you will get a foamy mess and everything will be like a smoothie. This sauce is supposed to have texture!
Cut down on the garlic if it's too strong for you.
Taste the mixture before you add the salt and pepper. Season to taste.
If you want it a little spicier, you can add more red pepper flakes or 1/2 a seeded jalapeno.
Because the olive oil will solidify in the fridge, bring the sauce to room temperature before enjoying.
If you love this recipe as much as I do, please write a five-star review in the comment section below (or on Pinterest with the "tried it" button – you can now add pictures into reviews, too!), and be sure to help me share on facebook!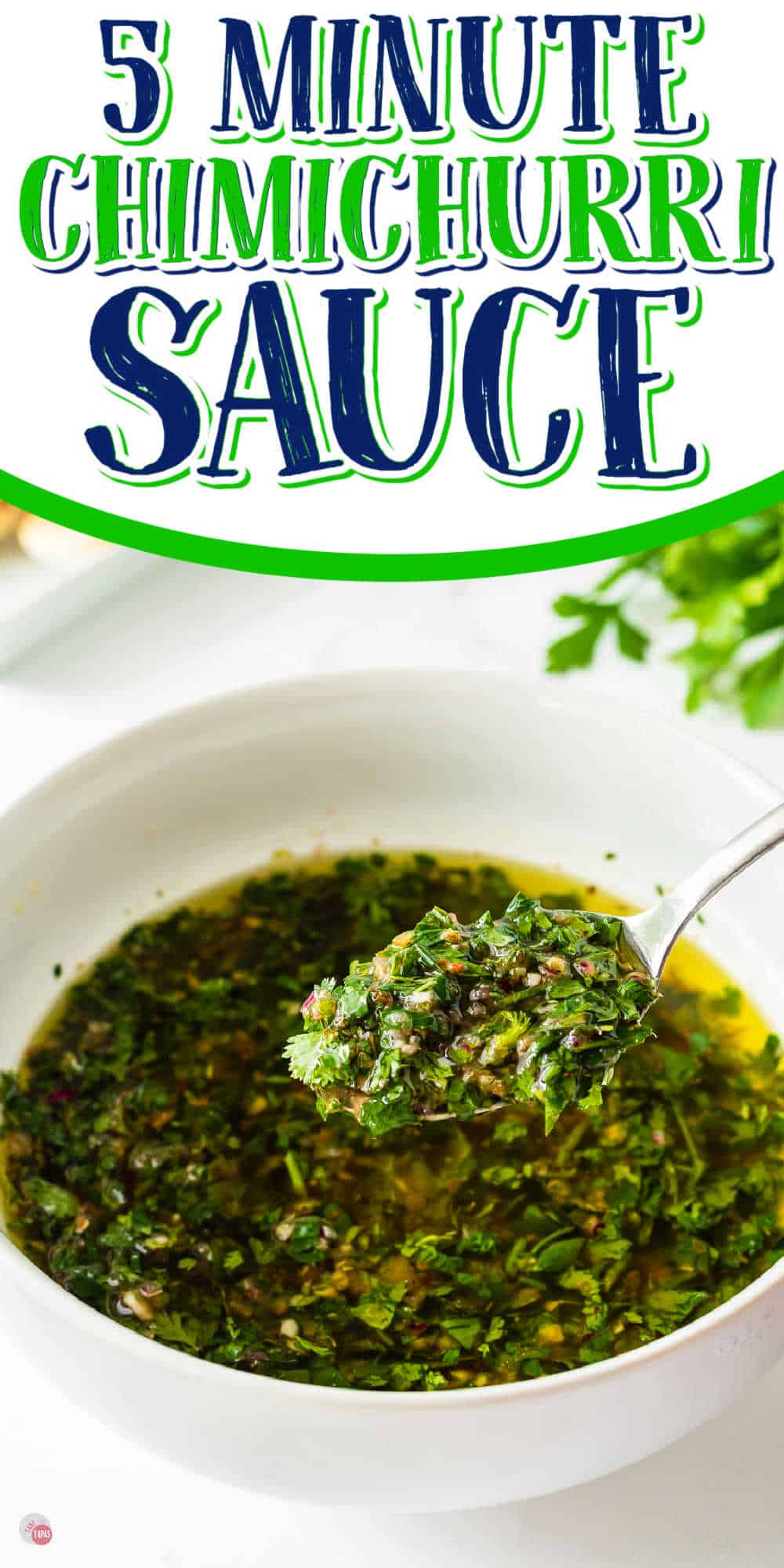 I have to know what you will put this delicious, healthy, herby, versatile sauce on. Are you putting it on that steak you are grilling this week? Or how about the chicken that's in your fridge. Tell me in the comments what you're putting this condiment on!
OTHER CONDIMENTS TO TRY
Monday #SummerGamesWeek Recipes
EASY CHIMICHURRI RECIPE

Argentinian Chimichurri Recipe

Ingredients

1 bunch fresh flat leaf parsley
1/2 bunch fresh cilantro
4 cloves garlic
1/4 cup red wine vinegar
2 teaspoons oregano
1/4 teaspoon red pepper flakes
juice of one lemon
1/2 cup extra virgin olive oil
salt & pepper to taste

Instructions

In a food processor, add the red wine vinegar, garlic, red onion, and spices. Pulse to mince.
Add the fresh herbs. Pulse to chop. Add the lemon juice and pulse a few more times.
Remove to a small bowl and hand mix in the olive oil. Season with salt and pepper if desired. Enjoy!

Notes

*If you love this recipe as much as I do, please leave me a comment and rate it 5 stars. Thank you!

Recommended Products

Nutrition Information:

Yield:

6

Serving Size:

2 tablespoons Amount Per Serving:

Calories:

168

Total Fat:

18g

Saturated Fat:

3g

Trans Fat:

0g

Unsaturated Fat:

15g

Cholesterol:

0mg

Sodium:

53mg

Carbohydrates:

2g

Fiber:

0g

Sugar:

0g

Protein:

0g

This nutrition information was generated via a third party. I can not be held liable for any discrepancies in the information provided.

@TakeTwoTapas.com. Content and photographs are copyright protected. Sharing of this recipe is both encouraged and appreciated. Copying and/or pasting full recipes to any social media is strictly prohibited.