Buttery shortbread cookies are transformed into petit chocolate caramel shortbread sandwiches filled with creamy chocolate caramel toffee sauce made in the slow cooker!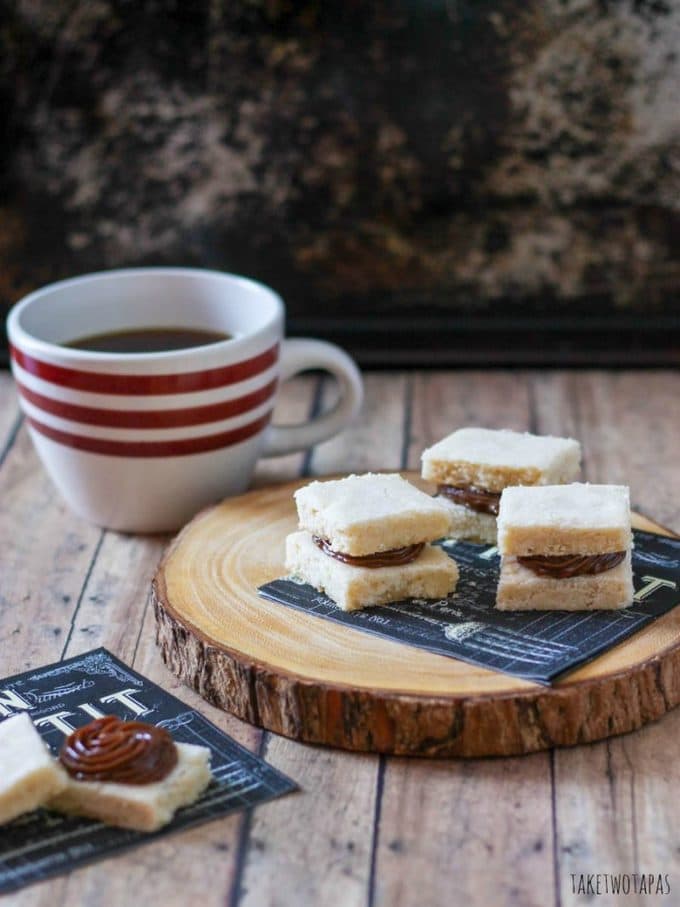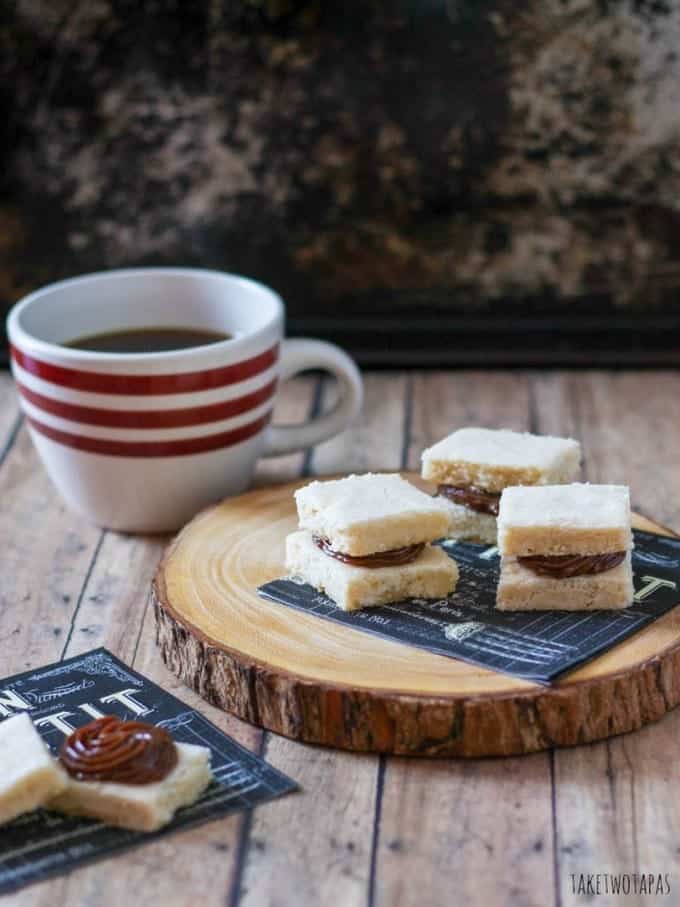 I am so excited to be participating in the Food Blogger Cookie Swap for the second year in a row!
This year over 500 food bloggers got together and made cookies. Sponsored by Dixie Crystals, OXO, and Land O Lakes, we shared our creation with three other bloggers and today we are all sharing our recipes online! Last year I made a Dark Chocolate Salted Caramel Almond Biscotti Bites. I ended up eating more than I exchanged, which is sad because I gained at least 7 pounds over the holiday season.
I will tell you that I signed up for the swap and had no idea what cookie I was going to make. I started thinking about ingredients and flavors that I like and that is what led me to this recipe.
Learning a new technique also sparked my creativity. Have you ever made caramel toffee sauce in the crock pot? I found a recipe for making toffee/caramel with a can of sweetened condensed milk.
Boil an unopened can for 4 hours and it makes perfect caramel/toffee sauce? SHUT UP! There is no way that can work!! Total disbelief took over. Then an urgent need to try it right then and there!
This post may contain affiliate links. As an Amazon Associate, I earn from qualifying purchases. Read my disclosure policy here.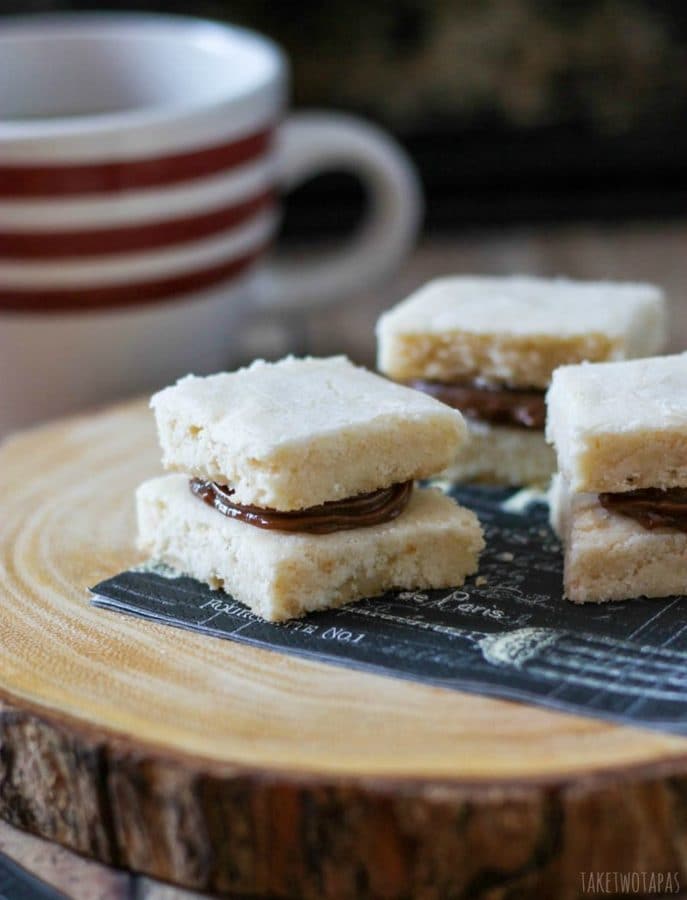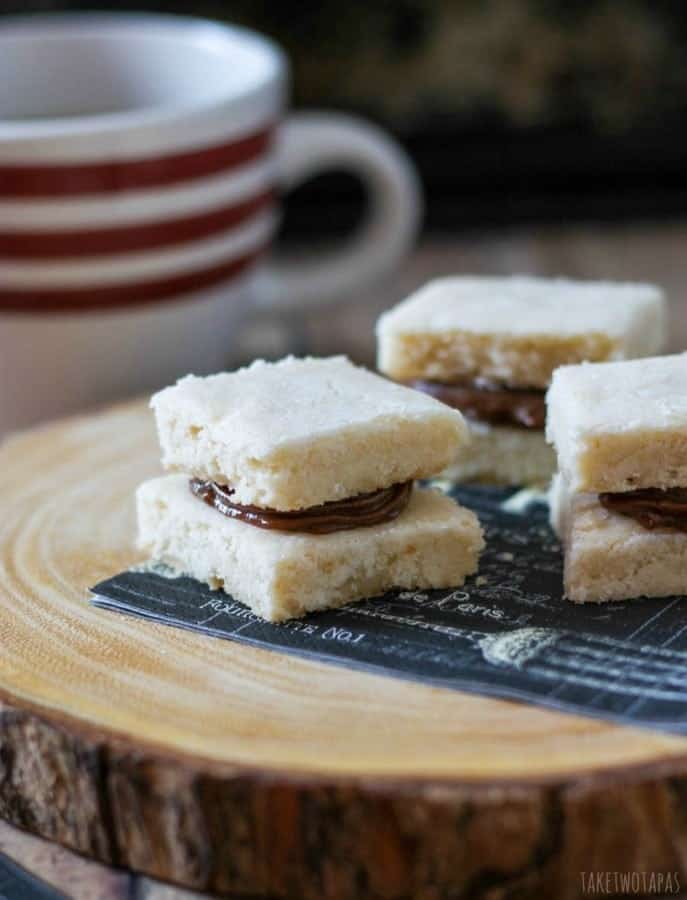 First of all, who has 4 hours to stand in front of the stove and watch a closed can boil? Not me, until I was at church cooking on Wednesday and realized that I was going to be in the kitchen for the same amount of time. I grabbed a can from the church pantry (I gave the church money to replace it!) and threw it in a pot, covered it with water, and boiled away.
When the time I was up, I removed the can from the hot water, let it cool for about 15 minutes, and opened it up.
What I saw was nothing short of a miracle. Perfect caramel sauce! The albino sugar sauce that was in the can to start with came out a perfect amber color, poured like syrup when still warm, and tasted like decadent toffee. When it cooled down, it firmed up like a dense pudding. Able to hold its shape like frosting.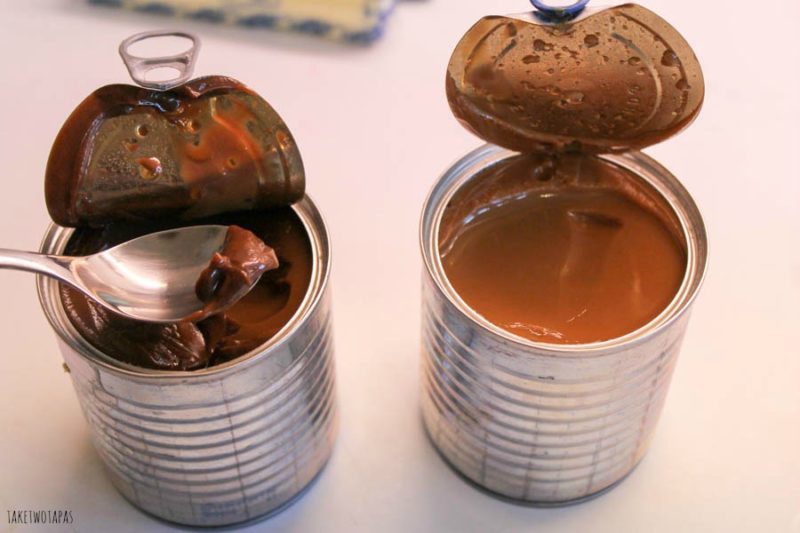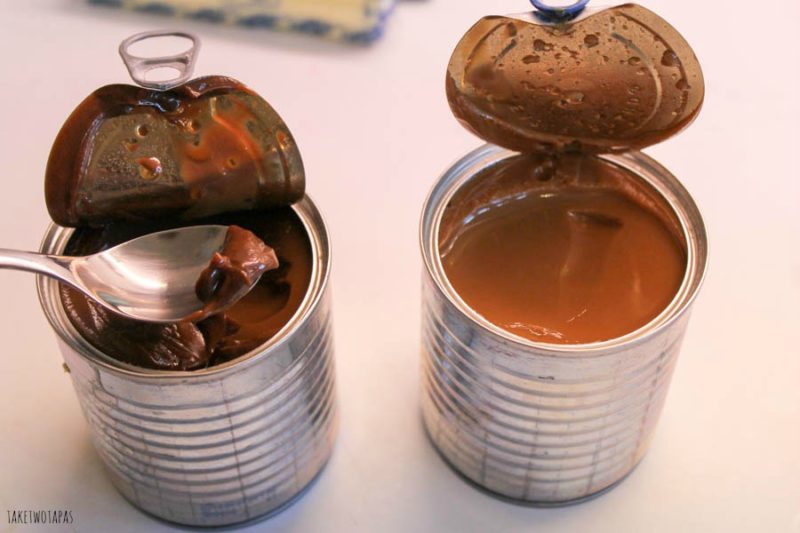 You might be wondering why I have two cans in this picture and why the one on the left is darker. Well, let me tell you that I found a chocolate flavored sweetened condensed milk. Like it could get any better?!?!? They also have a caramel flavored one, but I figured it would be dumb to make a caramel toffee sauce with caramel-flavored milk. Overkill much?
I thought the chocolate one would be a long shot anyway. Visions of bitter or burnt chocolate pudding flavor hovered in my brain, but NOPE! It tasted like perfectly caramel-y chocolate heaven!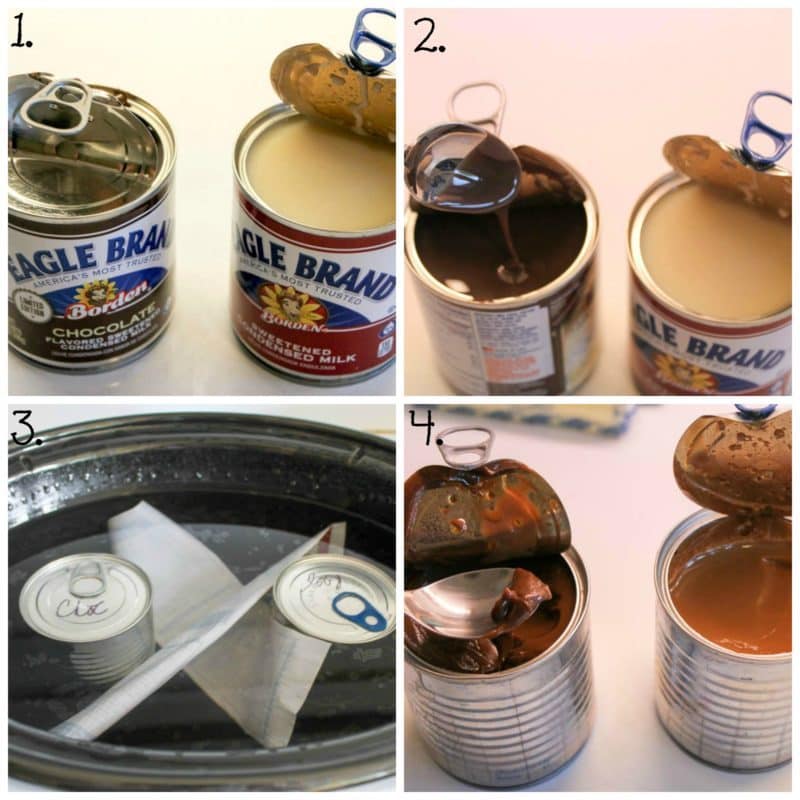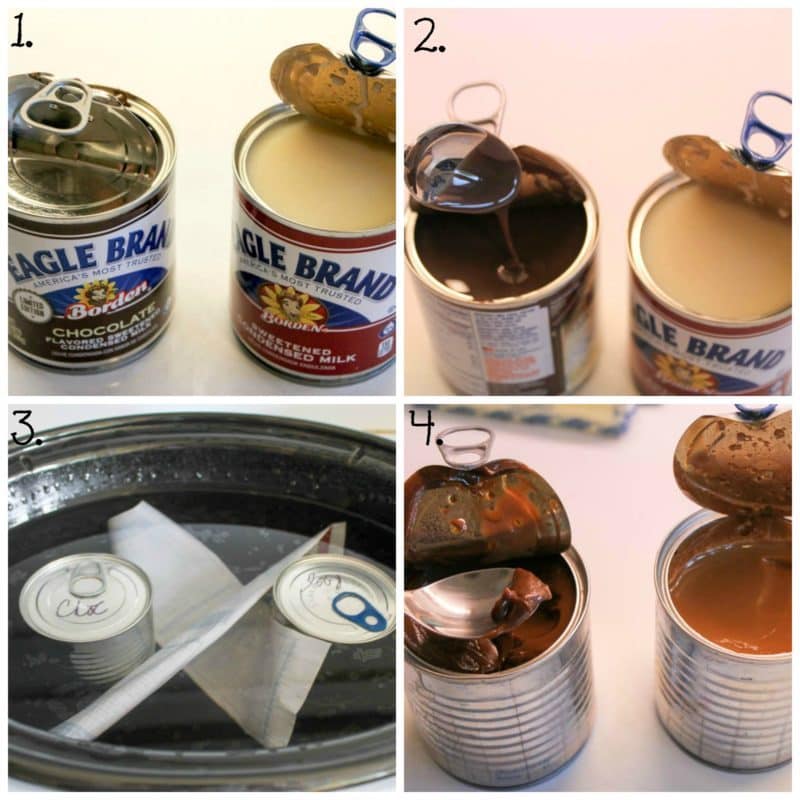 1-Here are what the cans look like.
2-Here is the consistency of the milks prior to cooking.
3-Place your cans UNOPENED into the crock pot and completely cover with water. Use the slow cooker liners or take off the labels because the adhesive from the labels left a weird residue that was hard to clean off afterward. I wrote on the chocolate one with a sharpie in case the cans got mixed up.
4-Cook overnight on low for 8 hours.
5-You can cool and store the cans, unopened in the fridge until ready to use, or you can open them and eat right away. If it is still warm, you can pour it. I cooled mine down so I could use like frosting for my sandwich cookies. You can always just eat out of the can with a small shovel.
6-Once opened it will last in the fridge (in another storage container) for about a week. I just make a few cans at a time and then leave them unopened in the fridge. I wonder if you could leave them at room temp after you cook them without them spoiling? Anyone know? I would think you could because they have been processed, but don't hold me to that! I wouldn't be able to wait that long to use it:)
7-To warm up a can that has already been cooled down I just place the can in a pot of simmering water and then pour when ready. I have not tried microwaving it, FYI. If anything, I might put it in a double boiler on the stove and stir to melt.
Now you know how to make perfect toffee caramel and chocolate toffee caramel.
Let me show you what I did with mine!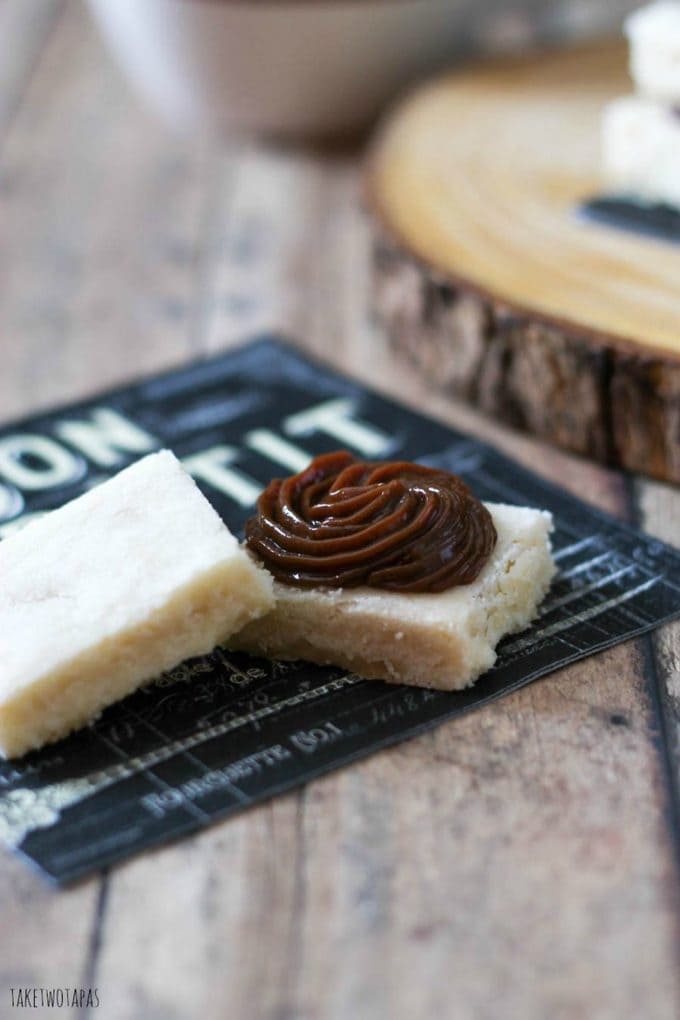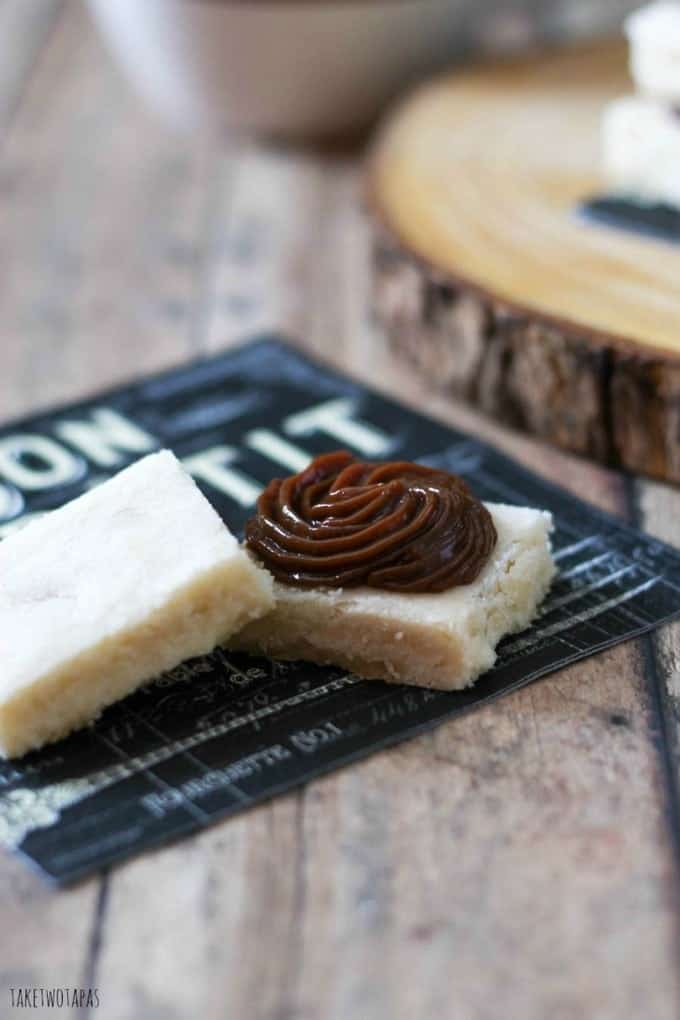 I nestled mine in between two squares of buttery shortbread! Chocolate caramel shortbread sandwiches. I have made shortbread before. Click here to read my Dark Chocolate Pistachio Shortbread Cookie Recipe!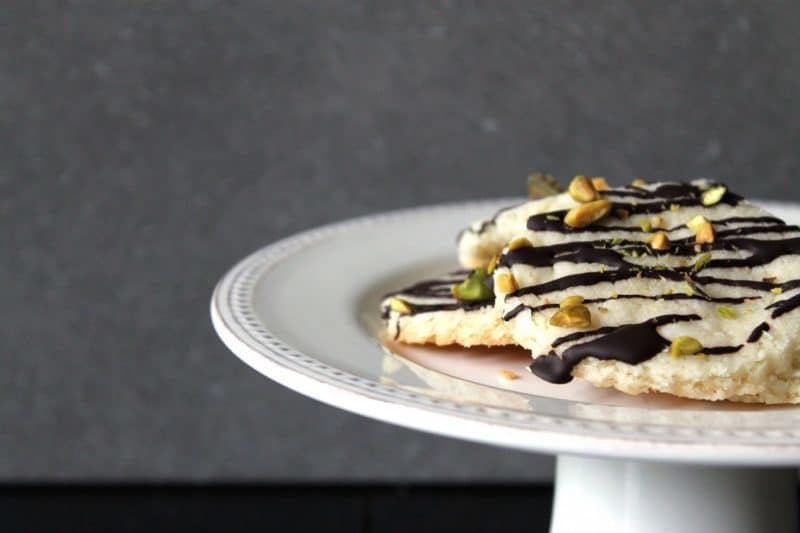 I just took my shortbread recipe, baked it into a thicker cookie bar, and added some of this glorious chocolate toffee caramel sauce!
MORE EASY SNACKS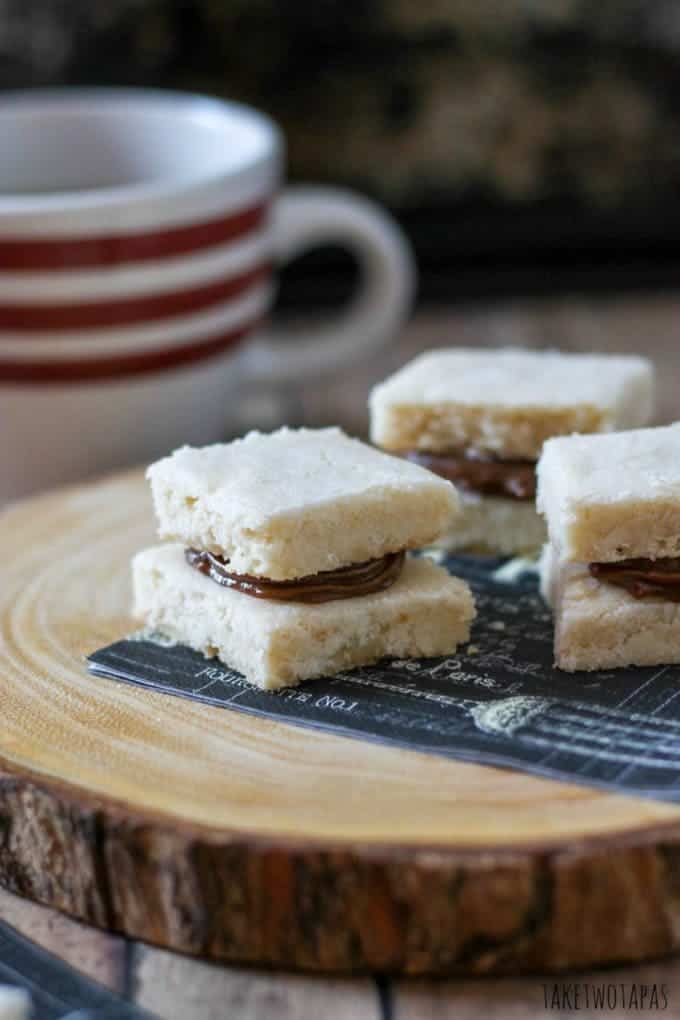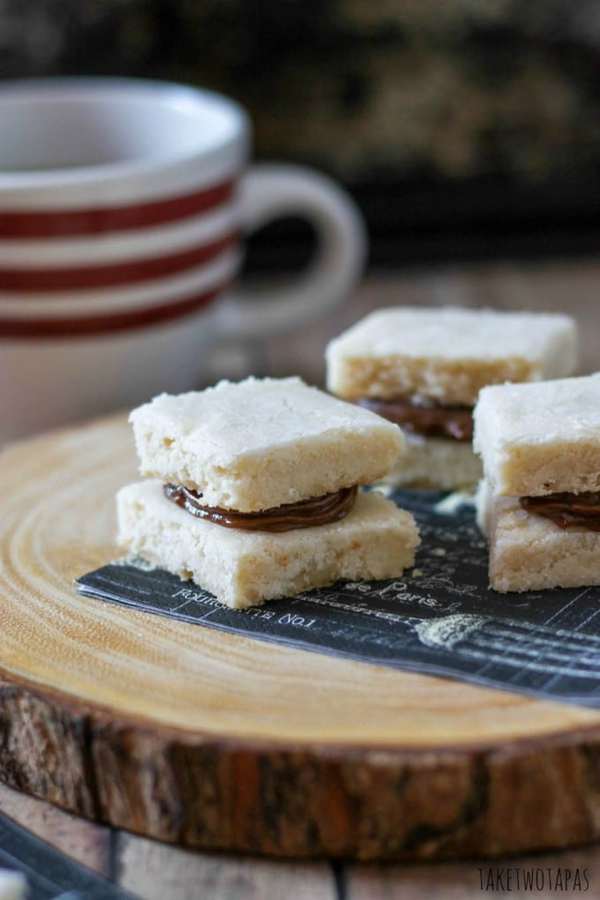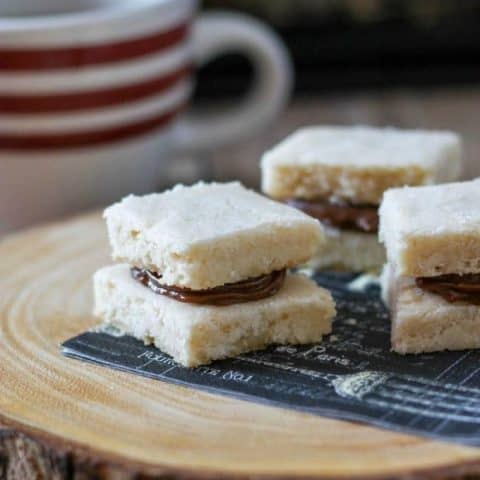 Chocolate Caramel Shortbread Sandwiches
Total Time:
9 hours
30 minutes
These buttery shortbread cookies are transformed into petit sandwiches filled with creamy chocolate caramel toffee sauce made in the slow cooker!
Ingredients
Shortbread Cookies:
2 cups butter (softened)
4 cups all-purpose flour (sifted after measuring)
1 cups sugar
2 teaspoon vanilla
1/4 teaspoon kosher salt
Chocolate Caramel Toffee Sauce:
1 can chocolate sweetened condensed milk
Instructions
Make the Chocolate Caramel Toffee Sauce:
Cook the can of sweetened condensed milk, unopened, overnight on low in the slow cooker.
Remove the next morning and cool. Store in the fridge until ready to use.
Make the cookies:
Cream the butter and the sugar together until fully combined.
Slowly add the flour.
When the flour is all mixed, add the salt and vanilla.
Mix until combined.
Spread dough out on a parchment-lined baking sheet.
Chill for at least 20 minutes.
While the dough is chilling, preheat oven to 325F.
Roll out the dough into a large rectangle about 1/4 inch thickness.
Score the dough with a pizza cutter to make small squares. Leave them touching on the pan, just make the marks.
Bake at 325F for 20 minutes or until the edges turn a light brown.
Remove and cool.
When the cookies are almost completely cool, run your pizza cutter or knife back through the score marks to separate the cookies.
Cool the cookies completely.
When ready to assemble, put your chocolate caramel toffee sauce in a piping bag or just use a knife to smear some on the cookies. Be careful as the cookies are delicate.
Top with another shortbread cookie square to make your sandwich!
Whi
Nutrition Information:
Yield:

24
Serving Size:

1
Amount Per Serving:
Calories:

251
Total Fat:

16g
Saturated Fat:

10g
Trans Fat:

1g
Unsaturated Fat:

5g
Cholesterol:

41mg
Sodium:

146mg
Carbohydrates:

25g
Fiber:

1g
Sugar:

9g
Protein:

2g
This nutrition information was generated via a third party, Nutritionix, and can not be held liable for any discrepancies in the information provided.
For more insider tips & tricks, and a candid behind the scenes look follow me on social media! Check use out on Pinterest, Facebook, Instagram, & Twitter (yes, people still use Twitter, LOL!)
What will you make with your new caramel sauce? Some Chocolate caramel shortbread sandwiches?