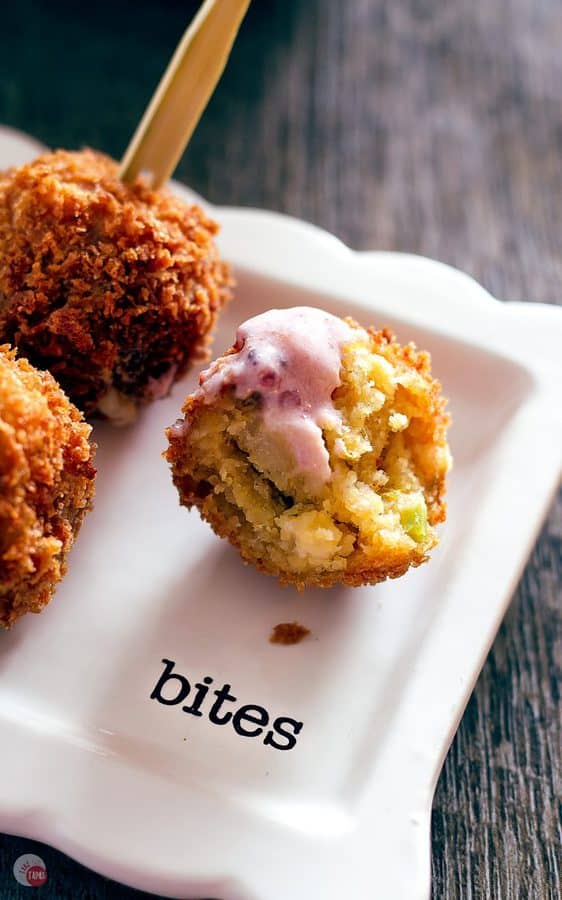 Deep Fried Cornbread Dressing Balls with Cranberry Dip are perfect for Sunday afternoon snacking and using up all the Thanksgiving leftovers.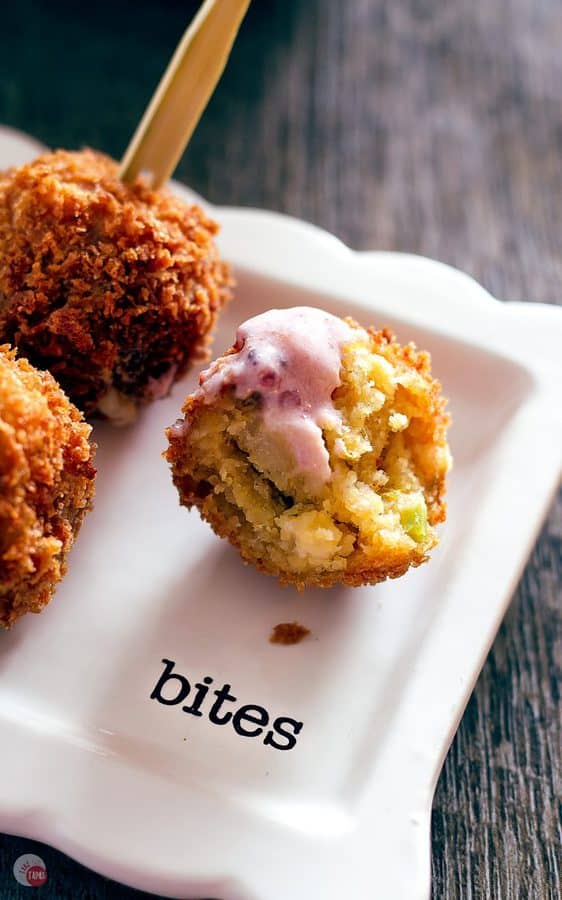 What do you do with all that leftover stuffing or dressing after the big meal? You turn them into a delicious appetizer for the weekend.
Cast Iron Cornbread
When you think of stuffing or dressing does your mouth start to water? Mine does because that means I am getting my mother in law's cornbread dressing.
She makes dressing and not stuffing because we usually deep fry our turkey. Deep frying a turkey that is full of stuffing is not a good idea!!
So my mother in law makes the dressing in a casserole dish, but not just any dressing, she makes homemade cornbread dressing.
Most people use bread, leftover rolls, or the mix that comes in a bag, but Judy makes hers using cornbread and biscuits.
To get the cornbread dressing recipe started, she makes cast iron cornbread. Her old-fashioned cornbread mix poured into a screaming hot cast iron skillet and baked until golden brown.
A cast iron skillet gives the cornbread a crispy crust and a fluffy texture.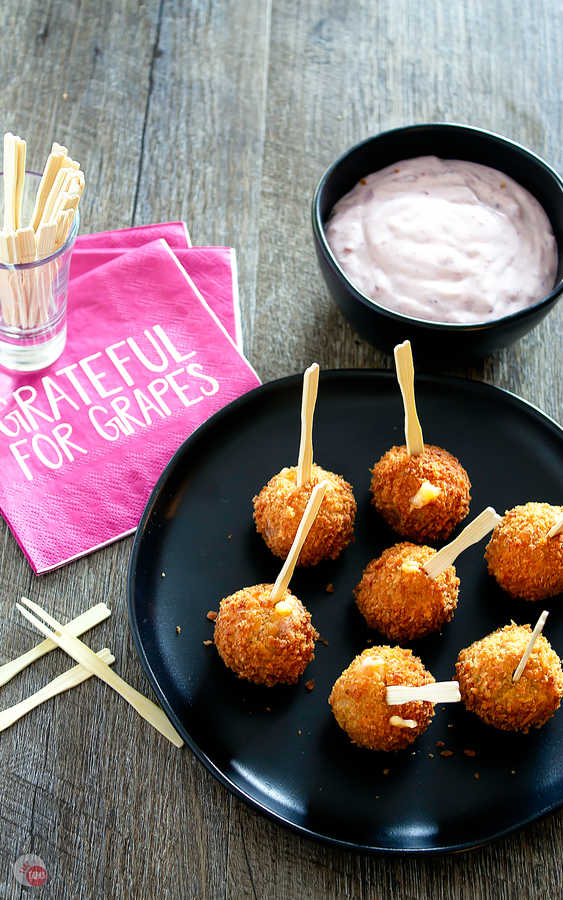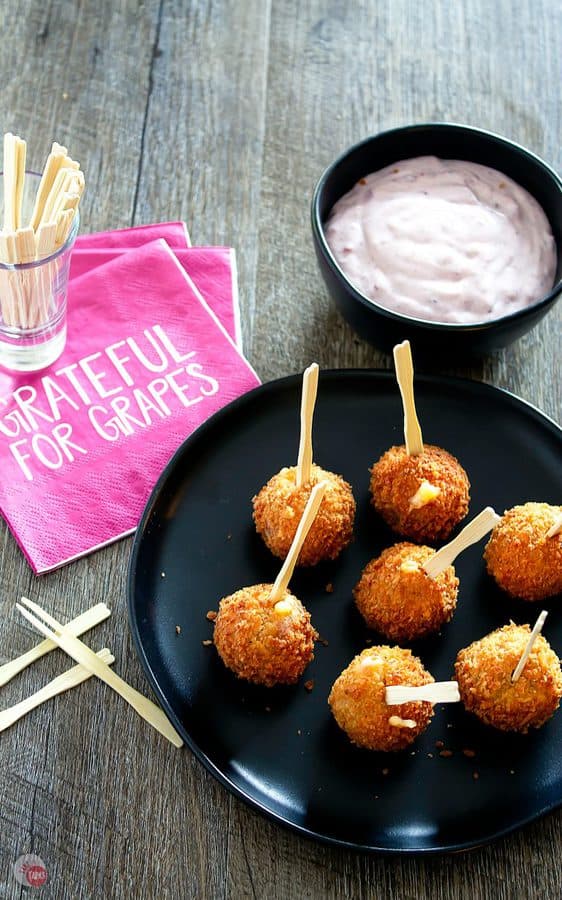 If you'd rather skip my (very helpful, I think) tips and tricks, essential cooking info, and similar recipe ideas – and get straight to this delicious recipe – simply scroll to the bottom of the page where you can find the printable recipe card.
Using a stuffing recipe?
Judy's cornbread dressing recipe isn't like the typical stuffing recipe. After the cornbread is baked, she makes biscuits from scratch too.
When I try to replicate her stuffing recipe I use canned biscuits as a shortcut, but I always make my cornbread from scratch. If you don't have time/want to make cornbread feel free to use moist cornbread muffins from the store.
After the cornbread and biscuits are crumbled up, she adds sautéed celery and onions, poultry seasoning, and some chicken stock to bring it all together.
She bakes it off in the oven and keeps it warm until the turkey is done. Judy always makes a ton of cornbread dressing so we always have leftovers.
There isn't anything better than Thanksgiving leftovers is there? The best thing to do with all those leftovers is to make easy appetizers everyone can enjoy while watching all the football games going on throughout the weekend.
That's where these leftover stuffing balls come into play!
This post may contain affiliate links. As an Amazon Associate, I earn from qualifying purchases. Read my disclosure policy here.

Cornbread Dressing makes great leftovers!
Now that I have your attention on Judy's cornbread dressing recipe, let's talk deep-fried cornbread dressing balls. If there is one stuffing that is perfect for repurposing it's hers.
She adds so much moisture when she bakes it the first time that it never dries out. It also makes great stuffing muffins that are perfect for breakfast with some eggs.
The cornbread dressing balls use leftover cornbread dressing with a little cheese added to it. I use an ice-cream scooper and turn the mixture into 1.5 inch balls. This recipe yields around 2 dozen cornbread dressing balls.
Dredge the dressing balls in seasoned flour, an egg wash, and roll in Panko breadcrumbs and they are ready for the fryer! A quick 3-5 minute fry in 375F oil, gives you a crispy coating and a moist and cheesy stuffing center.
If you want to skip all the frying and just bake them, I would leave off the flour, egg, and crumbs.
FAQ about Fried Stuffing Balls:
Q:How do you moisten leftover stuffing??
A: If your stuffing or dressing is too dry to stay in the ball shape, add some chicken stock until the dressing sticks together.
Q: Is stuffing and dressing the same thing??
A: It's stuffing if it's going into the bird and dressing if it's baked separately.
Q: Can I use the stuffing from inside the turkey to make the mini cornbread muffins?
A: Yes, because you are cooking it again. Just make sure the internal temperature of muffins comes to 165F.
I have one rule for my dressing or stuffing, it can't contain hard-boiled eggs. I know some people like that, but I would skip the eggs and opt for a cornbread dressing with sausage or even dried cranberries and pecans.
The cornbread dressing isn't the only thing you can use leftovers for, these fried cornbread dressing balls need something to dip into.
Equal parts cranberry sauce and sour cream make the perfect pairing for the stuffing balls. You know you have some sour cream leftover from all the dips you made!
And at least 2 of the kids didn't eat their portion of cranberry sauce so you are all set!
These deep-fried cornbread dressing balls are an easy appetizer that uses up any leftovers you might have and are perfect for couch sitting and football watching on Saturday and Sunday.
Are you dreaming of Thanksgiving leftovers already? Here are some recipes to look forward to before you even start cooking on the big day!
Sourdough Stuffing Egg Casserole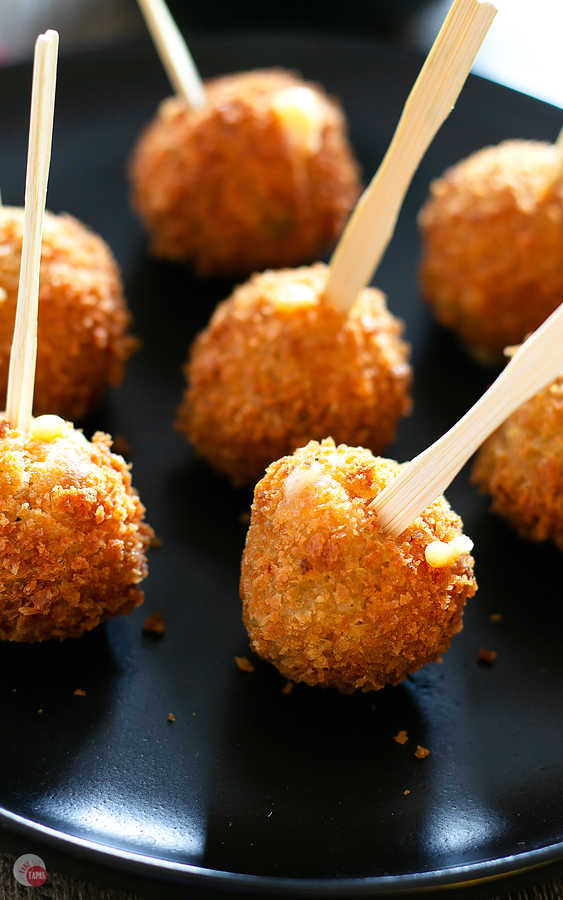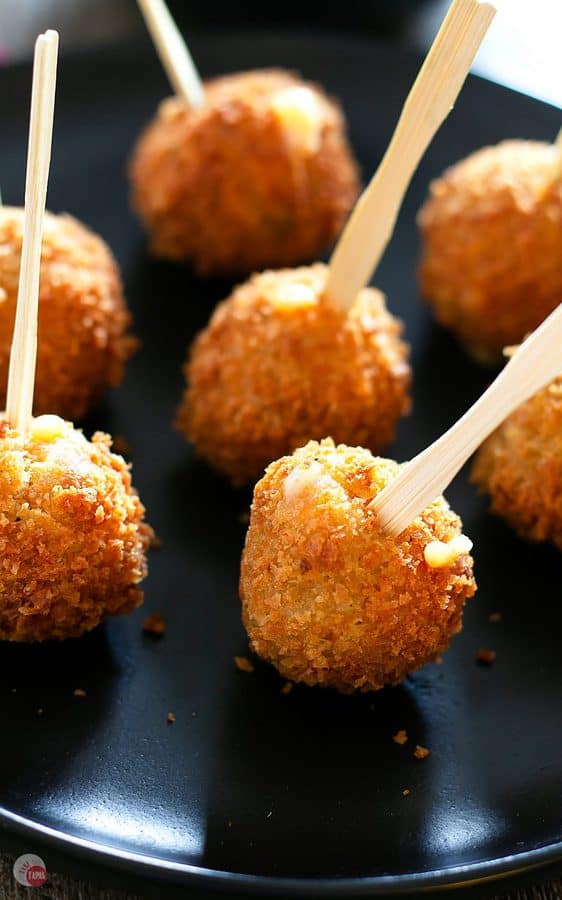 Looking for other great THANKSGIVING LEFTOVER recipes to try?
For turkey or ham:
For leftover mashed potatoes:
For leftover dressing:
For leftover cranberries:
For leftover pie or pie crust:
For leftover nuts: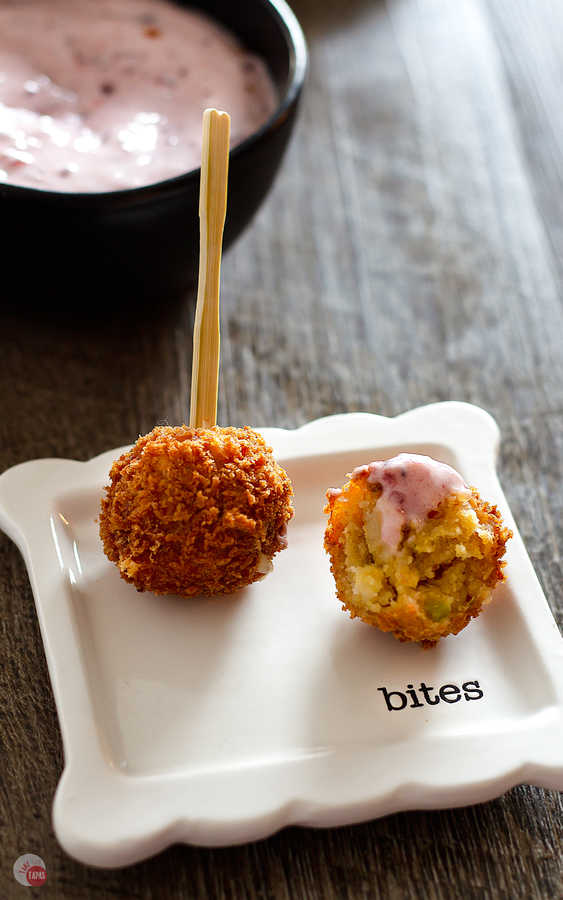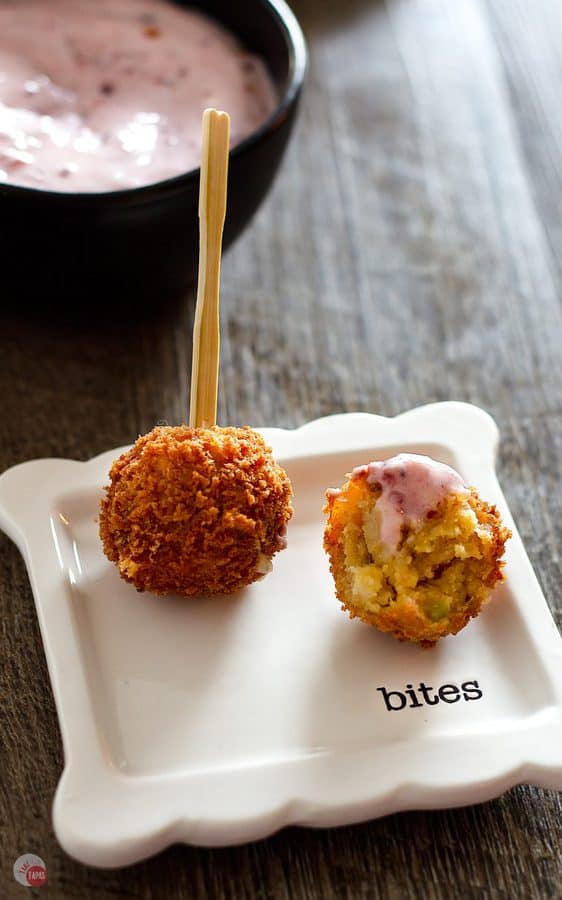 If you love this Deep Fried Cornbread Dressing Balls Recipe as much as I do, please write a five-star review in the comment section below (or on Pinterest with the "tried it" button – you can now add pictures into reviews, too!), and be sure to help me share on facebook!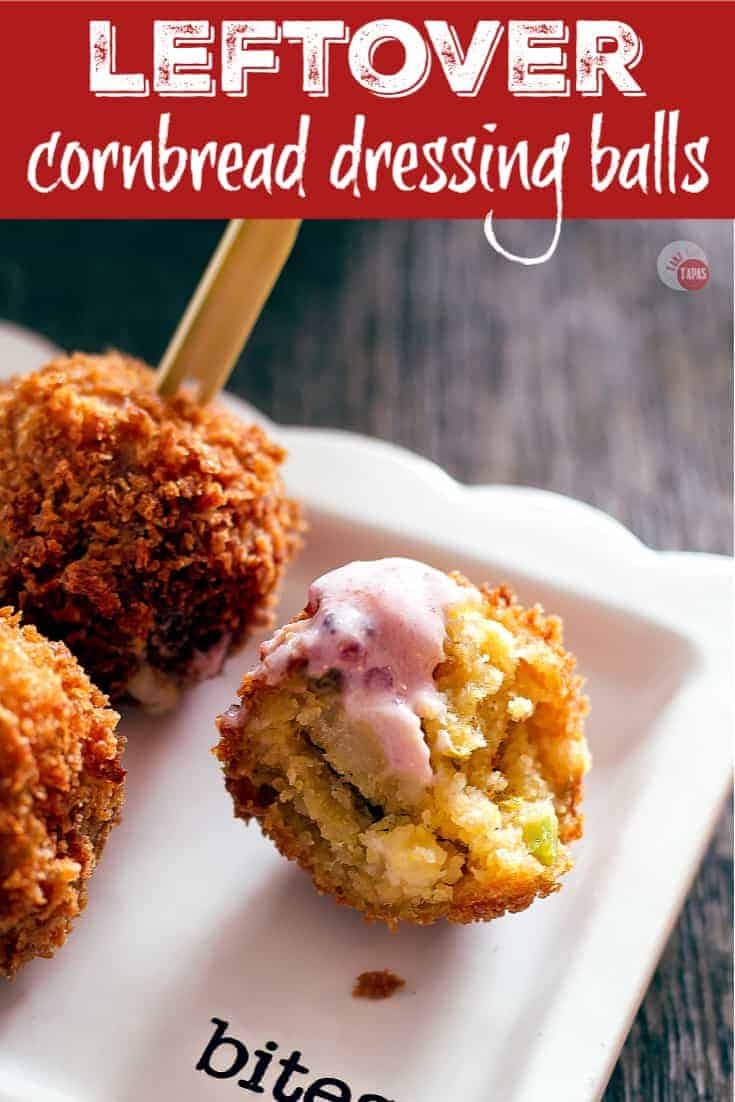 Easy Deep Fried Cornbread Dressing Balls Recipe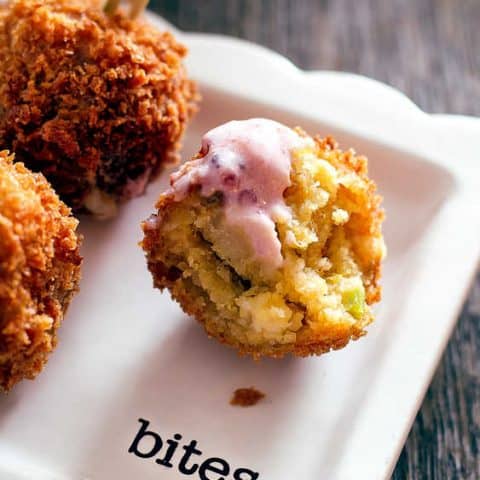 Deep Fried Cornbread Dressing Balls - Leftover Stuffing Bites
What do you do with all that leftover stuffing or dressing after the big meal? You turn them into a delicious appetizer for the weekend. These Deep Fried Cornbread Dressing Balls with Cranberry Dip are perfect for Sunday afternoon snacking!
Ingredients
For the cornbread dressing balls
2.5 cups leftover cornbread dressing
1/2 cup cheese (shredded)
Stuffing Balls Coating
1 cup flour
2 teaspoons poultry seasoning
1 teaspoon salt
1 teaspoon pepper
2 eggs
2 tablespoons milk
2 cups Panko breadcrumbs
Oil for Frying
Cranberry Dip
1/2 cup sour cream
1/2 cup cranberry sauce (use leftovers if you have it)
Instructions
Make the dressing balls
Combine the cornbread dressing and the cheese.
Mix to combine.
Scoop into 1.5 inch balls and roll in you hands to make them smooth.
Prepare the coating
Combine flour, poultry seasoning, salt, and pepper in a small bowl.
Beat eggs and milk together in a second bowl.
Add the Panko crumbs in a third bowl.
Coat the dressing balls
Dredge each ball through the flour mixture and shake off any excess.
Transfer each dressing ball to the egg mixture and evenly coat.
Roll each ball in the Panko crumbs until evenly coated.
Set each stuffing ball on a plate and allow to sit for a few minutes to allow the coating to stick.
Heat oil in a deep-fryer or large saucepan to 375F.
Fry the dressing balls
Working batches of 4 or 5, carefully place the cornbread dressing balls in the oil and fry until all sides are golden brown.
Remove to a paper-towel-lined plate to drain.
Continue until all the dressing balls are fried.
Keep in a 250F oven to keep warm until serving.
Prepare the cranberry dip
Combine equal parts sour cream and leftover cranberry sauce.
Stir to combine.
Serve with the fried cornbread dressing balls.
Enjoy!
Notes
*If you like this recipe, please leave me a comment and rate it with some stars. Thank you!
Nutrition Information:
Yield:

25
Serving Size:

1
Amount Per Serving:
Calories:

128
Total Fat:

5g
Saturated Fat:

2g
Trans Fat:

0g
Unsaturated Fat:

3g
Cholesterol:

20mg
Sodium:

277mg
Carbohydrates:

17g
Fiber:

1g
Sugar:

2g
Protein:

4g
This nutrition information was generated via a third party, Nutritionix, and can not be held liable for any discrepancies in the information provided.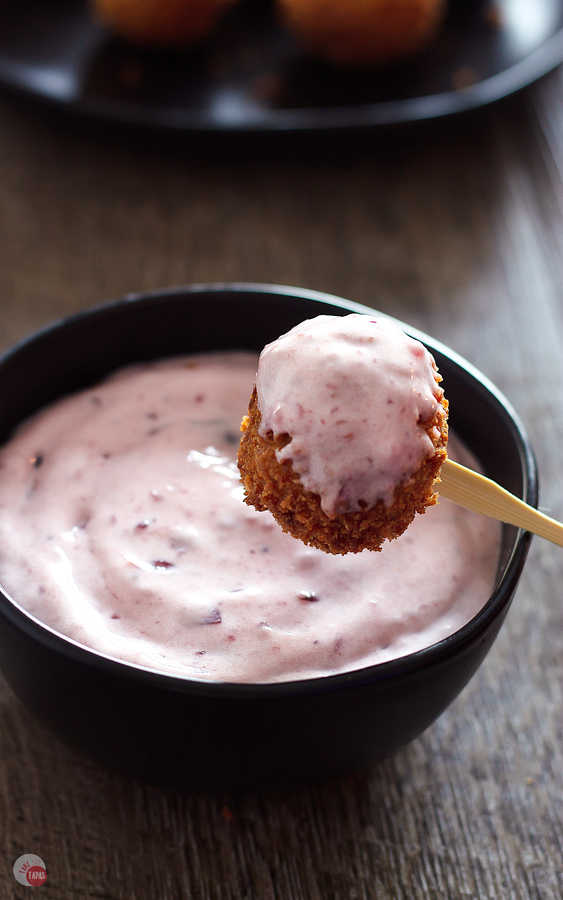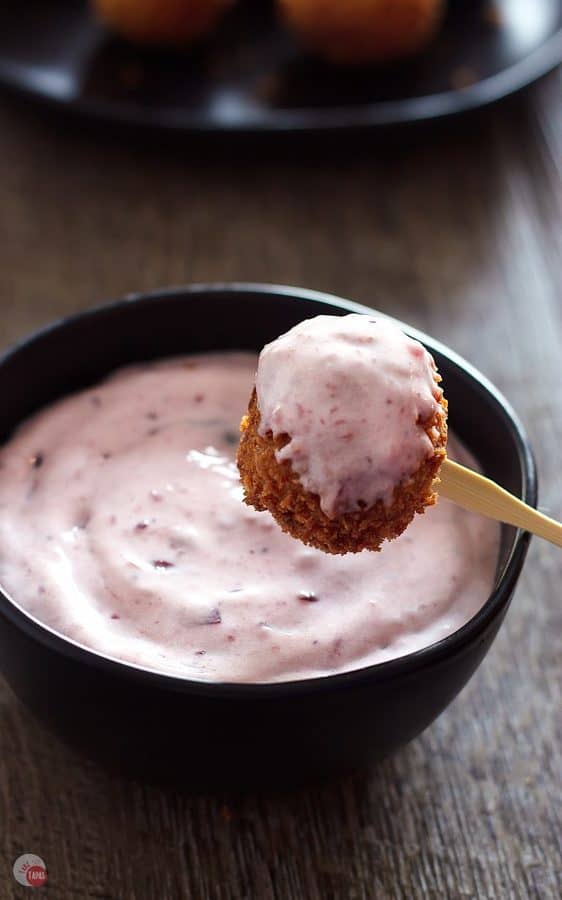 @TakeTwoTapas.com. Content and photographs are copyright protected. Sharing of this recipe is both encouraged and appreciated. Copying and/or pasting full recipes to any social media is strictly prohibited.