Don't let summer slip you by without enjoying some tropical mini cocktails! You will feel like you're sitting on a beach with your toes in the sand.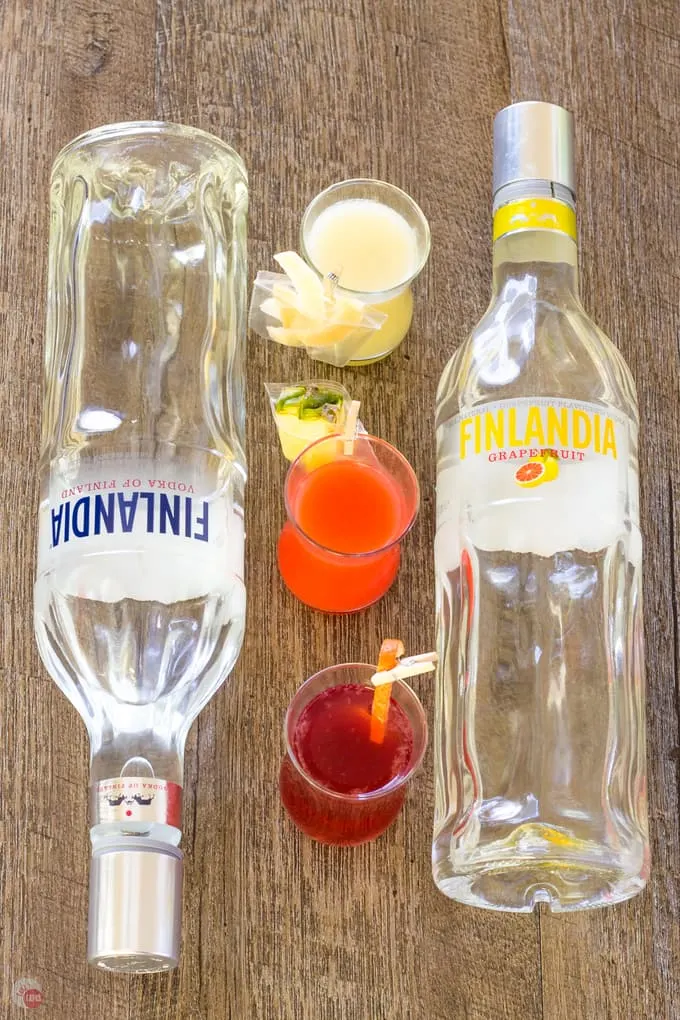 This post has been sponsored by Finlandia. All thoughts and opinions are my own. Must be 21 or older to consume alcohol. Please drink responsibly.
Yes, it is still summer but I feel it slipping away quickly. August is right around the corner and with it the start of school. School ushers in Fall and that cooler weather that I have been craving since moving to Arizona. Boo for the summer being over! I would have my toes in the sand and a breeze on my face. If you are feeling the same way, try drinking some of my tropical mini cocktails to keep summer on your heart.
I have mentioned before that my family is from the Bahamas and I have spent many a summer there. Those summers were mostly as a youngster but I have had quite a few as an adult. Happy to share my heritage with my husband and our boys, we have visited the islands to give them a taste of the tropics as well.
One of the great things about the tropics and the area known as the Caribbean is the fruity cocktails. I am sharing mini versions of my favorites with you today!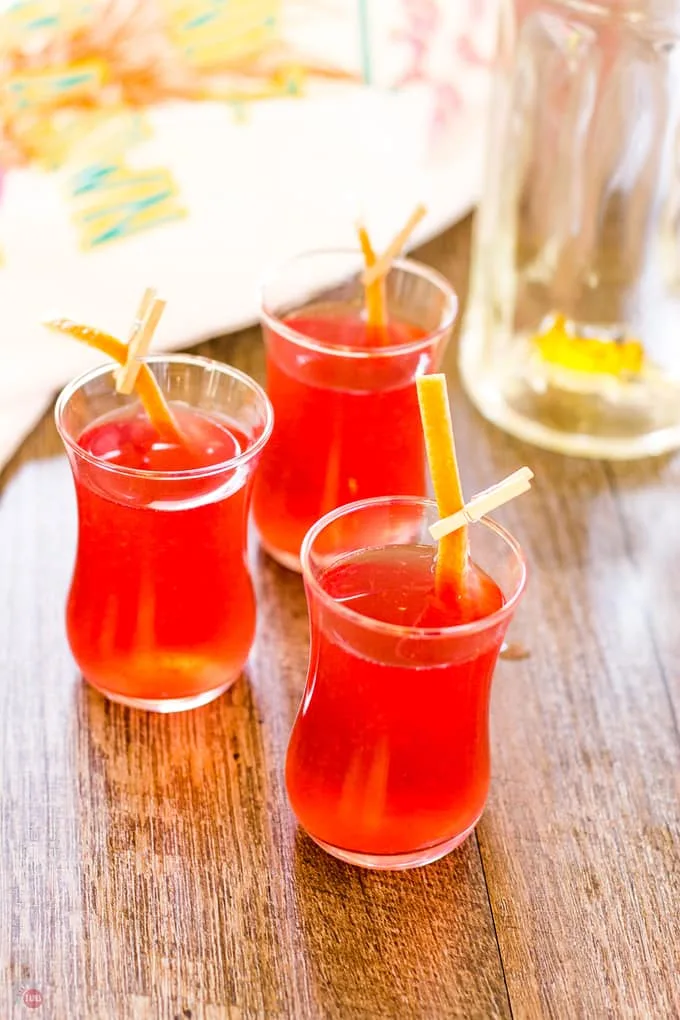 The first of my tropical mini cocktails is a simple one but rich in flavor. The Sea Breeze is a 3 ingredient cocktail consisting of cranberry juice, grapefruit juice, and vodka. I'm using the same ingredients but adding a touch more grapefruit with Finlandia Grapefruit Vodka.
To get started, I will mention that these tropical mini cocktails are 3 ounces each. Less than half a normal cocktail size and more than a shot. I love to serve these mini versions as "sippers" in these fun tulip glasses that are originally meant for desserts. Feel free to serve these in whatever glass you choose, but don't forget the garnishes! My tulip glasses have thin walls which make it easier to attach my garnishes. These tiny clothespins were inspired by a recent article I came upon and thought them perfect for my mini tropical cocktails.
This post may contain affiliate links. As an Amazon Associate, I earn from qualifying purchases. Read my disclosure policy here.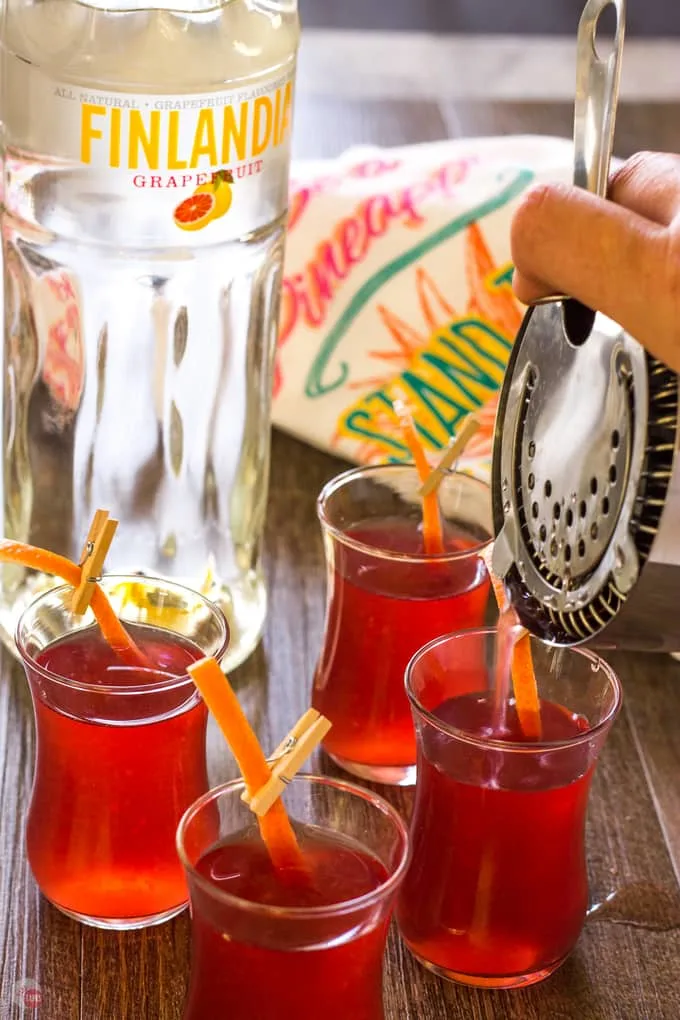 My mini version of the Sea Breeze, stronger on the grapefruit, is garnished with a sliver of grapefruit peel pinned to the side of the glass. The sliver enhances the grapefruit notes in the drink as you sip the Sea Breeze and smell the freshly sliced grapefruit peel. And it keeps the grapefruit sliver from falling into your mouth! Genius right?!?
This mini Sea Breeze cocktail is light, refreshing, and slightly tart with the mixing of cranberry and grapefruit. Get your beach towel ready!!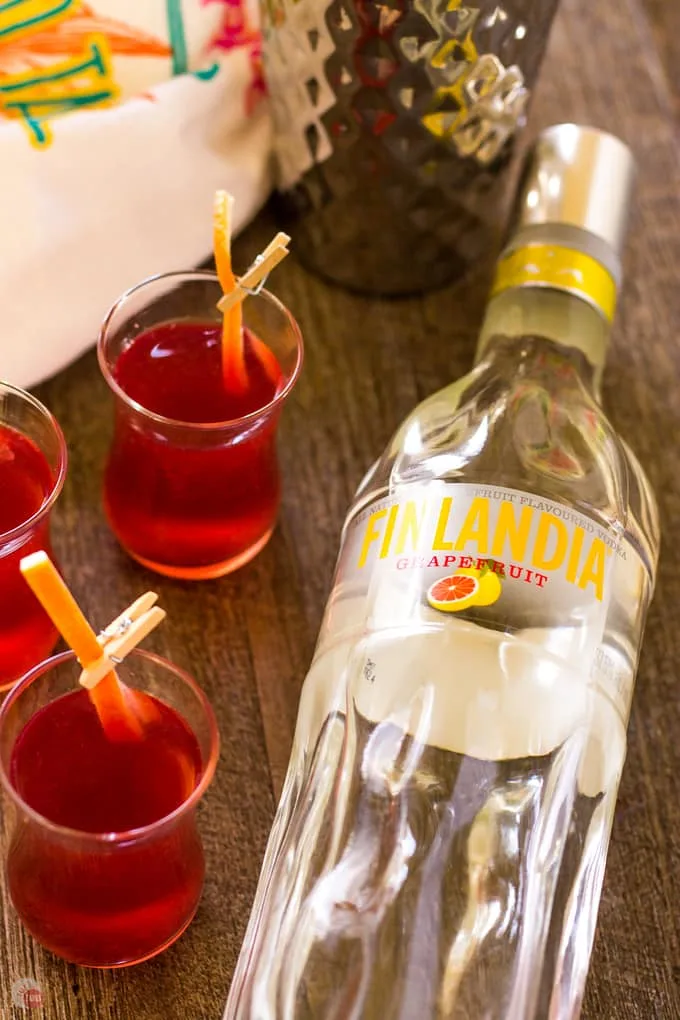 The next of my tropical mini cocktails is one that I am very familiar with as it carries the Bahamian name, the Bahama Mama. This tropical cocktail is a little more complex in that the original recipe contains 4 different types of rum. A liquor most prevalent in cocktails of the region. I have simplified the recipe to bring out more of the fruit flavors, only using Finlandia Vodka. I chose Finlandia Vodka for a few reasons. One is that they use water from a glacial spring and here in dry Arizona we take our water very seriously. Two because they are owned by Woodford Reserve which is my hubby's favorite bourbon. It's clean taste helps will all my cocktails too:)
Using only one type of alcohol helps to keep the flavor profile clean, and easier to make. When you are with your guests you want to spend time dreaming of the beach and keeping summer alive a little longer and not fussing over complicated recipes.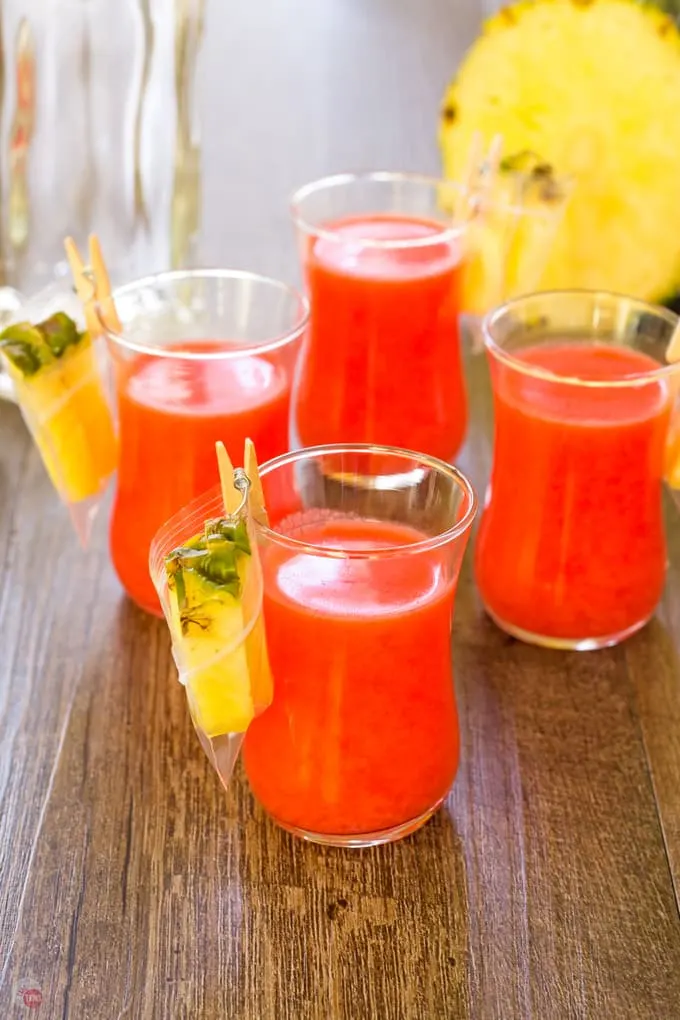 The Bahama Mama contains orange juice, pineapple juice, coconut cream, and is sweetened with grenadine. The sweet grenadine gives the cocktail its bright red color and brings together all the tropical flavors in it. You can't talk about the Caribbean with mentioning fresh pineapple, fresh orange juice, and coconut! I can't tell you how I love the flavor of coconut. My family and I spent many a cool summer night cracking fresh coconuts and making homemade ice cream.
When we made ice cream we had to churn it by hand which took a long time and a lot of elbow grease. Everyone took a turn at the crank because we all benefitted in the end! Thank goodness we have ice cream machines now. Back to the cocktail!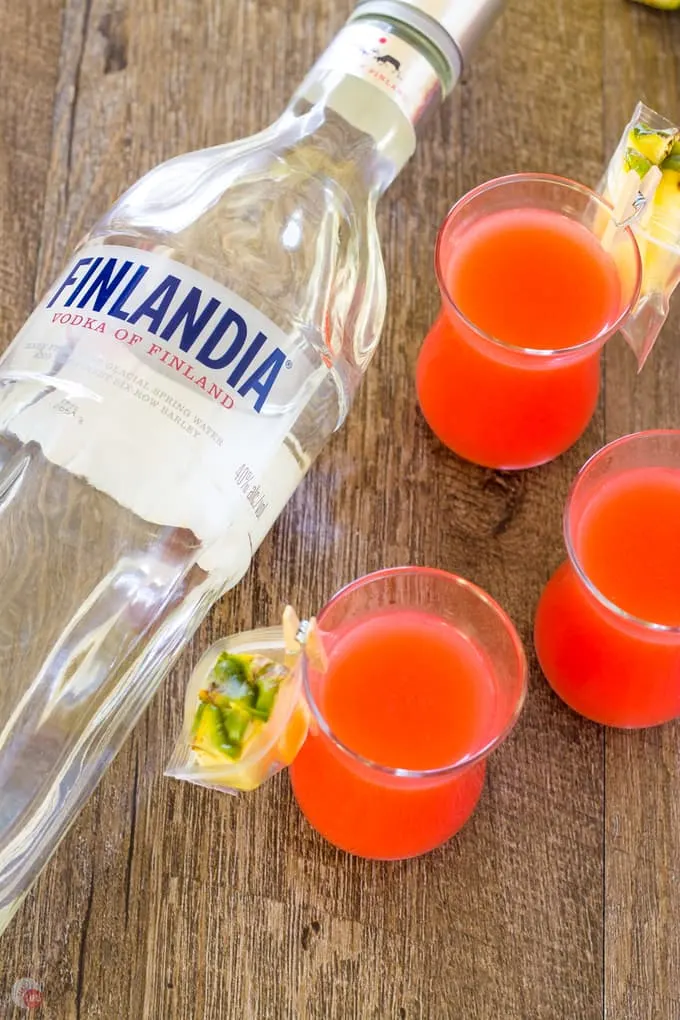 You can use fresh coconut if you prefer but I like to use coconut cream. It comes already sweetened and has a rich flavor thus making it easier to add to your cocktail shaker. A lot less messy too. Have you ever split a fresh coconut? The first time I did it, the water spilled all over the counter and stained my clothes. I did scrape out all the coconut meat and keep it. Once again, when entertaining guests, I try to keep it as easy as possible.
One thing I do like is fresh pineapple. Easier to prepare and the color is so vibrant that it makes a nice garnish. Once again I employ my mini clothespins and tiny bags to hold my fresh pineapple slices. A few fresh pineapple sticks make for a light snack while enjoying your mini tropical cocktails. Eat them before or after you drink your Bahama Mama, either way, they are a fun addition to the glass.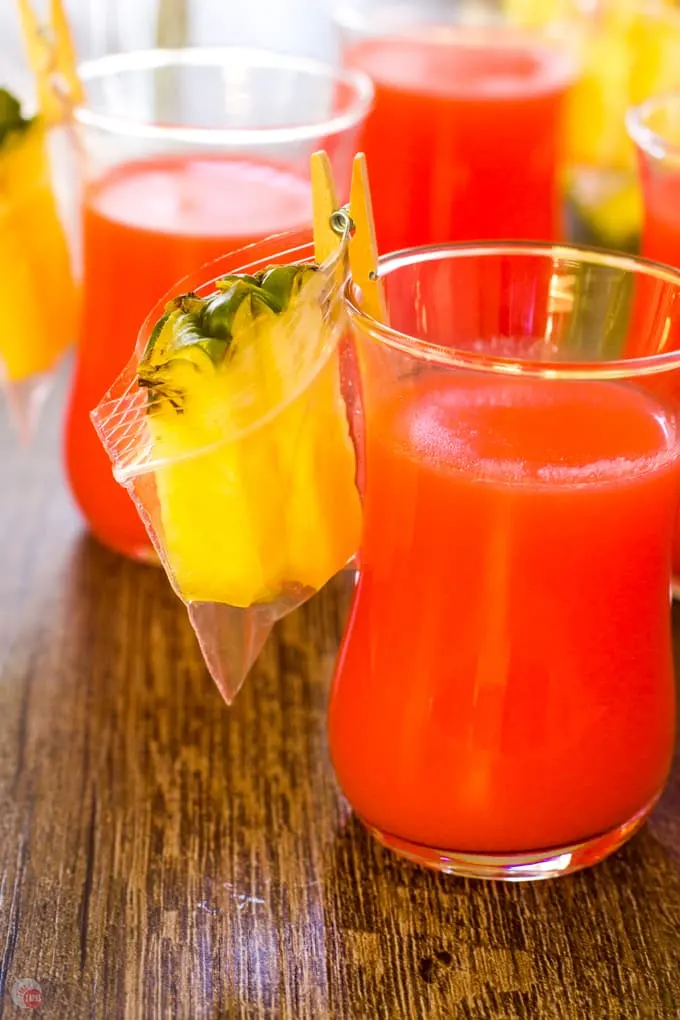 My last cocktail is the one most recognized, the Pina Colada. Typically served frozen with rum, coconut cream, and pineapple juice, it is a bright white and definitely speaks to all that is tropical. I have had many a Pina Colada that ended with brain freeze :).
My mini tropical cocktail version is served cold but not frozen. And my version includes a little grapefruit too with the help of Finlandia Grapefruit Vodka. Clean and simple, yet oh so, tropical.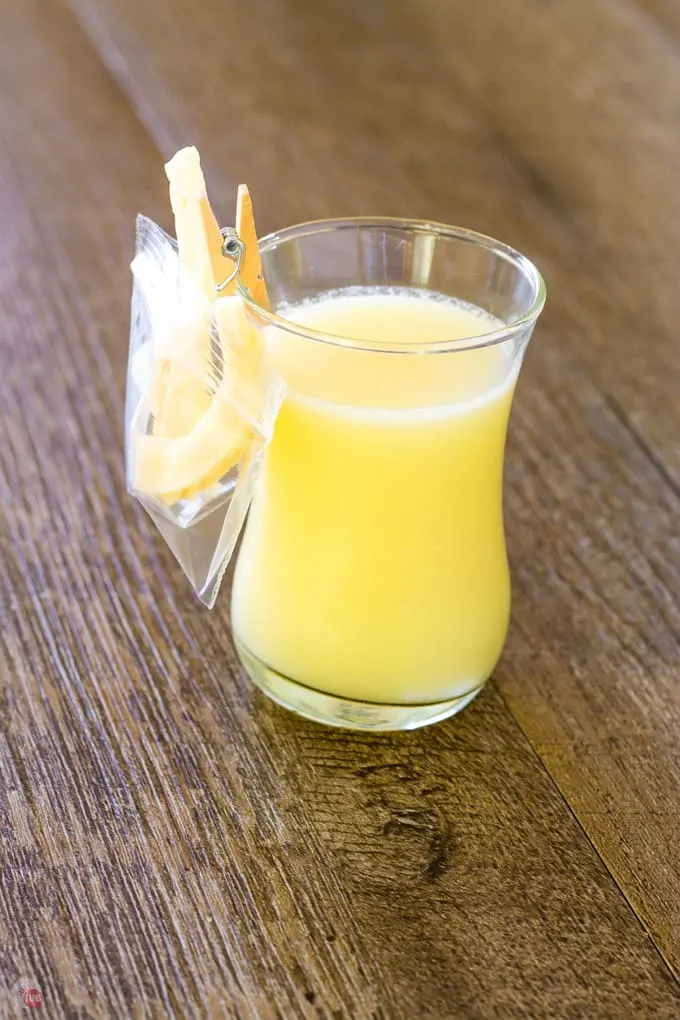 Another 3 ingredient cocktail of rum, pineapple juice, and coconut cream blended with ice is the customary recipe for a Pina Colada. I substitute Finlandia Grapefruit Vodka for the rum, fresh pineapple juice, and a mixture of coconut cream and coconut milk.
I love the coconut cream for its extra sweetness but mix it with full-fat coconut milk to enhance the coconut flavor and bring more of a white color to the mix. The coconut cream is a little on the clear side if you ask me. The more coconut the better!
For more insider tips & tricks, and a candid behind the scenes look follow me on social media! Check use out on Pinterest, Facebook, Instagram, & Twitter (yes, people still use Twitter, LOL!)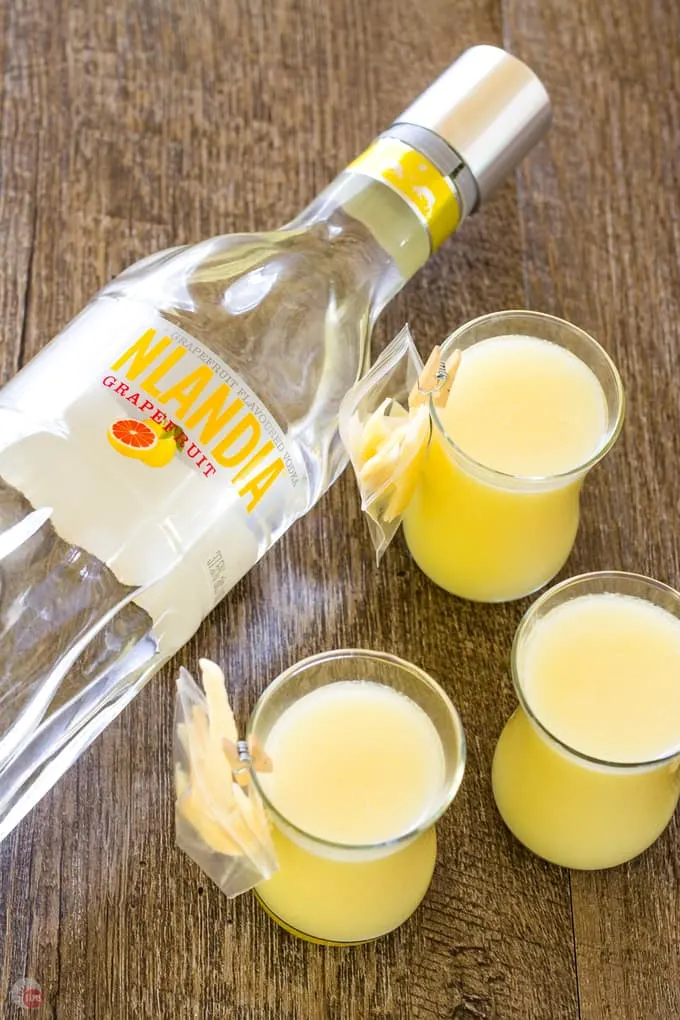 For the third of my tropical mini cocktails, I am again using my mini clips for a garnish. This time, a tiny bag full of toasted coconut chips. The crunch and sweet flavor of coconut serve as a welcome snack while sipping on your drink.
The bright yellow color of the pineapple juice shines in the Grapefruit Pina Colada like the sunshine of the Caribbean! One more chance to feel as though you are on a tropical island, enjoying summer for a little while longer!
Doesn't this snack look enticing on the rim of the glass?!?!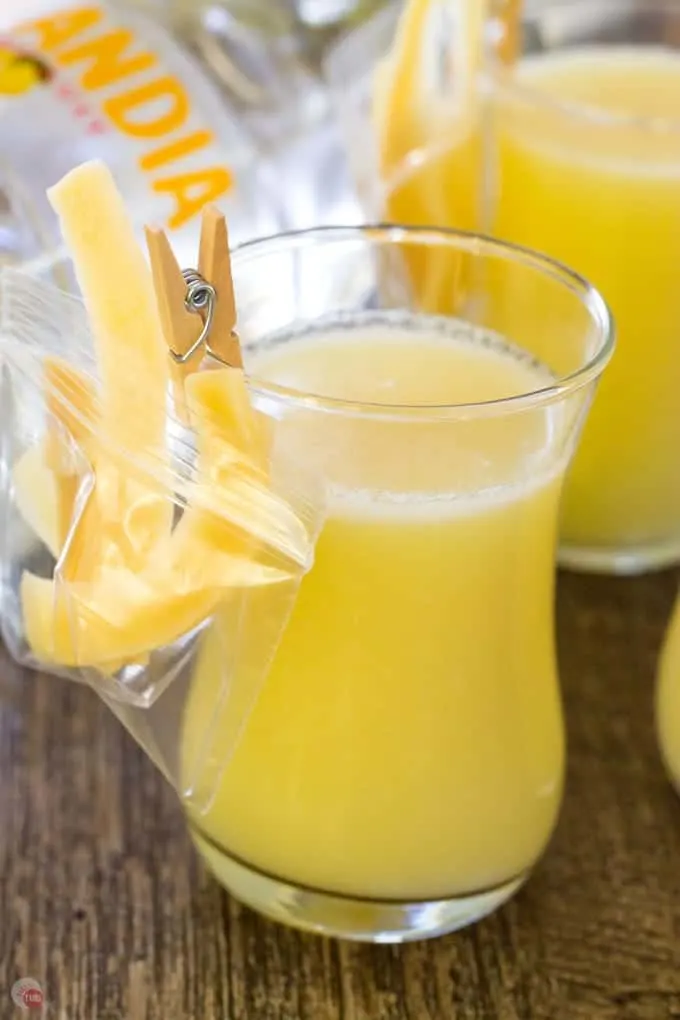 These tropical mini cocktails are a great way to end your summer, be it all too early, and give you memories to carry you through the fall and winter months. When you celebrate, and I know you will, tag me on social media with #TakeTwoTapas #TropicalMiniCocktails and don't forget to tag #FinlandiaVodka too!
MORE EASY PARTY FOODS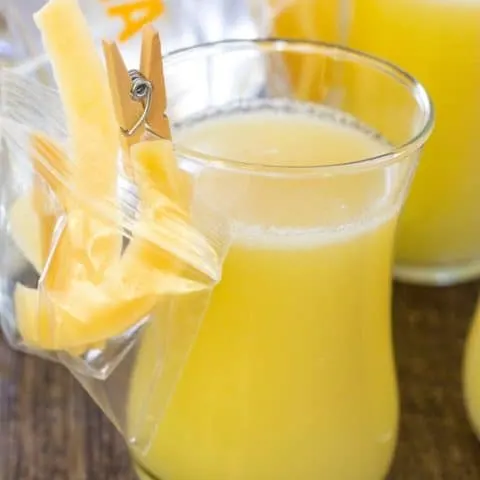 Tropical Mini Cocktails for summer!
Don't let summer slip you by without enjoying some tropical mini cocktails! You will feel like you're sitting on a beach with your toes in the sand.
Ingredients
Sea Breeze
3 ounces Finlandia Grapefruit Vodka
9 ounces Cranberry juice
2 ounces Grapefruit juice (fresh squeezed)
Bahama Mama
6 ounces Finlandia Vodka
3 ounces Orange Juice
3 ounces Pineapple Juice
1.5 ounces Grenadine
1.5 ounces Coconut Cream
Grapefruit Pina Colada
2 ounces Finlandia Grapefruit Vodka
6 ounces Pineapple Juice
2 ounces Coconut Cream
2 ounces Coconut Milk (full-fat)
Grapefruit Peel (for garnish)
Pineapple Sticks (for garnish)
Toasted Coconut Chips (for garnish)
Instructions
Mix the ingredients for each cocktail in a shaker.
Divide among 4 of the mini cocktail glasses.
Each tropical mini cocktail is 3 ounces so make sure your glasses are big enough.
Garnish accordingly.
Enjoy while dreaming of the tropics!
Nutrition Information:
Yield:

12
Serving Size:

1
Amount Per Serving:
Calories:

212
Total Fat:

4g
Saturated Fat:

3g
Trans Fat:

0g
Unsaturated Fat:

0g
Cholesterol:

0mg
Sodium:

23mg
Carbohydrates:

26g
Fiber:

1g
Sugar:

22g
Protein:

1g
This nutrition information was generated via a third party, Nutritionix, and can not be held liable for any discrepancies in the information provided.
TakeTwoTapas.com. Content and photographs are copyright protected. Sharing of this recipe is both encouraged and appreciated. Copying and/or pasting full recipes to any social media is strictly prohibited.