Do you want to reheat chicken tenders, but you're worried they'll turn out dry, rubbery, and soggy? Lucky for you, there are a couple of secret tools to help keep them from getting ruined.
Check my best go-to methods and enjoy the juiciness and crispiness of your chicken strips once again.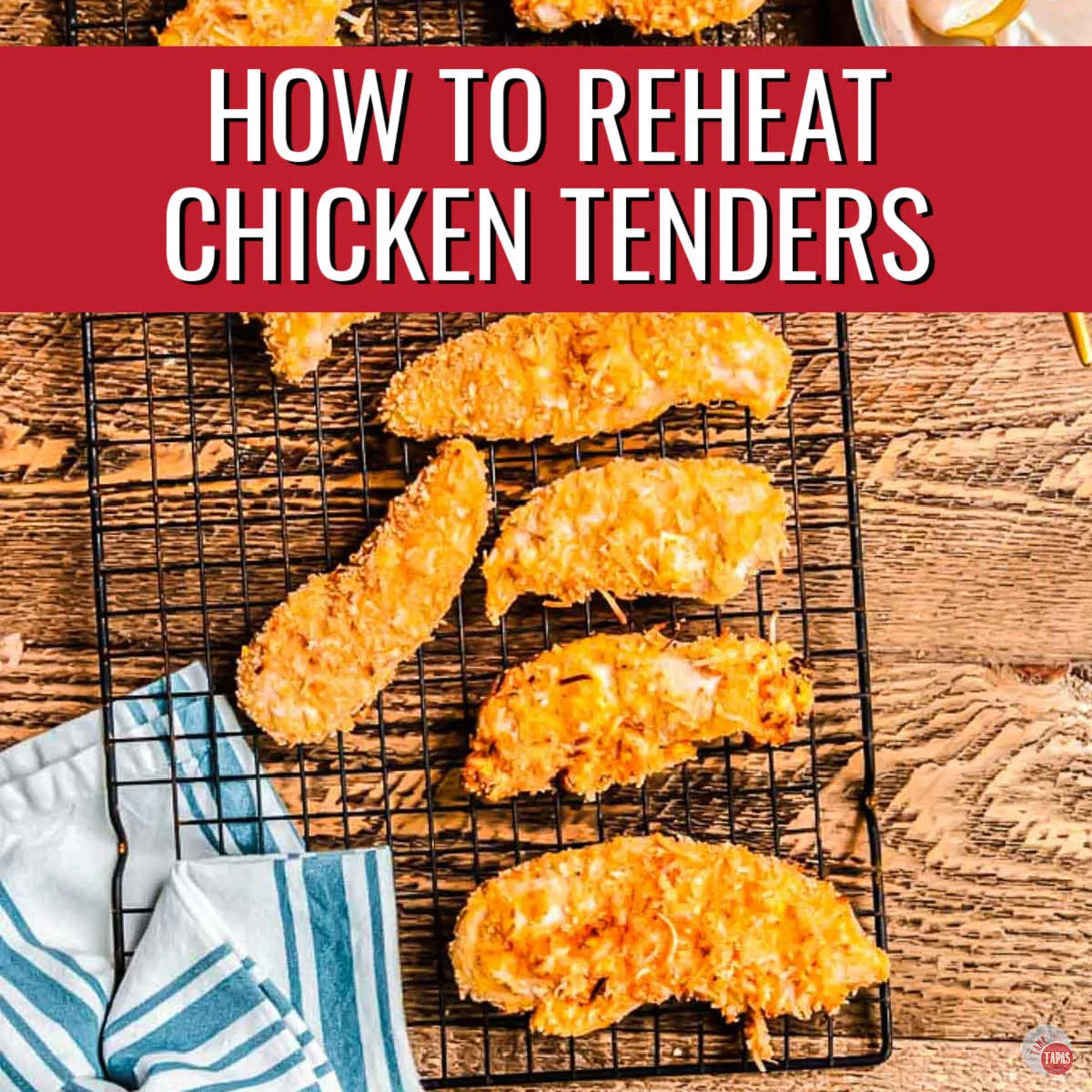 Reheating Chicken Tenders
You can have them as an appetizer or part of the main course, they're easy to make, and—when matched with your favorite dipping sauce—are simply irresistible!
And most importantly, they make great leftovers. Yes, they never disappoint.
But what is the best way to get leftover chicken tenders tasting good as new? I have tips for four reheating methods: oven, air fryer, microwave, and frying pan.
Try them all out on my coconut chicken tenders and let me know what's the best option for you!
This post may contain affiliate links. As an Amazon Associate, I earn from qualifying purchases. Read my disclosure policy here.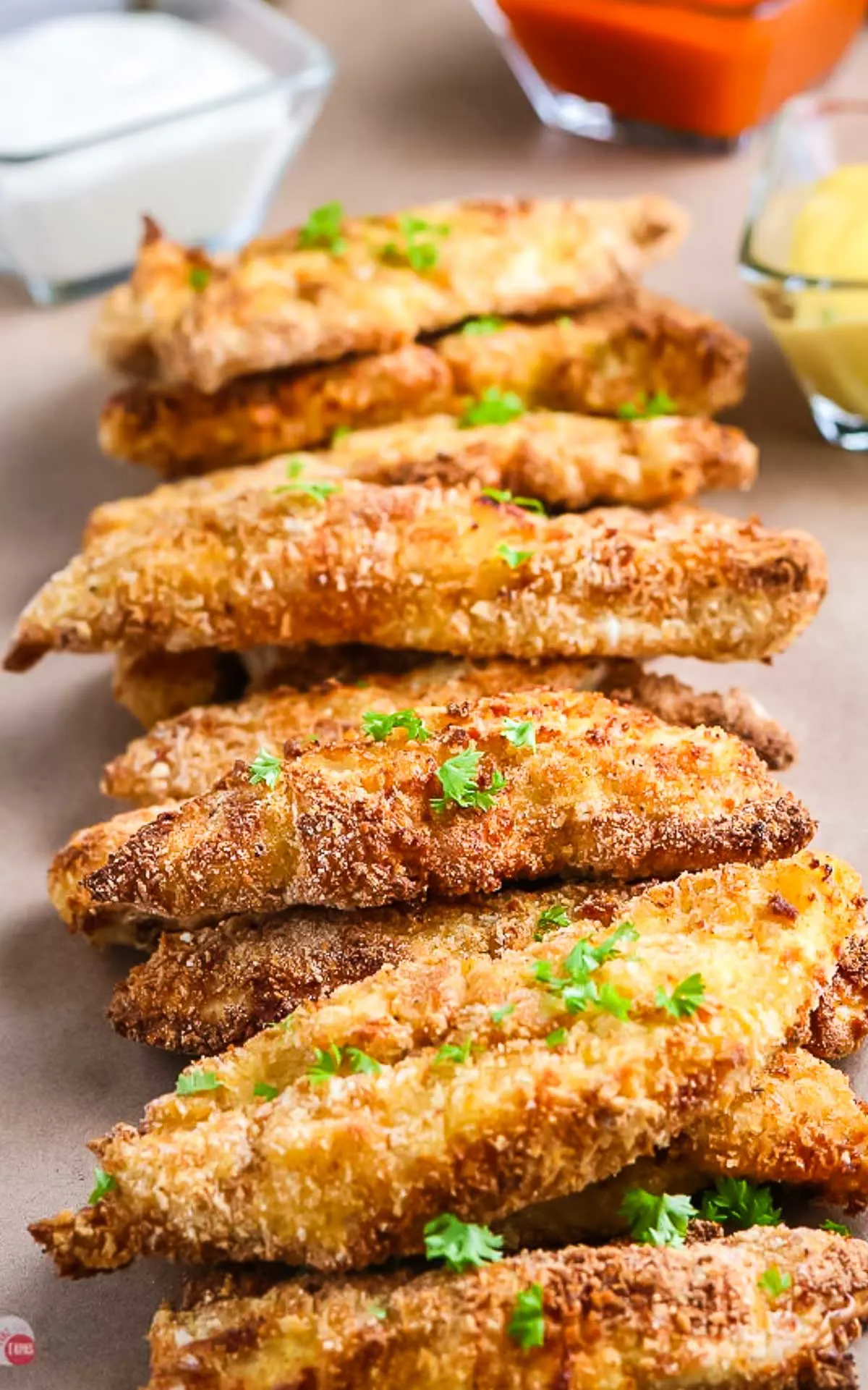 How to Store Leftover Chicken Tenders
Before we jump to the main task, here's a quick guide on how to store leftover chicken tenders properly.
First, you should let the delicious chicken tenders cool to room temperature. The best way is to line them up on a paper towel. After this, place them in an airtight container.
Make sure you scrape off all the sauce from the leftover pieces. Otherwise, they will get soggy when fried again. When placed in a refrigerator, chicken tenders are good for up to four days.
Freezing involves the same steps. You need to let the chicken strips cool down, and don't forget to remove the sauce!
Afterward, place them in a freezer bag with the air removed (or vacuum-sealed). They can sit in the freezer for around six months.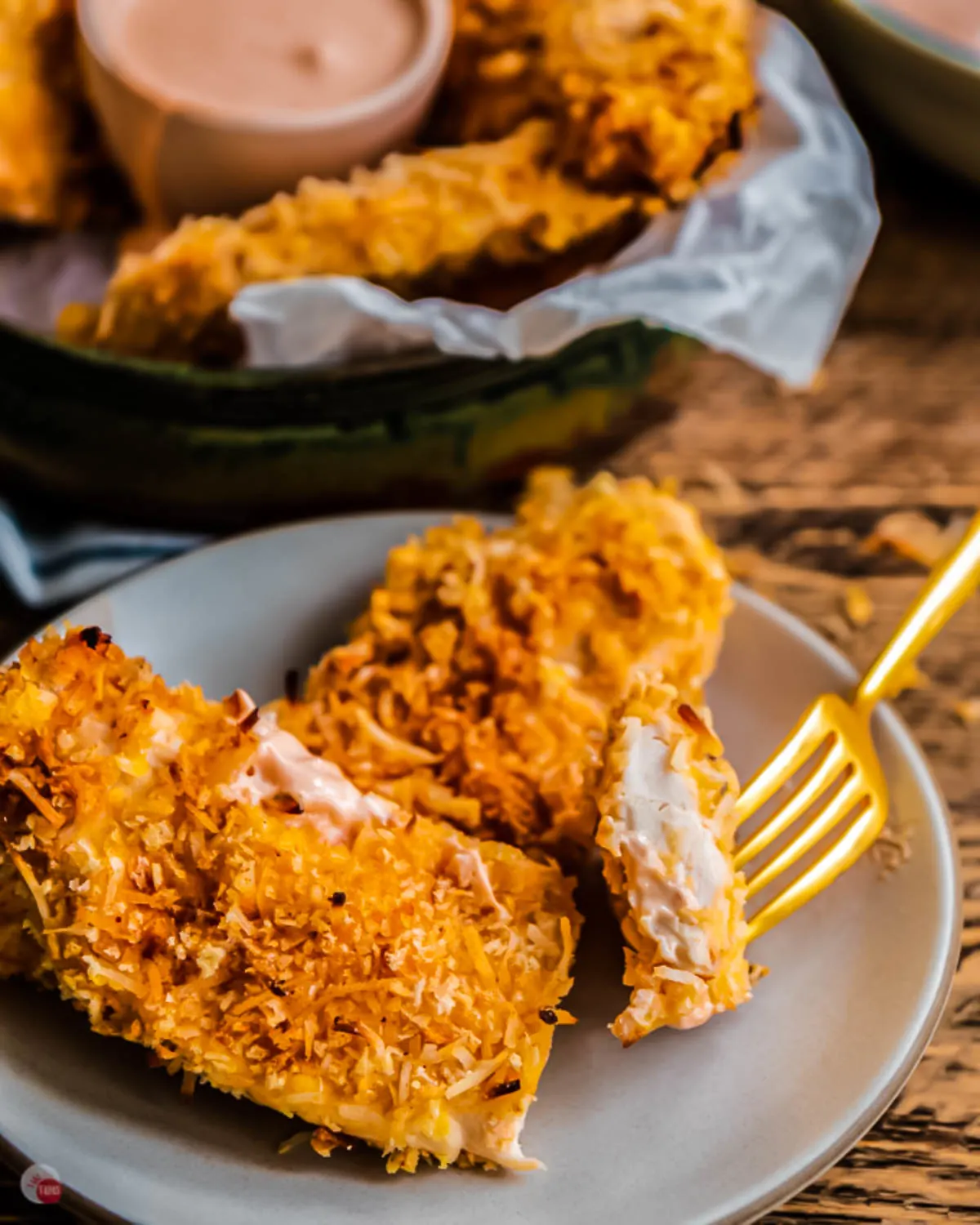 How to Reheat Chicken Tender in an Oven
I find this to be the best method for reheating tasty chicken tenders because they always turn out just as good as the first time.
Preheat the oven to 400 degrees Fahrenheit. The trick is to let the chicken rest at room temperature; hence, I like to arrange all the leftovers on the baking tray while waiting for the oven to heat.
When the oven's ready, place the chicken pieces on a baking sheet, and transfer everything into the oven.
Toast for about 10-15 minutes. The internal temperature should reach 165°F.
Pro-tip! Sprinkle a bit of water on the chicken fingers; trust me, soggy skin will no longer be a problem.
Next to using a conventional oven, you can also use a toaster oven. You'll probably get even better results since it reheats the chicken quickly and evenly.
Bake your leftovers for around 3-4 minutes, and voila, you'll get a crispy exterior.
Let the chicken tenders cool for a couple of minutes, toss them in your favorite dipping sauce, and your dish is ready to be served!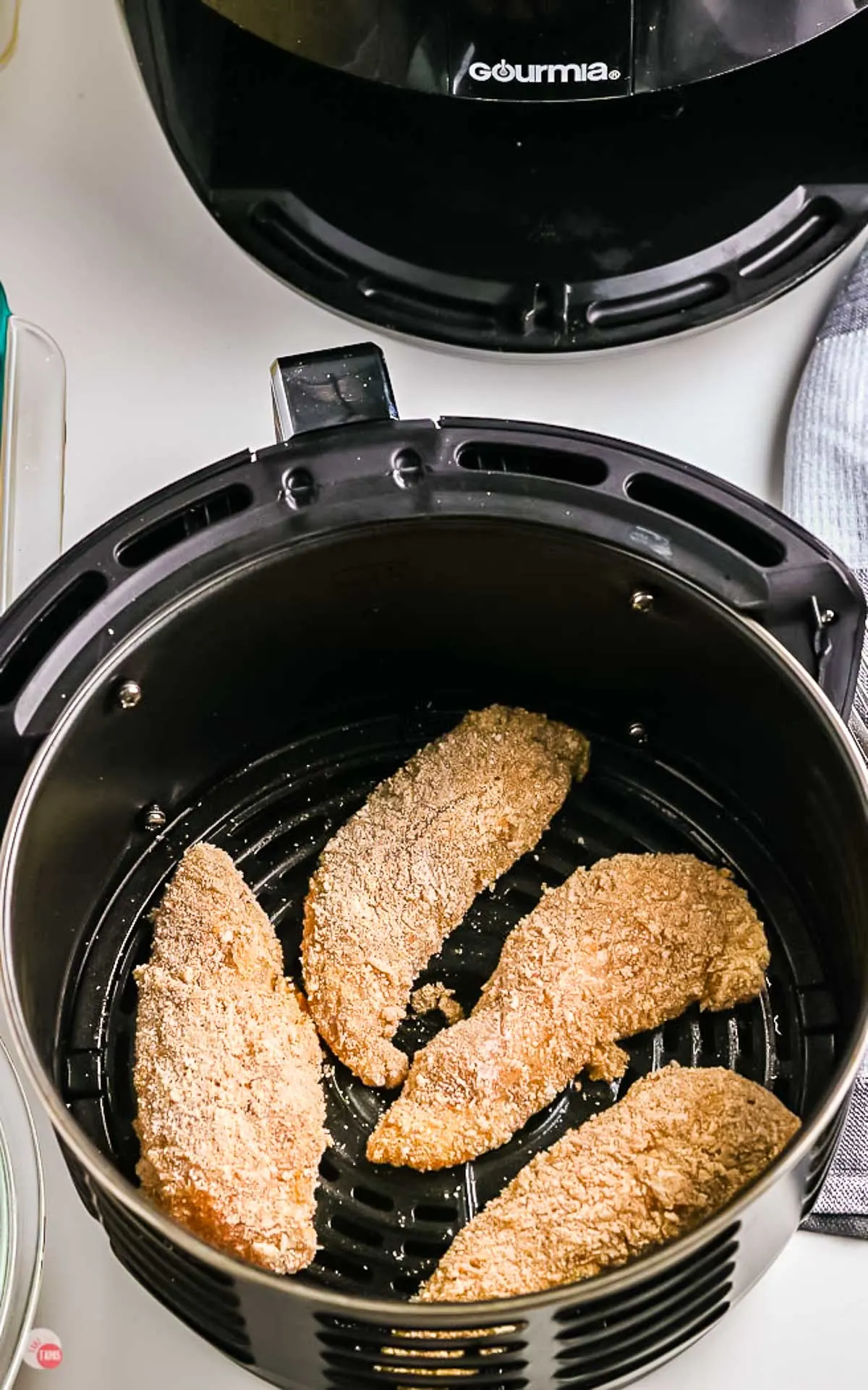 How to Reheat Chicken Tender in an Air Fryer
Using the air fryer is a quick and easy way to reheat your tenders. The exterior becomes crunchy and the interior keeps moist.
Make sure you preheat the air fryer to about 350-375°F. Don't overfill the air fryer basket, as the chicken strips might end up mushy and wet. In other words, goodbye to crispy skin.
Set the cooking time to five minutes, and your air fryer chicken tenders are good to go.
If you decide to cook frozen tenders, double that time up. Trust me, you'll be surprised how good they'll turn out.
How to Reheat Chicken Tender in a Microwave
A microwave oven isn't the best reheating method since you'll sacrifice a bit of crunch for speed.
To ensure your chicken fingers stay juicy, place a paper towel on a microwave-safe plate, then place the tenders in a container.
Again, make sure there's space between each chicken piece! Room temperature chicken is not required here, so feel free to place all the pieces in a microwave oven straight out of the fridge.
Toast the tenders on medium heat for around 30 seconds to one minute.
If you have frozen chicken strips, microwave them for three to four minutes.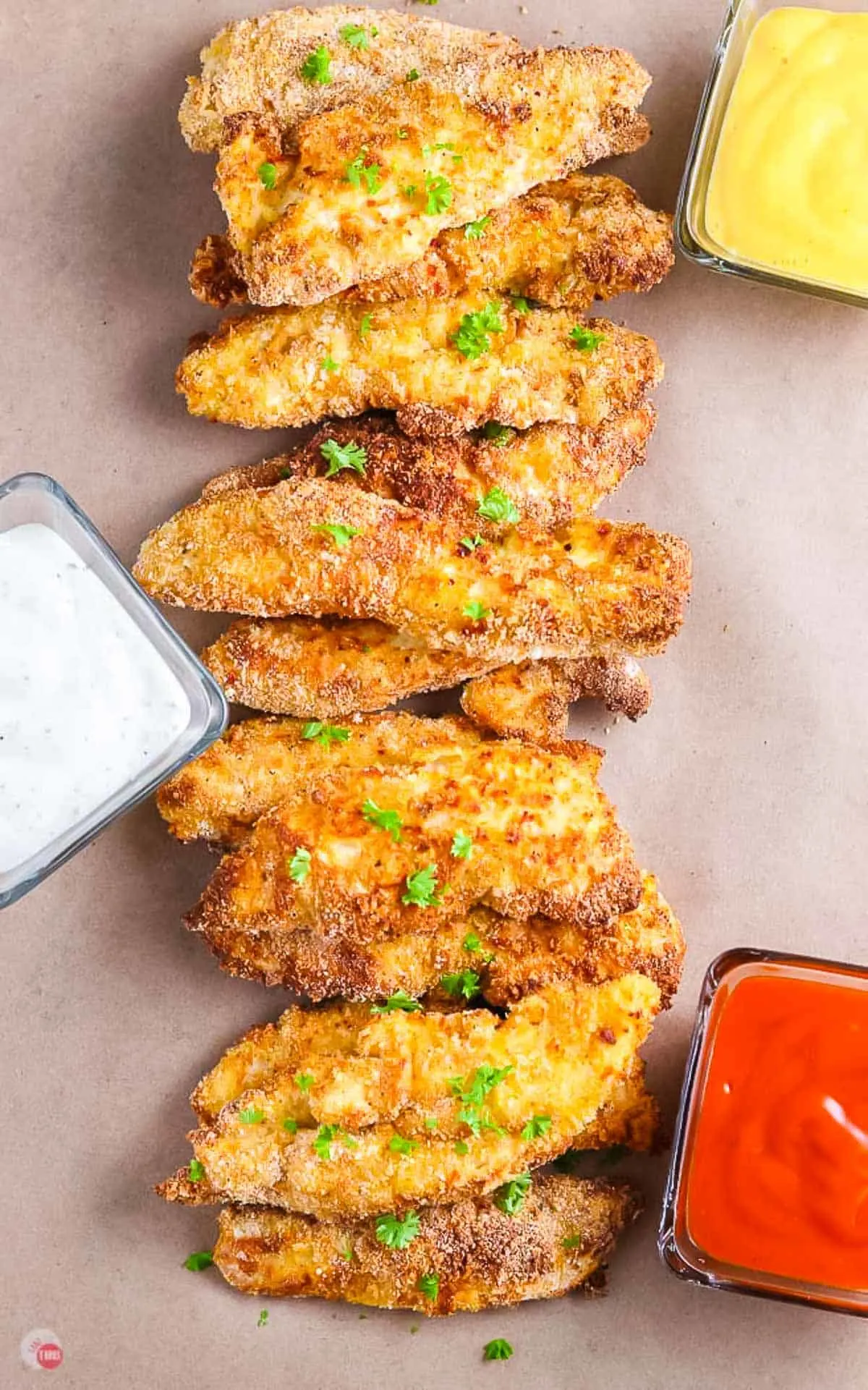 How to Reheat Chicken Tender in a Frying Pan
This reheating method is a bit messy, so be prepared for the oil splatters, and smoke (my entire house sometimes smells like burning oil when I do this!).
Let your chicken tenders warm to room temperature. Heat the oil (I use one to two inches' worth of olive oil) until it reaches 350°F.
Place the tenders over direct heat, and fry them for 60 seconds on both sides.
When done, drain the excess oil on a piece of paper towel. Your hot chicken tenders will be crispy and juicy.
Add french fries and BBQ sauce, and you'll have a perfect snack-sized treat.
Reheating Frozen Chicken Tenders
I would say that the most preferred method for reheating frozen chicken tenders is an air fryer, but the oven will not disappoint as well.
You should reheat your strips directly from the freezer; otherwise, you might end up with soggy skin.
As for the oven, make sure you set it to 400°F, and when it heats, place the tenders and bake for 15-20 minutes.
For better results, use a wire rack and coat them with oil for that extra crispy touch.
The microwave would be the last option, as it usually makes your tenders mushy.
My quick guide to reheating chicken tenders properly is now complete! I encourage you to try all four methods, and if you think of a new one, I'd like to hear it.
If you love this recipe as much as I do, please write a five-star review in the comment section below (or on Pinterest with the "tried it" button – you can now add pictures into reviews, too!), and be sure to help me share on facebook!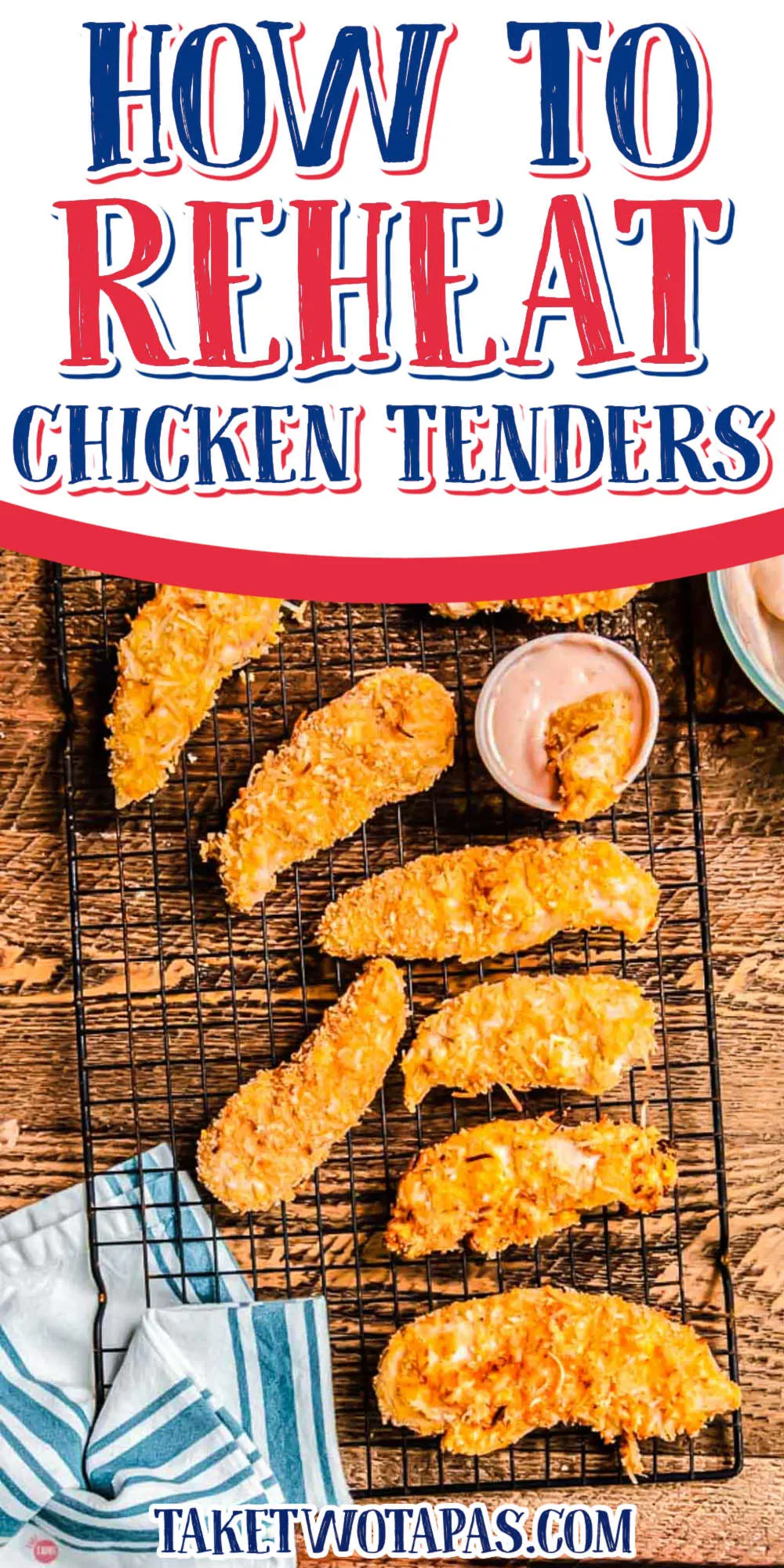 Chicken tenders are truly one of the most beloved finger foods. They're perfect both as a snack and as a main dish. Combine them with french fries, BBQ sauce, hot sauce, or blue cheese dip, and you'll have a dish that can fit everyone's taste. So, get those leftovers out, reheat them, and enjoy!
More Tapas Tips
TakeTwoTapas.com. Content and photographs are copyright protected. Sharing of this recipe is both encouraged and appreciated. Copying and/or pasting full recipes to any social media is strictly prohibited.