Chicken Wings make great appetizers, main courses, and can be served with so many different combinations of sauces, dips, and seasonings. The best thing about them is they make great leftovers. Learn how to reheat chicken wings to make them just as tasty as the first time they were served.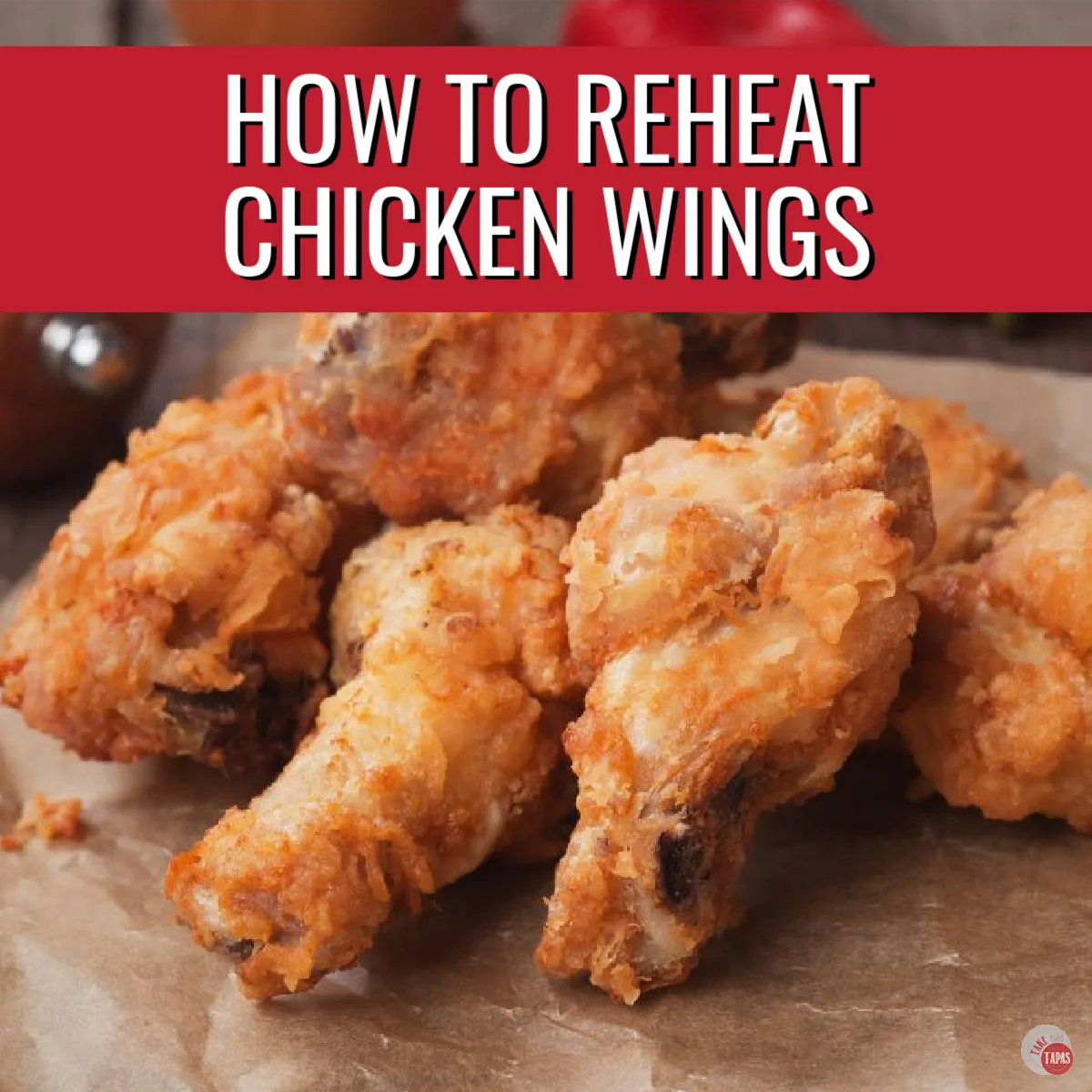 Reheating Chicken Wings
I love serving chicken wings at a large party. With so many sauces available, they are the best option for making everyone happy!
If stored properly in an airtight container in the refrigerator, cooked chicken wings can be good for up to 4 days. In the freezer, chicken wings can stay good for several months.
In most cases, the chicken wings are best stored separately from the sauce, so if you know you will end up with leftovers, plan accordingly.
Keep the sauce on the side, or only toss the necessary amount of wings into the sauce. Sauce can make for soggy skin and make wings lose their crunch.
When you're ready to eat your leftover chicken wings, you can reheat them using several different methods.
To learn the best tips and tricks for reheating chicken wings, follow along!
This post may contain affiliate links. As an Amazon Associate, I earn from qualifying purchases. Read my disclosure policy here.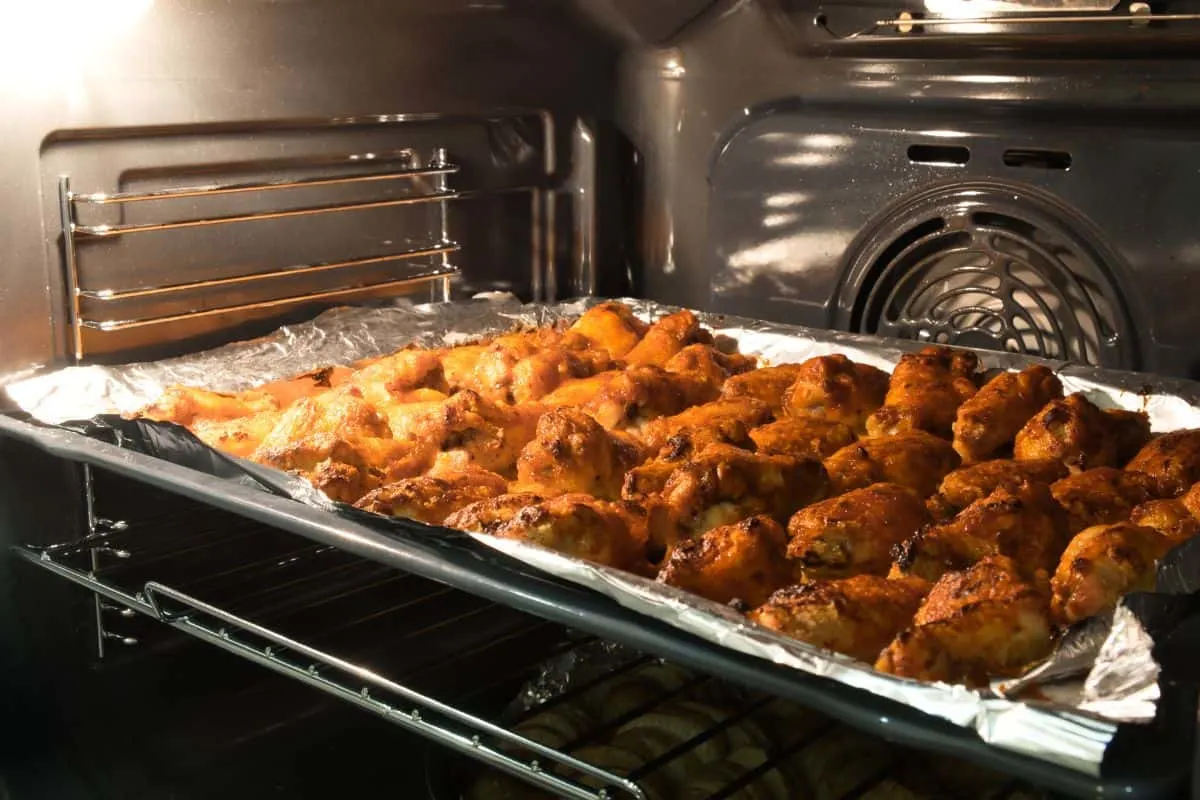 How to reheat chicken wings in the oven
I think reheating leftover chicken wings in the oven is the perfect method. The oven restores the wing's crispy skin and makes them taste fresh.
Start by preheating the oven to 350 degrees Fahrenheit. Then arrange the leftover wings in a single layer on a baking sheet.
A pro tip is to make sure the wings are at room temperature before putting them in the oven. This is why I like to arrange the wings on the baking tray and then let them sit out as the oven heats.
Heat the wings in the oven for about 10-15 minutes. If you have a meat thermometer, check the internal temperature of the thickest part of the chicken wing.
A fully cooked chicken wing will have an internal temperature of 165 degrees Fahrenheit.
Once the wings are fully cooked, toss them in your sauce of choice! Serve them as an appetizer or with some sides to make a complete meal. Either way, these delicious wings will not disappoint.
These steps can also work for a toaster oven or air fryer since they operate like small ovens. Both will give you crispy wings with less mess than a deep fryer.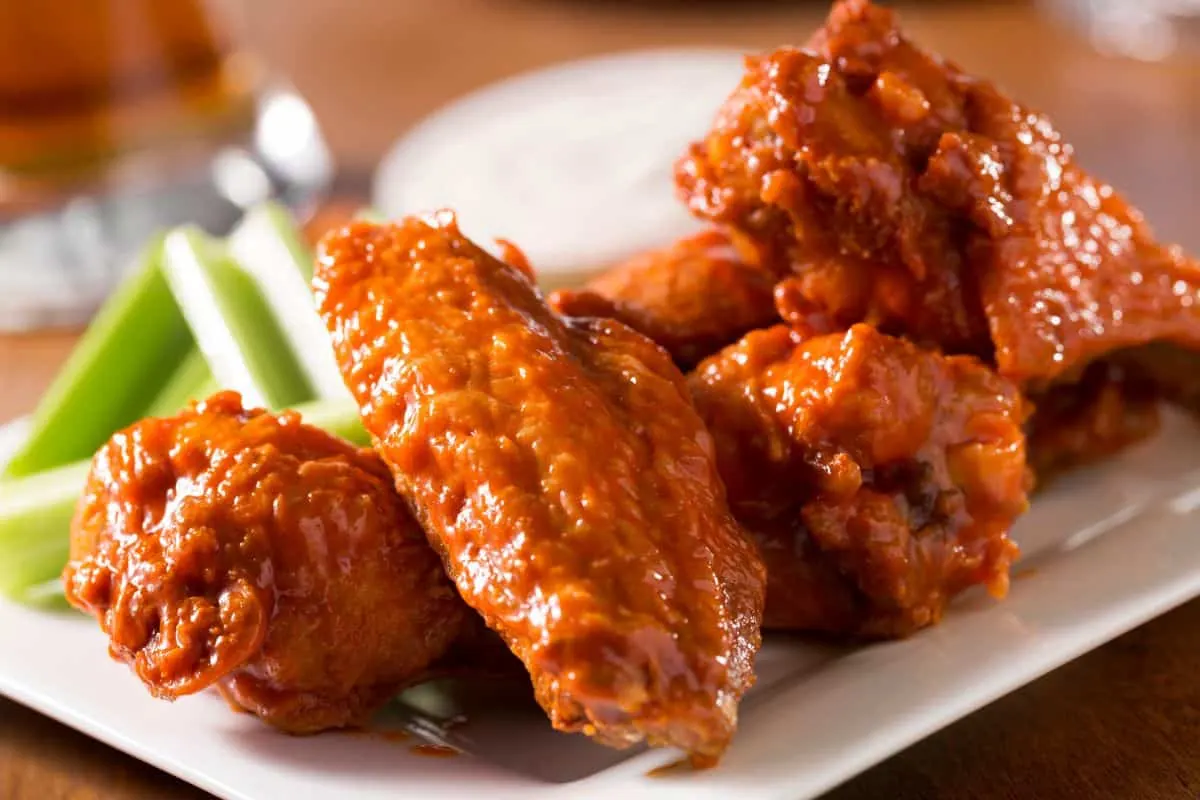 How to reheat chicken wings in the microwave
Reheating chicken wings in the microwave isn't my favorite method because the wings don't regain their crispy skin this way.
However, the microwave is great for those on a time crunch, and it can still yield good results.
To reheat wings in the microwave, take the wings out of the fridge and let them sit out at room temperature for about 15 minutes.
Arrange the wings on a microwave-safe plate, then microwave on high for 1 minute. Flip the wings and microwave them for another minute.
After heating, let them cool, add your sauce of choice, and enjoy!
How do you reheat chicken wings to keep them moist?
One downside to reheating leftover chicken wings is that the reheating process can dry out the meat. Luckily, there are some ways to keep the leftover chicken juicy.
If you are using the oven to reheat, you can sprinkle a bit of water on the wings before they go into the oven.
For the microwave, line the plate with a damp paper towel and place the wings on top of it.
Both of these methods will help the wings retain their moisture.
How to Reheat Frozen Wings
Frozen wings can last in the freezer for months, so if you don't think you'll get around to eating leftover wings the next day, freezing is the way to go.
Once you thaw them, reheating frozen wings is similar to reheating refrigerated wings.
The easiest way to defrost frozen wings is to let them thaw in the fridge overnight before reheating them. If you defrost them overnight in the fridge, then you can easily follow all of the same steps as reheating refrigerated wings.
If you're like me, though, you might forget to move those frozen wings to the fridge in time to thaw, but don't worry. Even if the wings haven't had time to defrost overnight, you can quickly thaw them.
For more insider tips & tricks, and a candid behind the scenes look follow me on social media! Check use out on Pinterest, Facebook, Instagram, & Twitter (yes, people still use Twitter, LOL!)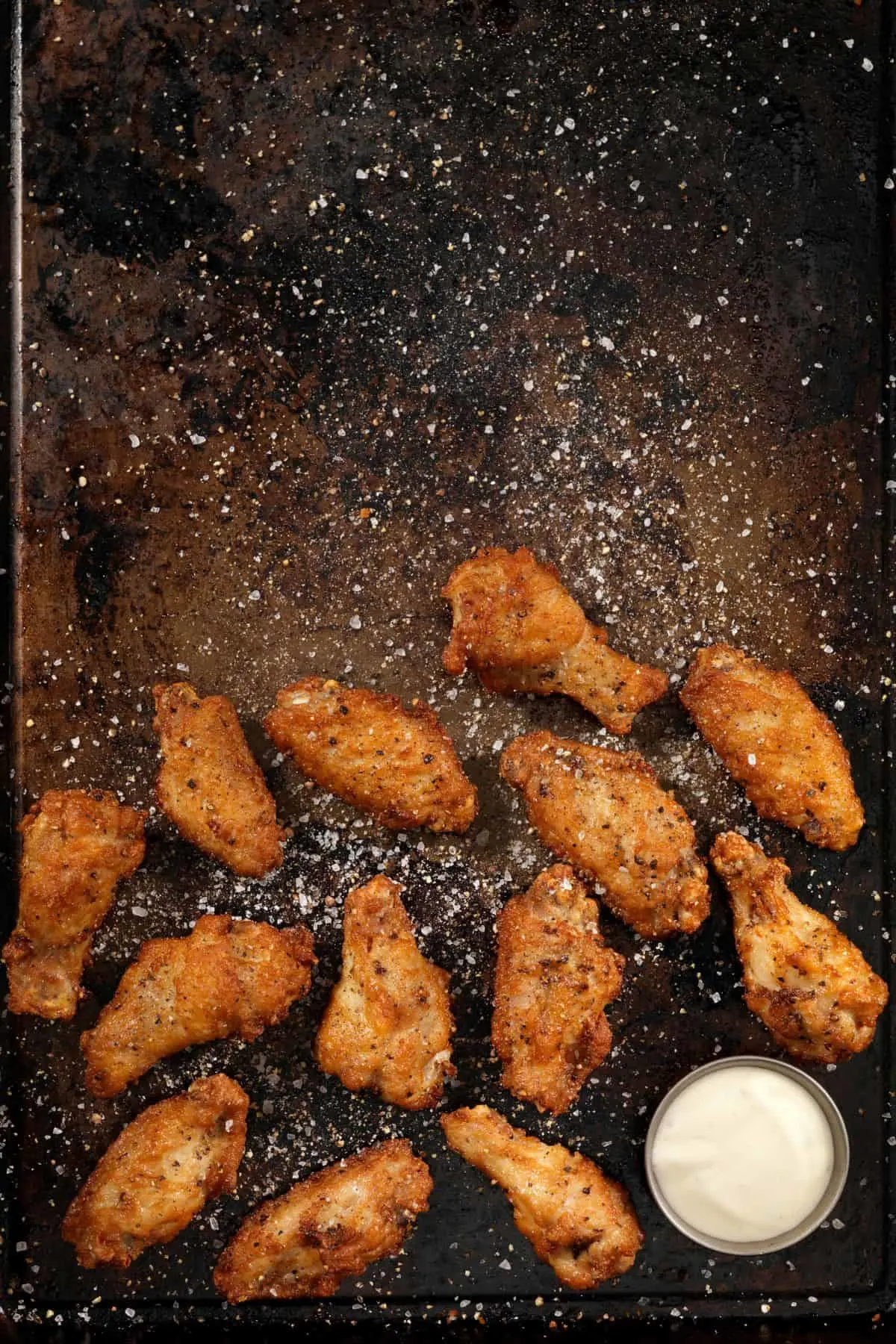 How to Prepare Frozen Wings in the Oven
Set the oven to 430 degrees Fahrenheit.
Line a baking pan with parchment paper or aluminum foil and place a wire rack on it.
Brush the rack with oil or nonstick spray before arranging the frozen pieces on top of the rack.
Bake for 10 – 15 minutes.
Flip the wings and bake them for another 25 minutes or until done.
My secret tip for baking frozen wings is to put the wings in the oven before it has fully preheated. This way, the wings can defrost a bit more gradually as the oven gets hotter.
How to Air Fry Frozen Chicken Wings
An air fryer is another easy way to reheat frozen wings. My air fryer only takes about 2-3 minutes to heat, making it a great way to quickly get dinner on the table.
Preheat air fryer to 360F.
Place the frozen wings in the air fryer basket in a single layer.
Cook them for about 10 minutes.
After 10 minutes, flip the wings and cook for 15-20 minutes at 400 degrees Fahrenheit.
Once fully cooked, toss in some sauce and cook for another 2 minutes.
Using the oven or the air fryer to cook frozen wings are both great options because the hot air makes super crispy chicken wings every single time.
And there you have it! Those are some of my favorite ways to reheat chicken wings. These methods never fail to give me the best results.
My leftover wings are always crispy, juicy, and ready to be served with my favorite sauce.
Wings are perfect side dishes, main courses, and snack sized treats. Serve them up with french fries, carrot sticks, blue cheese dip, and more.
Toss them in sauce to make buffalo wings, BBQ wings, hot wings, or even garlic parmesan wings. The options are endless.
If you love this recipe as much as I do, please write a five-star review in the comment section below (or on Pinterest with the "tried it" button – you can now add pictures into reviews, too!), and be sure to help me share on facebook!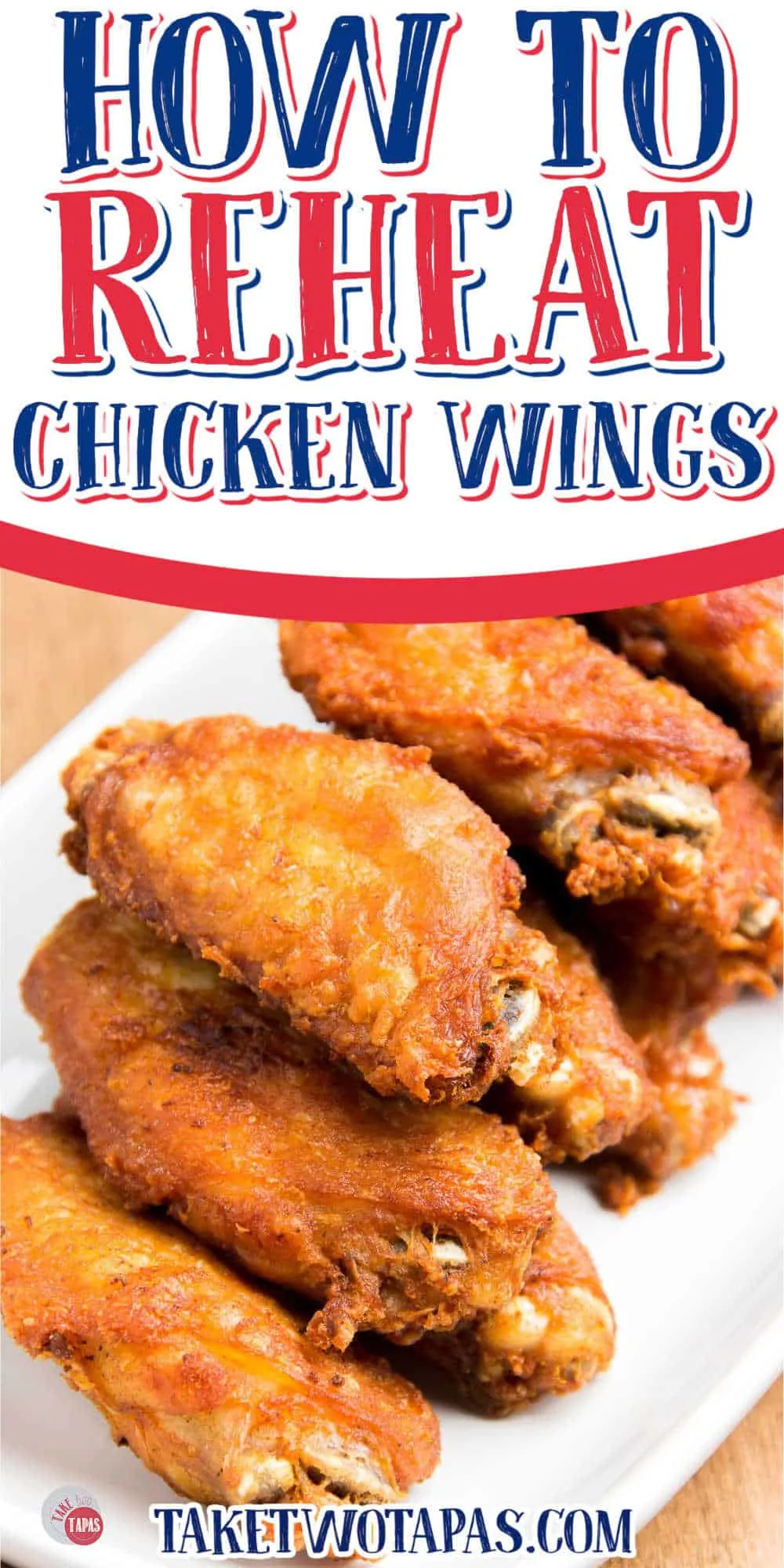 Whether you are preparing for game day, a family gathering, or an easy home cooked meal, follow these tips for the best ways to reheat chicken wings.
More Finger Foods
TakeTwoTapas.com. Content and photographs are copyright protected. Sharing of this recipe is both encouraged and appreciated. Copying and/or pasting full recipes to any social media is strictly prohibited.