Try a new salad dressing for the new year! This Roasted Ginger Vinaigrette Dressing has the fragrant aroma of roasted ginger and the tanginess of vinegar for a balanced homemade dressing!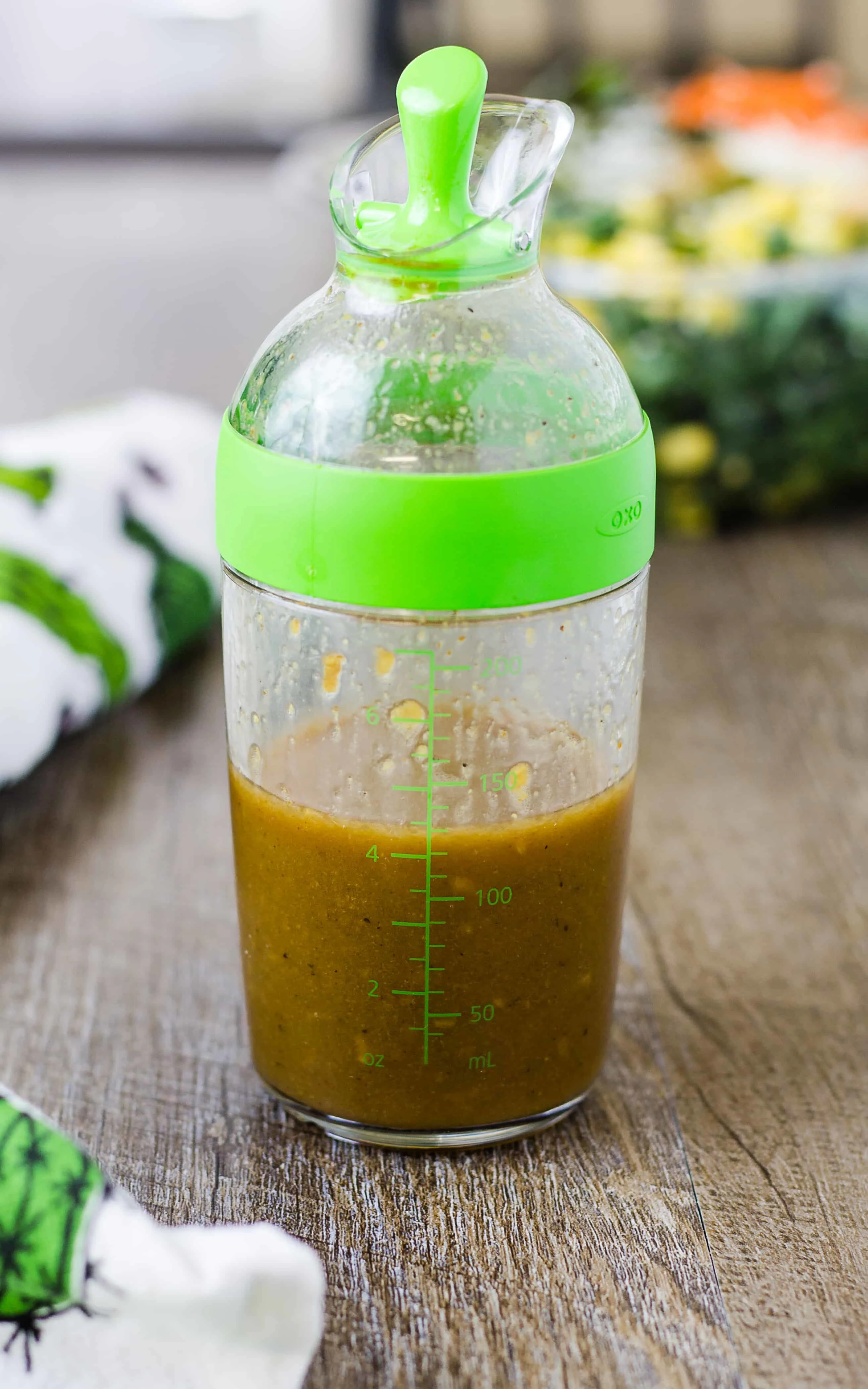 So, I'm three weeks into my four-week Paleo challenge, and while the team has whittled down to 5 ladies, I believe the competition for the prize money is going to be tight!
Everyone is working hard and sacrificing treats for money, and the biggest prize of all, healthier bodies! I am so proud of them!
I have posted some "Paleo" friendly recipes already (Cauliflower Rice, Balsamic Vinaigrette, and Avocado Deviled Eggs,) but wanted to add a few more, this being one since it is a lunchtime staple of mine!
WHY ROASTED GINGER VINAIGRETTE?
The ginger in the dressing is mellowed from the roasting process, and the sweetness comes out much like roasted garlic.
Usually, I have an aversion to such a strong taste, but knowing that ginger is so good for your digestive system I had to find a way to work it into my diet more often. Roasting the ginger is definitely the way to go!
This post may contain affiliate links. As an Amazon Associate, I earn from qualifying purchases. Read my disclosure policy here.
HOW TO MAKE ROASTED GINGER SALAD DRESSING
My one tip for making a successful vinaigrette dressing is to start with a fat or emulsifier and an acid. My go-to acid starter combination is dijon mustard and balsamic vinaigrette.
Once I add those two starters to the dressing container, I add some honey, a little lemon juice, crushed garlic (or ginger in this case,) and a shot of hot sauce. If you are going to add herbs or salt and pepper, now is the time!
Mix this "acidic" part of the dressing and then do a quick taste.
It will be tart and strong but you just want to see what the flavors are like and if they are on the right track. After the acidic is completely mixed you can add the oil. Shake vigorously as the old "water and oil don't mix" adage is in play here.
I love to use a mason jar for making dressings because they are reusable and come in various sizes, plus I have a ton of them on hand, or I use this dressing container to store the dressing in the fridge.
Both are dishwasher safe and so easy to use!
Roast up your leftover fresh ginger and get this Roasted Ginger Vinaigrette Dressing in your lunchbox STAT!
For more insider tips & tricks, and a candid behind the scenes look follow me on social media! Check use out on Pinterest, Facebook, Instagram, & Twitter (yes, people still use Twitter, LOL!)
EASY SALAD RECIPE
If you are looking for a great salad to dress with this Roasted Ginger Vinaigrette toss these items in a bowl and start pouring!
1 Chicken Breast, cooked and skin and bones removed
1/2 Roasted Beet
1/2 Avocado
1/4 cup Almonds, toasted
1/2 cup Cherry tomatoes, halved
1 cup Salad Greens of choice
MORE EASY TAPAS RECIPES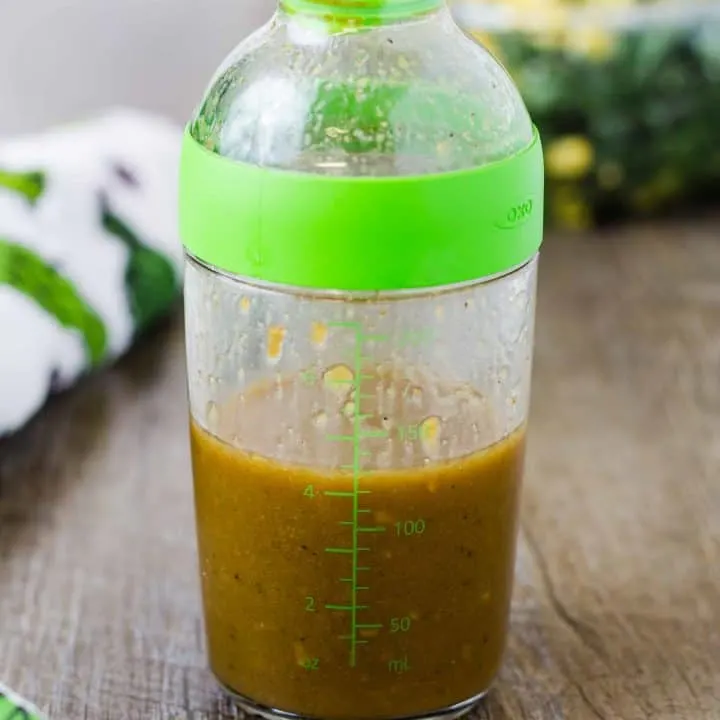 Roasted Ginger Vinaigrette
Try a new salad dressing for the new year! My Roasted Ginger Vinaigrette Dressing has the fragrant aroma of roasted ginger and the tanginess of vinegar for a balanced homemade dressing!
Ingredients
1 knuckle of ginger (about 1 inch in length, roasted, peeled, and minced)
2 cloves garlic (minced fresh or jarred equivalent)
6 tablespoons stone ground mustard
1 teaspoon kosher salt
1 teaspoon black pepper
2 tablespoons lime juice
1/4 cup balsamic vinegar
dash of Tabasco (or other hot sauce)
1/4 cup olive oil
Instructions
Roast the ginger root
Roast whole, unpeeled ginger root in the oven at 350 for about 30 minutes or until very fragrant.
Cool and break off a knuckle approximately 1 inch in length.
Store the remainder in the crisper drawer for another use.
Peel the ginger root and then mince or grate the knuckle.
Mix the dressing
Mix all dressing ingredients, excluding the olive oil, in a mixing bowl or storage container.
Once mixed, taste and make sure that the seasonings are to your liking, and adjust accordingly.
It will taste strong, but the oil balances that out.
Add the olive oil and shake well to combine.
Store in the refrigerator for up to 2 weeks!
Notes
*You can keep the rest of the roasted ginger in the refrigerator until you need it for another recipe, like a chicken marinade!
*If you like this recipe, leave me a comment and rate it with some stars. Thanks!
Nutrition Information:
Yield:

16
Serving Size:

2 tablespoons
Amount Per Serving:
Calories:

35
Total Fat:

3g
Saturated Fat:

0g
Trans Fat:

0g
Unsaturated Fat:

3g
Cholesterol:

0mg
Sodium:

81mg
Carbohydrates:

1g
Fiber:

0g
Sugar:

1g
Protein:

0g
This nutrition information was generated via a third party. I can not be held liable for any discrepancies in the information provided.
TakeTwoTapas.com. Content and photographs are copyright protected. Sharing of this recipe is both encouraged and appreciated. Copying and/or pasting full recipes to any social media is strictly prohibited.