Avocado Deviled Eggs are Easy to make, creamy, and full of healthy fats and protein! A new spin on classic deviled eggs but without the mayo!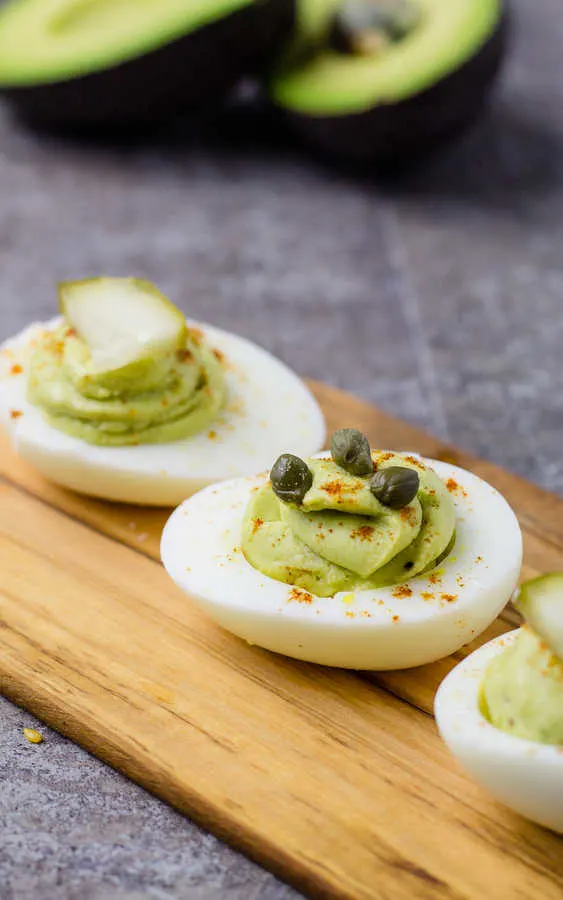 Avocado Deviled Eggs
I originally posted this recipe in 2014, when I started a 30 Day Paleo Challenge. My usual diet of carbs, fried foods, and sugar is going to be hard to change but an eating regimen like this requires something drastic.
Much like my "cold turkey" approach to ditching sodas, I know it takes at least a month for new habits to stick and for the change to become normal. Some say 21 days, some say 45, but the Paleo Challenge only lasts 30 days and there is cold, hard cash on the line!
On a normal day, I would reach for pasta with arrabbiata sauce, because let's face it, who doesn't eat that for breakfast right? I am not a big "breakfast food" eater as you can see by my food choices, with Saturday morning pancakes and bacon at the local diner being the exception.
Much to my disappointment, my go-to meal of pasta is off limits, so that leaves eggs. Omelets are the easiest thing and are a staple for Paleo eaters because you can put just about anything in one. Vegetable and meats galore!
I am not a fan of omelets, but I do love a good hard-boiled egg. Easy to make, they last a while in the fridge and are the best way to eat eggs in my opinion.
If you are not into plain hard-boiled eggs, avocado deviled eggs are the ideal way to dress them up!
This post may contain affiliate links. As an Amazon Associate, I earn from qualifying purchases. Read my disclosure policy here.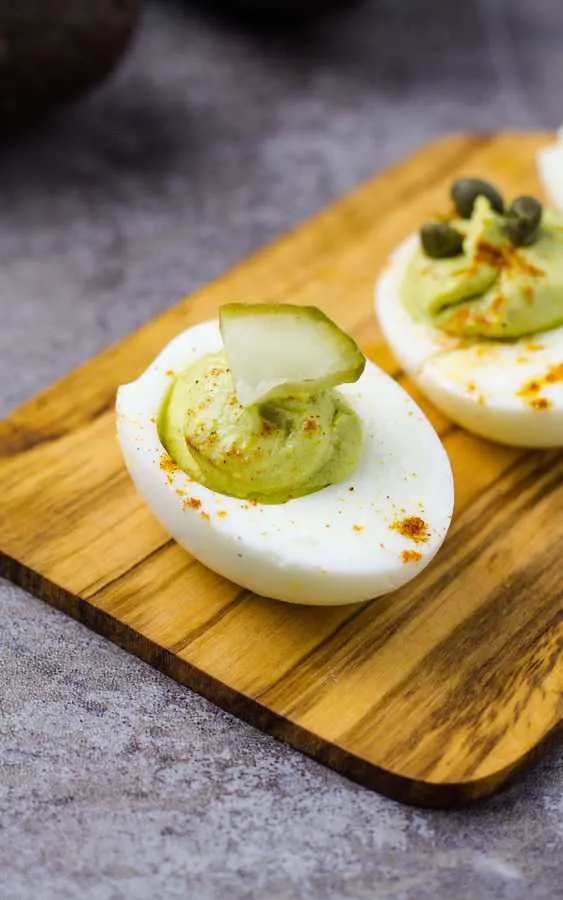 Incorporating avocados in the filling instead of mayonnaise fits into the Paleo, Whole30, and Keto meal plans. Being that I love avocados anyway, they seemed like the natural substitution for mayonnaise.
My mother in law calls avocado "green butter" which is pretty accurate if you ask me.
Ripe avocados spread just like butter and is a little healthier for you. I love me some butter and mayo for that matter so I won't replace all my butter and mayo but if I am doing a diet reset I will gladly sub it in.
The viscosity of mayo is a little thinner than smashed avocado so I loosen the mixture of yolks and avocado with some pickle juice. Feel free to use lime juice, lemon juice, or vinegar.
Have you seen my BLT Bacon Cups with Avocado? If not, you should check them out and see a new way to eat guacamole or a BLT!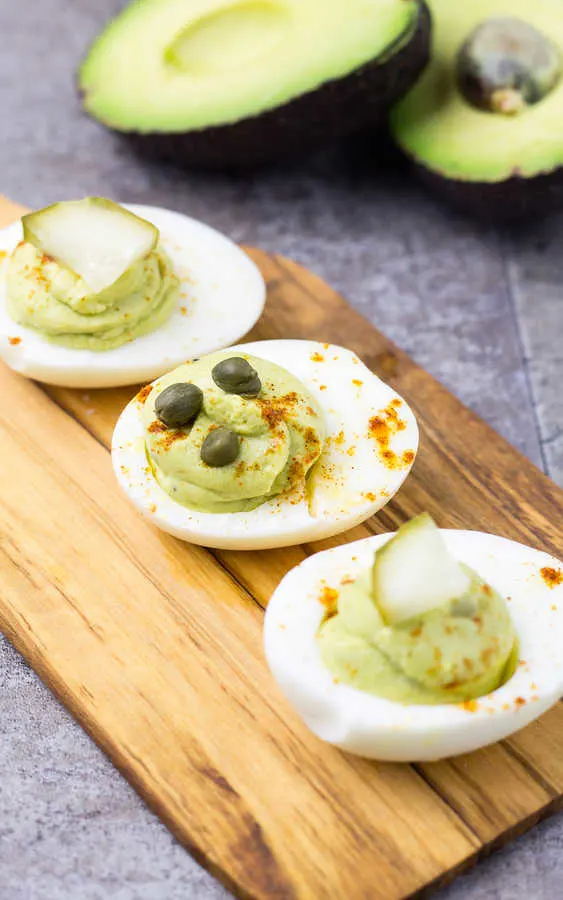 For more insider tips & tricks, and a candid behind the scenes look follow me on social media! Check use out on Pinterest, Facebook, Instagram, & Twitter (yes, people still use Twitter, LOL!)
Making Deviled Eggs
You can't make deviled eggs without hard-boiled eggs. You can buy the ones already boiled in the store if you are crap at boiling eggs like I am.
Store bought eggs also have the perks of having perfect whites without nicks and gouges in them from your fingernails picking into them.
Time is also a factor. Deviled eggs only take a few minutes to whip up as long as you have already hard-boiled eggs. If you don't, you have to add in cooking, cooling, and peeling time when prepping them. Meaning please don't decide to make deviled eggs when your guests are arriving in less than 10 minutes!
Check out my Complete Deviled Egg Guide for all the ways to make hard boiled eggs for this recipe. Here is a fool proof stove top method!
Stove Top Hard Boiled Eggs
Start with cold water
Bring to a boil then removing from heat to let them sit covered for 12 minutes in the water
Immediately submerge in an ice bath
Let sit for 5 minutes
Easily peel shell!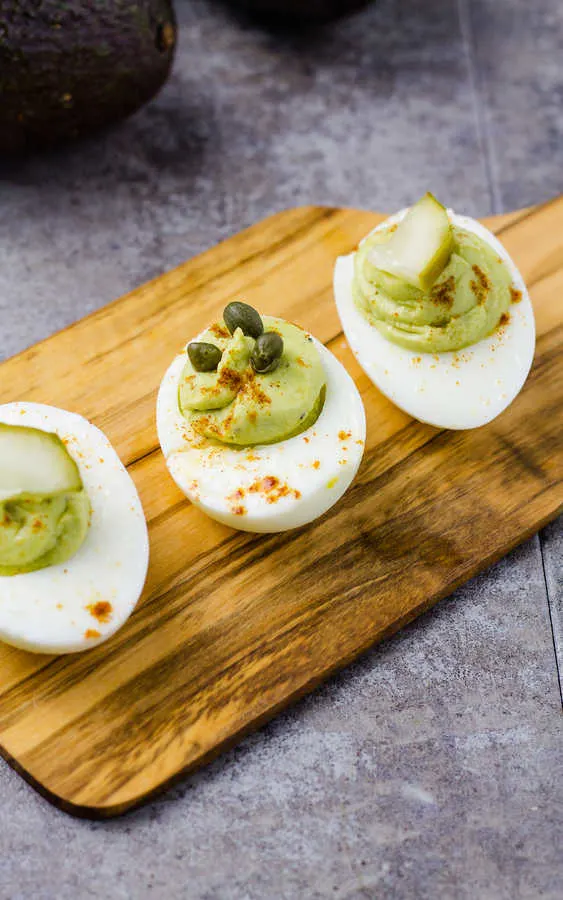 How long do they keep?
Deviled eggs will keep in the fridge for 3-4 days. I would recommend keeping the filling separate until ready to serve.
Can you keep them overnight?
You can but I would recommend making filling without the avocado. Add the avocado to it right before serving and then filling the eggs.
What does "deviled" mean in cooking?
Why are they called deviled eggs? Deviled in cooking means spicy or zesty. Mostly foods prepared with condiments like hot sauce, pepper, or mustard.
Deviled Eggs without Mayo
The avocado deviled eggs are just that, hard-boiled egg yolks mixed with ripe avocado, a little pickle juice, and hot sauce.
The mixture will be a little stiffer than regular deviled eggs but I have to say that most people put WAY TOO much mayonnaise in their recipe.
It doesn't have to be as light and airy as a whipped topping to count so only put as much as you need. Now if you like the lighter, whipped version, by all means, pull out the mixer and whip the mixture into submission.
I am not into sacrificing flavor and quality just for the sake of having it like my grandma made them. These are NEW deviled eggs so let's really make them new!
Once you have your egg mixture, pipe it into your egg whites and garnish with capers, paprika, thyme, or anything else you like! These eggs are a great canvas for many flavors.
Avocado Deviled Eggs are the perfect paleo/whole30/keto meal that is full of healthy fats and protein! Perfect for any party or a healthy alternate snack or meal!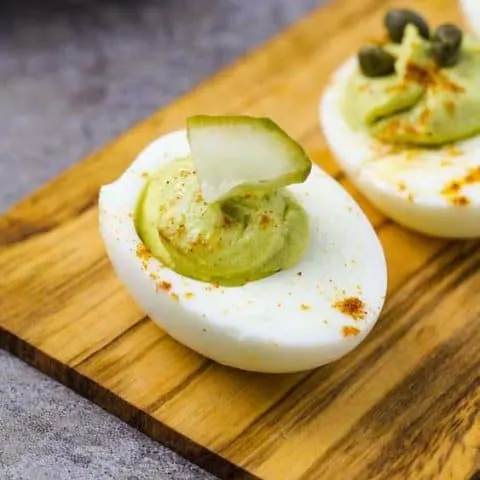 Avocado Deviled Eggs
Need a new breakfast but on a low-carb, Paleo, or gluten-free diet? These Avocado Deviled Eggs are just the food you are looking for!
Ingredients
4 eggs, hard-boiled, peeled and halved with yolks removed
1 medium avocado, ripe, peeled, and diced
1 dash hot sauce
1 teaspoon caper juice
salt and pepper to taste
sliced gherkins to garnish
paprika to garnish
Instructions
If you haven't boiled your eggs yet, let's do that first.
Place eggs in a pot and cover with water until the water is one inch above the top egg.
Bring to a boil.
Reduce the heat to medium, and cover.
Move pot to a burner that is not hot.
Let sit for 12 minutes.
Drain the water and plunge your eggs into an ice bath for 5-10 minutes.
Store in the fridge until ready to eat. They will last for a week!
Make the avocado deviled egg filling
Mash the yolks, the avocado, hot sauce, and caper juice until combined.
Spoon, pipe, or scoop 1/8 of the filling into each egg half.
Garnish with a pickle slice and a dusting of paprika.
Enjoy your new way of eating!!
Notes
Most pickles have sugar in them so make sure if you are using them as a garnish and you are on a sugar-restricted diet that you read the labels.
If you don't want to use pickles, feel free to garnish with a few slices of green onion or parsley.
*If you like this recipe, please leave me a comment and rate it with some stars. Thank you!
Nutrition Information:
Yield:

4
Serving Size:

1
Amount Per Serving:
Calories:

211
Total Fat:

14g
Saturated Fat:

3g
Trans Fat:

0g
Unsaturated Fat:

9g
Cholesterol:

233mg
Sodium:

227mg
Carbohydrates:

15g
Fiber:

4g
Sugar:

9g
Protein:

8g
This nutrition information was generated via a third party, Nutritionix, and can not be held liable for any discrepancies in the information provided.
More Easy Appetizers
TakeTwoTapas.com. Content and photographs are copyright protected. Sharing of this recipe is both encouraged and appreciated. Copying and/or pasting full recipes to any social media is strictly prohibited.