These crunchy French Onion Pretzel Nuggets are a tangy snack that is meant to be shared! Dusted with a homemade French Onion spice mix and baked to an extra crispy crunch.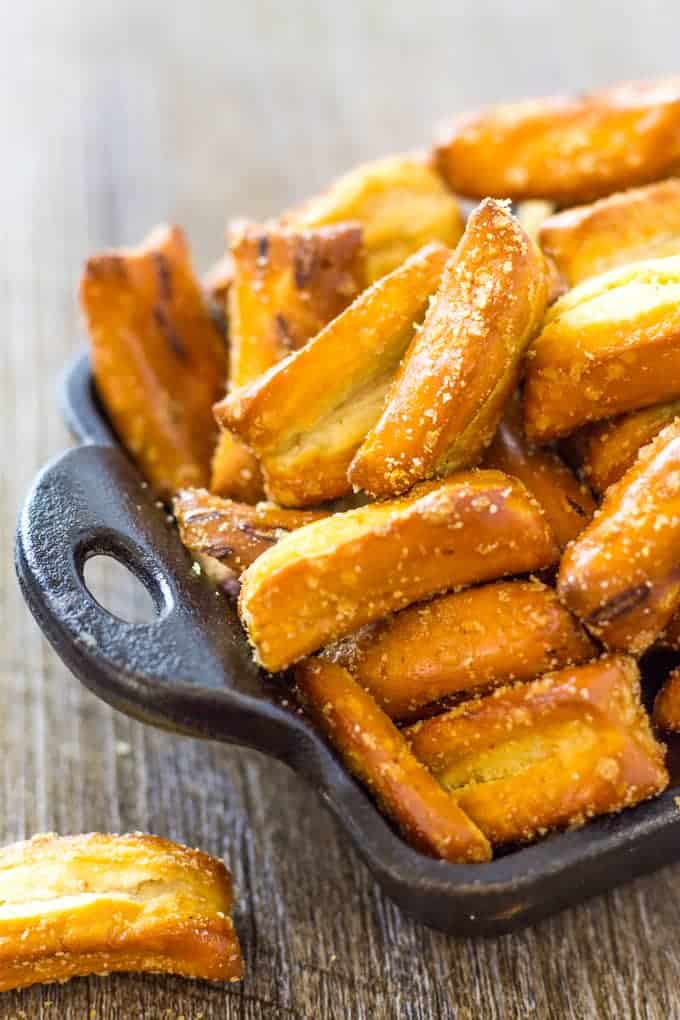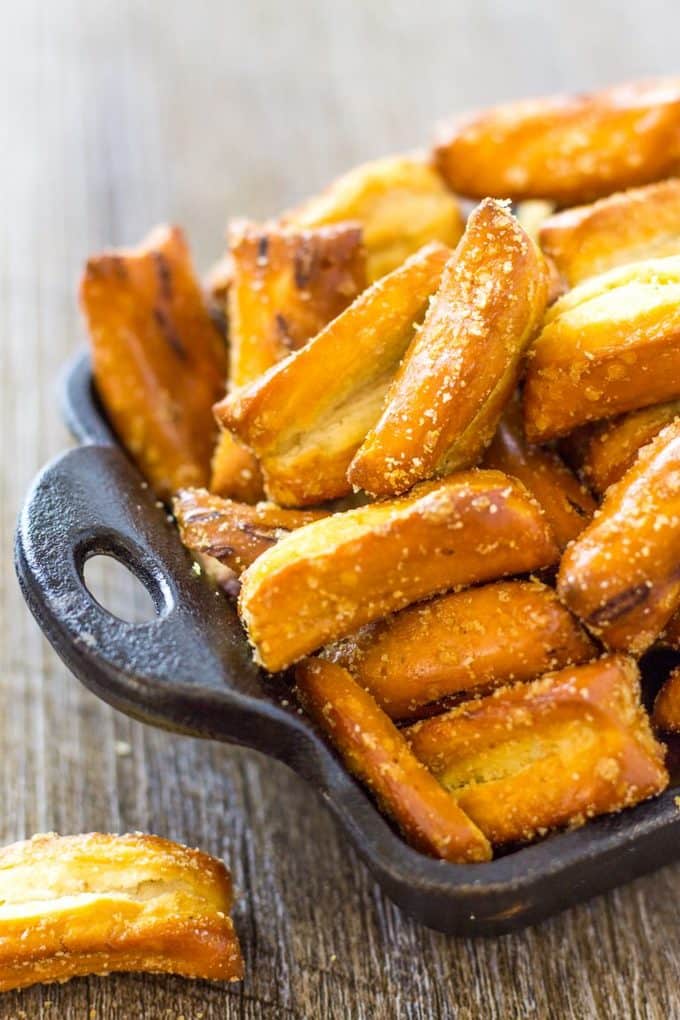 I have been dreaming in full snack color lately. I think it might be the upcoming tailgating season or all the water that I am drinking because all I want to do is snack!
While dreaming the other night, I envisioned dunking pretzels into a bowl of tangy French Onion Soup with all that stretchy cheese, and I immediately thought about making these French Onion Pretzel Nuggets!
Now if you haven't been reading for a while you might not have had the pleasure of reading about the pretzel disaster of 2016. You will really get a kick out of it, or you might get a little queasy, either way, it will be entertaining.
Now back to these pretzels!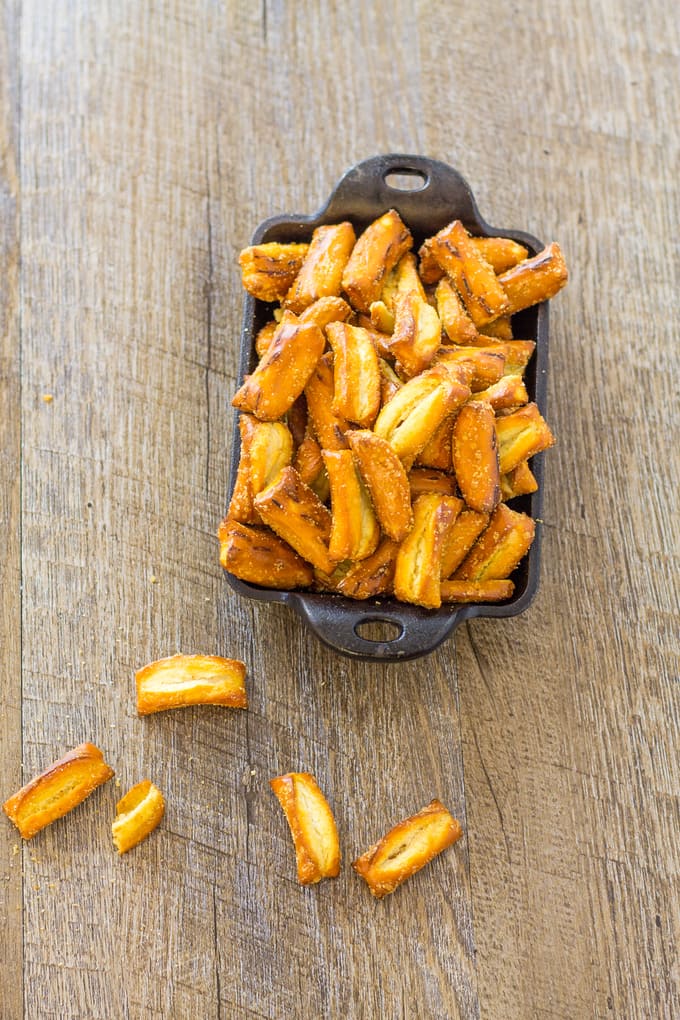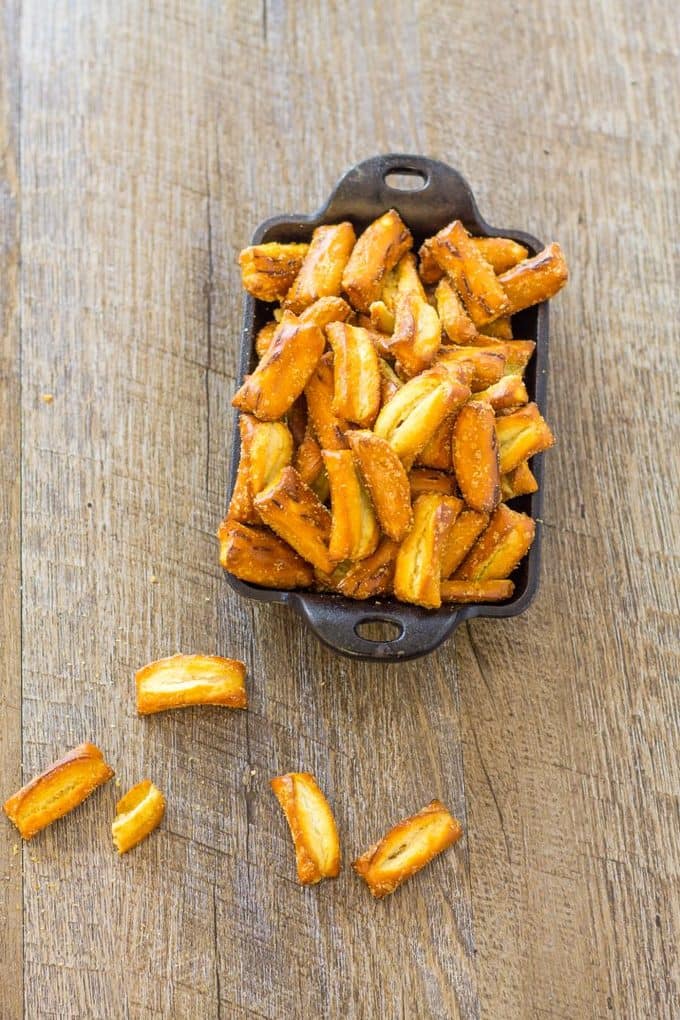 New snack options!
Since making my comeback crackers, I love coming up with new ways to season or spice up plain crackers or pretzels for a quick and easy snack food.
For grazing or adding to trail mixes, seasoned foods are always better than plain ones. Don't forget that you can use these French Onion Pretzel Nuggets in non-conventional ways too like:
add to soup for a crunch, like my dream
mixing into your sweets like brownies and cookies
feeding the birds on a walk
keeping hangry kids (and husbands) at bay so you don't lose your sh$%
Pretzels are like lifesavers really!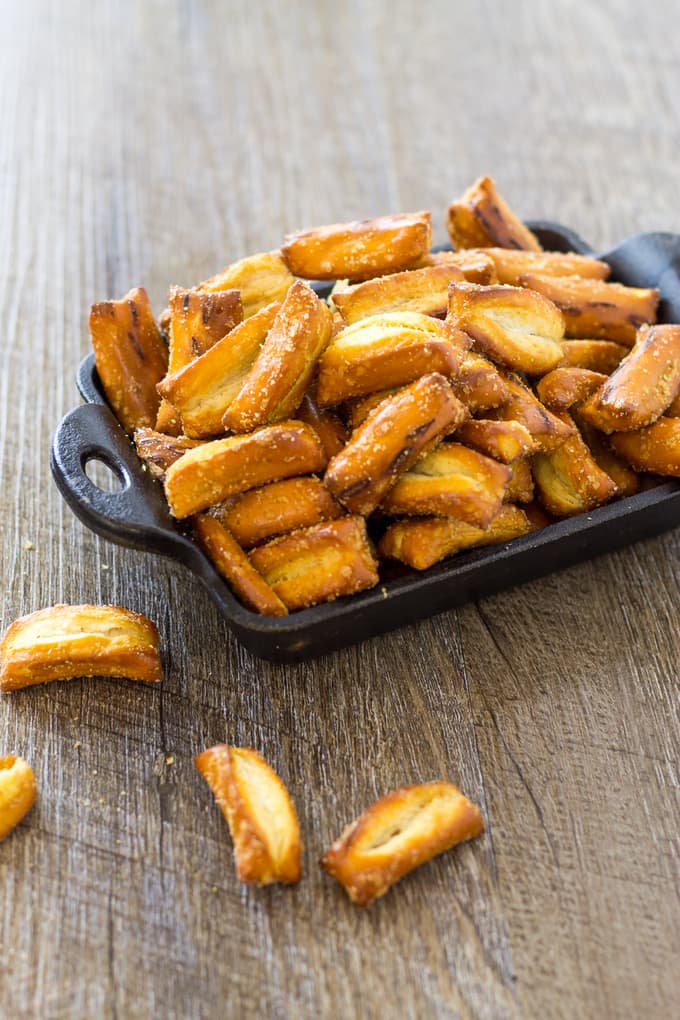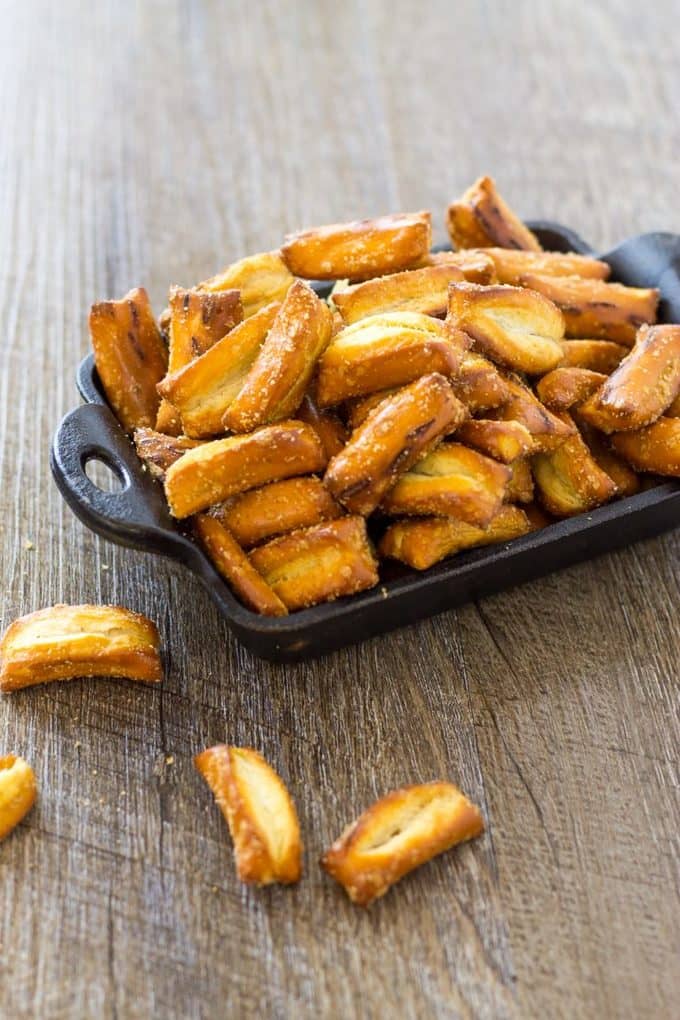 French Onion Seasoning Mix
To get the French Onion flavor on the pretzels I start with a homemade dip mix of mine. My Onion Cheese Dip Mix is like a bowl of french onion soup but as a cool dip.
The mixture of the cheese, garlic, and onion mixes well with beef bouillion and makes me feel like I am slurping that salty soup and stringing that warm melty cheese from the top of the floating crouton.
French onion soup didn't start out as one of my favorite soups but as I have progressed in age (yes, I am old) my taste buds long for tangy, salty, and most of all garlicky flavors. All of those found in French Onion Soup! The best of the best all rolled into one.
The flavors of the Onion Cheese Dip are hearty and strong so I need a strong pretzel to hold up to them. Instead of using the thin twists or sticks I figure nuggets will to the job. If you can't find nuggets, just get the whole pretzels and smash them up into pieces. Who says food can't relieve stress?
This post may contain affiliate links.
I earn a small commission for my endorsement, recommendation, testimonial, and/or link to any products or services from this website.

Your purchase helps support this blog at no additional cost to you and allows me to continue bringing you delicious recipes and funny stories.

For my entire disclosure policy click here.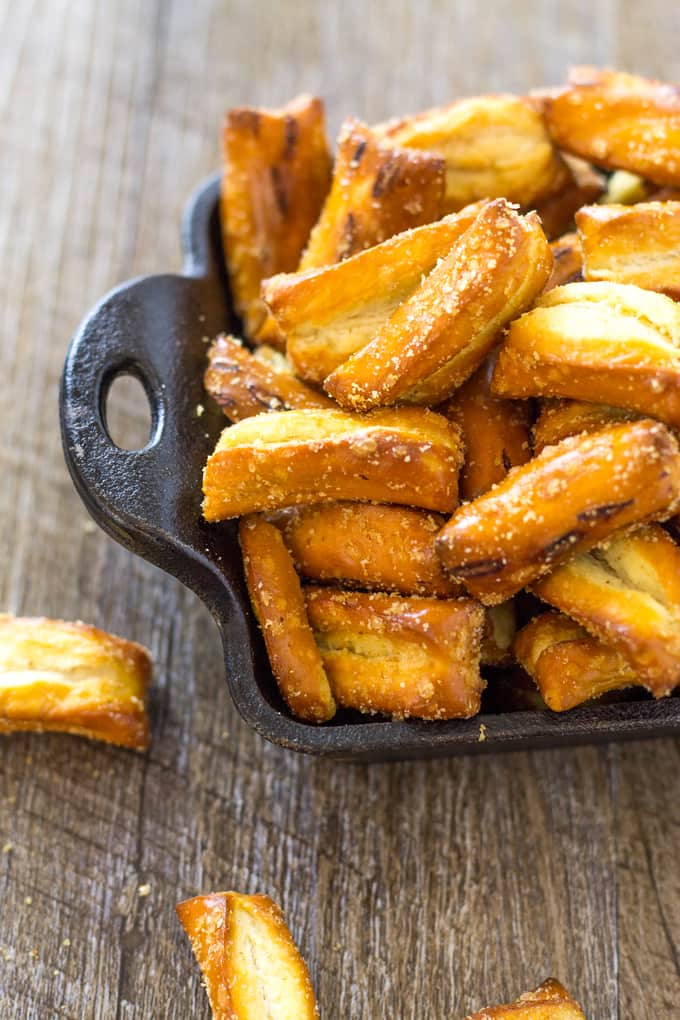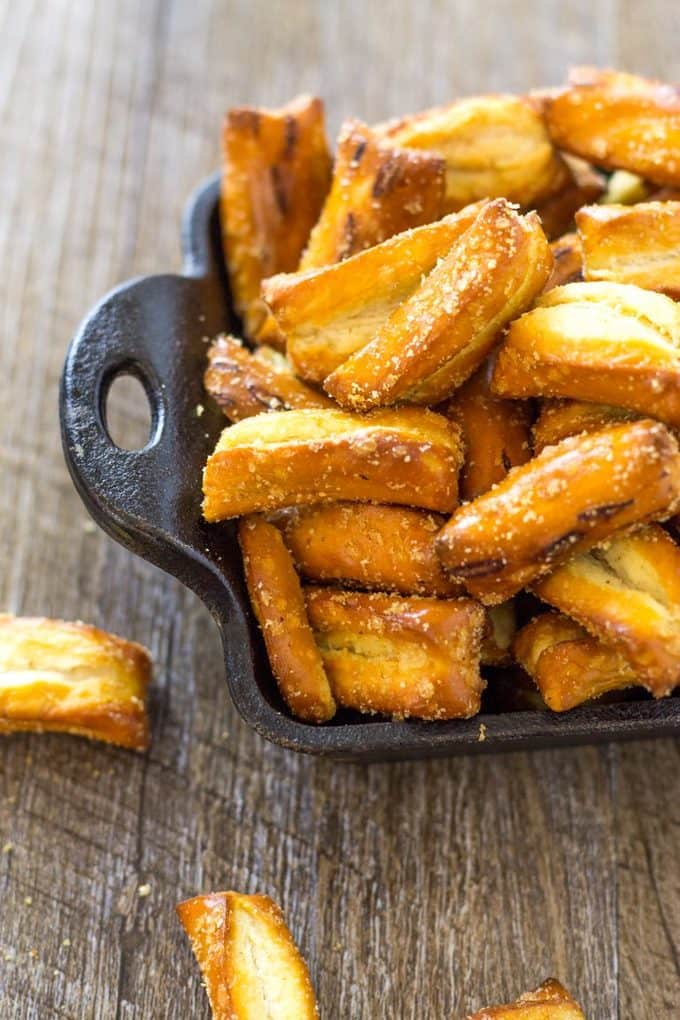 Tip for getting seasonings on pretzels
A quick coating of oil on the nuggets gets the spice mix to stick to them better. Now here is a tip when seasoning your pretzels that I figured out after making a huge mess.
To season the pretzels, I started out putting the nuggets in a zip top bag, adding the oil and spices, and shaking, but when I poured the pretzels out on the sheet the bag was lined with oil and most of the spices!
If they are in the bag they are not on the pretzels. So, I put the pretzel nuggets on the baking sheet, drizzle with the olive oil, and sprinkle half the seasoning mix as evenly as I can over the pretzels.
Using my hands, here is the messy part, I toss them around to coat all the nuggets. Spread the pretzels back out and sprinkle the other half of the spices on top. This ensures that the pretzels all get a fair shake with the seasoning mix. I mean the point is to have seasoned pretzels not plain ones with the occasional seasoned one. Equal seasoning for all~!
Bake the pretzel nuggets on low (200F) for almost an hour, with the occasional stir to get even cooking. This low and slow method ensures the seasonings are baked on the pretzels and the Nuggets get an extra toasting for even more crunch!
These French Onion Pretzel Nuggets are a simple snack that packs a punch and will be gobbled up in no time at your next party.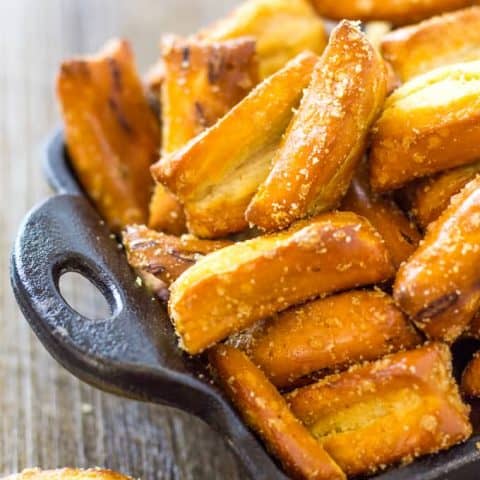 French Onion Pretzels
These crunchy French Onion Pretzel Nuggets are a tangy snack that is meant to be shared! Dusted with a homemade French Onion spice mix and baked to an extra crispy crunch.
Instructions
Preheat oven to 200F.
Line a baking sheet with parchment paper or foil.
Pour pretzel nuggets onto the baking sheet and spread out.
Drizzle with the olive oil.
Sprinkle 2 tablespoons of the Onion Cheese Dip Seasoning over the pretzels.
With your hands, yes it will get messy, toss the pretzel nuggets around to coat with the olive oil and the Onion Cheese Mix.
Spread the pretzel nuggets out on the baking sheet into a single layer.
Sprinkle with the remaining 2 tablespoons of Onion Cheese Dip Mix.
Bake in the oven for 50 minutes, stirring and re-spreading twice to prevent burning.
When the 50 minutes are up, remove the pan from the oven and cool the pretzel nuggets completely.
Store in an airtight container for up to a week.
Notes
*If you like this recipe, leave me a comment and rate it with some stars. Thank you!
Nutrition Information:
Yield:

8
Serving Size:

1
Amount Per Serving:
Calories:

296
Total Fat:

16g
Saturated Fat:

3g
Trans Fat:

0g
Unsaturated Fat:

13g
Cholesterol:

2mg
Sodium:

640mg
Carbohydrates:

35g
Fiber:

2g
Sugar:

1g
Protein:

5g
This nutrition information was generated via a third party, Nutritionix, and can not be held liable for any discrepancies in the information provided.
Grab my free dip eBook for the French Onion dip mix. You won't regret it as the book contains 10 recipes for dry dip mixes that do not appear on the blog. These dip mixes are great for marinades, dips, make amazing gifts for your foodie friends!
This recipe was inspired by this one!