Strawberry Pretzel Stacks are the reinvention of Strawberry Jello Pretzel Salad! Take out the cream cheese and the jello and make these tiny bites with a crispy pretzel crust, creamy chocolate ganache, and fresh strawberries and mint!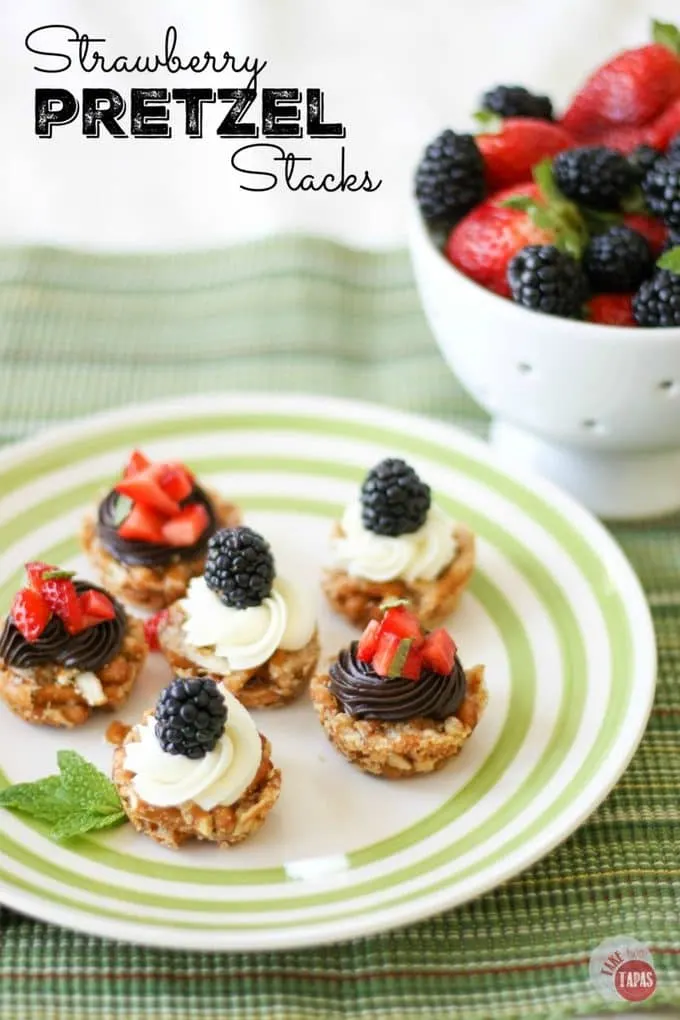 STRAWBERRY PRETZEL SALAD
I have to get something off my chest, so I will just come out and ask it. What is the fascination with suspending food in gelatin?
Does it make your mouth water to watch it wiggle, jiggle and suspend like a NASA astronaut? Quite frankly, it reminds me of head cheese.
I understand it's importance with respect to gastronomy, but just adding color and food to it and molding it to look like a bizarre snow globe filled with edible chunks, doesn't seem right to me.
Subsequently inspiring a line of molds for housewives to display in their kitchen and dining room walls, is just as strange. Does anyone else feel this way?
Regardless of my opinion on gelatin, it is a staple for most households and church picnics. One of my church congregation's favorite menu items is congealed gelatin salad.
At least one version of this dish shows up at every potluck that we have, and multiple pages of our church's cookbooks are dedicated to gelatin dishes as well.
I am not sure who invented the word "congealed" but, food-wise, any word that follows it, does not sound very appetizing to me.
As you are reading a menu, and all of the delicious, drool-inducing adjectives are making your stomach growl in response, what happens to you when you land on the word congealed?
My stomach quickly halts and says "Hold Up Sister, That's not happening!" That one adjective can eradicate my hunger in a nanosecond, yet it makes others line up, plate in hand with arms extended. Enough criticizing (or rambling)!
This post may contain affiliate links. As an Amazon Associate, I earn from qualifying purchases. Read my disclosure policy here.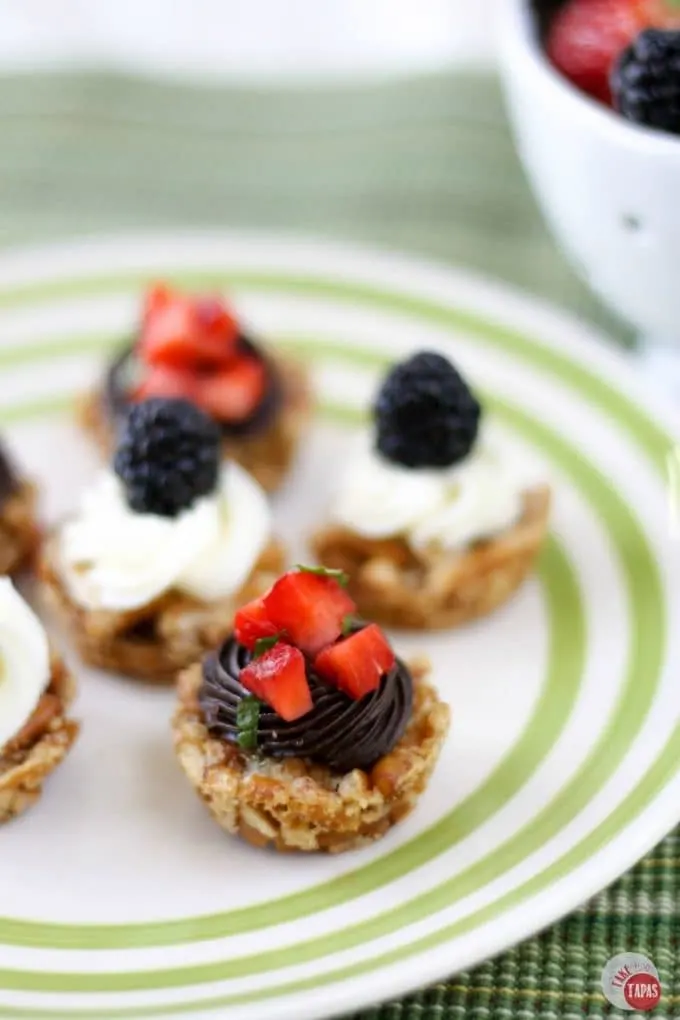 Of all the jellied concoctions I have tried, one that I can enjoy is strawberry pretzel salad. More strawberry and pretzel than salad really, but call it what you will, for it is tasty. For those of you unfamiliar with strawberry pretzel salad, let me enlighten you.
It is a multi-layer salad beginning with a pretzel and butter crust, covered with a cream cheese and sugar blanket, and topped with strawberries suspended in a thin layer of strawberry-flavored gelatin.
It is typically served on a bed of iceberg lettuce so it qualifies as a salad and can, in good conscience, be served at the beginning of the meal.
Because of the middle layer of sugar and cream cheese, I think of this as more of a dessert and not a salad!
I wanted to duplicate this Southern staple, but forego the gelatin and spruce it up with some chocolate, all while making if finger friendly!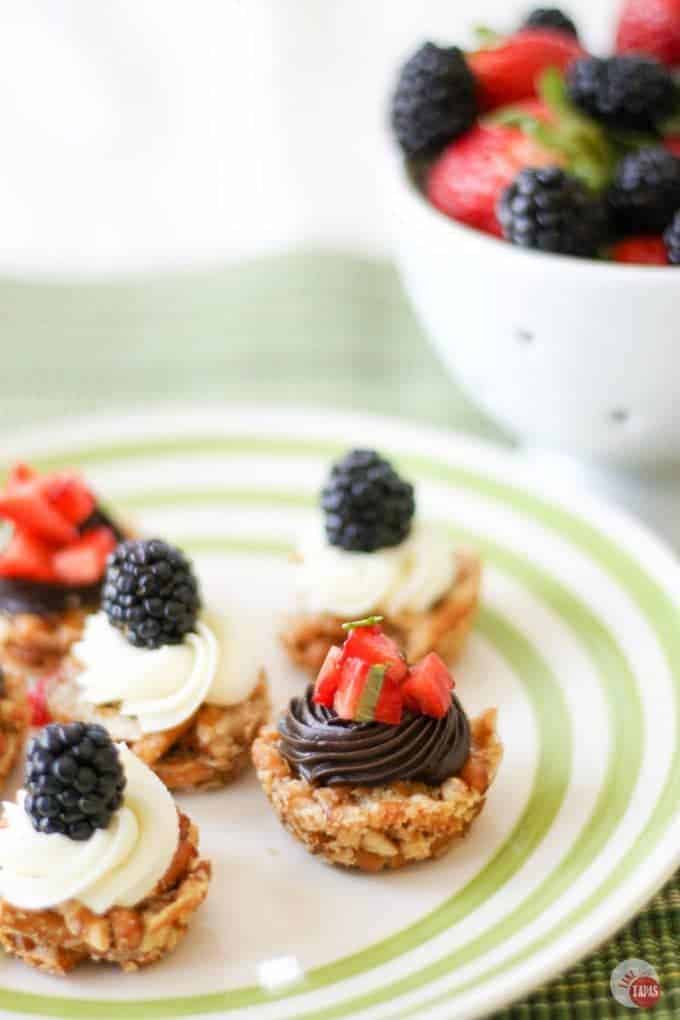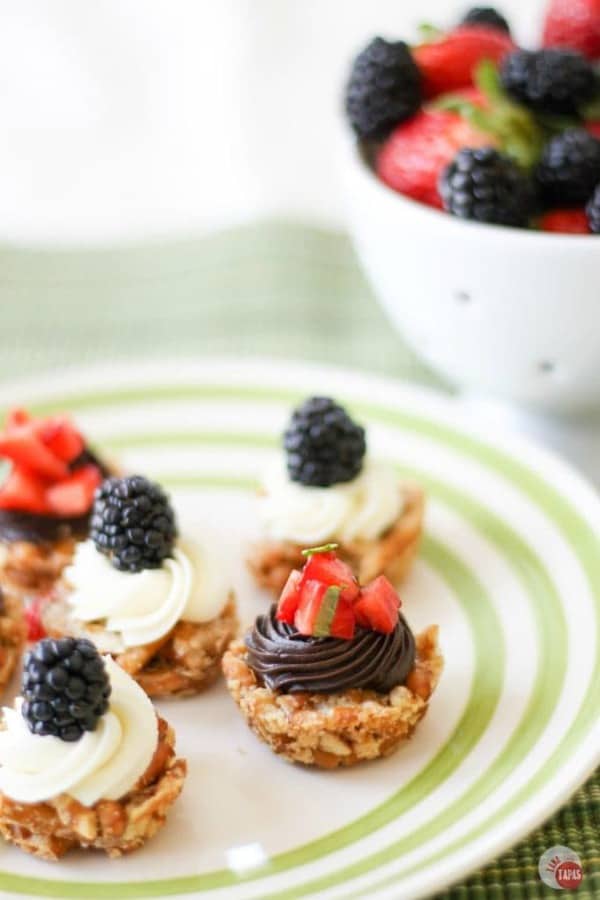 For more insider tips & tricks, and a candid behind the scenes look follow me on social media! Check use out on Pinterest, Facebook, Instagram, & Twitter (yes, people still use Twitter, LOL!)
If you are not in the mood for chocolate (did I really just say that?!?!?), then you can use a cream cheese frosting. I have provided a link to my cream cheese frosting recipe.
The recipe makes a large batch, but I keep in the refrigerator and use for multiple recipes. You never know when the need for cream cheese frosting will arise!
This picture shows the chocolate version and ones with cream cheese frosting and blackberries. There are endless possibilities for toppings so get creative!
I hope you enjoy these Strawberry Pretzel bites as much as I do, and with the multi-step preparation you can make the different items separately and assemble when ready!
MORE EASY FINGER FOODS
Strawberry Pretzel Stacks
Additional Time:
7 minutes
Strawberry Pretzel Stacks are the reinvention of Strawberry Jello Pretzel Salad! Take out the cream cheese and the jello and make these tiny bites with a crispy pretzel crust, creamy chocolate ganache, and fresh strawberries and mint!
Ingredients
For the pretzel crusts
2 cups crushed salted pretzels
3/4 cup melted butter
1/4 cup sugar
Chocolate Ganache
8 ounces bittersweet chocolate
3/4 cup heavy cream
2 tablespoons butter
Strawberry Topping
2 tablespoons chopped mint
1 pint of strawberries (washed and chopped)
Instructions
Bake the pretzel crusts
Preheat oven to 325F and spray a mini muffin pan with non-stick spray or a light coating of olive oil.
Crush pretzels and toss with melted butter and sugar.
Press the mixture into the mini muffin pans to make a crust base (about 1 tablespoon for each).
Bake for 8 minutes.
Remove pan to a cooling rack and let sit until set.
Remove crusts and add more non-cooking spray and more pretzel mixture.
Cook and cool until all the mixture has been used. This recipe makes 24 crusts.
Make chocolate ganache
While the crusts are baking, heat cream, butter, and chocolate chunks in a double boiler.
Stir until melted and smooth.
Once all is incorporated, I chill it to thicken it and then store until ready to use.
Make the strawberry topping
Chop strawberries and mint leaves. Let sit a few minutes to mix flavors.
When ready to serve, assemble the stacks
Place one teaspoon of ganache on top of a pretzel crust.
Top with strawberries and mint and serve.
Notes
*If you like the recipe, leave me a comment and rate it with some stars. Thank you!
Recommended Products
Nutrition Information:
Yield:

12
Serving Size:

2 stacks
Amount Per Serving:
Calories:

335
Total Fat:

29g
Saturated Fat:

18g
Trans Fat:

1g
Unsaturated Fat:

9g
Cholesterol:

53mg
Sodium:

146mg
Carbohydrates:

16g
Fiber:

4g
Sugar:

8g
Protein:

4g
This nutrition information was generated via a third party, Nutritionix, and can bot be held liable for any discrepancies in the information provided.
TakeTwoTapas.com. Content and photographs are copyright protected. Sharing of this recipe is both encouraged and appreciated. Copying and/or pasting full recipes to any social media is strictly prohibited.