Whenever I travel back from Jacksonville, FL where I visit friends and family, I always stop by and grab some shrimp. On one of the back roads between there and Waycross, GA, where I am currently resting my head, is a lovely lady who sells shrimp out of her car port. I know you probably just gagged a bit after seeing the word car port, but this family has the best shrimp. The husband goes out EVERY morning and brings in a haul, the likes I have never seen. She has coolers full of shrimp and fresh whole fish all over the place. And those are the ones they didn't take to the local fish markets to sell. When she has jumbos on sale, it is game on! I grabbed three pounds this last trip for 6.50 a pound! She is always friendly and her shrimp are always excellent! They still have the heads on them so making seafood broth, or having pretty ones for an out of sight presentation is always possible. For this round of shrimp, I decided to do a ceviche for practical reasons. I already had chicken brining for dinner so I wasn't going to eat them until the next day. Usually this happens because my ADHD husband is never in the "mood" for what I have planned. Of course, he sighs heavily when I decide not to plan anything for dinner because I know he will "poo poo" my suggestion. We have this continuous "dance" around our meals. I never get to lead though…
Anyway, I decided to use half the shrimp for ceviche and the other half as "peel and eats" for a snack. So while I'm making my chicken, I'll start making my ceviche and let it "cook" overnight.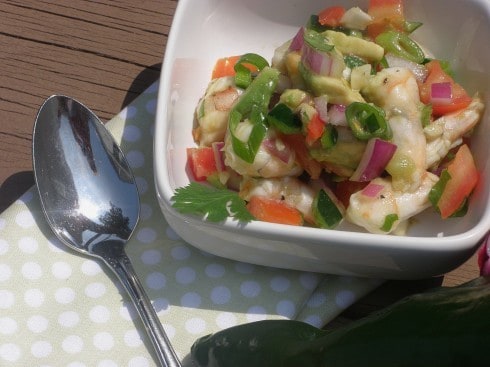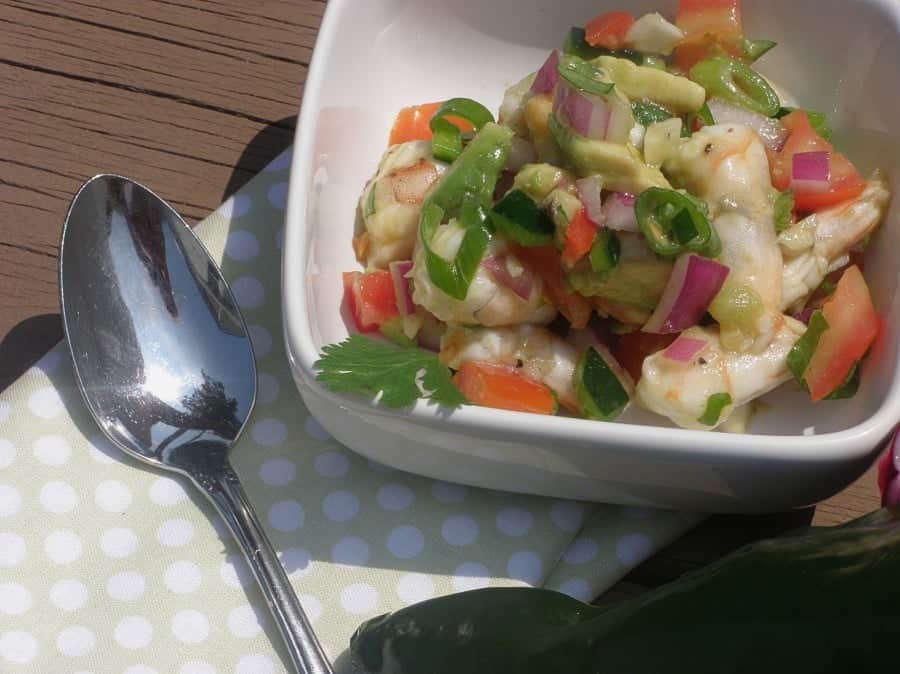 Ceviche is a simple dish that is made from raw seafood and "cured" in citrus juices. The juices do not cook the seafood, but, and excuse the scientific mumbo-jumbo,the juices denature the protein in the seafood which causes it to look opaque or cooked. This method of cooking DOES NOT kill bacteria or and parasites so I only use the freshest seafood. If you are susceptible to illness from raw foods, I would avoid the raw part and cook the seafood before proceeding with the bath of juices.
Here is my recipe for shrimp ceviche! Great to make while your husband has changed his mind about dinner again!
Shrimp Ceviche
Active time: 20 minutes plus "cooking" time
Makes 8 servings
2 pounds fresh shrimp, peeled and deveined
1/2 cup lemon juice
1/2 cup lime juice
3 cloves garlic, mined small
1/2 red onion
1 cup tomato, diced
3 tablespoons cilantro, chopped fine
1/2 poblano pepper, ribbed, seeded, and chopped fine
1 tablespoon olive oil
1 tablespoon Tabasco (or other hot sauce)
2 avocados, diced
salt and pepper
Mix the shrimp, onion, and citrus juices in a bowl. Cover and refrigerate for at least 2 hours. I let mine go overnight because I'm usually prepping about 5 other things as well.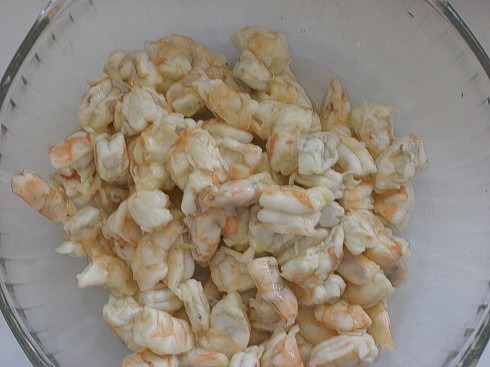 Stir and toss in the rest of the ingredients. Refrigerate for another hour. Serve in chilled glasses!
If you are serving the next day, leave out the avocado and add right before you serve that way it won't oxidize (science mumbo about it turning brown).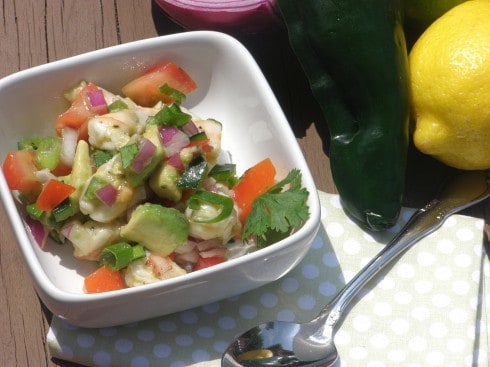 If you are uncomfortable, or have a sensitivity to raw seafood, please boil or poach your shrimp prior to marinating in the juices. You can proceed with the rest of the instructions after this step.
If you like reading my posts and seeing my recipes, follow me on your favorite social media channel for behind the scenes photos and much, much more: Pinterest, Facebook, Instagram, and Twitter!
©TakeTwoTapas.com. Content and photographs are copyright protected. Sharing of this recipe is both encouraged and appreciated. Copying and/or pasting full recipes to any social media is strictly prohibited.