This post has been sponsored by Schweppes. All thoughts and opinions are my own.
Hydration has always been a problem of mine but now that I live in Arizona it is even more of a priority. Staying hydrated is much easier and way more fun with Schweppes Sparkling Water!
Boy, is it dry out here in Arizona. Two months into living here and I am still having problems with two things. My sleep cycle and hydration. Still on Eastern Standard Time while in Arizona has its benefits as I am officially a morning person now.
Getting up, making my bed, and starting blog work all by 7 am is a nice change of pace. It still feels like I get to sleep until 10 am and I get a lot more accomplished throughout the day. Hopefully, it will last a long time. I even started hot yoga! This brings me to my second problem.
Hydration.
It is so hard to stay hydrated here in the desert because I don't feel like I am losing water while I am out and about but the dry air just sucks it right out of me. I should have known that it would be this way since we have spent a few weeks here in the summer for the past few years. But living here is different than just visiting.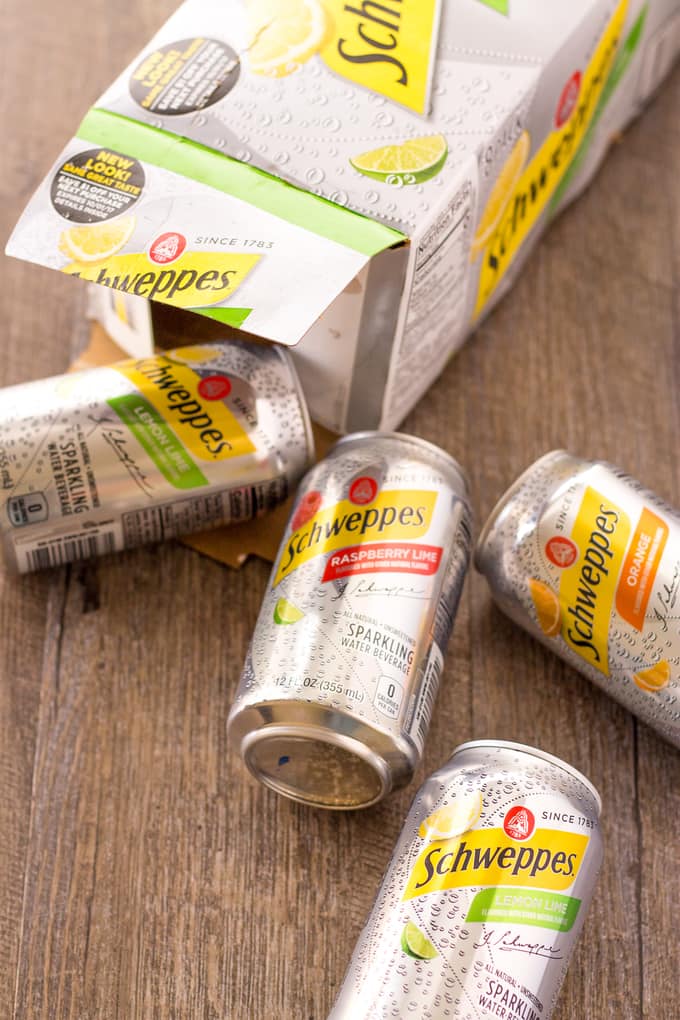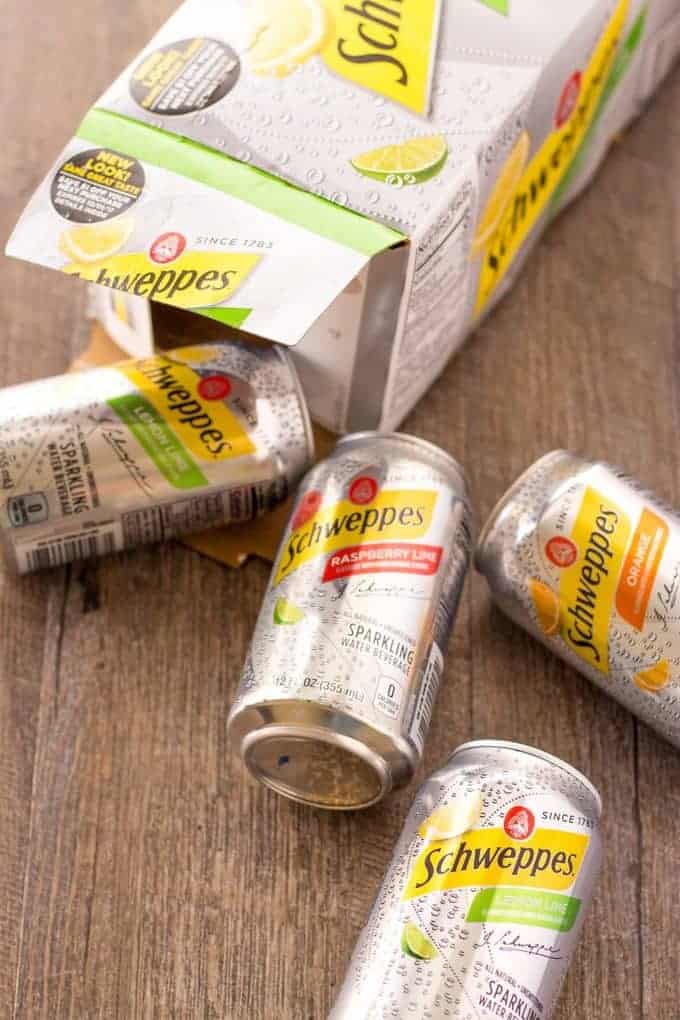 I carry a refillable water bottle everywhere I go but they are not the coolest thing to lug around. My current bottle is a large bright orange one that is bulky, doesn't fit in my car's cupholders, and is an all-around pain to clean.
And I'm just going to say that plain water is boring. I tried to justify drinking unsweet tea as water but with the caffeine, I don't think it counts. Some fun, fruity, and preferably with bubbles is needed STAT!
Schweppes has solved my problem by coming out with a new line of Sparkling Water! Great flavors that include Orange, Raspberry-Lime, Lemon-Lime, and my personal favorite, Black Cherry.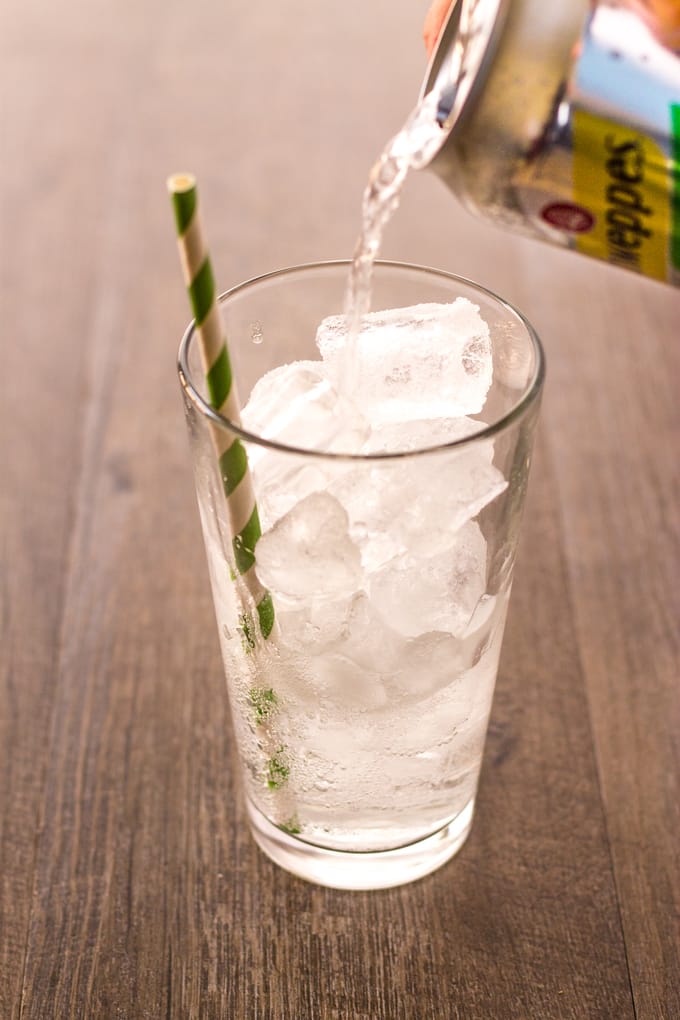 Keeping up with two boys is tough enough without being dehydrated. I just feel lousy when it happens so I make sure I keep water with me at all times. On my way to hot yoga (yes, I purposely do yoga in a 105-degree room) I grab a few cans out of the fridge.
One before yoga, and one for after. Drinking the Schweppes Sparkling Water makes me feel more adult and sophisticated than chugging out of a large water bottle. All the other ladies have been asking me where to get it!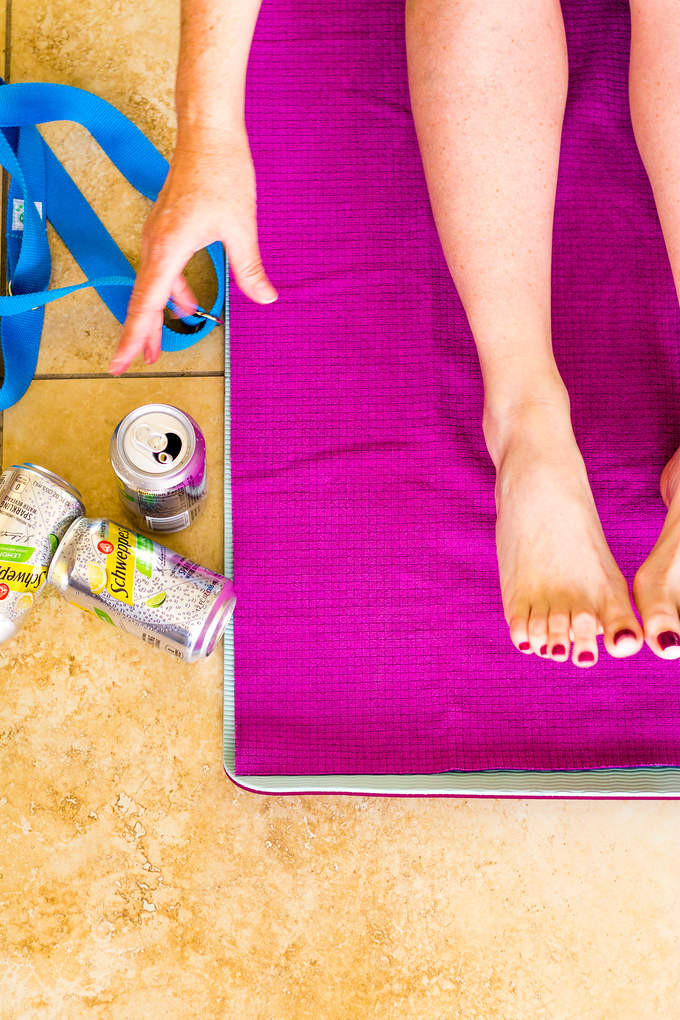 After hot yoga, I typically do my grocery shopping. The boys are still sleeping (because they are still on Easter Standard Time too) so I take the opportunity to go to the store with them nagging me for snacks.
I may be sweaty from the yoga but I am ready to get my errands done so I can get started on recipes for the blog, so off to the store I go. Drinking my Schweppes Sparkling Water makes the trip through the store fun all the while keeping me hydrated. I keep a cooler in my car to transport cold and frozen items from the store so I also keep some sparkling water in there too.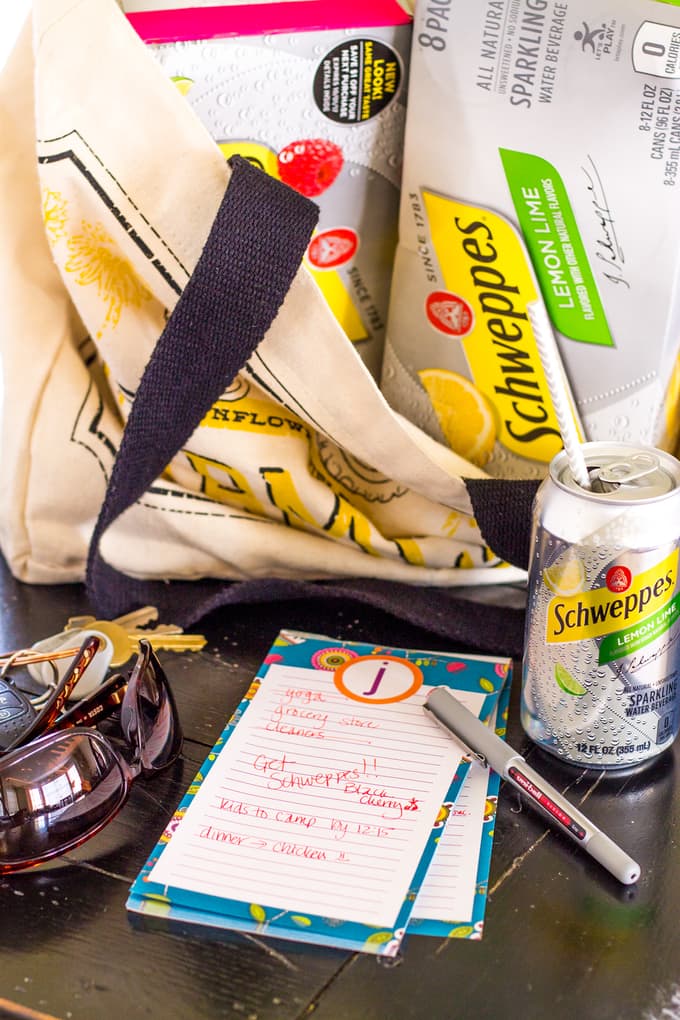 Groceries put away and a quick cold shower (because it is 110 degrees here) and I am ready to get started with photo editing!
Blogging is hard work and being a food blogger means that I am around food all the time. Drinking water is a great way to keep my hunger at bay and a Black Cherry Sparkling Water is the perfect pick me up for the afternoon work slump.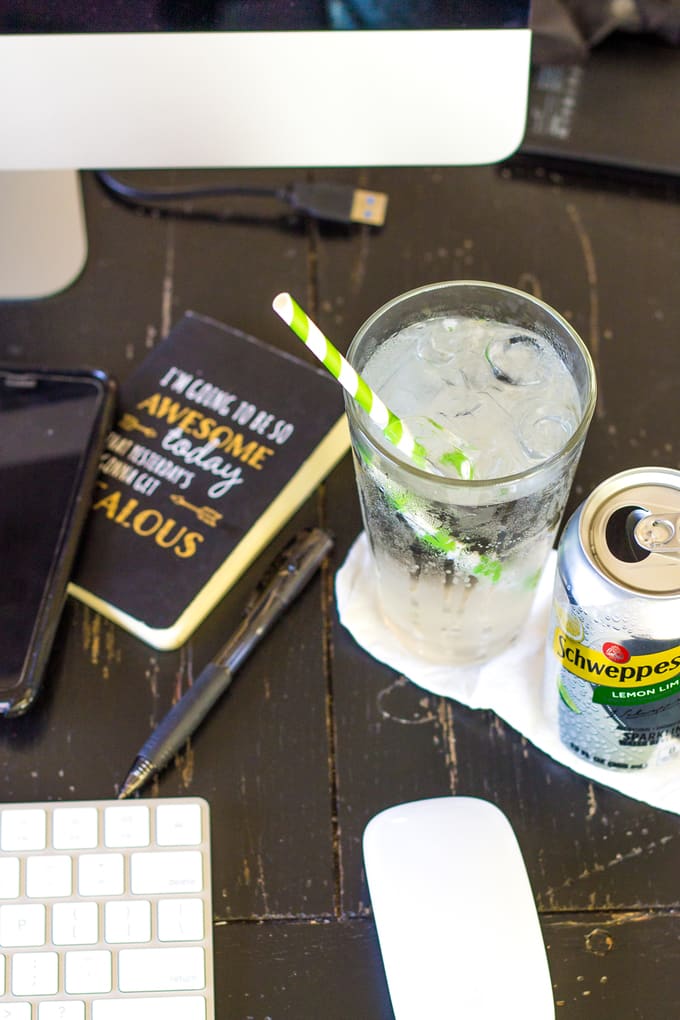 After working all afternoon it is time for the pool. We are so excited to have our own pool and wonder how we ever lived without one. The kids and I don't usually get in the pool until after dinner because it is just too darn hot. We have an umbrella over a section of the pool but I am very fair-skinned so I burn easily. I need to stay in the shade or go swimming later in the day. And stay hydrated!
We also swim later because I don't arrange dinner until after 6. From 3-6 pm is peak electrical usage time so it costs more during that time frame. I don't do laundry, run the dishwasher, or use the oven during those times. Dinner is after 6 which pushes our swim time to about 7.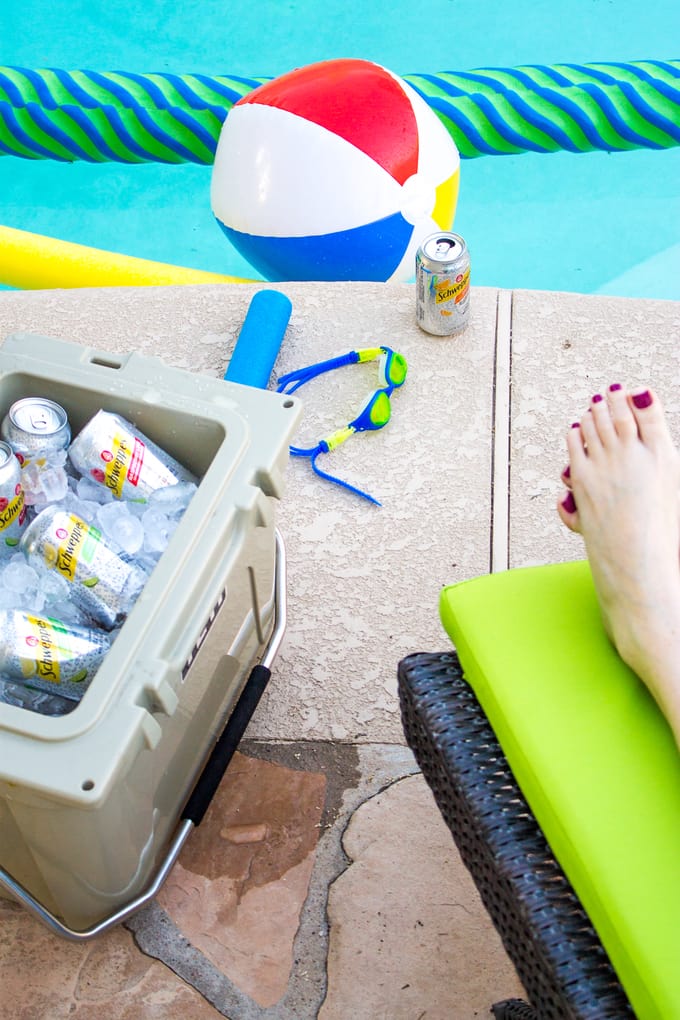 Just because we are in the pool doesn't mean we don't need to drink water. I try to drink half my body weight in ounces a day but really I need a gallon in this dry climate. It seems like a lot doesn't it? It goes down easy when you are drying up but mixing it up with fun Sparkling Water is a welcome change! I keep a cooler of Sparkling Water by the pool for the whole family.
Having all four flavors is great because of each of us likes something different. I am a Black Cherry fan all the way, my oldest son likes the Raspberry Lime, my youngest loves the Lemon-Lime and the hubby is a fan of the Orange. He tries to steal my Black Cherry ones but I usually drink them all before he gets a chance. Keeping up with everyone and everything makes me thirsty!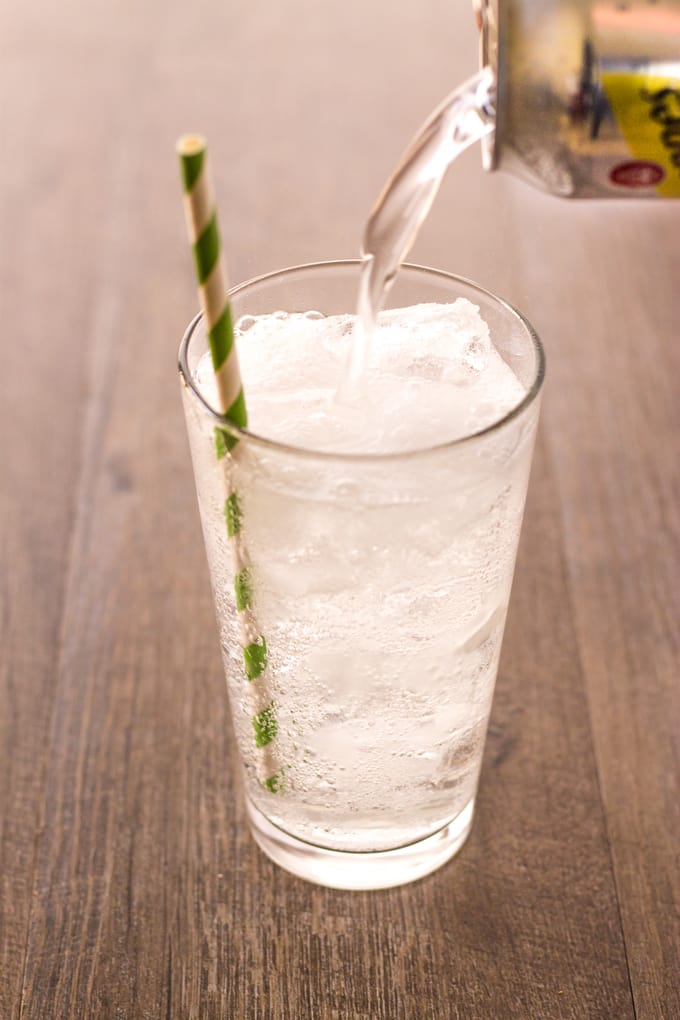 Doesn't this look amazing? Clear, crisp, and refreshing!! Need some of these fun straws? They make your sparkling water even more sophisticated!!
Schweppes Sparkling Water is a great way for everyone to stay hydrated this summer while having flavorful fun doing it. Grab a few 8 packs and load up the cooler! Just make sure you get at least one of every flavor to be safe.
Tag me on social media with #TakeTwoTapas @TakeTwoTapas and @SchweppesUS to show us how you are staying hydrated this summer with Schweppes Sparkling Water!