Prepare slow cooker lemongrass chicken with minimal effort and have lots of shredded meat on hand for your next recipe. This chicken has a hint of garlic and the subtle flavor of citrus thanks to the lemongrass!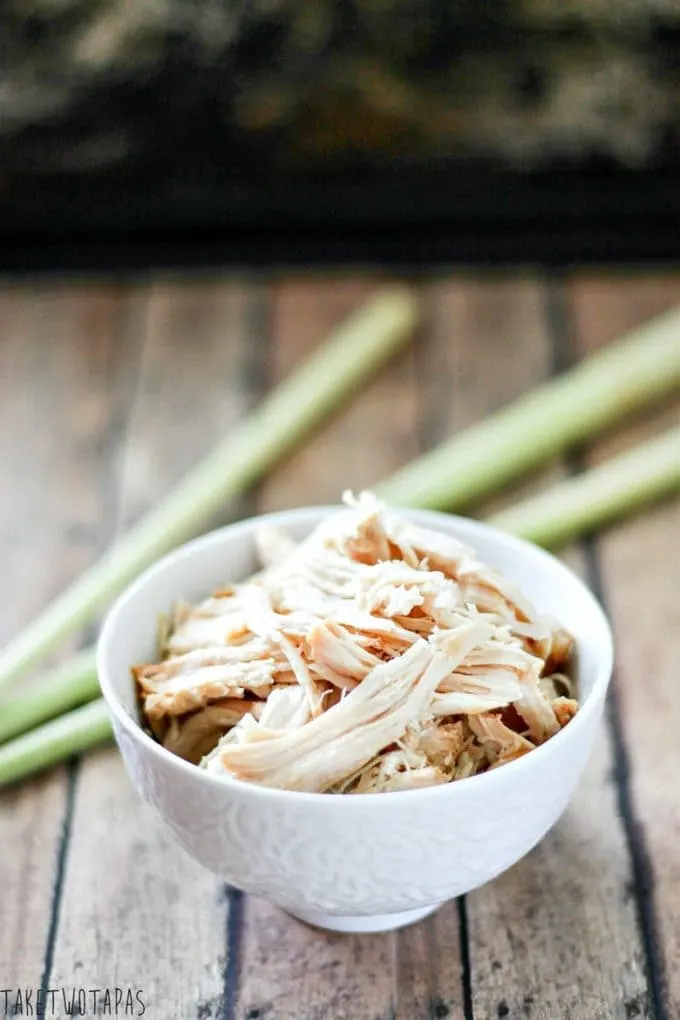 Three months is a long time to go without a slow-cooker, especially for a busy mom. You might have read that I lost mine in a horrific jelly-making adventure called Sweet and Spicy Four Pepper Jelly Sauce. I broke down and finally bought one. My shiny new slow-cooker creates magic with this recipe and the lemongrass to make lemongrass chicken.
In our house, the slow cooker works hard at least twice a week for either pot roast, soup, or making lots of shredded chicken. We eat a lot of shredded chicken in our house. Just like any house with young ones, meal times are hard when everyone does not agree with the menu. Having shredded chicken helps make it easier to make a few different things and keep everyone happy. Thank goodness for my slow cooker or crock pot. Which ever way you were raised:)
I know that I will probably get lots of comments about making my kids eat what I prepare and not being a short-order cook, but the truth is, with a husband that travels quite a bit, I would rather make a few different things and spend time with my kids talking instead of fighting. I love to cook, so spending extra time in the kitchen is not a bone of contention for me. Plus, my kids join me there and I am teaching them to prepare their own meals, so they won't starve once I kick them out. Enough soap box nonsense.
I know there are busy moms that need an easy way to prepare meat for dinner and most of them turn to the slow-cooker. There are plenty of crock pot chicken recipes out there! Search Google and you will find many. Just so you know ahead of time, this recipe is not a complete meal. This is a way to make future dishes easier.
Soup dishes, casseroles, stews are great ways to use it! Don't feel these are your only options as this chicken can be used for your upcoming party too! Think of all the party appetizers you can make with this moist and citrus-flavored lemongrass chicken. Tacos, nachos, puff pastry squares, even a dip! The options are endless.
This post may contain affiliate links. As an Amazon Associate, I earn from qualifying purchases. Read my disclosure policy here.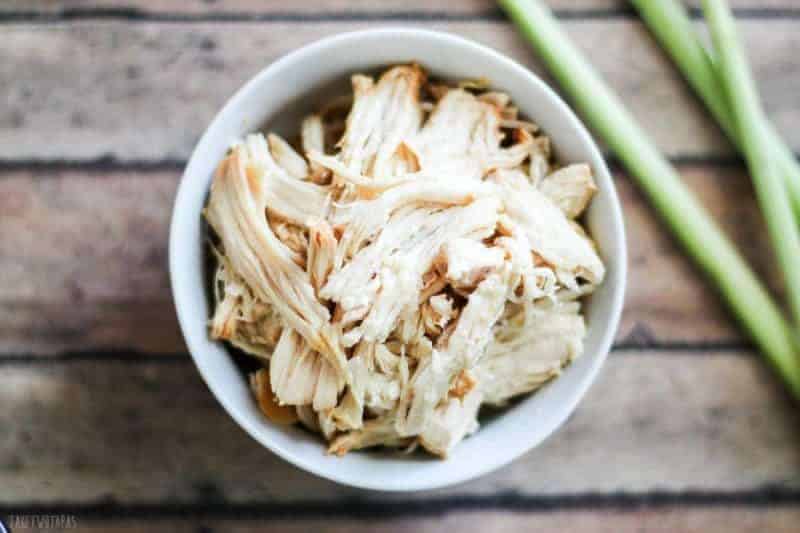 For more insider tips & tricks, and a candid behind the scenes look follow me on social media! Check use out on Pinterest, Facebook, Instagram, & Twitter (yes, people still use Twitter, LOL!)
If you haven't heard of lemongrass before, let me tell you a bit about it. Of course, you can always Google it or search Wikipedia.
Lemongrass is a herb that is widely used in Asian cuisine and imparts a bright, citrus flavor to anything you cook it with. You can use it to make tea, curries, and it's cousin, citronella, is used to repel insects. It comes in a stalk and is looks a little bit like a skinny leek. For this lemongrass chicken recipe, I trimmed the root off and removed the woody tops. I then smashed the stalks to break the cell walls and release the oils. This really brings out the flavor when you cook with it.
Much like the zest of the lemon, you must scrape it to get the oils flowing. I took the stalks and banged them against the counter to "smash" them. You can also use a mallet if you want, but I like smashing them against the counter. Relieves stress. The stalks stay intact, but the oils inside released.
Once I was done cooking the chicken, I just removed the lemongrass and the garlic cloves and discarded them. Removed the chicken and let it cool before shredding it. I then strained the broth and saved if for a soup that I will make in my new slow-cooker in the very near future!
4 cups of chicken will last only a day or two in my house, so I guess I will keep my slow-cooker on the counter. No use putting it away…
MORE EASY APPETIZERS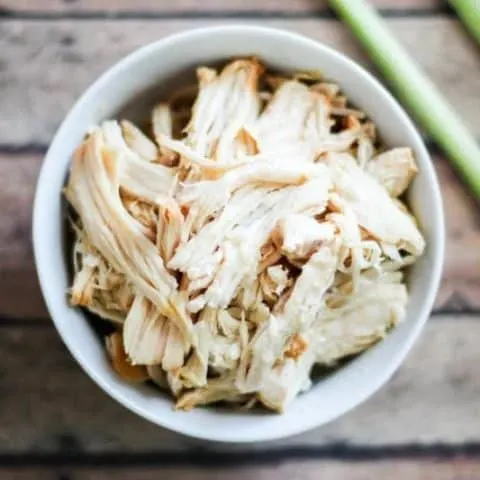 Slow Cooker Lemongrass Chicken
Total Time:
8 hours
5 minutes
This slow-cooker chicken recipe only has 4 ingredients and will make tasty, moist chicken that you can store away for a busy day! Minimal effort and you can have meat for a variety of dishes ready to go!
Ingredients
4 boneless (skinless chicken breasts)
4 cups chicken broth
3 cloves garlic (whole)
2 stalks lemongrass (trimmed and smashed (yes I said smashed!))
Instructions
Add all the ingredients to your slow cooker.
Turn on low and cook for 8 hours.
When finished, remove the chicken and cool.
Shred chicken and use right away or store in the freezer for another dish.
Nutrition Information:
Yield:

8
Serving Size:

1
Amount Per Serving:
Calories:

9
Total Fat:

0g
Saturated Fat:

0g
Trans Fat:

0g
Unsaturated Fat:

0g
Cholesterol:

2mg
Sodium:

462mg
Carbohydrates:

1g
Fiber:

0g
Sugar:

1g
Protein:

1g
This nutrition information was generated via a third party, Nutritionix, and can not be held liable for any discrepancies in the information provided.
This chicken recipe is great on tacos or in stir fry! I made it for my Mini Asian Tacos with Pickled Red Cabbage and Cilantro Avocado Sauce with Ginger!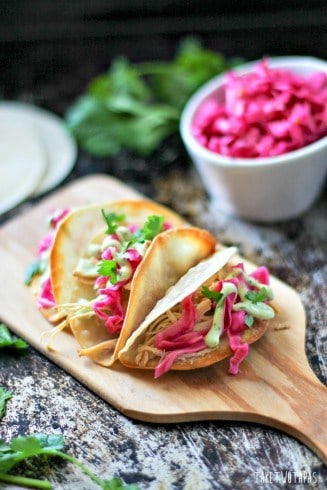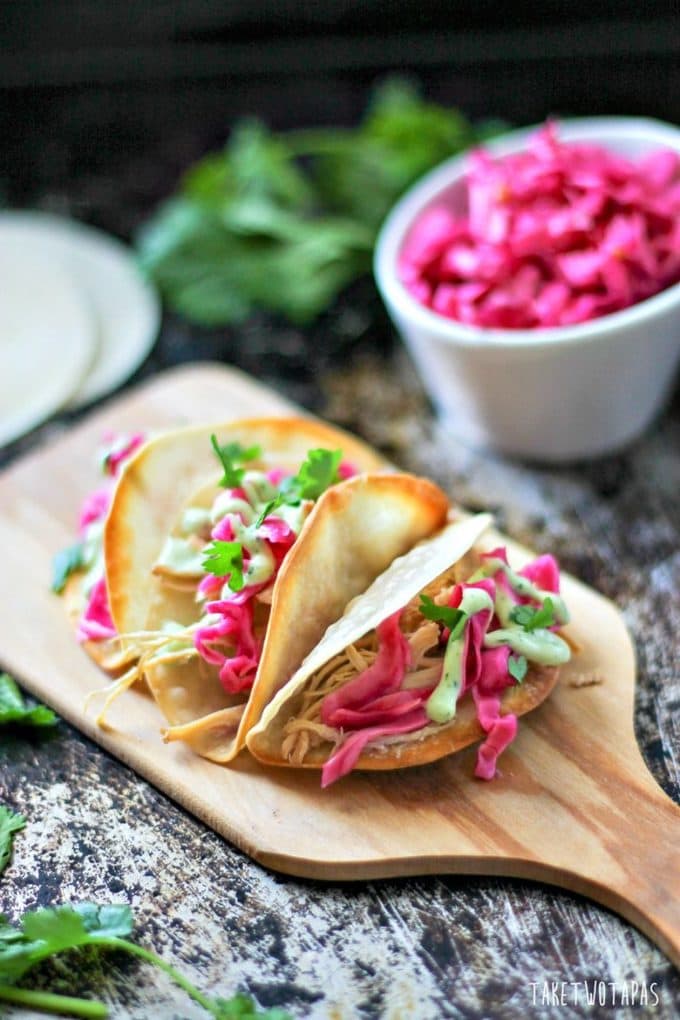 TakeTwoTapas.com. Content and photographs are copyright protected. Sharing of this recipe is both encouraged and appreciated. Copying and/or pasting full recipes to any social media is strictly prohibited.