Slow simmered arrabbiata sauce mixed with sausage and veggies and topped with cheese makes the perfect dip to share with friends. A simple dip served with crispy pizza chips will be your new favorite tradition!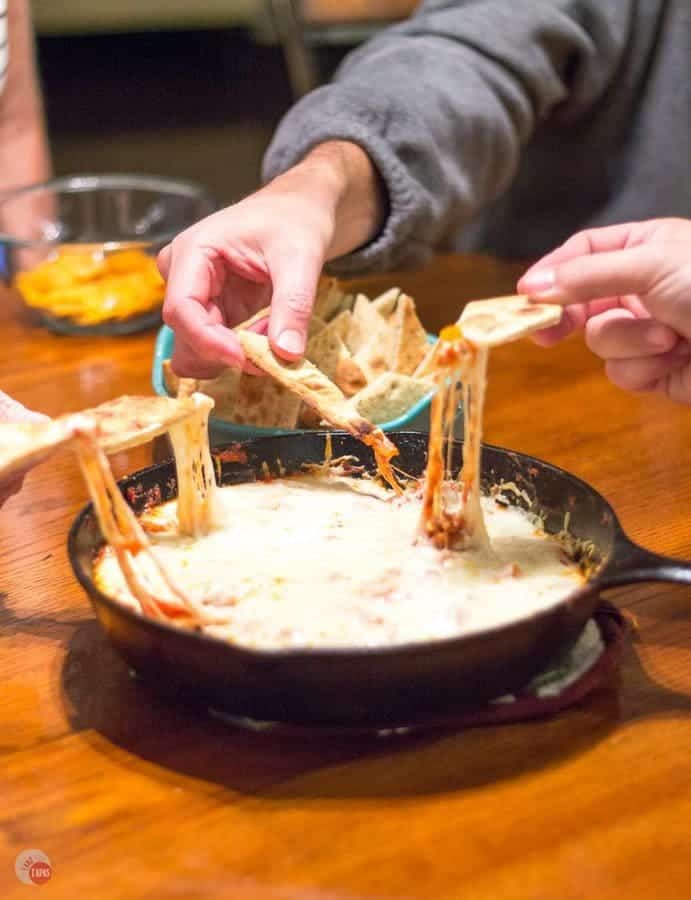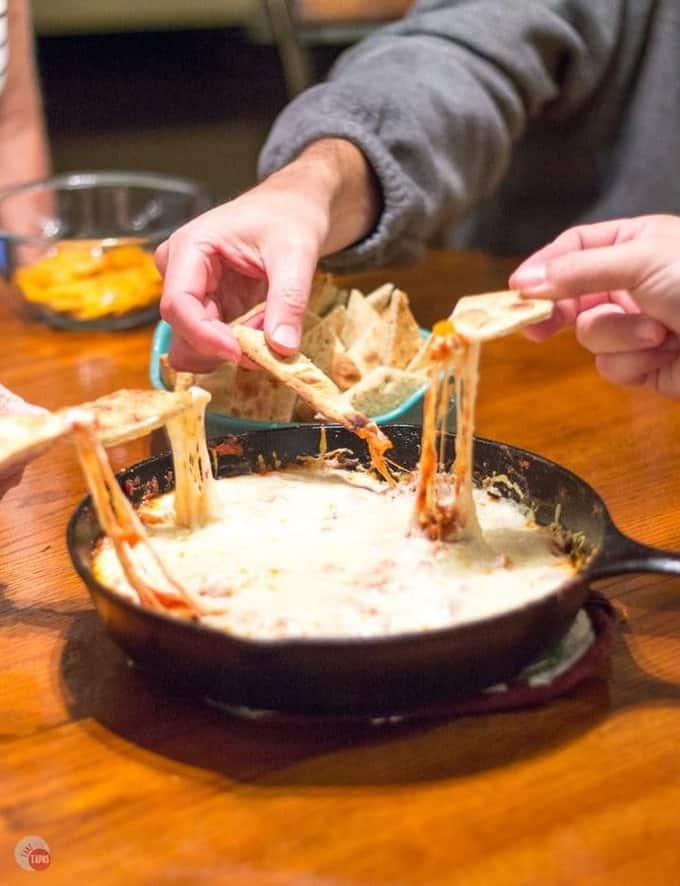 Even though the big game is over I want to share with you how my friends and I keep a "big game" going just about every weekend. We have started a new tradition with our get-togethers that involves snacking, dice, and now, this arrabbiata dip!
Did you watch the "Big Game" last weekend? I was sick so I couldn't go to the group party, but I watched it in my PJs, in my bed, and that was almost as good. It certainly had lots of twists and turns and a historic overtime period.
It amazes me how people have their own traditions with regards to game day. Face painting, wearing team colors, a pregame ritual of tailgating with specific dishes, and even extensive handshake sequences. Some I don't understand, but I am sure people don't understand some of mine. No judgment, just "game day" fun!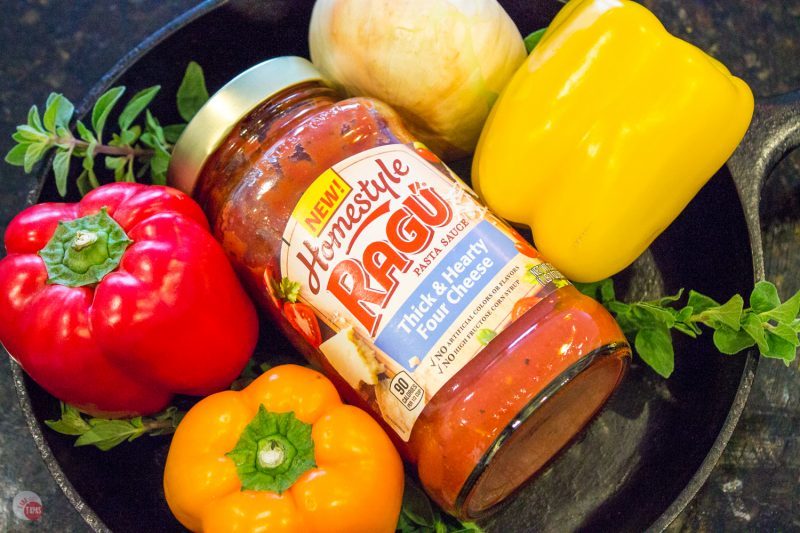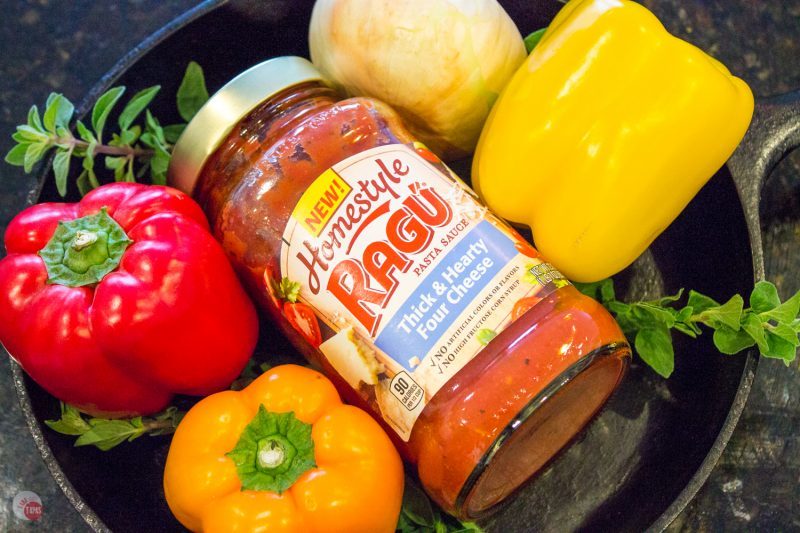 Even if we are not watching football or Kentucky basketball, we are still celebrating like it is game day. A few cocktails, some snacks, and great times with friends.
My hubby and I met our "inner circle" through some mutual friends and they have quickly become family. Summer vacations, weekend trips, and countless evenings spent at each other's houses have made us close. And has us starting our own traditions.
Some of our get-togethers are planned in advance and some are impromptu gatherings that came about just by bumping into each other at the store. Or a tennis match. Like this gathering and this Spicy Sausage Arrabbiata Skillet Dip, I am about to throw down.
This post may contain affiliate links. As an Amazon Associate, I earn from qualifying purchases. Read my disclosure policy here.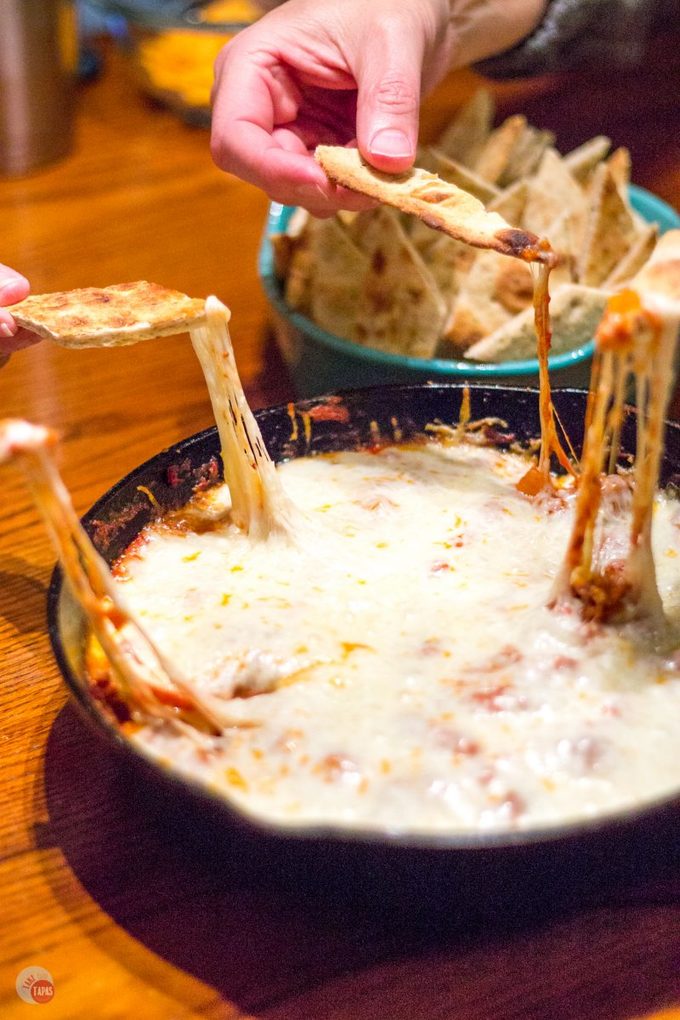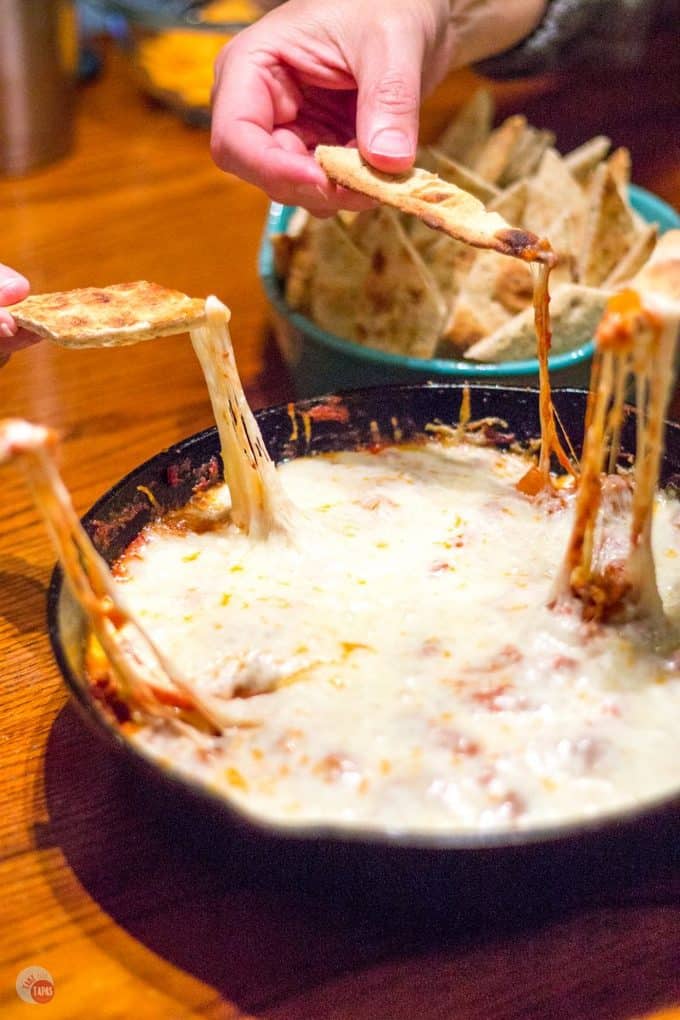 Remember when I told you about the Italian restaurant that my parents own when I was young? I mentioned it when I made a Mini Meatball Skillet Dip with Ragu. Being simmered in tradition, Ragu is a great go-to sauce!
Our half-planned dinner and get together last night came about after our kid's tennis matches were canceled due to rain. I was headed over after to take some photos of this dip because my kitchen is currently being renovated and my oven is taking a sabbatical.
Their house is perfect for cooking and they are eager to be taste testers. They even taste-tested all the dips in my Dip eBook! Maybe they just like to have someone cook for them 😉
Being that my kitchen is currently under construction, I couldn't make a homemade sauce like I normally would. Simmering all day on the stove and getting great depth. So I turned to a trusted source. Ragu's Homestyle Sauce tastes like it has been cooking all day, just like my mom would make all those years ago!
So on to the Arrabbiata dip!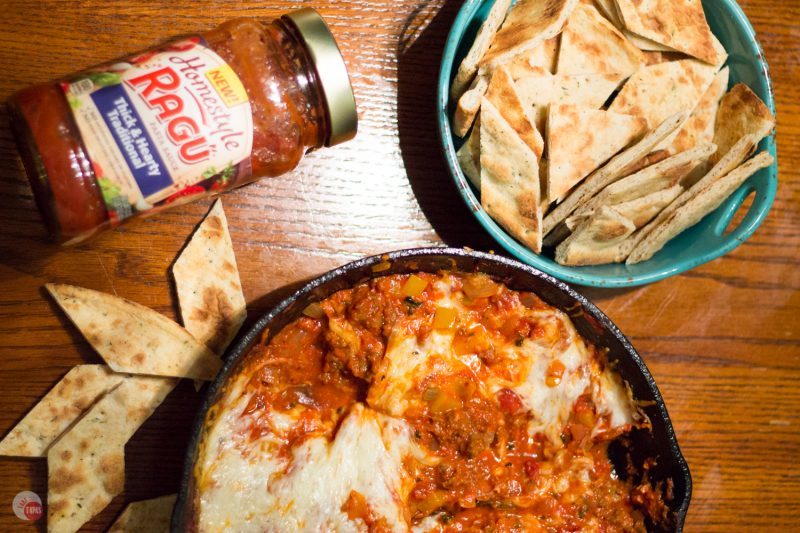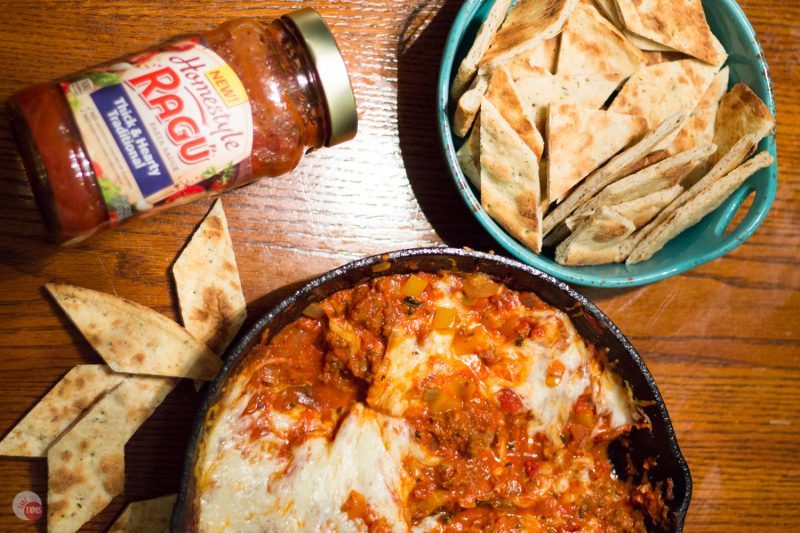 This hearty dip served as our appetizer AND most of our dinner that night. Filled with sausage and vegetables it can be your dinner if you don't feel like sharing. The mixture of spicy sausage, Ragu's Thick and Hearty Four Cheese Sauce, peppers, and onions, was a huge hit!
Tomato sauce should be on the spicy side in my opinion so I never put sugar in mine like some might. Carrots are great in a sauce because they act as a natural sweetener so I tend to add those when I am cooking for a crowd. But for me the spicier the better, that is why I always order an Arrabbiata sauce with pasta.
I wanted the richness of the four cheese sauce so I added my own red pepper flakes to make it a Four Cheese Arrabbiata Dip!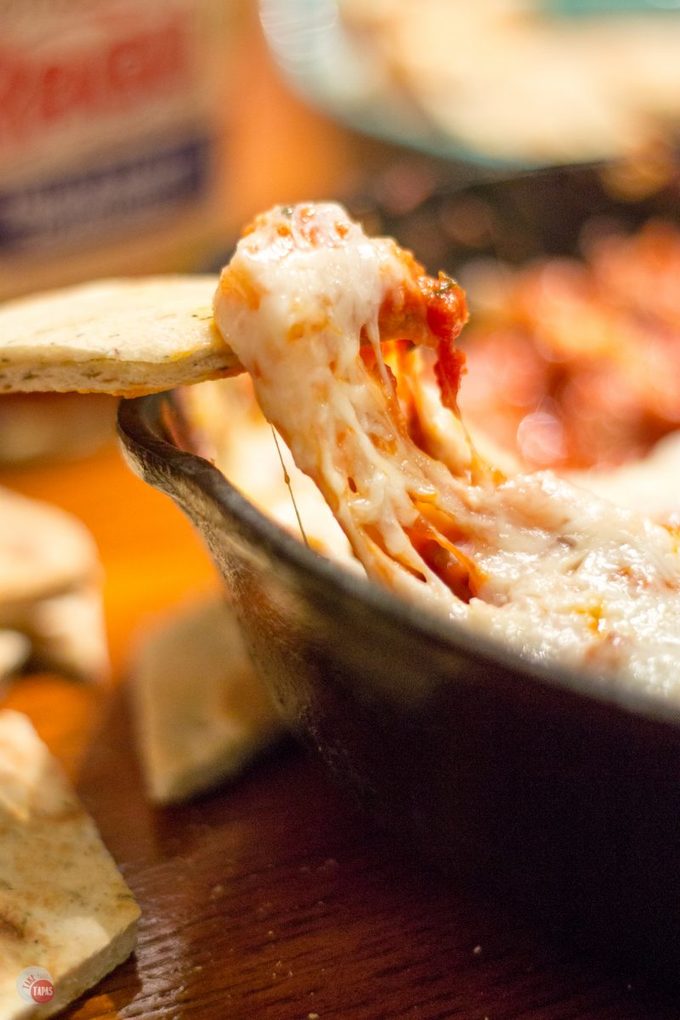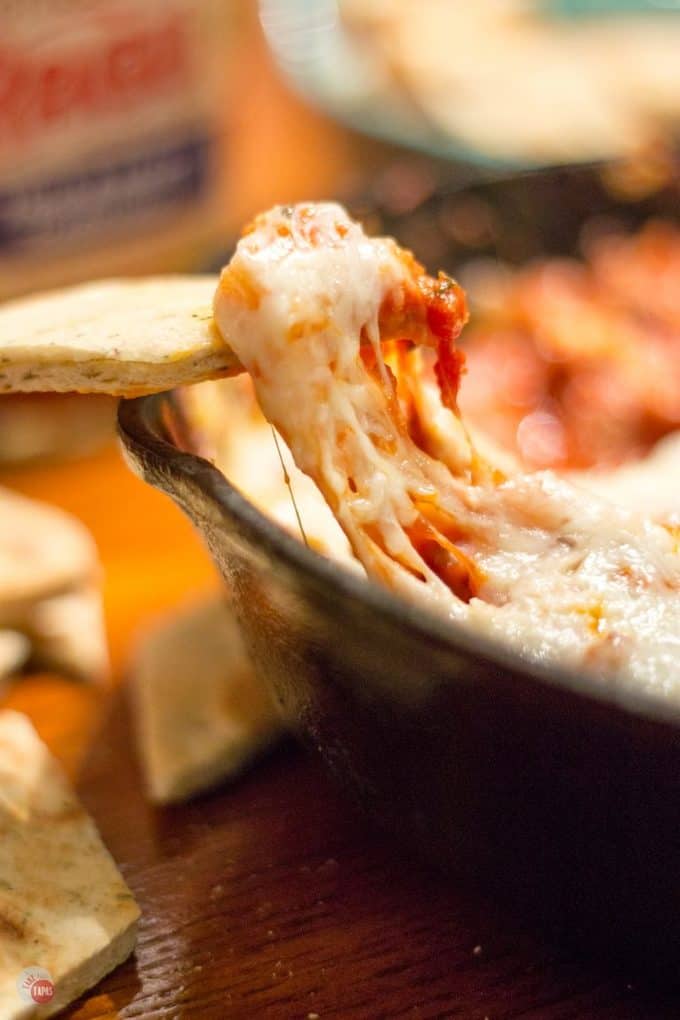 All that cheese makes for great stretch photos. Like cheese porn! It's so cheesy and thick that I made thick and hearty chips to handle the dip. Premade pizza crusts that you can buy at the store are perfect for making "chips" and hold up to the dip!
I bake them naked and just cut into chips when they come out of the oven. I found some that already had some herbs incorporated in the dough for even more flavor!
Here is another cheese porn pic in case you need one…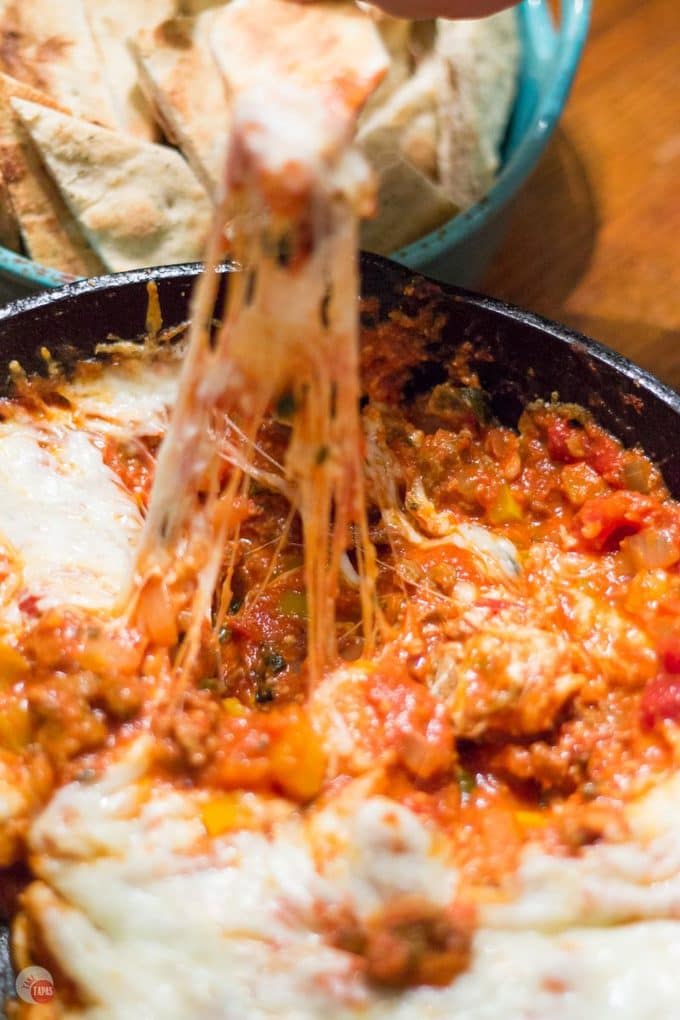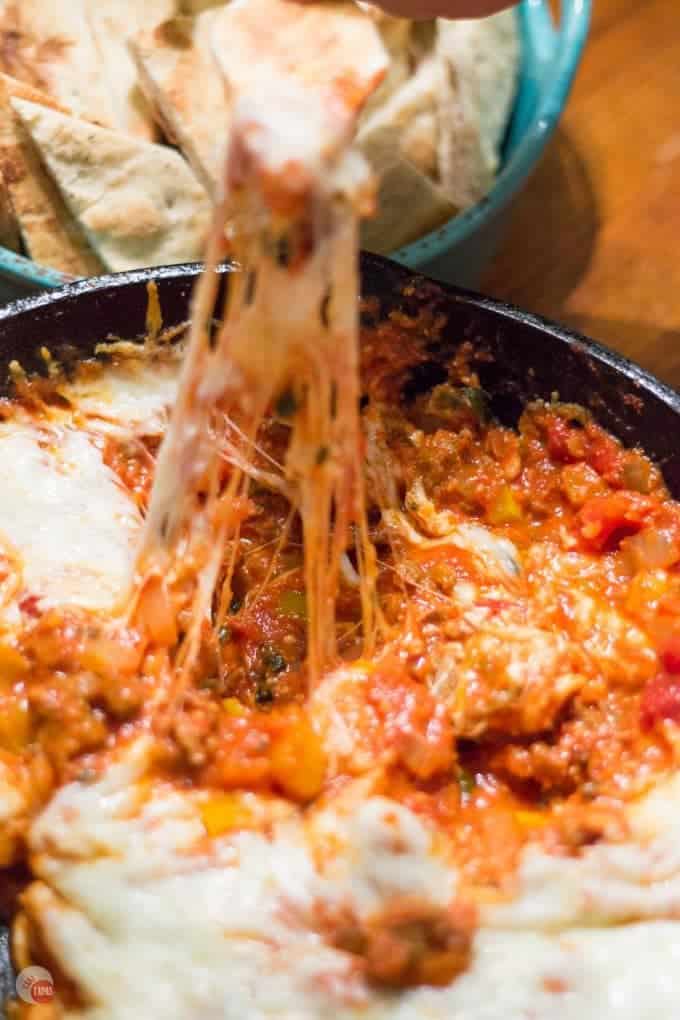 For more insider tips & tricks, and a candid behind the scenes look follow me on social media! Check use out on Pinterest, Facebook, Instagram, & Twitter (yes, people still use Twitter, LOL!)
It's hard to get photos when everyone is devouring the dip at a record pace! After we ate the dip, or maybe I should say after we destroyed the dip, we had to play dice! It's our new tradition and rarely do we get together without playing at least one round.
My friend Chrissy, who has guest posted here and brought you recipes for Pickled Red Onions and a Basil Black Pepper Martini, taught us this game and we are totally addicted. It's called Baja 10,000.
Chrissy's mom taught her and it is much easier to get the hang of the rules when you start actually playing. To help out, I found a nice blog post from A Mom with a Lesson Plan that has a printable and the rules written down if you would like to start playing.
Every time we get together we play at least one round. Rolling dice and accumulating points up to 10,000 can make for some long games or, depending on your luck, some quick ones. Certain players always roll certain dice sequences and we have lovingly named them after members of our group.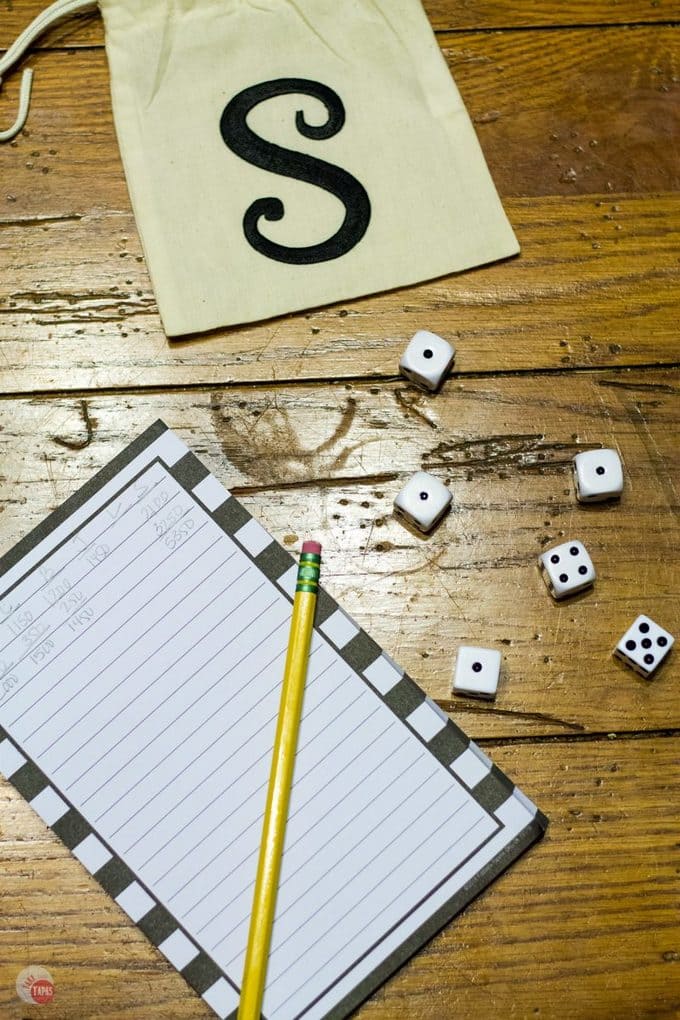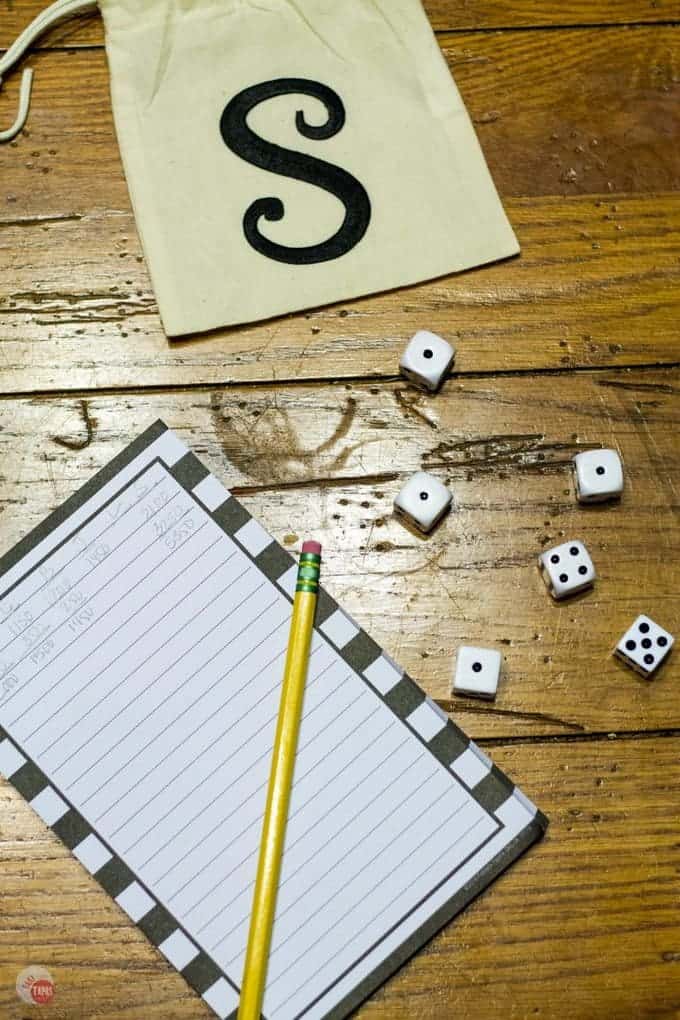 The first time I played I rolled all six dice and didn't get any scoring dice. Zero score! After a few more times of doing that, that roll is now called a Jennifer. Great thing to have named after me right?
Like the score pad above, if you don't get on the board and someone hits 10,000 it's called a Lisa. Lisa was the first one of us to never get on the board and someone else hit 10,000. Certain players have a specific way they roll the dice, and some like to add up others scores for them. Out loud. Everyone becomes a math genius during this game…
Sometimes we play for quarters, for shots, or for bragging rights. No matter where or when we play, we always have a good time. Gathering with friends, eating good food, and playing dice is our new tradition that I hope lasts for a long time.
What are some of your traditions and will you use to celebrate them? Hopefully this Arrabbiata Skillet Dip with sausage!
MORE PARTY FOODS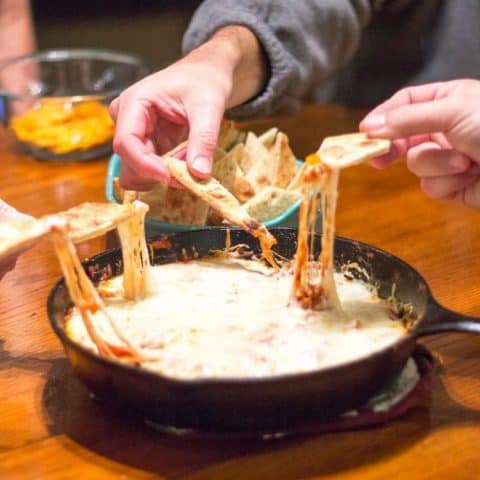 Arrabbiata Skillet Sausage Dip Pizza Chips
Slow simmered arrabbiata sauce mixed with sausage and veggies and topped with cheese makes the perfect dip to share with friends. A simple dip served with crispy pizza chips will be your new favorite tradition!
Ingredients
1 jar Ragu Homestyle Thick and Hearty Four Cheese Sauce
1 tablespoon olive oil
1 bell pepper (not green, diced)
1/2 medium onion (diced)
1 tablespoon fresh oregano (2 teaspoons dried)
2 teaspoons red pepper flakes
1 teaspoon salt
1 cup Italian style cheese (shredded)
1 pound Hot Italian Sausage (casings removed)
2 pizza crusts (premade and par-baked)
Instructions
Preheat oven to 450F.
Bake the pizza crusts per package directions (8-10 minutes).
Once the pizza crusts are cooked, lower oven temperature to 375F.
In a medium skillet heat olive oil over medium-high heat.
Saute onion and bell pepper until tender.
Add the sausage and cook through.
Once the veggies and sausage are cooked through, add the oregano, red pepper flakes, and salt.
Add the whole jar of Ragu Homestyle Thick and Hearty Four Cheese Sauce or other jarred sauce.
Stir to combine and simmer for 5 minutes.
Cover with cheese and bake in the oven for 10 minutes or until cheese is melted, bubbly, and slightly toasted.
Cut the pizza crusts into smaller pieces.
Remove the dip from the oven and enjoy with pizza chips and friends.
Use your
Notes
*If you like this recipe, please leave me a comment and rate it with some stars. Thank you!
Nutrition Information:
Yield:

8
Serving Size:

1
Amount Per Serving:
Calories:

697
Total Fat:

35g
Saturated Fat:

12g
Trans Fat:

0g
Unsaturated Fat:

23g
Cholesterol:

57mg
Sodium:

1714mg
Carbohydrates:

70g
Fiber:

4g
Sugar:

4g
Protein:

26g
This nutrition information was generated via a third party, Nutritionix, and can not be held liable for any discrepancies in the information provided.