A simple 5-minute dark chocolate bark is anything but simple with toasted panko crumbs and a sprinkle of sea salt. A sweet treat complete with a buttery, salted, toasted flavor and some crunch for texture!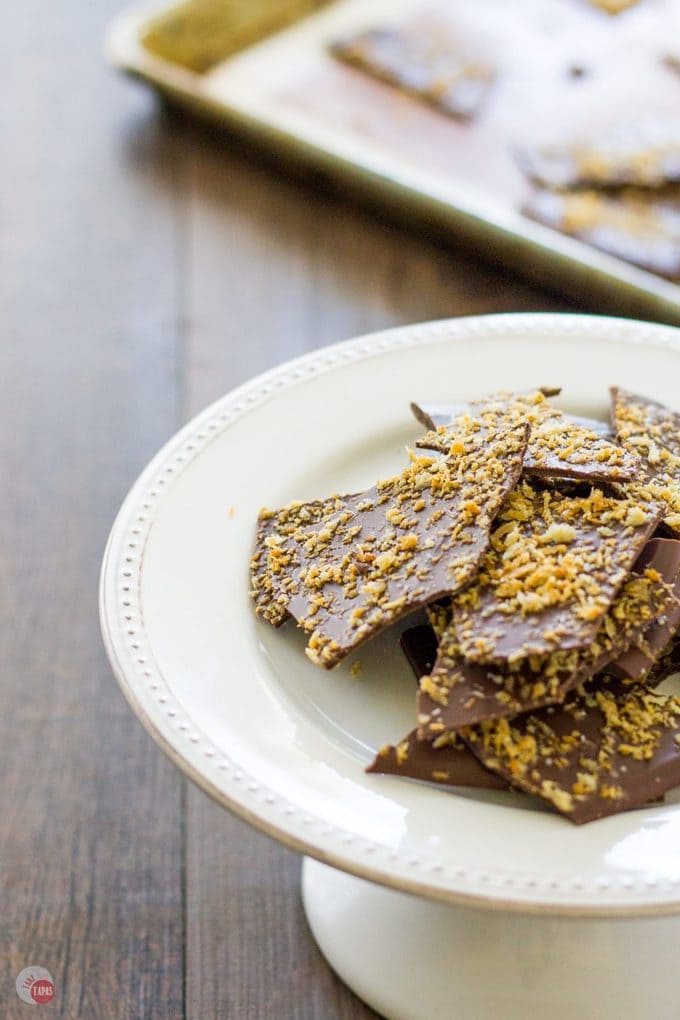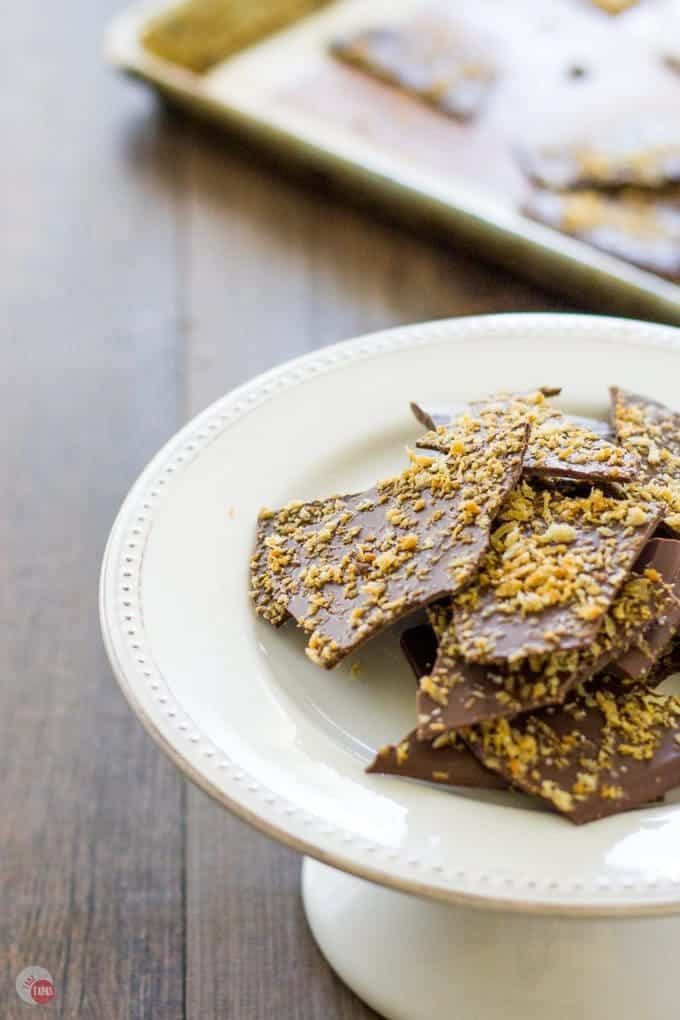 Chocolate Bark is the start of something good!
I have to say that chocolate bark is one of the easiest things to make and certainly super versatile. Topping chocolate bark is so fun and the number of flavor combinations is unlimited.
Some flavors are just classic like chocolate and peanuts, peanut butter, toffee, mint, and pretzels. Pretzels are so close to my favorite flavors with their buttery and salty notes. Something about balancing out the sweet with a savory makes the experience of eating it even more enjoyable.
This post may contain affiliate links. As an Amazon Associate, I earn from qualifying purchases. Read my disclosure policy here.

If you'd rather skip my essential cooking tips and tricks and get straight to this delicious recipe – simply scroll to the bottom of the page where you can find the printable recipe card.
First, we are talking chocolate. I prefer dark chocolate which is classified by the amount, or percentage) of cacao in the bar or block. Anything over the 60% mark has a nice, rich, and slightly bitter flavor. Milk chocolate is not usually on my radar because of the added milk powder and extra sugar.
I don't really classify white chocolate as chocolate since it is just the cocoa butter, but I have used it to cover my Banana Pudding Truffles and my Mardi Gras King Cake Oreo Truffles strictly because of the white coloring. It is also not as sweet as the candy coating you buy in the large blocks.
For dipping candy and other treats, I stick with dark chocolate dipping wafers and use the double boiler method. Place the chips in a glass or metal bowl, set it on top of a small pot of simmering water, and stir until they melt. Perfect every time!
The microwave doesn't seem to work for me mainly because I never change the power setting and the chocolate always burns on the edges. Stovetop makes it easier for me to keep an eye on it while I am doing other things. Like making the topping for this dark chocolate bark.
I have also used these wafers on my Bourbon Buckeyes, Cracker Truffles, and Homemade Star Crunch Truffles. Mucho successful and easy to do!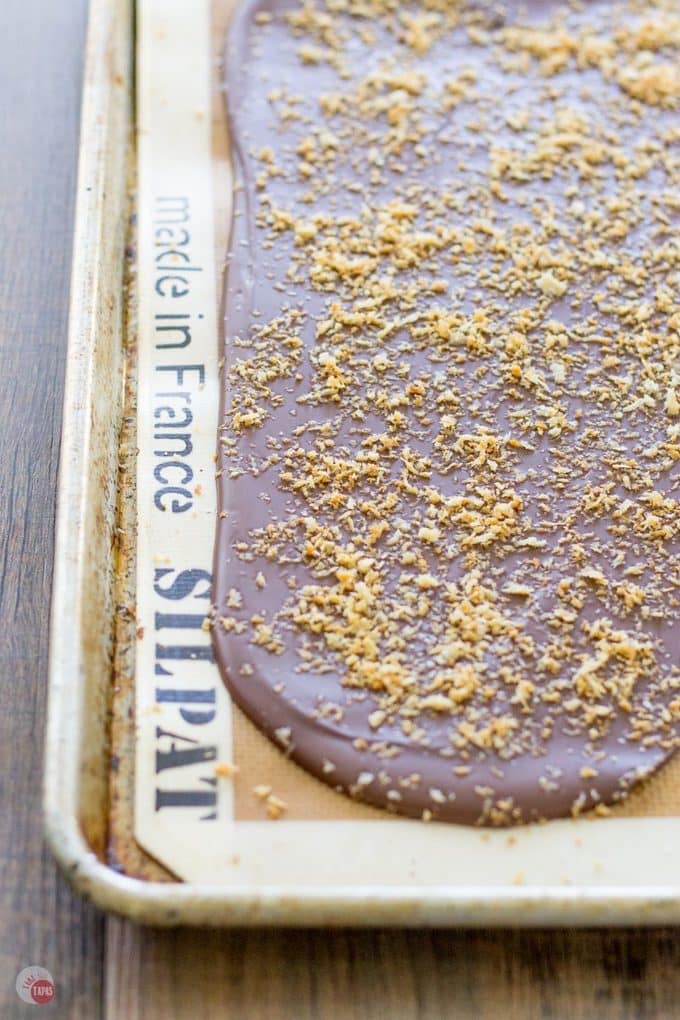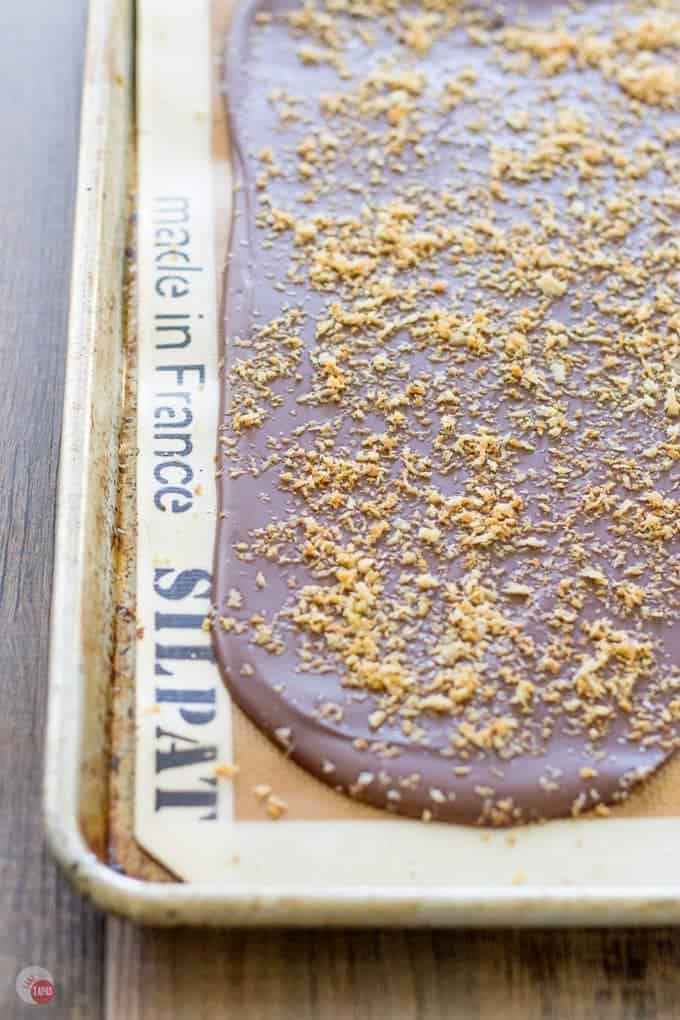 Once I melt the chocolate, I spread it out on a silicone baking sheet. The chocolate will peel right off and make it easier to break apart the dark chocolate bark. You can use parchment paper but I would not recommend wax paper. I use a parchment paper liner that has silicone in it to make it easier to remove baked goods. Either would work great.
Now comes the fun part. Adding the toppings. There is a world of toppings that are at your disposal for chocolate bark and choosing the right combination is key. You can go sweet and salty, smooth and crunchy, rare or ethnic spices. Just like my Snacking Chocolate, you can dress it up any way you like!
Recipe inspiration comes in the strangest places.
When I am shopping I tend to get inspiration for recipes. My phone is full of pictures of random things that give me ideas for new recipes. The flavors I chose for this bark are inspired by a candy bar that I bought in Phoenix. My son needed some cereal for lunch while we were staying in a hotel so we took a short walk to the local CVS.
Much like a Walgreens or a Rite Aid, the stores usually have pharmacy items, healthcare products, and a limited supply of food and other necessities. We found our box of cereal and while we were scouring the store for a pack of dice to play Baja 10K, I literally ran into an endcap full of chocolate bars.
It left a nice scratch on my leg! The bars were a brand that I had never heard of before and the flavors were intriguing. One that caught my eye and compelled me to buy it was the Dark Chocolate and Toasted Breadcrumbs Bar.
For more insider tips & tricks, and a candid behind the scenes look follow me on social media! Check use out on Pinterest, Facebook, Instagram, & Twitter (yes, people still use Twitter, LOL!)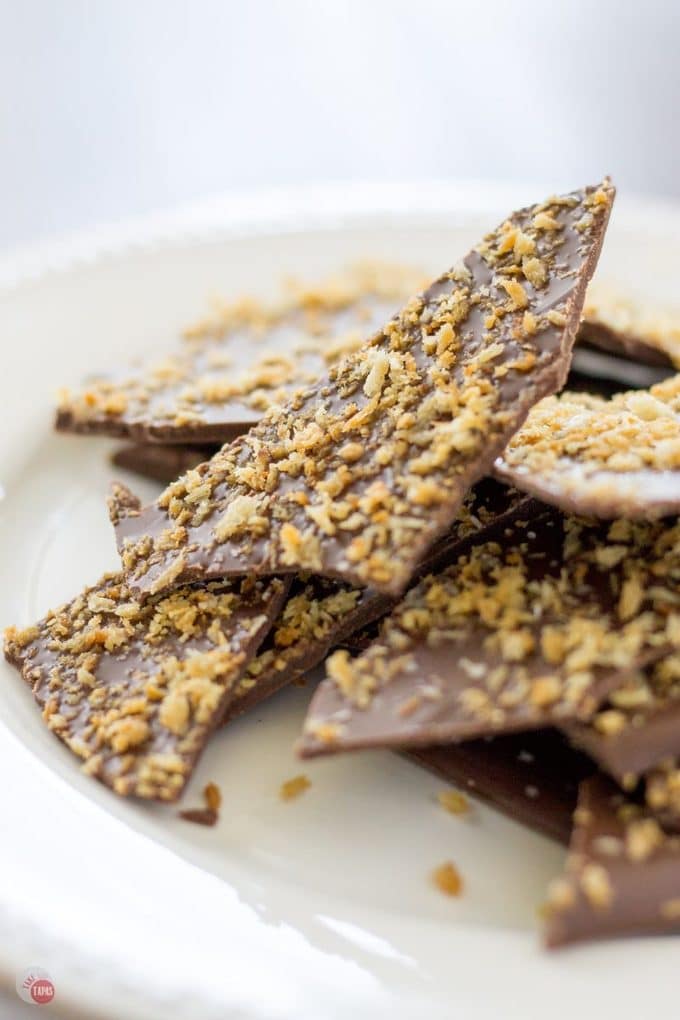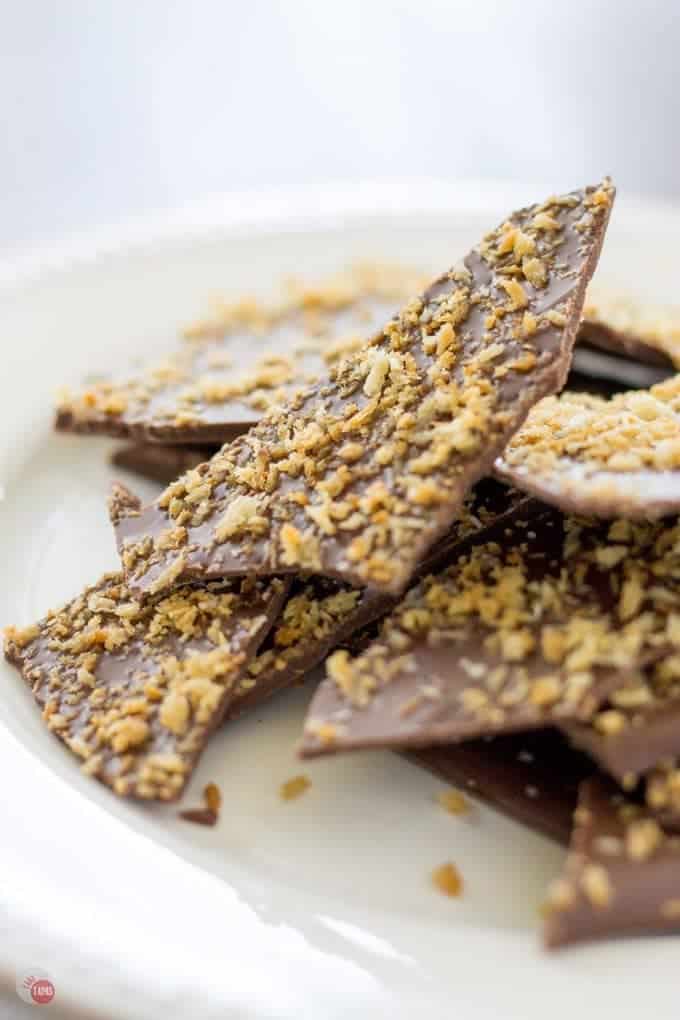 You heard me right, toasted breadcrumbs. I opened it while I was standing in line to check out. Normally I wouldn't do this in case the credit card machine is down, but I had enough cash on hand to cover it. Long story with the credit card but the highlights include our credit/debit card number being taken the last 4 times we have been in Phoenix.
One bite into the chocolate bar and I am on the hook. So much I scarfed down the rest of the bar on the walk back. It is hot in Phoenix and chocolate melts fast. I didn't want to waste any because it is SO GOOD!! The tiny crunchy crumbs, with their buttery flavor, mixed well with the dark chocolate making the perfect flavor and texture combination.
So embarking on my own chocolate bark, I open my new pantry doors (kitchen renovation post coming soon) and discover that I only have Panko or Japanese breadcrumbs. The Panko works great because the larger crumbs make for awesome crunch and offer a nice texture contrast to the smooth chocolate. To bring out their best flavor, I toasted them in butter on the stovetop for a few minutes and sprinkled with sea salt.
BOOM! Buttery, Toasty, Crunchy, Salty, Slightly Savory, and oh so chocolatey! Grab the recipe for this chocolate bark so you can make some yourself. Less than 15 minutes and you'll be eating!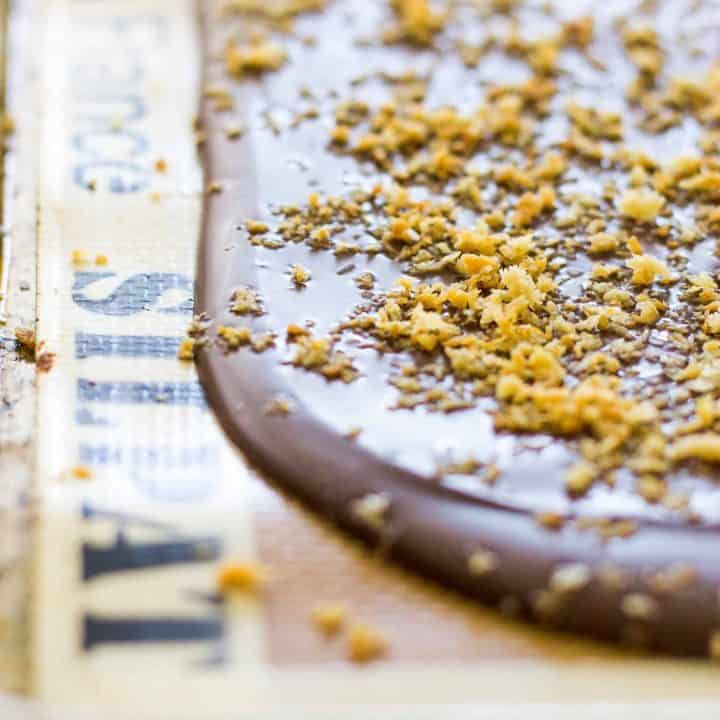 Dark Chocolate Bark with Buttery Toasted Salted Panko Crumbs
A simple 5-minute dark chocolate bark is anything but simple when topped with panko crumbs that are toasted with butter and sea salt.
Ingredients
For the Panko Bread Crumbs
1/2 cup panko breadcrumbs
1 tablespoon butter (unsalted)
1 teaspoon sea salt
For the chocolate bark
Instructions
Make the Panko
Toast the panko breadcrumbs in a pan over medium heat.
Add the tablespoon of butter and gently stir until the panko is golden brown and toasty.
Remove from the pan and place on a paper towel-lined plate.
Store in an airtight container until ready to use. I double up this recipe sometimes and sprinkle them on my salads or even my ice cream!
Make the bark
Once the panko crumbs are ready, melt your chocolate over a double boiler or in the microwave.
Spread the melted chocolate into a thin layer on the silicone baking sheet.
Sprinkle the panko crumbs evenly over the chocolate.
Sprinkle a little more sea salt over the bark if you want it a little saltier.
Place the sheet in the fridge for 5 minutes to set.
Remove, break into pieces, and store in an airtight container until ready to eat.
Notes
*If you like this recipe, please leave me a comment and rate it with some stars. Thank you!
Nutrition Information:
Yield:

8
Serving Size:

1
Amount Per Serving:
Calories:

343
Total Fat:

19g
Saturated Fat:

11g
Trans Fat:

0g
Unsaturated Fat:

5g
Cholesterol:

17mg
Sodium:

370mg
Carbohydrates:

39g
Fiber:

2g
Sugar:

30g
Protein:

5g
This nutrition information was generated via a third party, Nutritionix, and can not be held liable for any discrepancies in the information provided.
©TakeTwoTapas.com. Content and photographs are copyright protected. Sharing of this recipe is both encouraged and appreciated. Copying and/or pasting full recipes to any social media is strictly prohibited.