The sweetness of a shortbread thumbprint cookie is matched with a caramel Rolo candy and dusted with sea salt! Meet your new favorite cookie exchange member!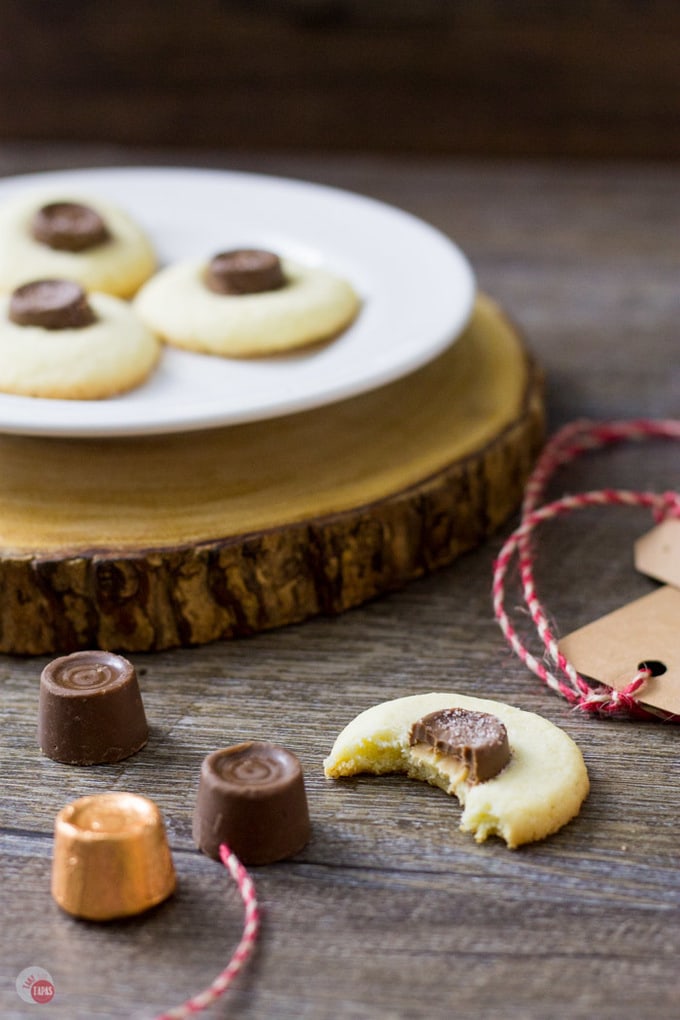 When the #FoodBloggerLoveCookieExchange came around this year I jumped at the chance to participate again. Last year I made a biscotti recipe because I had never made it before. Plus it travels well! It's so funny that so many people make it because of that. This year I was determined to make a thumbprint cookie as they are my favorite and I have gone all year without making one!
If you haven't heard of The FBL Cookie Exchange, it is a cookie exchange between bloggers. We submit our blog names and you are randomly (and secretly) matched with 3 other bloggers. You make a new cookie recipe (3 dozen) and mail a dozen to each person. Then sit back and wait.
A week later you get 3 dozen cookies in the mail. This is so much better than all those gift catalogs I keep getting. My kind of holiday mail! This year I received cookies from:
Little House Big Alaska sent me some amazing Chocolate Biscotti
Mother Would Know also sent me some delicious Biscotti. So glad I was drinking some hot tea when they arrived as it is perfect for dunking.
Chef Sarah sent me some dried cherry oatmeal cookies that I devoured in a matter of minutes.
You can see all the recipes and blog participants down at the bottom of the post.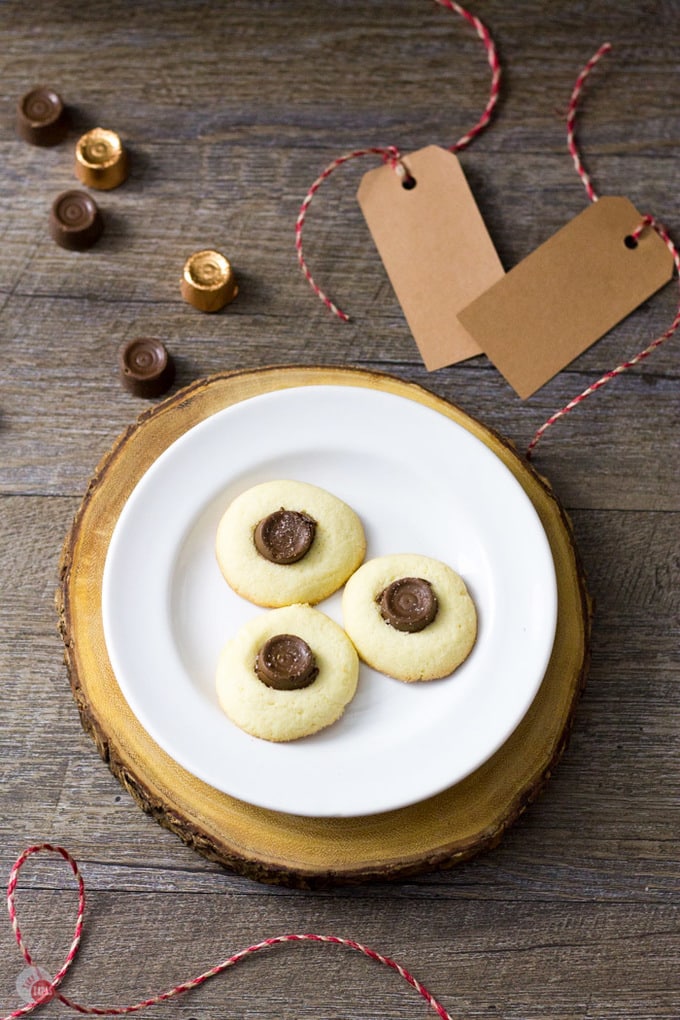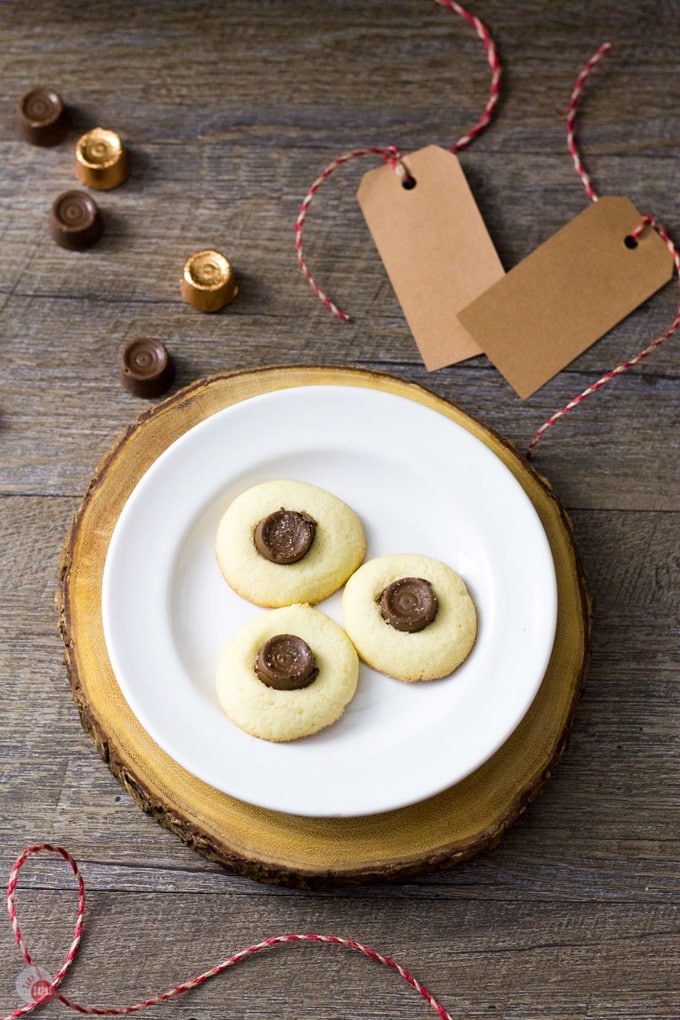 If you'd rather skip my (very helpful, I think) tips and tricks, essential cooking info, and similar recipe ideas – and get straight to this delicious recipe – simply scroll to the bottom of the page where you can find the printable recipe card.
When I signed up to participate I started thinking of a recipe to make. Something that travels well but also very tasty. I am a sucker for a sweet and salty combination so I knew that was a requirement. Seeing all those Rolo candies in my son's Halloween bag got me thinking…
I gathered those Rolos and started eating a few to get my creative juices flowing. Also for quality control purposes because you must taste your ingredients before you use them.
Sad to say that I tasted quite a few that I had to buy a new bag for my recipe. I threw a few flakes of salt on one Rolo before popping it in my mouth and that gave me an idea.
This post may contain affiliate links. As an Amazon Associate, I earn from qualifying purchases. Read my disclosure policy here.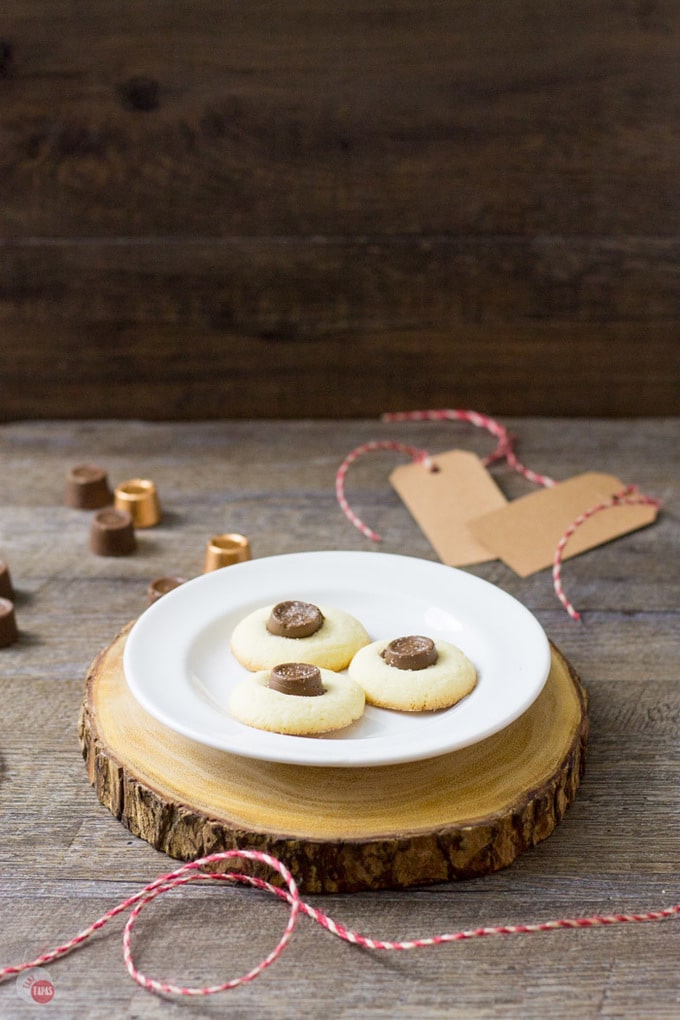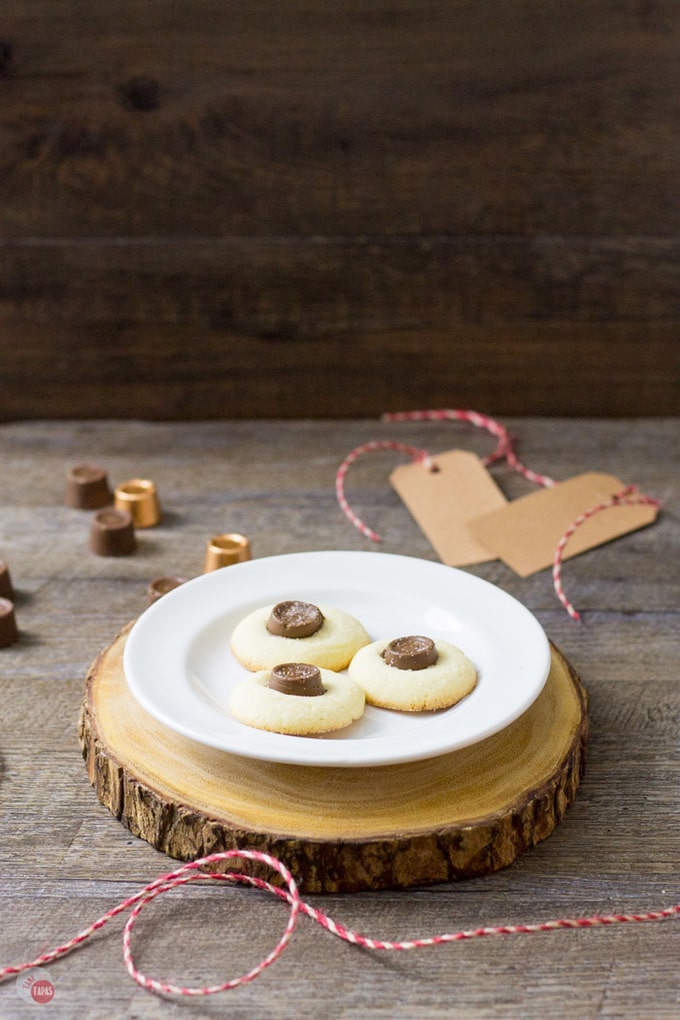 What if I sat one of these sweet and salty caramel candies on top of a buttery shortbread cookie, like a thumbprint? Sounds like heaven to me! I have a shortbread recipe that I have made several times so I immediately pulled it up.
It always turns out perfect with a bit crispiness. When I realized that they would crumble with the addition of the candy, I went to the Recipe Critic and checked out her Twix cookies. Alyssa's shortbread layer would be perfect for these.
I substituted her base with my Rolo candy and sea salt and it was perfect. The only change that I made to her shortbread recipe was to use a different butter.
Every holiday season, our Kroger store starts to carry Land O Lakes Olive Oil and Sea Salt Butter. And they package it in half sticks so you don't have to unwrap a whole one. This is the perfect butter for a thumbprint cookie!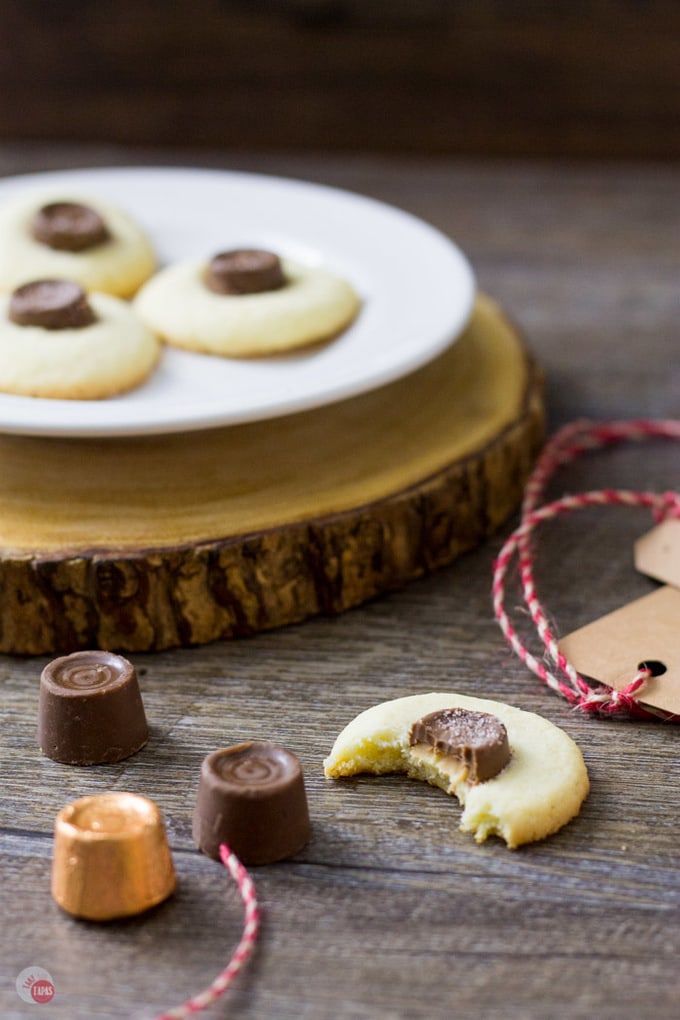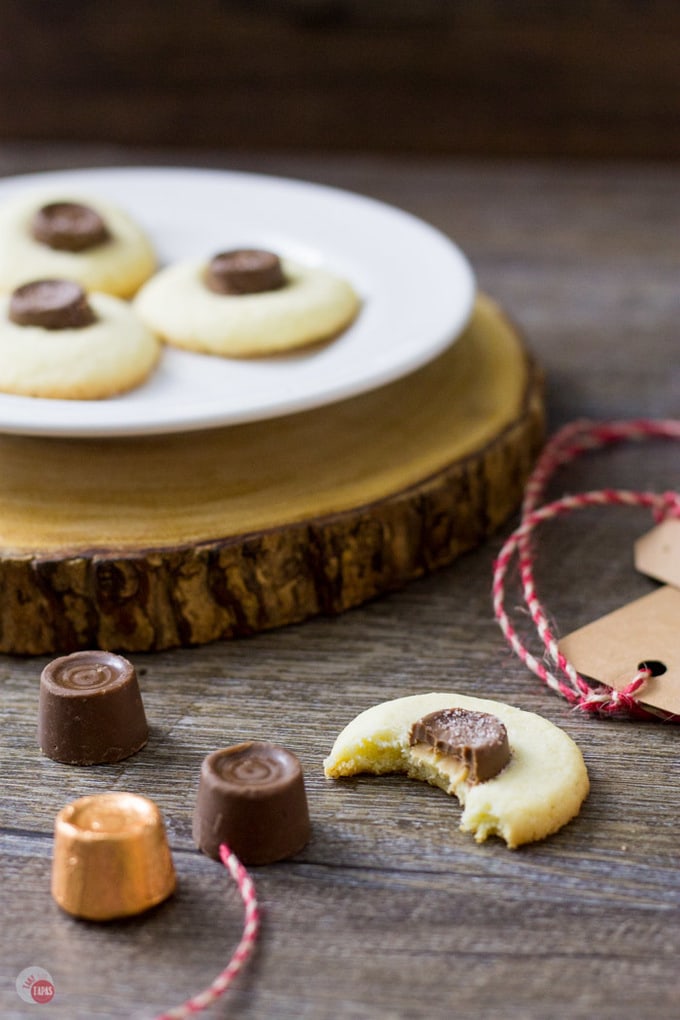 For more insider tips & tricks, and a candid behind the scenes look follow me on social media! Check use out on Pinterest, Facebook, Instagram, & Twitter (yes, people still use Twitter, LOL!)
If you haven't tried this butter you must! I use it sometimes when I am cooking dinner or for smearing on crusty bread but I never thought of using it for baking.
My mother is always telling me to use unsalted butter so you can control the amount of salt in your recipe. I usually add a teaspoon or so in a baking recipe to enhance the flavors but with this, it is built-in! And it was the perfect amount of salt. Not overpowering at all.
When it goes on sale I buy a bunch of it. SO much that people stare at my shopping cart as I am walking through the store. The best part is that not too many people in my town buy it since it is salted so they have a lot leftover and they mark it down for clearance.
My fridge is stocked with it! I am not doing a commercial for Land O Lakes I just really love this product!!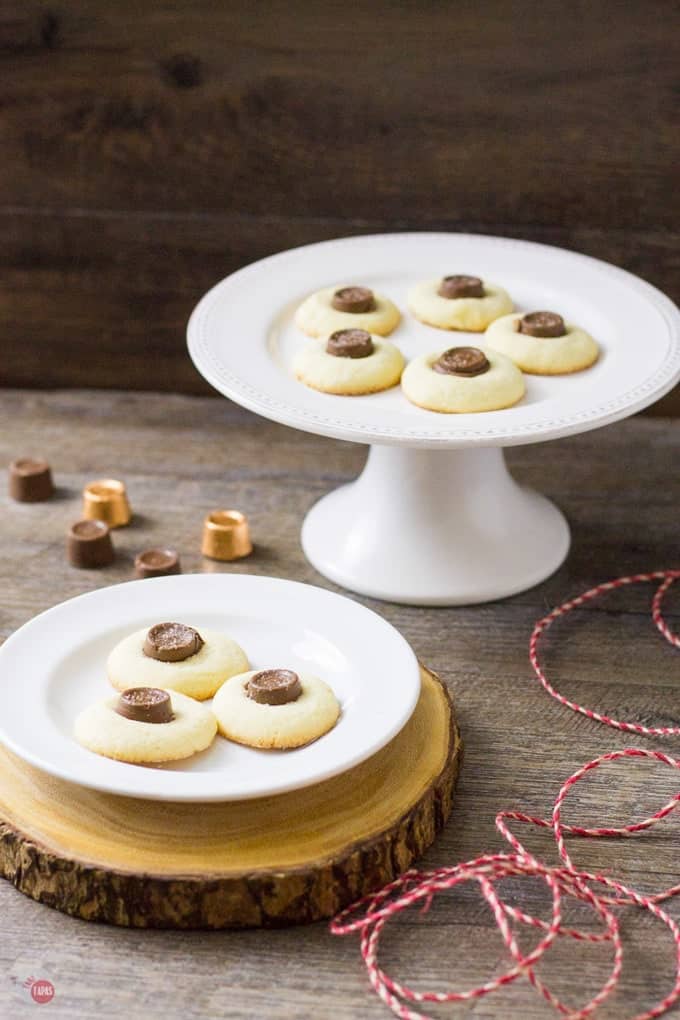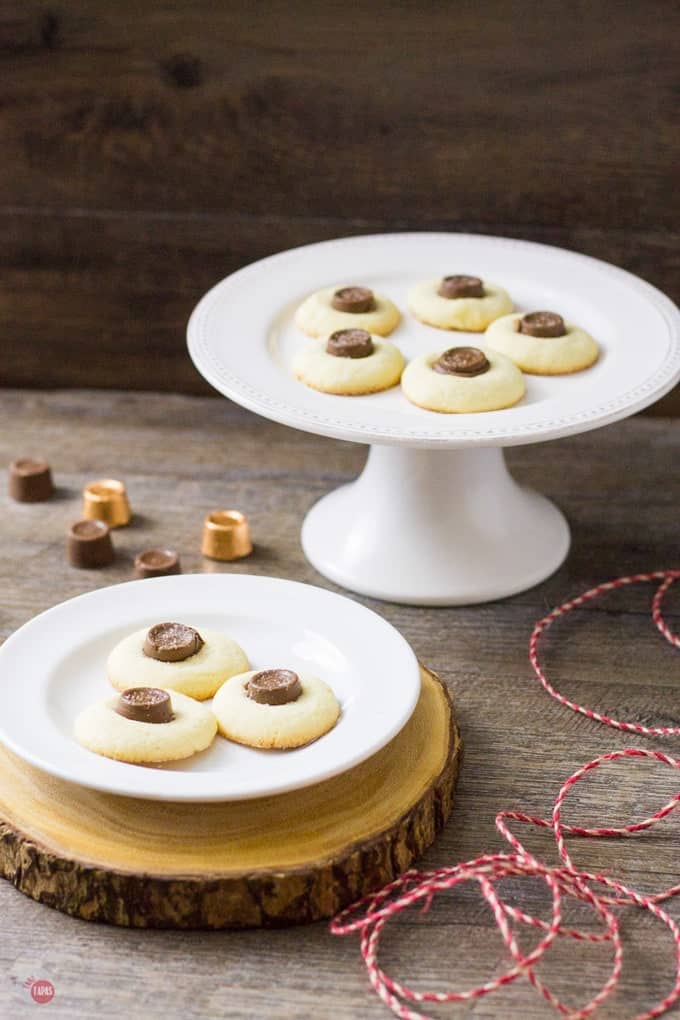 These thumbprint cookies are super easy to make! I made the dough a few days before I started to bake them because that is the hardest part of making these.
Which is not hard at all I just want to make the dough in my stand mixer and then immediately throw the dirty dishes into the dishwasher. It had some empty space in it from lunch. I whipped up the dough, wrapped it in plastic wrap, and then stashed in the fridge until I was ready to bake.
When I say stash, I mean that I hid it in the vegetable drawer so I knew the kids wouldn't find it and start eating it. I needed at least three dozen to mail out to my cookie exchange partners!
When you are ready to bake, just roll into 1 inch balls, press flat slightly (using your thumbprint to make the cavity), and bake until the edges turn slightly brown. Pull them out and let them rest on the pan for a few minutes before trying to move them. They will smush and be weird looking if you try to move them too fast.
When you pull them off to place them on a cooling rack, I gently pressed a half a Rolo candy (I sliced them in half horizontally) into the center. After a few minutes, the Rolo starts to melt a little and that is when I dust them with sea salt. That slightly melted surface makes it easy for the salt to stick to the cookie. Cool completely and package away! Or hide because they will go fast!!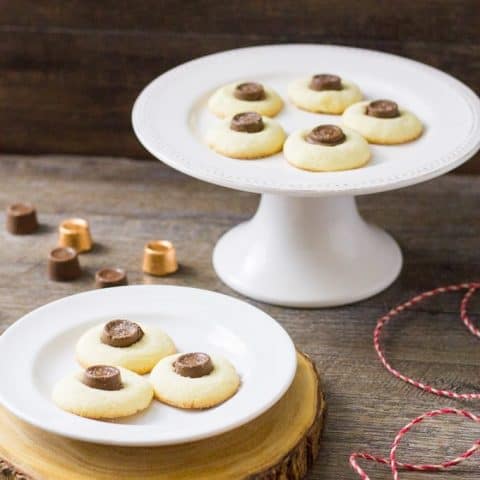 Thumbprint Cookies with Salted Rolo Candy
The sweetness of a shortbread thumbprint cookie is matched with a caramel Rolo candy and dusted with sea salt! Meet your new favorite cookie exchange member!
Ingredients
For the cookies
1 1/3 cups salted butter (I used olive oil and sea salt butter - feel free to use regular salted butter but make sure it's salted)
1 cup sugar
4 yolks
2 teaspoon vanilla
3 cups flour
For the tops
1 teaspoon sea salt
30 Rolo candies (sliced in half horizontally)
Instructions
Prep the Rolo candies
Cut each Rolo candy in half horizontally.
Set aside until cookies are baked.
Make the thumbprint cookie dough
Cream together the butter, sugar, egg yolks, and vanilla.
Slowly add 3 cups of all-purpose flour.
Mix to combine.
Remove dough and shape into a ball.
Wrap in plastic wrap and store in the refrigerator until ready to bake or at least 1 hour.
Bake the thumbprint cookies
When ready to bake, preheat oven to 375F.
Roll the dough into 1 inch balls and press flat slightly.
Place on a parchment-lined baking sheet and bake for 7-10 minutes or until the edges start to brown slightly.
Remove from oven and let set on the baking sheet for 5 minutes.
Remove to a cooling rack and press the Rolo candy in the center (cut side down to contain the caramel).
In a few minutes, the candy will be slightly melty.
Dust with sea salt.
Cool completely.
Store in an air-tight container until ready to eat.
Should last 1 week if they don't get eaten before then.
Notes
*If you like this recipe, please leave me a comment and rate it with some stars. Thank you!
Check out all the other Food Blogger Love Cookie Exchange Participants. If you make one of the recipes this year tag me on social media with #TakeTwoTapas and #FBLCookieExchange. I would love to see what you are making for your cookie exchange this year!