Salt River Sticks are the perfect cookie bar. Layers of peanut butter, butterscotch, caramel, buttery crackers, and dark chocolate!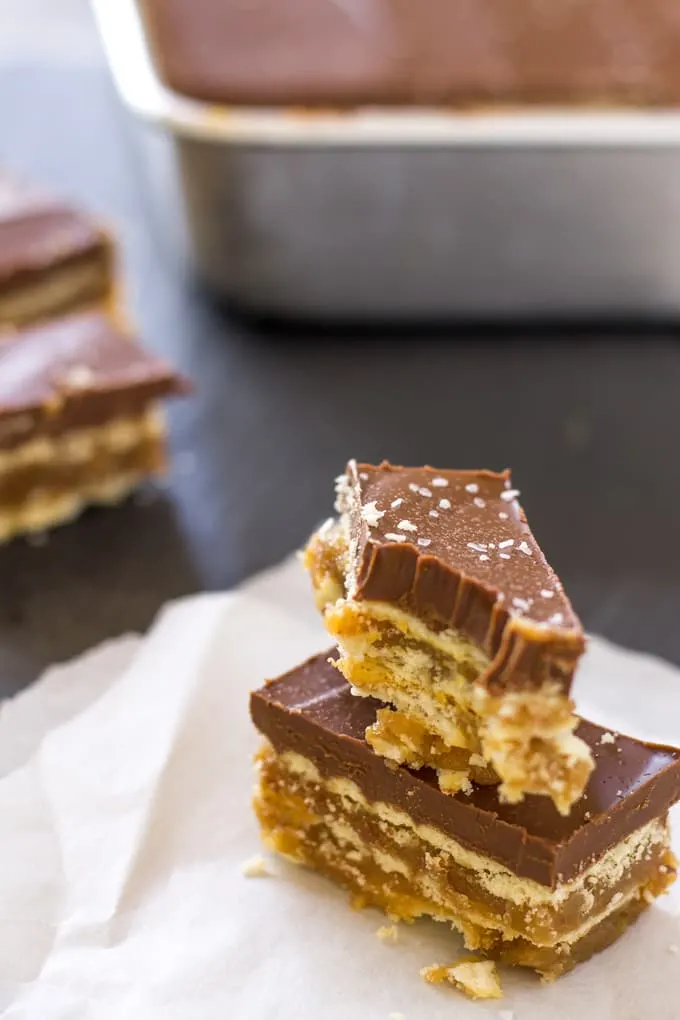 SALT RIVER STICKS
Not long ago I visited the Liberty Market in Gilbert, Arizona. They are known for their Salt River Bars which I have reinvented into Salt River Sticks!
These bars looked so amazing I had to do some research for myself.
The family and I hopped into the car and turned on the GPS. After making our way to Gilbert, and going around the same block a few times we found a place to park.
From all the buzz I heard about this place I was practically running to the door. Once inside, I could get my bearings and then decide where to go from there.
This post may contain affiliate links. As an Amazon Associate, I earn from qualifying purchases. Read my disclosure policy here.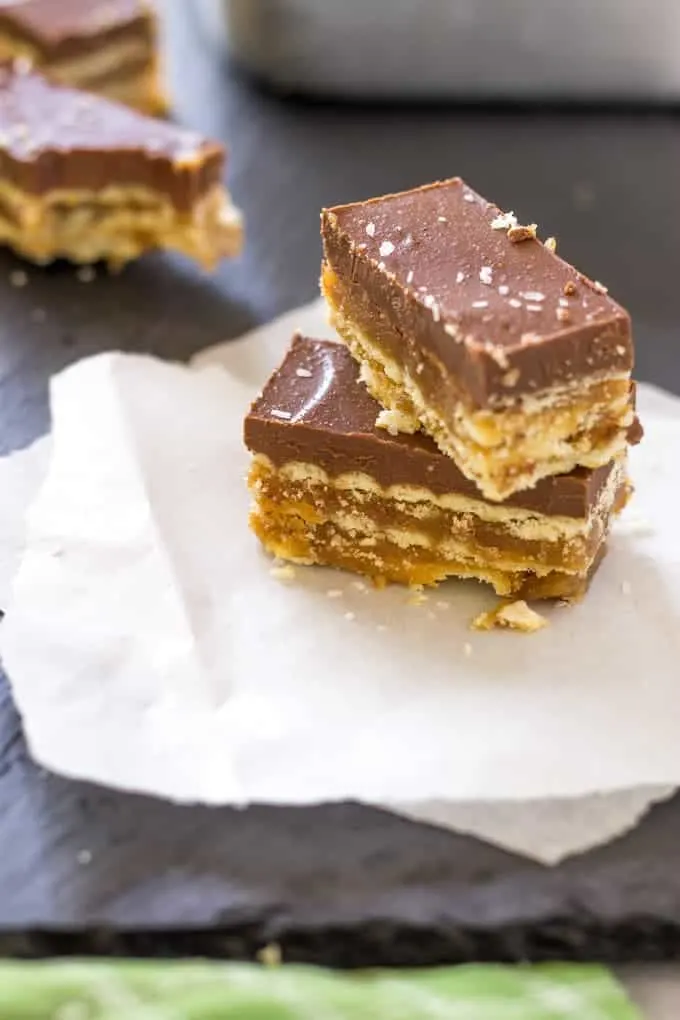 First stop, the ordering counter! With so much to choose from Brooks and I went "tapas style" and ordered a few different things.
Braxton wanted fries so we started with some Oven Roasted Fingerling Fries. These tender potatoes were dusted with cheese and served with a screaming hot Habanero aioli.
YUM! We also grabbed an Antipasto Plate because there is nothing like some cheese and olives to get started!
Now that we had some food in front of us we could stop and take a look around. Every time I moved my head an inch I saw something cool. I think Brooks got sick of me saying "LOOK AT THAT!"
They have such history being there since 1938. From the shopping carts that they used to carry wood in for the pizza oven, to the names of the original owners marked in the concrete.
So amazing! Plus the food is out-of-bounds (sorry to go all Guy Fieri on you) but it is. Take a look at the items in the dessert counter that were making me drool while I was waiting for my chicken pot pie.
Every plate that walked by me, I had to look at. I always do that and then I immediately regret what I ordered. There is no way I could regret this pot pie! My oldest, Braxton ordered macaroni and cheese. Connor said that he didn't want any because it had some "burnt stuff" on top of it. What kind of fool doesn't love a toasted crumb topping?
Once Braxton started moaning from the taste and the cheese started stretching, Connor couldn't help himself. He had to dig under the "stuff" to get the untarnished noodles, but he managed.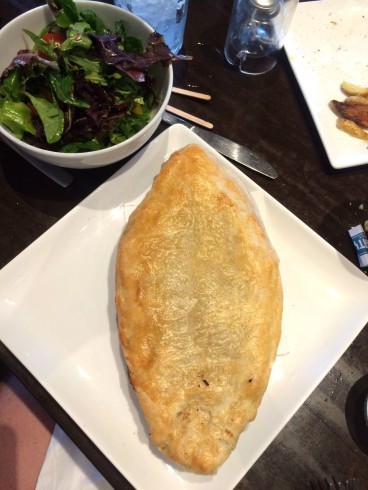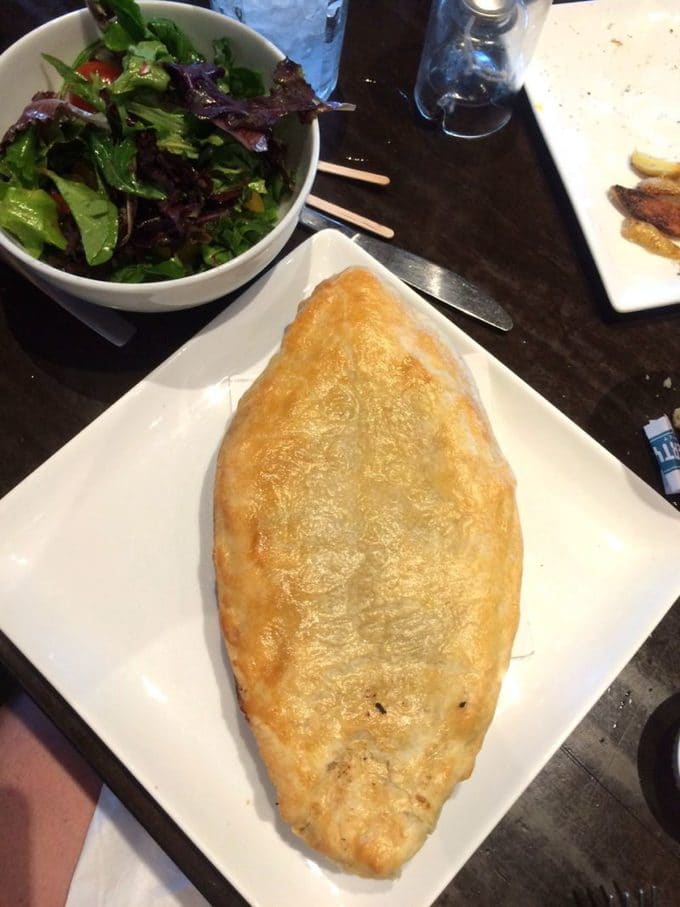 While we were waiting for our food to digest, we took a stroll around the market and looked at the pizza oven.
An open kitchen is the best thing to have! I was captivated watching the chefs at the various stations and love that they are so happy to interact with you.
When it comes to restaurants, I ask more questions than my youngest, which is approximately 4,375,315.8!
Those Salt River bars are so big that my whole family could share one. Well, attempt to share one with at least three people ending up crying because I beat them to it.
We don't play with sweets in my house.
Any board game competition we have and at least one person always ends up storming out the room. Making it into Salt River Sticks would be fairer!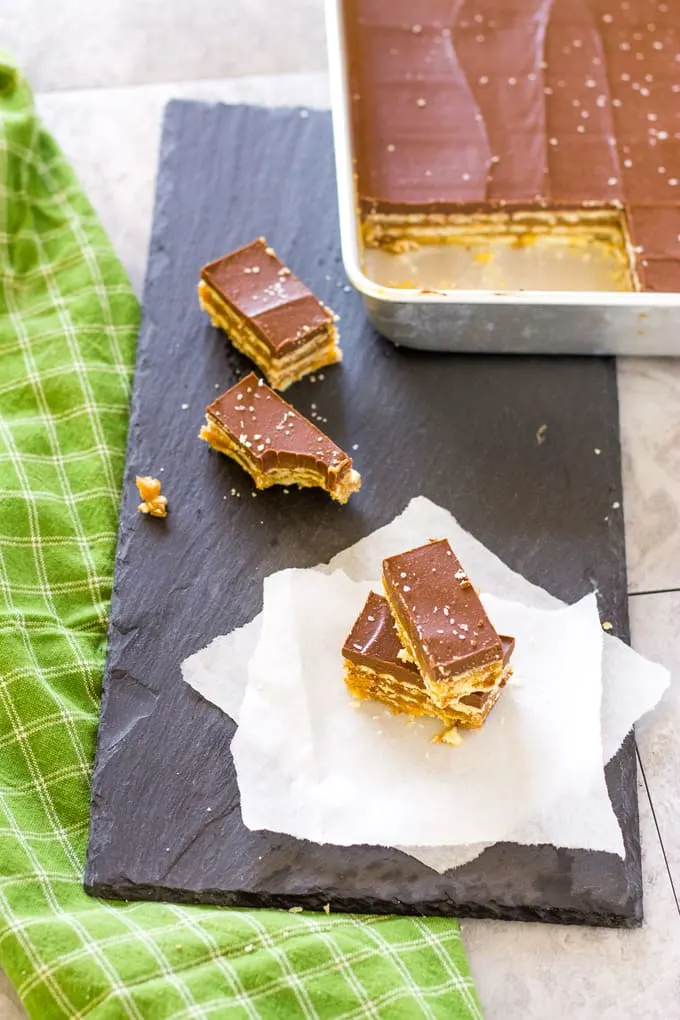 Thanks to Adell's research, I had a great starting point to make these bars my own Salt River Sticks.
First, I switched the milk chocolate for dark. I love the bitterness that it brings and hopefully will cut down on some of the sweetness of the caramel.
Second, I have a thing for too much cinnamon, so I cut down the number of graham crackers in the caramel layer and beefed up the amount of peanut butter.
Who doesn't want more peanut butter? Third, and in keeping with Take Two Tapas tradition, I cut them into realistic portions.
Mine made it to tapas size Salt River Sticks so you won't go overboard. Unless you eat the whole pan. No judgment here:)
For more insider tips & tricks, and a candid behind the scenes look follow me on social media! Check use out on Pinterest, Facebook, Instagram, & Twitter (yes, people still use Twitter, LOL!)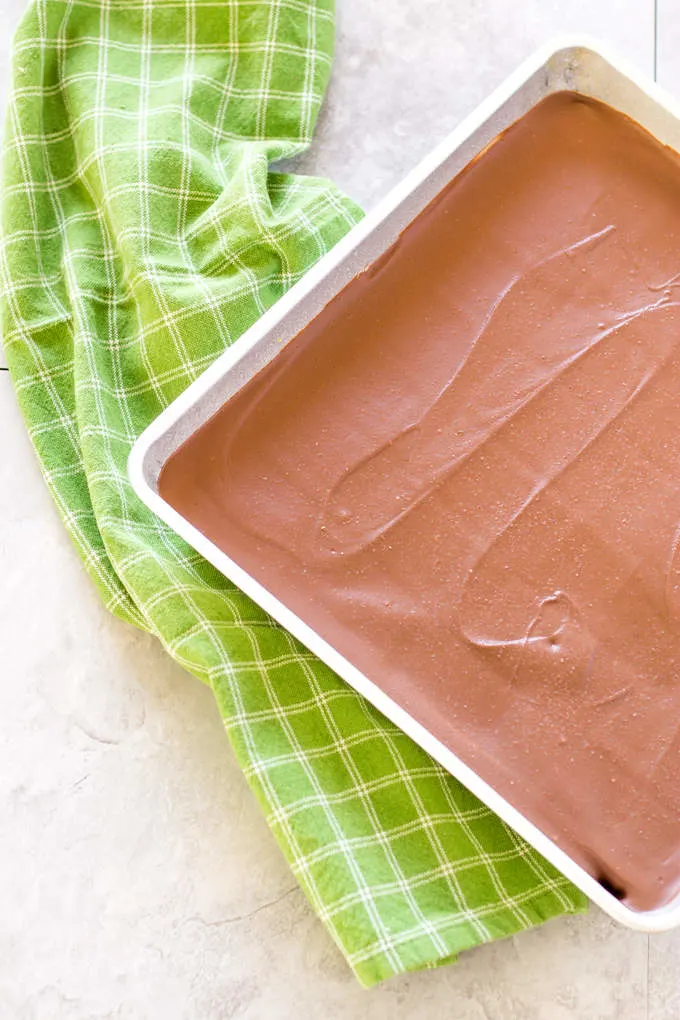 I hope you enjoy these Salt River Sticks! Many bloggers have sacrificed their calorie intake to deliver these bars to you. Don't disappoint them and not make them!
MORE FINGER FOODS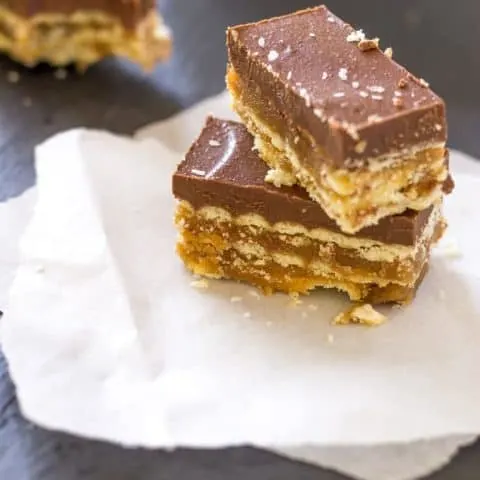 Salt River Bars from Liberty Market
These no bake layer bars are the perfect mix of sweet, salty, chewy, crispy and they contain chocolate and peanut butter!
Ingredients
Caramel Layer
1 cup sea salt and olive oil butter
2 cups brown sugar
1 cup graham cracker crumbs
2/3 cup evaporated milk
Cracker Layer
Topping Mixture
1 cup butterscotch chips
1 1/2 cups dark chocolate chips
1/2 cup peanut butter
1 teaspoon sea salt
Instructions
Mix the graham crackers, butter, milk, and brown sugar in a heavy-bottom sauce pan.
Bring to a boil over medium high heat.
Boil for 7 minutes, stirring occasionally
While the sugar mix is boiling, line a 9x13 pan with one layer of club crackers. Salt side up!
Count how many you used and get another two layers ready to go.
When the 7 minutes are up, pour half the mixture over the first cracker layer.
Spread evenly.
Place another layer of crackers over the caramel layer.
Pour the other half of the caramel mixture over the second layer of crackers and spread out.
Place one more layer of crackers.
Once the crackers are laid out, melt the ingredients for the topping.
Pour over the top layer of crackers and spread out evenly.
Sprinkle with sea salt.
Chill in the fridge until set.
Notes
*If you like this recipe, please leave me a comment and rate it with some stars. Thank you!
Nutrition Information:
Yield:

32
Serving Size:

1
Amount Per Serving:
Calories:

206
Total Fat:

9g
Saturated Fat:

4g
Trans Fat:

0g
Unsaturated Fat:

5g
Cholesterol:

3mg
Sodium:

3732mg
Carbohydrates:

29g
Fiber:

1g
Sugar:

21g
Protein:

2g
This nutrition information was generated via a third party, Nutritionix, and can not be held liable for any discrepancies in the information provided.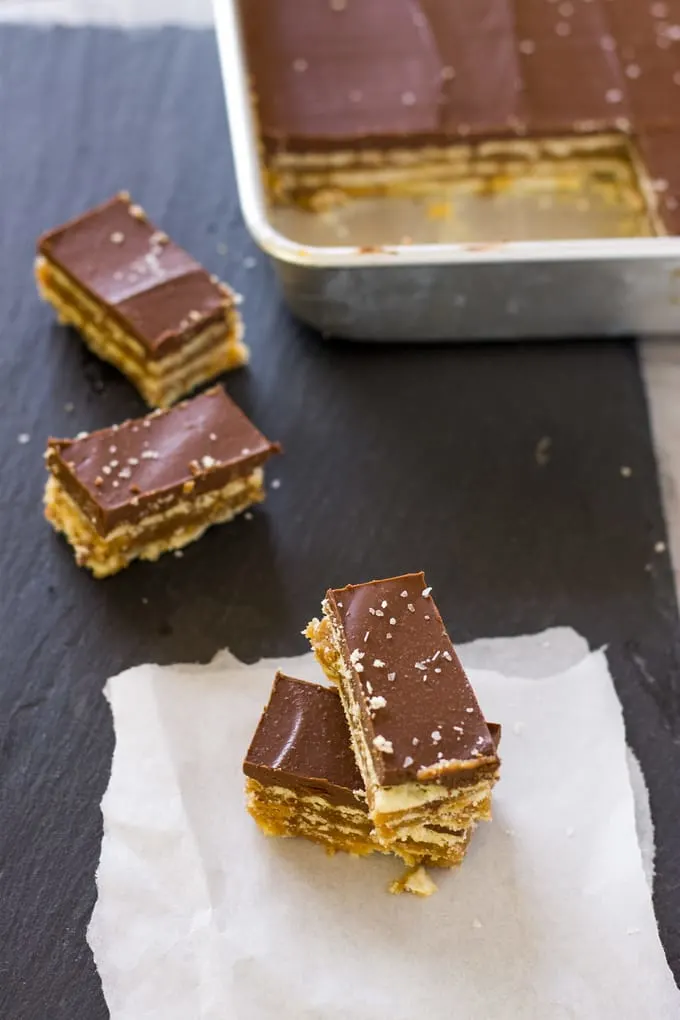 I would never have known about this place except for the blogs Classy Clutter and Baked in Arizona.
TakeTwoTapas.com. Content and photographs are copyright protected. Sharing of this recipe is both encouraged and appreciated. Copying and/or pasting full recipes to any social media is strictly prohibited.