Last updated on September 13th, 2019 at 08:06 pm
A salty, crispy pretzel sandwich stuffed with Reese's cups, dipped in chocolate and decorated with laces makes the perfect Reese's Pretzel Football Cookies for your Game Day celebration!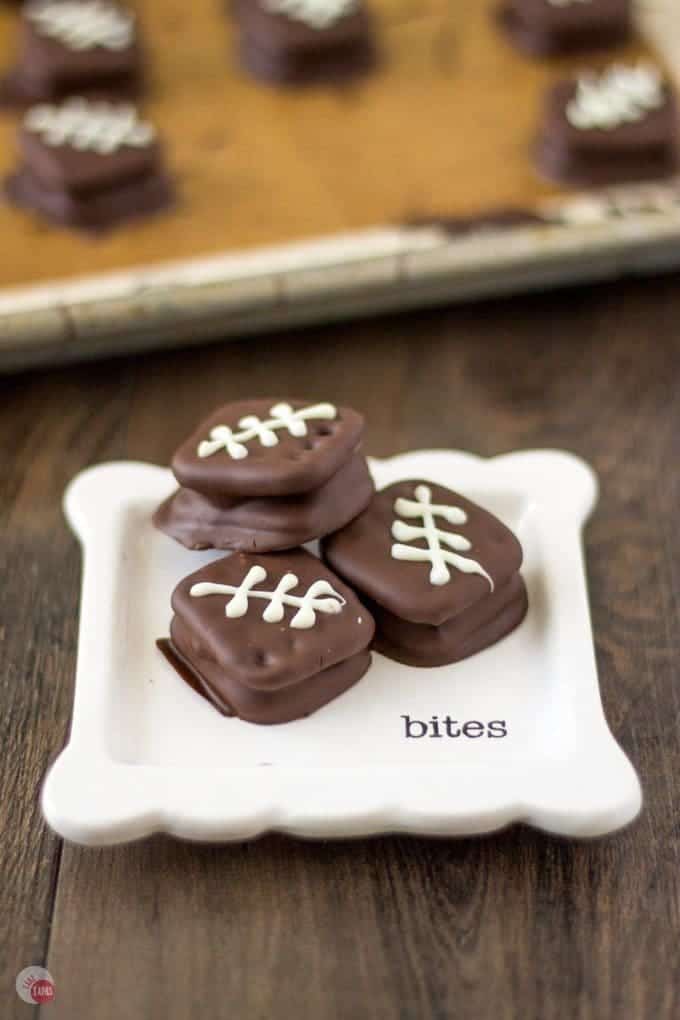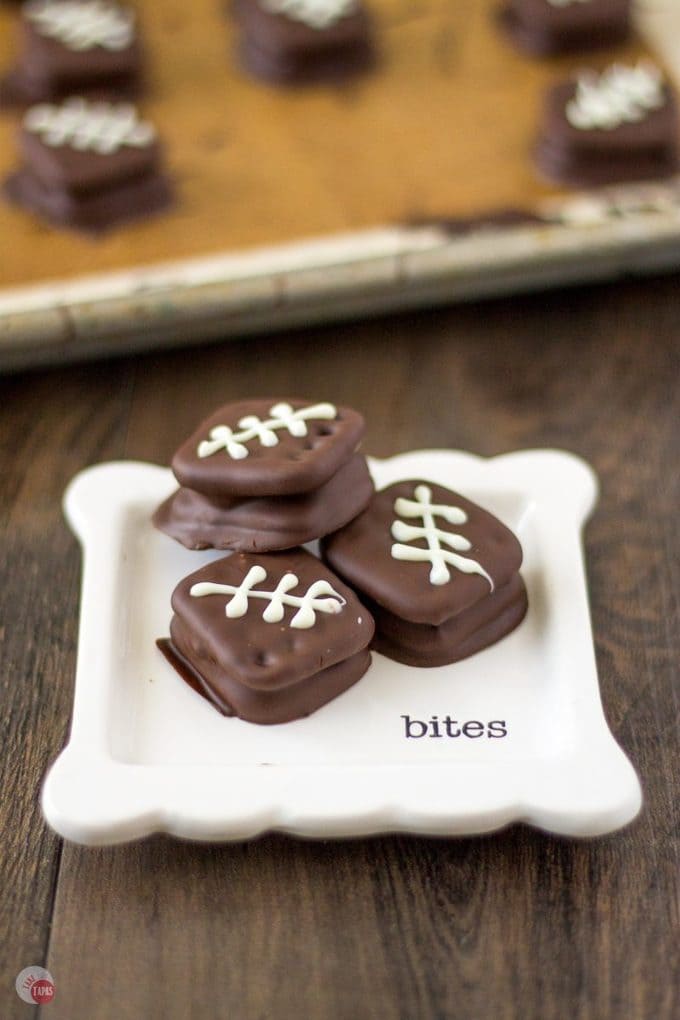 No pretzels were harmed in the making these Reese's Pretzel Football Cookies.
Ok, I might have to expand on that statement. No pretzels were harmed PRIOR to making them.
Still scratching your head?
Pretzels have a history of being abused in the Stewart Chalet. Upon arriving in the house, all pretzels are confiscated and moved to an unsecured location, stripped of all their salt in an unpleasant manner, and then tossed in an abandoned vessel to await transport to their final resting place.
Yes, my youngest eats all the salt off of the pretzels and then throws them away. I have only just come to know this was happening when I had the unfortunate experience of eating a naked pretzel.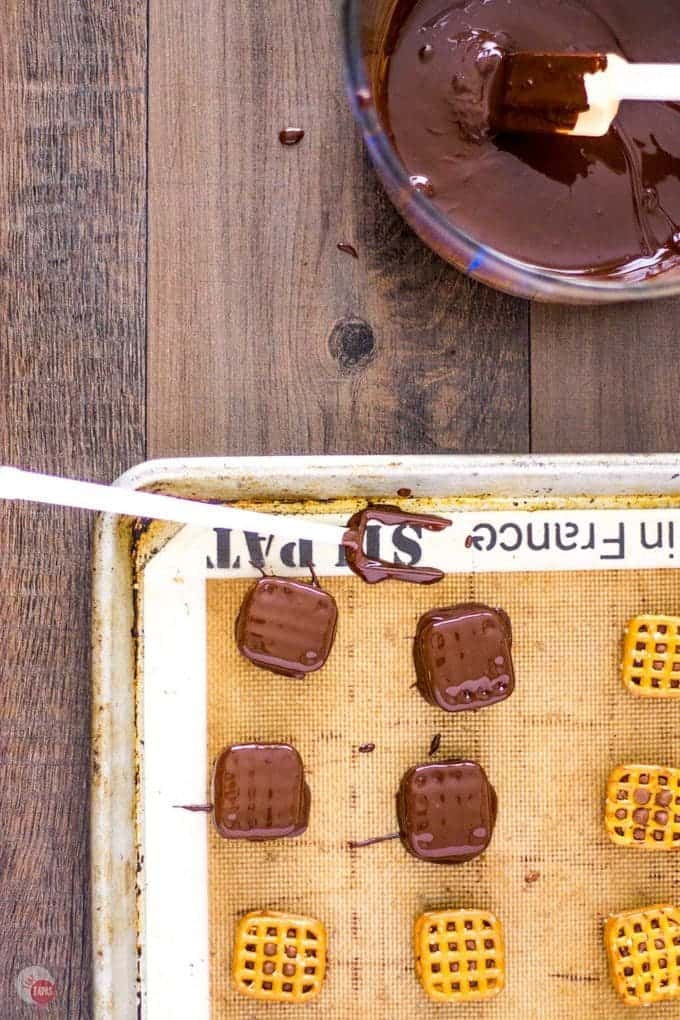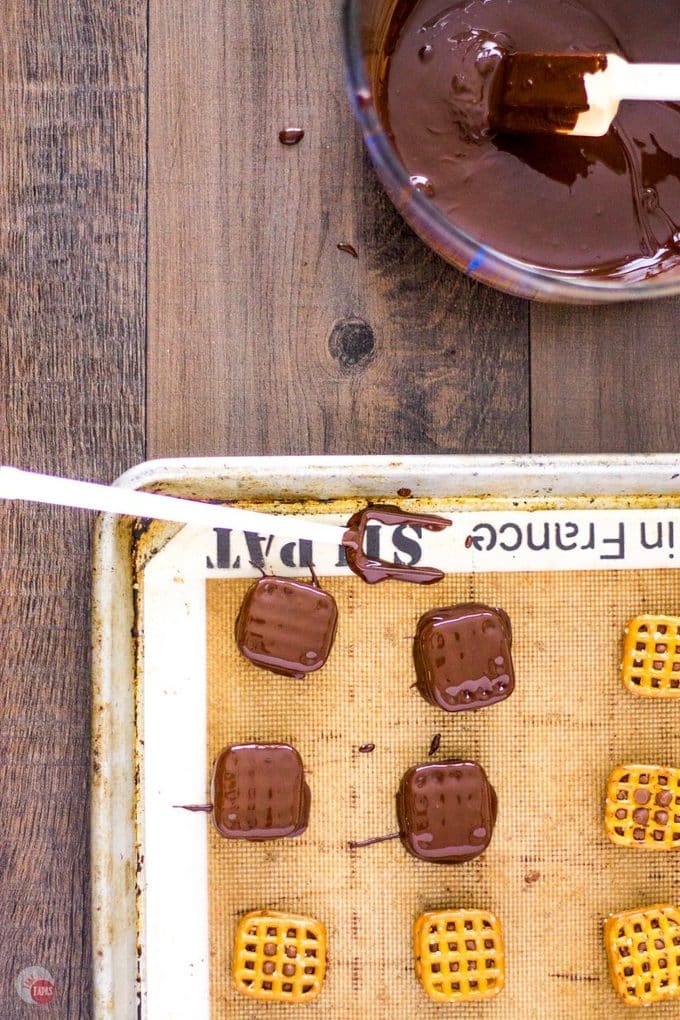 I knew Connor liked salt, he gets that honest as I LOVE salt, but I had no idea that he was licking all the salt off of the pretzels instead of eating the whole thing. Connor sneaks food into his room, usually after bedtime, and it is never seen again. Maybe the wrappers, but not the food.
I make the boys empty their own trash so this might explain me not seeing the evidence of the salt-stripping.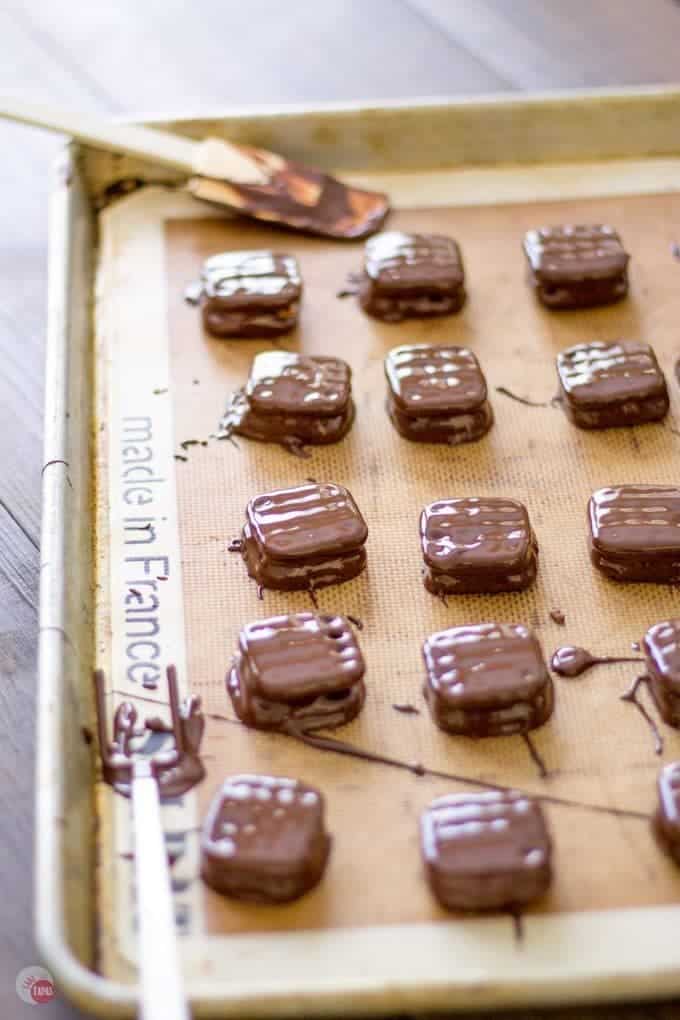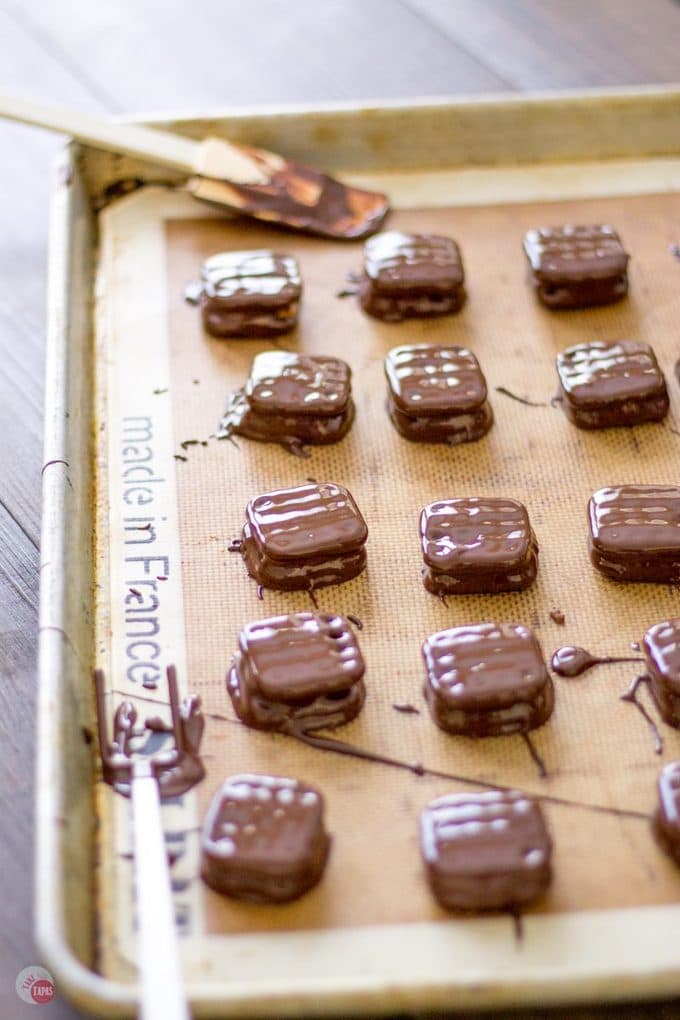 I buy a lot of pretzels for our house and they seem to disappear at an alarming rate. On my most recent trip to the store, I found these square (or waffle) pretzels and bought a bag. Upon arriving home, I unpacked all the groceries, started a load of laundry, and made some calls. Chores are done, I can start making these Reese's Pretzel Football Cookies. I began gathering my ingredients only to find my pretzels missing.
The scavenger hunt commences…
After searching the usual hiding and snack storage places, I found the bag of pretzels up in Connor's room, open and half empty. It had only been 37 minutes since I got home. Man he works fast!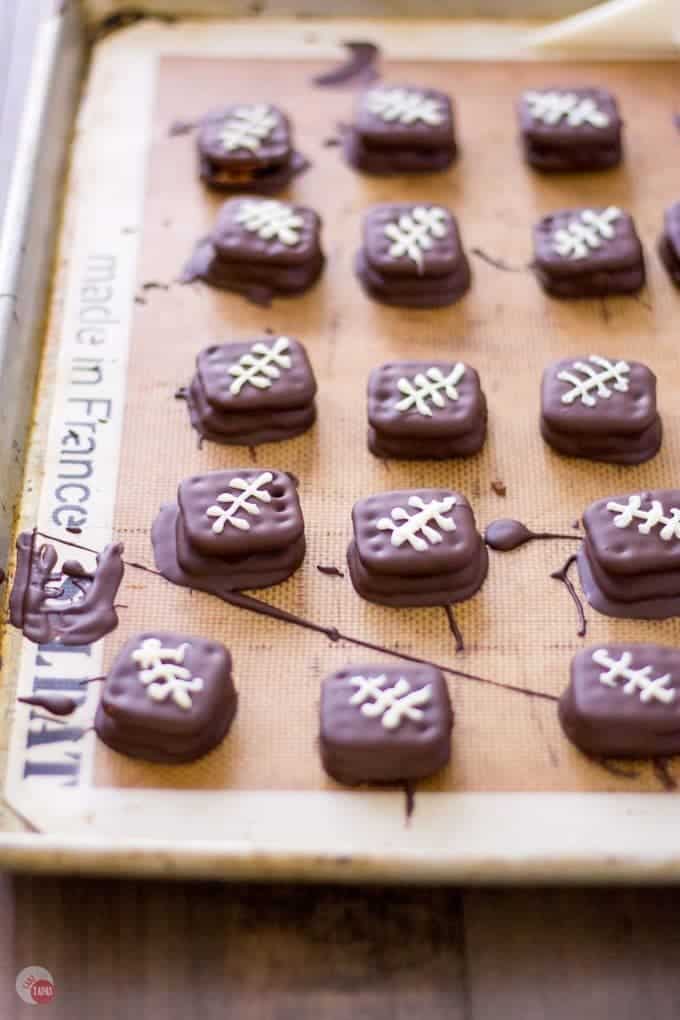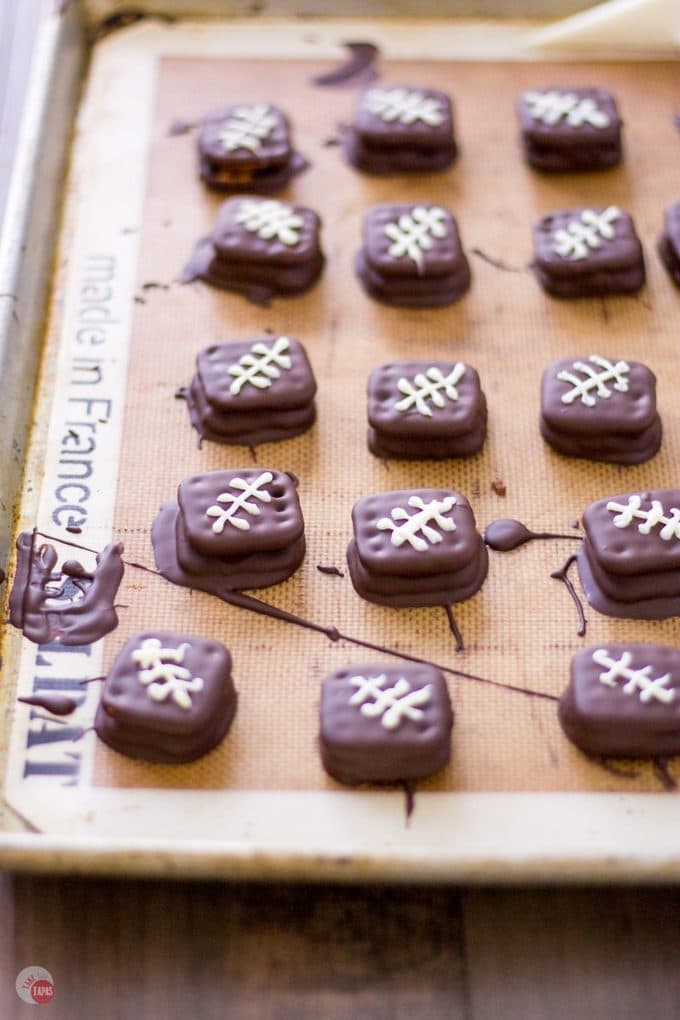 Let's make Reese's pretzel football cookies!
I knew that I only needed 40 pretzels to make my Reese's Pretzel Football Cookies so I took the bag downstairs. As any person does when they start making something sweet, I grabbed a few pretzels and tossed them into my mouth. As I started to chew, I noticed something different.
HMMM…
Not as crunchy and definitely not as salty.
Being that things tasted a little off, I took a glance inside the bag. The pretzels look like that have been scraped and slightly mangled. It took a split second to realize that Connor had already licked the salt off these pretzels and put them salt-tripped and saliva-coated back in the bag.
GROSS!!!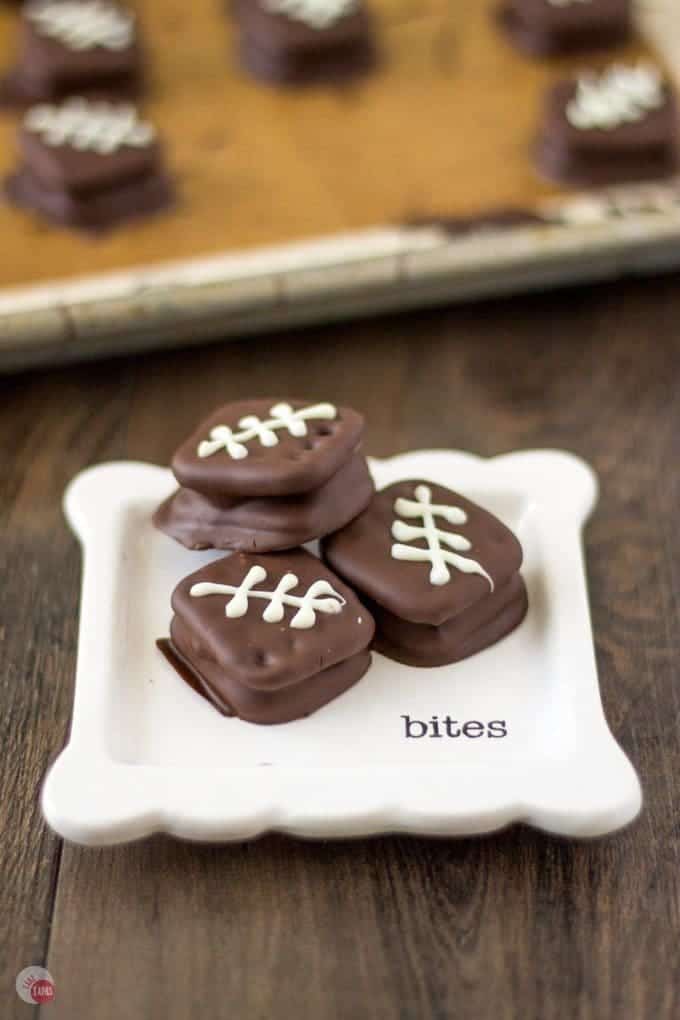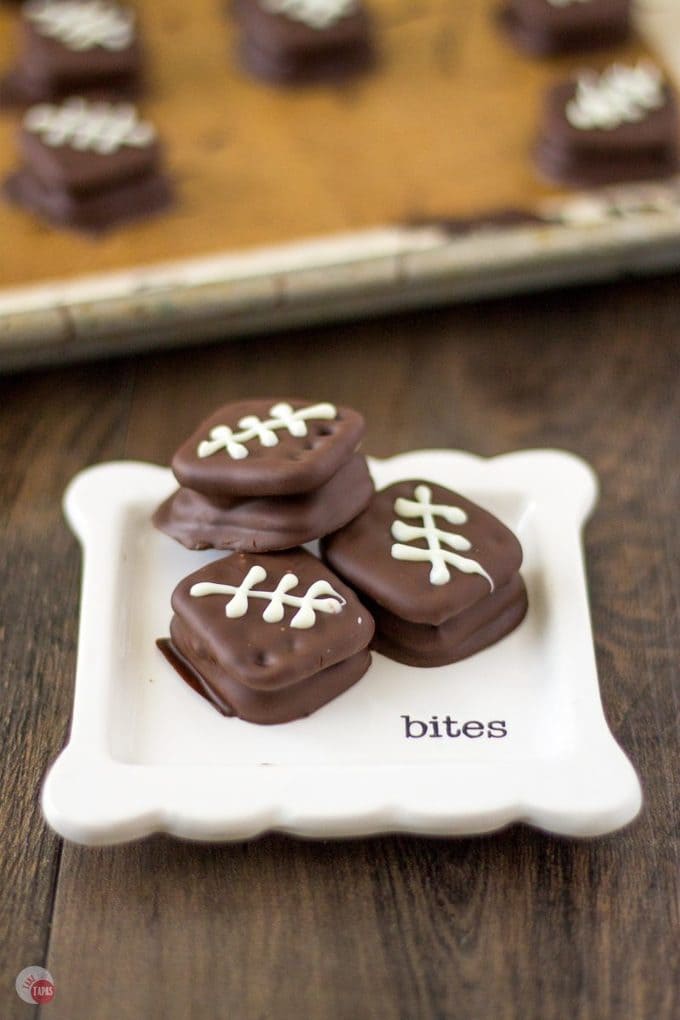 Confronting Connor about it, he said that he always eats his pretzels this way, they are just thrown away before I notice.
I guess I need to stop buying pretzels and order Connor a salt lick to hang in his room.
This post may contain affiliate links. I may earn a small commission for my endorsement, recommendation, testimonial, and/or link to any products or services from this website. Your purchase helps support this blog at no additional cost to you and allows me to continue to bring you delicious recipes.
I drove, after a brief freak-out period, to the store and picked up another bag of waffle pretzels. Then I proceeded to make these awesome Reese's Pretzel Football Cookies. Let me tell you how easy they are!
Cut a mini Reese's cup and place on a pretzel. Melt Reese's cups on the pretzels for 5 minutes in a warm oven, top with another pretzel to make a sandwich. Dip in melted chocolate and let set up before we turn them into footballs!
The idea of making them into footballs came to me when I looked at the pan at an angle. The slight divots in the chocolate coating kind of look like the texture of a football. If you squint and close one eye 🙂
A few lines of white chocolate make the laces and turn these chocolate squares into tasty, peanut butter filled, crispy and salty pretzels into football cookies that are perfect for your tailgate party!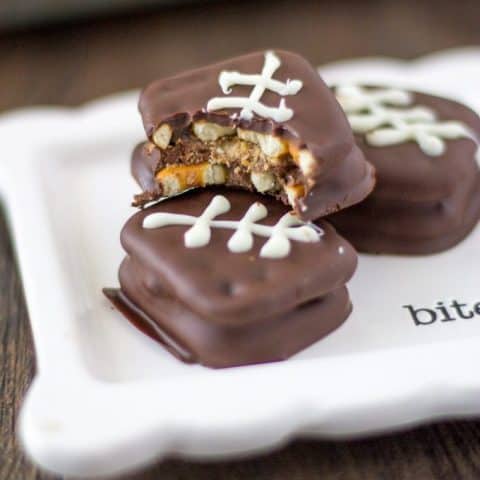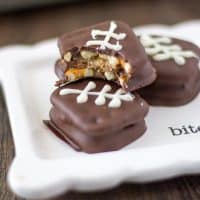 Reese's Pretzel Football Cookies For Game Day
A salty, crispy pretzel sandwich stuffed with Reese's cups, dipped in chocolate and decorated with laces makes the perfect Reese's Pretzel Football Cookies for your Game Day celebration!
Ingredients
40 waffle pretzels
10 mini Reese's peanut butter cups
8 ounces semi-sweet chocolate
1 tablespoon coconut oil or vegetable shortening
1 ounce of white chocolate
Instructions
Preheat oven to 300F.
On a parchment or silicone lined baking sheet, place 20 pretzels.
Cut Reese's mini cups in half horizontally.
Place a half on each pretzel.
Place in the oven for 5 minutes.
When they are done, remove from oven and top with the remaining 20 pretzels.
Press down slightly to flatten and get the pretzels to stick.
Cool completely.
Melt the semi-sweet chocolate and the coconut oil in a microwave safe bowl in the microwave.
Heat in 30-second intervals and stir often.
Dip the pretzel sandwiches in the melted chocolate, covering them completely.
Place on a parchment-lined baking sheet or tray.
Once they are all dipped, place in the fridge to set the chocolate.
When they are set, melt the white chocolate in the microwave.
Pipe the laces on the football cookies.
Chill in the fridge to set the laces.
Serve!
You can store the Reese's Pretzel Football Cookies in an airtight container for up to a week.
Notes
*If you like this recipe, please leave me a comment and rate it with some stars.  Thank you!
Nutrition Information:
Amount Per Serving:
Calories:

0
This nutrition information was generated via a third party, Nutritionix, and can not be held liable for any discrepancies in the information provided.
If you like reading my posts and seeing my recipes, follow me on your favorite social media channel for behind the scenes photos and much, much more: Pinterest, Facebook, Instagram, and Twitter!
©TakeTwoTapas.com. Content and photographs are copyright protected. Sharing of this recipe is both encouraged and appreciated. Copying and/or pasting full recipes to any social media is strictly prohibited.