Last updated on September 11th, 2019 at 09:05 pm
Have some leftover BBQ chicken from your 4th of July celebration? In the mood for something quirky? Have a party to attend and don't want to show up empty-handed?
If you answered yes to any of these questions then this post is for you!
Cornbread has always been one of my favorite things, besides pasta, rap music, and sci-fi movies. Cornbread muffins rarely make it to the bread basket when I cook them for dinner because, let's face it, who doesn't love the crunchy exterior, the moist, warm center bathed in butter, or the smell of corn that reminds you of summer? These sliders have all of these things coupled with delicious BBQ and tangy slaw! Being that they are small, I will allow you to eat as many as you like and feel only a fraction of the guilt.
This recipe may have a few steps to it, but you can do them all separately, ahead of time, and then assemble when ready!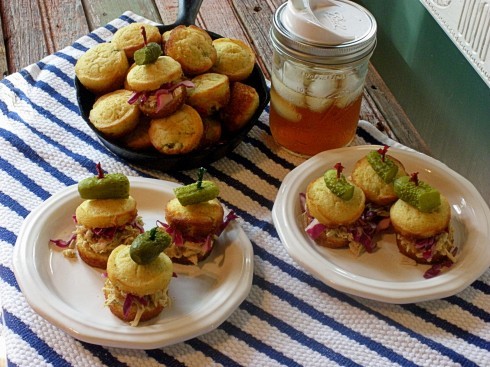 Redneck Sliders
Active time: 45 minutes
Makes 24 sliders
Cornbread Muffins
1/4 cup olive oil
2 cups self-rising cornbread mixture
1 egg
1 1/4 cups buttermilk, or regular milk if you choose
3 tablespoons chopped jalapeno peppers (this makes them spicy! Use only 2 if your don't like it too hot!)
2 tablespoons butter
BBQ Chicken
4 chicken breasts, cooked
1 cup of your favorite BBQ sauce (I buy from a local shop, Smoke Risin', and they have won a few competitions!)
Tangy Cabbage Slaw
1/2 medium head of red cabbage, sliced thin
1/2 cup mayo
1/4 cup red wine vinegar
1 tablespoon honey
salt and pepper
Baby Dill Pickles (or other pickle you like, but make them small)
To make the cornbread mixture:
Preheat oven to 425F. Put a scant teaspoon oil in each mini muffin cup and place in the oven for 5 minutes to heat. While the pan is heating, mix the cornbread. Add all the remaining ingredients for the cornbread to a bowl (milk, mix, egg, and jalapeno peppers) and stir until combined. Let sit while the pan is heating. When the pan is ready, pour the mixture into the mini muffin cups until 2/3 full. Bake for 25 minutes of until a toothpick comes out clean, then cool on a rack.
To make BBQ chicken:
Season the split breasts with salt and pepper. Place in a roasting pan and bake at 400F until the internal temp reads 165F and the juices run clear.
Let cool and then shred. Mix with your BBQ sauce and store until you are ready to serve.
If you don't have a favorite BBQ and want to make your own, here is a great recipe that will hit the spot.
You can also use all of your left over BBQ chicken from your 4th of July picnic!!!
To make the tangy slaw:
Slice the cabbage very thin. Combine the mayo, vinegar, honey and seasonings. Toss in the cabbage and keep cool!
When ready to assemble:
Heat up the muffins, slice in half crosswise, and smear with butter. Heat up the chicken and add a heaping tablespoon to the middle of each muffin. Top with the same amount of tangy slaw. Add the top half of the muffin and spear with a toothpick containing a pickle!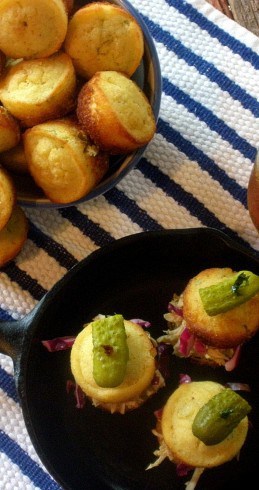 If you like reading my posts and seeing my recipes, follow me on your favorite social media channel for behind the scenes photos and much, much more: Pinterest, Facebook, Instagram, and Twitter!
©TakeTwoTapas.com. Content and photographs are copyright protected. Sharing of this recipe is both encouraged and appreciated. Copying and/or pasting full recipes to any social media is strictly prohibited.