With all the pumpkin spice floating around why not put some everyone's favorite snack and add a little kick to keep you awake through that afternoon slump. My Pumpkin Spice Espresso Pretzels will be your new favorite after lunch pick-me-up!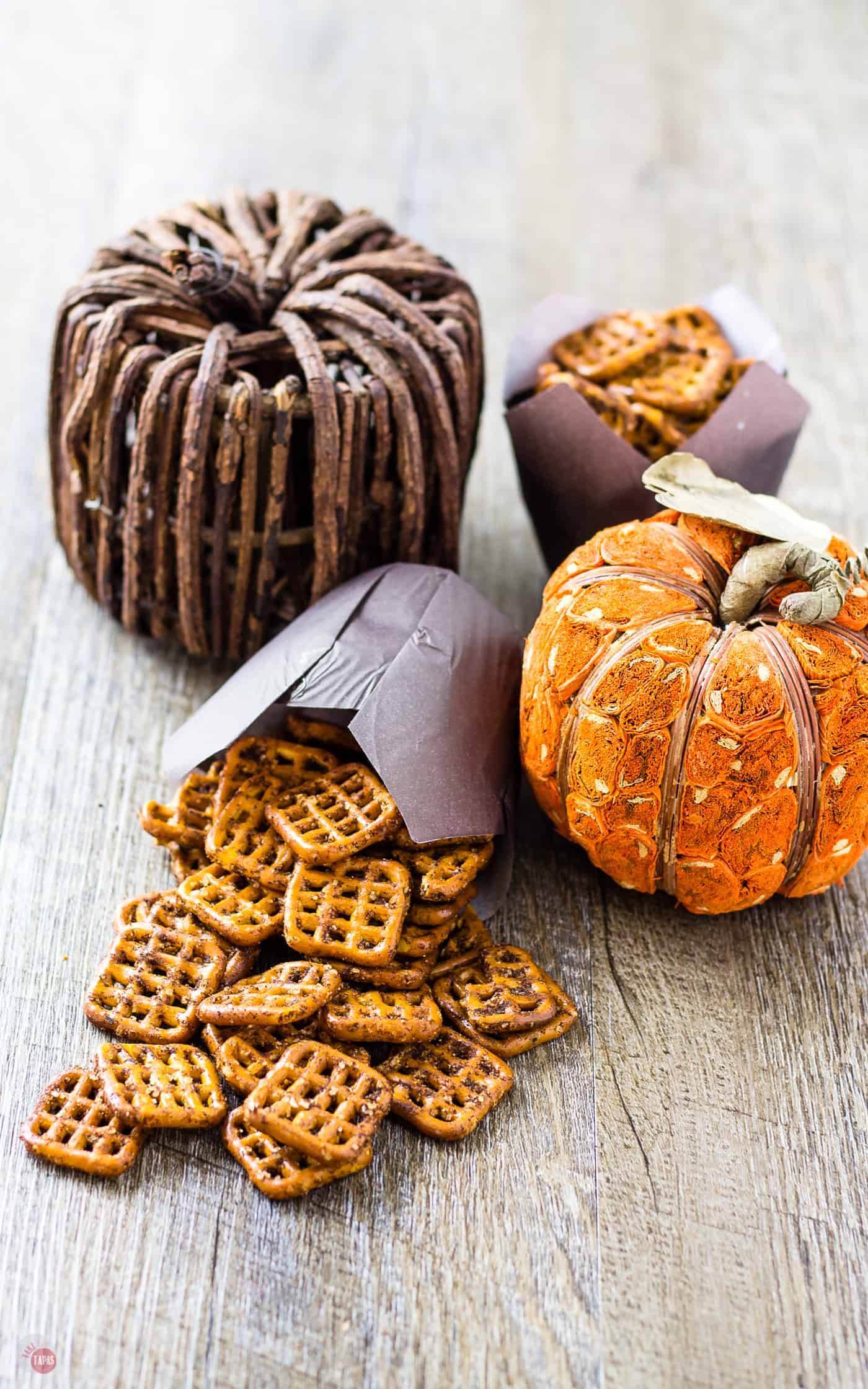 Fall is almost here and besides the nip the air that is starting to come in the morning, it is pumpkin spice time too.  My Pumpkin Spice Espresso Pretzels are a seasonal snack that gives you the flavors of the lattes that everyone is guzzling down now and a kick from the espresso powder to get you through your afternoon energy slump!
Who couldn't use a little help to get you through the rest of the workday?
This post may contain affiliate links.  That means if you click on the link or purchase any items through the link I may receive a small commission at no extra cost to you.  These small commissions help fund this blog so I can bring you delicious party foods and cocktails!  See my full Disclosure Policy here.
Simple and easy to make with the kids too!  They love to get their hands dirty so let them mix the pretzels by hand.  I tried with my Tangy French Onion Pretzel Nuggets to toss them in a ZipTop bag but noticed that too much of the oil and spices stuck to the inside of the bag and not on my pretzels. Mixing them in a bowl allows for better coverage and you can use a spatula to scrape out the leftover oil and spices and drizzle them over the pretzels on the parchment-lined baking sheet.
I am obsessed with the parchment liners as they are already cut to perfectly fit my baking sheets and they are coated with a non-stick layer to help your baked goods slide right off!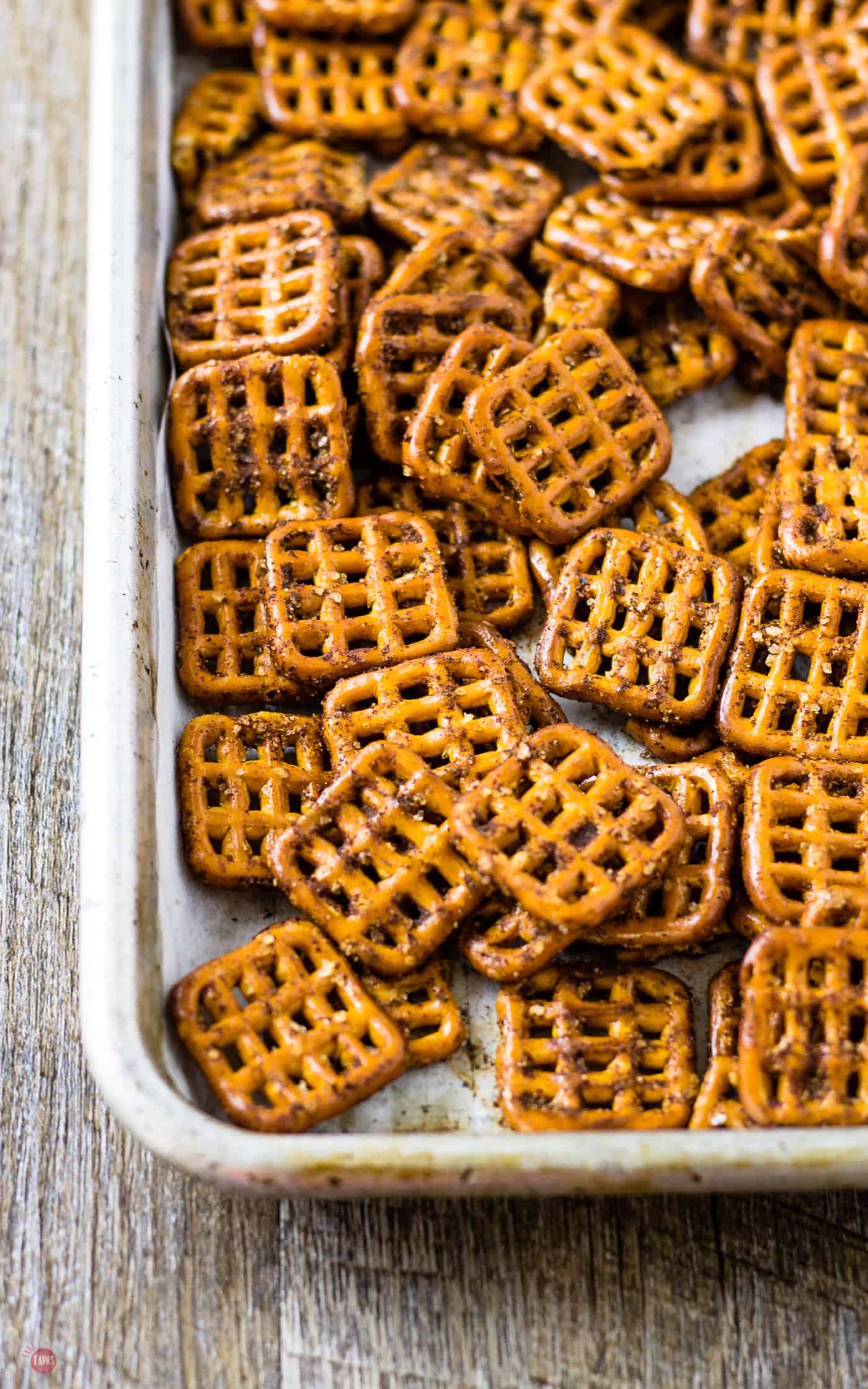 Pumpkin Pie Spice is a natural flavor profile for this time of year.  Everyone except me waits for the Pumpkin Spice Lattes to come out at that famous Coffee shop.  I was never a big fan of pumpkin pie spice, much less coffee but that doesn't stop me from enjoying the pleasant aromas.  They are so much better than those blasted cinnamon brooms!
So I naturally thought about combining the flavors of coffee and pumpkin pie spice and coating my crunchy and salty pretzels with it.  These two flavors are amazing with the pretzels themselves, especially the butter crisps that I like to get and the waffle pattern helps to give the spices little nooks and crannies to cling to, but the flavors are a little on the strong side and can turn bitter if you are not careful.  The addition of the light brown sugar helps to mellow it out.
Just be careful when baking anything with brown sugar on it.  It tends to burn, like the first few times I tried to bake my Redneck Snack Mix.  I learned from all those burnt snack items that you need to keep the temp low and go slow.  The normal hour-long baking time is a little long so I bake them for 50 minutes.  This seems to be the limit the mixture can handle.  You should always trust your nose if it smells something burning and make sure you keep stirring the pretzels around so one isn't stuck on top all the time.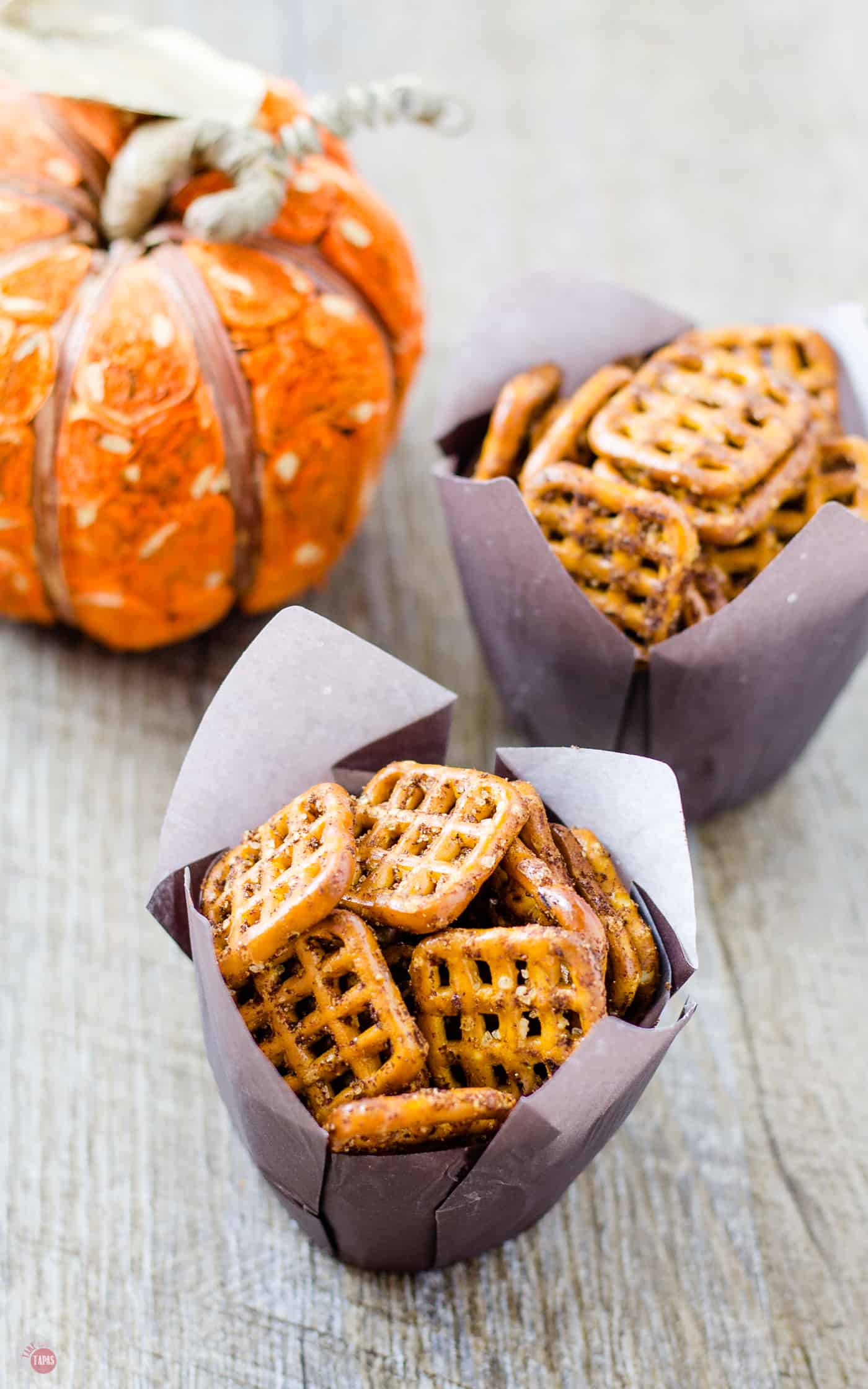 These Pumpkin Spice Espresso Pretzels are a fun way to incorporate Pumpkin flavors this Fall and some energy to an afternoon snack!  No more post-lunch slump!
Print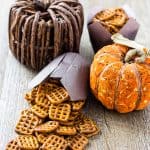 Pumpkin Spice Espresso Pretzels
---
Author:

Prep Time:

5 mins

Cook Time:

50 mins

Total Time:

55 mins

Yield:

8 servings

Category:

Snacks
Description
I've added a little kick to keep you awake through that afternoon slump. My Pumpkin Spice Espresso Pretzels will be your new favorite after lunch pick-me-up!
---
Ingredients
15 ounces Waffle pretzels (salted)
2 tablespoons Pumpkin Pie Spice (homemade is best)
1/2 cup Olive Oil
2 tablespoons Instant Espresso Powder
2 tablespoons Light Brown Sugar
---
Instructions
Preheat the oven to 200F.
In a large bowl, add the pretzels.
In a small mixing bowl combine the olive oil, espresso powder, light brown sugar, and the Pumpkin Pie Spice.
Whisk to combine.
Pour over the pretzels and toss to coat completely.
Spread the coated pretzels out on a parchment or foil-lined baking sheet.
Bake for 50 minutes, stirring every 15-20 minutes until the total time is up.
When the cooking time is over, remove the pretzels from the oven.
Cool completely.
Store in an airtight container or bag for up to a week.
Notes
*If you like this recipe, please leave me a comment and rate it with some stars.  Thank you!
Keywords: pumpkin spice, pretzels, snacks, espresso